If you have ever been afraid to go into the ocean for a swim or dive, we don't blame you. The deep blue is a mysterious place with many undiscovered creatures. In fact, scientists openly admit that they don't know as much about it as we think, with 80 percent of the ocean being unmapped and undiscovered. Thought that stories about sea monsters were just old wives' tales? Think again. But be warned, these photos will make you think twice before jumping into the salty sea again.
The Sharks Are Fighting Back
Sharks are incredible creatures. Their behavior has been widely studied, but they can still be unpredictable when you enter their environment. People travel all over the world to hop in a steel cage and surround themselves with the most powerful apex predators under the sea.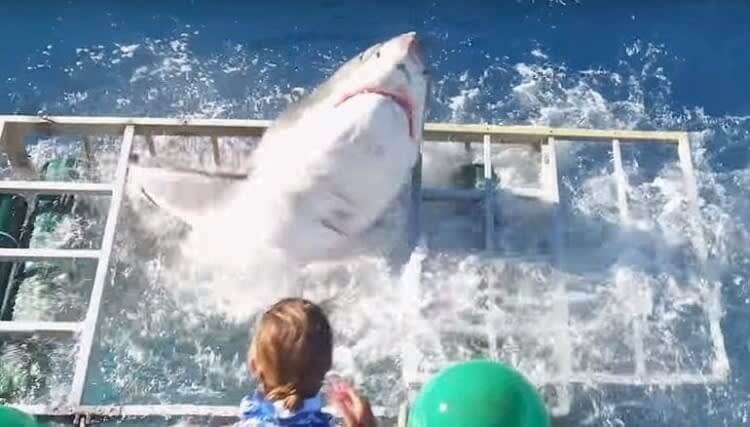 Most of the time, the sharks swim around the cage calmly as divers observe the magnificent fish. On rare occasions, something can aggravate the shark, causing them to bite the cage or swim into it. In this situation, the shark got stuck in the cage, which is why it is thrashing around.
Watch Out Behind You
Many people fear the ocean because of the way it is portrayed in Hollywood. People think that sharks are out to hunt humans, and you will never be safe on the open water, but that is far from the truth. This kayaker is not in any imminent danger because the shark is only curious to see what the person is doing.
Most people would freak out and never get in the water again, but the person just has to remain calm. While the shark could mistake the kayak for a seal, and bite the kayak, it is unlikely. It might cause a fright, but that is about as dangerous as it can get.
Cue The Jaws Theme Song
"Bad-um, bad-um, bum bum bum bum…" This is a little too close for comfort as the man narrowly avoids the shark's jaws. This could be a scene out of the best shark attack movie, Jaws. However, the film used a fake shark, and this is too real to laugh about.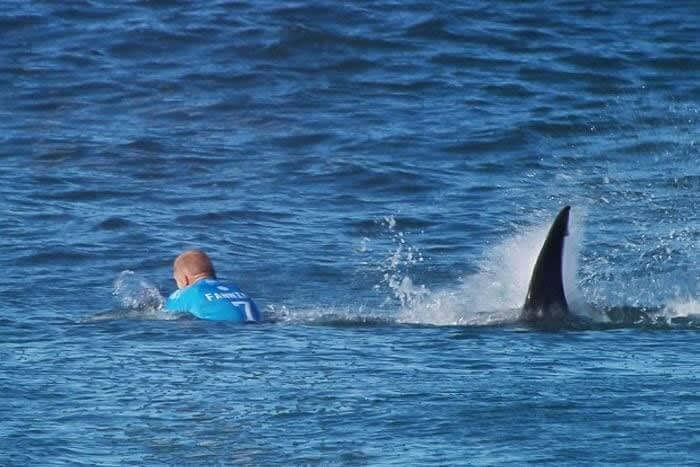 Mark Fanning was competing in a surfing competition when the shark wanted to enter the race. Luckily, Fanning's competitor, Julian Wilson, reacted quickly and saved his life. Fanning is lucky to be alive after coming that close to a shark because not many people would make it out alive.
Open Wide
"Say Ahhhh." You might be wondering if this monstrous-looking fish is real, and the answer is yes. It is unnerving to think that this is a fish we share the water with. However, we don't think you will be coming face to face with this type of shark anytime soon.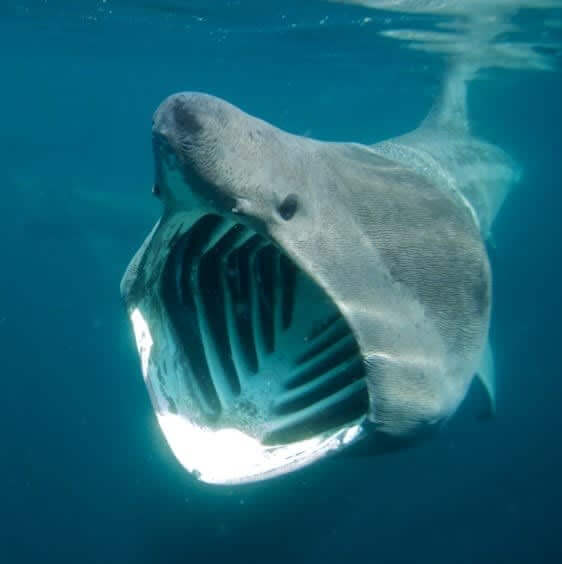 This is a basking shark, and it is the second-largest living shark after the whale shark. It uses its large mouth to filter in gallons of water so it can eat the krill and plankton. It is one of three types of sharks that feed on plankton, so you only have to be afraid if you are a tiny organism.
Don't Touch Those Stingers
If you have ever been stung by a jellyfish, you will know how painful it is. They are not always easy to see in the water, so it is difficult to avoid them most of the time. However, in the open seas, some extra-large species are lurking throughout the ocean., like this one pictured below.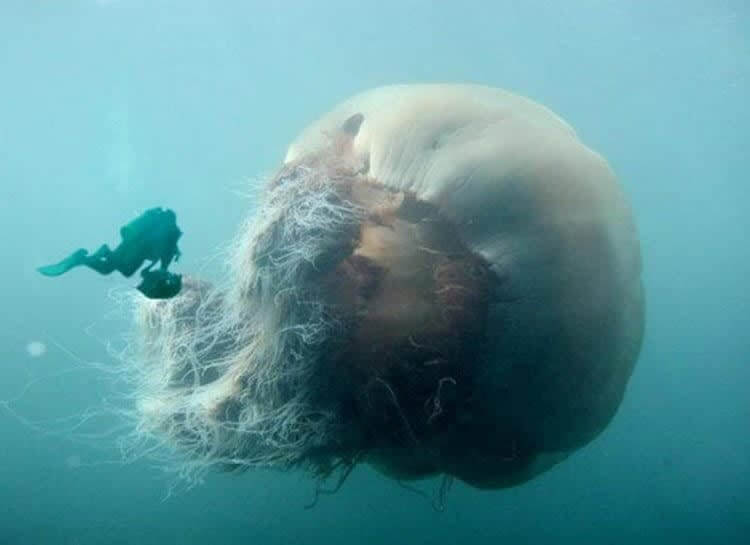 This is a Lion's Mane jellyfish, and they grow up to 120 feet. If you got stung by one of these monstrous jellyfish, you would have stings all over your body. While they are not out to hurt people, things can happen accidentally if you are not careful.
Horror Movie Meets Real Life
This is like a scene out of Mega Shark VS. Giant Octopus. The giant tentacle is lurking in this local river, which is the last place you would want to find a giant squid or octopus. If the limb is this large, it could easily crush the town and bridge.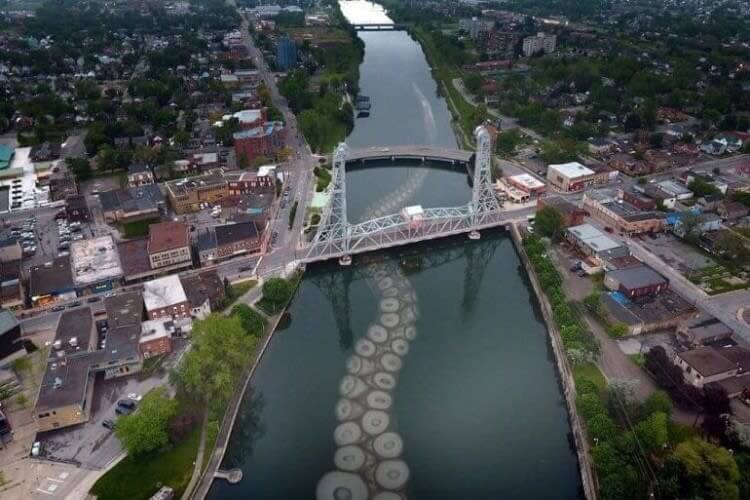 There are plenty of undiscovered things in the water, but you would think someone would notice an octopus of this size. If we discovered this tentacle inside the river near our home, we would move very far away.
Tantalizing Tentacles
People may think octopuses are cute and frightened beings, but they are actually terrifying. Some types of octopuses are poisonous, and all of them have beak-like mouths in the middle of their tentacles. You would not want to get on their bad side.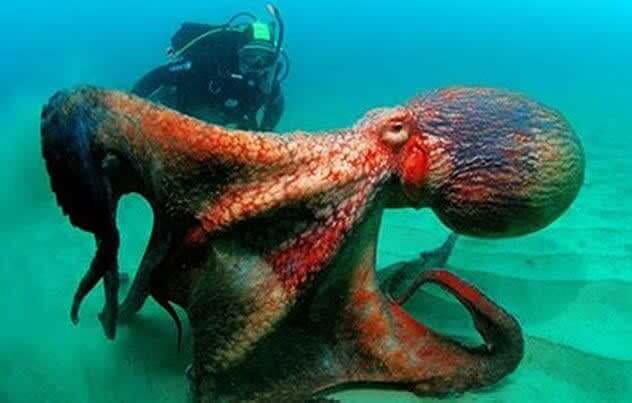 Octopuses are territorial, but they do not go after humans unless they are provoked. When necessary, they will defend their territory, which can cause people to be attacked. This one looks unhappy, and we would swim away if we were that diver.
Sea Snakes Or Seaweed
This looks like something straight out of Spongebob, although much more intimidating. From above, these might seem like swaying sea plants, but as you get closer, you will realize they have faces and mouths to bite you.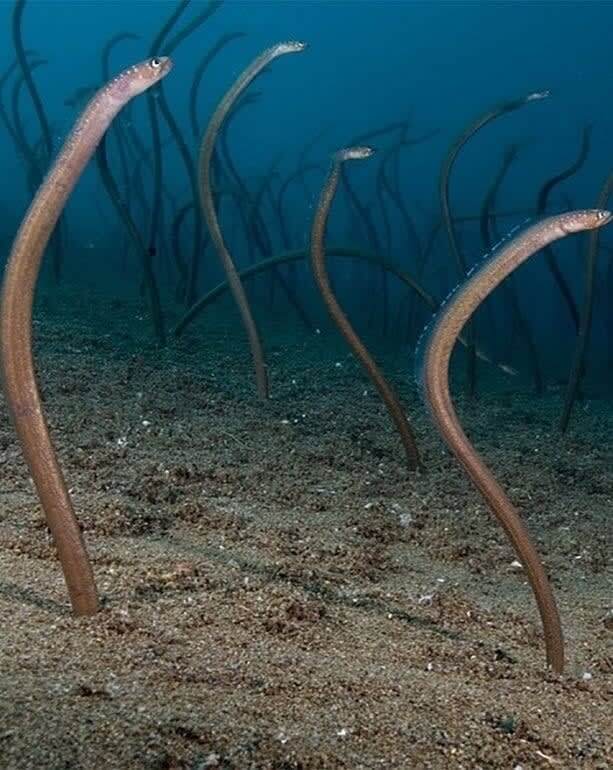 These are a type of Eel closely related to snakes. They bury themselves in the ground and let to ocean move them around. Although these look small, some Eels can grow up to 160 pounds. These creatures are massive, and they are not so friendly.
You've Got Company
If you are a surfer, the worst scenario is encountering a shark. These predators usually attack surfers because they mistake them for seals. The sharks see the surfers silhouette from below, and they are easily mistaken. While not all sharks attack surfers, it is much more dangerous to be in this situation.
The surfer caught a glimpse of the shark in the wave and quickly turned around because he was terrified. There are plenty of surfing hotspots that also happen to be home to many sharks. These two often share the water, and we hope this man got out unscathed.
On The Hunt
If you have ever watched Shark Week on the Discovery channel, you have seen the way great white sharks swim straight up to the surface and catapult themselves into the air to catch prey. This photo was taken just as the shark is about to break the water's surface and bite down on whatever it is after.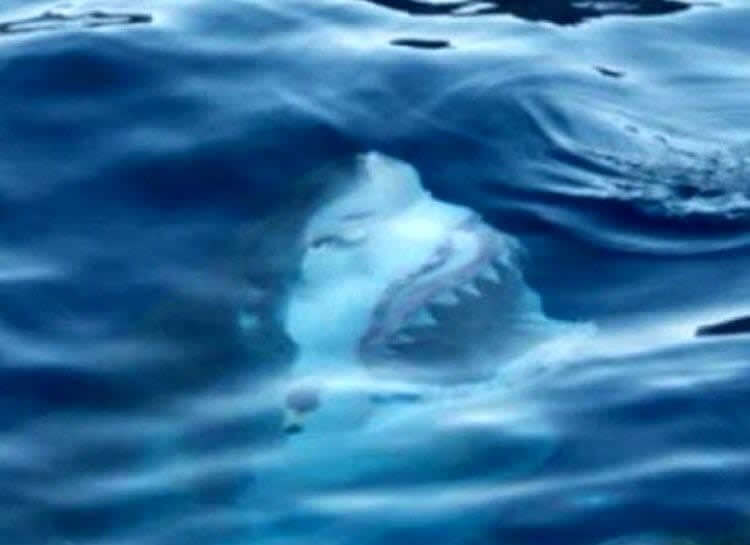 Great white sharks are apex predators who have a unique way of hunting. They can jump almost 11 feet out of the water because of the power that they have while swimming. It is sad yet incredible to watch them hunt, but we would never want to be their prey.
Creatures Of The Deep
If you ever want to scare your friends, just show them this photo, and they may never go in the ocean again. There are some horrifying fish at the bottom of the ocean, and we barely know anything about them.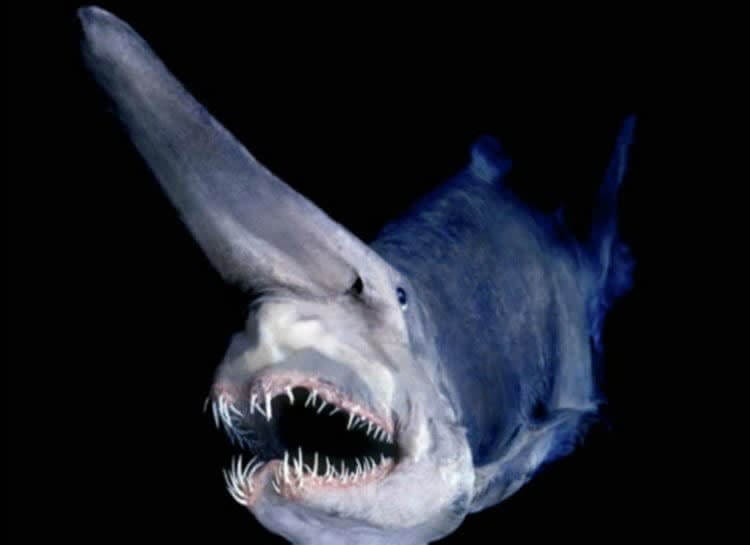 From the teeth to the shark-shaped body, to the bizarre snout, everything screams horrifying. These are called goblin sharks, and they stay in the far depths of the ocean. They go so deep that the water is dark because the sun doesn't shine that far down.
Powerful Attacks
Sharks are the most intimidating sea creatures because of their razor-sharp teeth and reputation for killing people. If you have ever seen any of the shark movies like Jaws, you probably think that sharks are bloodthirsty maneaters.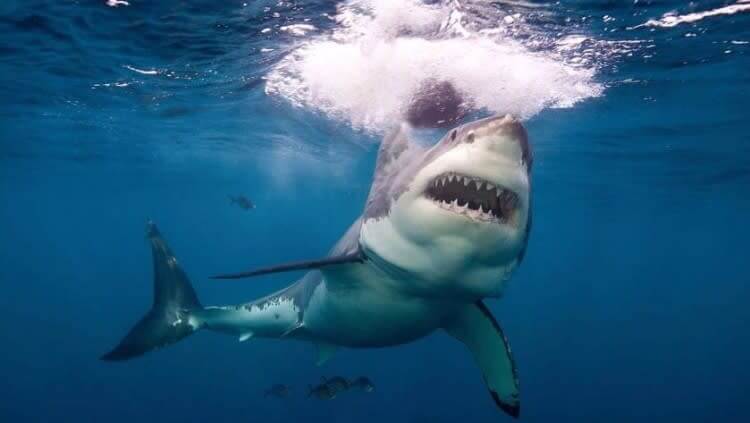 These sharks can swim up to 35 miles per hour as they accelerate to catch their prey. With agility and strength, sharks jump pout of the water even though they weigh a few tons.
Circling Its Next Meal
Whenever a shark is in the area, it is frightening. They can quickly make any sunny beach day into a horror show. We don't know if this man is aware that he has company, but we hope he realized quickly.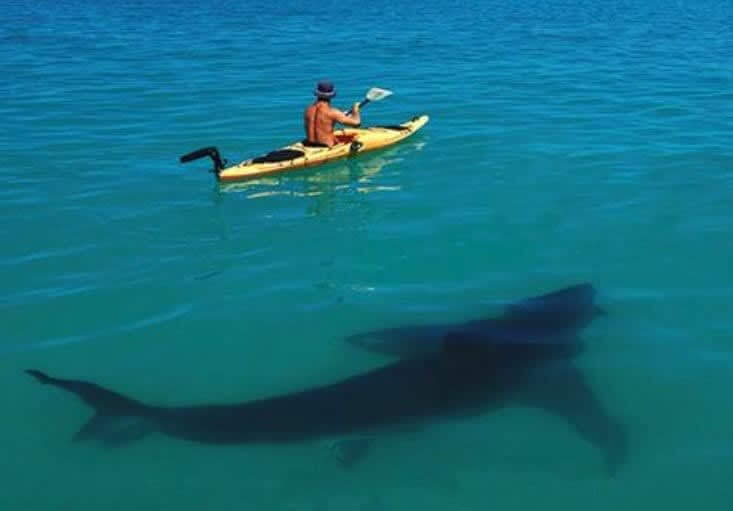 Sharks usually circle their prey before they attack to figure out the best plan of action. It seems that this shark is circling from below while it decides if this man is his next meal. Wouldn't you try to paddle away from the shark instead of waiting to become lunch?
Sea Monster Or Friendly Sea Lion
At first glance, this horrifying marine mammal looks like it is going to jump pout of the screen and bite us. This could be a number of other ocean predators, but you would be surprised to find out that it is a cute leopard seal.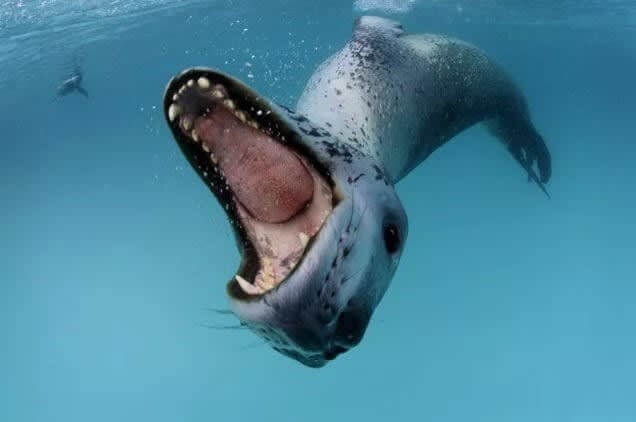 This could be a mix between an eel and a leopard seal. However, we know that this mysterious monster is actually a cute and cuddle mammal that we enjoy seeing pictures of. Just picture how adorable their babies are.
A Minute Of Meditation
The manta ray is a large ray species that can grow up to about 22 feet wide. These rays swim through the water with their fins flapping like a bird. They are peaceful and magnificent creatures that are indeed a sight to see. Manta rays are harmless to humans because they don't have barbs like stingrays.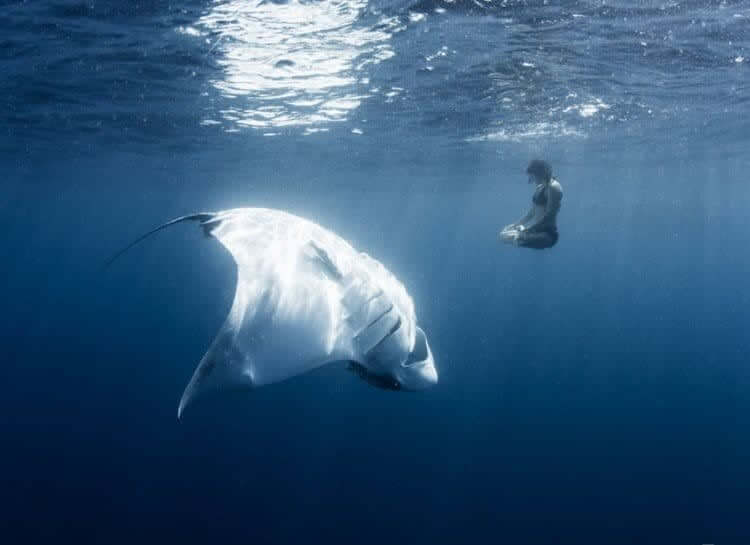 This woman decided to take some time to meditate underwater with the massive manta ray, and he seems just as calm as she is. While we would be too afraid to do this because you never know what else is swimming in the area, she is a brave soul.
Massive Underwater Mammals
Whales are relatively calm animals who have a good reputation for being friendly ocean mammals. Although they are not dangerous, their massive size can make an interaction lethal. When humans enter their environment they are curious, but not harmful in most cases.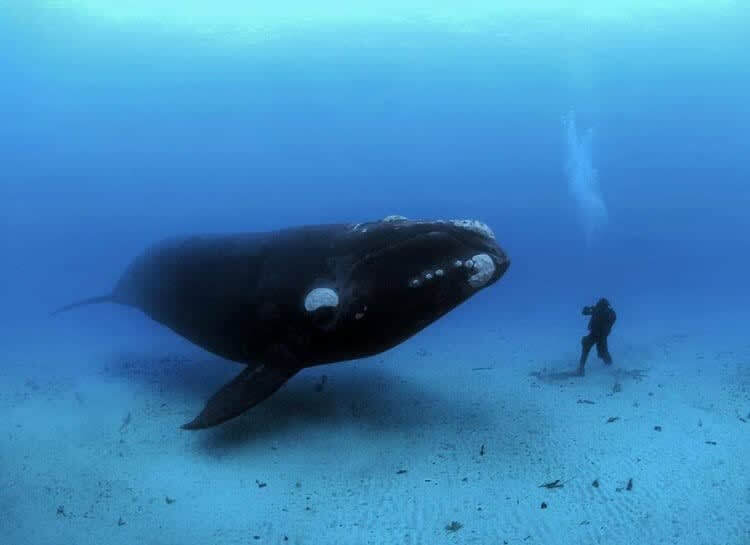 Whales can weigh several tons, so you do not want to be hit by one of their fins. When people enter the water, they are in the animal's territory, and they have to be careful because of the sheer size compared to humans.
Humans Are Friends, Not Food
Although Hollywood and people on TV want to make people believe that great white sharks are man-eating predators, that is not true. These fish are intelligent, and if you see one in the water, it does not mean you will be its next meal.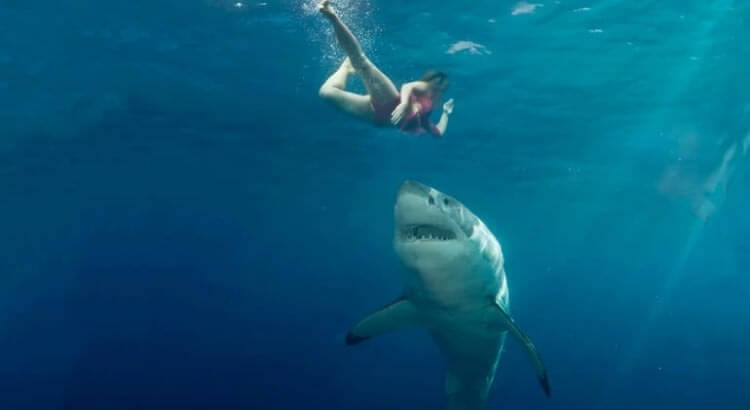 Great whites can attack a human unprovoked, but that is because they mistake humans for seals. We would not want to come face to face with one of these massive fish, but the woman seems calm and unbothered.
Wounded While Observing A Not So Friendly Eel
This brave man was diving when he came face to face with a giant eel. They are not friendly creatures, so this man was cautious, but a little too close to the animal. This man never expected what was about to happen to him as he got closer to the eel.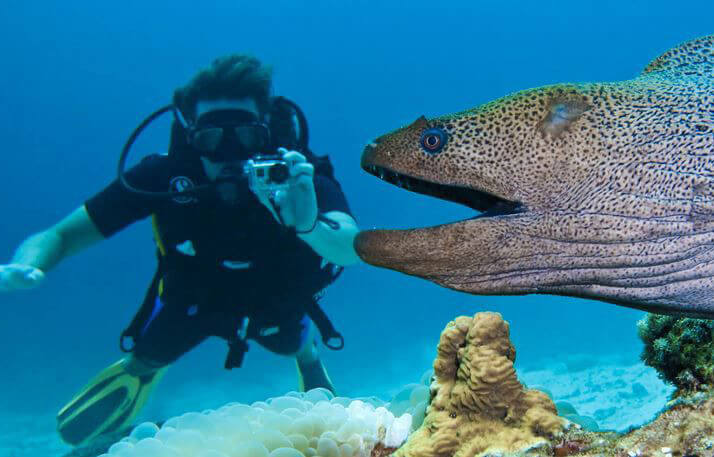 Without any warnings, the eel attacked him. He got bit on the face by this scary animal, and it left him with a gnarly scar. When you are in their environment, you are a visitor, so you have to be respectful of their space and habitat.
Swim Away!
This wave looks like it is filled with giant sea snakes ready to attack. Most people are paranoid about things floating in the water and touching them, and this picture does not help their fears. You never know what hideous creatures are hiding below the surface.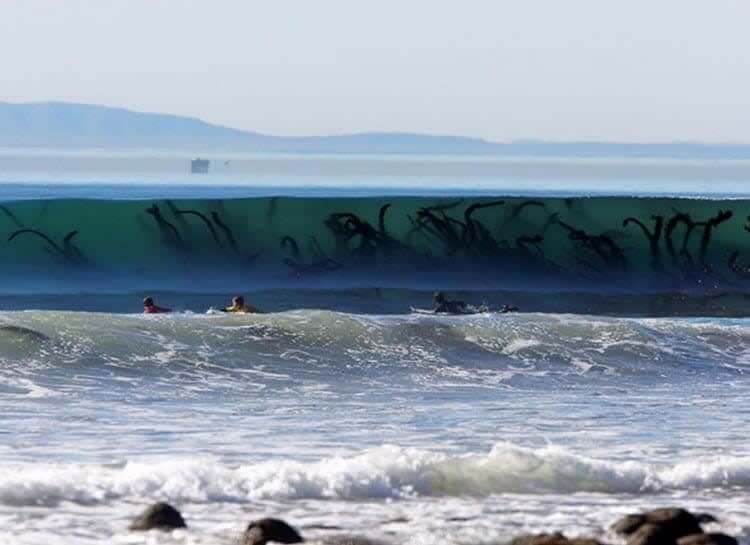 While this might just be some seaweed floating in the waves, it is still very scary. Even though it is just seaweed, you still wouldn't want it to touch you because its slimy and gross.
The Power Of The Ocean
Natural Disasters can destroy towns and create immense damage to coastal regions. Tsunamis have devastated towns and taken lives because of their sheer power. The ocean is not only filled with impeccable creatures, but the water can also be just as powerful as the fish is it home to.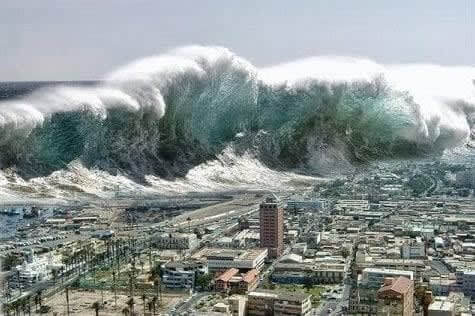 Tsunamis are caused by tectonic plates shifting on the ocean floor. The beach can go from calm waters to complete terror in a few moments as the giant wave roles in. It is terrifying because you never know when it could happen, and it is entirely unpredictable.
Waiting For Its Next Meal
There are hundreds of species of sharks, including the whale shark. This is the most massive shark, and they grow up to 32 feet long. While it is a shark, this species acts more like a whale with its calm nature and krill diet. They aren't a threat to humans, which is why many divers swim with them.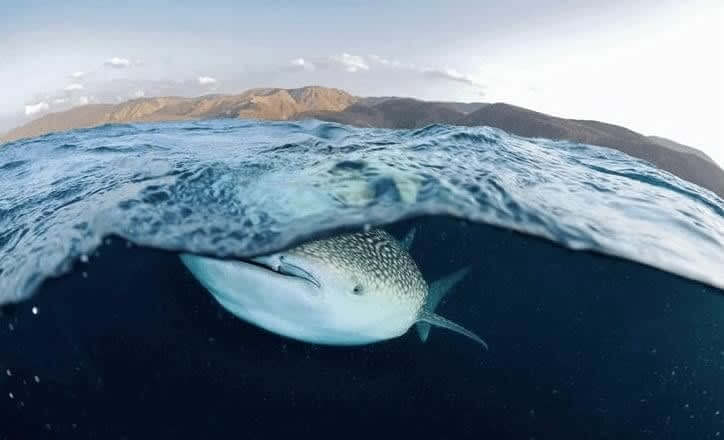 Whale sharks are friendly, and they act like dogs in the sense that when you feed them, they come back for more. They know to go where there are many divers because that is where they will get the most food. There are also two whale sharks at the Georgia Aquarium.
Freediving Into The Unknown
Freediving is becoming more and more popular as people are willing to venture into the unknown. People go under without oxygen, so they have to hold their breath until they resurface. It is a dangerous activity, but thrill-seekers want to push themselves to their limits.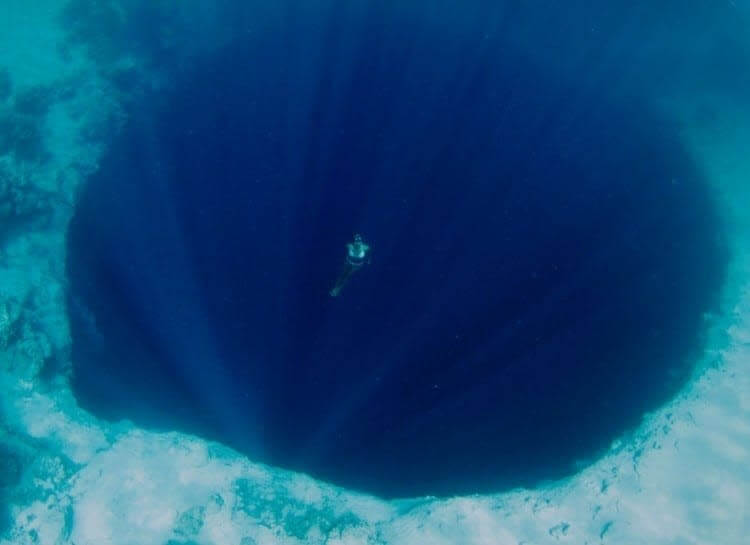 People who freedive leave themselves vulnerable to the underwater elements under the water. Strong currents and pressure can put people at risk of drowning. Without the oxygen tank, you have to rely on your lungs to keep you safe.
A Strong Warning Sign
Whoever made this sign got their message across to the divers. This sign makes it blatantly clear that you should not go diving in these caves because they are unstable. They even thought to include the grim reaper as an added scary effect.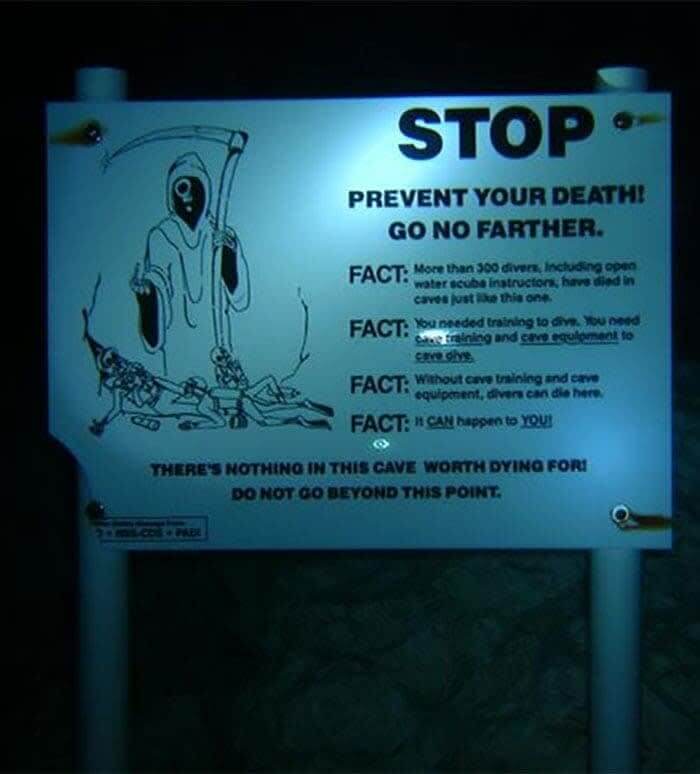 Although this sign may seem like an exaggeration, cave diving is incredibly dangerous. Divers take significant risks to go into these unstable tunnels, and even the most experienced divers would be cautious about going into a cave.
Down Below In The Deep Blue
The ocean is full of mysteries because there is so much that has yet to be explored. Scientists don't even know how deep some parts of the ocean are, but they are researching ways to learn more. It is difficult for humans to go into the depths of the ocean because the further down you go, the more pressure there is, which can eventually crush you.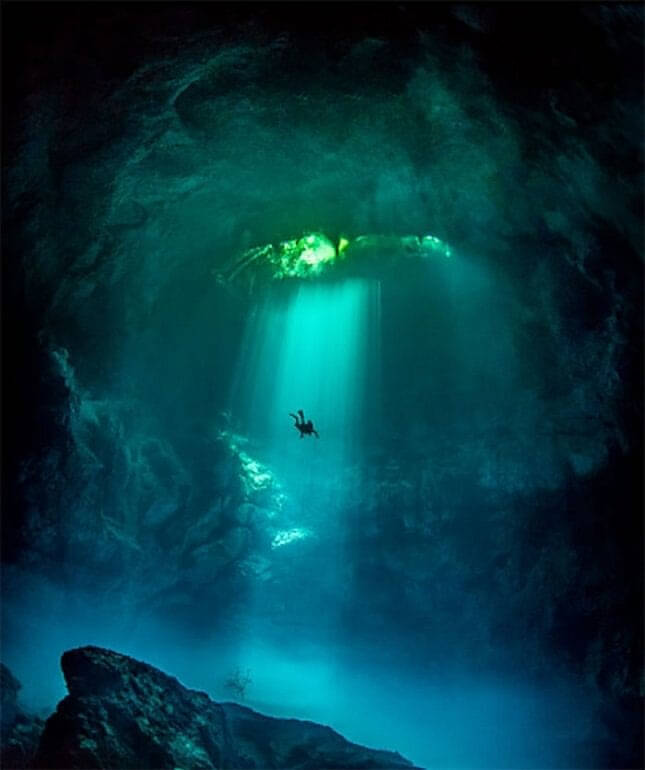 While people can not dive into the dark depths, there are still some fantastic things to discover closer to the water's surface. The deep blue is filled with unique caves and caverns that are home to some beautiful sea creatures. Although, if something dangerous is lurking in this cavern, the diver won't have much time to escape safely.
Underwater Alien
Every sci-fi film depicts bizarre alien creatures, and this thing looks like it came straight out of one of those movies. It looks like something you would find while hunting extraterrestrials in the upside-down of Stranger Things.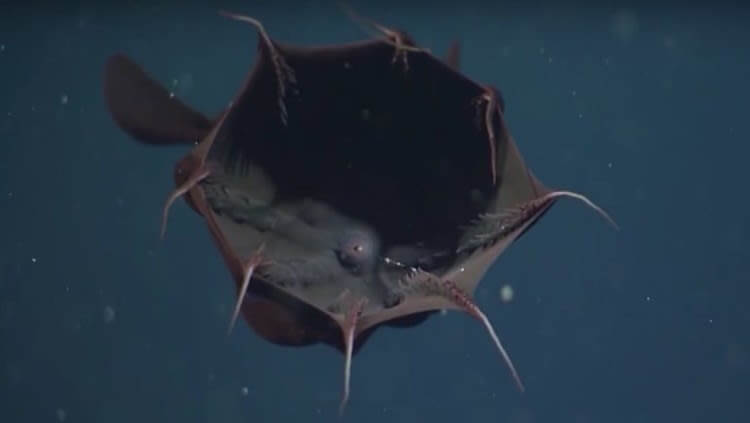 In fact, this creature has a monster name to match its appearance. This is the vampire squid, and it is found in the deepest parts of the ocean where the sun does not shine. Luckily, you won't find yourself encountering one of these anytime soon, but it makes you want to stay away from the water.
What Mysteries Lie In The Depths?
As this man sits at the edge of an underwater cave, he doesn't know what could be hiding in the depths of it. This one is located in Texas, and it is better for people who do not want to start with caves in the open ocean.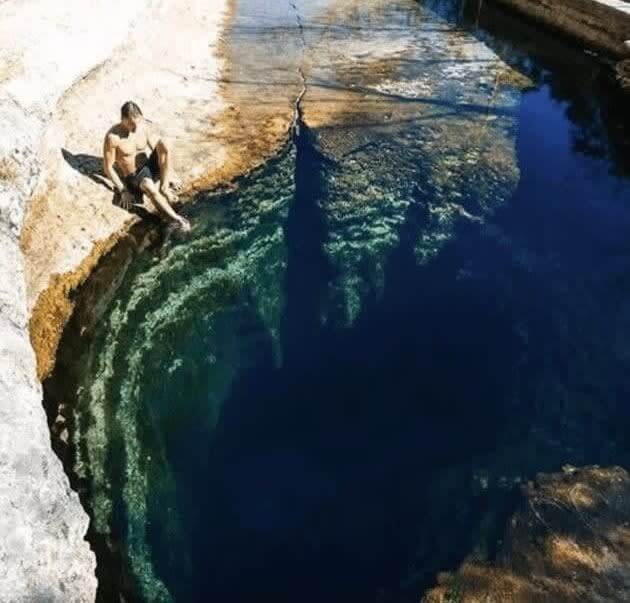 Jacob's Well in Texas is 4,500 feet deep, and it is not without risks. No one knows what is at the bottom, and eight people have died swimming in it. We would rather enjoy the shallow waters than find out why diver's didn't make it back to the surface.
Creepy Crustaceans
There are many bottom feeders that we are familiar with like crabs and lobsters; however, we have no idea what this one is. There are so many strange look sea critters scurrying around the ocean floor that have yet to be discovered.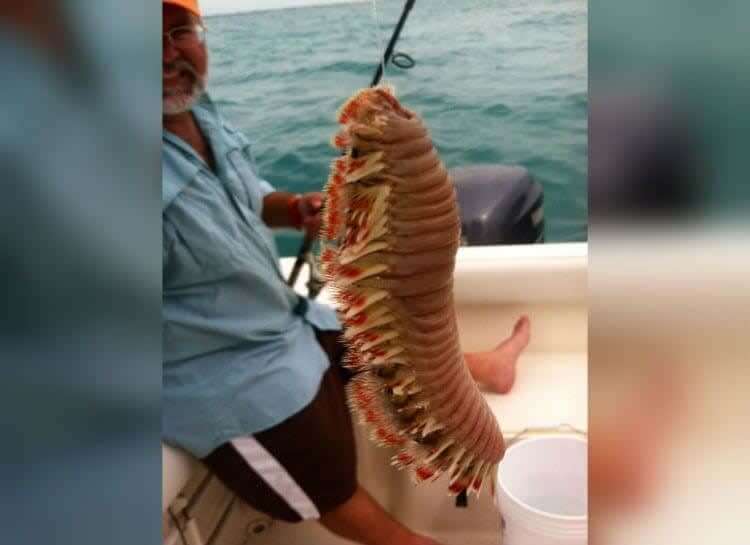 This creepy-crawly is something we wish had stayed at the bottom of the ocean, but it got caught on a fisherman hook. It is like a giant centipede that lives in the ocean and feeds off of smaller things crawling on the sandy floor. Although this man looks happy with his catch of the day, we would throw it back.
You Might Be Mistaken For A Tasty Snack
Surfers are the people who come into contact with sharks the most because they surf in areas where sharks populate. Sharks like to hang out in the shallower areas of the water because the area is oxygenated, which allows them to swim around slower while they digest meals.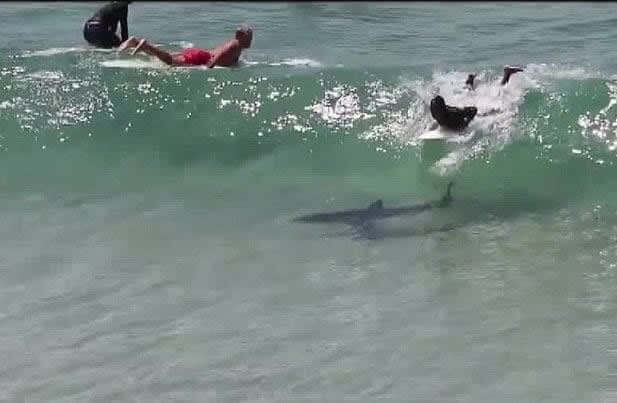 You would think that these people are in the most danger, but surfers often never realize that there are sharks. Although they would probably get nervous to look down and see a shark, they usually aren't paying attention.
Underwater Waterfall
This place looks like paradise on earth, but it is actually terrifying. From the shores, swimmers can only see the bright blue coastal waters, but when you look at the aerial view, you can see the drop-off. The natural beauty of this location is quite off-putting when you realize how dangerous it is.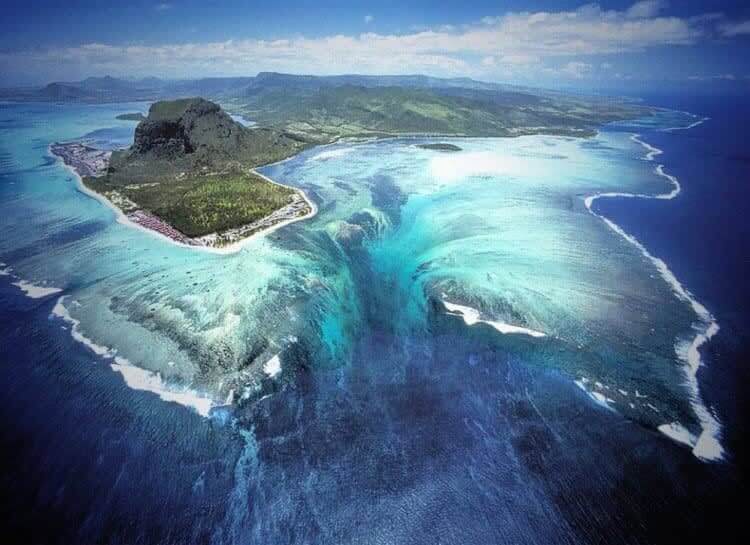 This is an underwater waterfall that goes into a deep chasm. The strong current from the waterfall can pull swimmers down into its depths before they realize what is happening. It is insane how strong the ocean can be and how quickly it can overpower someone.
Debbie Downer In Fish Form
"I'm just a grumpy fish who lives under the sea. Glub glub." This is probably the ugliest fish on the planet because it is the fish form of what Mondays feel like. This is the blobfish, and it is the slimmest and snottiest looking fish in the ocean.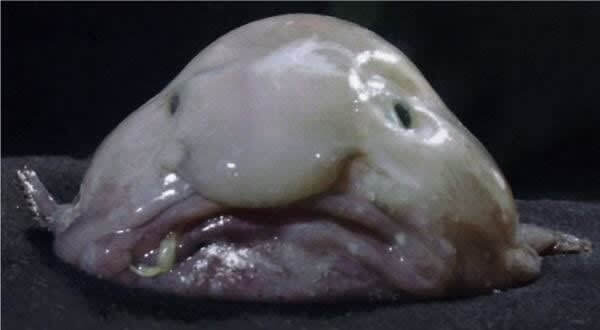 Not many people see this fish in the ocean because it sits in the dark waters at the bottom of the sea, where people cannot swim. While they probably don't mind that people don't come to visit, they probably don't have many other friends on the ocean floor.
Natural Disaster Destruction
Tsunamis are no laughing matter because of the death and destruction they cause. This photo is from the 2004 tsunami in Thailand that spread all through Asia to Somalia. The water rips through everything in sight, and it is terrifying to see how quickly everything is destroyed.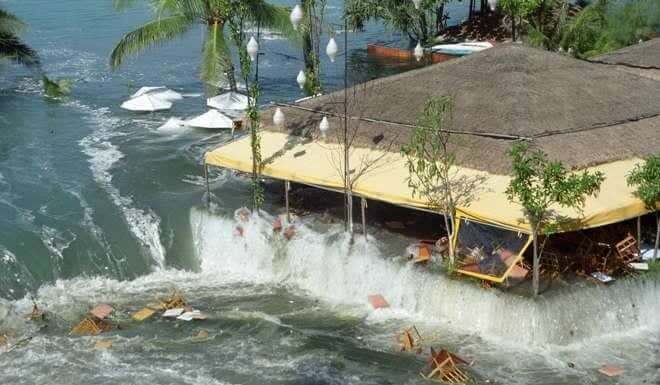 This particular tsunami took over 170,000 lives, thousands were injured, and millions of dollars worth of damage were caused. The ocean is not only dangerous because of the creatures, but the unpredictability is also frightening.
Having A Whale Of A Time
If you were below this leaping whale, you would be screaming as you watched it come crashing back into the ocean. These animals are docile and friendly, so people aren't afraid of them. They are gentle giants but don't get too close to one because they can crush you.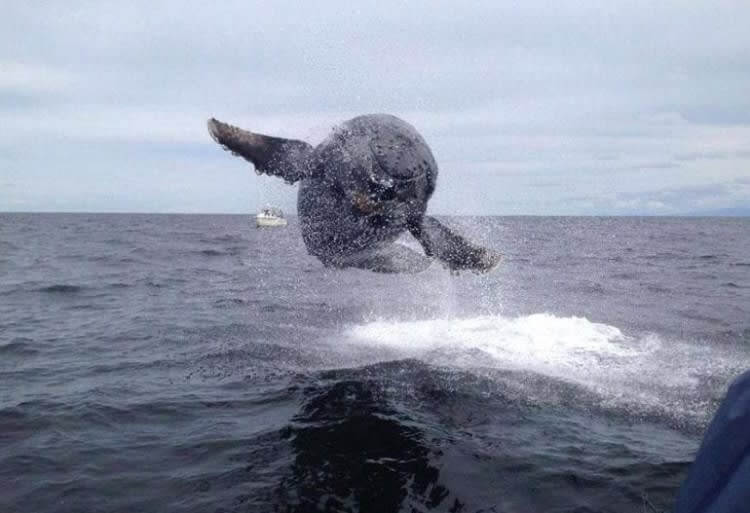 This whale saw a boat and popped up to say hello; however, it could have been searching for a taste of human. With one of those massive fins or its tail, it could do some severe damage if people don't keep their distance.
Surrounded By Waves
Not only was Asia affected by a massive Tsunami, but Puerto Rico has also been put in danger because of the ocean many times. The Archipelago is surrounded by the sea, which means it can be hit on all sides for hurricanes and tsunamis.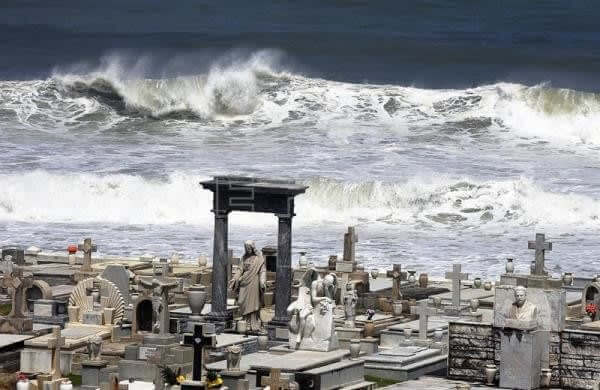 These waves reach around 30 feet high as they smashed against the coastline of Puerto Rico. The storm caused horrible damage to the Santa Maria Magdalena de Pazzis cemetery. It was challenging to figure out how to recover from this storm.
The Ocean Holds Many Massive Creatures
They are going to need a bigger boat. Right below the water is the world's largest whale species, the blue whale. These gigantic mammals grow up to 82 feet and can weigh 33,000 tons. You can see the size difference between the boat and the whale swimming below it.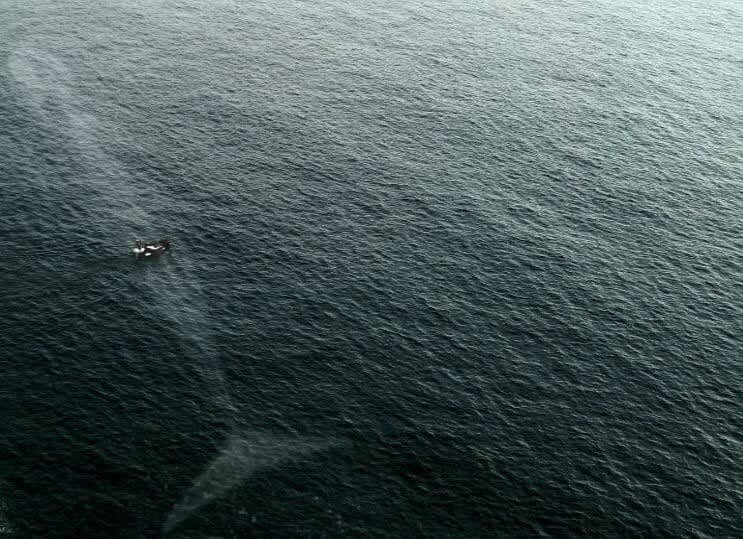 While whales are not harmful to humans, with one flick of its tail, the boat would capsize. Hopefully, the whale decides to leave it alone and swim under it without causing any damage. These people would be stranded in the middle of the ocean like they are waiting to become shark food.
The Ocean's Filtration System
This photo is frightening just to look at because of the sheer size of this massive fish. It seems like it is about to swallow the diver whole as it sucks in all the seawater. The whale shark probably thought the diver was a large piece of plankton.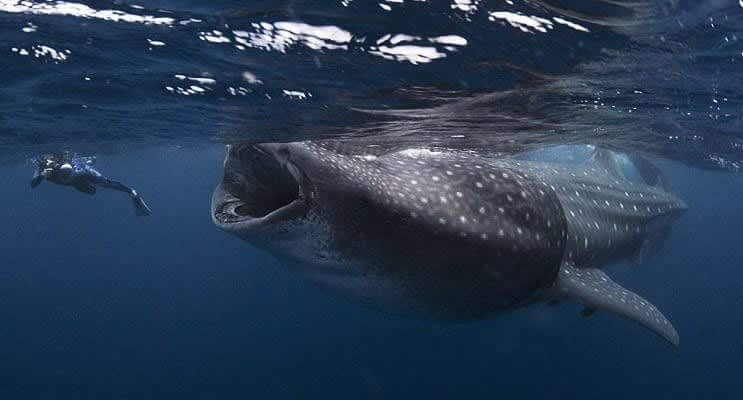 Whale sharks are not a threat to humans, so this diver is perfectly safe. The whale shark feeds on plankton and krill, so it filters around 1,500 gallons of water a day to capture the maximum amount of food.
Microscopic Meals
While there are many huge intimidating creatures in the ocean, it is also filled with trillions of microscopic organisms. While these krill are perfectly harmless, they still remind everyone on little underwater spiders with multiple legs.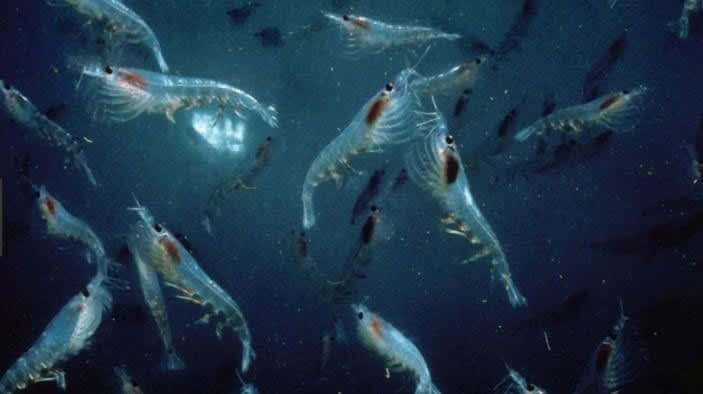 These krill live in the depths of the ocean, where people don't usually encounter them. The water is so dark where these krill swim that they have to create their own light. These tiny critters have bioluminescence to illuminate the water so they can see.
Take A Swim Into The Dark Abyss
You could not pay us enough money to swim into that dark hole. There have been too many movies with this plotline where they swim into the abyss, and a killer shark is waiting. Also, this person is taking an increased risk by not using an oxygen tank.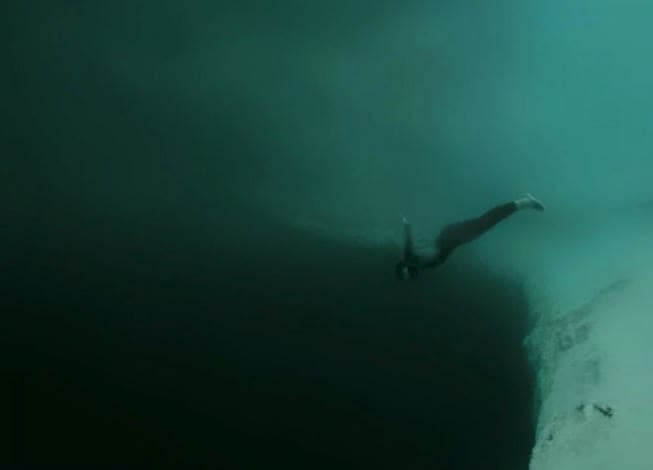 While some people are daredevils who will go out of their way to get an adrenaline boost, we would not advise this activity. There could be an unexpected current or unfriendly animal waiting to snatch you up in the darkness.
Where Water And Fire Meet
Have you ever wondered if the water at the beach will be warm enough to swim in? Well, at this beach, people don't have to wonder because the water is heated by a steady flow of lava from a nearby volcano.
This looks like a storm is about to roll through the area because the waves are raging, and the sky looks ominous. The smoke from the lava also adds a stormy effect to this photo, which is not a place you would want to go.