The 1990s were a simpler time. It was a decade when NFT meant Newfoundland Time, a time before the news was fake, before phones were smart, before media was social, and before our televisions and waistlines went widescreen. Today, we're going to look back at some of the fashions, activities, and gadgets from our favorite decade. Join us for a wild trip down the most bizarre and awkward memory lane there is!
Three-Step Plan To Rockin' The 90s
Here's our handy three-step plan for every little kid to rock the 90s. Step 1. Find the brightest neon T-shirt, Bermuda shorts, and sneakers possible. Yellows, purples, and cyan colors contrasted with black stripes, swirls, and spots are like totally rad! If your chosen apparel hurts innocent onlookers' eyes, you're on the right path. Step 2. Offset clothing with an even brighter backpack. If passersby run screaming to the E.R., then you can be sure you're rockin' that look!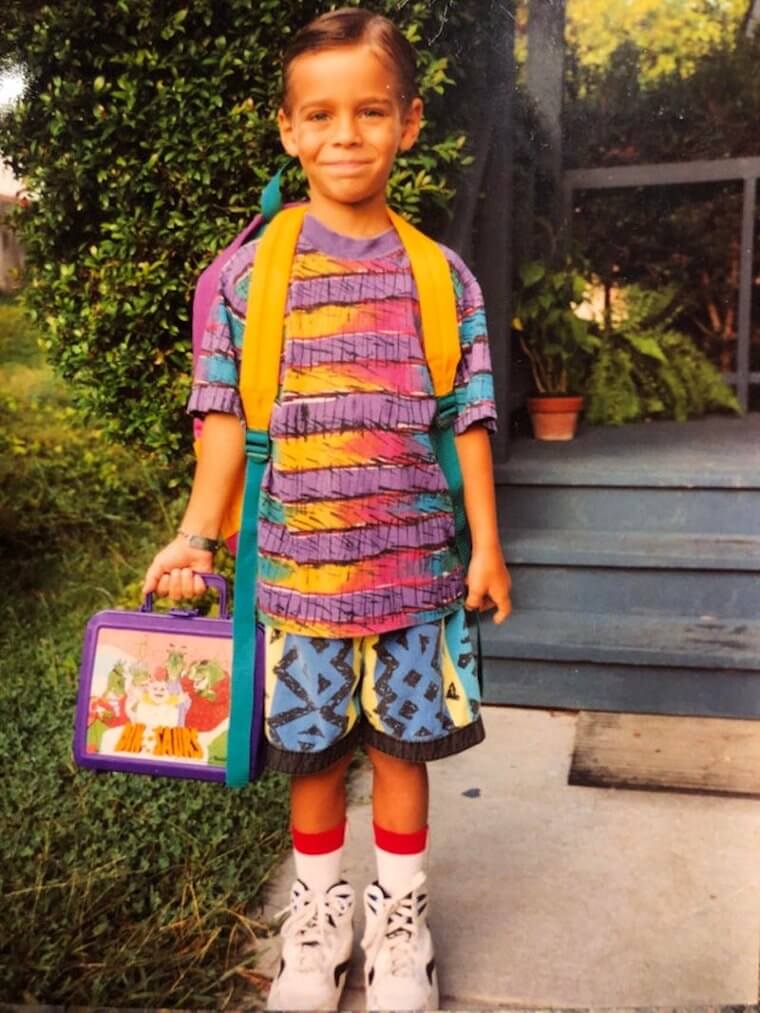 Step 3: Complete outfit with a hideously colored Simpsons, Dinosaurs, or Teenage Mutant Ninja Turtles lunchbox. Now give yourself a high-five because you are officially doing the Bart Man! 
The Dopest, Freshest Fashions
We actually forgot how cool fashion was back in the day. With those flared, baggy jeans and tie-dye colors, as kids sat down to watch Buffy the Vampire Slayer, they got their swag on dressed as happy little emos. This young model sure looks like Buffy's younger sister, Dawn, but then again, every girl from the 90s looked like this. If this advert is from 1995 and the model was 18, she's now around 45 years old!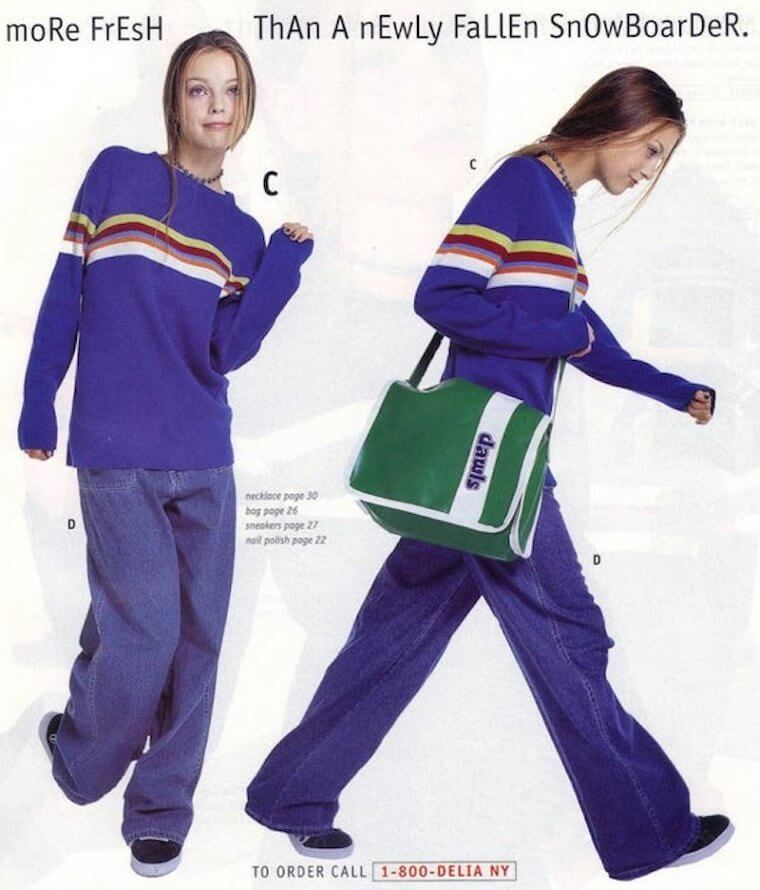 And what's up with that mixture of UppEr aNd LoWer cAse LeTteRs? In the 90s, pre-schoolers were seemingly given jobs in advertising straight outta kindergarten. And those kids who didn't become advertising execs became surgeons like Doogie Houser, M.D. 
The Fresh Prince of Bel-Air
Now, this is a story all about how The Fresh Prince of Bel-Air catapulted Will Smith from the basketball courts of Philly to his aunt and uncle's pad in Bel-Air and took over our living rooms once a week. In addition to its heartwarming comedy and neon fashions, Aunt Viv and Uncle Phil became surrogate parents to us all, and Will, Carlton, Hilary, Ashley, Geoffrey, and Jazzy Jeff, taught us valuable life lessons.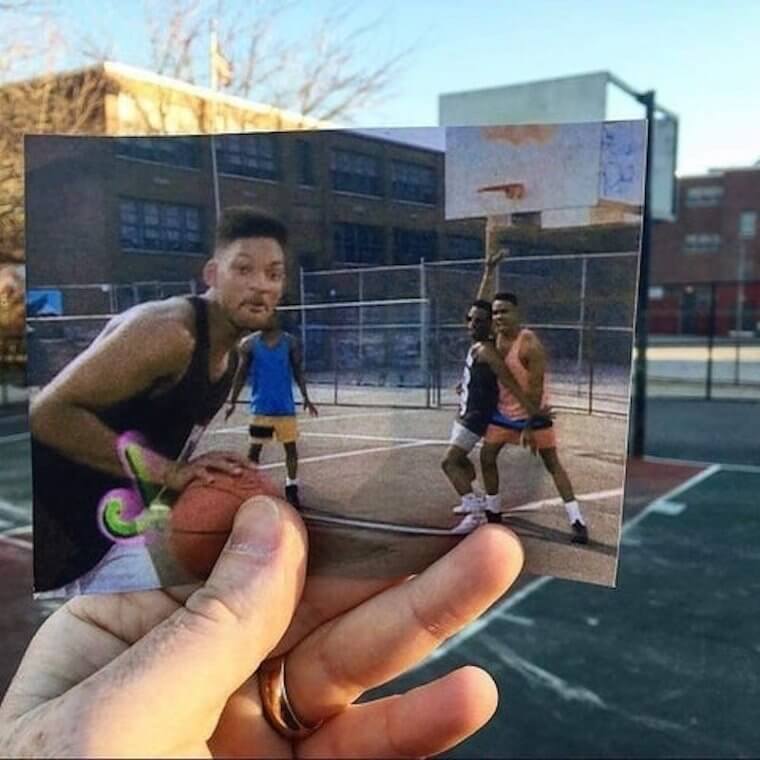 This photo of Will Smith comes from the actual Philadelphia playground where he spent most of his days. Speaking of which, we bet everyone on the planet aged between 35 and 50 can recite every single line of the theme tune.
Read It And Weep, Teachers!
As recently as 25 years ago, every math teacher in the world would spout some variation of "You aren't always gonna have a calculator in your pocket." Well, newsflash, Mr. Simmonds, nowadays everyone has a calculator, watch, camera, calendar, translator, gramophone, food delivery service, dating app, and a million more things in their pocket. Nowadays, the older generation must think we all have Star Trek communicators in our pockets.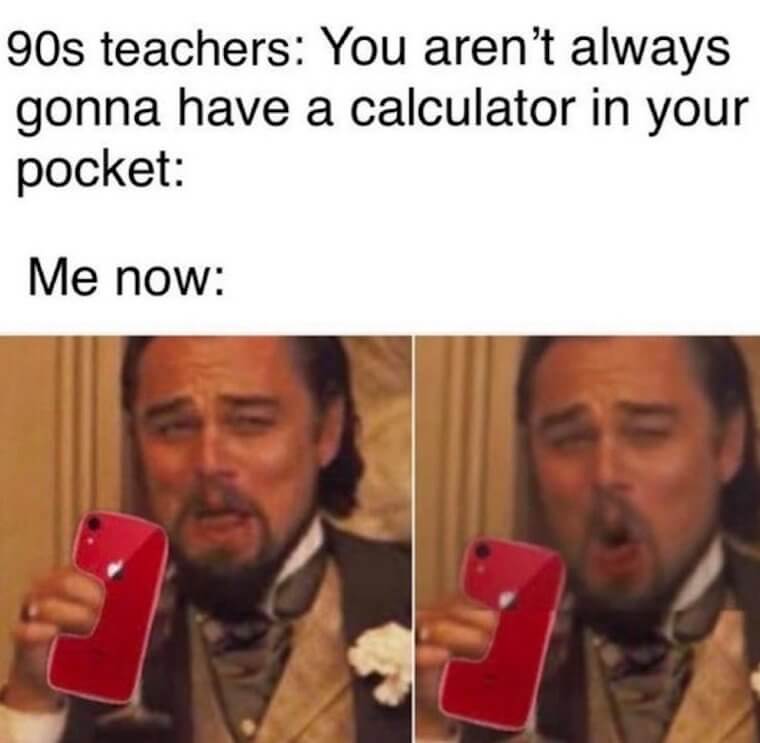 Similarly, we won't mention how teachers wasted billions of manhours teaching unnecessary things like algebra and trigonometry that we'd never use! Students 1 Teachers 0. 
Three For The Price Of One
This VHS tape captures three of the most '90s thing ever. First, while DVDs were widely available in the latter part of the decade, someone found this rel-life dinosaur––a VHS tape––in their attic! Next up, it happens to be a guide on how to install Microsoft 95 onto your computer. If you weren't around at the time, computers back then were towers almost as high as the Nakatomi Building from Die Hard.
Last but not least, those two stars on the cover are Jennifer Aniston and Matthew Perry from the decades most popular TV show, Friends. In the words of Chandler Bing, Could you be any more 90s?
Let's Drive To The Video Library
1990s appreciation posts have been doing the rounds in recent years, and anyone who grew up during that decade will surely cite Blockbuster Video as a huge part of their life. Before Netflix and YouTube, we'd actually have to drive to the video store, peruse the aisles as if it were a chewing gum-littered library, and choose one of the 74 copies of Titanic that hadn't already been physically rented out.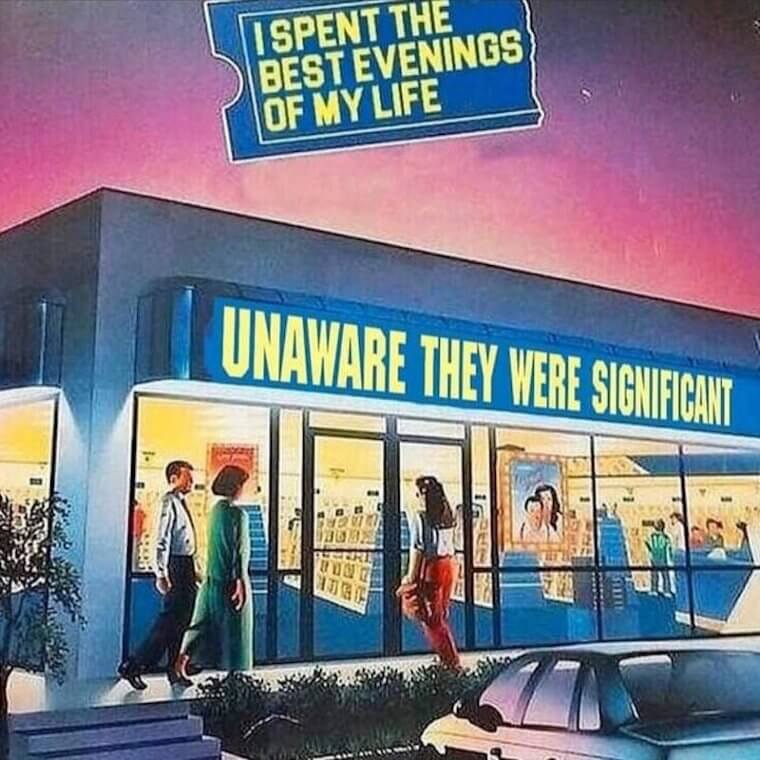 Fifteen hundred people died aboard the Titanic in 1912, but thanks to their sacrifice, millions of teenage boys got to pause the video on Kate Winslet's boobies. Thanks, Blockbuster. 
Before The Government Banned Sleepovers
When was the last time you had a sleepover? That's right – it was probably in the 1990s! Those endless summer nights when you and your teenage friends would dance around your room listening to the latest NSYNC compact disc in your pajamas, watch scary movies, play Mario Kart or Goldeneye, eat mountains of pizza, and make prank calls from transparent phones, all washed down with gallons of Capri Sun or Sunny D!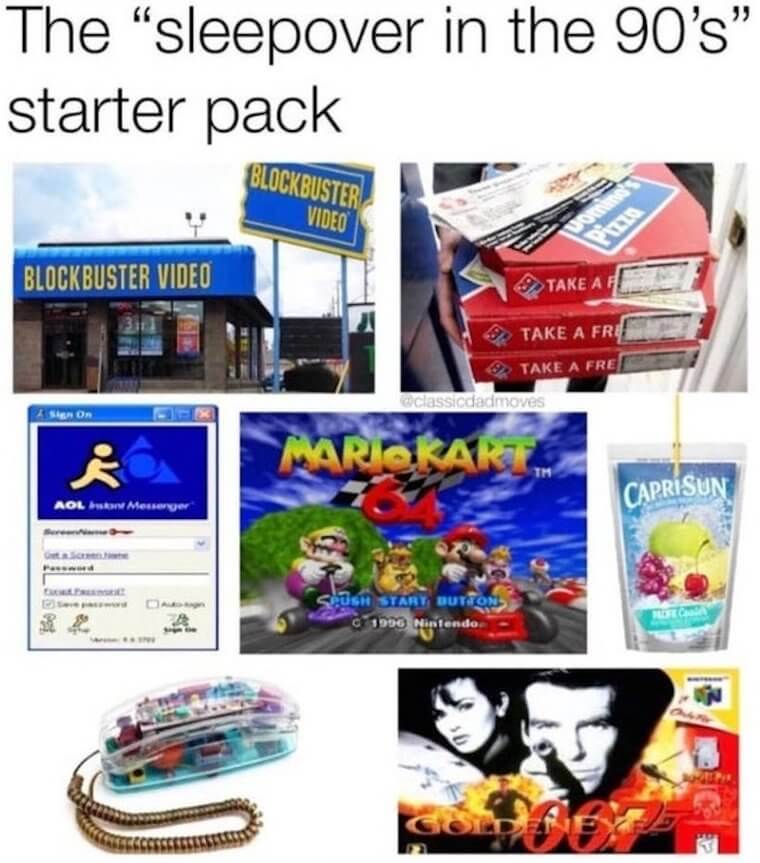 Sadly, kids were having so much fun that the government was forced to ban sleepovers circa 2001 as part of the Patriot Act. That's the only explanation. 
The Scientific Reason Time Speeds Up
How can 1990 be more than 30 years ago when wearing M.C. Hammer pants feels like yesterday? And how has more time has passed between now and 1990 than between 1990 and The Beatles first taking the world by storm? Well, if you want a scientific answer, the neurotransmitter dopamine governs our perception of time, and as we get older, dopamine levels drop, making time appear to run faster.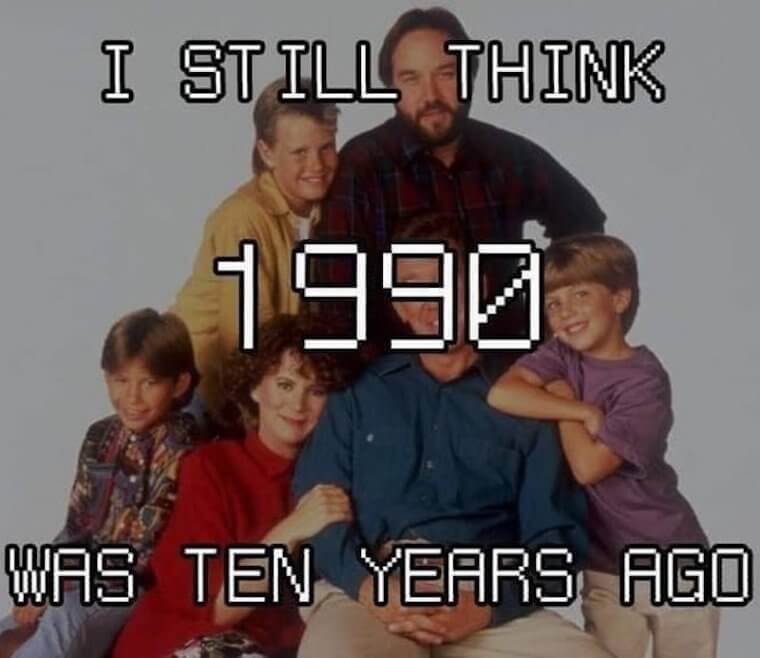 This drop in dopamine levels explains why school summer breaks stretched before you like a lifetime when you were seven years old, but New Kids On The Block hanging tough seems like last week!
Keep On Rollin'
This dude deserves props for rocking that Fred Durst look across three decades. Discovering his old 90s get-up in his wardrobe, fake Fred strapped his olive green cargo pants halfway down his thighs just above his knees, put on an old T-shirt, and turned his baseball cap backwards. Then he went to his mom's room to check himself out in the full-length mirror. Just like back in the old days.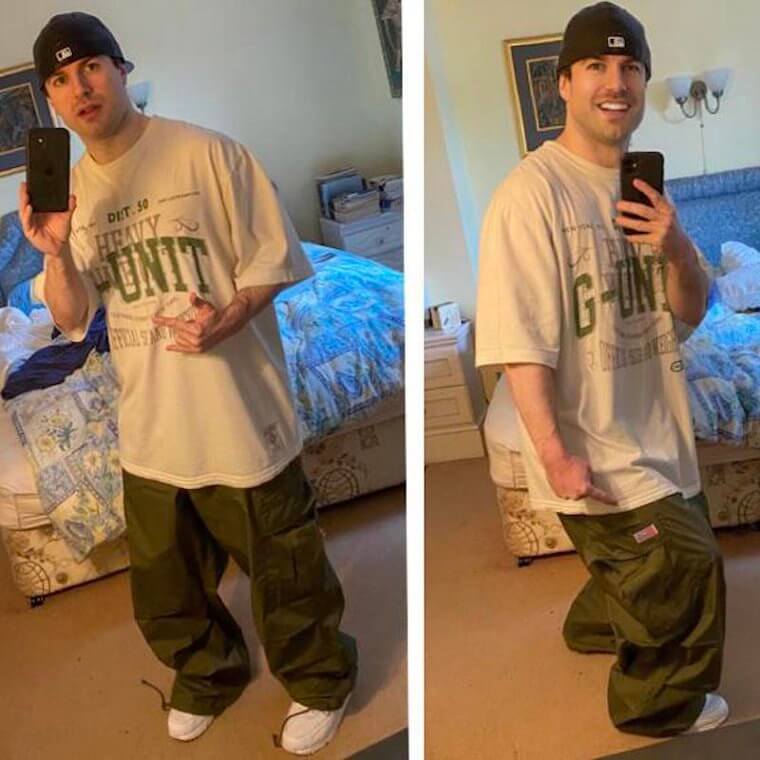 We can only presume the next thing he did was find his old skateboard in his dad's garage before rollin' rollin' rollin' along some streets and carving up some sidewalks. 
Some Things Will Never Be Obsolete
Some things will never be obsolete. This is not one of them! The common-all-garden PC tower would take an hour to boot up, and then you'd have to dial in via a modem to connect to the internet, which––in some cases––could take up to a week! Here's one such dinosaur, and rather hilariously, it even features a sticker reading "Never Obsolete." Never has a falser word been spoken.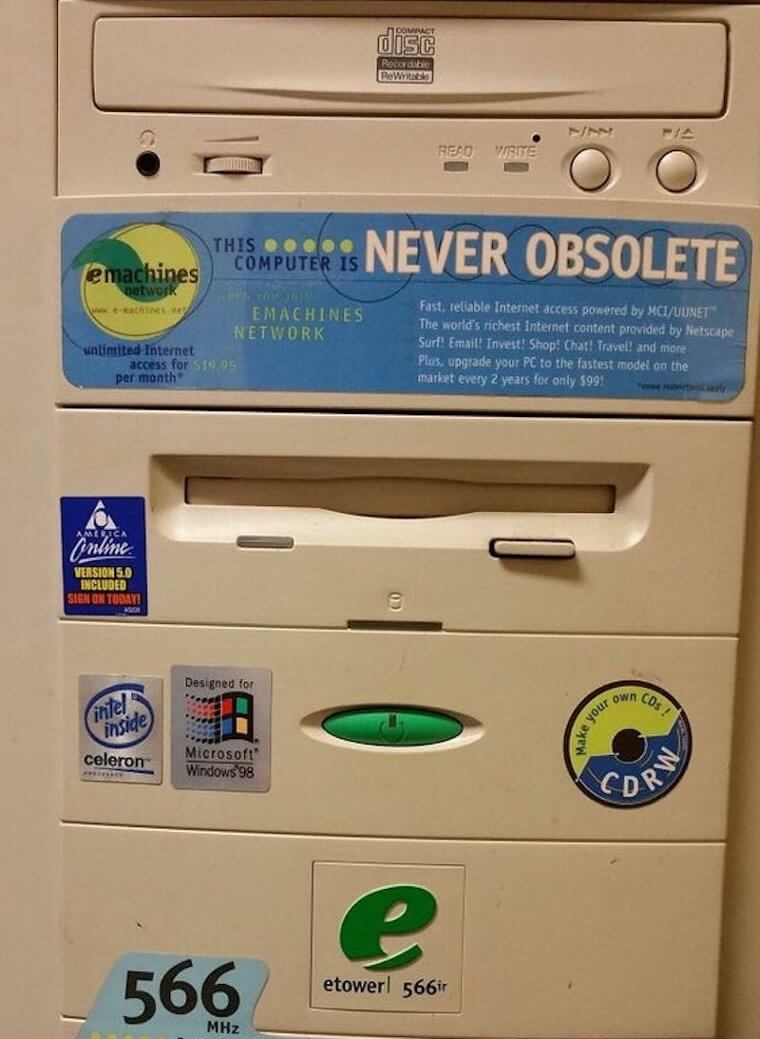 That "Never Obsolete" statement might have been true when this photo came back from the One Hour Photo Store. Yes, kids, back in the old days, we used to have to drive to a strip mall to get our rolls of photographic film processed.
Here, Take Our Money
Some bright spark came up with the idea of a nostalgic 1990s bowling alley called Memory Lanes, and our response is… Here, take our money! The only way this idea could be bettered is if the shopping mall also had a movie theater showing movies like Terminator 2, Jurassic Park, Seven, Goodfellas, and Jumanji. In fact, it's such a good idea; we're heading straight to the patent office before anyone else does!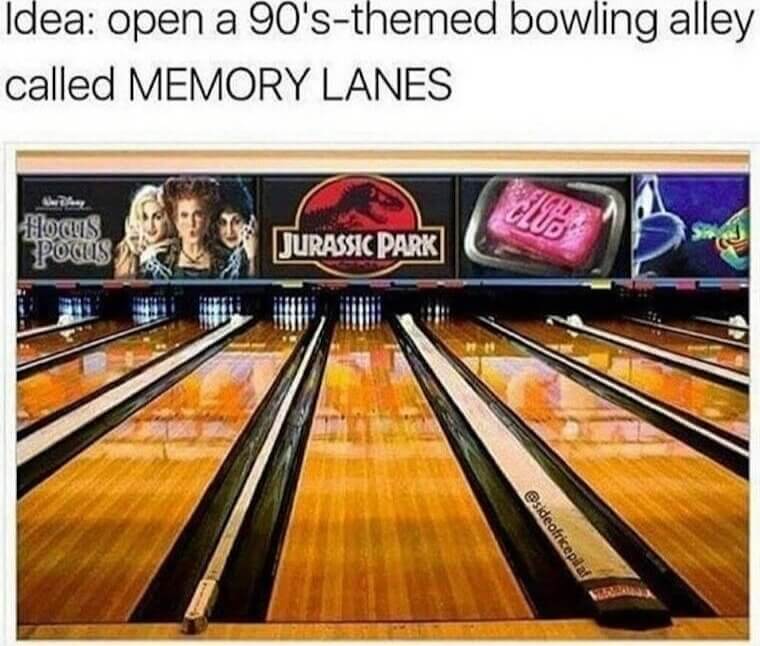 Then, if there were a Laser Quest and video game arcade on either side, it would make wearing other people's smelly bowling shoes almost worthwhile! 
In Awe Of This VHS Cartoon Collection
Firstly, take a look at that old TV. Though it was no bigger than a human head, it weighed almost as much as the sun. It sits atop a VCR machine and is surrounded by hundreds of classic 1990s animation tapes and toys. We can spot Pikachu, Mario, a tiny Luigi, and a dinosaur, but it's the cartoons on offer in this collector's home that impress us the most.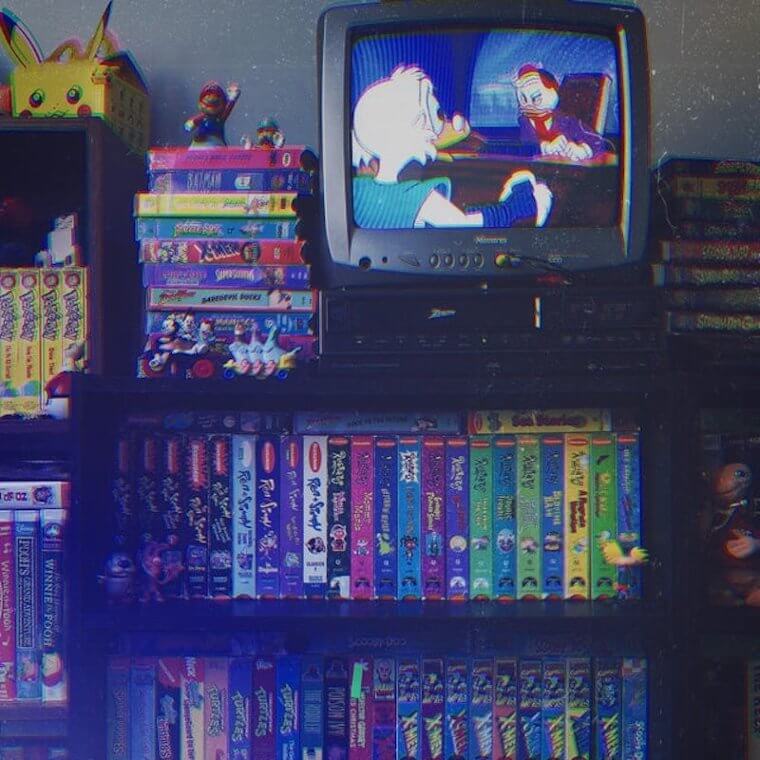 Take your choice from classic X-Men, Rugrats, Teenage Mutant Ninja Turtles, and the wonderful Ren and Stimpy. Put some popcorn in the microwave and pull up a chair, we're coming over.
Who's A Good Robo-Boy?
Among the decade's millions of dead Tamagotchis came another loveable pet. This is Tiger Electronics' robo-pet, Poo-Chi––the worst named toy of 1999, which had children across the globe asking, "Who put the poo in Poo-Chi?" Looking like Apple had redesigned Spike the dog from Tom and Jerry cartoons, he could nod and bark and wag his tail and walk. Who's a good robot boy, then?
At least Poo-Chi didn't go to the restroom, so owners weren't left reaching for the carpet shampoo and asking… who put the poo in sham-poo?
Blockbuster Sleepover
Remember not so long ago, there was an online petition to bring back Blockbusters? Well, the petition creators clearly missed the irony that it was e-commerce that put the video store franchise out of business. But did you know that the last Blockbuster store never actually closed down? This one in Bend, Oregon, stays up and running thanks to 4,000 active members who rent Titanic over and over again, but that's not all.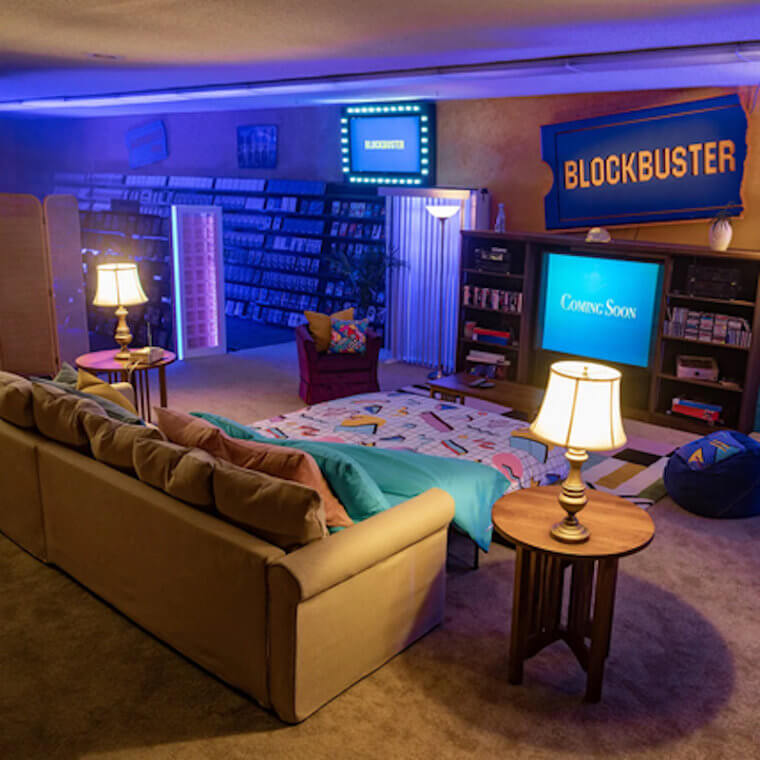 In 2020, this store also became an Airbnb and hosted sleepovers for movie buffs. Great idea, but many 40-year-old male visitors got upset at hordes of customers blocking the view to a topless Kate Winslet on the TV. 
Pretty Fly For A Young Guy
This cool kid starter pack shows us how to be the flyest kid in your school in 1996. First, you'd need a hairstyle with a middle-parting. Then, you'd connect a wallet on a chain to your baggy jeans, wear a fresh No Fear T-shirt, and some Airwalk or Vans sneakers. Next, in your Jansport backpack, you'd carry a Sony Discman with a couple of Rage Against The Machine or Green Day CDs.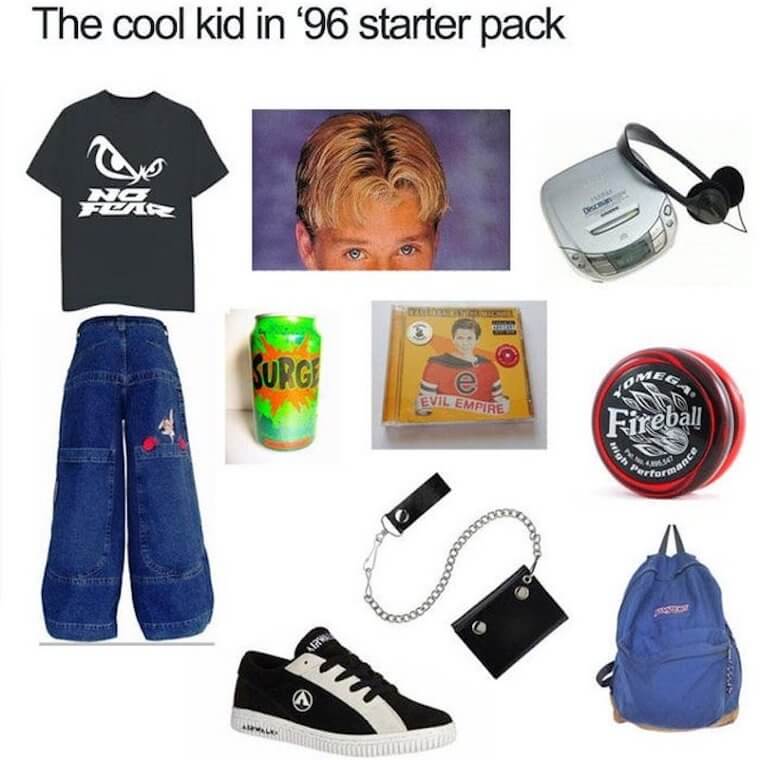 And the coolest kids in school impressed their friends with a Yomega Fireball yoyo… or performing tricks on one of those tiny, finger-sized skateboards. 
In Da Cheese Grater Club
Here's Homer Simpson inside a cheese grater. But why? Well, three decades ago, the background of just about every hip hop video on MTV featured a cheese grater doubling up as a futuristic, industrial club. Well, it was certainly cheaper and easier than filming blinged-up rappers in fur coats––and their scantily clad entourage––emerging from Humvees on their way into real clubs.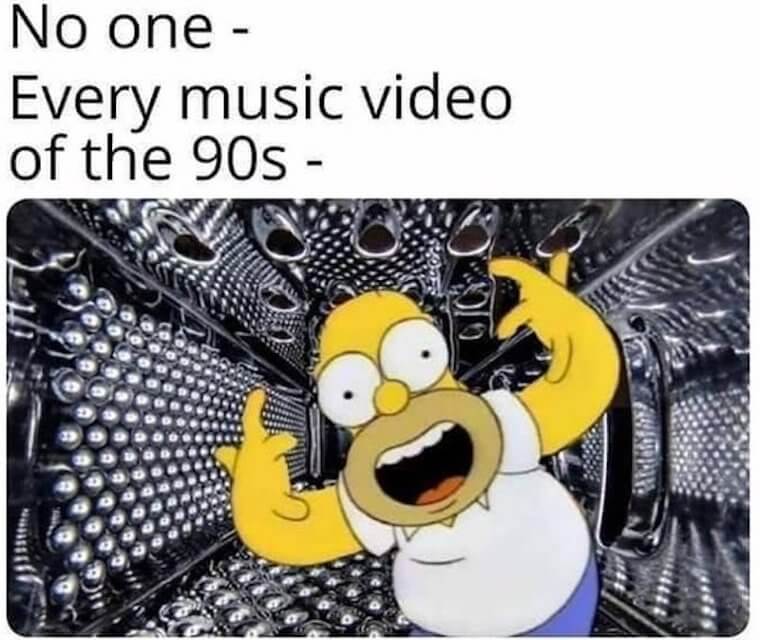 All you needed was a stills camera and, you guessed it, a cheese grater, and you got yourself a 1990s rap video. Just make sure you wash it before you put it back in the drawer.
Friday Night Lights
Long before Netflix and Chill entered our lives, the freshest Friday night activity was roaming the aisles of the nearest Blockbuster store in search of the latest movie, which was usually at least six months old. Then you'd spend the evening chillaxing with your bae on the couch with some good food. Not that the words chillaxing or bae were used in the 1990s, but Blockbuster and chill don't have the same ring.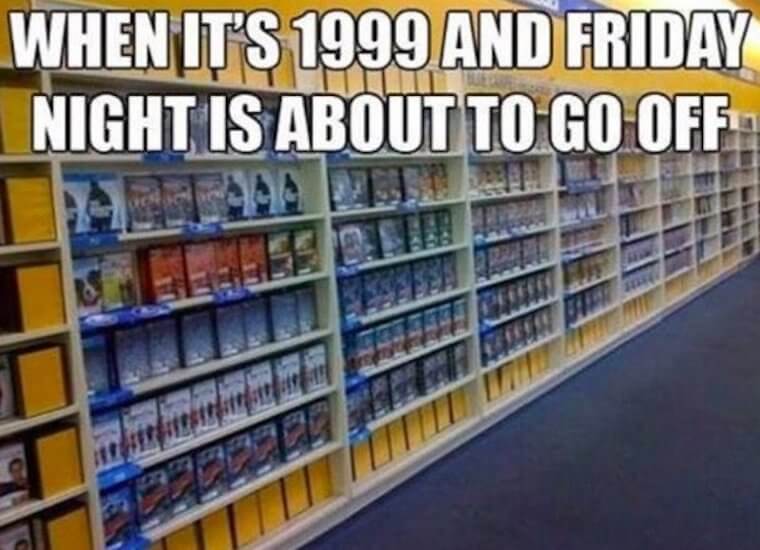 No, back in the day, there wasn't really a term for Netflix and Chill, so people would ask, "Would you like to snuggle up on the couch, babycakes?"
All The Colors Of The Rainbow
For a while, iMacs came in just one color called Bondi Blue. But then, towards the end of the 1990s, in an effort to be down with the kidz, Apple launched the iMac in Blueberry, Strawberry, Lime, Tangerine, and Grape hues. This colorful line made sitting down at your elementary school's computer lab feel like you were a grown-up interior designer being blasted off into a new millennium. 
Instead of a separate computer in a tower, the iMac incorporated all its hard drives and memory inside a colorful yet bulky monitor the size of the TV in your mom's kitchen. 
Screensavers That Were Too Legit To Quit
Did you know that many people spent the early part of the 1990s being hypnotized against their will? Yep, when they weren't staring blankly at Magic Eye posters trying to find hidden images, computer screensavers were turning people into mindless automatons. Some of the most memorable ones included elaborate pipe-building structures, 3D mazes, starscapes, and flying toasters for some bizarre unknown reason.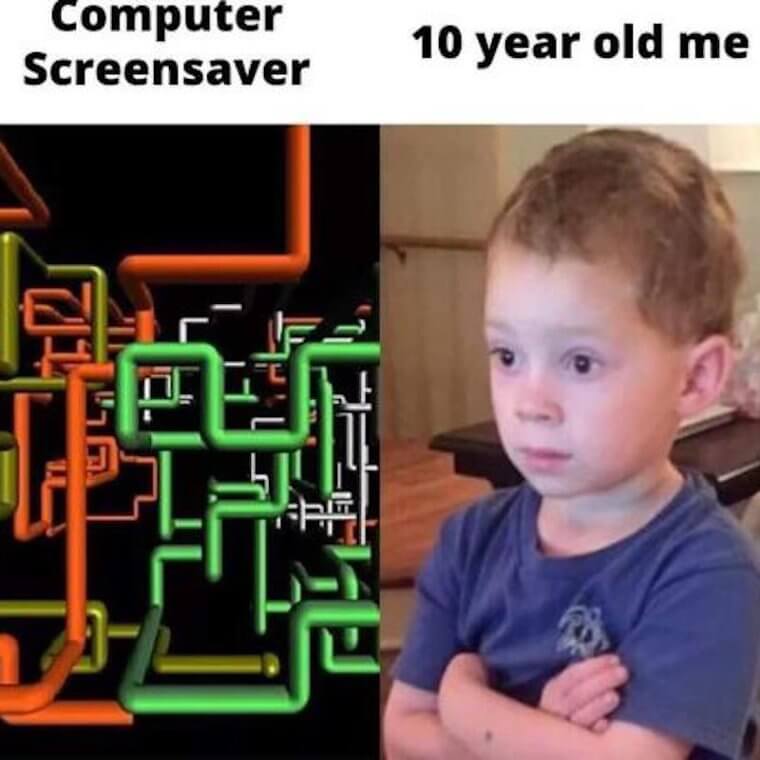 Then, later in the decade after the success of The Matrix (1999), everyone's computer screensavers dripped with vertical green numbers and letters. 
The Original Insta Filters
Nowadays, cameras and apps provide a never-ending stream of Insta and Snapchat filters and lenses to make it look sunnier, make you look more attractive, or turn you into a kitten. But rewind a quarter-century, and there was no such thing as selfies, so the only time you saw pictures of yourself or your friends was on actual paper photographs… or in police mugshots.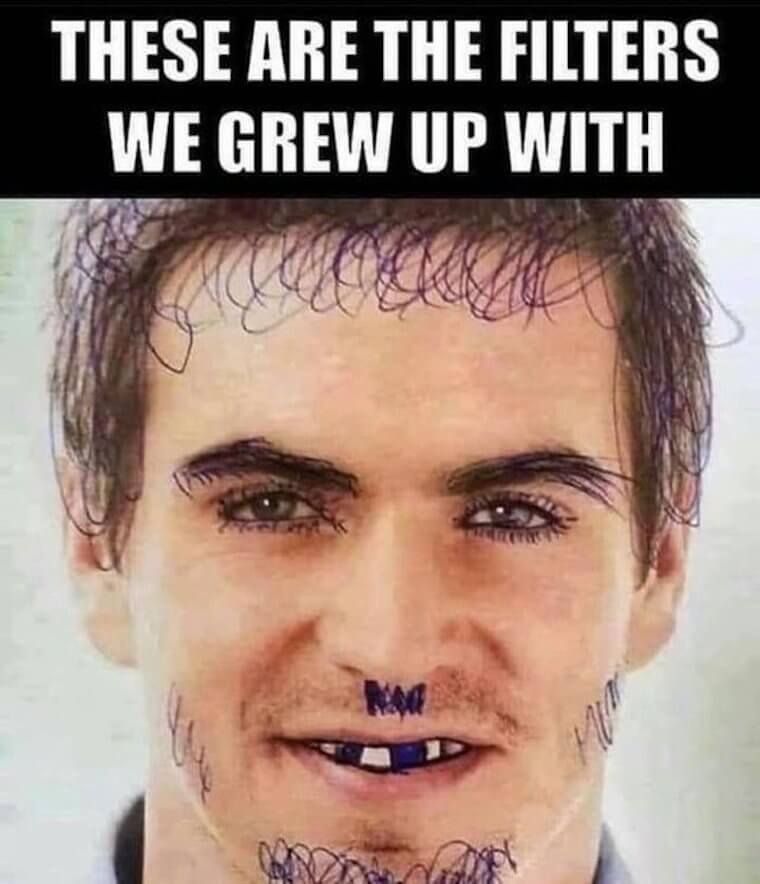 All we had was a sharpie and our hilarious senses of humor, and––every time, without fail when you saw your friend's face in a photo––this is what you'd do… 
Long Movies Needed Two VHS Tapes!
Before data was stored on servers and in the cloud, it was stored on magnetic tape or on a disc. A CD could generally hold 74 minutes, 33 seconds of music (because Sony's vice president Norio Ohga insisted they could hold Beethoven's Ninth Symphony) and a VHS tape usually came in at 120 or 160 minutes. But what happened when James Cameron's 3 hour, 14 minute-long Titanic hit the shelves?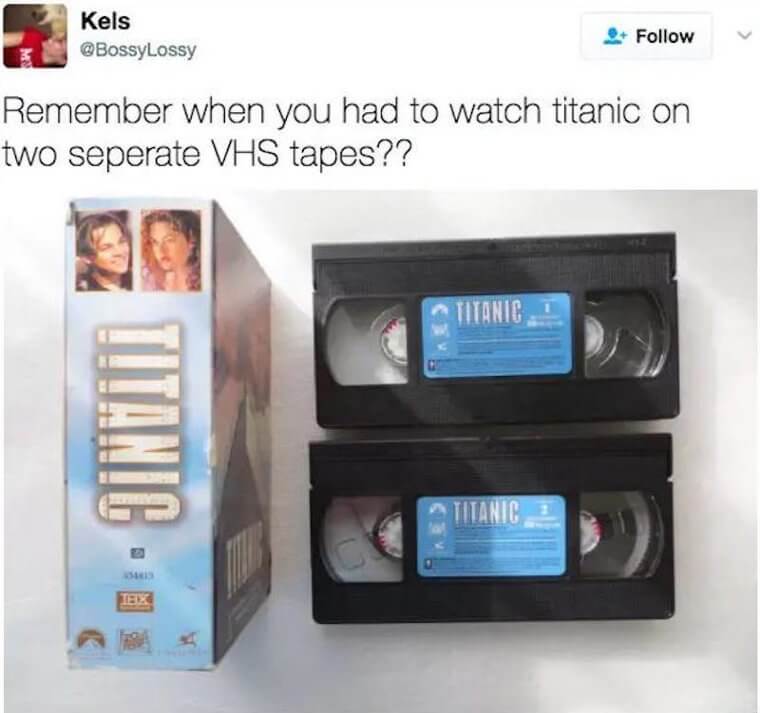 The answer was incredibly straightforward. You wanna buy Titanic? Well, you've got to shell out for two VHS tapes… probably at twice the price. So now we know how James Cameron can afford all those undersea adventures!
Pimped-Up Pickup Truck
Some people just aren't ready to leave the 1990s. And the owner of this pickup truck is one of them. With its pristine white paint job with fluorescent cyan and purple swishes, this dude has turned his truck into a Nike Air Force One sneaker! And you can bet that behind those tinted windows, mullet-haired Earl from Florida's panhandle blares out Kid Rock's most popular song "Rockstar" on a loop… on cassette!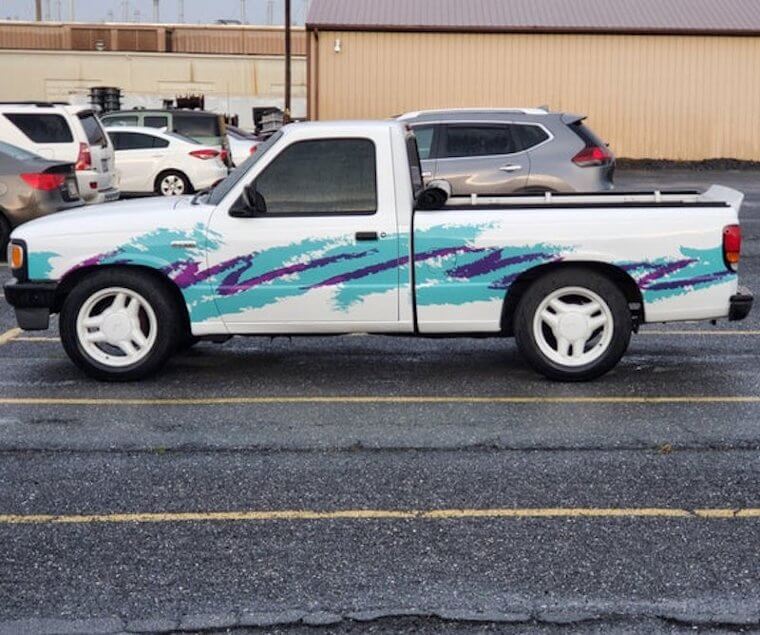 In his spare time, Earl likes watching Monster Trucks, drinking Monster energy drinks, and dancing the monster mash. All in all, he's a bit of a monster! 
Windows Media Player's Hypnotic Visuals
The next step up from screensavers was Windows Media Player's visualization. After spending a day and a half dialing in to the internet and illegally downloading your .mp3 file from Napster, you'd play your song on Windows Media Player or Quicktime Player. The former would accompany the song with a groovy visualization. Nine times out of ten, these pulsing, swirling, exploding fractal animations would lull you into a dreamy, hypnotic state.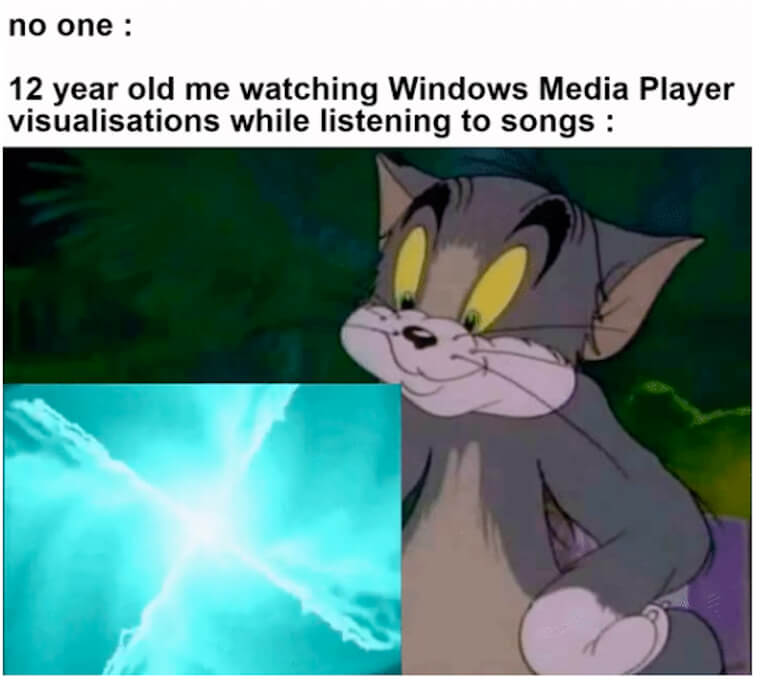 With Windows Media Player's gorgeous psychedelic animations, you really could really just sit there, listen to your favorite music and forget that AOL cost $10/month for five hours of internet. After that, it cost $3 an hour!
The World Was A Better Place
All this modern technology has certainly made life easier, but as the world moved online, we lost the magic of yesteryear. Case in point, kids used to save up their nickel-a-month pocket money, go to the toy store to buy Sega Genesis and Nintendo SNES games like Sonic the Hedgehog and Mario Karts, Pokemon cards, Tamagotchis, and Trolls. Nowadays, kids receive $450 pocket money per week, and everything they need is delivered by digital download.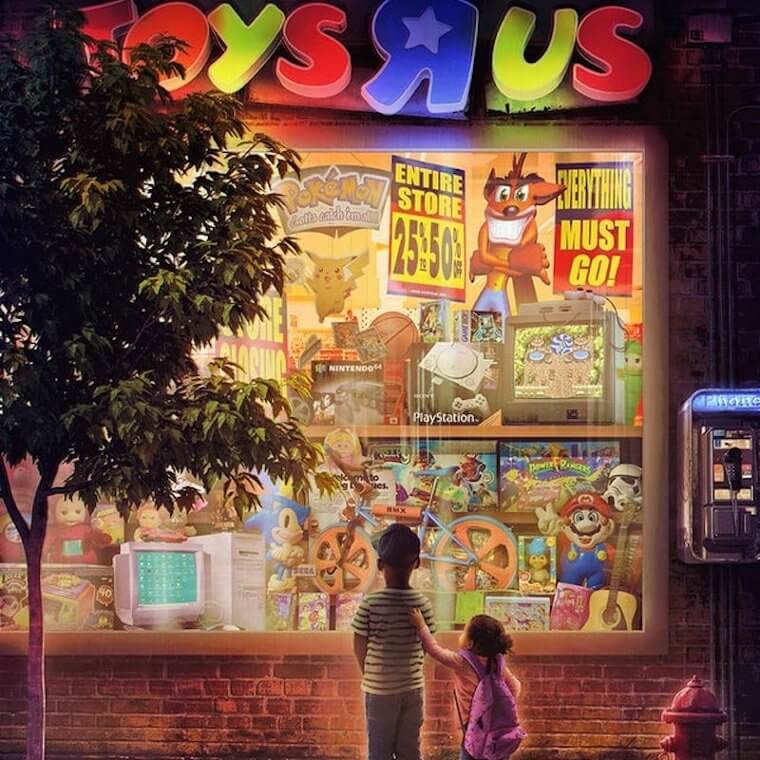 That said, 90's kids did spend their lives glued to a screen trying to defeat Dr. Robotnik while their parents' generation's definition of fun was foraging for sticks in the forest, making skateboards outta orange crates, and not getting beaten up by Biff Tannen.
No Longer Rugrats
If you were a little kid during the 90s, then Rugrats would have played a big part in your life as you lay on the floor in front of your TV. And as a rugrat yourself, Tommy and Dil's grumpy parents––Stu and Deedee Pickles––would have seemed as ancient as the pyramids. The truth is, Stu and Deedee were meant to be just 33 and 32 years old. Now do you feel old?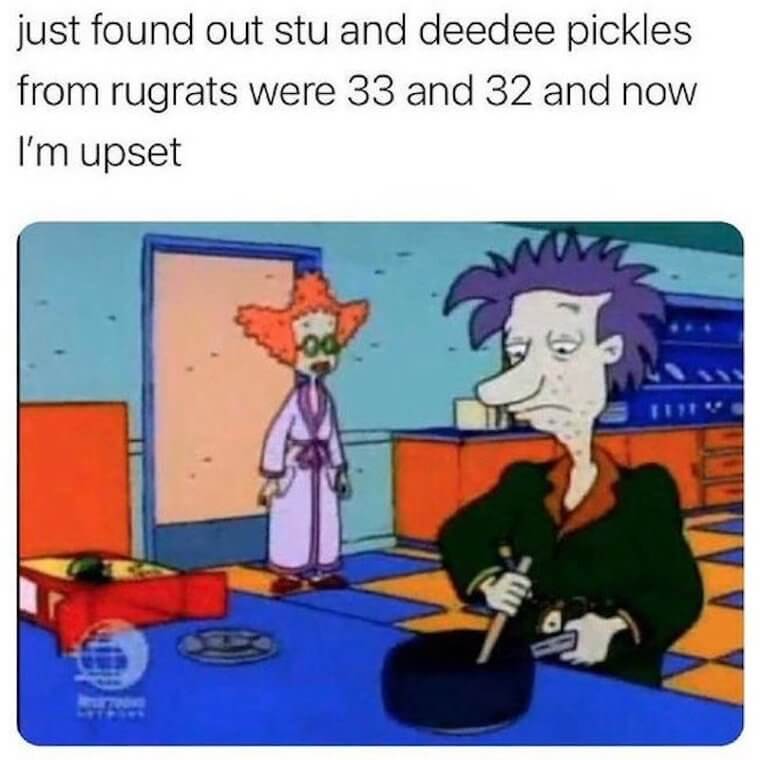 To make you feel even older, Rugrats celebrated its 30th anniversary in 2021 with an all-new series. And, of course, it was computer-generated! 
Snow Day Television
Whether you got to stay home because you were genuinely sick, faking it, or it was a snow day, all that morning and afternoon television saved us all from a fate worse than death… i.e., boredom. Okay, the TV on offer was pretty dull, but kids will watch pretty much anything from Judge Judy to Ricki Lake and Jerry Springer to gameshows like The Price Is Right and Wheel of Fortune.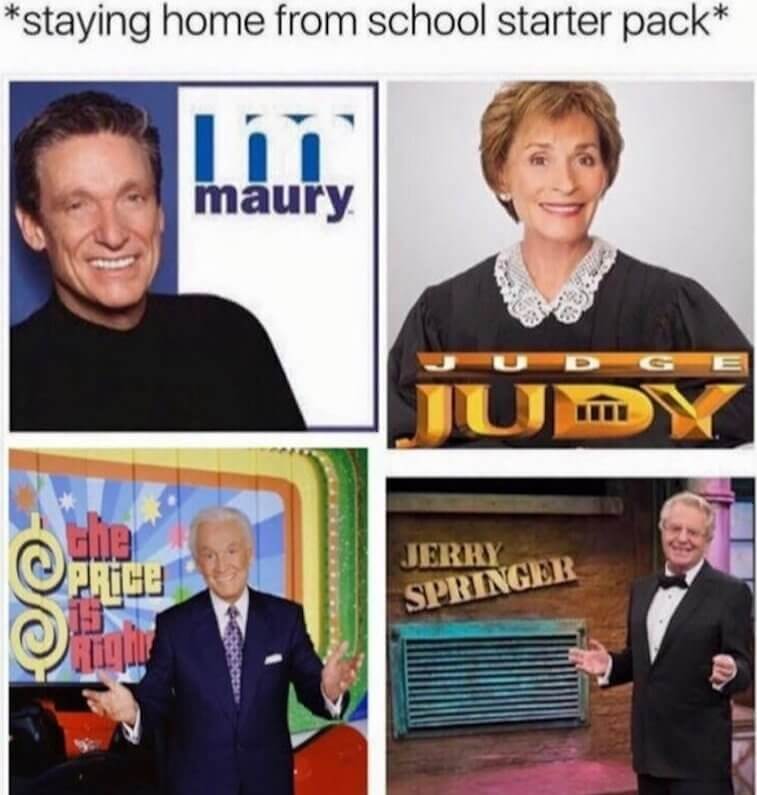 And then there were our beloved soap operas like The Young and the Restless, General Hospital, and Santa Barbara, which were all terrible. Days of Our Lives is approaching its 60th-anniversary… mostly thanks to six decades of kids bunking off school! 
You Can't Erase The Past
If you went to school during the 90s, you'd no doubt have had one of these cute erasers in your pencil case. These erasers looked great, with designs varying from watermelons and bananas to cute little monsters and critters. They smelled great, too. But there was one fatal floor… they didn't actually work! Try as hard as you might, and these fruity erasers didn't rub out any pencil markings!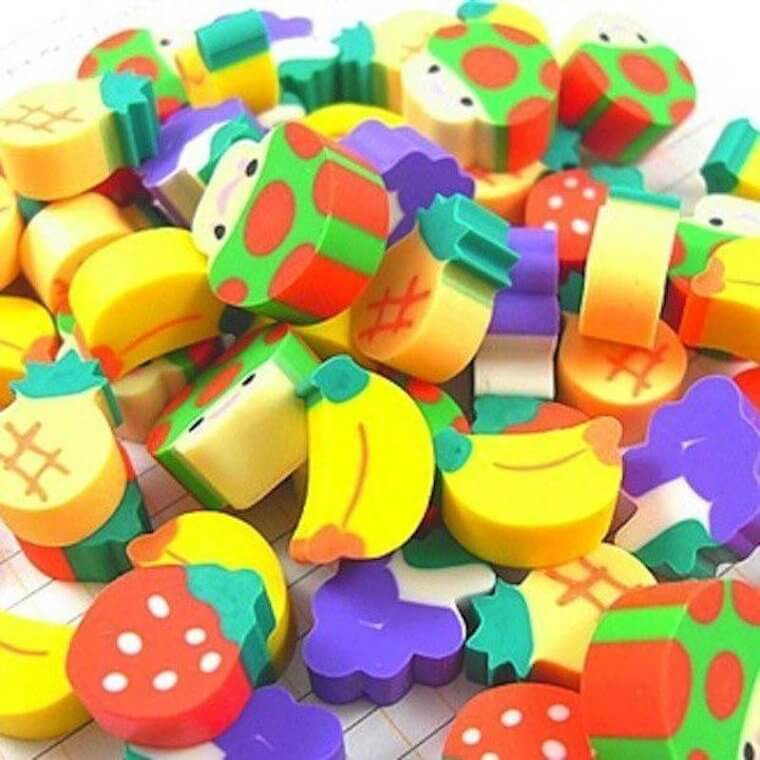 Erasers, you had one job, and you failed! Now, in Britain, they call erasers "rubbers," so we hope British rubbers actually do the job they were made for! 
The Best Way to Waste Your Day
Before Google Search, and even before we had to submit all our internet searches to that know-it-all English butler, Ask Jeeves, people were still glued to our computer screens… even though they were essentially glorified typewriters. But one thing computers did do was 8-bit games. According to the US Bureau of Office Workers, 80% of office time was wasted by employees playing FreeCell, Hearts, Minesweeper, and Solitaire at their workstations.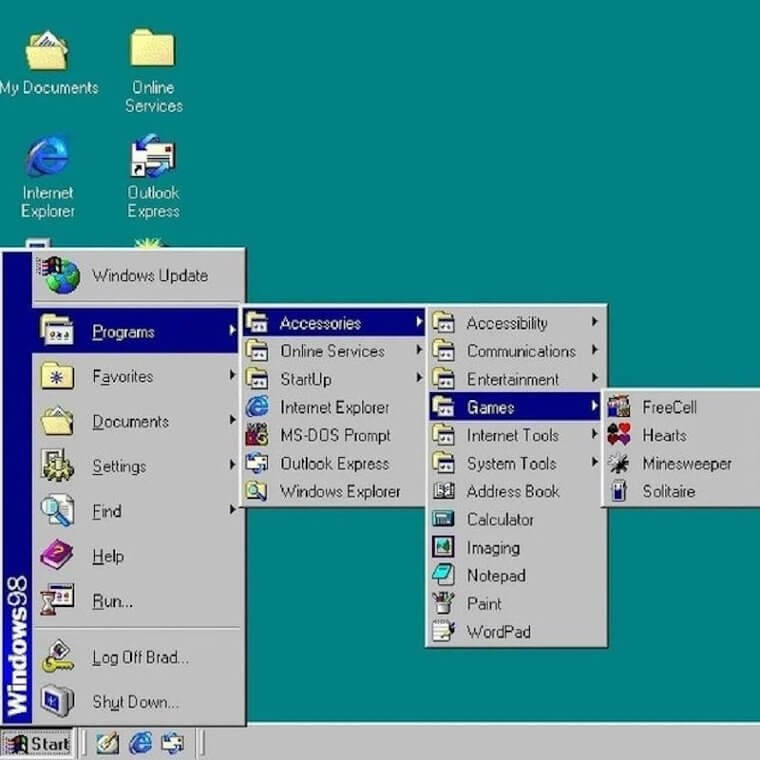 Okay, we made up the US Bureau of Office and Admin Workers and the 80% figure, but did you know that 96.25% of statistics are made up on the spot?
Cinematic Memories
Going to the movies in the 1990s was as hellish as it was heavenly. For every popcorn aroma, there was the putrid smell of nacho cheese sauce. For every Jurassic Park, Romeo + Juliet, or Basic Instinct, there was a Cliffhanger, Congo, or Daybreak. And for every futuristic blinking neon sign, there was a carpet so psychedelic it would give you a migraine or ralph on the spot!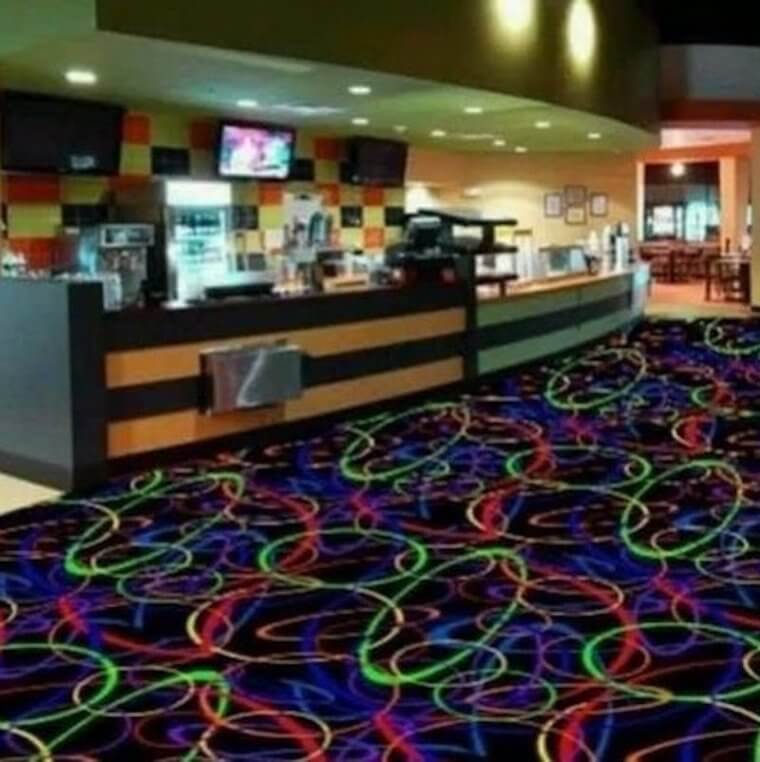 We can only guess that movie theaters had carpets like this to readjust movie-goers eyes after they'd watched Joel Schumacher's neon-inspired Batman Forever and Batman and Robin movies.
These Things Had 1,001 Uses
If you were born before the age of digital cameras and smartphones, you'll probably miss these little storage containers. But if you were born after the turn of the millennium, you might not know what they are. They are, in fact, canisters for rolls of 35mm photographic film, but they also doubled up with a thousand other uses too. Dads would store screws in them. Campers would use them as a waterproof matchbox…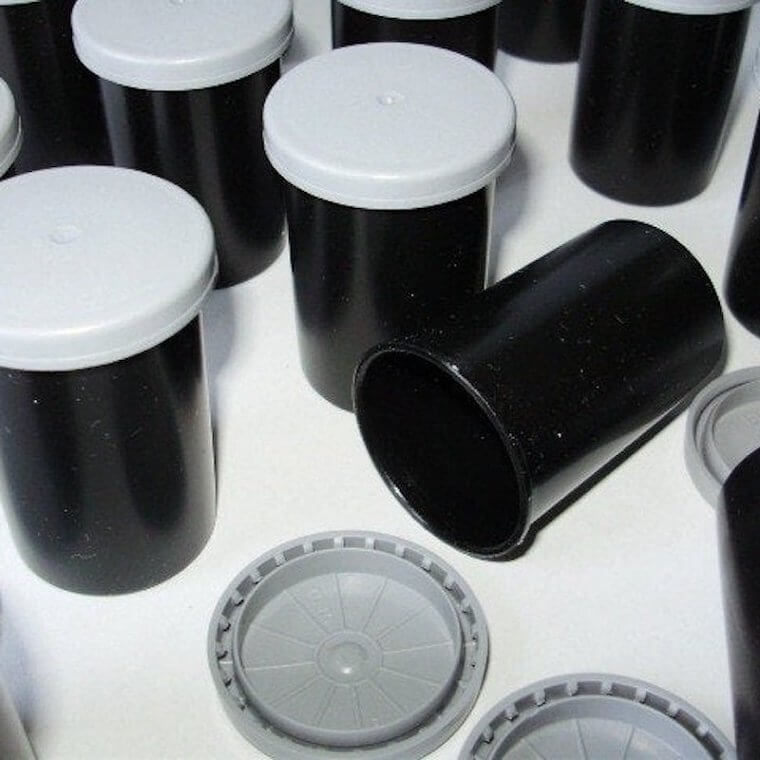 They'd hold two AA batteries or your medications, they'd keep your headphones safe, and they'd even make a great salad dressing holder to go inside your Teenage Mutant Ninja Turtles lunchbox!
Teacher's Pet
Now it's a long time since we were in school, but things have changed a lot. When we were kids, P.E. teachers were 60-year-olds who couldn't sprint the 60-yard dash if their pants were on fire. Nowadays, we're assured sports coaches look like the one in this photo—the one on the left, not Ric Flair's morbidly obese used car salesman/televangelist brother… who looks like he shouldn't be allowed within 100 yards of a school.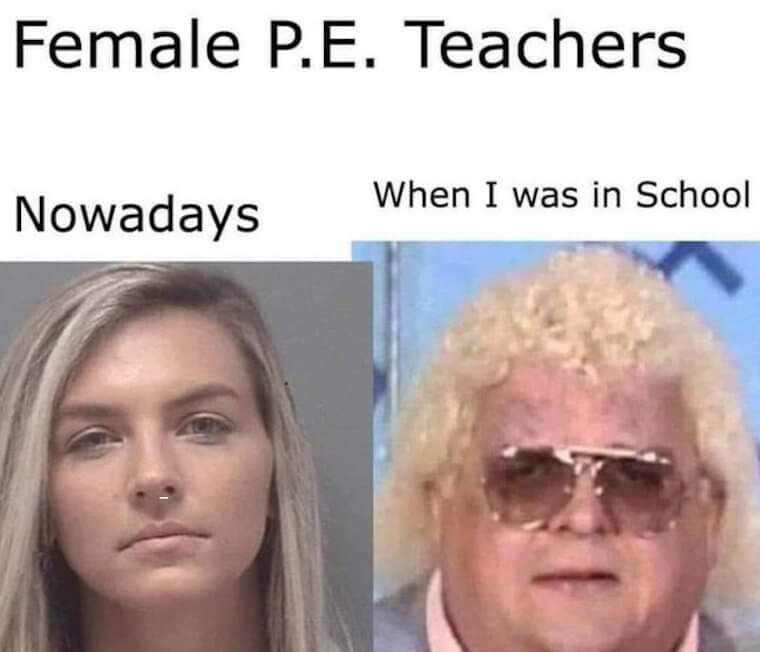 If all P.E. teachers looked like this young woman, the nation would definitely be fitter, meaner, and leaner than back in our day! 
Getting Back To Your Roots
Would you believe this photo is from 2021? This pretty fly for a white guy dude traveled back in time by digging out his oversized hockey shirt, hockey stick, backward baseball cap, baggy jeans, and rollerblades. But, seriously, it's watching an episode of the recently commissioned Quantum Leap reboot where Dr. Sam Beckett jumps back in time to find himself inhabiting Vanilla Ice's body. Oh, boy!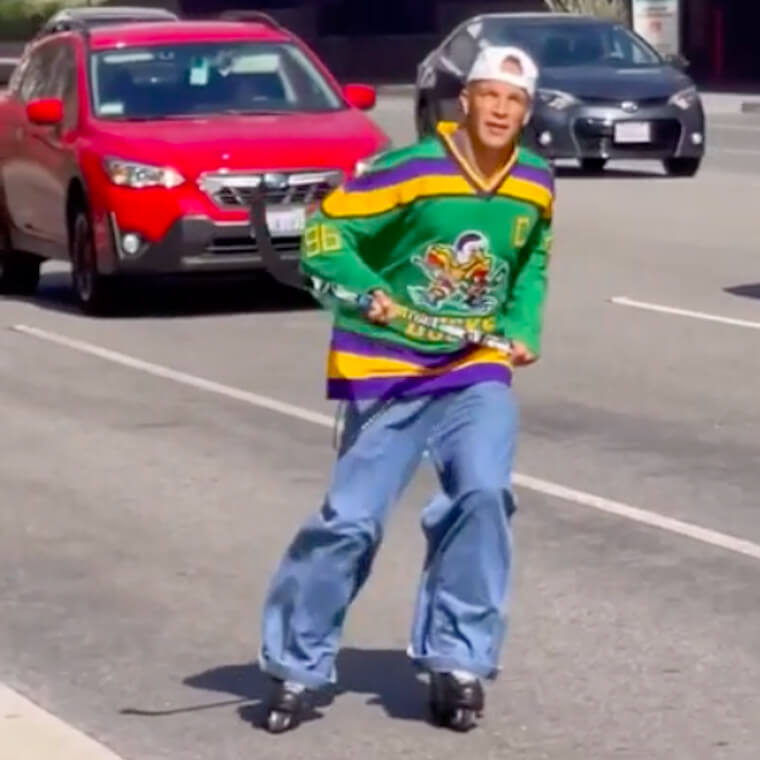 A quick internet search reveals that retro hockey shirts are all the rage. Proving our mantra––what goes around comes around… Or as 90's rappers Cypress Hill used to say, "What go around, come around, kid." 
If You Weren't Already Feeling Old
Another great Nickelodeon/Disney show at the same time as Rugrats was Doug. Sixth-grader Douglas Yancey "Doug" Funnie was the voice of a generation as he made his way through life. Doug was described as being 11 in 1991. That means he's in his 40s now! Since his time in the spotlight, Doug's been divorced twice, suffered a series of nervous breakdowns, and now works part-time in an Ohio Cracker Barrel.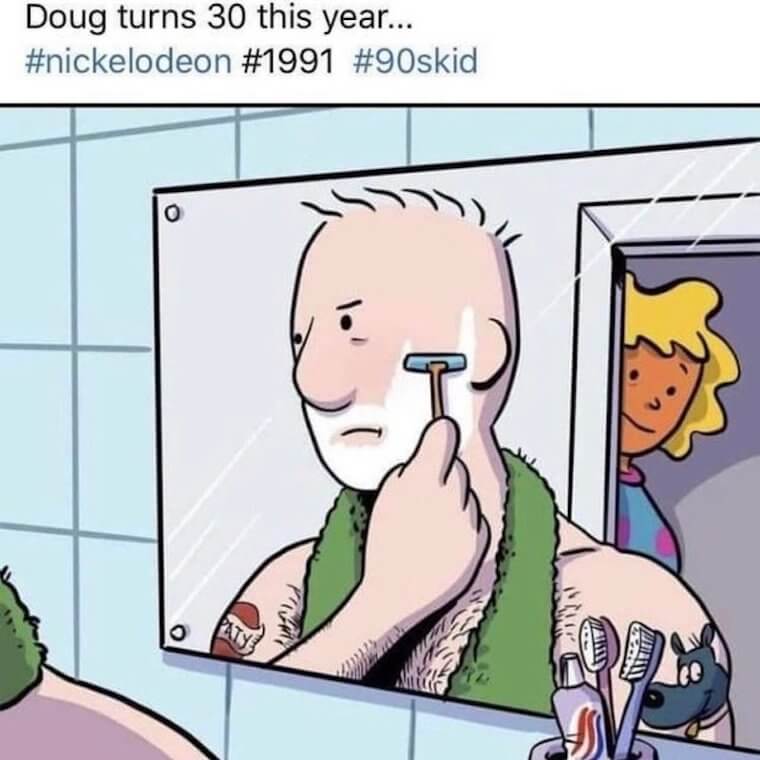 And Doug isn't the only one. Presuming The Powerpuff Girls were six years old in 1998, they are now in their thirties! Between them, they have 15 uninspiring children. 
Ahhhh, My Eyes!
If you thought the 1980s were colorful, the 1990s were an all-out assault on the eyes. While there are literally millions of examples, take these Pochohontas glasses used to advertise Disney's 1995 film. A thousand years from now, archaeologists will use these glasses as evidence that early Puritan colonists wore bright purple hats and that the skies were aflame in red after volcanic eruptions. But it wasn't just Disney…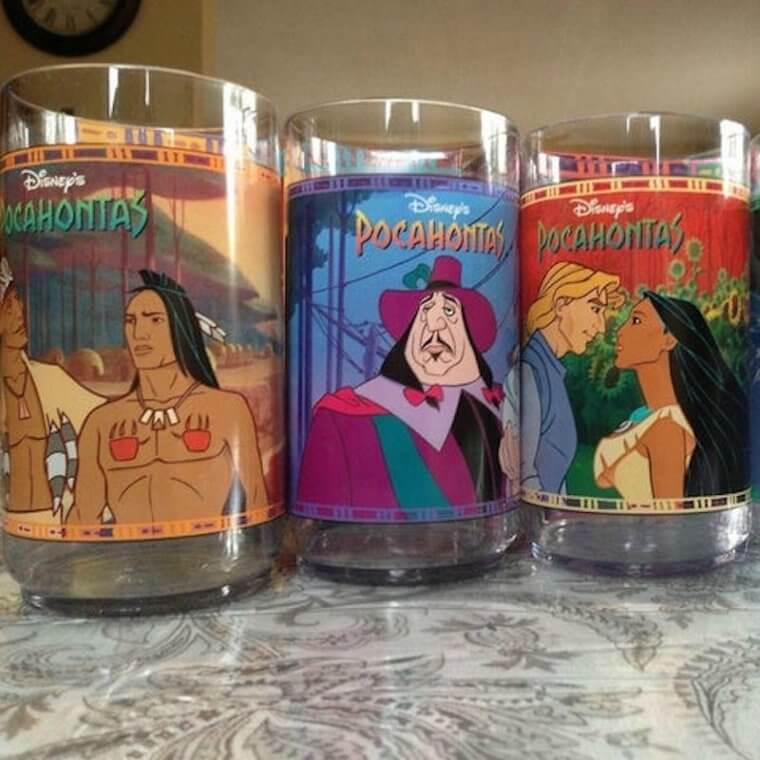 Everything in the 1990s was this colorful. That sweat-changing Hypercolor T-shirt under your overalls (with one strap down like The Fresh Prince), and your Motorola pager attached to the other strap (like Tupac.) Your Reebok Pump sneakers, your one pant leg rolled up (like LL Cool J), right down to the pearlescent mood ring you wore to impress the honeyz in your cheese grater club. Told you we were gonna party like it was 1999! 
Remembering Everyone's Favorite Uncle
The Fresh Prince of Bel-Air bossed the 1990s thanks to its many memorable characters and funny yet touching storylines. Yet everybody's fave character was Uncle Phil. Actor James Avery brought so much to the role that firm-but-fair Philip Banks commanded love, respect, and admiration and made you wish he was your dad. Sadly, James Avery passed away in 2013, but he'll be remembered fondly forever.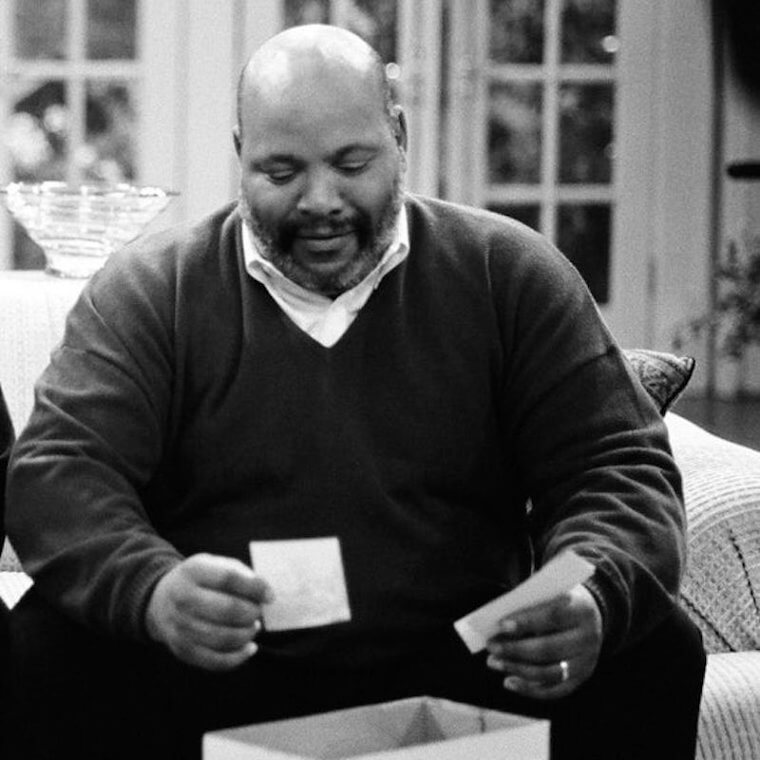 In 2022, a gritty reimagining of the show called Bel-Air launched. Adrian Holmes plays Philip Banks, and he's good, but he'll never be our real Uncle Phil.