A tattoo is one of those pieces of body art that is highly personal. For most people, their tattoos have meaning, and sometimes what seems cool at the moment, definitely isn't in a year or two. Start scrolling to see some tattoos that were popular for a hot minute, but haven't aged well as the years have passed. Some of them will leave you scratching your head with confusion, but experience is what we call our mistakes, right?
No Regrets
It's pretty normal to have a tattoo these days, but about a decade ago it wasn't. For anyone who got a tattoo in the early 2000s, you probably heard one or both of your parents comment on how you will regret going under the tattoo needle.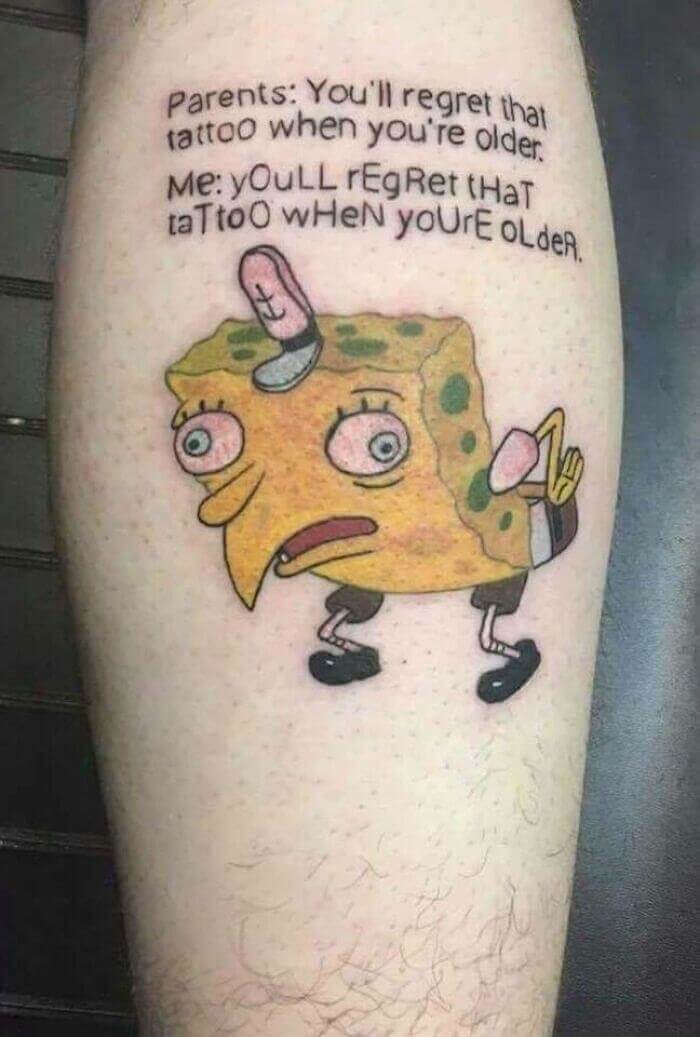 Some tattoos are works of art and could never be considered a regret, but a Spongebob tattoo that actually talks about regret? Yes, that might be a tattoo that gets lasered off down the road.
I Choose You Pikachu
Pokémon figures are undeniably cool in their own special gaming universe. Each little pocket monster packs a whole lot of attitude, and an adorable shape which have made them a popular tattoo choice.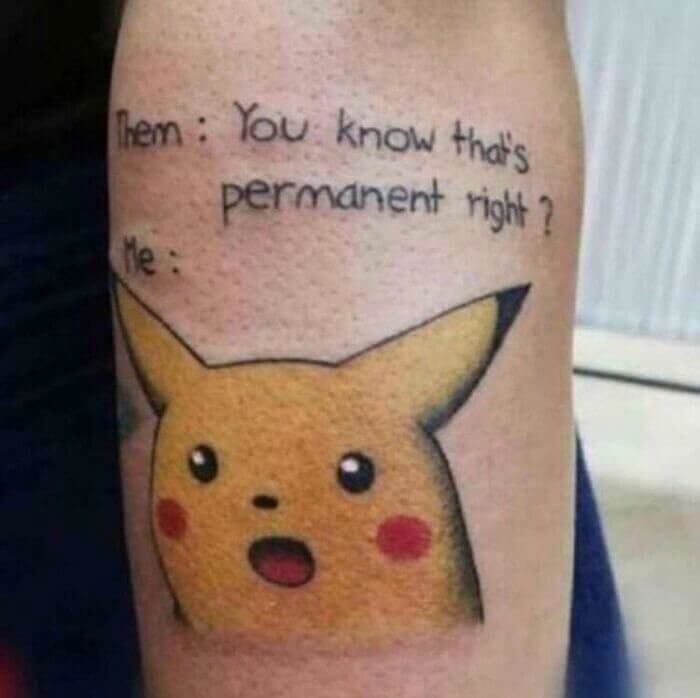 A tattoo is supposed to symbolize something a bit more meaningful than simply something you chose at random though. While this Pikachu face is the perfect answer to the question, it could have been a tad more original.
Bernie's Mittens
American politician, Bernie Sanders is known for his unique political platform and of course, his iconic mitten-wearing photo at the inauguration of President Joe Biden.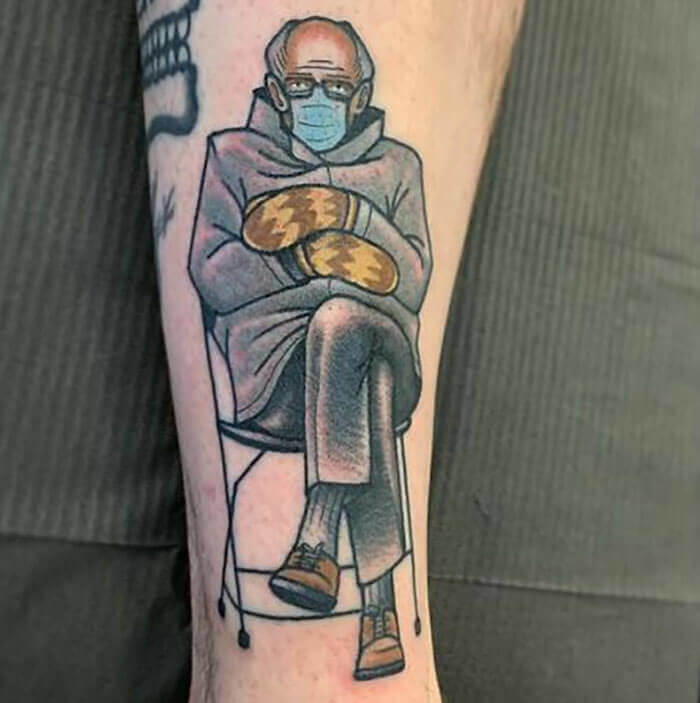 While this photo went viral and a million memes were created, immortalizing this image as a tattoo may not have been the best of choices. A couple of years from now, and no one will remember why this image was funny.
The Tide Pod Challenge
Social media platforms like Tiktok have given birth to a lot of strange challenges recently, but the Tide Pod Challenge has to be one of the weirdest and most dangerous to date.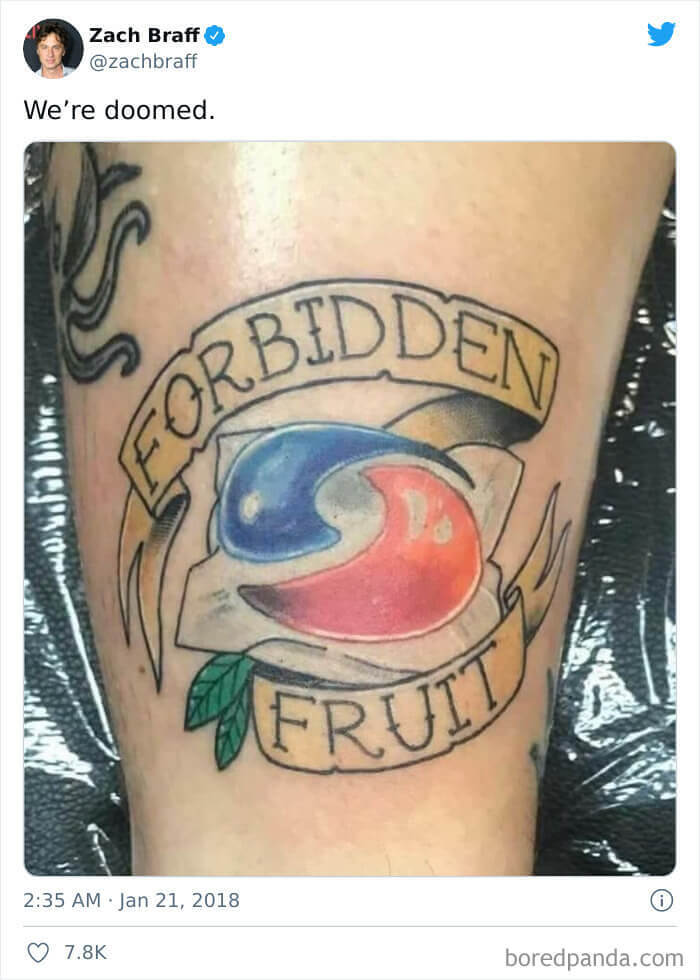 Eating Tide Pods, or laundry detergent of any kind if not recommended, and this tattoo sums up the foolishness of anyone who attempted this challenge. Tide Pods are simply not meant to be eaten, and are thus, the most forbidden of 'fruit.'
The Great Toilet Paper Shortage Of 2020
The past year and a half may not have been the easiest, but one strange phenomenon that will always be remembered is the craze we like to call 'The Great Toilet Paper Shortage' of 2020.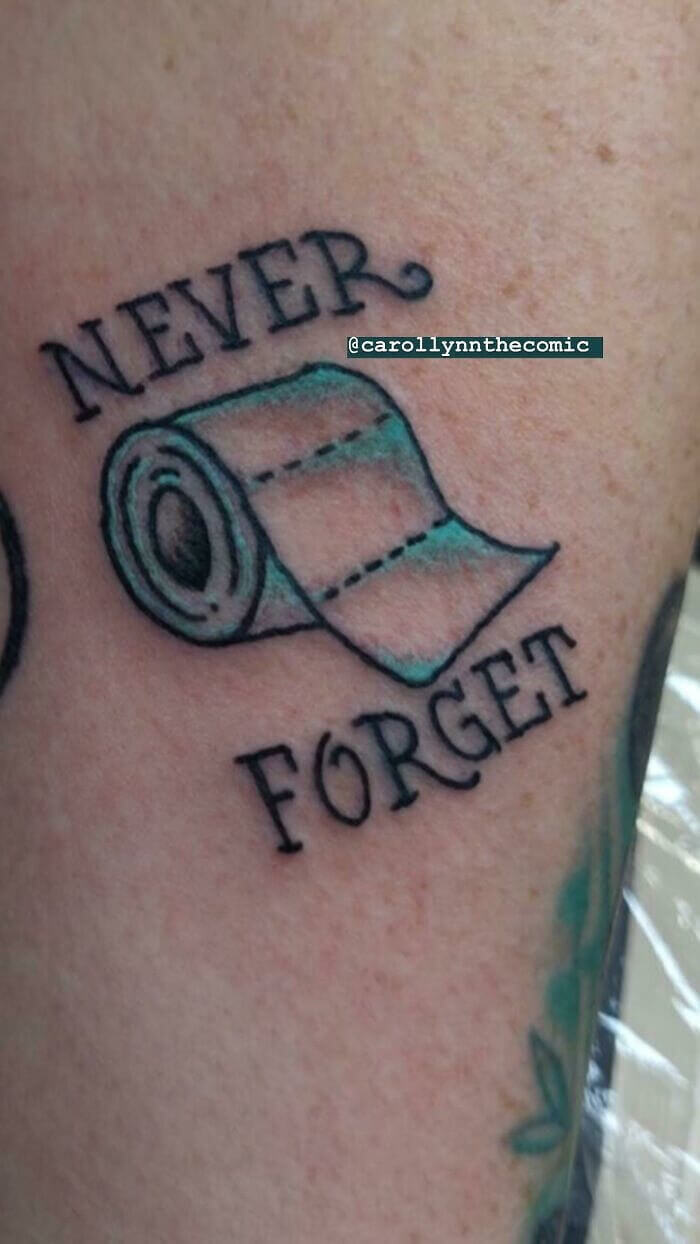 All over North America, people bought up all of the toilet paper they could find as there was an inexplicable fear that there would be a toilet paper shortage. That never happened, and this tattoo is here so this person never forgets.
Gangnam Style
Each year there is a song that comes out and blows up on the billboard charts. A couple of years ago it was 'Despacito' by Justin Bieber, and in 2013, it was the hit 'Gangnam Style' by South Korean pop singer Psy.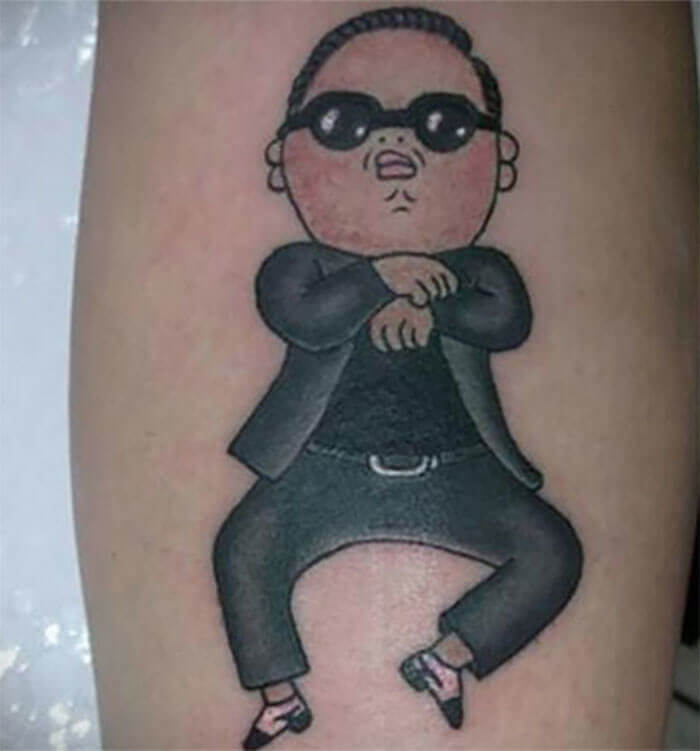 All throughout the video, Psy can be seen prancing around like a pony and doing the infamous 'horse' move. For anyone that wasn't a teen or an adult in 2013, it's unlikely this tattoo will be recognized.
Guess The Color
The internet is full of questions that cause some major debates, such as the color of this dress that showed up on Facebook in 2015. Millions of people weighed in on whether they thought the dress was white-gold, or blue-black.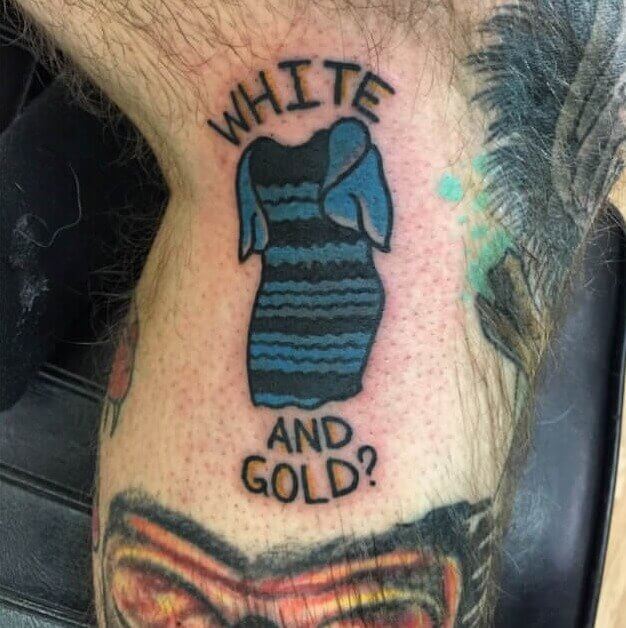 This was an important moment in internet history, as nobody knew what exactly they were seeing. Spoiler alert, the dress was black and blue which is why this tattoo is. This moment probably wasn't important enough to be tattooed though.
Winter Is Coming
The Game of Thrones era may be behind us, but this tattoo is here to stay. Everyone knew the line 'Winter is coming' as it meant that what was beyond the Wall was about to make its way throughout Westeros.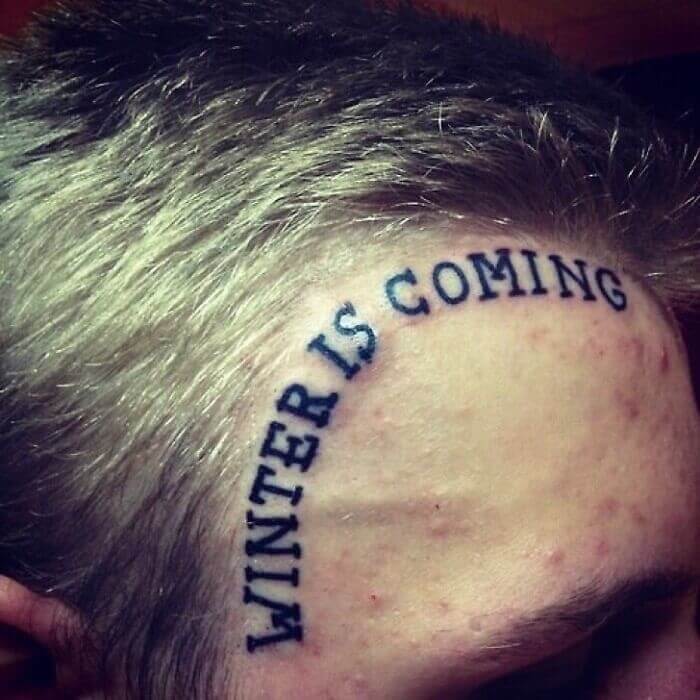 A face tattoo at the best of times is risky, but one with a phrase from a television series that is finished now might be one to avoid.
An Angry Shoulder
Deciding to get a large tattoo is a big deal. You have to choose what part of your body, exactly how much it should cover, and a design that you want to live with forever and ever.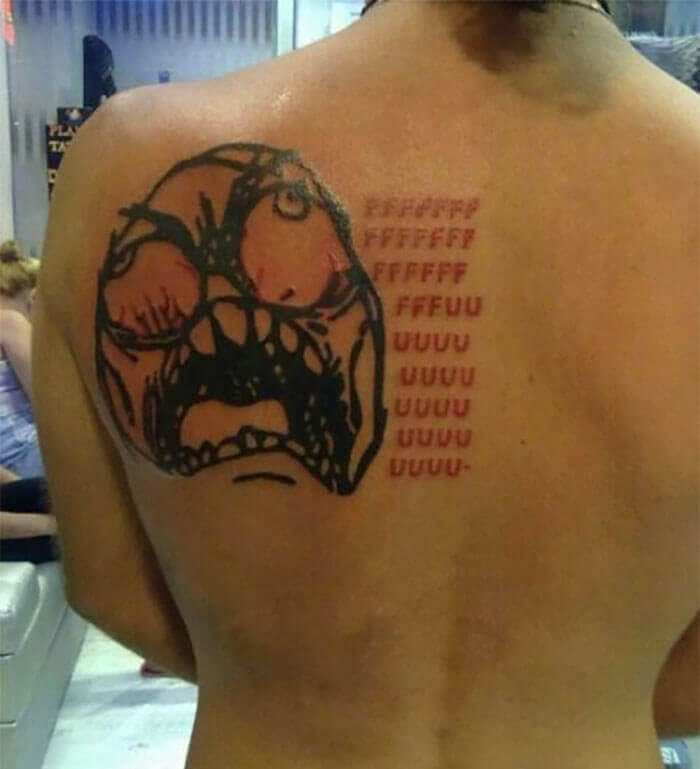 This guy selected a popular cartoon character known for its rather spicy language. We understand the sentiment, as it is one we have all felt, but this is a lot of writing.
Feeling Meaningul
At first glance, this tattoo might look like just your run-of-the-mill Patrick image, but it's all about the writing. The first caption says, "Is this a meaningful tattoo?"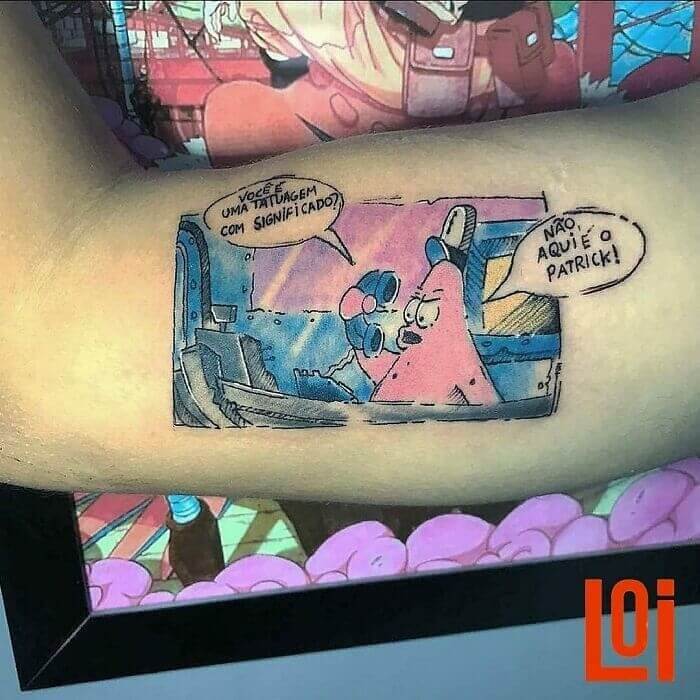 Naturally, Patrick's response is, "No, it's Patrick." That sums up all of the meaning behind this tattoo, which is none.
Baby Yoda
As soon as Disney+'s The Mandalorian hit the streaming service, viewers fell in love with baby Yoda. There had never been an extraterrestrial quite as adorable as this little green guy. 
It makes sense that this person wanted to get a baby Yoda tattoo, although the bling and tough guy attire is a unique choice. This is one tattoo that might never be a regret.
Gangnam Style For Life
Okay, getting a tattoo of Psy the singer of 'Gangnam Style' makes sense, but simply the name of the song itself does not. Gangnam is an affluent neighborhood in Seoul.
This tattoo might be referring to living that opulent over-the-top lifestyle seen in the 'Gangnam Style' video, but without a bit more context this tattoo is a bit of a head-scratcher.
Pickle Rick
Rick and Morty is one of those shows that manages to bring a smile to anyone's face who watches it. In the episode featuring Pickle Rick, Uncle Rick decides to avoid family therapy by turning into a pickle.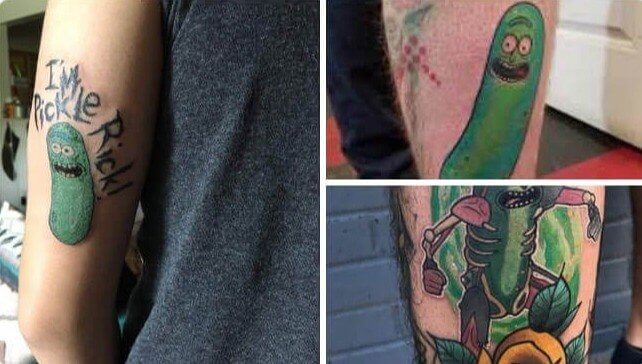 These Pickle Rick tattoos are an homage to that episode, and how we all like to avoid certain things. Although, this isn't exactly the most aesthetically pleasing tattoo image on the planet.
RIP Harambe
The passing of Harambe on May 28th, 2016 shocked the world. Nobody could believe that the gorilla had lost his life so prematurely, and while it was a sad moment, it wasn't a historically significant one.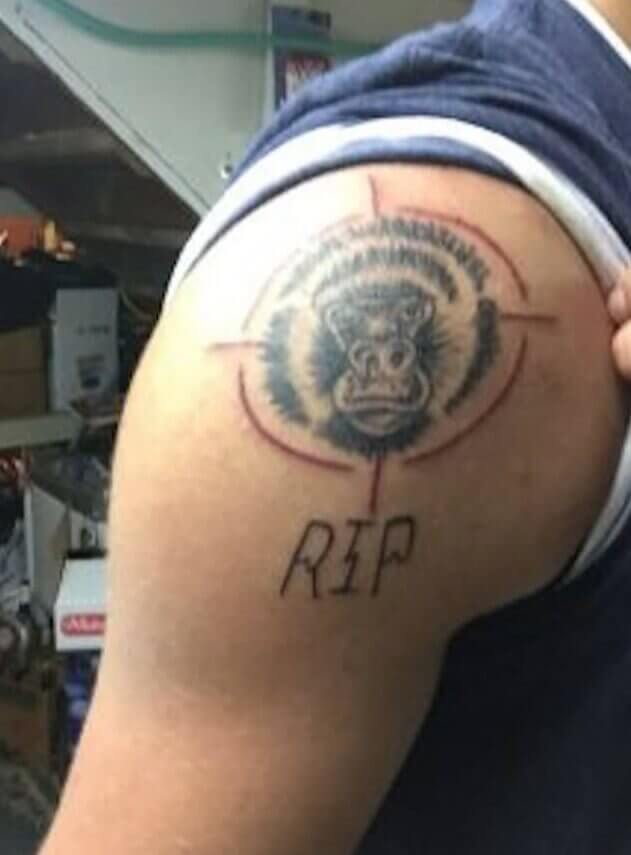 Wanting to remember the passing of a loved one through a tattoo is one thing, but wanting to remember the passing of a gorilla you have never met is something else.
Just Plain Bad
Not all tattoos need to be pretty floral pieces or fine line drawings. Sometimes they can be giant phoenixes like actor Ben Affleck's back tattoo, or in this person's case, some poorly drawn meme faces.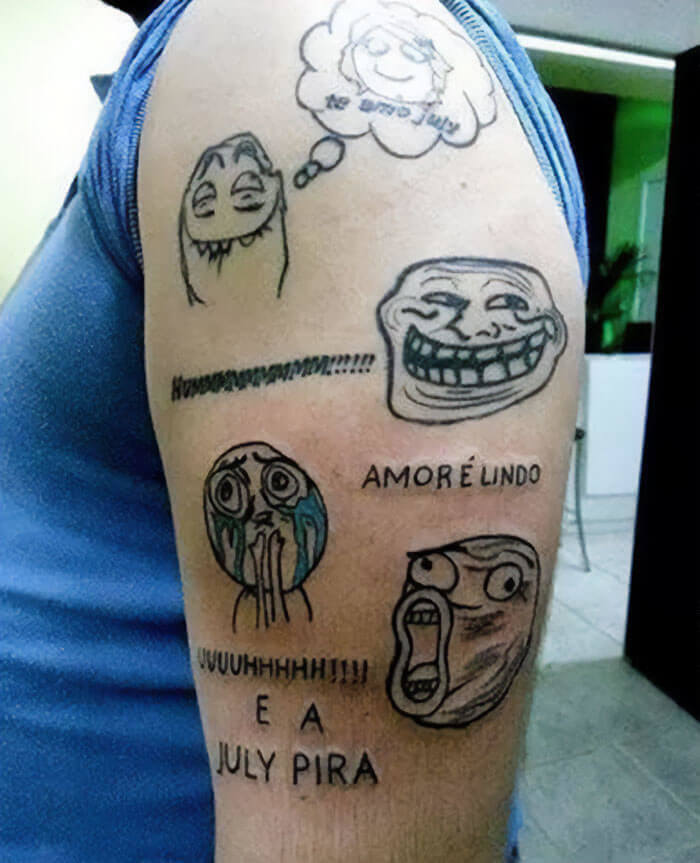 Whoever or whatever possessed this person to get this tattoo is just plain baffling. It's not even well done. This might be one for the laser in a year or two.
This Is The Story Of A Boy
Creativity is not something that everyone is born with. For those that lack that artistic side, choosing a tattoo can be tough. That's how this man ended up with the most basic bro tattoo.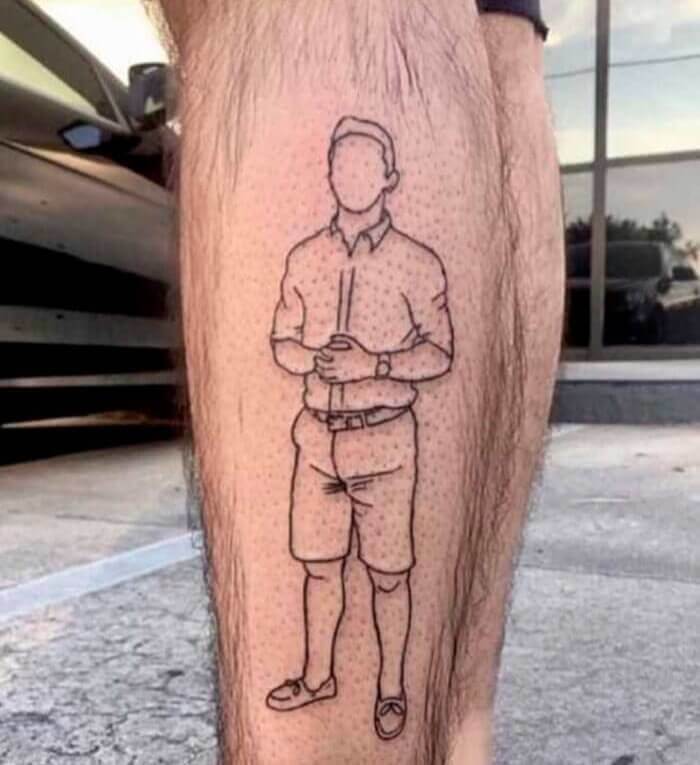 If you thought it was going to be tribal, think again. It is simply an outline of the guy who got the tattoo, which is about as unimaginative as it gets.
Smile
For some people, living every day like it is the best day of their lives is tough. Pasting a smile on your face, when really you are experiencing some kind of existential crisis inside, is something many people can relate to.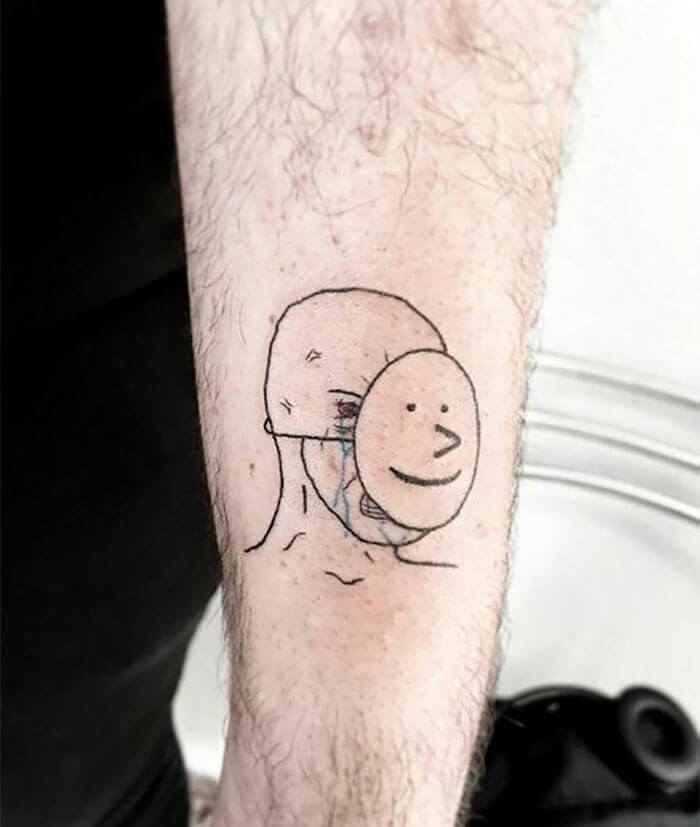 That is what this tattoo signifies, hiding those inner feelings with a basic smiley face. We like the sentiment, but the execution could have been a tad better.
Lost In Translation
Getting a tattoo in another language is always a risky business. Unless you speak the language yourself or trust someone to provide a proper translation, you can never be one hundred percent certain it is spelled correctly.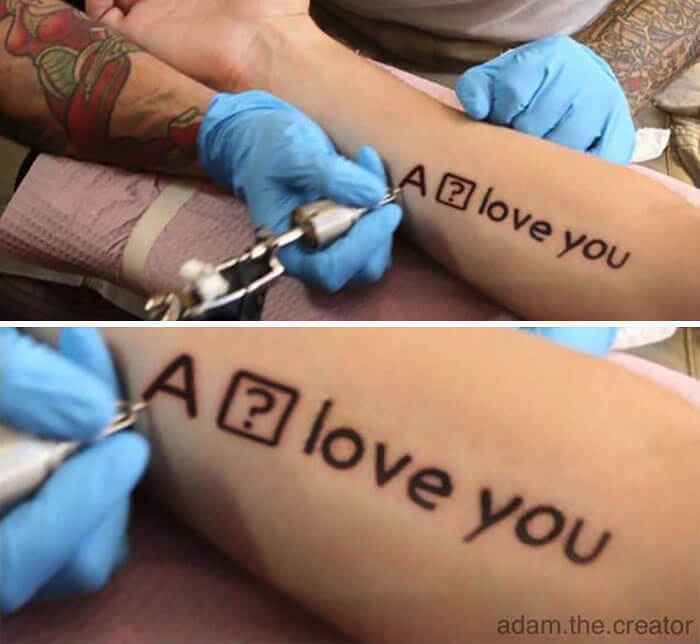 This seems to be one of those lost in translation moments, where a character wasn't translated and instead a big ole question mark was left. A love you, is better than no lover at all.
Do The Harlem Shake
Dance challenges are one of those things that really took off in 2020, but before we had all of the TikTok dances, we had the Harlem Shake.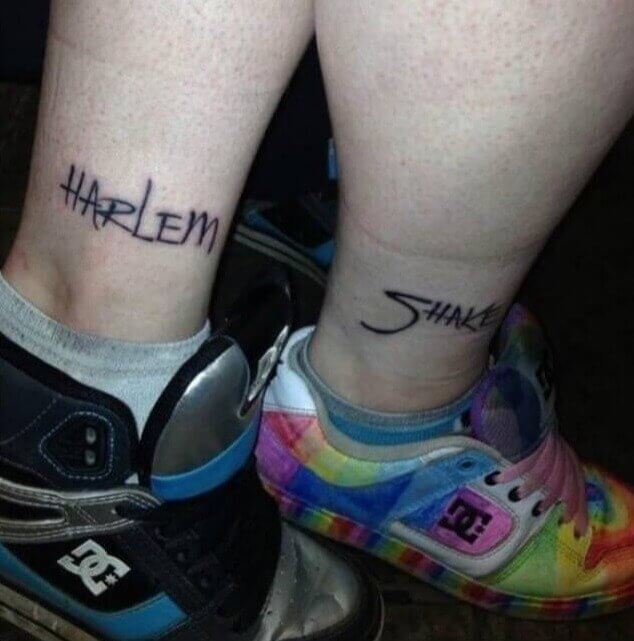 The Harlem Shake meme dance became popular in 2013, and very soon everyone was doing the dance across YouTube and their social media. Apparently, this was a tattooable moment in history.
The Sneezy Snake
We can all admit that 2020 and 2021 have been weird years full of masks, and the fear of being sneezed or coughed on by someone. However, there are better ways to commemorate this time than a gas mask-wearing snake.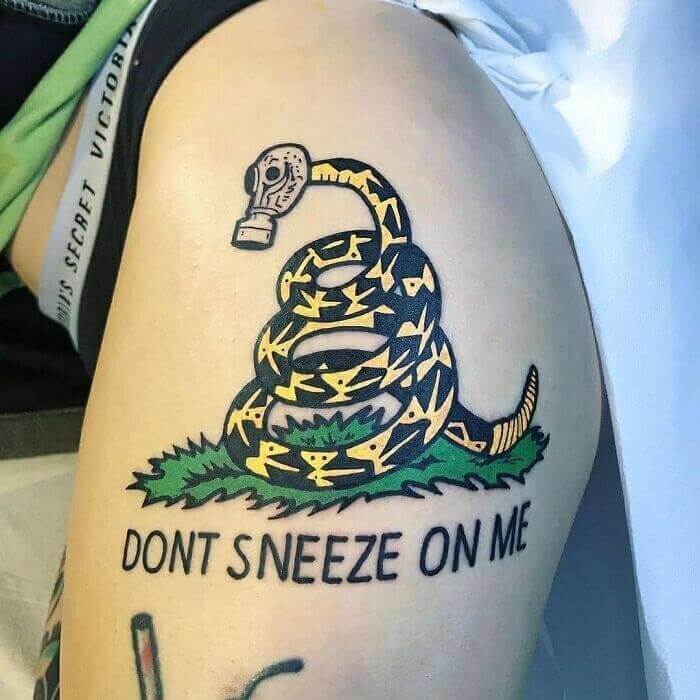 Not only is this tattoo a big thigh piece, but it is a bit confusing and people will likely not understand the reference in a decade or so. Sometimes it is better to be obvious.
Wabbit Twouble
This rendition of Bugs Bunny might look innocuous, but the cartoon itself has actually affected a lot of people in very profound ways. The cartoon inspired many people to find their confidence, and take the plunge in relationships, careers, and so much more.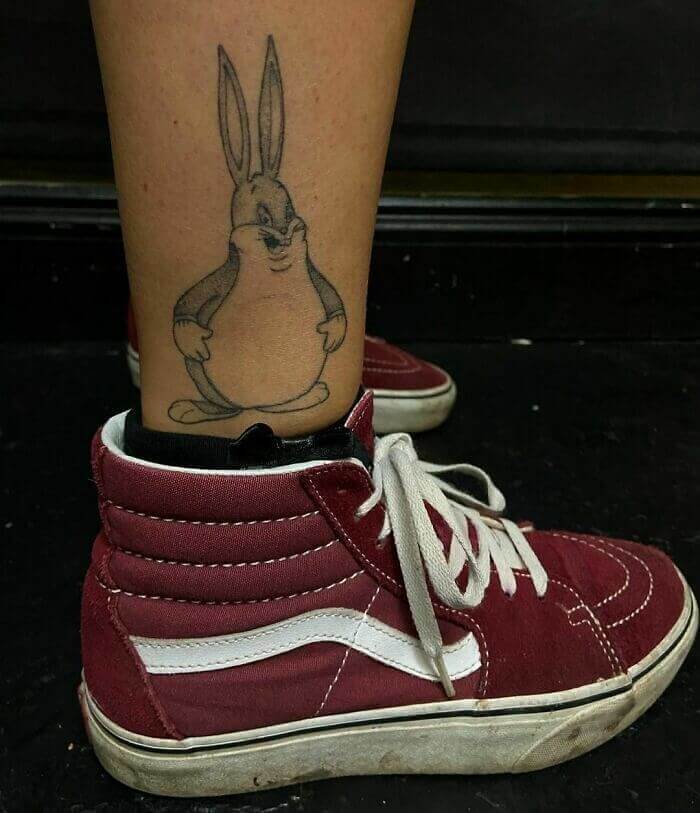 However, the cartoon came out in the 1940s, and unless you grew up watching it, it's pretty uncommon for younger generations to recognize the significance of this tattoo. Not to mention Bugs looks a little chubbier than usual here.
Wassup Dawg?
In a more modern ode to Bugs Bunny, we have the not so classic, 'Wassup dawg?' set of tattoos. It's unclear if these are matching tattoos, or if one has been reshaded and recolored.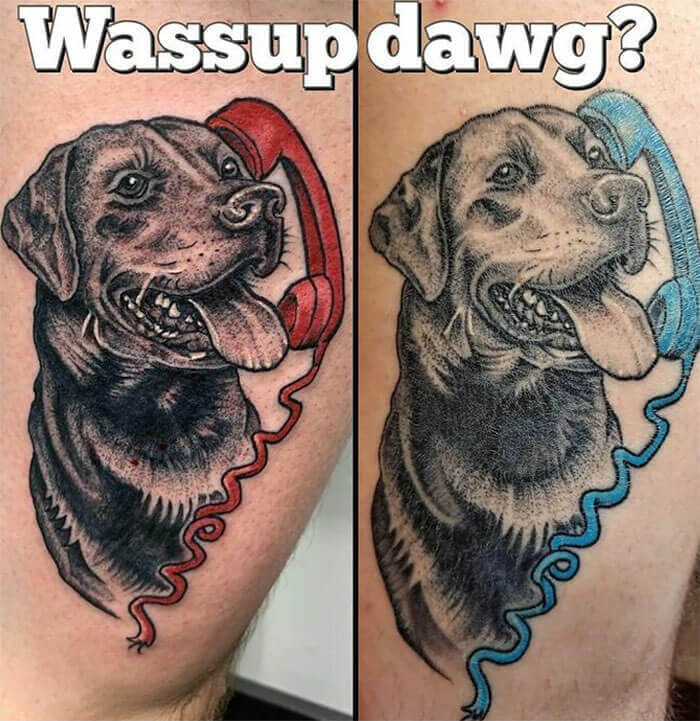 These dogs are pretty cute, but why are they answering the phone? What does this tattoo even mean? All we have are questions about this one.
Why Is It Spicy?
Finding the right words can be tough, especially if you don't have the vocabulary for the exact phrase or word to describe something. In a viral TikTok video, a woman tases a Sprite, and instead of saying carbonated, she said, "Why is it spicy?"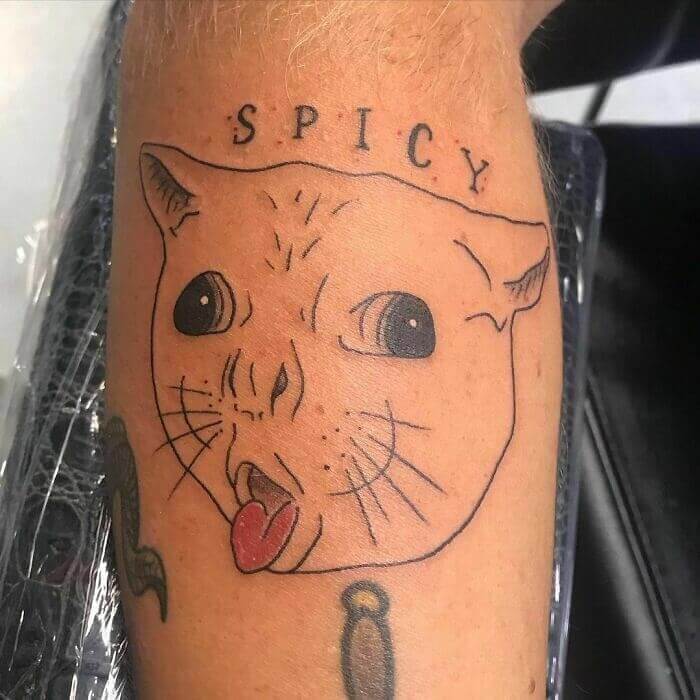 Her "Why is it spicy?" phrase quickly blew up on the internet, and that's where this tattoo comes from. It might have been better to just have a cup of soda, than this cat's face.
The Perma-Meme
There tends to be a rational explanation for most things, but when it comes to meme tattoos we can't think of any. Viral memes seem to resonate with some people on a deeply personal level. 
This meme, which features a sentiment we have all felt from time to time resonates, but not in a perma-meme way. Hanging a poster of it on the wall would have been better than this tattoo.
Call Me Maybe
The beauty of music is that some songs and lyrics have the kind of staying power that makes them instant classics. Canadian pop singer, Carly Rae Jepsen started belting out "Call Me Maybe" in 2012 and nobody has been able to forget it since.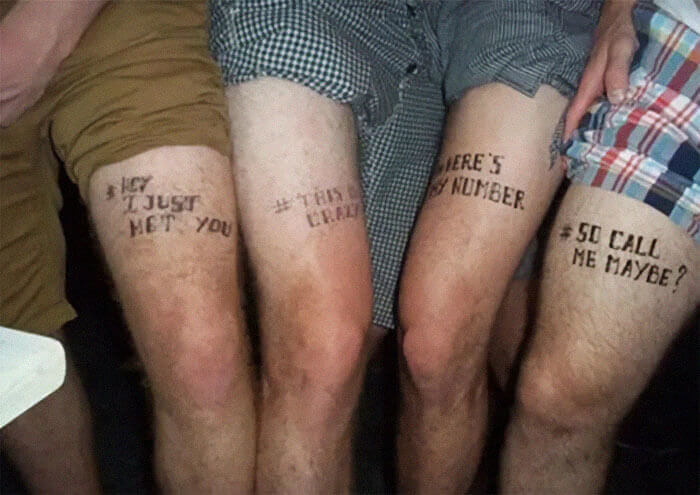 These music-loving fellas decided it was time to get to work with a tattoo gun and tattoo on their favorite lyrics from the song. Hopefully, someone calls them, maybe.
When Emoticons Come Alive
Some people have a real love or hate relationship with emojis. While texting, a funny situation might call for a 'haha' or a 'lol' or a laughing emoji face.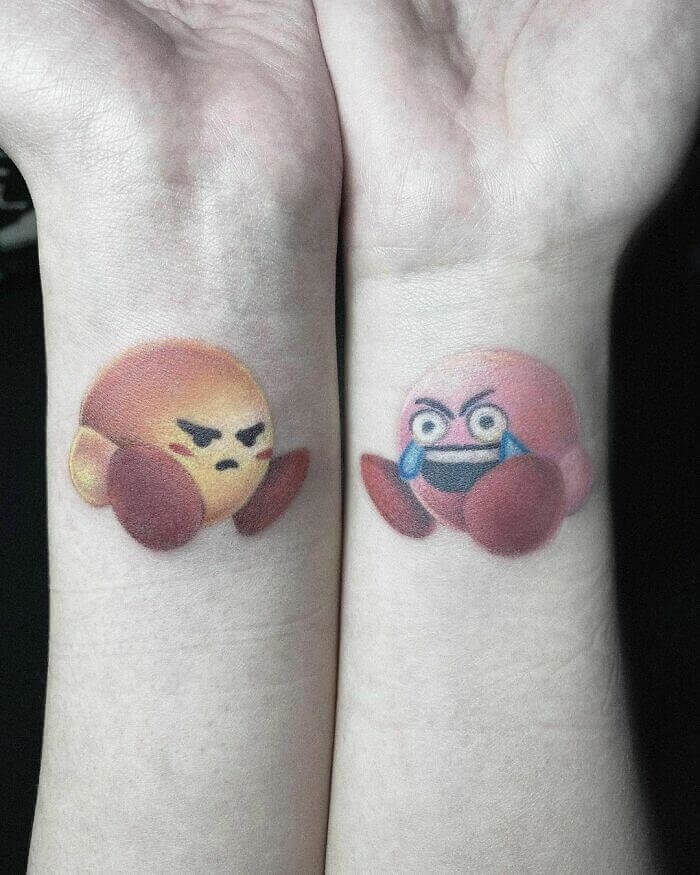 It's really a personal preference whether or not something decides to use a bunch of emojis to express themselves or the written word. Clearly, this person uses emojis, and wants the world to know.
Fangirling
Boy bands aren't as popular as they once were. One Direction and NSYNC have both said goodbye to their band days and broken off into solo acts. The same is true for the Jonas Brothers. 
This fangirl never wanted her love for the Jonas Brothers to fade away though, which is why she got this rather poorly done next tattoo of the band name. 
Hotline Bling
Canadian rapper Drake has had a lot of hits over the past few years, but one that stands out both for its repetitiveness and the accompanying music video is 'Hotline Bling.'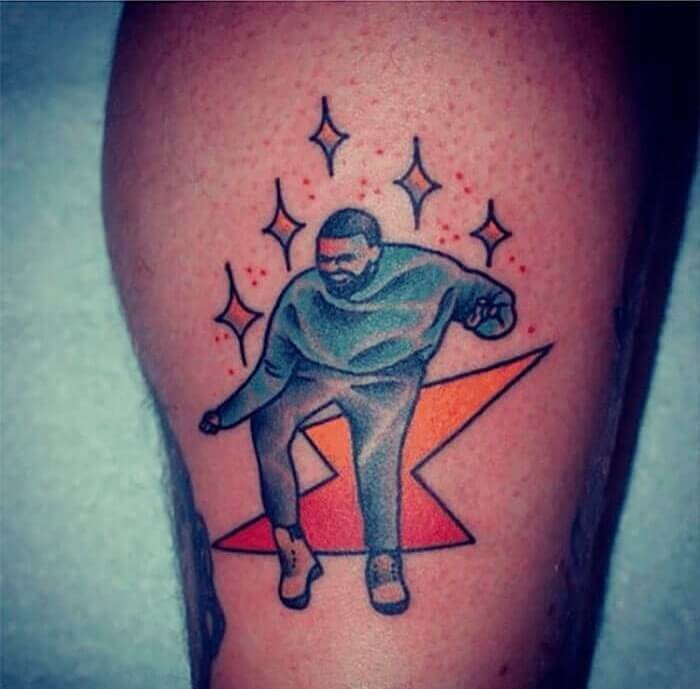 Throughout the video, Drake can be seen getting down and dancing close to the ground in a very unique manner. It's almost impossible to describe this with words, but somehow this tattoo captured his mid-dance motion.
Scatman
Song lyrics are one of those tattoo choices that can be oh so right, or oh so wrong. The lyrics on this person's hand are from the Scatman song by artist Scatman John.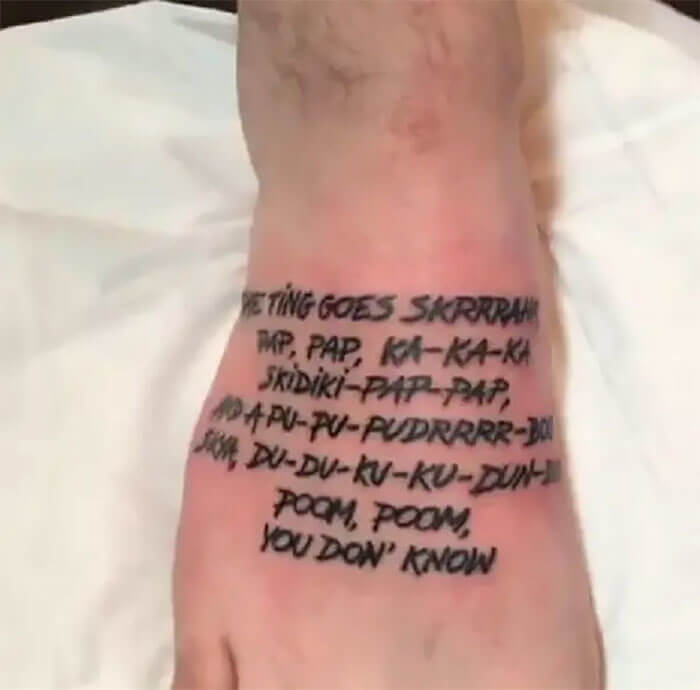 In terms of powerful lyrics, we wouldn't really say these are the best. Also, the font itself isn't exactly on the classy side. 
Paris Hilton
As far as reality stars go, Paris Hilton has to be one of the most underestimated of them all. Not only is she a savvy businesswoman, but her person in the series The Simple Life was completely made up.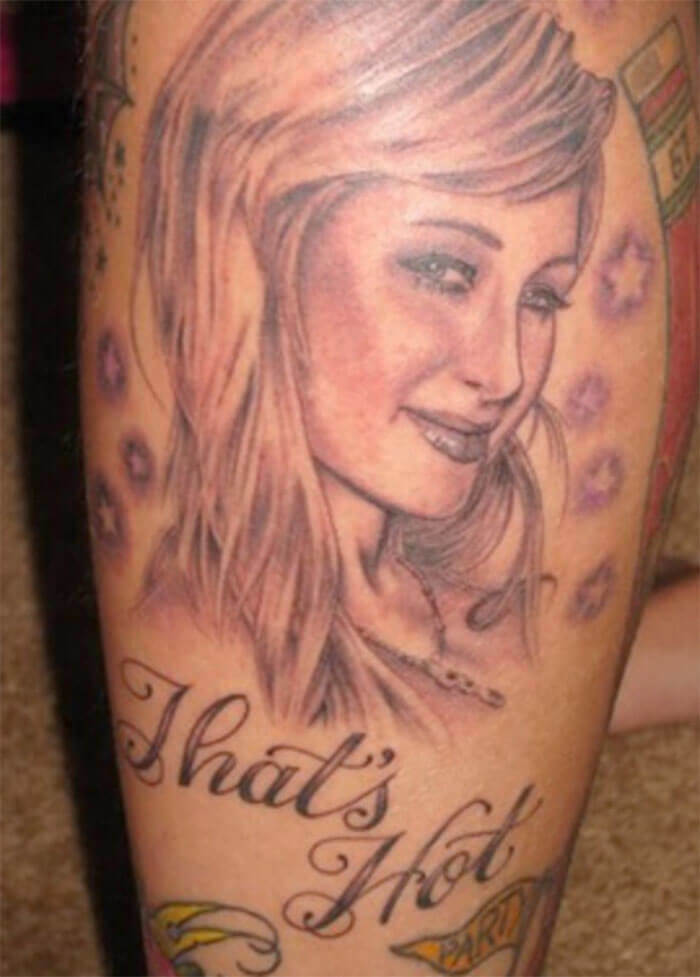 She was known for coining the phrase, "That's hot," which has stayed with her throughout her career and now forever on this person's body.
Such Wow
This is actually a very well-done tattoo, but there is, of course, a meme behind it. You know the meme which featured a Shiba Inu surrounded by colorful phrases?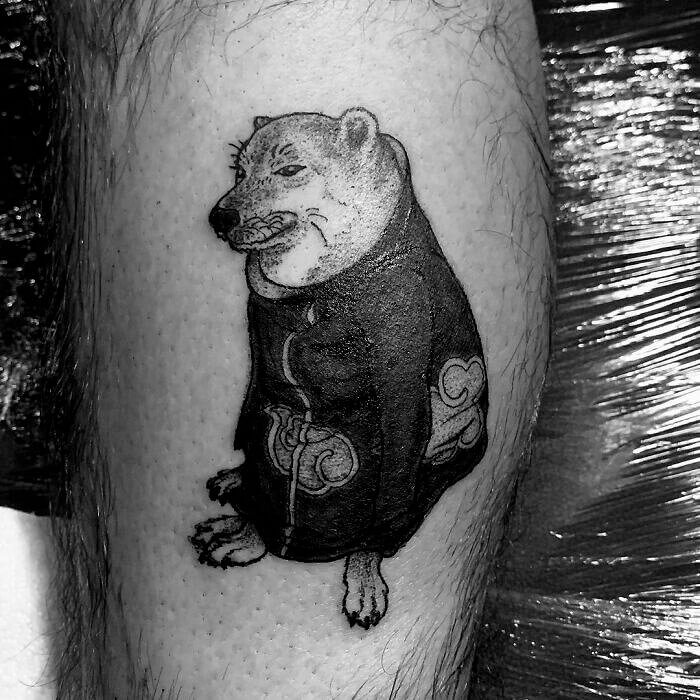 If 'such wow' and 'so excite' come to mind, then you definitely recognize this dog. All that is missing from this tattoo are one of the grammatically incorrect catchphrases. 
Sad Face
Unless you are the one receiving the tattoo, it can be very hard to know why someone chose to get that specific image tattooed on themselves.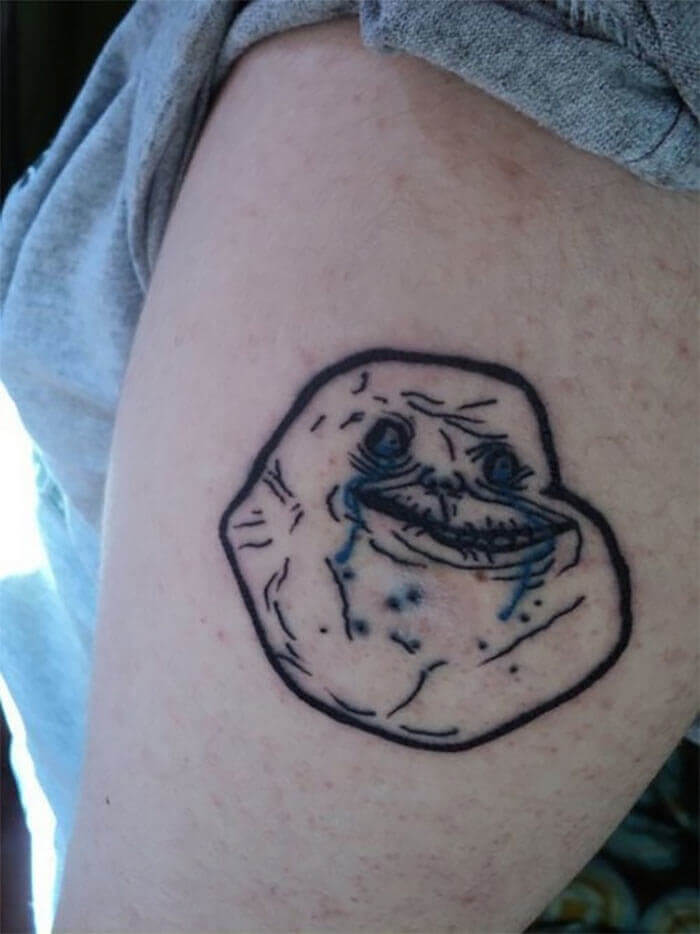 Clearly, the person who chose this crying sad face was going through some serious emotional issues, because there is really no other explanation for this.
Do You Know The Way?
First off, do you know the way to where? That is the big question here. This character may not be easily recognizable, because it is from a Ugandan cartoon.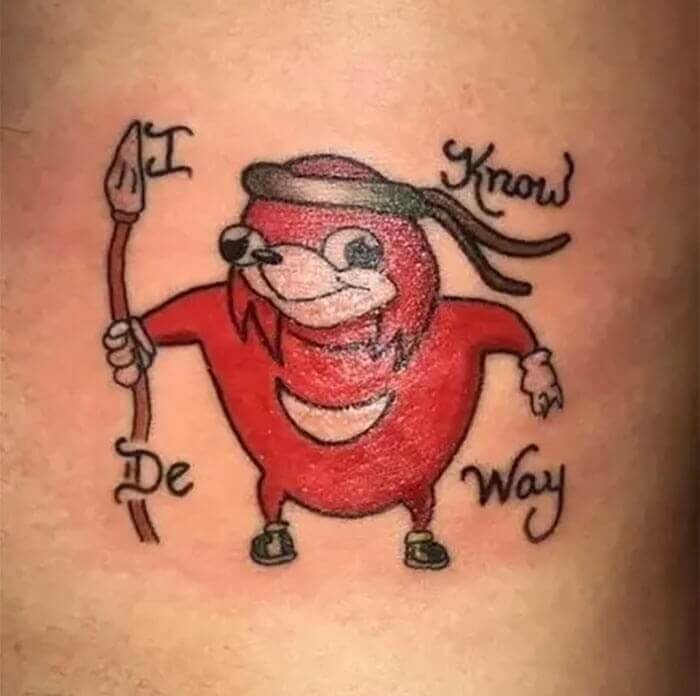 Obviously, this little guy called Ugandan Knuckles knows the way, and all anyone who sees this tattoo needs to do is ask "Which way?"
Harambe Forever
Harambe really made an impact on a lot of people, but instead of a poorly done tattoo like the previous one, this one is a bit more cutting edge.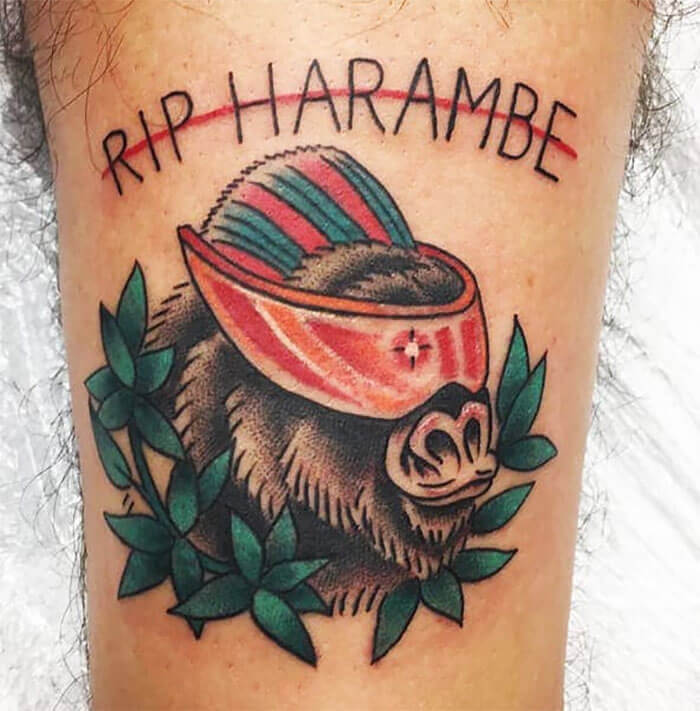 Harambe looks like he is about to level up in this tattoo, and is ready to join the Avengers. Maybe he will live on in an animated series one day.
Got Milk?
Milk is one of those things that most people need to drink to stay healthy and get their daily intake of calcium. For the lactose-intolerant folks out there, there are many dairy-free alternatives that do the same thing.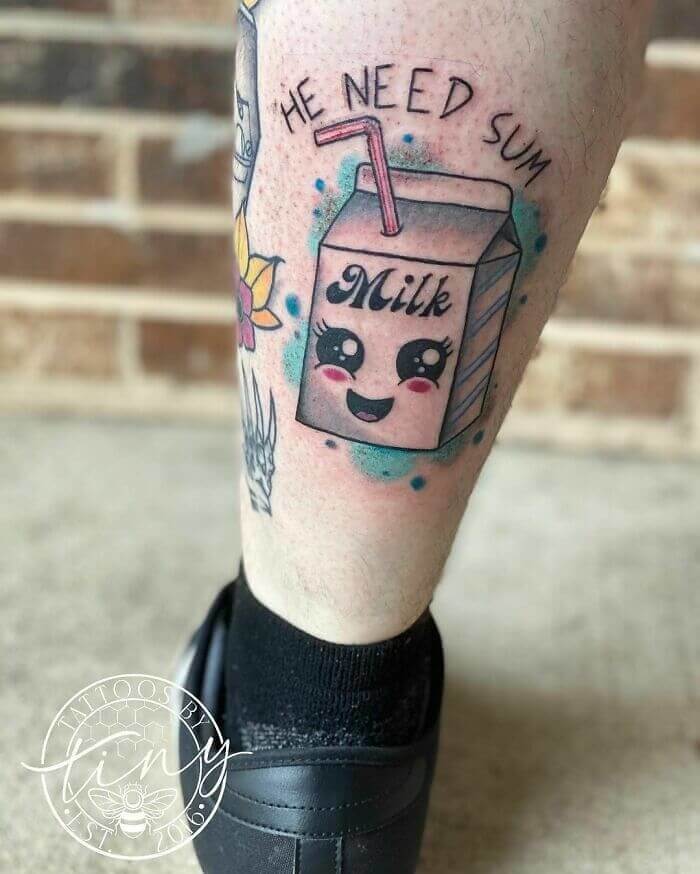 Just in case someone might forget to drink their milk. this leg tattoo is here to remind the world that whoever this is, really needs 'sum' milk.
For The Ketchup Connoisseurs
No barbecue or meal for that matter is complete without an array of condiments. For some, this might mean relish, mayonnaise, mustard, and of course ketchup.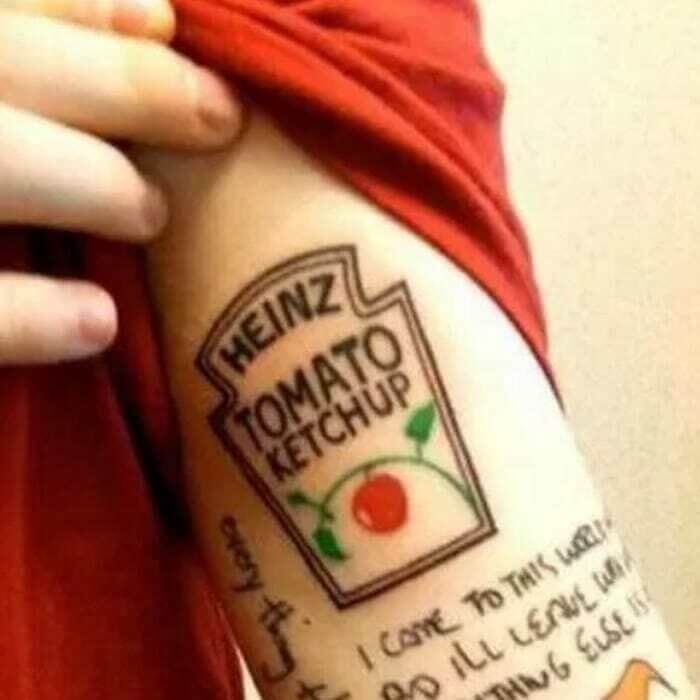 No meal is complete without the delicious red sauce full of tomatoes, sugar, and vinegar. This ketchup connoisseur needed the world to know how much the red stuff means to them.
Fish Don't Have Legs
Cartoons exist in a world where fish have legs, and sponges live in pineapples under the sea. In yet another Spongebob tattoo, we have Fred the fish and his legs.
Fish don't have legs in the real world, right? For Fred, he is always hurting his fishy legs and Spongebob is always ignoring it. There must be a lesson in here somewhere, maybe that fish with legs need help sometimes.
Getting Older
Anyone with tattoos knows that they age over time. This might mean fading if they are colored, or the lines might begin to bleed or blow out. No matter what, a tattoo will likely need to be touched up.
Tattoos won't look the same as they age, but that doesn't mean they won't still be beautiful which is what this one is trying to say. Although, it could have been said more eloquently, and not as a meme.
Cycling Away
A frog on a unicycle has to be one of the cutest tattoos on this list, but the meaning is definitely lost. This frog belongs to a meme known as 'Dat Boi.'
Basically, this tattoo is just another one that won't have any meaning once people forget that this is from a meme. Memes come and go, but tattoos are forever.
Hurts So Good
Everyone has different pain thresholds, and this difference becomes very apparent when someone gets a tattoo. For some, a tattoo doesn't hurt at all and it is almost a meditative experience. 
For others, tattoos are incredibly painful, but without pain, there's no gain. Or in this case a tattoo of a fist. Keep in mind, tattoos aren't supposed to be unbearably painful when you get them.
Feeling Jealous
As far as meme faces go, these have to be some of the most unappealing. They aren't cute, and instead, tend to look a bit creepy. When combined with poor spelling, the effect is kind of lackluster as a whole.
Spending time at home is great, especially when there is a good Netflix series to stream. Did this need to be tattooed on someone's feet to prove spending time at home is cool? Probably not.
My Name Jeff
American actor Channing Tatum has some of the best comedic timing in Hollywood, and he further proved that in one very special scene in 22 Jump Street.
His character was not the best of liars, and when asked what his name was all he could come up with was, "My name Jeff." From then on, the line went viral and this tattoo is an extension of that.
Another Froggy Reminder
We get it, "Dat Boi" left a real impression on the world. How could anyone forget the animated frog riding on a unicycle? The first tattoo of this little guy was a fancy fine line one. 
This version is slightly more shaded and is a lot less dainty. If you have to be stuck with one of these, we would opt for the earlier version.
Spelling Matters
Following bands, as they tour around the world is a great way to hear some fantastic music, and tattooing the dates you saw them is yet another way to cement that memory.
There's nothing wrong with this tattoo, minus the fact that singer Gwen Stefani's name is spelled wrong. Always double and triple-check the spelling of a name before getting it tattooed to avoid this 'Stafani' mishap.
Minion
Minions are one of those animated characters that are recognized around the world. The little black and yellow guys are undeniably adorable, and are pretty good at hatching nefarious plans. 
This guy is clearly a major minion fan. If he's not there is no possible reason he could have chosen to get this very visible neck tattoo.