Body art is a beautiful way to express ourselves. But sometimes, what – or who – we feel passionate about changes, and we realize that tattoo parlor visit might've been a mistake. Luckily, these people taught us nothing is truly permanent, even when done with ink. Whether you want inspiration for covering up a past regret of your own or just some good ol' entertainment, you won't regret looking through this list of inventive and funny tattoo cover-ups.
Pikachu's Part-Time Job
Sometimes people just get a tattoo that leaves them less than impressed – sometimes because they chose the wrong thing, other times because the tattoo artist simply wasn't very good. This photo shows what can happen when you let someone with little to no experience give you a tattoo. Luckily, whoever he went to afterward was an actual professional, and they managed to cleverly cover their Pickachu tattoo with another Pickachu tattoo.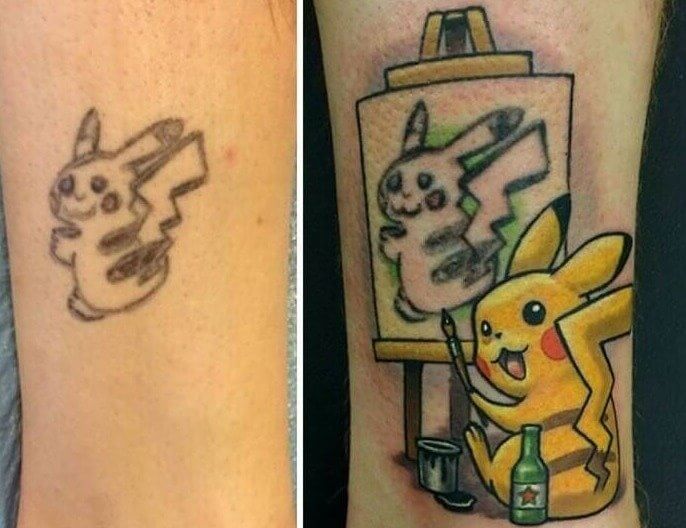 The second tattoo looks much better and even incorporates the first in a believable way. All it took was an artist with a clever mind and a little bit of skill. 
That Escalated Quickly
Some people who have a picture of their former significant other tattooed choose to cover the whole thing up entirely. Not many choose to incorporate said tattoo into a new tattoo that pretty much tells their ex that he/she is dead to them. However, that's what this person did when they transformed their portrait of their ex-girlfriend into an image of a dead person. It doesn't get more hardcore than that!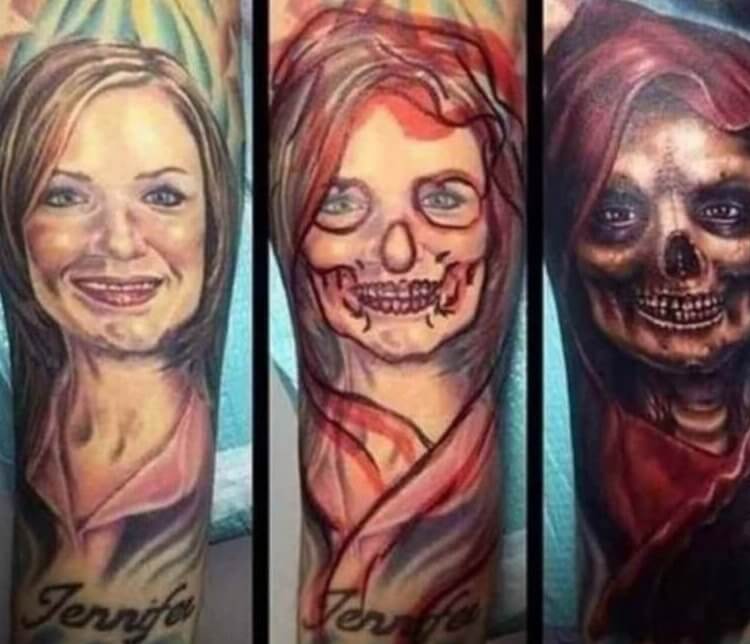 In our opinion, the quality of the tattoo is much better the second time around. The portrait looked a bit simplistic. The shading was also a bit wonky in the original tattoo. 
They Spelled Sriracha Wrong
This guy deserves a "thank you" from just about anyone out there dating someone named Sarah. Now, they all know that if they get their girlfriend's name tattooed on their body, they can just add a chicken and "cha" to the tattoo and quickly start repping their favorite hot sauce. There are literally no consequences for this bad decision. It's kind of like having a "get out of jail free card" in real life. That is until you realize sriracha is spelled completely wrong.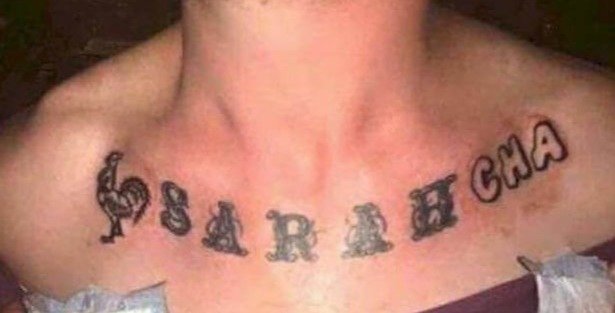 If you're not a fan of spelling mistakes, or you just aren't into getting people's names tattooed on your body, feel free not to follow this guy's example.
Gene Turned From Prince Charming to a Frog
While a frog isn't the coolest tattoo we can think of, it's certainly a clever choice when you're trying to cover up an ex's name. Everyone is familiar with the whole frog turned prince story, but people aren't likely to guess that this tattoo used to spell out the name "Gene" and shows how Gene, apparently, went from prince charming to a frog. The swirling clouds in the background even add a mysterious vibe to the whole tattoo.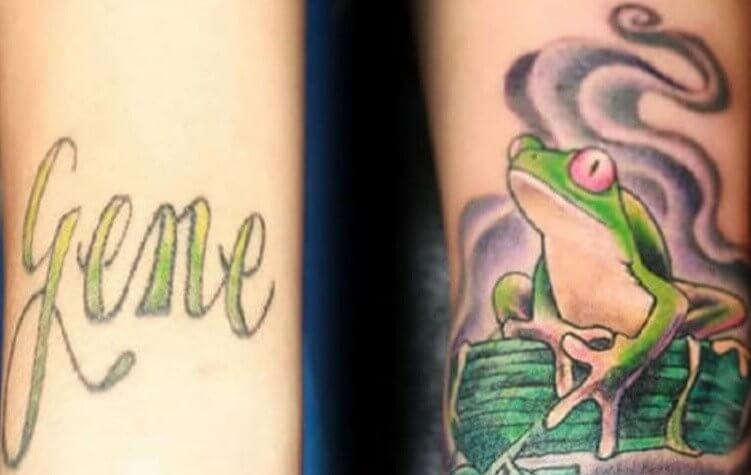 The artist really did a great job blending all of this together; you can barely see the outline of the name anymore. The letter "G" is just barely visible in the foliage. 
She Didn't Come to Play Around
Remember those creative and (somewhat) elegant solutions we've seen so far for covering up regrettable tattoos? This isn't one of them. Someone got a tattoo portrait of their partner but decided it was finally time to have it covered up after they broke things off. However, instead of redesigning the old version into something new, they just colored in the space with black ink. Things must have really gone downhill between these two!

But this might backfire on her. Now, instead of admiring her tattoo, people are more likely to ask some awkward questions. 
"This Paperwork Is No Longer Valid"
The best thing you can do when you make a mistake is own up to that mistake. However, we're really not sure if that rule applies to tattoos. Either way, that's what this guy decided to do after he and Tracy decided to call it quits. Instead of getting another tattoo to cover-up Tracy's name, he just got a tattoo of a stamp that said "Void" over the old one.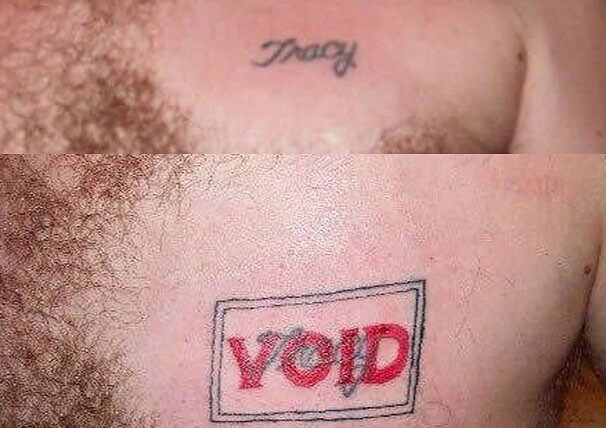 It's not the most elegant solution, but it's pretty funny and shows that he knows he made a mistake. Still, we can't help but think that a big red "Void" tattoo over your ex's name looks like a big red flag to most. 
The Little Man Came to Fix the Mistakes of the Past
Another pretty creative cover-up idea, this guy decided to have a small painter tattooed over his previous tribal symbol. It's also pretty cool because the character is made to look like he's painting over the previous tattoo. It's a bit tongue and cheek, and whoever did this definitely gets points for finding an original solution to his tattoo problem. And as far as bad tattoos go, there are worst things out there than a tribal symbol!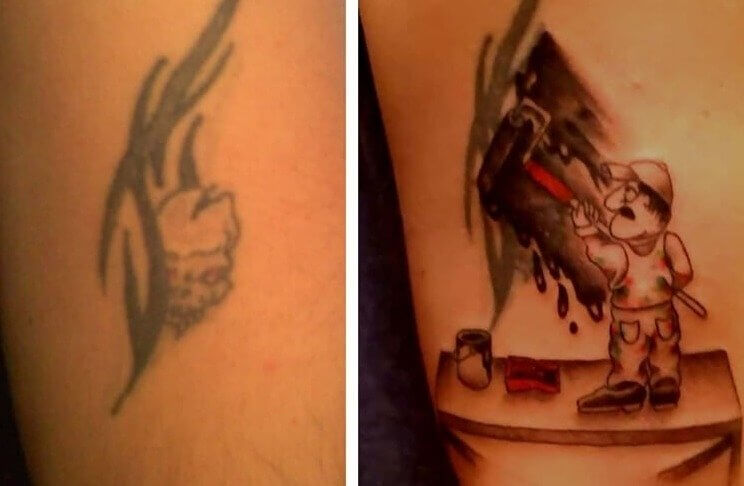 Who could've predicted that these tattoos would look a bit tacky in a decade or so? Okay, probably a lot of people, but still. 
Let's Hope Ralph Lauren Never Goes Out of Business
Here's another tattoo idea for anyone out there with an ex named "Lauren." This guy just added a polo player and the name "Ralph" to reference the popular clothing brand. However, if we're being totally honest, this makes us think of knockoff clothing for some reason. Maybe it's because the font is all wrong, or maybe it's because the polo player isn't quite right, but this tattoo just screams fake.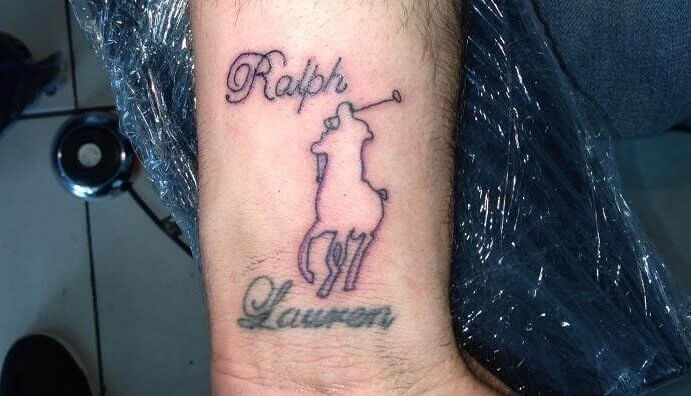 Now that we think of it, that's probably because it was originally something else. Also, getting a company's logo tattooed on you is almost as bad as getting someone's name.
Red Flag Number 1: His Tattoo
We'll probably never say this about anything ever again as long as we live, but the "Void" tattoo might've been a better choice than this one. We're not sure what Lori did, but whatever it was, it made this person angry enough to get a slur tattooed over her name. However, it's only going to make others more curious and make whoever got this tattoo sound a tiny bit (big bit) petty.
While this tattoo certainly makes a statement, it does so for all the wrong reasons. If this person wanted to get revenge, a much better way would've been to go on about living their life and just getting the tattoo removed. 
Bye Mary, Hello Marge
Getting your partner's name tattooed on your body is never advisable. However, if you do, then there are a couple of really inventive ways to hide that bad decision. For example, you could just change around a couple of letters and spell the name of an endearing cartoon character. All you'll need then is a tattoo of that character, and you're good to go. Tattoos of fictional characters aren't likely to go out of style anytime soon – especially if it's someone from The Simpsons.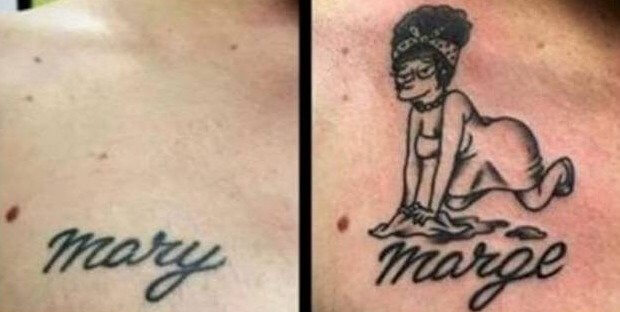 However, depending on your ex's name, your choices might be a bit limited. Fear not; there are plenty of other ways to hide the fact that you dated Mary, Carrie, or Larry. 
Lesson Learned: Always Hire A Professional
It's amazing the difference in quality a tattoo artist can make. Take this before and after photo as an example. Someone had a portrait of a woman tattooed on their arm, but it's pretty far off from the photo they modeled it after. In fact, it almost looks insulting. However, they had the tattoo redone by a real professional, and the difference is really astounding. We hope they gave the artist/tattoo-saver a handsome tip.

We only wish they would've included a photo of the woman's reaction to the original tattoo when she saw it. We're sure she couldn't have been too happy about it. 
Blunt But Effective
When you think about teenage mistake tattoos, what's the first thing that comes to mind? For us, it's usually those standard tribal tattoos that 18-year-olds once seemed to love getting. But not this teenager; this teen got a cartoon-like starfish tattooed on a random spot on their back. However, they later regretted it as much as the teenagers who got tribal symbols that had no real meaning to them.

Now, anyone who sees it can clearly tell that they think it was a mistake. And not just any mistake, but a "teenage mistake." We have to respect the honesty.
Mr. Good Luck Bear Like We've Never Seen Him Before
While some of the "after" photos on this list have left a lot to be desired, we're really into this one. Someone took their boring old tattoo of a four-leaf clover, and they turned it into a hardcore Care Bear. The idea is pretty unique, and you have to give them some credit for coming up with a Care Bear that looks like they just finished fighting the Predator.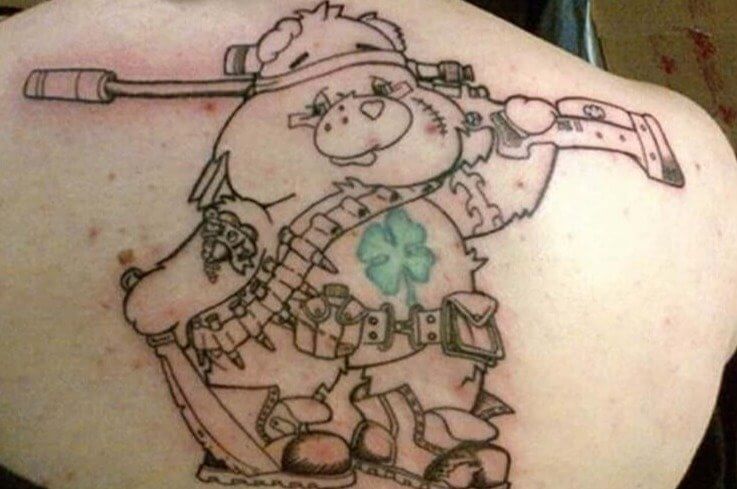 The stitching on the face and the mom tattoo on the arm are both nice touches as well.
So, Are You and Your Ex Still Friends?
It doesn't take much to look at this tattoo and figure that there are probably some unresolved issues between whoever this is and their ex. The only thing worse than getting your partner's name tattooed on you might be getting their face tattooed on you. This guy learned that the hard way and chose to convert the entire portrait into an image of what appears to be a demon.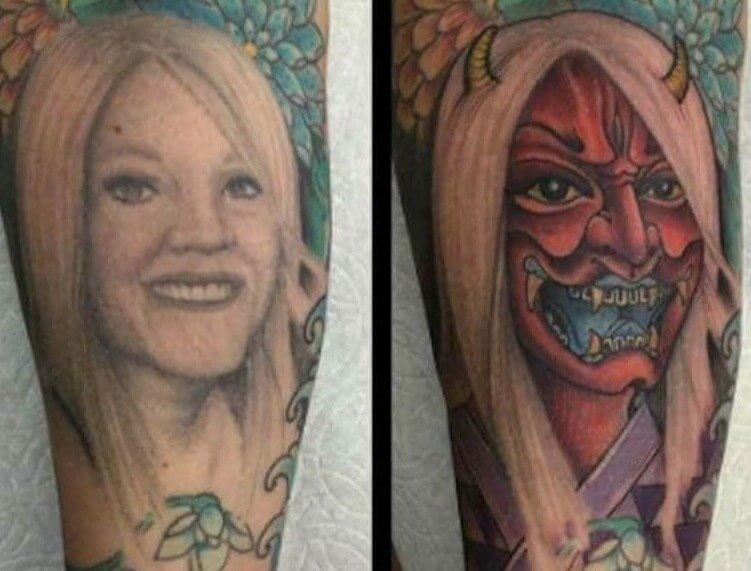 However, leaving the hair the same color is a nice touch. How else is he going to be able to think back and remember he once had a portrait of his ex tattooed on his body? 
The Message Is Loud and Clear
What's the only thing worse than a neck tattoo? We thought it might be a neck tattoo of an ex's name before seeing this photo, but this is clearly worse. Someone thought it was a good idea to advertise to the world that they got their partner's name tattooed on their body by getting the name crossed out and the words "My big mistake" (very messily) written under it.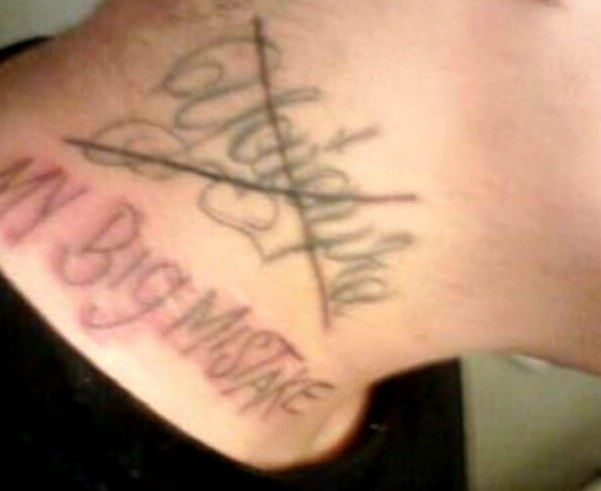 The only question to answer now is why? They have laser removal, which probably would've been a much better option for this guy, especially considering the font was relatively thin. 
One Word: Genius
If you take one thing away from this post, it should be that there are no consequences for getting "Sarah" tattooed on your body. We're just kidding; it should be that if you're going to get a tattoo covered up, get it covered up with a cute cartoon character. This guy had someone tattoo a bottle with the number two on him for some reason, but after falling out of love with it, he got the whole thing redone.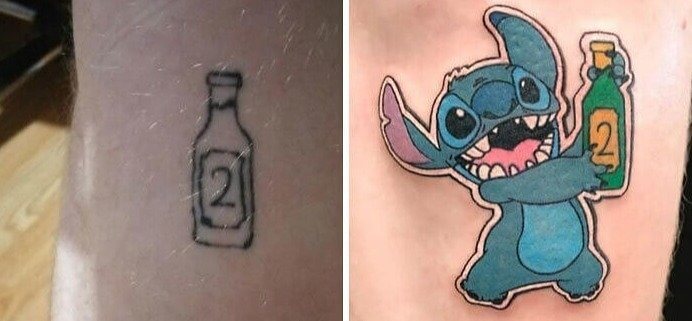 The end result is actually pretty cool. The artist even gave the image a thin outline to make everything pop a bit more and make Stitch look like a sticker. 
The Only Reliable Woman in His Life
It doesn't get much more classic than getting a heart and the word "Mom" tattooed on you. Whoever had this probably wanted to replace their ex's initial with someone who could never leave them. It worked out perfectly, considering they already had the heart and the ribbon, which makes us wonder if they thought about this before they got the original tattoo. A little forward thinking never hurt anyone. 

Of course, they could've also just lucked out and found someone who was good enough to write over their original tattoo. We're not completely sure, but at least they were able to easily change that nearly-permanent mistake.
A Grocery List of Ex Lovers
We're still not sure if this cover-up is worse or better than the "Void" we saw earlier, but it's definitely just as hilarious. This guy has clearly made not one but multiple bad decisions and gotten a couple of his exes' names tattooed on his arm. Instead of getting a cover-up or laser removal, he just had their names crossed out to make way for the next one in line. We're starting to think he finds this funny.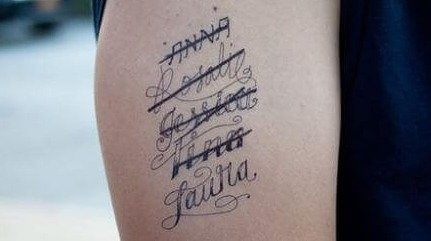 The most surprising thing about this tattoo is that it seems to have worked. We mean, it obviously hasn't affected his ability to pick up women; just look at all those exes!
Turns Out Isaac Wasn't A Diamond
Getting a name covered up can be hard enough, but more so if there's already an image tattooed along with it. This person decided to keep it simple and just draw a ribbon over the name "Isaac." While it's still going to be kind of weird that they have a tattoo of a diamond on their arm, at least they can say they no longer have their ex's name.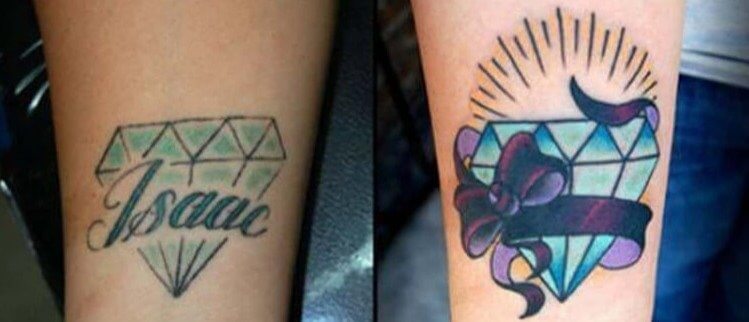 The diamond also looks much better than it did before. The artist brightened it up a bit, and the bow helped add some color.
We're Sure Hollie Loves It
What is a person to do when they get a tattoo of their partner's name, only to break up and start dating someone else? In this guy's case, he thought it best to own up to his past mistake and get his new girlfriend's name right underneath. Compared to some of the other cover-ups, though, this one is a bit more playful. We just hope Hollie didn't force him to get this.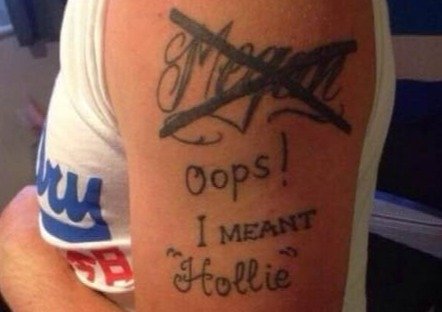 And while we're not condoning getting another person's name tattooed on your body, we do like how he went with a different font the second time around. It really represents his personal growth and development. 
Kat Von D Had Some Big Regrets
There is no before image on this tattoo, but it's actually a tattoo sported by celebrity Kat Von D. She decided to get her left leg completely covered in black ink to hide her previous tattoos. The only thing she left untouched was the portrait on her lower leg. She did this because she said a lot of her previous tattoos just reminded her of a time when she was too dependent on alcohol.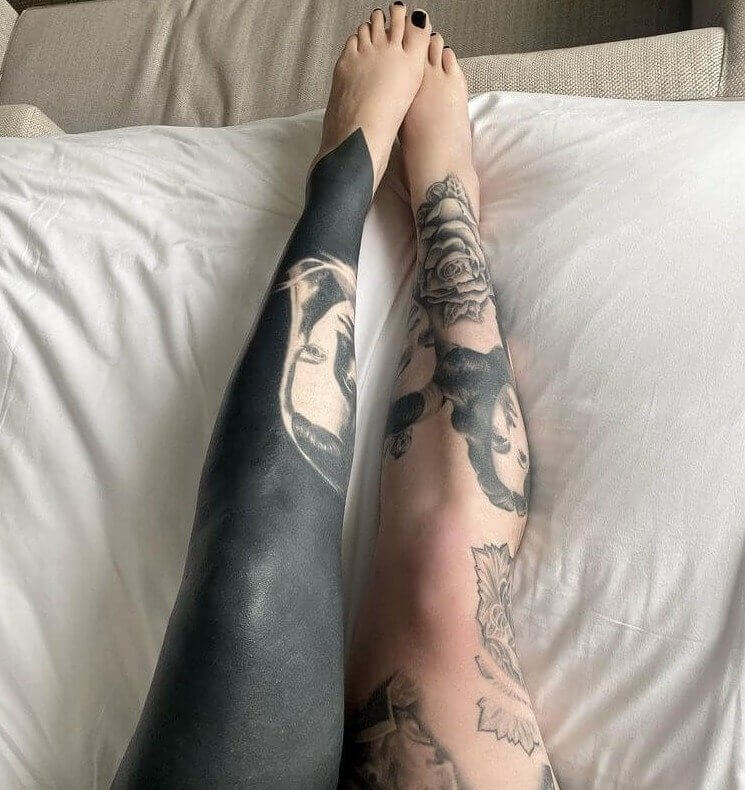 While it might not be for everyone, just simply coloring over unwanted tattoos in ink can be a good way of covering them up if done in a tasteful manner.
How to Get a Famous Rugby Player's Attention:
In a similar fashion as previous posts, this person decided to add something to their tattoo to change its meaning. However, we're kind of stumped as to what the addition means or who it's even referring to. There is a Ryan Wilson who plays rugby, so that could be it. Even so, the addition doesn't really make much sense. If they were going for the common saying, then "Is" should be "Has," as in "the previous tattoo has nothing on this."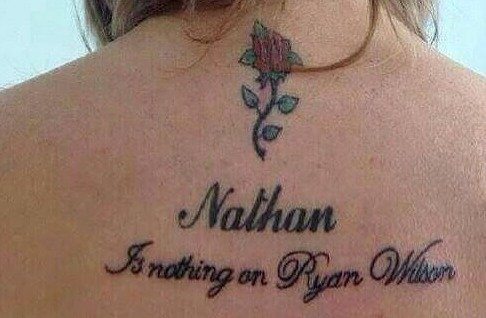 Whoever had this done probably thought they were getting the last laugh, but Nathan seems to be the only clear winner here.
Free As A Bird
This tattoo cover-up is a bit more practical than the last. You probably wouldn't know it by looking at this list, but sometimes the best way to get rid of a tattoo is to simply get a larger tattoo over it. This woman chose to go with a bird, and while it's not the most artistically pleasing tattoo we've ever seen, it sure beats having the name "Justin" tattooed on you. 

However, if you look closely enough, you can still see the faint outline of "Justin" in the bird's wings, which is weird because all the artist would've had to do is use a darker blue. 
"How Do You Want to Cover It? " "Oh, Any Scribble Will Do"
This cover-up isn't the most complex on the list, but you have to give them points for simplicity. This guy covered up an ex's name with simple scribbles. It's like a little kid took a sharpie and just doodled all over his ex's name. If we're being honest, it doesn't look half bad either. It kind of resembles a fancy signature. However, you can still see the previous tattoo in the background.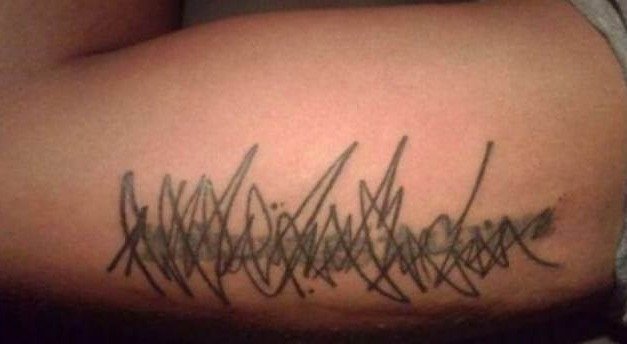 Is it the most artistic tattoo on this list? Not by a long shot, but at least it's straight to the point and doesn't try too hard. 
From 100% to 0% Tony Real Quick
This one is actually kind of hard to see because the outline is already finished in the first photo. But, someone had a tattoo that read "100% Tony". We're not sure why because it doesn't really make any sense. But, they luckily found someone who could cover it up using flowers. It also looks like the artist was forced to incorporate the text into the outline of the flowers. 

It's still not a great tattoo, but it sure beats what was there before. We'd rather have a bunch of flowers on our arm than a tattoo saying we're 100% Tony's any day of the week. 
Ain't That the Truth
In another attempt to own up to past mistakes, the person in this photo decided to simply cross out his ex's name and write a pretty original saying right underneath. Seriously though, with fonts this thin, why would anyone choose not to just go get a tattoo removed? This guy would still have the story while not having the tattoo. It seems like a win-win situation if we're being completely honest.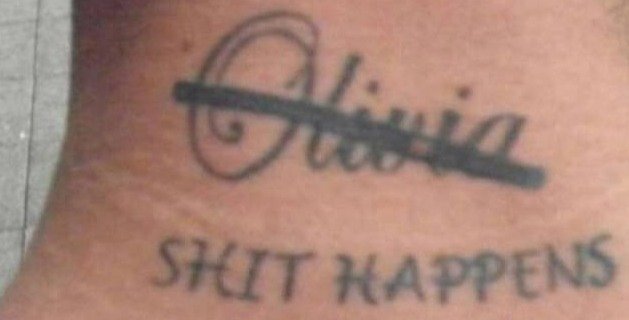 Then again, maybe they just wanted to be reminded never to do that again. If so, we hope they look down at their new tattoo every time they have the urge to get someone's name tattooed on their body. 
He Got Lucky There's Another Melissa
While it might be kind of weird to get an actor's name tattooed on your body, for some reason, it's much more socially acceptable to get a musician's name. This person added "Etheridge" to their "Melissa" tattoo, turning it into a tribute to the singer and songwriter. However, they really just got lucky that one of their favorite musicians happened to have the same name as their ex.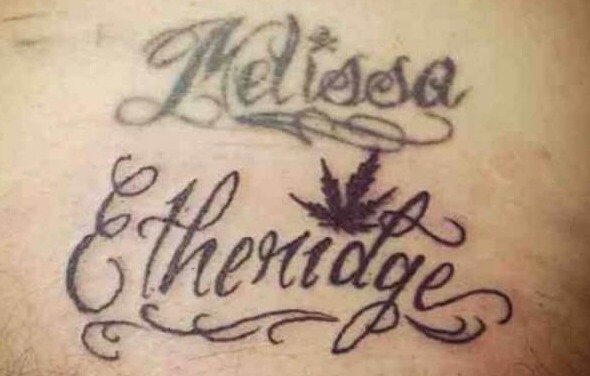 It's still pretty noticeable that all they did was add a name to the one they already had tattooed on their body. As hard as someone tries, fonts are extremely hard to match. 
Void Stamp Or Warning Label?
There are many different ways to do the same thing, apparently, including covering up an unwanted tattoo of your ex's name. Similar to another photo, this guy tattooed a "Void" stamp over someone's name. However, he went a step further and added a tattoo of an actual stamp. It's a slightly more visually appealing tattoo than the other one, but it still sends out similar vibes. Then again, so does getting a tattoo of someone's name in the first place.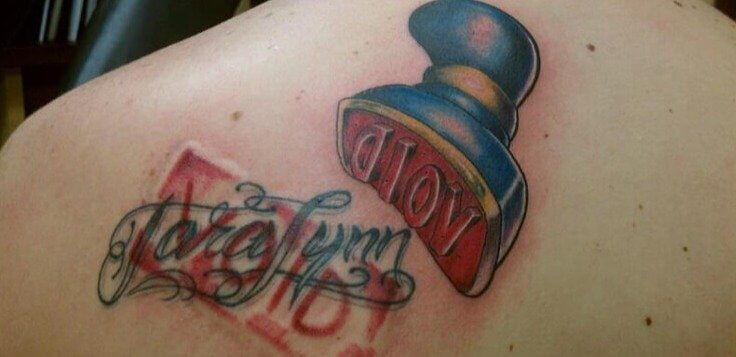 However, as long as they are happy with their tattoo choices, then we're happy with their tattoo choices. There are worse stamp tattoos one can get when covering up names. 
Mom's Tattoo Got an Update
The story behind this tattoo is actually quite heartwarming. A mom got a portrait of her daughter when the daughter was younger. However, when the girl got older, she told her mother that she actually identified as he, so the mom changed the tattoo to support her transgender child. This is definitely one of the least cringe and most sentimental cover-ups on this list if you ask us.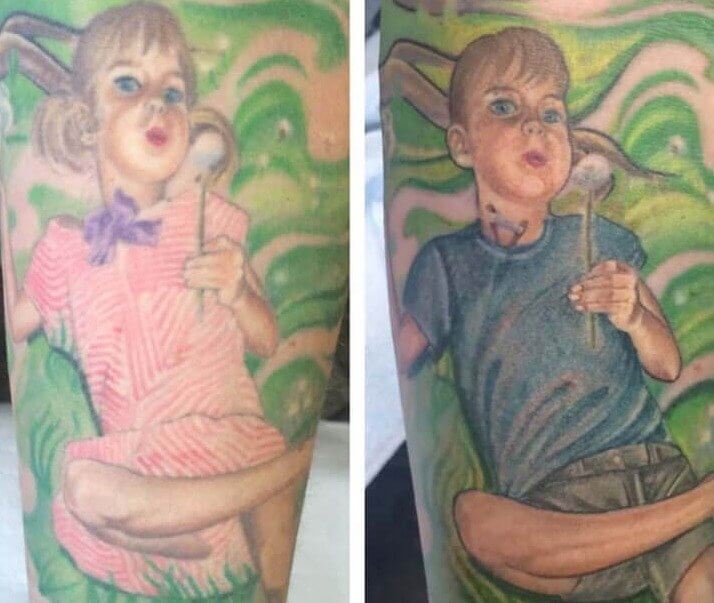 Big props to whatever tattoo artist was able to represent this child's journey so beautifully.
Jane Who?
Before we get into the really amazing cover-up tattoo here, can we just address the before photo? Why is "Jane" written on a scroll, and why is that scroll on fire? Also, is that a flower at the bottom? The tattoo in the before photo was really awful, which makes it all the more impressive someone was able to cover it up with something so awesome.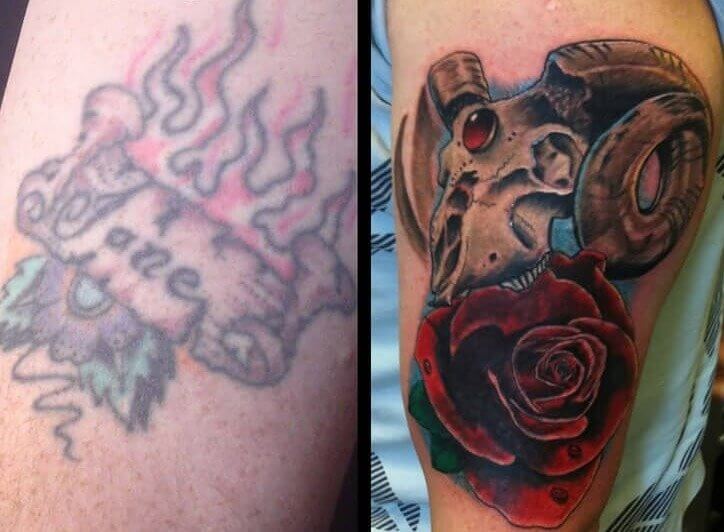 We aren't really sure what the connection between the rose and the ram is, but the shading and the overall quality of the tattoo in the after photo are leagues better than what this person had before. 
What Did Andy Do?
It's not every day that you see someone with a tattoo of an ex's name, and that tattoo gives you insight into the breakup. However, it's easy to tell from this tattoo that this breakup was not amicable. We're not exactly sure what Andy did, but now we really want to know. It must've been pretty bad, and anybody who sees this tattoo is likely to ask the same question.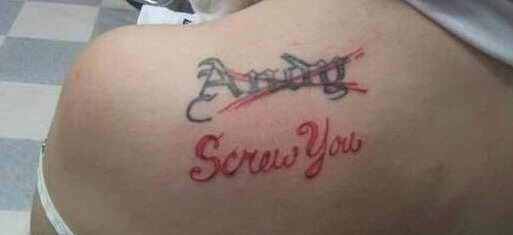 Tattoo cover-ups are also supposed to be a way of forgetting a certain time or event. "Screw You Andy" just sounds like a constant reminder of something awful that happened. 
Switching Tributes
There are some cover-ups on this list that are actually quite clever. However, this isn't one of them. Instead of just getting an image or a partial sleeve to cover up "Kelsey" on his wrist, this guy thought it'd be a good idea to add a last name to his tattoo. He chose to add the name "Grammer," as in the actor Kelsey Grammer. Maybe he was a really big fan of Cheers or Frasier.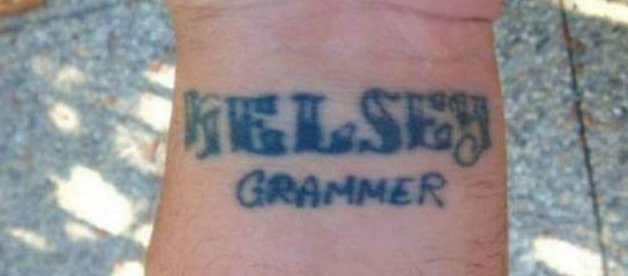 Either way, it doesn't really make much sense, especially since the font and size of the last name are completely different from the first. We don't think this guy is fooling anyone with his tribute to Mr. Grammer.
We're Starting to Feel Bad for Jane
We're not the biggest fans of tribal tattoos unless it's related to your heritage, but if you have a tattoo of the name Jane surrounded by a heart and flames, then we say go for it no matter what. It was probably the only way the artist could hide the old tattoo, short of giving this guy an entire sleeve. And as far as tribal tattoos go, this isn't the worst we've seen. And it certainly beats the old design.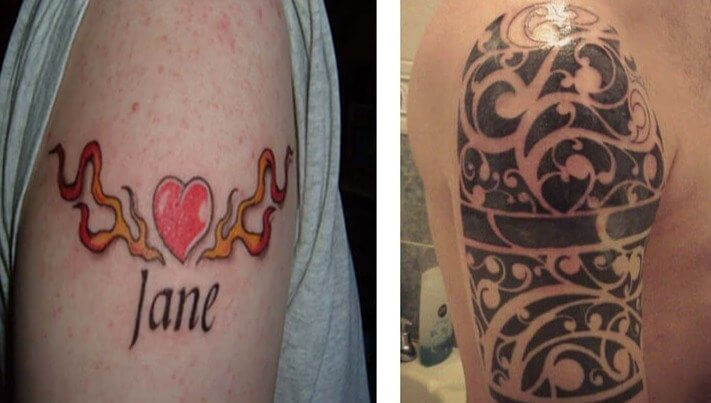 It's actually not that bad. It's even more impressive, considering you couldn't even tell this guy used to have the tattoo in the first photo. If you look very closely though, you can still kind of make out the heart. 
Timmy Broke Somebody's Heart
While we're pretty sure this person isn't too heartbroken over breaking up with Timmy, they did decide to draw over his name with a bleeding heart. They might've just liked the design, but it's hard not to see this cover-up as a metaphor for something else. Either way, the new tattoo does look pretty awesome compared to what was there before. Still, they could've chosen almost anything as long as they used dark colors.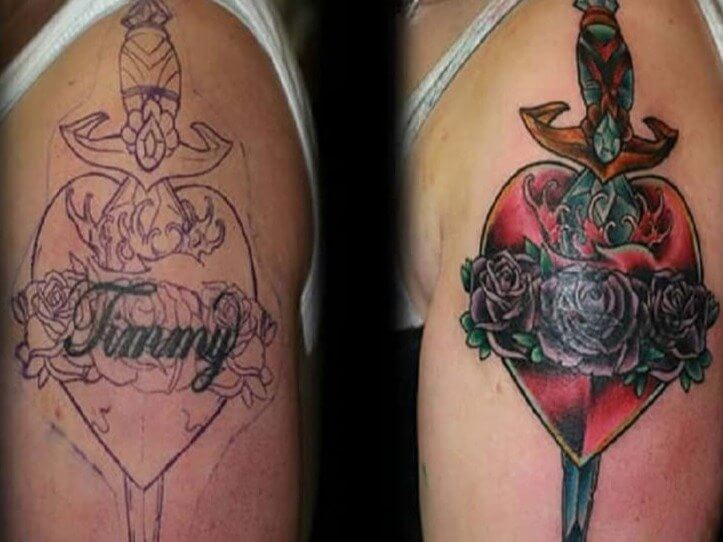 Also, anyone who saw them with Timmy's name on their arm before is probably going to be thinking the same thing we are at this point — that Timmy put a knife through their heart. 
This Guy's Prayers Were Answered
Someone had their prayers answered when they managed to find a tattoo artist that could cover up their prayer hands tattoo. They ended up going with an image of a deer. While it does remind us of something you might see on the back of a jacked-up pickup with 50 bumper stickers, it's a more colorful and objectively better-done tattoo than the one in the before photo.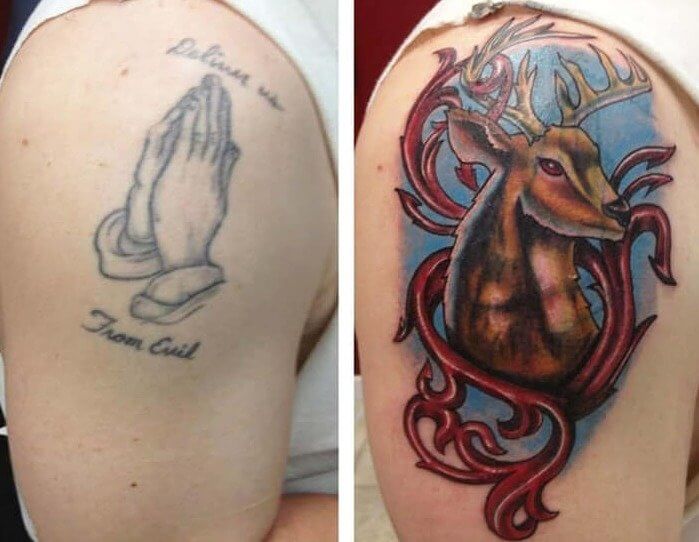 We're also not very sure what's going on with the red hooks or antlers in the second tattoo. They could be a reference to fishing or a reference to when deer shed their horns, which turn red. 
Day Of The Dead Transformation
Sometimes a tattoo just becomes so faded out that it's time to get it covered up. That appears to be what happened with this tattoo of Jesus praying. And the guy chose a pretty awesome way to cover his old tattoo. He replaced it with a lady dressed in traditional Day of the Dead garb. We're really into everything about this tattoo, from the colors to the imagery to the idea itself.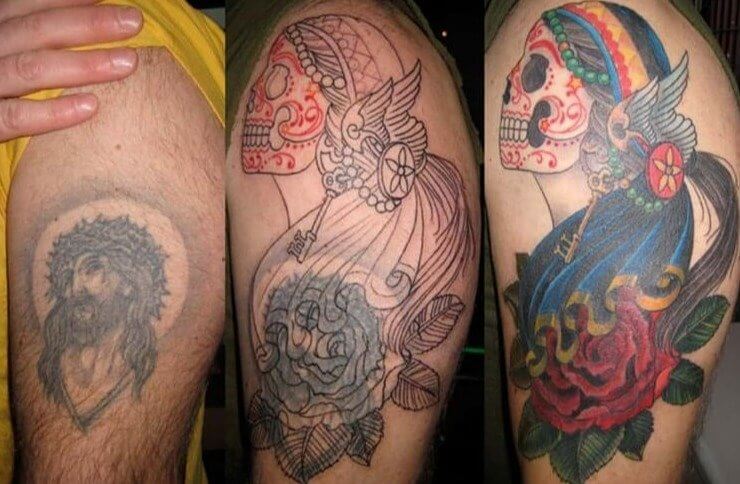 It's also really cool to see how the artist incorporated the old tattoo into the new image. If that weren't there, then it'd be hard to tell that these two arms are actually the same.
Guess She Got Wiser With Time
While it's certainly not wise to get someone's name tattooed on your body, you could do worse than an owl when looking for something to cover it up with. Owls do generally represent wisdom and knowledge, after all. This person also showed some wisdom when picking a tattoo artist to cover up the original because they did a really good job with it. The owl looks realistic, and they managed to take attention away from the rose.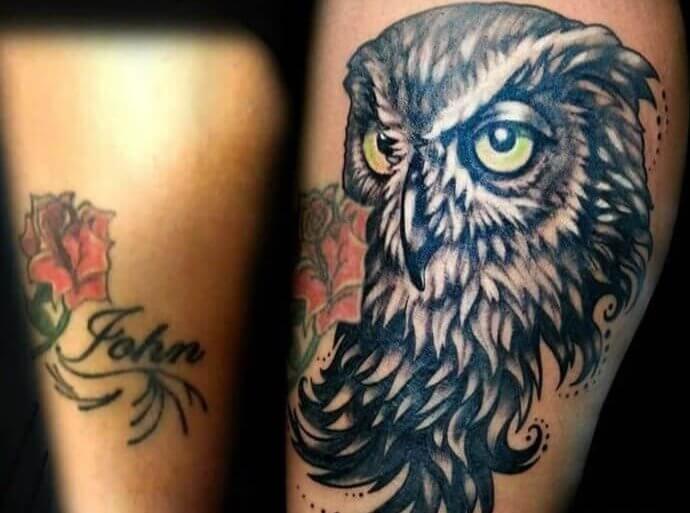 Speaking of the rose, that's probably the only thing that looks out of place in the after photo. We've never seen a tattoo of an owl, and a rose in one image before.
One Smooth Cover-Up
Here's another person who decided it was time to get rid of an old and fading tattoo. This time, it was an old tattoo of a rose. However, like the Day of the Dead tattoo from an earlier post, this one turned out pretty great. The guy decided to replace the rose with a large image of a koi fish. Not only is the image really realistic, but it's pretty stylized as well.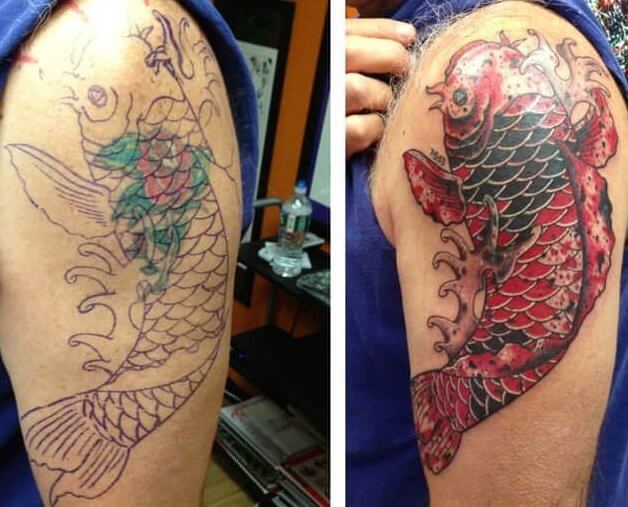 The artist did a really good job of shading, and all the specks on the scales were a nice touch. The new tattoo is way better than the old one, even if it weren't so faded. 
Show 'em Who's the Father Here
Remember when we said that the best thing to use when covering up a tattoo is a beloved character? Well, here it is. Someone decided to get rid of their "Jenny" tattoo and replace it with an image of Darth Vader. It doesn't get much more beloved or iconic than that. This entire cover-up looks like it'd be relatively simple to do as well. Almost the entirety of the new tattoo is done in black.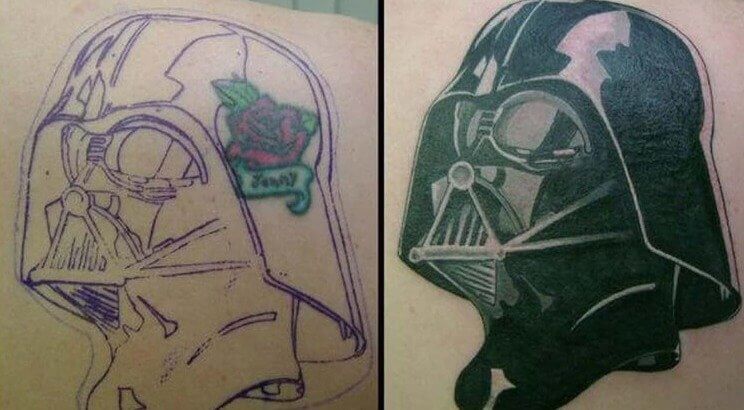 The only thing that might've made this tattoo better would've been a quote saying, "Jenny, I am your replacement." But that would've ruined the whole point of getting it covered up. 
From Weird Tribal Tattoo To Shark Week
We're not entirely sure what's going on in the before photo with this tattoo. It looks like someone tried getting a tribal tattoo but later added in a shark swimming around the symbol and taking a bite out of it. Either way, we're glad they managed to find someone talented enough to fix the original image. Not only did they fix it, but it looks like nothing was ever there in the first place.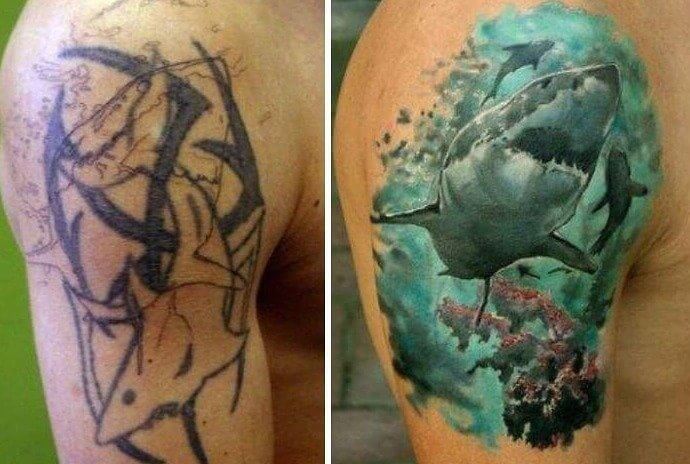 These two tattoos are like night and day. The tattoo on the right contains so much detail and color, while the one on the left looks like it came out of the mind of a middle schooler.