Everybody thinks that marketing is an important part when it comes to selling products, but the packaging is just as important. But what do you do when a product arrives in a package so absurd it simply has no reason to exist? Every item we buy at the store or order online deserves decent, protective packaging, but the next few examples are so ridiculous, they will blow your mind.
A Simple Pair Of Earrings Deserves A Nice Big Box
Earrings are one of those items that are very personal. Everyone has their own style which means some people love cute studs and others like a gigantic pair of statement earrings. The person who ordered these earrings falls into the first category, and when they ordered them, they expected them to arrive in a padded envelope or a small box. Instead, they were faced with what can only be described as a box fit for extra large boots.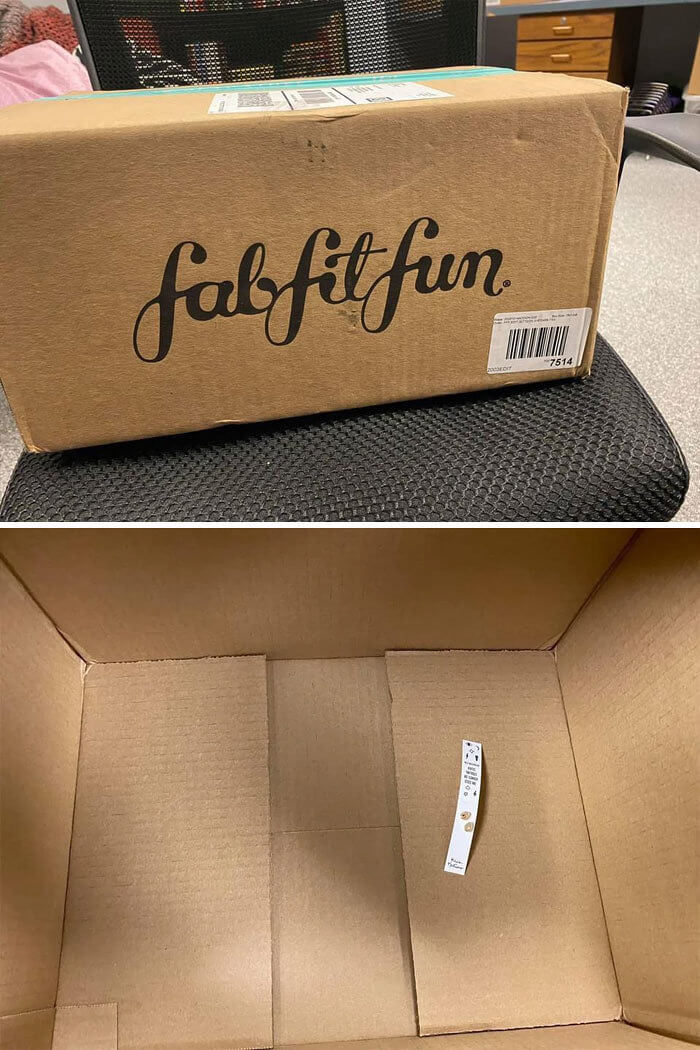 This huge box contained this tiny pair of earrings and nothing else. The person who packed this box must not be able to just size very well. 
Concealer Deserves All The Bubble Wrap In The World
Makeup brands like Sephora have a huge online store in many different countries. It would appear that their packaging facility might not have a lot of box size options available because they love to choose the largest box available for the tiniest of products. Their motto must be, "Go big or go home" because there are no small boxes in sight over here. However, they do get some kudos for knowing how to fill up all of that extra space.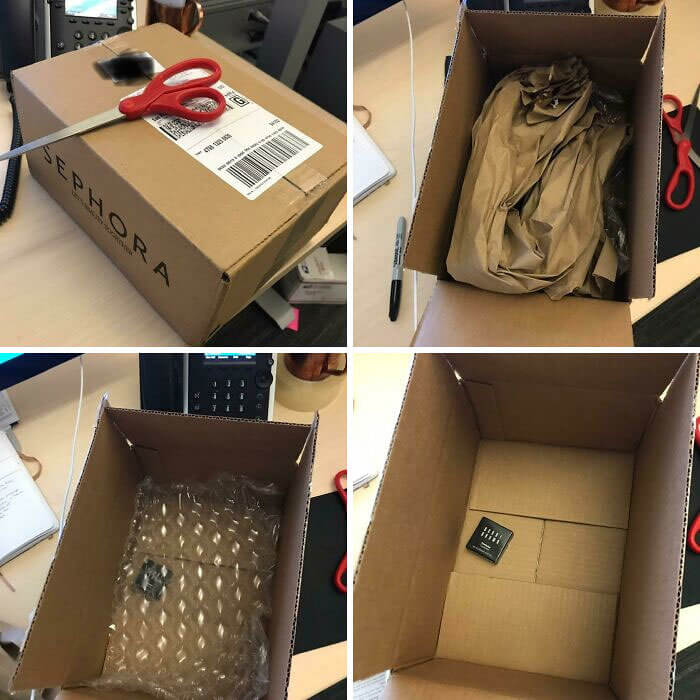 Instead of letting this tiny concealer rattle around inside of the box, they added some classy bubble wrap and paper to protect it. Ok, Sephora!
Zero Waste Only Applies To The Product, Not The Packaging
You would think that a company that sells 'zero waste' products would care about the environment. The whole concept of zero waste is to not create more garbage, and that should apply to packaging. There are a ton of options when it comes to biodegradable plastic bags which can be used to mail products, but somehow this company seemed to have overlooked them. Whoever thought using non-biodegradable bubble wrap was a good idea clearly didn't understand the brand they are working for.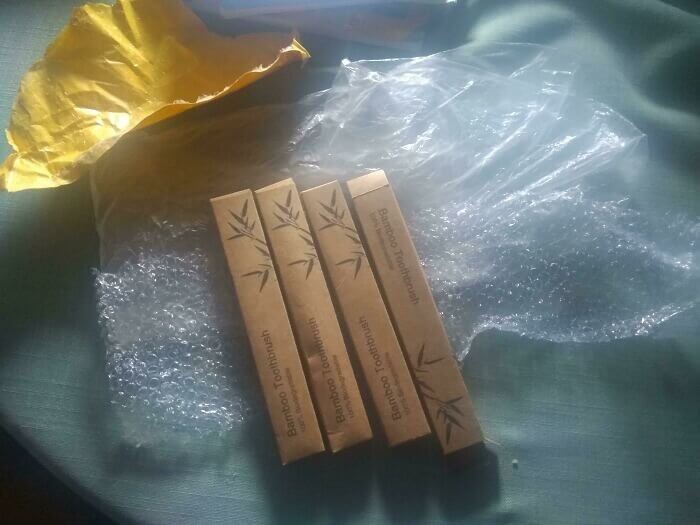 We really hope this company realized their error here because a lot of their earth-loving zero waste customers will probably not be repeat customers with this packaging. 
Those CVS Receipts Need To Be About Five Feet Shorter
CVS pharmacies are known for providing some great deals when it comes to food, cosmetics, and everything else they stock. However, they are also known for their absolutely ridiculous receipts. Most pharmacies offer short receipts with brief names of products and the price of them. This is not what CVS does. Instead, CVS likes to provide receipts that are often five feet long, even if you only purchased three things. 
The other four feet of the receipt, after the part that is the actual receipt, is dedicated to a ton of different coupons and deals that can be used the next time you are in-store. 
Cans Of Soda Must Be Protected From Breaking At All Costs
When you think of a soda can, you tend to think of how impenetrable they are. First off, they are made of aluminum which is a pretty durable metal. Secondly, to break open a soda can, you need to pierce it with a sharp object like a knife. Dropping a can of soda might shake up the contents but the can itself isn't going to shatter like a glass bottle.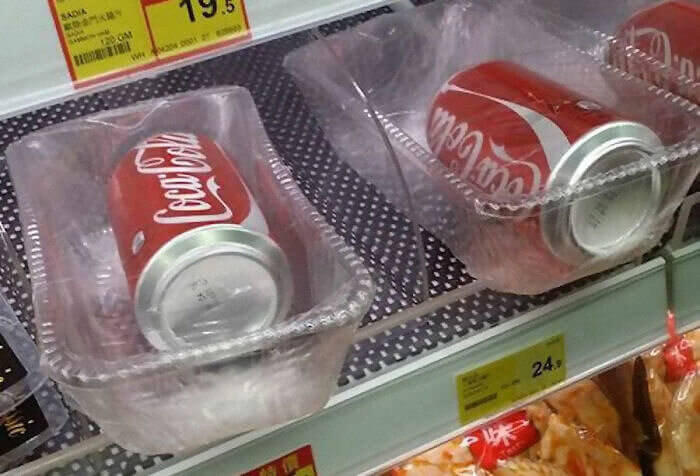 This grocery store seems to think that cans of soda must be treated like the most fragile of fruits. The employee who had to package these cans must have been laughing as they did it.
How Much Packaging Is Too Much Packaging, Asking For A Friend
A lot of people don't realize just how much plastic ends up in landfills, and even worse, in the ocean. Plastic, unless it is a biodegradable variety, takes years and years to break down, and even then, it often contains a lot of chemicals that are bad for the environment. That's why this person was pretty disheartened to see the excessive amount of plastic each individual item they had ordered arrived in.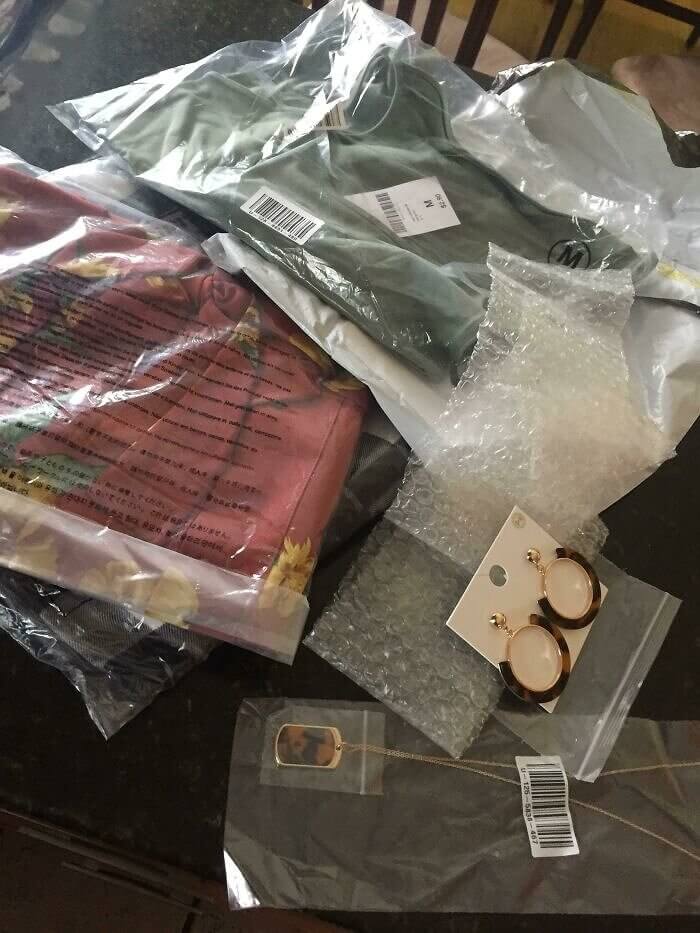 The jury is still out on whether or not this person opted to send these items back. If we were them, we might have just returned all of the packaging to them with a note asking them to work on being more environmentally friendly.
The Russian Stacking Doll Brand Of Allergy Relief Medication
To be fair to some of the brands on this list, there are certain packaging regulations that have to be followed when it comes to medications. This is both to make sure the medication doesn't fall into the wrong hands, and also to make sure that kids cannot accidentally eat it. People with allergies know that having a quick pill can make all of those sniffles and red eyes disappear.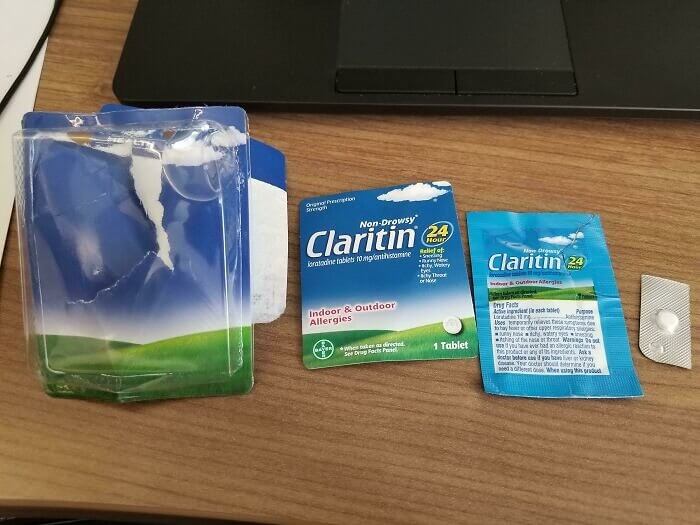 But what is the point of having a so-called quick pill if it takes five minutes to tear through all of the packaging? Only the blister pack is really necessary for this brand.
CDs Are Basically Obsolete And So Are The Cases
When was the last time you walked into a store and bought a CD from your favorite band? They basically don't exist anymore, and this is a big win for the environmentally friendly crowd. Most music, games, and software can be downloaded at the click of a button which is both convenient and generates zero waste. However, this company seems to have missed the memo where no CDs mean that they no longer need CD cases.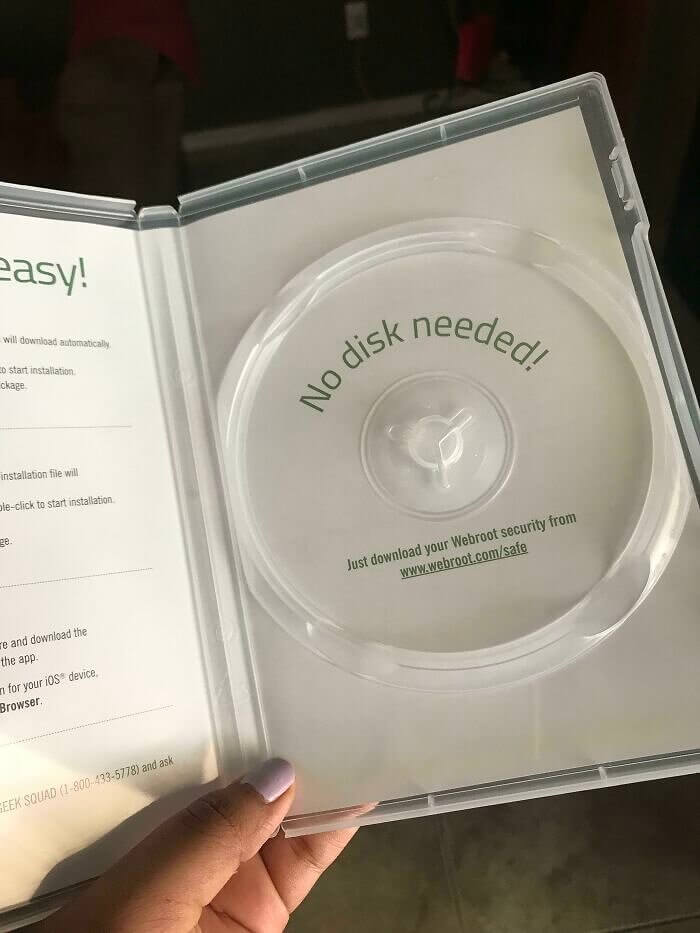 Instead of stopping the production of plastic CD cases, this company decided to use them as some sort of weird promotional material. 
Single Use Face Masks In Styrofoam Has Never Looked More Wrong
Anyone who has lived through 2020 and 2021 knows just how important face masks are. They protect your nose and mouth from any airborne viruses that you might be emitting, and they stop anything else from getting in more often than not. Fabric masks are obviously the more environmentally friendly choice as they can be washed and reused, but sometimes single-use face masks are a necessary evil depending on the situation.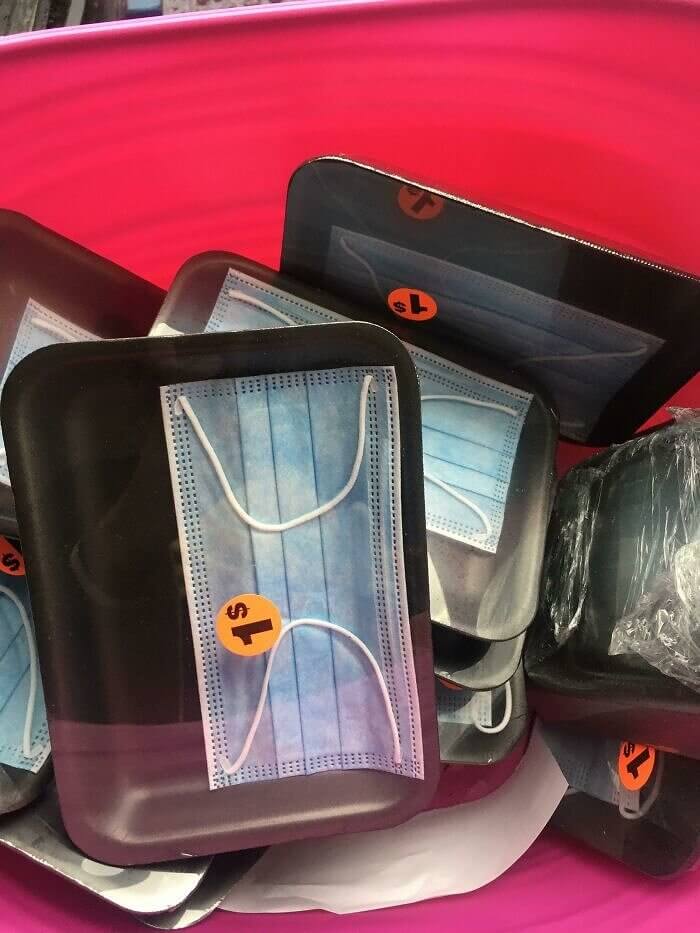 We already know that single-use face masks end up in the garbage, but why make more garbage by enclosing them in plastic wrap and styrofoam? This is quite frankly, mind-boggling. 
A Box For Each Fence Post Is The Best
Learning how to pack products appears to be an art that few have mastered. Many people choose to shop at stores like Walmart for their affordable prices, like this dad. He needed some fence posts and saw a good deal. Naturally, he assumed that 15 fence posts would come bundled together in one box, but boy was he wrong. Each of those skinny fence posts came individually boxed and wrapped.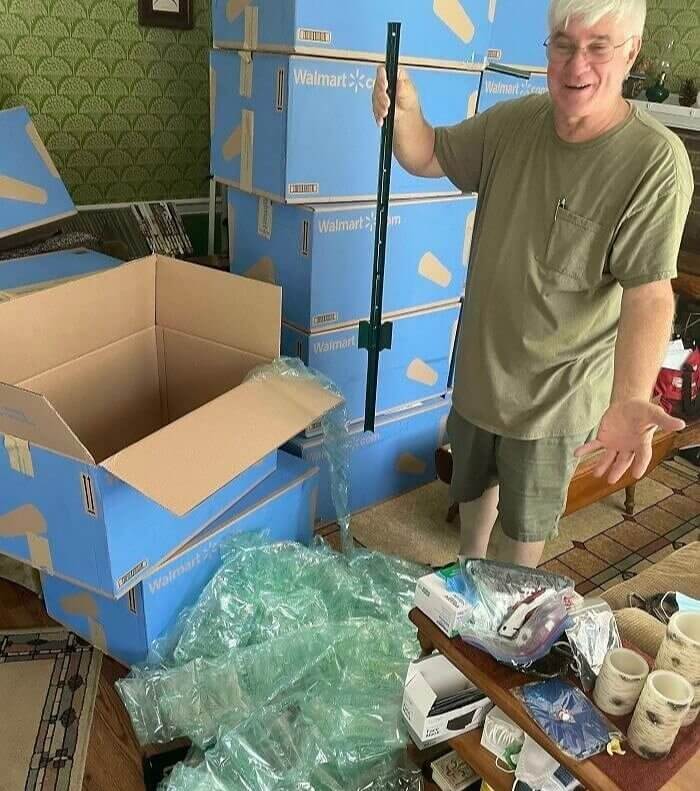 Sadly, one fence post box got lost in the mix and now it is off being delivered to another household.
Individually Wrapped Jelly Beans For The Flavor Conscious Consumer
Individually wrapped food products like candies and chocolates make sense to a certain degree. Some of these are not meant to be enjoyed all at once, and the wrappers keep them fresher for longer. Chocolate truffles, caramels, and lollipops make sense for individually wrapped sweets, but jelly beans do not. Jelly beans are meant to be poured out into a hand and snacked on at random. The fun part is not knowing what flavor you have.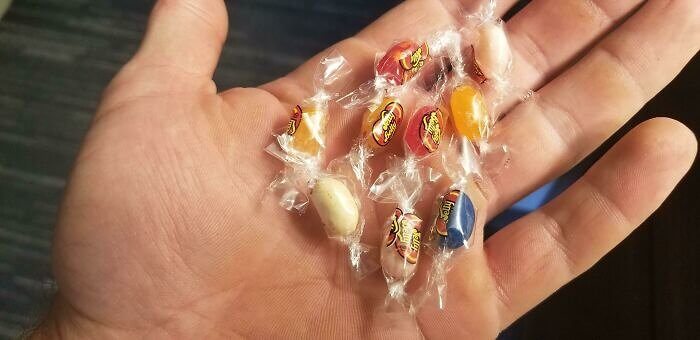 Even Harry Potter didn't snack on Bertie Bott's Every Flavor Beans with individual wrappers. Let's follow in the footsteps of the wonderful world of wizardry and say no to wrapped jelly beans.
Biodegradable Kitchen Sponges Deserve Biodegradable Packing Materials And That's Final
In this day and age, we all have the ability to research products and companies to make sure that they fit in with our own ethical beliefs. For many people, that means reducing their carbon footprint and buying items made from recycled materials like these kitchen sponges. After finding the perfect sponges, this person thought that their sponges would arrive in some sort of recyclable container or one that can be reused in the kitchen.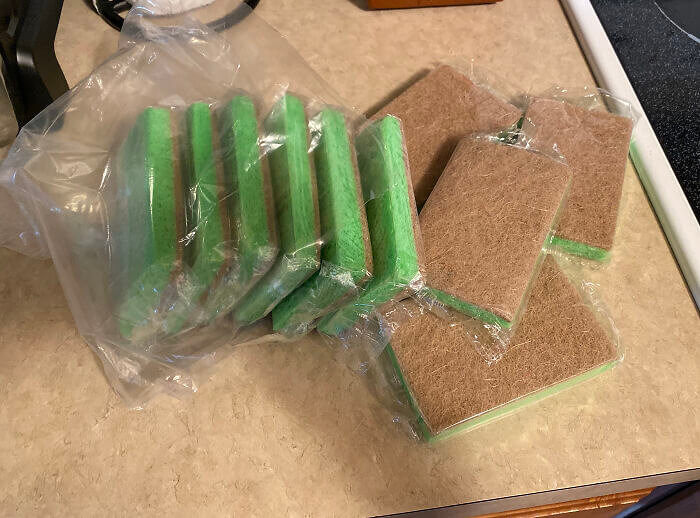 The disappointment was palpable when they saw that they were packed in a plastic bag that had to be tossed into the trash.
Being A Hypocrite Is No Way To Keep Customers Coming Back
Lots of grocery store chains like to post signs that encourage their customers to shop with reusable or paper bags. This helps to cut down on single-use plastic bags, and it saves customers a few cents because plastic bags aren't free. This grocery store wanted to be one of those environmentally conscious ones but they made a pretty big error when it comes to the fish they were selling one day.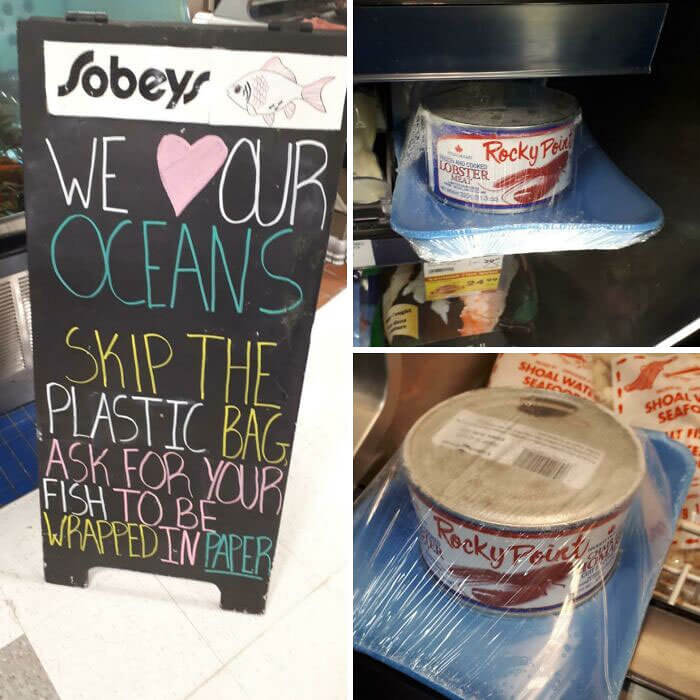 It's pretty hard to convince people to use paper when the store itself uses plastic wrap to keep their tins of lobster attached to styrofoam containers. 
Fancy Chocolates Need To Physical Distancing Too According To This Box
Gourmet chocolates are undoubtedly one of the most delicious treats on the planet, but their packaging is always excessive. First, there is the box itself which does tend to be recyclable. Then, there is the plastic insert that spaces out each chocolate. This is supposed to entice people to look at each chocolate individually and then refer to the little paper booklet to determine which chocolate is which. On top of that, there is the paper or plastic insert that is over top of the chocolates. Sometimes, the contents are plastic wrapped as well.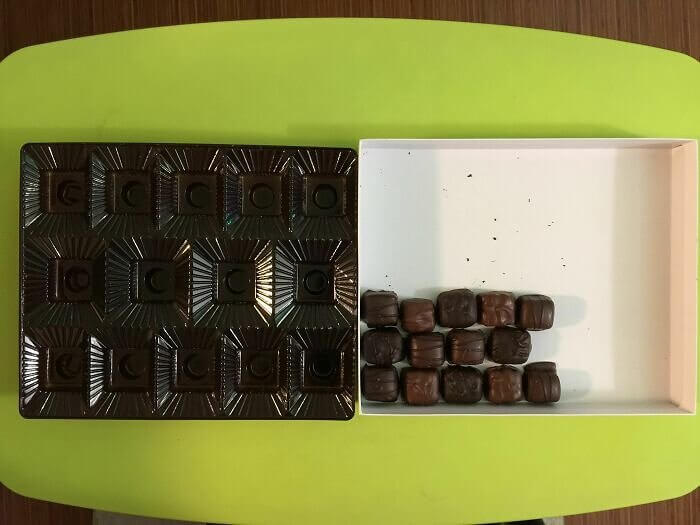 To show off just how much wasted space there is in a chocolate box, this person removed all of the chocolates and put them inside the box itself. It doesn't look so tempting now, huh?
Fruit Cups Look A Little Bit Different In This Day And Age
Traditionally, fruit cups tend to be filled with fruit cocktail. A fruit cocktail is a medley of fruit chopped up into bite-size pieces and then drenched in sugary water. These individually packaged cups do actually need packaging, otherwise, all of that sugary goodness would ooze out and create a very sticky mess. One Mexican food chain seems to have forgotten what a fruit cup is supposed to contain judging by this photo.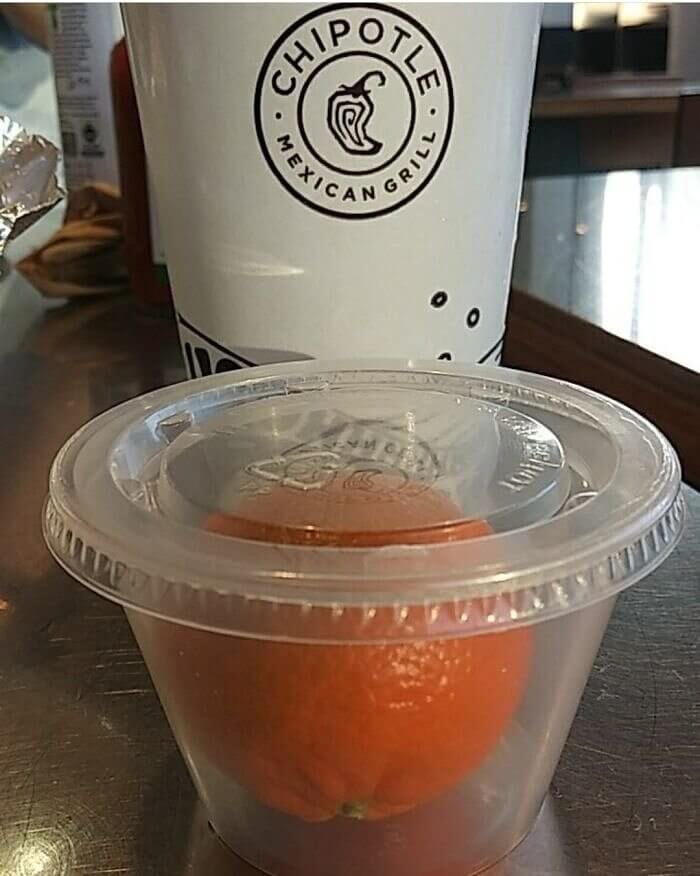 The last time we checked, a mandarin orange is just fine hanging out by itself. It certainly doesn't need a plastic cup to protect it. 
The Bubble Wrap Must Be Protected At All Costs
Bubble wrap is one of those packing materials that everyone loves to receive. There is something incredibly satisfying about sitting on a couch, watching television, and just popping a few pieces every few seconds. Anyone who has spent time popping bubble wrap knows that it is not easy to pop those bubbles, which is why this protected box of bubble wrap is just plain confusing to everyone who sets eyes on it.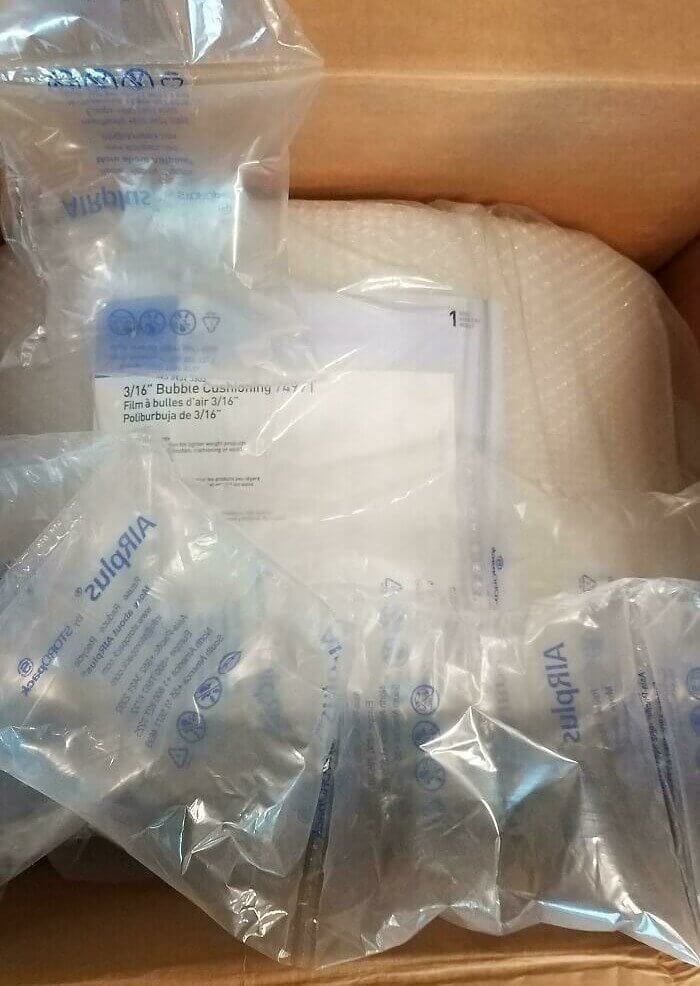 This office supply company did not want any harm to befall their precious bubble wrap and opted to protect it from popping with even bigger bubble wrap. Sheesh!
27 Books Equals A Box For Each Book Of Course
When you need something to arrive quickly, Amazon is the go-to place, especially for books. In the past, when you ordered items in separate orders, each order would come in a separate box which made for a whole lot of boxes. This person decided they needed 27 books and ordered each one individually at different times throughout a one-day period. instead of packing a few books in one or two boxes, each precious book got their own special box.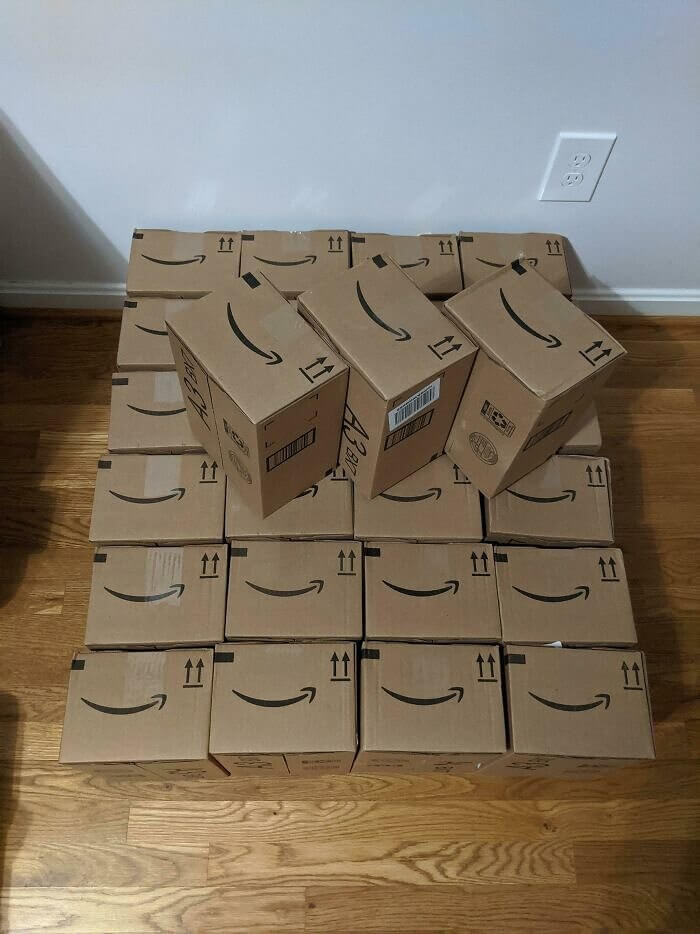 Unless this person ordered heavy encyclopedias, there is no way that each book needed its own box. Here is yet another example of way too much packaging. 
Single Serve Vegetables Deserve Their Own Solo Plastic Wrap Treatment
Every country is different when it comes to how they display and package produce, but this Vietnamese market might just win the award for most tightly wrapped vegetables. Most vegetable displays in North America just have the vegetables and fruits loose in the displays. This helps customers to select the fruit they want, but at this grocery store, you have to pick up a plastic-wrapped veggie and just hope it looks good on the inside.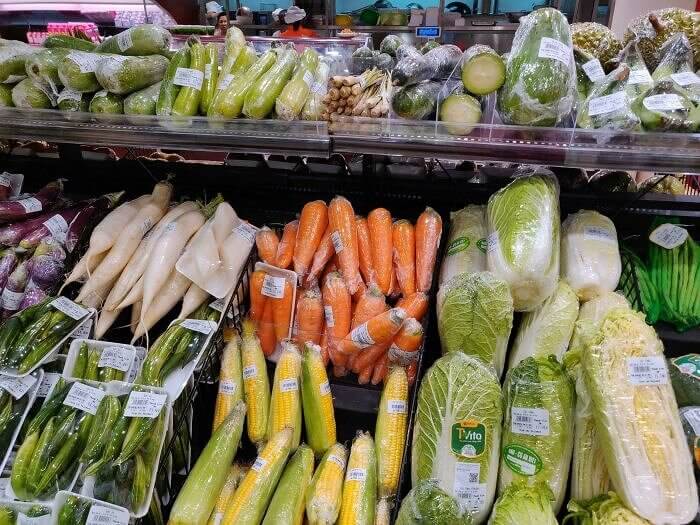 Plastic wrap isn't the most sustainable material in the world, so we are not sure why this grocery store opted to use rolls and rolls of the stuff.
Nobody Wants Those Plastic Gloves Rolling Around Too Much
Plastic gloves are a much-needed piece of personal protective equipment for many sectors like healthcare and laboratory research. Hands need to be protected from chemicals and other liquids that they might come into contact with. That being said, plastic gloves are made of plastic and come in a box that acts as a layer of protection against the outside world. Why couldn't a smaller box be used for this order?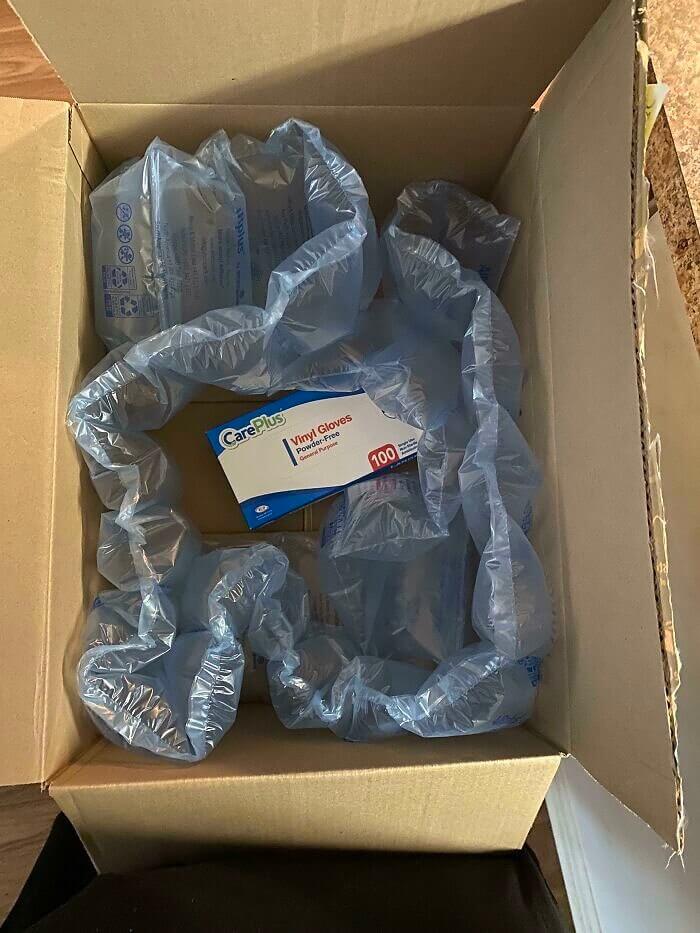 At the very least, some paper could have been wrapped around the box rather than using bubble wrap to protect a box of plastic gloves from the outside world. 
Only A Single Slice Of Bread For Breakfast Pretty Please
Breakfast foods vary from country to country, but one of the most common has to be a piece of bread. Not only is it easy to prepare, but it is also delicious when served with some sort of sliced meat and cheese or a smear of jam. This person thought they had purchased a normal loaf of sliced bread until they opened up the bread bag and found individually wrapped pieces of bread.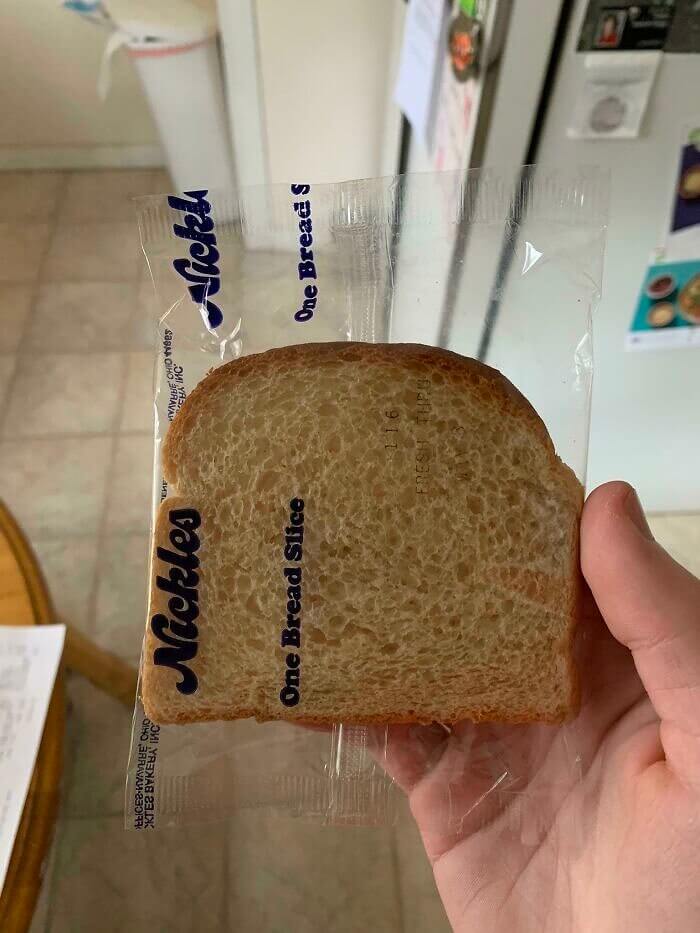 This kind of packaging for bread should not exist. A single piece of bread can be placed in a paper bag, or just snatched from a whole loaf of bread.
Why On Earth Were Disposable Android Phone Chargers Invented?
We love cool inventions, especially ones that are reusable. For smartphones, one of the coolest inventions is the wireless charger. You just place your smartphone on top of it, and it starts charging without any chargers. This is a great piece of tech for people that don't carry corded chargers with them, or that have a mix of Android and Apple devices. Since this tech exists, you would think that more people would adopt it.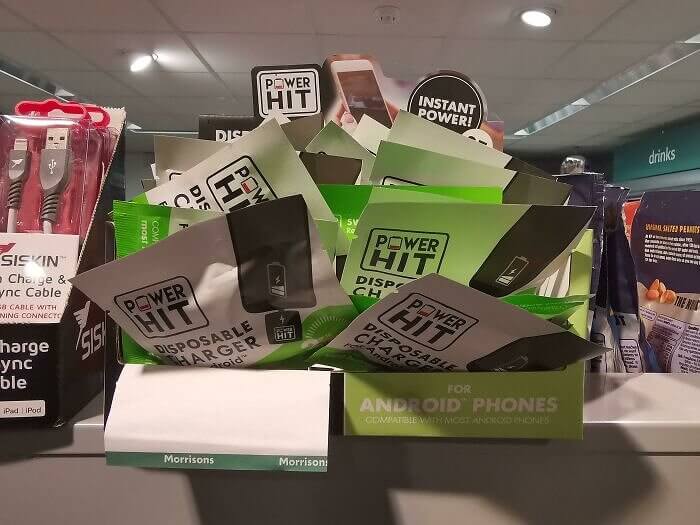 Instead, we are greeted with the site of disposable phone chargers. The metal and plastic used to make these must just end up in a landfill which is less than ideal. 
Batteries Must Need Space To Breathe In A Big Box
Amazon packaging has to be some of the most confusing out there. Small items come in massive boxes, and large items come in tiny envelopes. Who decides what packaging is for what items, that is what we want to know. Maybe it is a robot selecting the packaging because what human would think that teeny tiny batteries need a box that could fit a desktop computer and keyboard inside of it?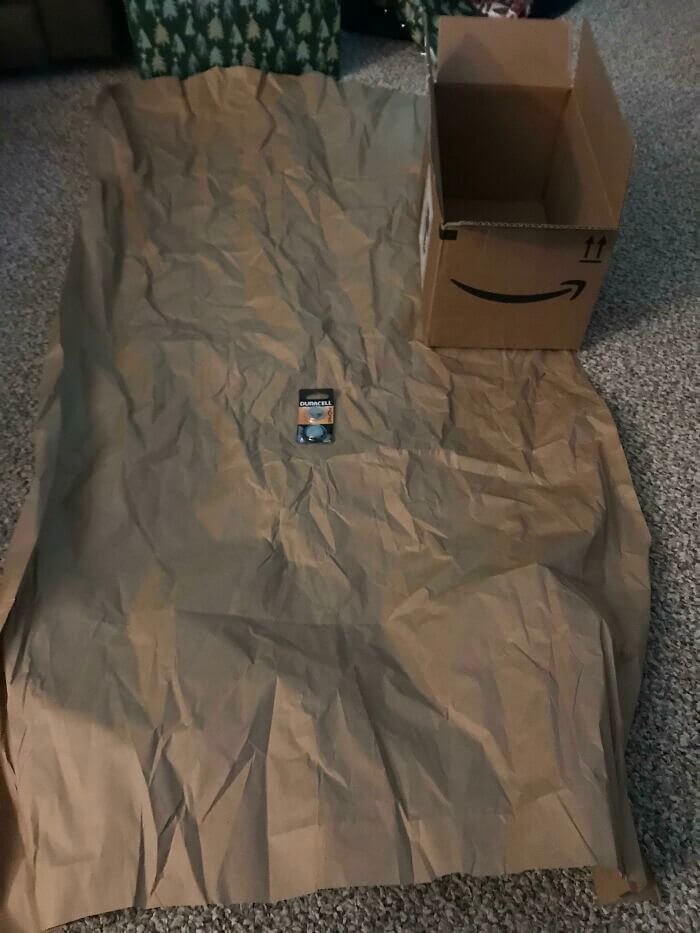 Someone needs to provide a special seminar on spacial awareness to the warehouse employees responsible for this packing job. 
Always Read The Weight Of A Container To Know What's Inside
Appearances can be deceiving, especially when it comes to containers for things like lotion and deodorant. A lot of brands like to charge big for their name brand products, but the containers these products come in only contain a tiny amount of the actual product. Just take a look at this cream. Instead of a full container, it is a tiny thimble-full of cream inside of the much larger one.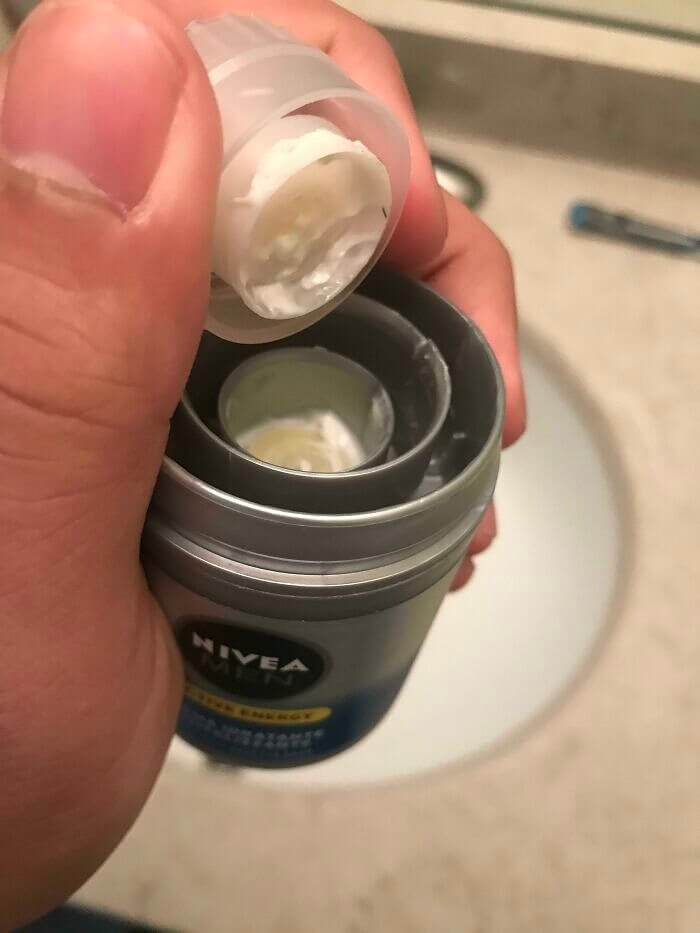 This doesn't seem to be like great value for money, but maybe this is a wonder cream that contains all sorts of expensive ingredients like special seaweed. 
Why Are Medicine Bottles So Big For Such A Small Amount Of Pills
We have all gone to the pharmacy and picked up a bottle of pills at some point in our lives. Maybe these were antibiotics for a nasty infection, or maybe it was just some vitamins to stay nice and healthy. As soon as you get home, manage to break that child-safe seal, and stare down into the depths of the bottle, you notice that there is a small handful of pills.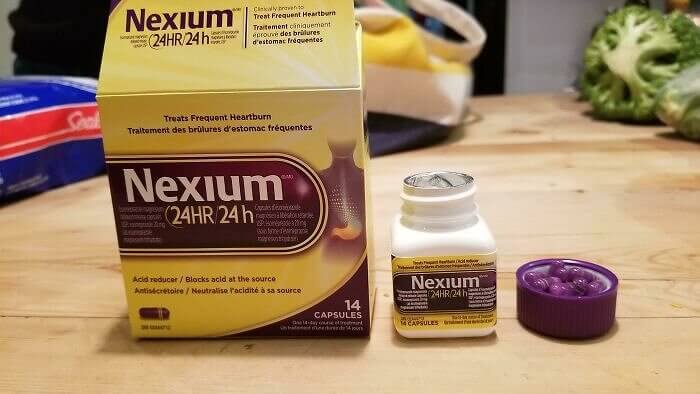 The packaging used for pills is always excessive, and we really don't know why. Blister packs seem like the most economical and space-friendly way to package them.
A Banana A Day Keeps The Doctor Away Or Does It?
Generally speaking, bananas are a great fruit to eat. They are rich in potassium which is an essential mineral needed for overall health. Plastic, on the other hand, tends to be full of chemicals and you definitely don't want to accidentally snack on a piece of that. In yet another instance of individually wrapped fruit, these bananas were packaged with a single person in mind. No need to buy a bunch of bananas when you're eating for one according to this store.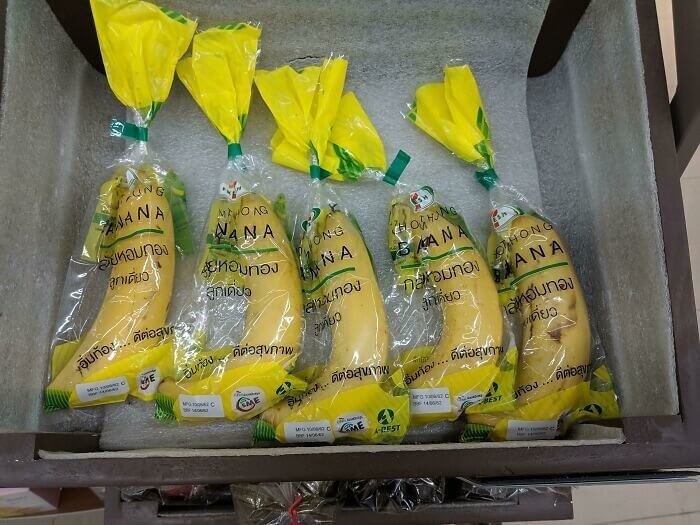 Single people need bunches of bananas just like families do. Let's get rid of this plastic wrap and embrace bunches of bananas for everyone!
This Box Is Definitely Missing Something And It's Not Packing Materials
Advertising and marketing are an important part of the product life cycle. Without advertising campaigns, it is pretty hard for a product to get noticed and start getting customers. That's why a lot of companies have turned to influencers who can, somewhat organically, show off the products that they like to use. This company must not have been able to afford to shell out the big bucks to an influencer and decided to try a mail campaign.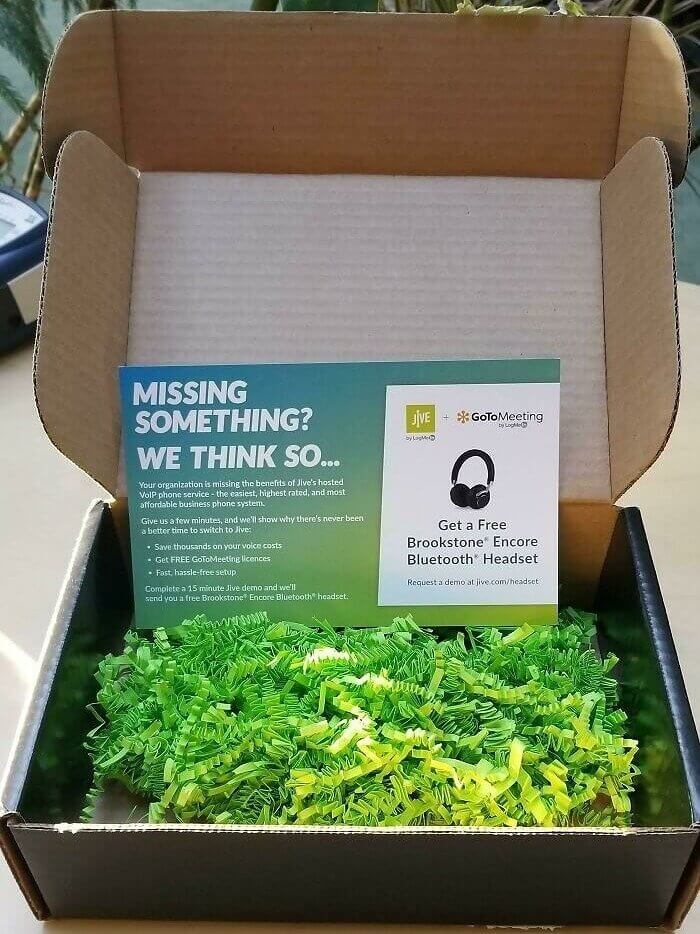 Sending parcels is expensive, but not if they have nothing inside of them. This company probably should have gone the influence route if they wanted anybody to buy what wasn't inside. 
Shallot Skin Is Nothing Compared To A Plastic Container
Mother Nature has spent a lot of time perfecting her skills, especially when it comes to protecting vegetables like shallots. These little guys grow in the ground and develop protective skin that keeps dirt and other pests from getting inside of the onions. You would think that this naturally occurring protective barrier would be good enough for grocery stores but apparently not. A plastic container is still necessary to keep these guys from getting damaged.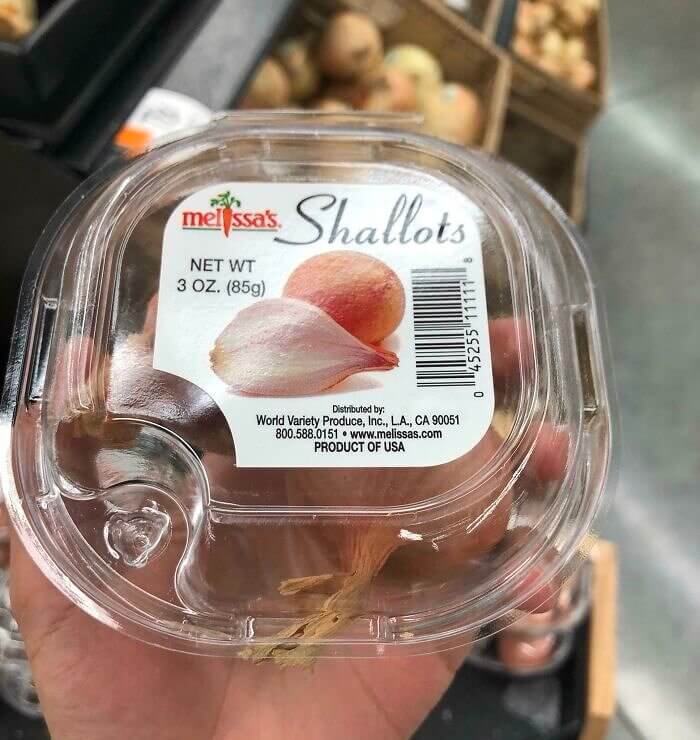 There has to be a better packaging technique than this, such as a cardboard carton like the kind used for fresh strawberries. 
It Is All About Keeping That Pack Rate Up
One of the reasons a lot of strange packaging is used is that there is something known as a 'packing rate' at warehouses. Each employee is expected to pack a certain number of boxes each hour or day in order to get all of the packages out the door and into the hands of the customers. That means an employee might run out of certain sizes of boxes and all that is left are the larger ones.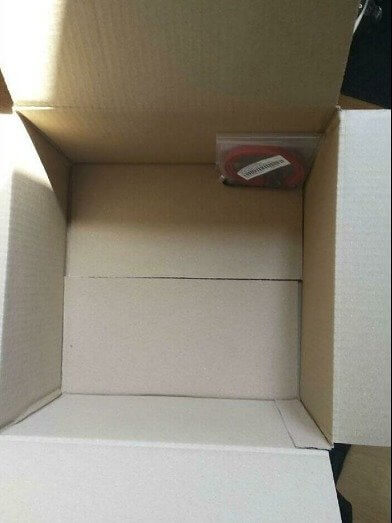 It might be time for different metrics of productivity to be used because all of this overpacking isn't helping the environment or the employees' stress levels.
Peeling And Selling Pit-Less Avocados Should Not Be A Thing
Avocados are amazing. Anyone who likes guacamole or a tasty piece of avocado toast knows that a fresh avocado is a perfect complement to any meal. However, one of the reasons it is so good is that the avocado has been freshly peeled and sliced or chopped up. Avocados tend to go brown if the pit is removed and they are not protected from the air. This store thought they were being innovative by selling vacuum sealed peeled avocados.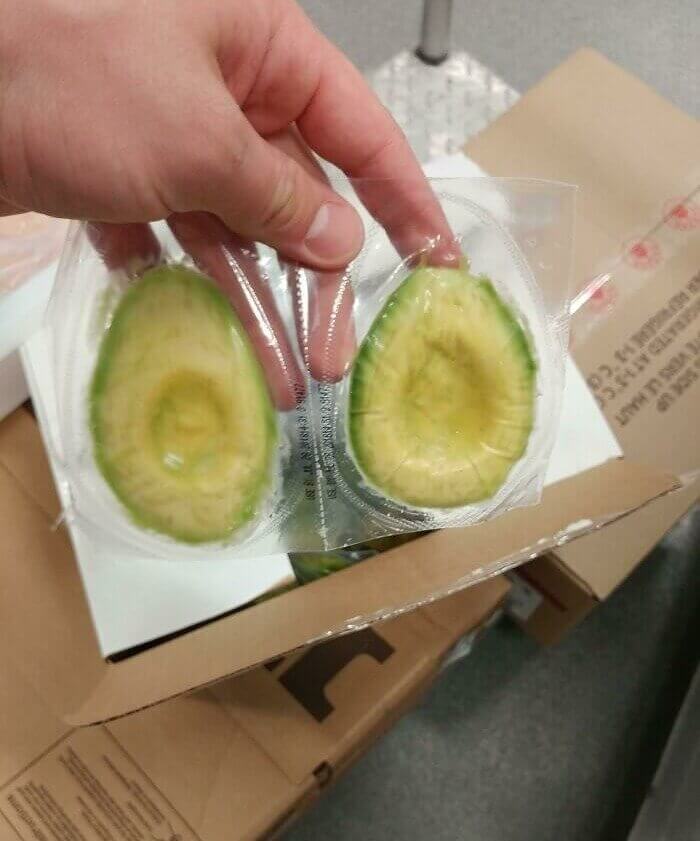 This seems wrong on so many levels. How are the avocado halves still green? There must be some kind of preservative on them which can't be healthy.
Naked Kiwi Pops Are The Treat We Didn't Know We Wanted
Buying fresh fruit is an art. If the fruit has skin or a peel, you need to make sure it is ripe and not rotten on the inside. This store thought they were being helpful by just removing kiwi skin completely and sticking the peeled kiwis atop popsicle sticks. In theory it kind of works. These kiwis look like cake pops. The styrofoam and the plastic wrap make these less enticing though.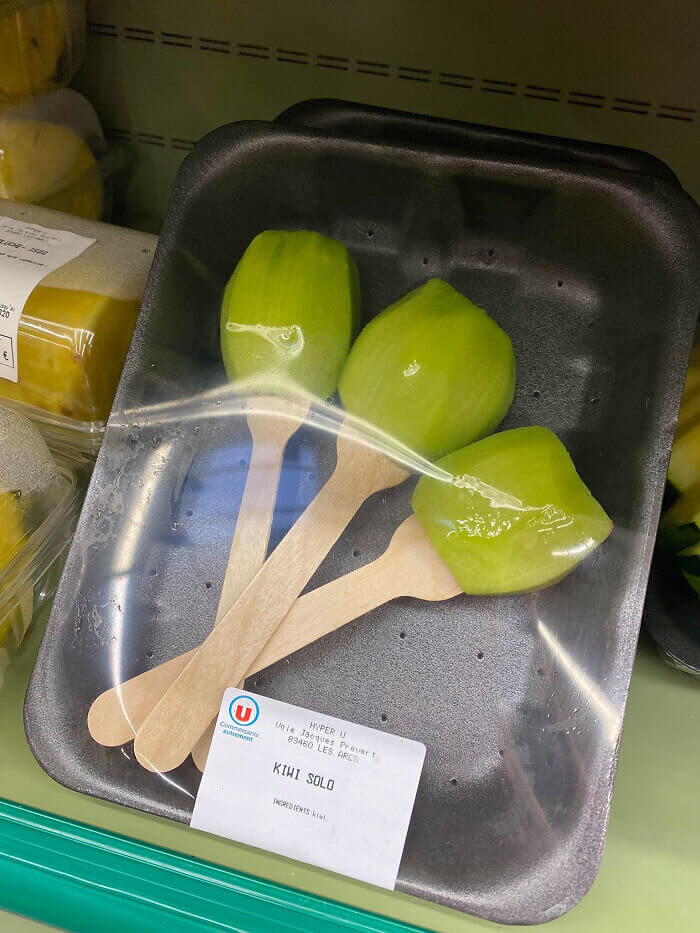 Most of us are capable of peeling our own fruit, and these peeled kiwis come with a whole lot of packaging that needs to be thrown out. 
Individual Plastic Packaging Might Just Be The Downfall Of Civilization
We understand that plastic packaging is needed for some things, but companies really don't seem to understand the whole less is more concept. Many manufacturers provide individual plastic wrapping for items like screws, nails, and washers and they really should not. Just take a look at all 150 washers right here. They could have probably all fit into one of these 150 bags, instead of being placed in their own bags.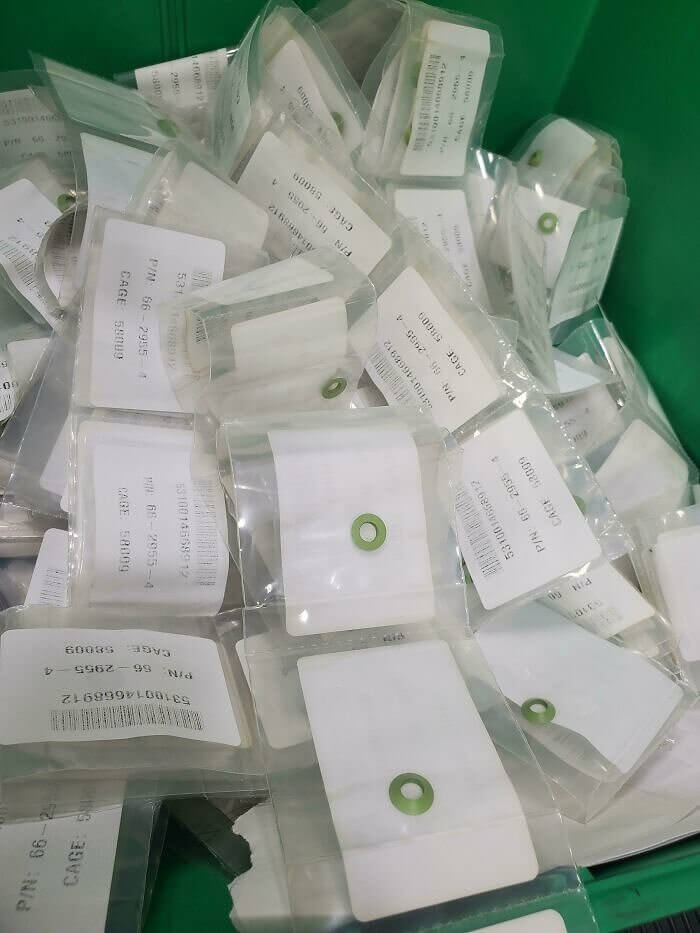 Not only is this a lot of plastic, but it is going to take the person who bought these hours to unpackage all of them. 
Cast Iron Might Be Heavy But It Doesn't Mean Bigger
Cast iron is a dense metal that is incredibly heavy. If we had to guess why these tiny little egg cast iron pans got tossed into a huge box, it must have been because the packer saw the weight of them. Something that weighs a few pounds must be pretty big. It must have come as a surprise to see these little pans just hanging out on the conveyor belt.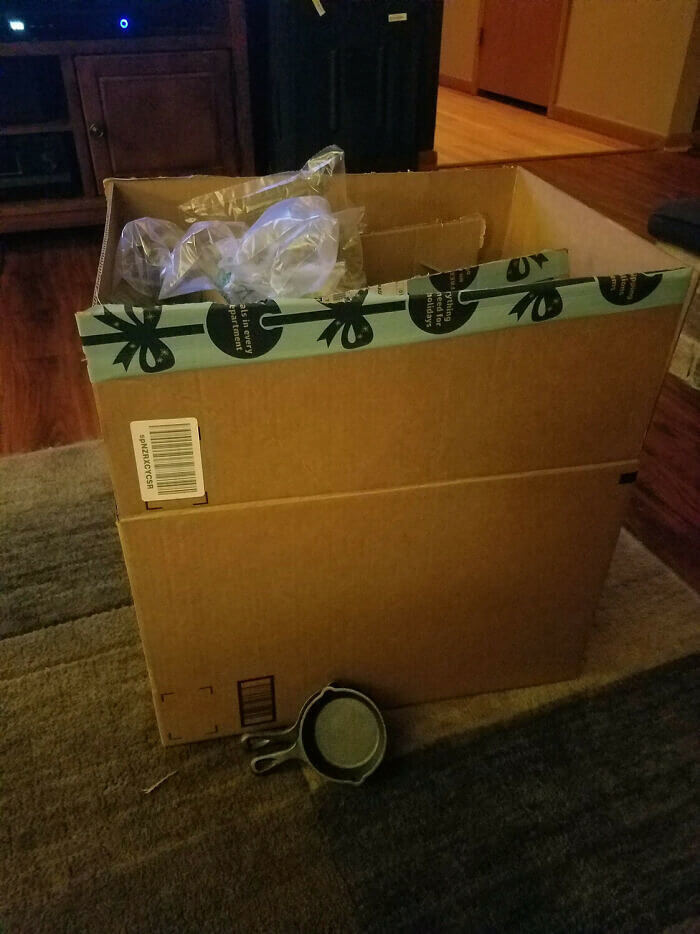 If this person has a cat, the cat will now have a great box to hang out in because this box is positively massive compared to the pans. 
Go Big Or Go Home When It Comes To Nutella
Nutella is the hazelnut chocolate spread that most people cannot get enough of. Not only is it chocolate-y and delicious, but it tends to come in a big tub which means it can last for weeks or months depending on how much of the sweet stuff you like to gobble down. It must have been a pretty big disappointment to get home and see this tiny jar inside of this box.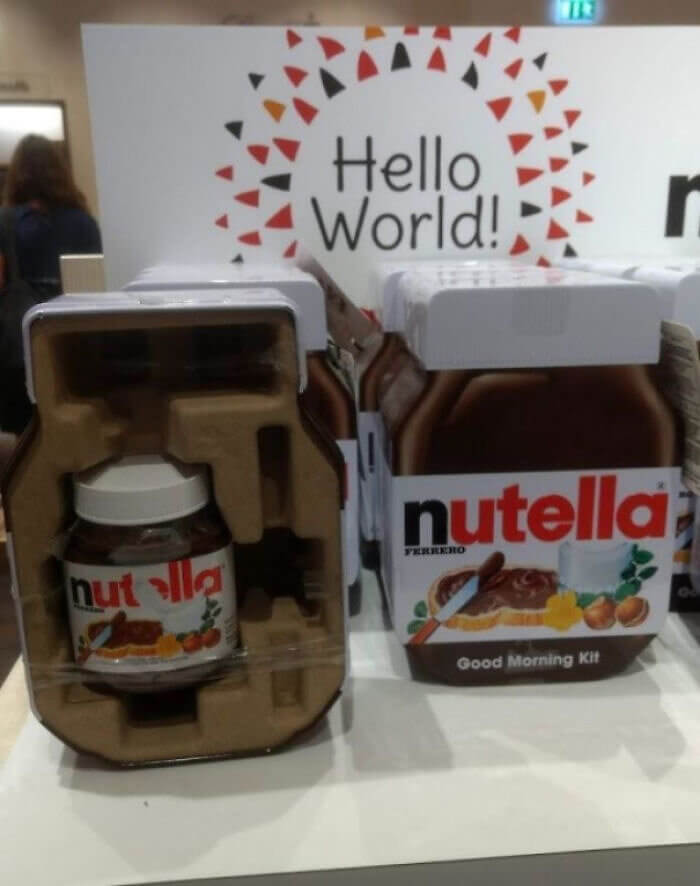 Appearances can be deceiving and that is certainly true here. Always buy the full-size Nutella, because you never know when a craving is going to hit. 
What Is The Minimum Packaging Size For Most Online Stores?
Judging by all of the excessive packaging we have seen so far, it would appear that good things do not come in small sizes. In fact, if we are to believe all of the packaging materials we have seen, everything small should appear bigger until the grand reveal. This nail file definitely belongs to the small but mighty category, and it has the packaging to prove it judging by this envelope.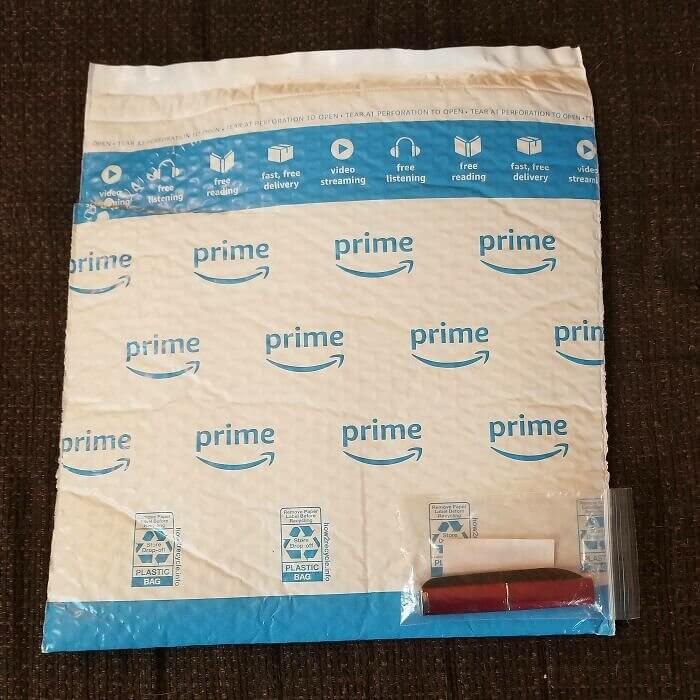 The minimum packaging size at Amazon must be somewhere between the size of a toaster and an A4 piece of paper if we are to go off most of the packaging on this list.
These Packaged Mangoes Take Up More Space Than A Crate
When fruit is shipped, it tends to be shipped in crates inside gigantic 20-foot containers. Those containers are placed on ships and make their way to port before the fruit is then trucked to whatever grocery store it is destined to be sold at. These mangoes must have traveled the seven seas to arrive at this store, and the crate they came in must have been the same size as this tiny shelf of mangoes.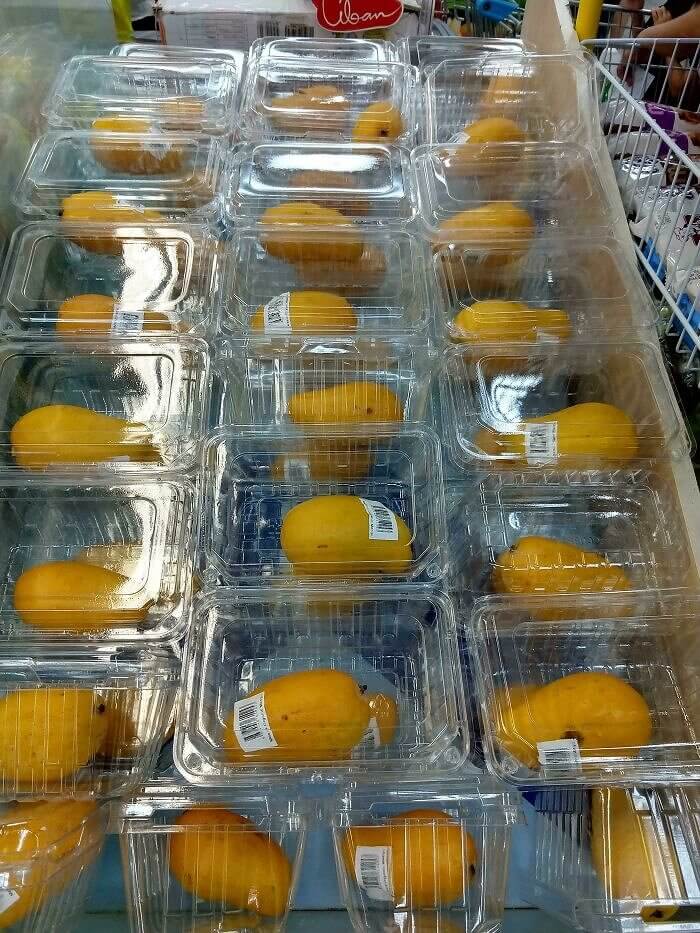 At least the plastic containers can be recycled, but putting the mangoes inside of them makes it pretty difficult to determine which ones are hard and which ones are soft.
Hopefully 2022 Will Ring In The End Of Individual Wrapping
We get it, 2020 and 2021 have been a hard couple of years and it makes sense that some items like fruits and vegetables should be individually wrapped in certain locations. Picking up things in the store is not what it once was, say back in 2019. But all of this plastic wrap is not great for the environment, and our landfills are going to be full of the stuff.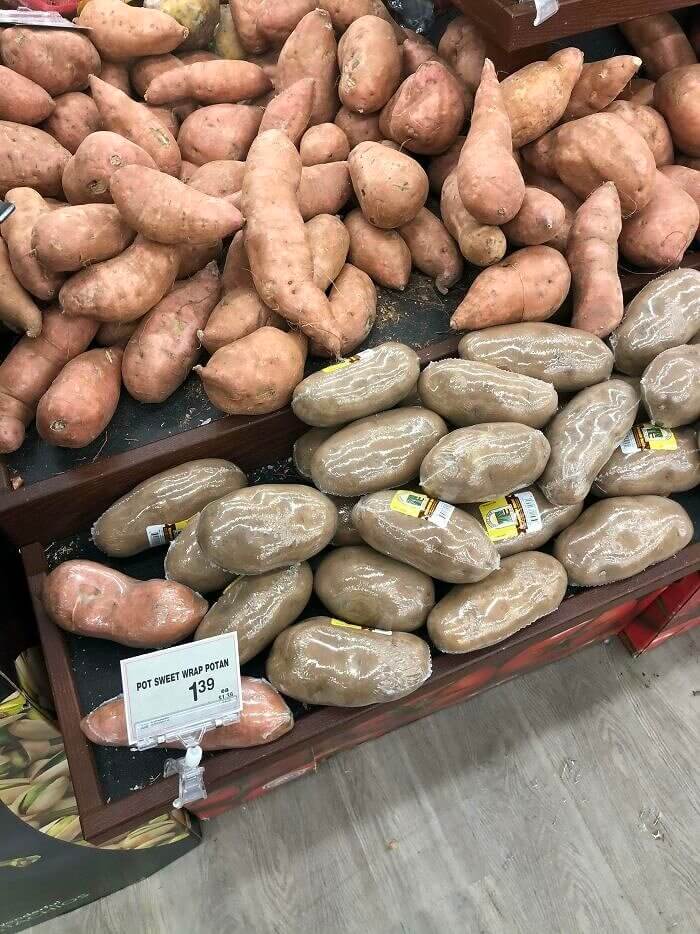 Everyone should take a page out of health food stores and start using sustainable wrapping materials like recycled paper or beeswax cloth.
Mascara Must Be One Of The Most Fragile Items Online
Mascara is a wonderful tool that can make eyes pop. Anyone who enjoys slicking on a bit of makeup will have used this cosmetic to make their eyelashes look nice and long. With so many different brands to choose from it can take some serious research to find the exact one you want to order online. Mascara itself is known for coming in long tubes that easily fit inside of a pocket or purse.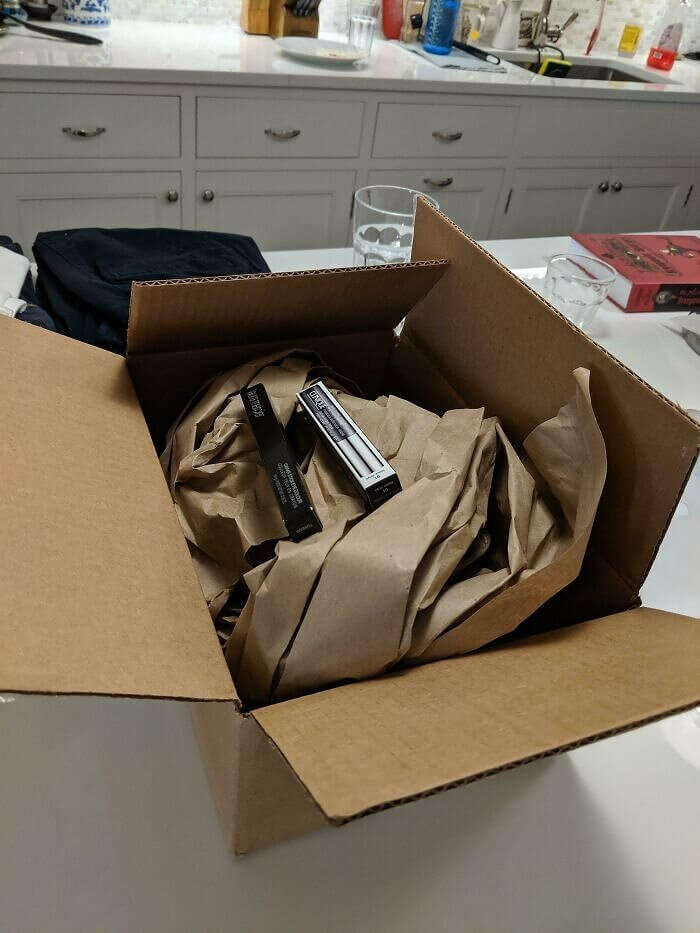 The boxes they come in are just as small, but for this retailer, they seemed to want their shoppers to believe that they were receiving mascara designed for giants.
Somebody Should Ask For Their Money Back For This Flea Medication
Pets that go outside tend to come into contact with fleas. That is just a fact of life. Dogs and cats do need to be treated to prevent fleas and if they do start scratching away, then it is time for a treatment as soon as possible. This good dog owner wanted to arm themselves with flea medication and decided to go with a higher-end brand. Naturally, the conclusion was the more money spent, the better the product and the larger the quantity.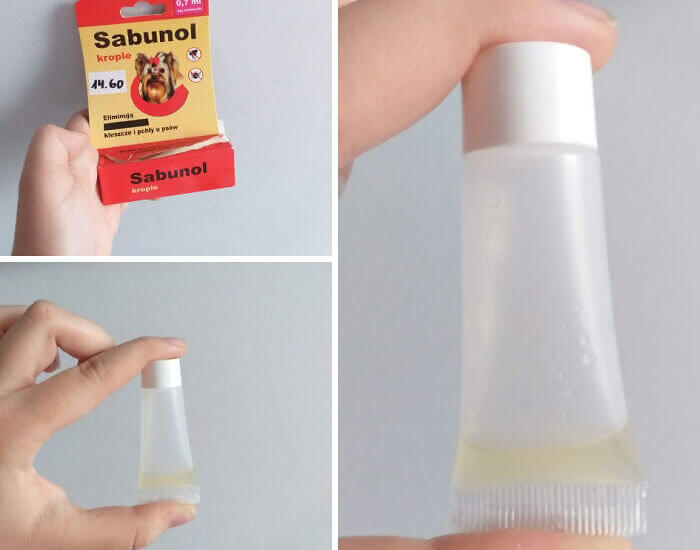 There must have been a failure to communicate though because this is enough flea medication for a single treatment. It's time to ask for some money back.
Does Bigger Packaging Mean Better Protection For Small Items?
We aren't packaging experts here, but we have packed a few parcels ourselves. Typically, you want to fill up the box to avoid anything inside from shifting around. Packaging experts at warehouses tend to follow the same train of thought, but they don't use item appropriate boxes. The bigger the box, the more protection, but it also means more waste in terms of packing materials. Maybe it is time for a review of packing materials in general.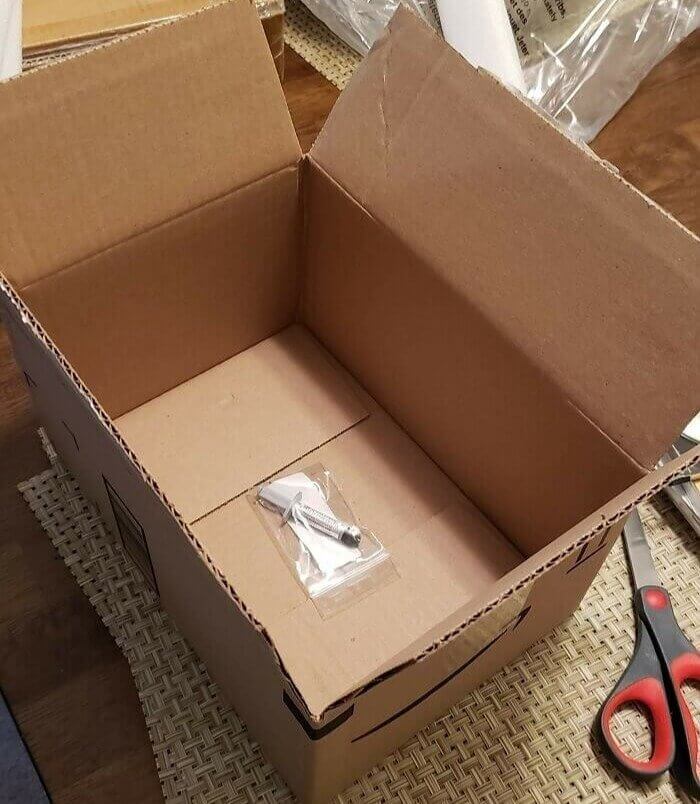 We would love to see an item like this syringe of thermal paste packaged in a small box, with a little bit of paper wrapped around it. That's all it needs.
Size Matters, Especially When It Comes To Cosmetics Like Eyeliner
You can never have too much eyeliner. We mean in the container, not on your face. There might be a thing as too much black eyeliner depending on the kind of look you are trying to achieve. After searching high and low for the perfect eyeliner, this person ordered one that came highly recommended. Low and behold, all they kind was a tiny dab of eyeliner inside of a rather large glass container.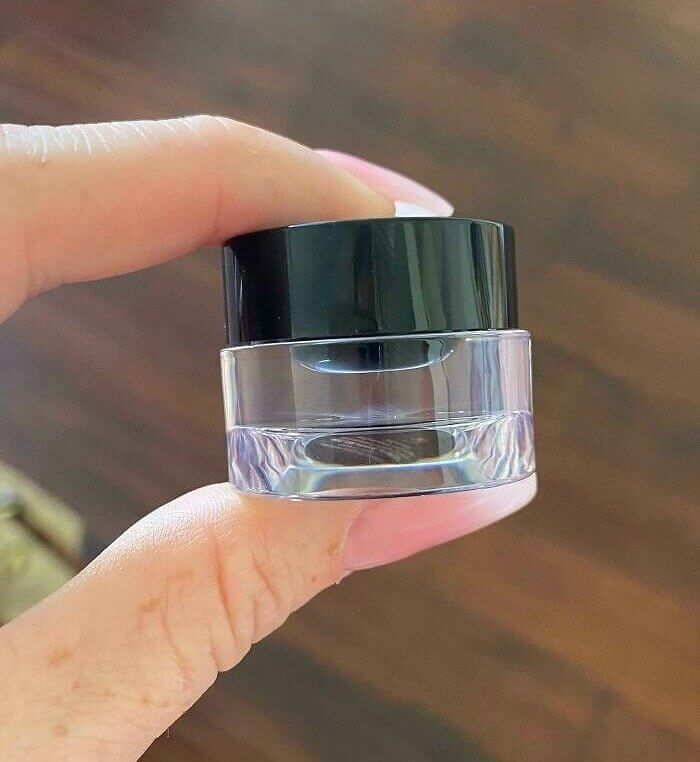 Companies love to generate interest in a product and make it look exclusive by only providing a tiny amount of it to try,