It's no secret that athletes are in impressive shape – they eat healthily and pretty much exercise for a living. But certain things are determined by nature and genetics, which makes some of these pros stand out from the rest and can sometimes give them an advantage on the court or field. And even if these massive athletes aren't winning championships, their size alone should earn them a trophy. From basketball players to sumo wrestlers, you might be surprised at just how large the world's most massive athletes are.
Andre The Giant – 7'4″
Andre the Giant was an icon in his time. Standing at 7'4″ weighing 520 pounds, he was regarded as one of the greatest wrestlers of all time. He was a genuinely enormous man and loved by so many fans and people in the industry.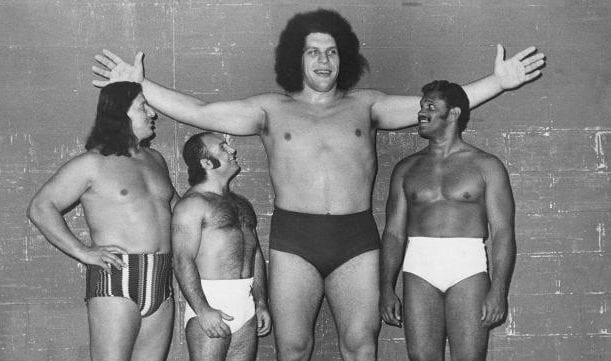 Andre didn't need supplements or protein shakes because he was naturally this large. He had an excess of growth hormones, and people like Hulk Hogan and King Kong Bundy were no match for him. In 1993, Andre tragically passed away from heart failure. 
Usain Bolt – 6'5″
Everyone knows Usain Bolt for being the fastest man in the world. He dominated every Olympic games for the past decade, and his long legs help him sprint faster than anyone else.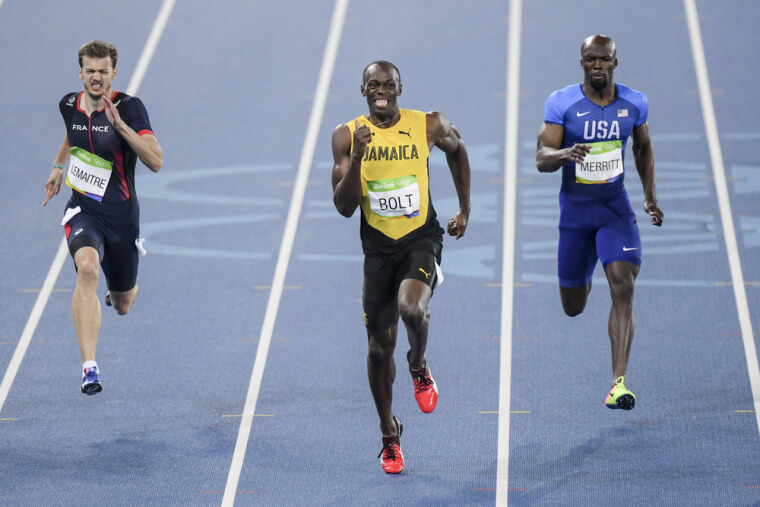 In the 2012 and 2016 Olympics, Bolt has won consecutive golds in the 100 and 200-meter sprint. In recent years, Bolt has been plagued by hamstring injuries, which cost him a relay race in 2017. 
Konishiki Yasokichi – 633 lb
As the biggest person to take on the world of sumo wrestling, Konishiki Yasokichi reached a peak weight of 633 pounds. He received the nickname "dump truck," but for this sport, size is very important and praised.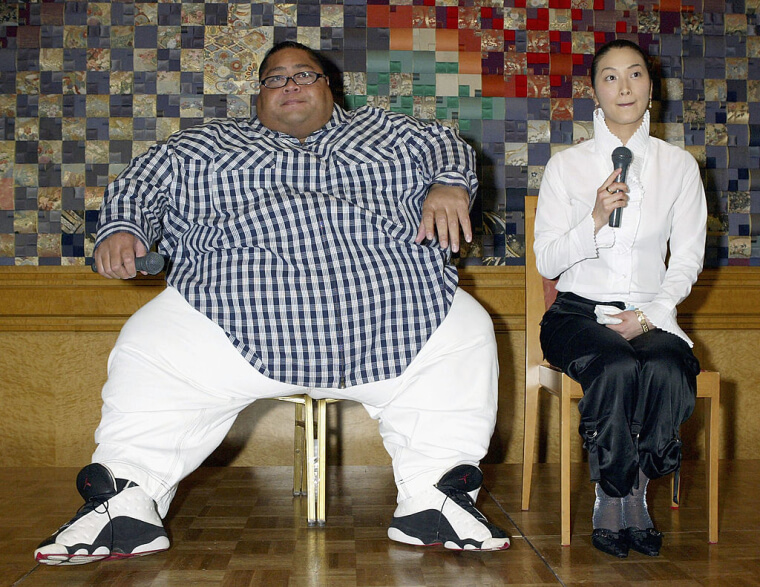 Usually, sumo wrestlers are from Japan, so it was interesting for fans to see a foreigner on the mat. Yasokichi hails from Honolulu, Hawaii, and he did not need an expensive personal trainer to achieve success in his sport. He won his division many times and almost snagged the grand championship. 
Gheorghe Muresan – 7'7″
Although he was not the best player in the league, Gheorghe Muresan was one of the tallest men to have played in the NBA. At 7'7″, Muresan was an intimidating figure to face on the court, and he worked hard to become a well-rounded player.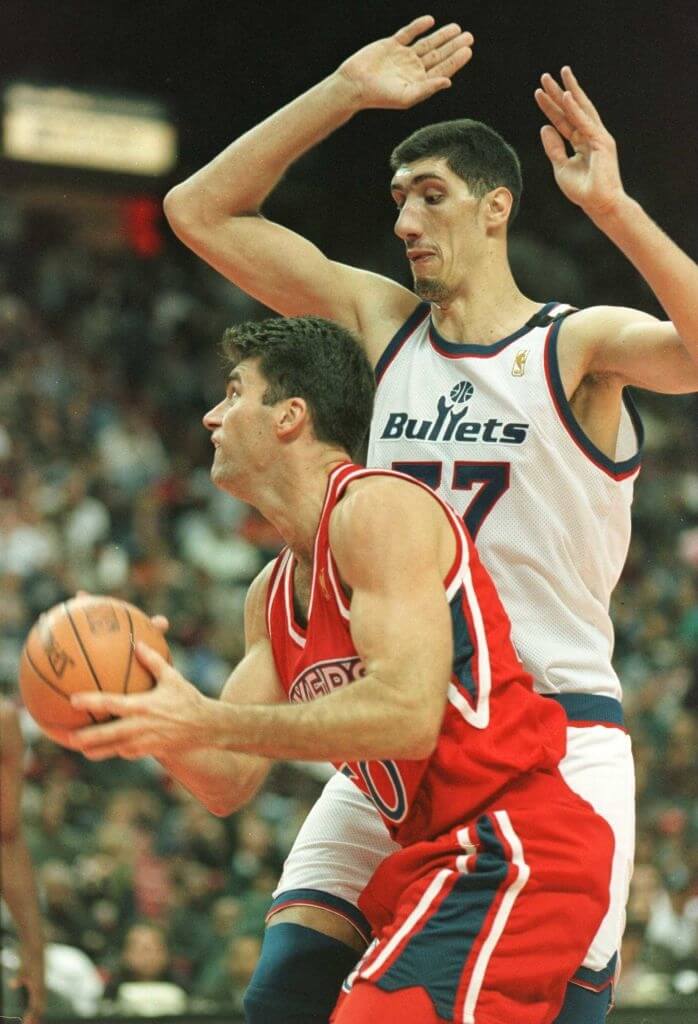 Muresan played for the Washington Bullets and the New Jersey Nets as well as teams in the French league. He has since retired from the game, but he continues to teach the fundamentals of basketball to young boys and girls, and he cheers on his son, who plays for Georgetown University. 
Rik Smits – 7'4″
Rik Smits, otherwise known as "The Dunking Dutchman," is a former professional basketball player who spent his entire NBA career on the Indiana Pacers. At 7'4″, he was a natural when it came to basketball and he won over the hearts of thousands of Indiana fans.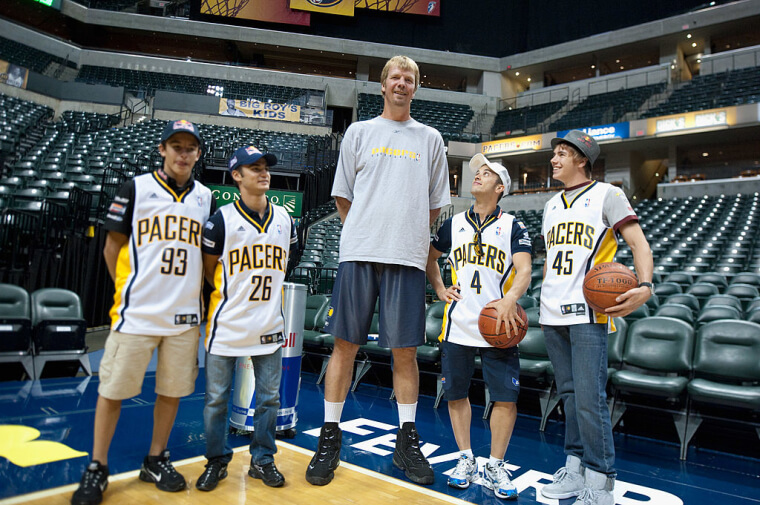 Smits' career lasted 12 years until his childhood came back to haunt him. As a teenager, he wore shoes that were too tight, which caused nerve damage. After four surgeries to repair nerve damage and intensive back surgeries, Smit retired and focused on his health. 
Kerri Lee Walsh Jennings – 6'3″
Kerri Lee Walsh Jennings made a name for herself as an incredible volleyball player as she won numerous times at the Olympics. She is one of the tallest volleyball players of all time and one of the most successful. Each year that she appeared in the Olympic games, people knew Jennings was a force to be reckoned with.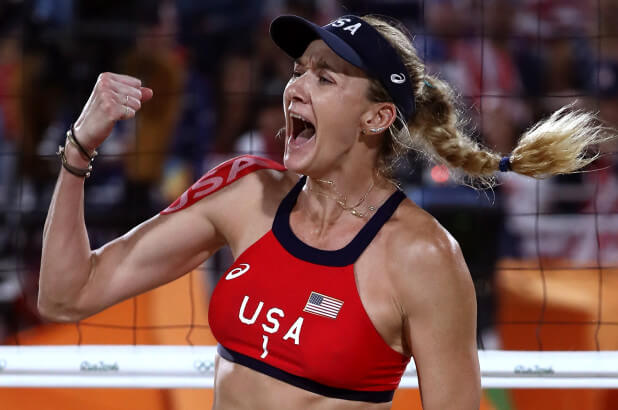 Jennings and her doubles partner, Misty May Treanor, won three gold medals and one bronze. The duo became one of the greatest volleyball teams to grace the Olympic stage, and people often forget how tall these women are. 
Shaquille O'Neal – 7'1″
Everybody all over the world recognizes Shaquille O'Neal for his massive size. At 7'1″, the former Lakers player turned sports analyst is considered to be one of the greatest players from the NBA. His height and incredible physique helped him to become known worldwide.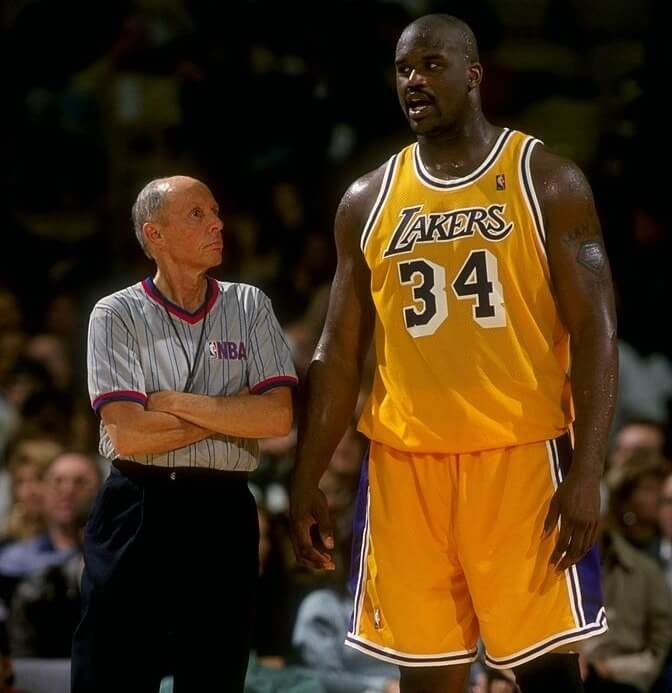 In 2011, after his time with the Boston Celtics, Shaq announced his retirement on social media. His NBA career spanned over nineteen years, where he got to play alongside some of the other big names in sports, and he goes down in history as one of the top names in the NBA. 
Peter Crouch – 6'7″
As a soccer player, height isn't necessary to be one of the best players, but it will make you stand out on the field. English soccer player Peter Crouch is 6'7″ and one of the tallest players in the league. His career has spanned over two decades, and he played for teams like Liverpool, Portsmouth, and Southampton.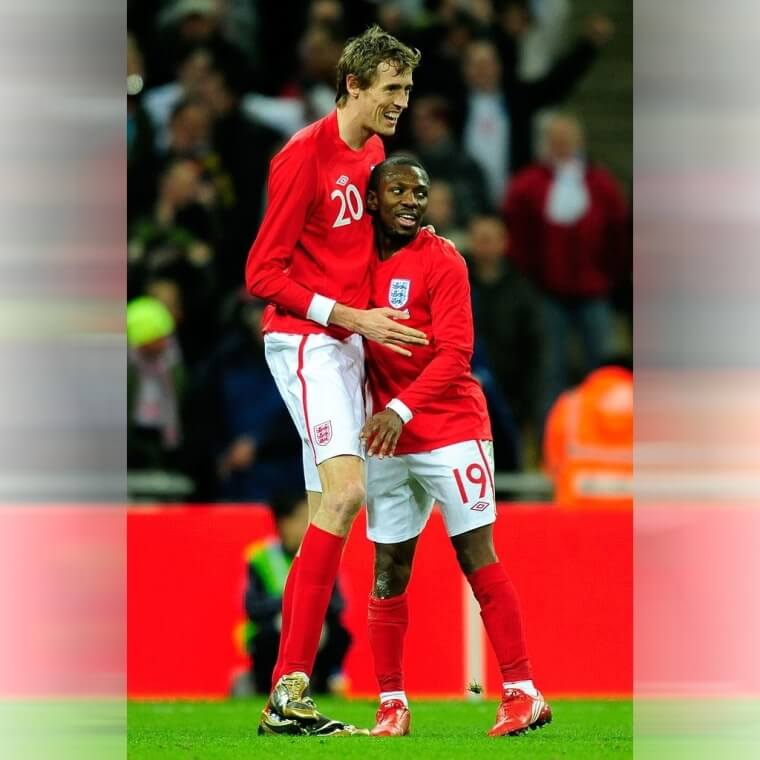 Crouch's stature and build defy the definition that athletes have to be super muscular to excel in their sports. He played for England in the 2010 World Cup and he most recently played for Burnley.  At 39, it is safe to say he had a victorious career. After the 2018-19 season, Crouch announced his retirement. 
Maria Sharapova – 6'2″
While most people praise Maria Sharapova for her gorgeous natural beauty, people often forget that she is one of the tallest female tennis players. After moving from Russia to the US in the '90s, she worked hard to become a well-known figure in the world of tennis. 
Throughout her career, Sharapova has dealt with many injuries and recovered stronger than ever. After playing in over 800 matches, Sharapova could not play to her full abilities due to yet another injury. At the beginning of 2020, she announced her retirement from the sport that shaped her life. 
Suleiman Ali Nashnush – 8ft
Suleiman Ali Nashnush was a Libyan basketball player and the tallest athlete to ever play in history.  He was also one of 17 people in the world to surpass eight-feet. His incredible size drew attention from all over the world.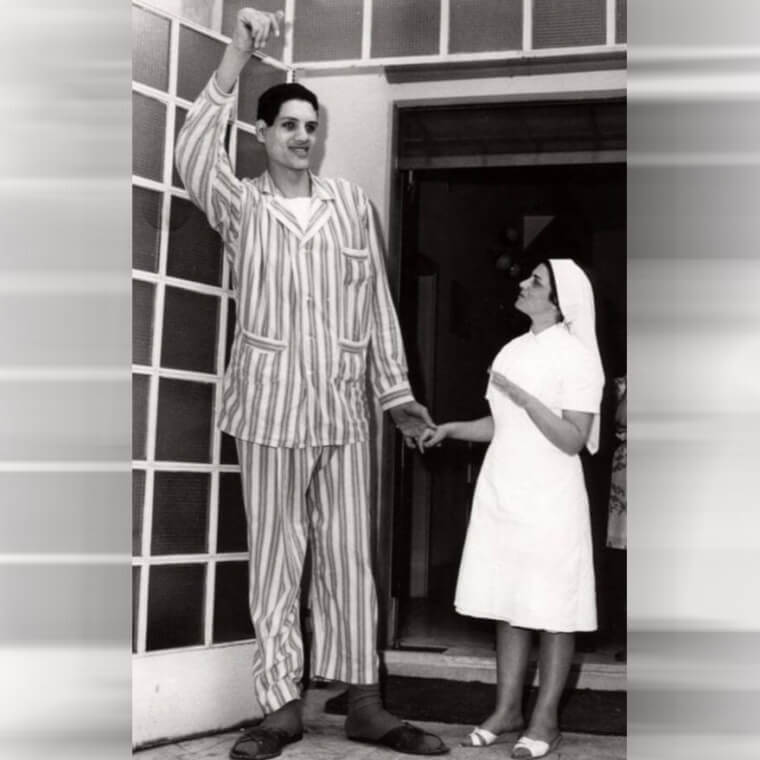 While his abnormal height didn't affect his athletic skills, it was hazardous to his health, and he underwent surgery to correct his height. The surgery was successful, and his size went down to 7'10". Nashnush passed away in 1991. 
Nikolai Valuev – 7ft
Boxing is known for having massive people step into the ring, so Nikolai Valuev was a showstopper when he made his debut fight. With time and training, the Russian boxer became the tallest and most massive world champion in the history of the sport. 
With 50 wins out of 53 fights, Valuev dominated during his career. He is one of five heavyweight champions to have retired without a career stopping injury. On top of a successful career, Valuev opened up his own boxing school, the Nikolai Valuev Boxing School.
Michael Phelps – 6'4″
Michael Phelps will go down in history as one of the most decorated swimmers, and he is one of the biggest. While he stands at 6'4″, his wingspan is 6'6″. Those extra two inches allow him to glide through the water faster than any of his opponents.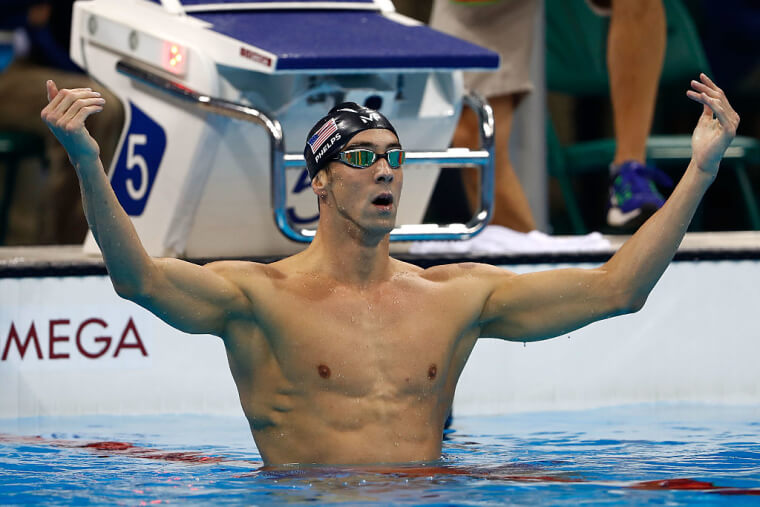 Throughout his career, Phelps has won 23 gold medals since his Olympic debut in 2000. While everyone was sad to hear this announcement, Phelps decided to retire after the 2016 Olympics officially. Today he focuses more on brand deals and his family life. 
Stefan Struve – 7ft
After being nicknamed "the skyscraper," Stefan Struve has become the tallest man to fight in the UFC. The seven-foot-tall Dutchman works hard to maintain his muscular physique to intimidate opponents in the octagon.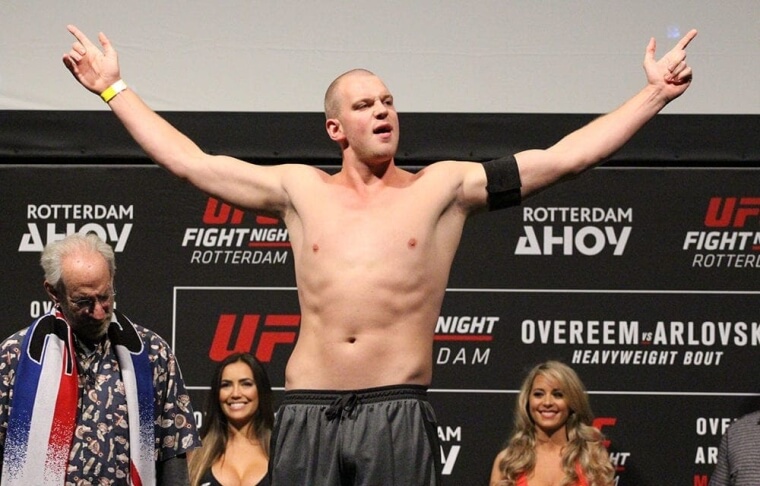 While he lost his debut fight, Struve has dramatically improved throughout his career. It must be odd to knock out a seven-foot man, but he does his best to win the fights. His current MMA record is 29 wins out of 41 total fights. 
Holley Mangold – 415 lbs
After spending hours in the gym, Holley Mangold has become the biggest female weightlifter of all time. Weighing in at 415 pounds, Mangold began her career in 2008 and represented the US at the 2012 Olympics. Her personal weightlifting record is 562.2 pounds.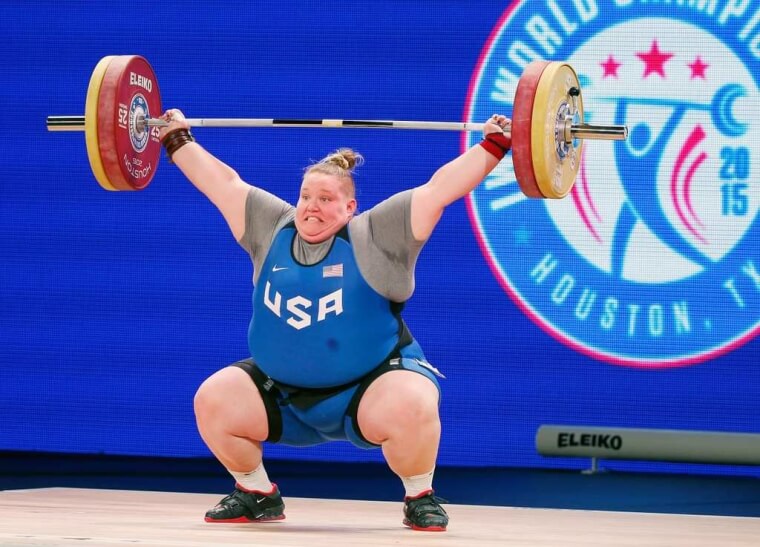 Mangold comes from a family of professional athletes. Her brother, Nick Mangold, is known for playing for the New York Jets as a center. While she is not breaking records, Mangold coaches the Dayton Barbell Club in Beavercreek, Ohio. 
Paul Donald Wight II Aka Big Show – 7ft, 383 lbs
If there is anyone who could compare to Andre the Giant, it is Paul Donald Wight II, aka Big Show. The seven-foot man once weighed in at 500 pounds before losing weight to be healthier. His large size is natural, and he towers over everyone in the ring and on the streets.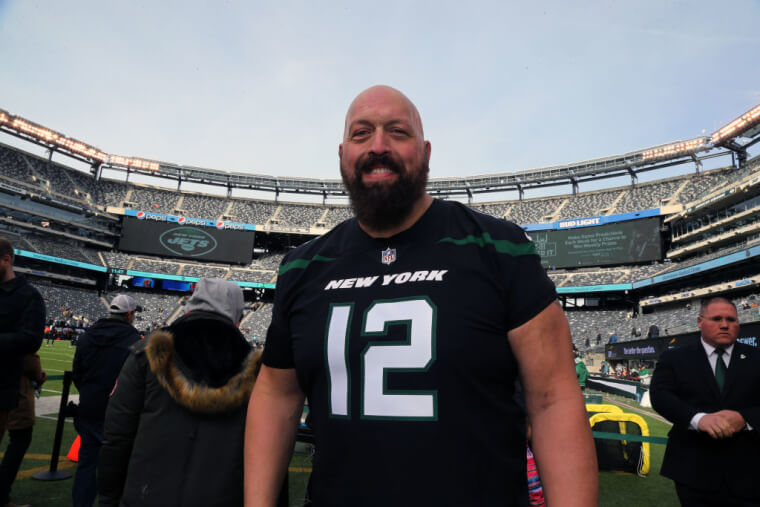 Big Show has been wrestling since the early '90s, and he has recently been defeated in his last few matches due to injuries. As part of WWE's Attitude Era, Show will forever hold onto his legacy of taking on Kane and the Undertaker. 
Erika Ervin – 6'8″
Model Erika Ervin is known by her stage name, "Amazon Eve." She started working as a personal trainer after she found a love for exercise and fitness. At 6'8″, she is one of the tallest female models in the industry.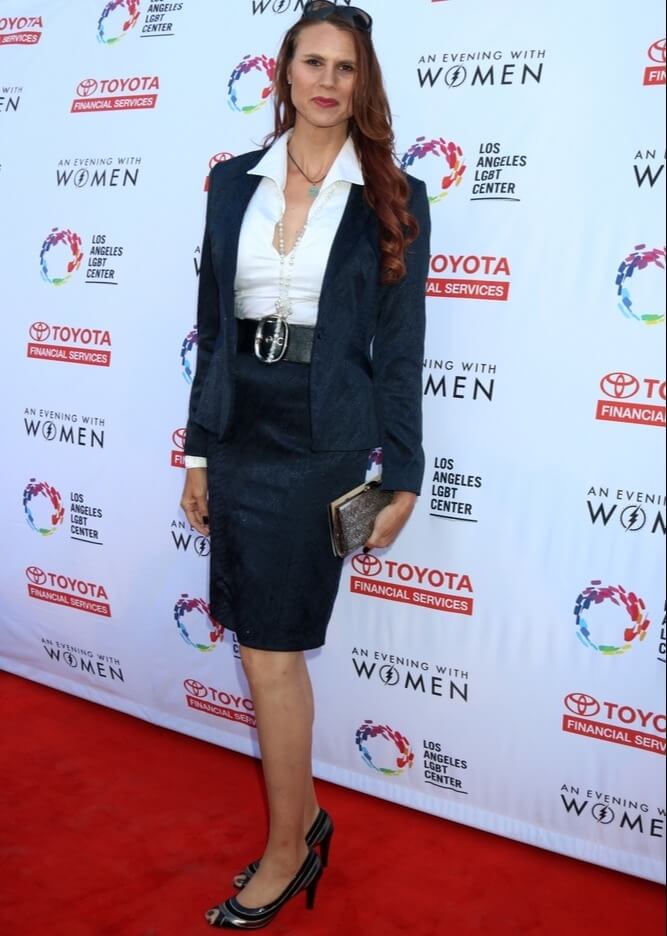 Ervin modeled for the cover of Australian Magazine, Zoo Weekly, and this helped her gain a lot of fame. She also gained recognition for her appearance on the 2014 season of American Horror Story: Freak Show. 
Margo Dydek – 7'2″
Hailing from Warsaw, Poland, Margo Dydek reached new heights in her basketball career. The former WNBA player was the tallest woman to grace the court, and it helped her succeed during her long career.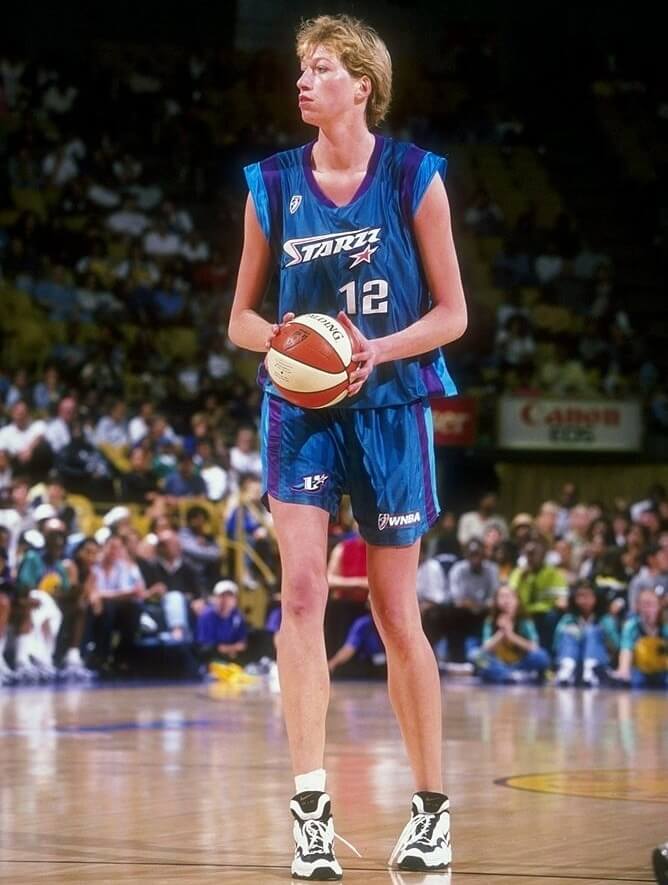 Dydek was best known for her career with the Connecticut Sun playing center. After her time on the court, Dydek took her talents and coached in the Queensland Basketball League. Unfortunately, she passed away in 2011 due to complications with her third pregnancy. 
Blanka Vlasic – 6'4″
Blanka Vlasic is one of the most successful female high jumpers in recent history. As a two-time world champion and double Olympic medalist, Vlasic has made her home country of Croatia proud throughout her career.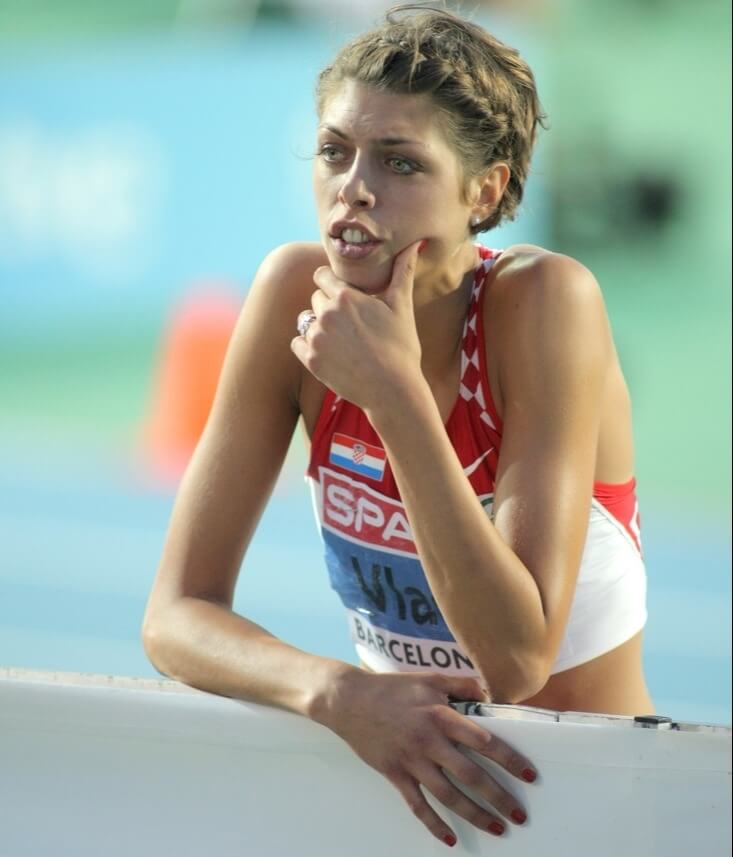 After suffering from hyperthyroidism, Vlasic bounced back better than ever. She accumulated 17 world championship medals and two Olympic medals. Vlasic thanks her father for pushing her to be the best and coaching her throughout her career. 
Choi Hong-Man – 7'2″
Hong-Man Choi has been given many nicknames in the world of kickboxing and MMA including, "Korean Colossus" and "Techno Goliath." Throughout his career, he trained hard to become one of the top fighters in his division.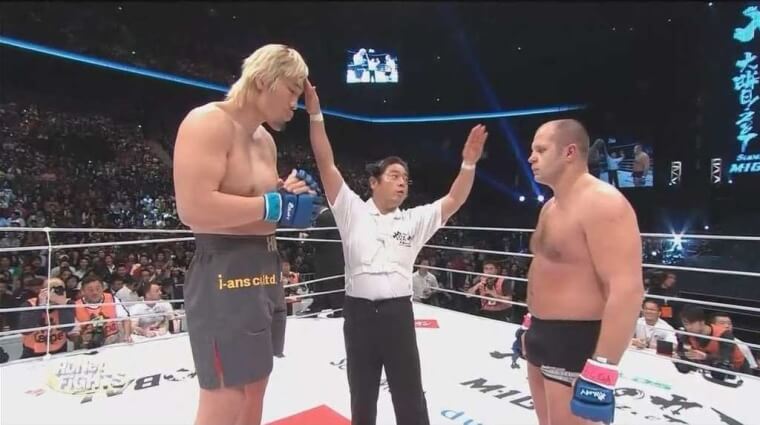 Choi has become a national treasure in South Korea since he rose to fame, and he makes his country proud. The 7'2″ fighter not only has an excellent record in the ring, but he has also made many television appearances on Korean TV shows. 
Yao Ming – 7'6″
Chinese basketball player Yao Ming was the tallest man in the NBA before he retired. The 7'6″ superstar had a successful career with the Houston Rockets from 2002 to 2011. Ming was an intimidating opponent on the court.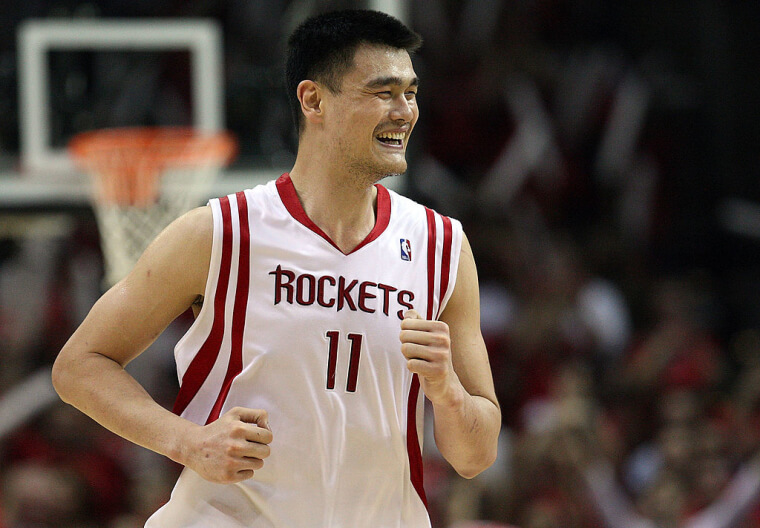 Ming helped the Rockets reach the NBA playoffs four times. After, a foot injury in 2011, Ming announced his retirement from the sport that made him famous. Despite trying to recover and rehabilitate his foot, the injury kept him out of numerous games throughout his last season. 
Mamadou N'Diaye – 7'6″
Mamadou N'Diaye started his basketball career in high school, and at 18, he was already 7'6″. He got noticed by coaches from UC Irvine, and they invited N'Diaye to play on a scholarship. After arriving in the US, he started having headaches, and the doctors found a tumor on his pituitary gland.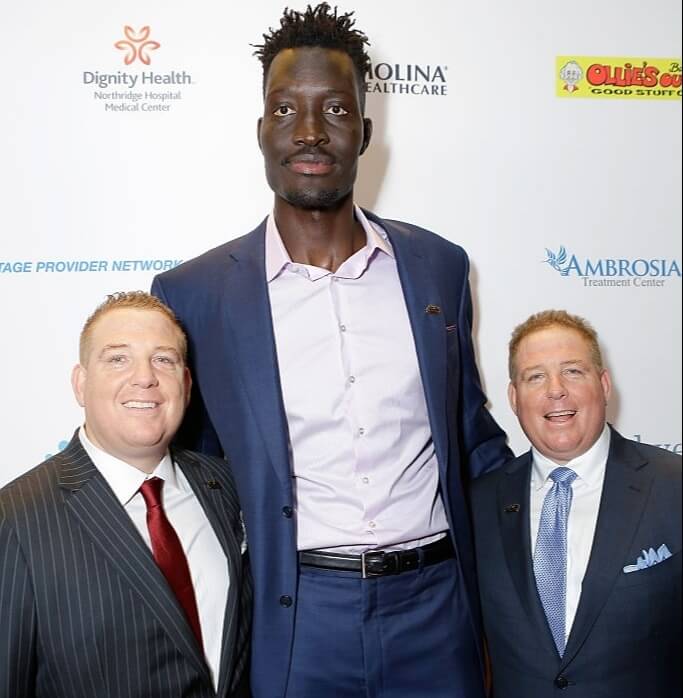 Tiffany Rose/Getty Images for Harold & Carole Pump Foundation
The tumor caused him to grow so tall, and it was removed before it affected his vision. After college, N'Diaye played for the Golden State Warriors and Detroit Pistons. He recently signed for another year with the Correcaminos UAT Victoria in Mexico. 
Randy Johnson – 6'8″
Pitcher Randy Johnson is nicknamed "The Big Unit" for a reason. The former pitcher played 22 seasons with the Seattle Mariners and the Arizona Diamondbacks before retiring in 2010.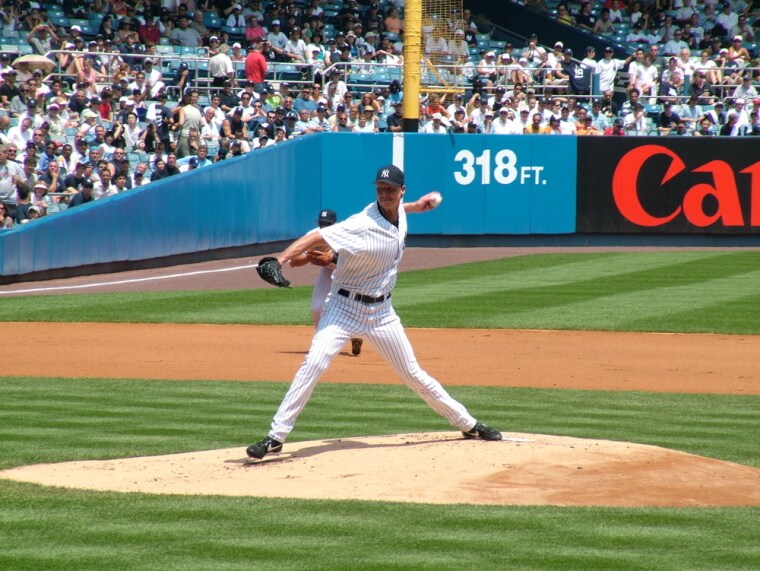 Johnson stood out because he was a left-handed pitcher and the fifth most successful in the league.  Throughout his career, he made 4,875 strikeouts, which is second all-time ranking behind Nolan Ryan. 
Laura Dijkema – 6ft
While she isn't the tallest volleyball player on the court, Laura Dijkema towers over most of her teammates. She has worked extremely hard to become the best in her sport and uses those skills to bring victory to Il Bisonte Firenze.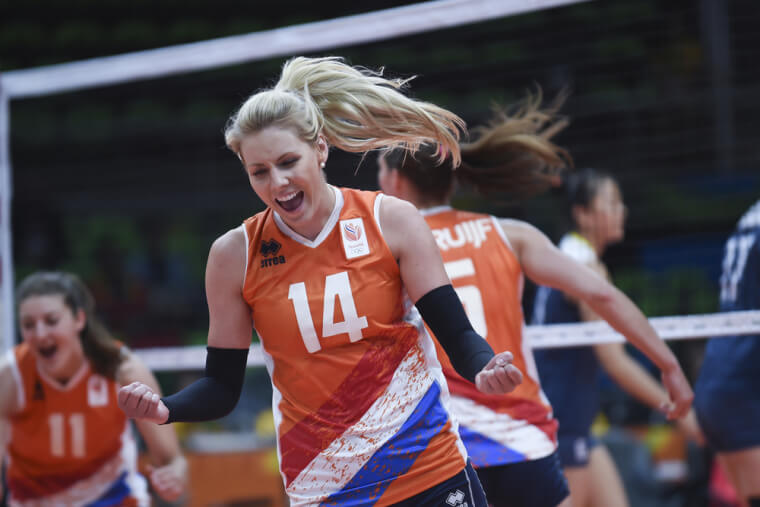 Dijkema began her career in 1997 when she was seven-years-old. At 16, she was already playing for the highest league in the Netherlands, and a few years later, she got a chance to play for the Dutch national team. 
Gursimran "Sim" Bhullar – 7'5″
As the sixth tallest player in NBA history, Sim was also the first player of Indian descent. As he has always towered over his teammates, Sim was a standout in the 2014 NBA draft because of his size but didn't get picked up. He joined the Sacramento Kings for their summer league, and he was let go after two pre-season games following the summer.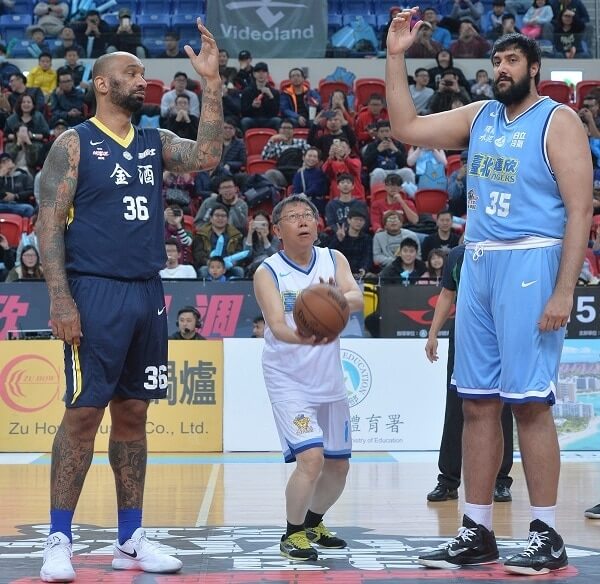 Sim played for a few different NBA teams before returning to Canada for the Pan Am Games. He is currently signed with Guangxi Rhino, a team in the second-tier league of China. 
Eddy Curry – 7′
Eddy Curry is another one of the tallest basketball players to have entered the NBA. After high school, he immediately began playing in the ASEAN basketball league, and he was selected fourth for the 2001 NBA draft.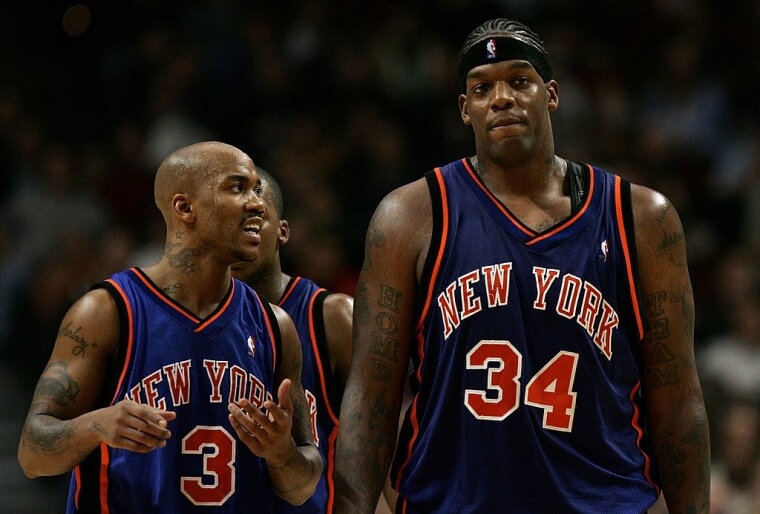 Curry made his NBA debut with the Chicago Bulls and played with the team for four seasons. With his impressive height, he went on to play for the New York Knicks, Miami Heat, and Dallas Mavericks. 
Sharran Alexander – 448 lb
Hailing from London, England, Sharran Alexander weighs in at 448 pounds of pure force and power. In 2013, she was named the heaviest sportswoman by the Guinness Book of Records. Alexander is also one of the only women recognized by the British Sumo Federation.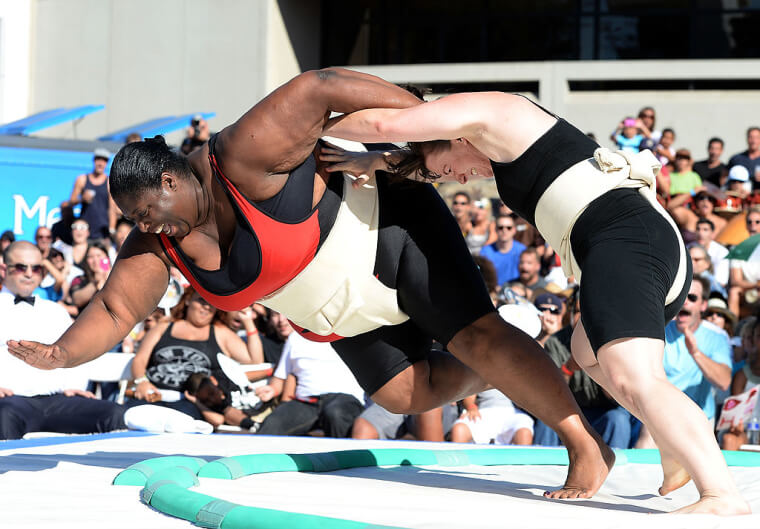 Alexander has won four gold medals in international competitions. She started her career as a sumo wrestler at age 41, which is relatively late for an athlete, but it did not stop her from being a renowned name in the sport. 
Lisa Leslie – 6'5″
Although Lisa Leslie isn't the tallest female athlete in the world, she made history for being the first player to dunk in the WNBA. Leslie has always been passionate about basketball, and she followed in her mother's footsteps, who loved going to the gym.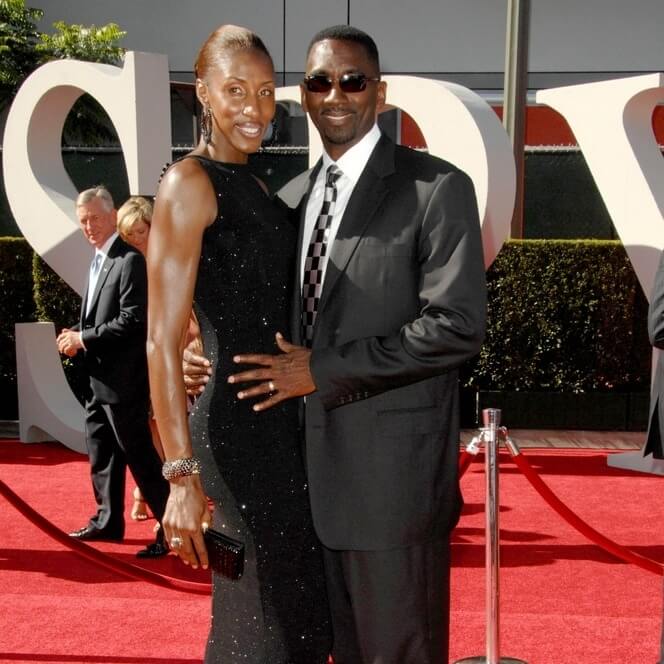 Not only did she have numerous winning seasons on the Los Angeles Sparks, but she also represented the US in four Olympic games. Since retiring, Leslie broke into the world of acting and modeling. 
Paul Soliai – 6'4″
The NFL is full of large men who are built like brick walls, including Paul Soliai. At 6'4″ 345 pounds, he played college football at the University of Utah and was drafted by the Miami Dolphins in 2007. He was criticized prior to the draft for his lack of technique and moves despite his agility.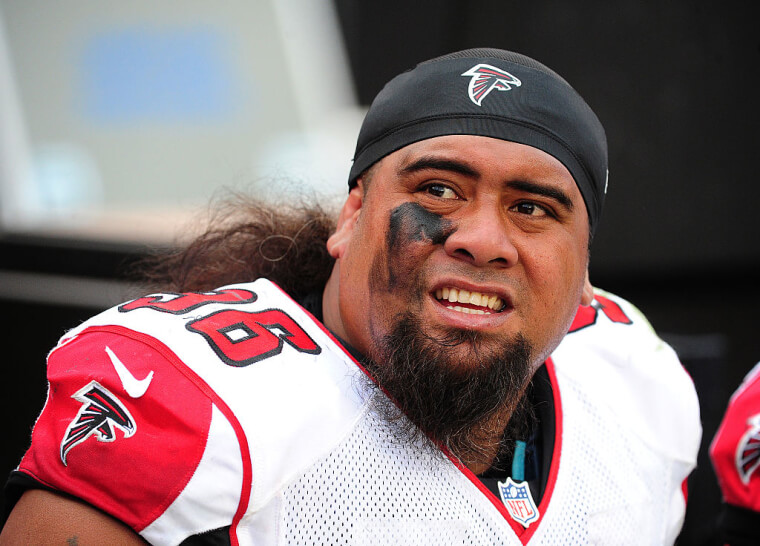 After almost six seasons with the Dolphins, Soliai signed a $33 million contract with the Atlanta Falcons. After bouncing around between a few teams, Soliai signed a one-day deal to retire as a member of the Dolphins. 
Jan Koller – 6'7″
Jan Koller is one of the tallest men to play soccer, and he is also very muscular for his height. As a striker, people were instantly intimidated by the sheer size of Koller, and this helped him advance in his career.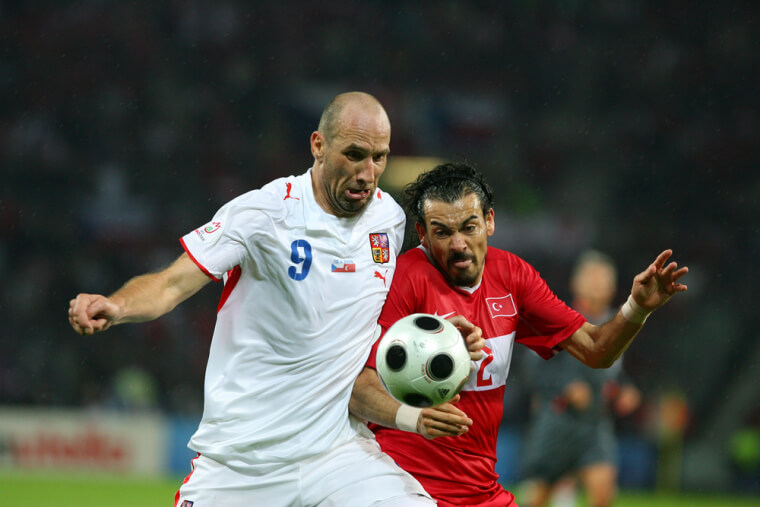 The Czech player was a talented goal scorer, and he played for teams such as Monaco, Cannes, and Anderlecht. After a series of injuries, Koller decided to retire from soccer in 2011. Although he spent over two decades playing, his injuries slowed him down. 
Shaun Rogers "Chunks" – 6'4″
When it comes to NFL players, Shaun Rogers aka "Chunks", is as big as they come. At 6'4″ and 350 pounds, you do not want to be tackled by him. After playing for the University of Texas, Chunks was drafted by the Detroit Lions in 2001.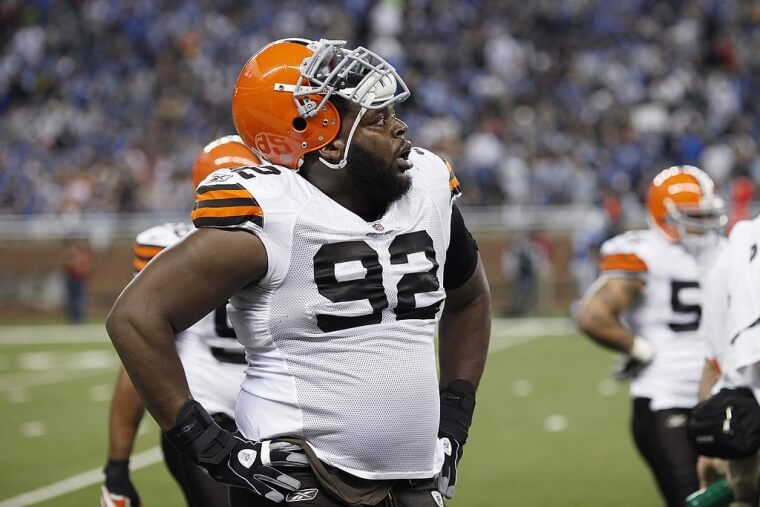 During his drafting, Chunks impressively completed a 40-yard sprint in 5.3 seconds. In his first year, he had a record of 90 tackles, and we feel bad for those 90 people. Throughout his career, he had 513 tackles and 37 quarterback sacks. He was like a Mac truck in the field, and it paid off for him. 
Sun Mingming – 7'9″
While Dwayne "The Rock" Johnson is already a very large man, he would be overpowered by the 7'9″ Sun Mingming. The former Chinese basketball player was the tallest player in the world according to the Guinness Book of Records.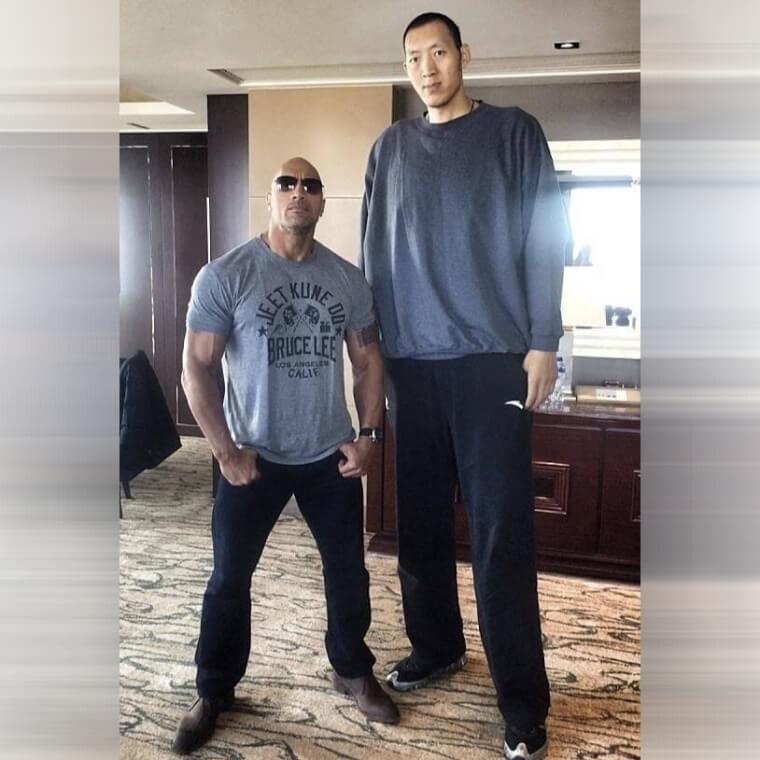 Mingming didn't begin playing basketball until he was 15 years old. Ventura College drafted him but only played for one season before going pro. He played with different minor league teams and was offered a spot with the Harlem Globe Trotters before returning to China to finish his career. 
Richard Metcalfe – 7ft
Richard Metcalfe was the tallest man ever to play rugby. The seven-foot-tall player worked out and drank lots of high protein shakes to achieve his muscular body and successful spot as a second forward.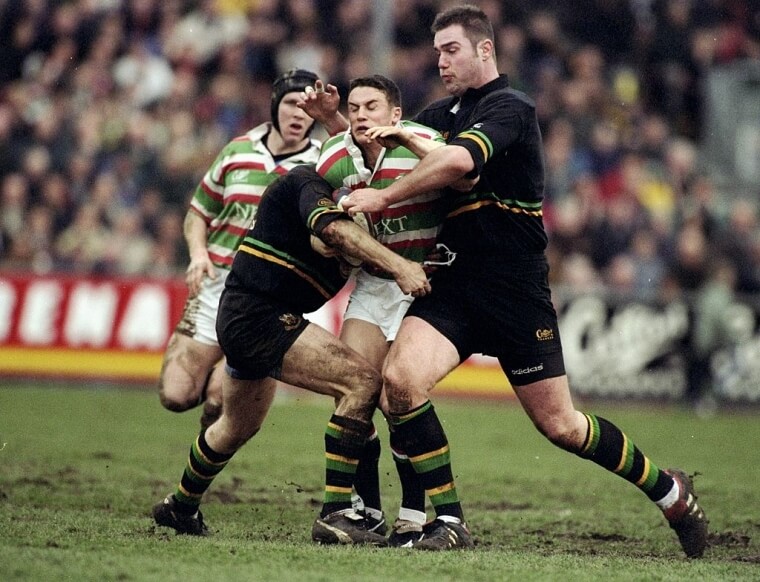 Metcalfe played and won 13 caps for his native Scottish team. Most of his career was spent on the Newcastle Falcons and the Northampton Saints. After a long-term injury, Metcalfe was forced to retire from his beloved sport. 
Aaron Sandilands – 6'11"
At almost seven-feet tall, Aaron Sandilands is a towering figure in Australian rules football. At one point in his career, he was the heaviest and tallest player in the league. Originally from Mount Barker, Western Australia, Sandilands started playing in the West Australian Football League.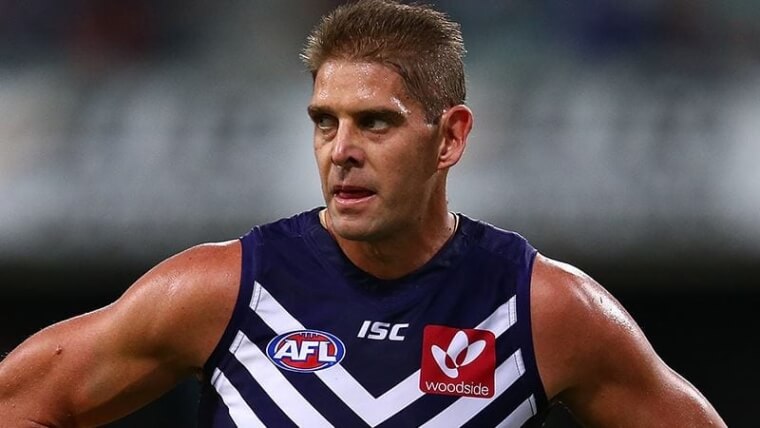 From 2008 to 2010, Sandilands was named in the All-Australian team for three seasons. In one of his last seasons, he was kneed in the back, causing broken ribs and a collapsed lungs. In 2019, he retired but picked up a coaching position with Fremantle. 
Aleksey Kazakov – 7'2″
Besides basketball, volleyball is another sport that people can use their height as an advantage. At seven-feet-tall, Aleksey Kazakov uses his height to dominate the sport and advance in his career.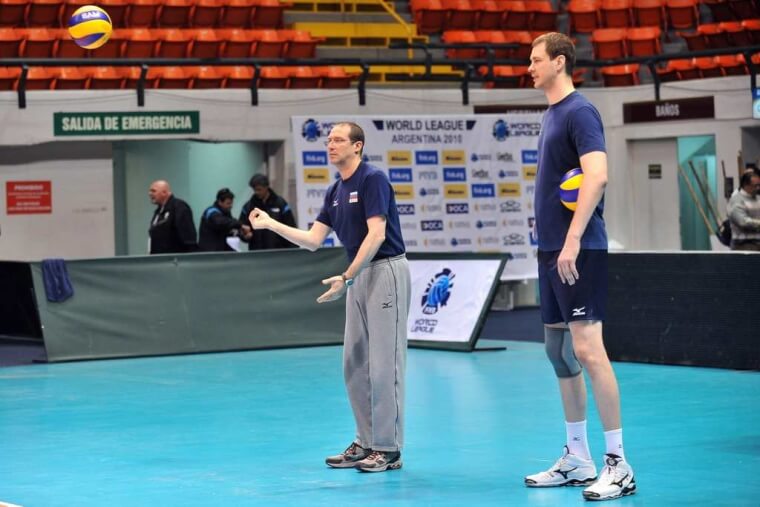 In the 2000 and 2004 Olympic games, Kazakov took home three medals for his home country Russia. He also won bronze for Russia in the European Championships in 2001. He is now retired, but will always be a remembered prominent figure in the sport. 
Mohammad Irfan – 7'1″
As the only cricket player on the list, Mohammad Irfan stands out not only for his size but for his athletic abilities. The Pakistani national team member is the tallest player on the planet, and he is quick on his feet thanks to difficult training sessions.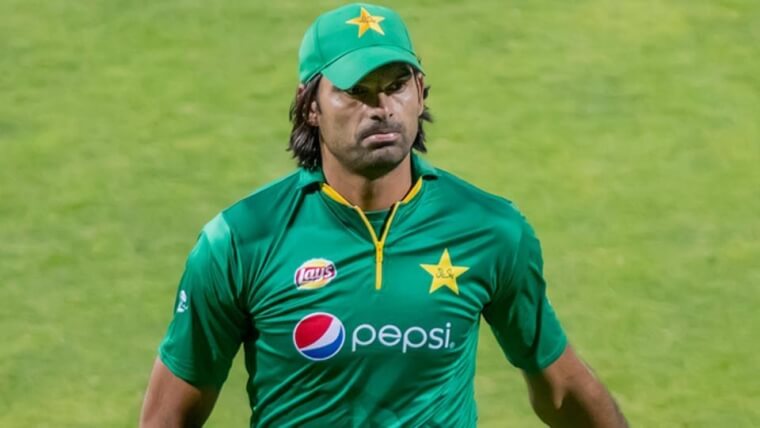 After being suspended in 2017 for accusations of corruption, Irfan came under fire from critics. Before this mishap, Irfan was praised for his domination in South Africa as he intimidated the opposing team with his quick feet and stature. 
Brittney Griner – 6'9″
Brittney Griner is just a few inches short of seven feet tall, and she has become one of the most successful WNBA players of her generation. Her wingspan stretches out so that she can be the best player possible. In high school, she was ranked #1 in the nation and got signed to the Pheonix Mercury All-American team.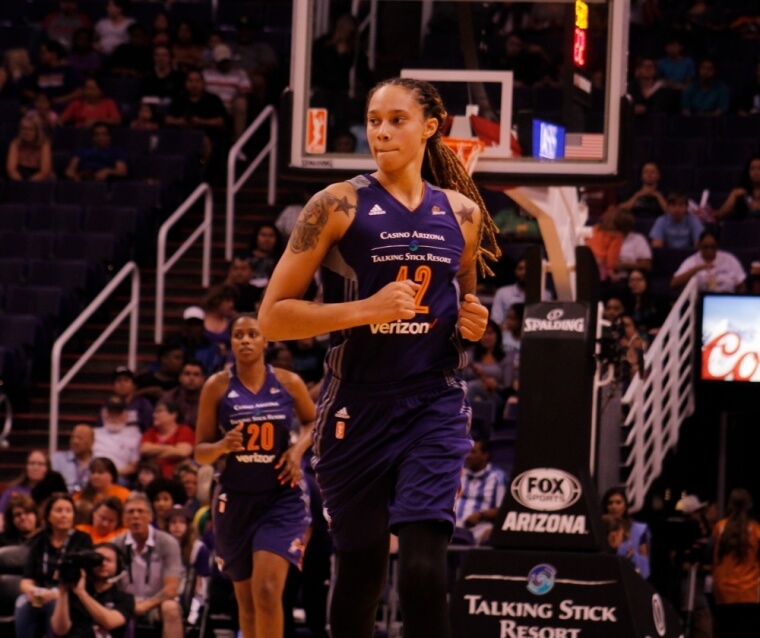 Griner stands out in the league because she is the only NCAA player to score 2,000 points and block 500 shots. In 2016, she was an integral part in helping the women's team go for gold. She also got a heft contract to represent Nike after her career started to grow. 
Lacina Traore – 6'3″
Lacina Traore was nicknamed "The Big Tree" for his long legs and impressive size, but he has often been overlooked as a striker on the international level. Players like Didier Drogba, Wilfried Bony, and Salomon Kalou have all managed to make it big before Traore.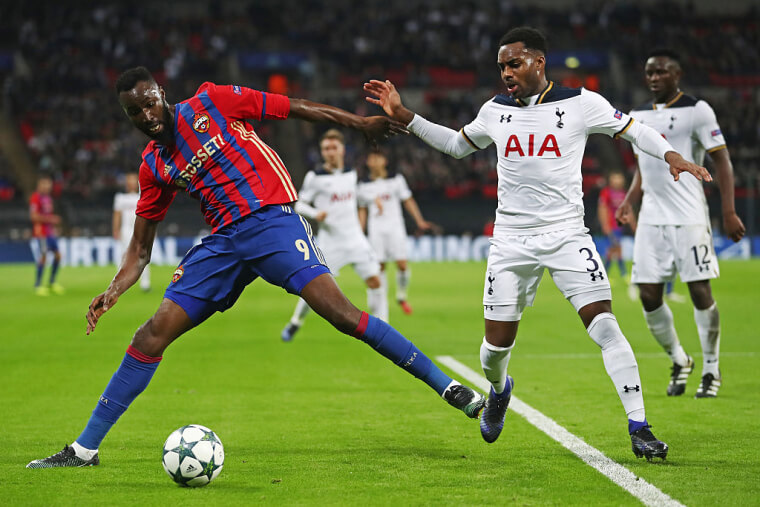 While the Ivory Coast didn't make it to the 2018 World Cup in Russia, Traore still has time left in his career to work towards that goal. The massive soccer player has been on club teams like Monaco, Everton, and Anzhi Makhachkala to make him a well-rounded competitor. 
John Krahn – 7ft
John Krahn is a mountain of a man and an incredible athlete. The California native stands seven feet tall and weighs 400 pounds. He not only blocks the sun, but he also blocks the plays of defenders from opposing teams at Portland State University.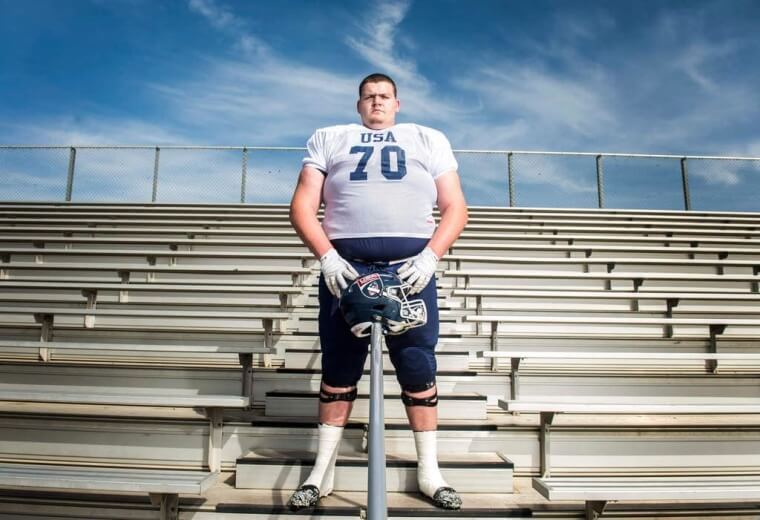 The impressive offensive lineman my be aggressive on the field, but he is a gentle giant to everyone he knows. Krahn is the largest person to have worn the Vikings uniform. He played for two years at a junior college before being recruited to a four-year university. 
Yvetta Hlavacova – 6'4″
Yvetta Hlavacova hails from Croatia, and she is one of the best long-distance swimmers in the game. She set the world record by swimming across the English Channel in a record-breaking time of seven hours and 25 minutes.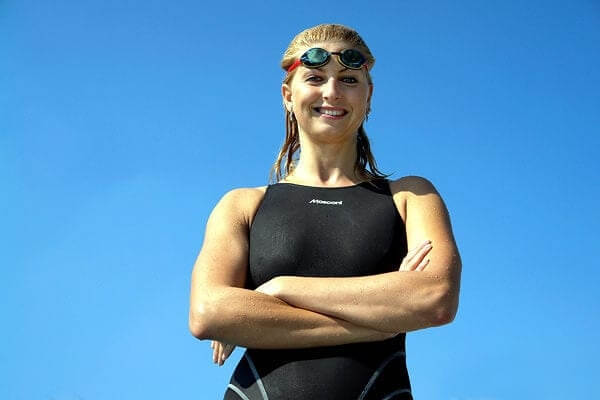 Despite dominating the sport, she had trouble finding a club team to join for ten years. For most of that time, she lived off of endorsement deals until her record-breaking swim brought her the attention she deserved. 
Zdeno Chara – 6'9″
Ice hockey is known for the violent fights and rough plays, so Zdeno Chara's massive height helps him intimidate players from causing problems with him. The Slovakian defenseman and captain of the Boston Bruins is the tallest person to play in the NHL.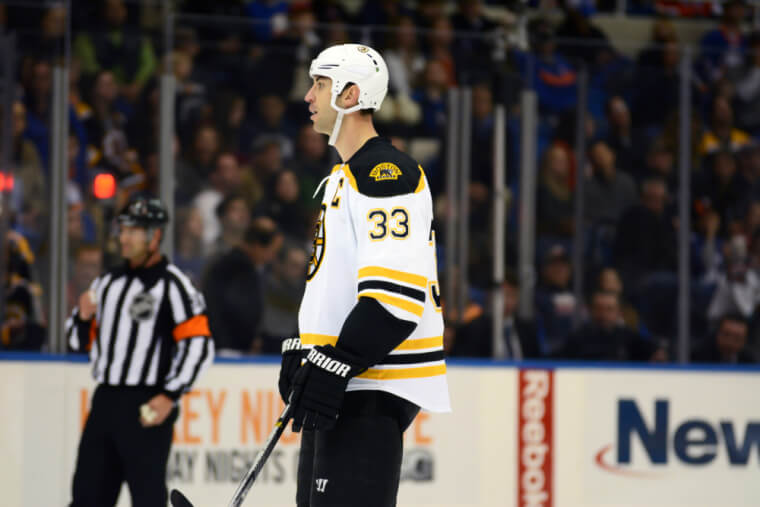 While Chara has spent most of his career with the Bruins, he is the oldest player in the NHL. In his early career, he spent time with the New York Islanders before signing with another team. 
Danny Jones – 6'7″
Danny Jones, otherwise known as the "Fearsome Tree Man," Is one of the biggest athletes in the industry who has made a name for himself on social media. He has gained quite the following for a personal trainer. 
Jones got his name after a twitter user said, "This is not a man, this is a tree." The idea stuck with him, and he ran with the name. The 6'7 personal trainer was excited about his growing fame and can't wait to see where it takes him. 
Darya Klishina – 5'11"
Darya Klishina is one of the most disciplined athletes in her sport. The Russian long jumper received two championship gold medals, but she was branded as a traitor to her home country.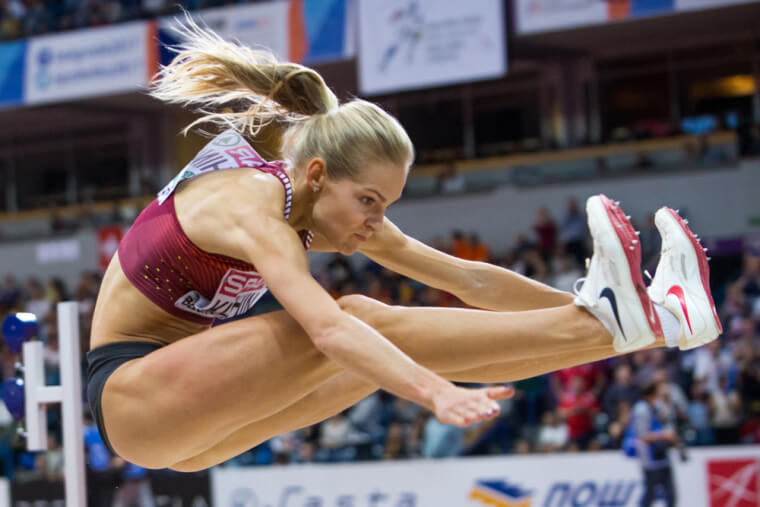 There was a doping scandal surrounding the Russian National federation team, and Klishina was the only team member who got to compete. Instead of competing for Russia, she competed as a neutral in the 2016 Rio Olympics. 
Jon Rauch – 6'11"
At 6'11", Jon Rauch is the tallest MLB player in history. On top of being an incredible baseball player, he also helped the United States win gold in the 2000 olympics in Sydney. He played for quite a few teams throughout his career, but most famously the Chicago White Sox.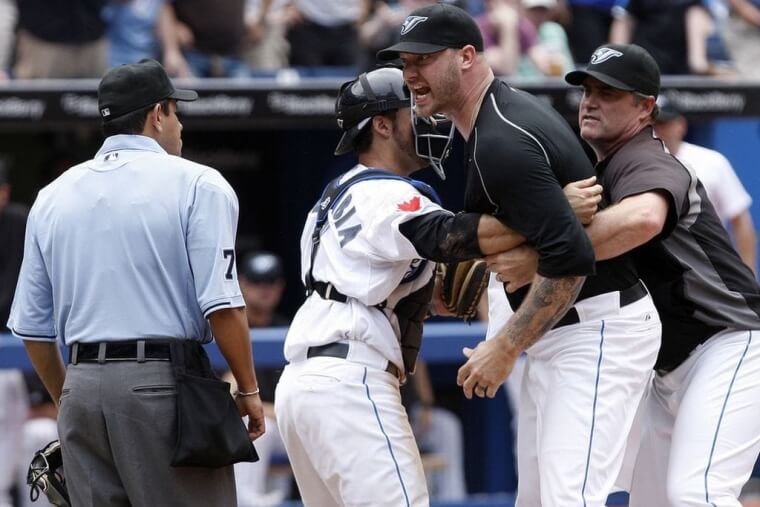 After being drafted in 1999, Rauch made his debut with the White Sox in 2002. In 2014, he signed a deal with the Kansas City Royals and started spring training, but he was released shortly after. Later that season, Rauch retired. 
Dondre Harris – 7′
Dondre Harris was once told he was too big for college football. In eighth grade, Harris was already 6'10 and 450 pounds, which stunned the high school football coaches. His coach said, "He is one of the biggest human beings I have ever seen."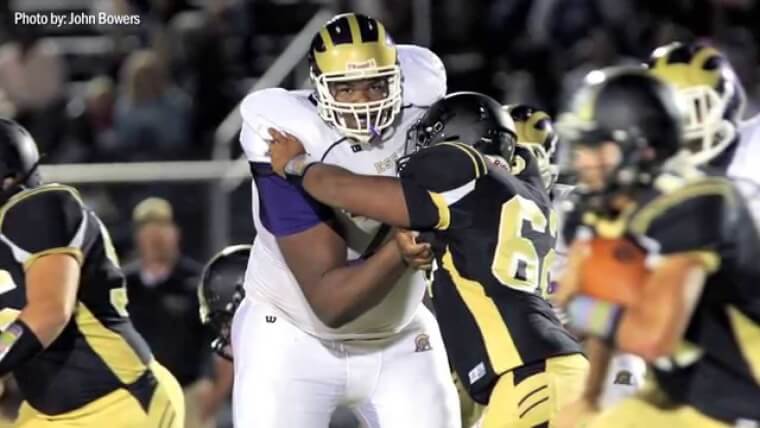 Harris's size was a weakness and advantage, and it took many long hours of training for any college football program to become interested in him. Finally, a Division II school in West Virginia offered him a deal he couldn't turn down, and he signed with Fairmont State. 
Richie Gray – 6'9″
Rugby players are usually intimidating looking people, and that is no exception for Richie Gray. The Scottish native is easily recognized on the pitch because of his size and stature. Gray first began his club career with the Glasgow Hawks, and then he was picked up by the professional team, Glasgow Warriors.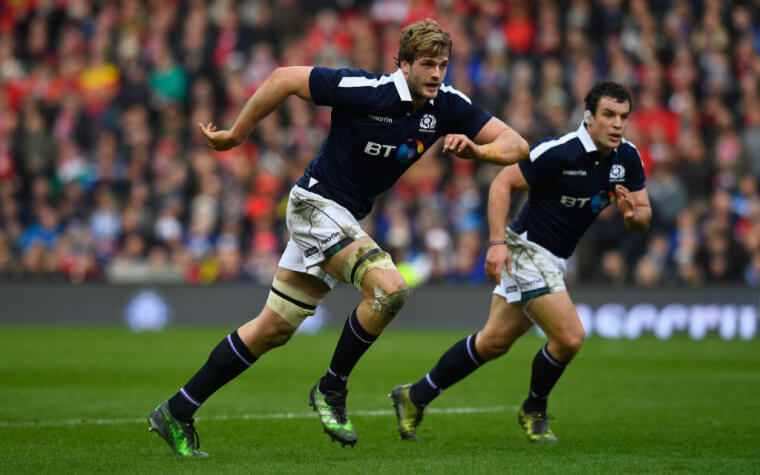 After playing for a variety of different teams, including Toulouse, Sale Sharks, and Castres Olympique, Gray returned to the Warriors this year. Now his peroxide blonde hair can be seen back in his home stadium. 
Lennox Lewis – 6'5″
Punching power is everything when it comes to boxing, and Lennox Lewis is known for his powerful jabs. The retired English boxer fought for 14 years and won 41 out of 44 fights. His wins included defeating the notorious Mike Tyson with a knockout in the eighth round. It was the highest-grossing pay-per-view fight in history.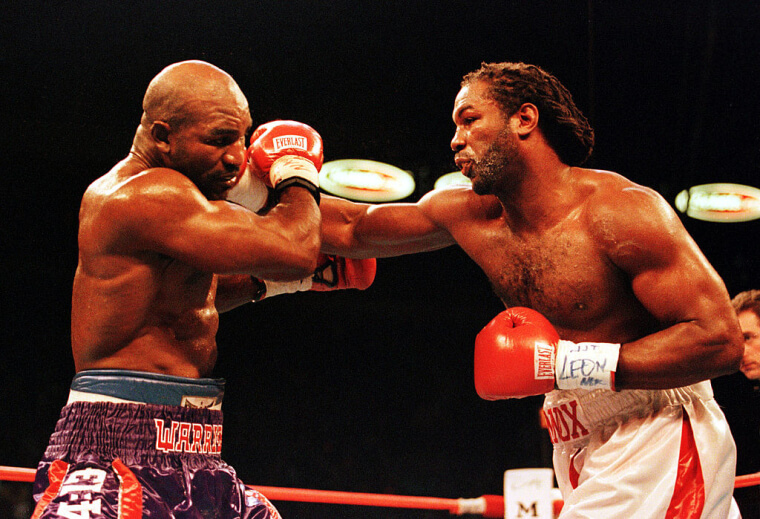 Lewis's size played a critical role in his successful career, and his incredible skill made him a force to be reckoned with in the ring. He also won his last fight against the impressive Vitali Klitschko. After rumors of a rematch, Lewis confirmed he would not be returning to the ring. 
Rory Arnold – 6'10"
Rory Arnold has two of the most essential things required to be a powerful rugby player: chiseled physique and immense strength. He was born and trained hard for everything it takes to become a successful player. He stands out among his team members at a striking 6'10".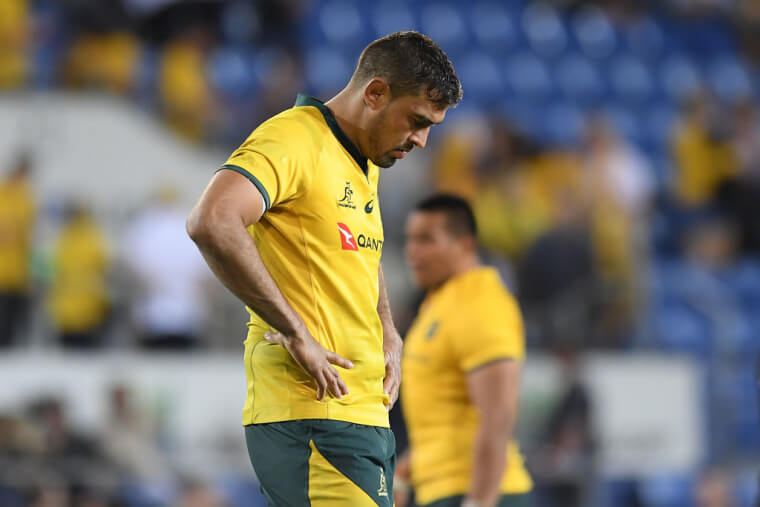 Arnold has played for a multitude of teams, including the Australian national team. He plays the lock position, which is like the engine for the team. With his buff arms and long legs, he is a powerhouse on the pitch. 
Ivo Karlovic – 6'11"
While sports like basketball and football have many tall men, tennis has one player that stands out among the rest. Ivo Karlovic is the tallest tennis player as he towers over the rest of the players in the world.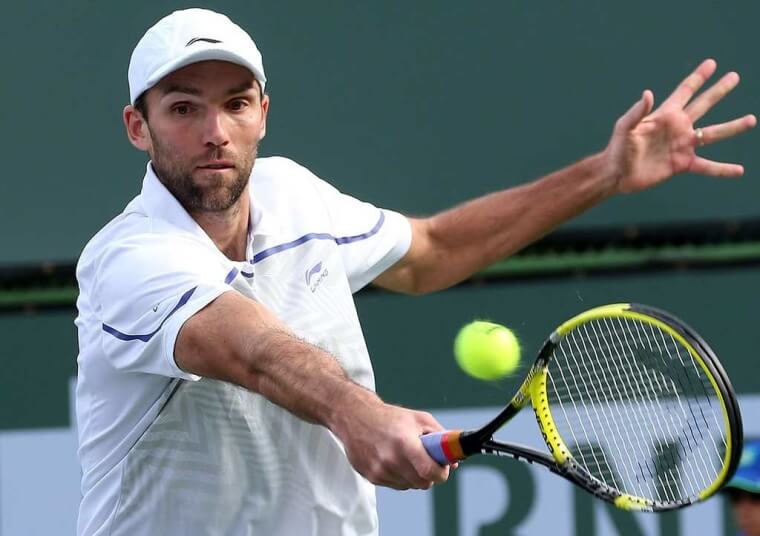 While his height may not add much to his impressive tennis skills, it helped him stand out. Karlovic once had the fastest serve at 156 miles per hour. He also had 13,619 career aces. That makes him one of only four players to pass 10,000 aces. 
Nataliya Kuznetsova – 5'7″
Nataliya Kuznetsova may only be 5'7″ and much shorter than the other people on this list, but the professional bodybuilder is still massive. Hailing from Russia, she holds titles for benchpress, arm lift, and deadlifts.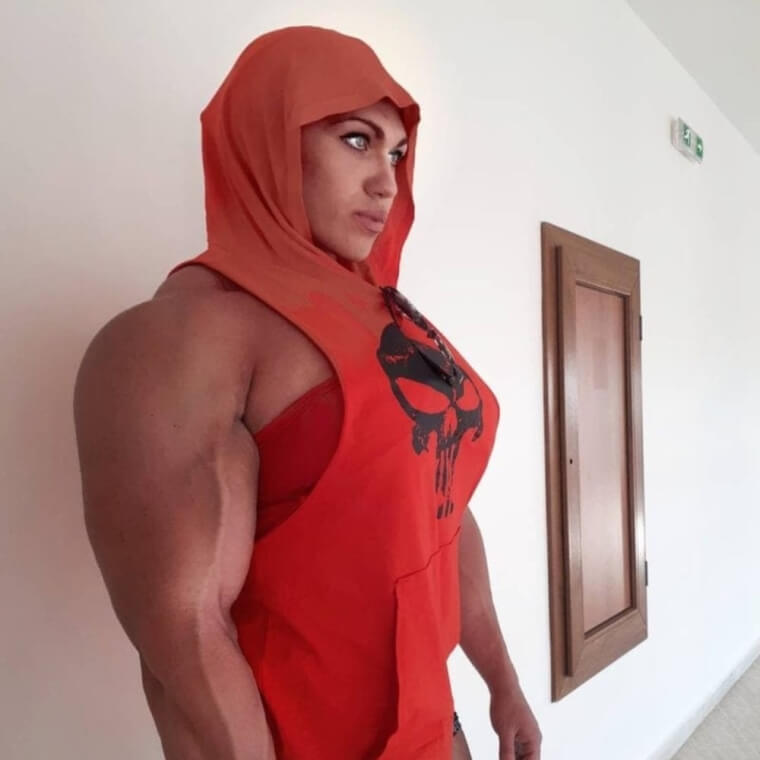 Kuznetsova began powerlifting when she was fourteen years old because she wanted to gain muscle mass. After working her way up to the national stage, her muscles would intimidate any passerby. Today she lives in Russia with her husband and continues to train.