Kardashian and fashion almost rhyme, and we don't think that's an accident. The universe knows what it's doing! But even though this family is usually known for their fashion-forward looks, they can also make serious errors at the extremes. We've compiled the worst outfits the clan has ever worn in public. What on earth they were thinking when they wore these outfits?  Our eyes are burning here!
Kim's Moppy Dress Made Everyone Feel Dirty
We're quite sure that the Kardashian family never cleans a thing themselves. With a combined net worth of billions between them all, there is really no reason to attempt chores. But we do wonder if Kim is even familiar with the tools commonly used for cleaning. Here, she seems to have mixed up a common mop with a dress. The paparazzi caught her out on the town wearing this thing. It's just ridiculous!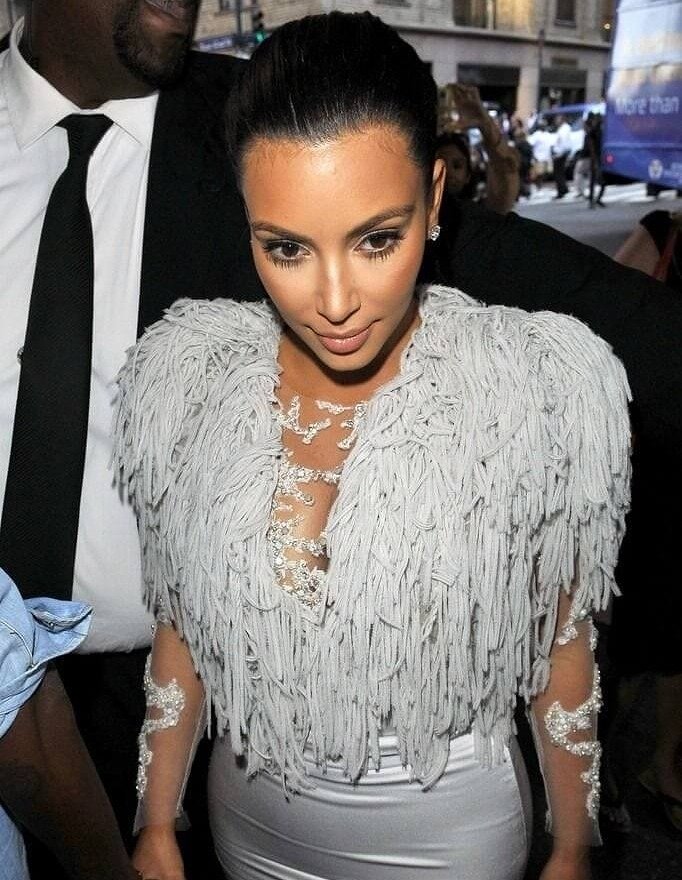 Perhaps she was tricked into fake couture by a sneaky LA boutique. What she doesn't know can't hurt her, as the old saying goes. But of course, now she does!
Kendall Jenner Is Either a Fan of Funk or Junk
Sometimes, vintage is in. Sometimes, it's just hideous. Jamiroquai was an English funk band in the '90s. You probably know a few of their songs, like "virtual Insanity." Kendall Jenner's outfit here is exactly the band's signature style, right down to her hat. We think that there was a time when you could get away with oversized winter hats and chains. But trying to pull this off now is insanity and not the virtual kind.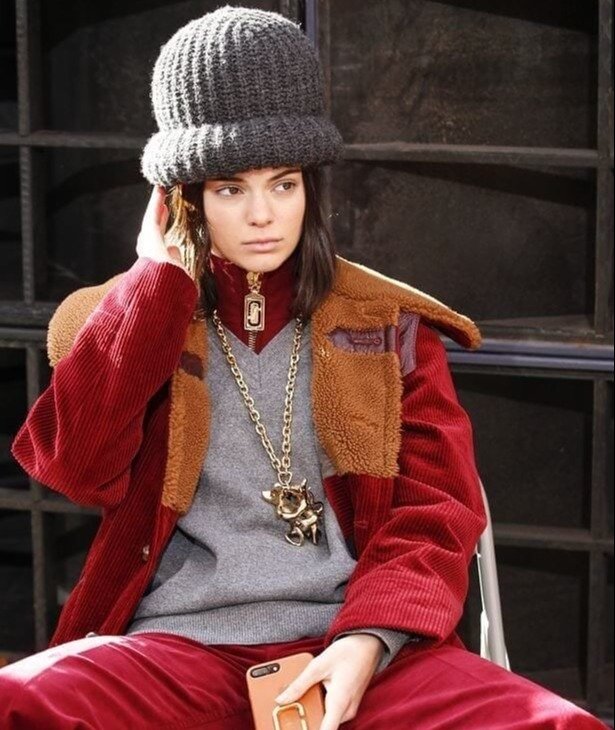 We can't stand even looking at this collection she put together. And in this day and age, it just can't go unpunished. We're officially registering a complaint with the fashion police.
Kim Seriously Spooked Us With Her Head-To-Toe Leather
During Fashion Week in NYC, Kim made an unusual appearance. How could she not? Everyone was expecting her arrival with cameras in hand. But when she showed up to an event in head-to-toe leather, people were shocked. Her trench was bold, and it didn't stop there. She also made sure her boots and pants were cow skin. And her entire head was covered in it, too. This is the stuff of horror movies!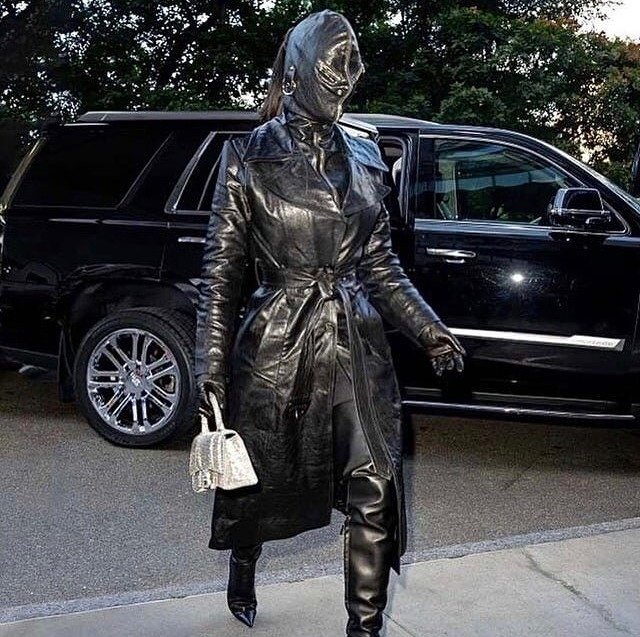 We wonder how she can even breathe in this bizarre get-up. And leather isn't known as the most flexible material. Sweaty, constrained, and possibly visually impaired, this is not what fashion is supposed to be about. It's a no from us, Kim!
We're Pretty Sure Robin Williams Did It First
Classic comedy character Mrs. Doubtfire taught us so much. For example, she explained: "Once the father of your children is out of the picture, the only solution is total and lifelong celibacy." We know that Kim and Kanye decided to get divorced. Will Kim take this advice? We don't think so. But clearly, she has taken some style cues. Look at this busy floral dress, and see for yourself. Who wore it better, Kim or Robin Williams?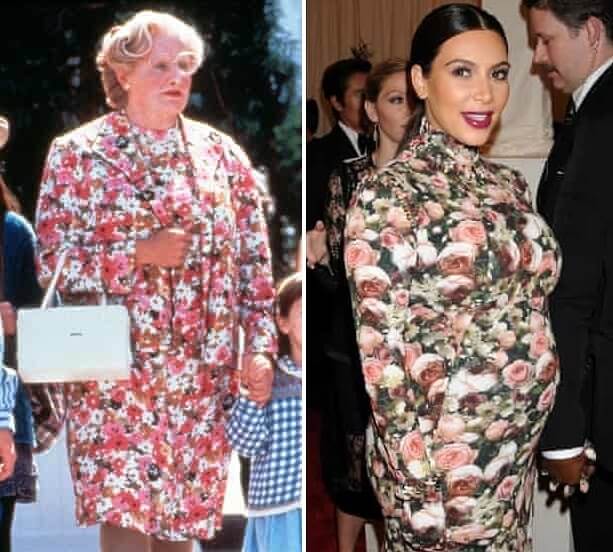 We have a feeling the audience will be split on this question. But overall, it's not Kim's best. The loud, ugly pattern may have been meant to distract from her baby bump. In that sense, it did the job.
Kylie Jenner Looked Totally Two Faced in This Tee
When Kylie Jenner got all that not-so-secret surgery, her face changed dramatically. We know she did it for her career, and we can see how it paid off in dollars and cents. She's a billionaire! Perhaps she wanted to pay tribute to her new, special face with this t-shirt. We can see she is wearing a print of a selfie as she takes a real-life selfie. It's a little disorienting, isn't it?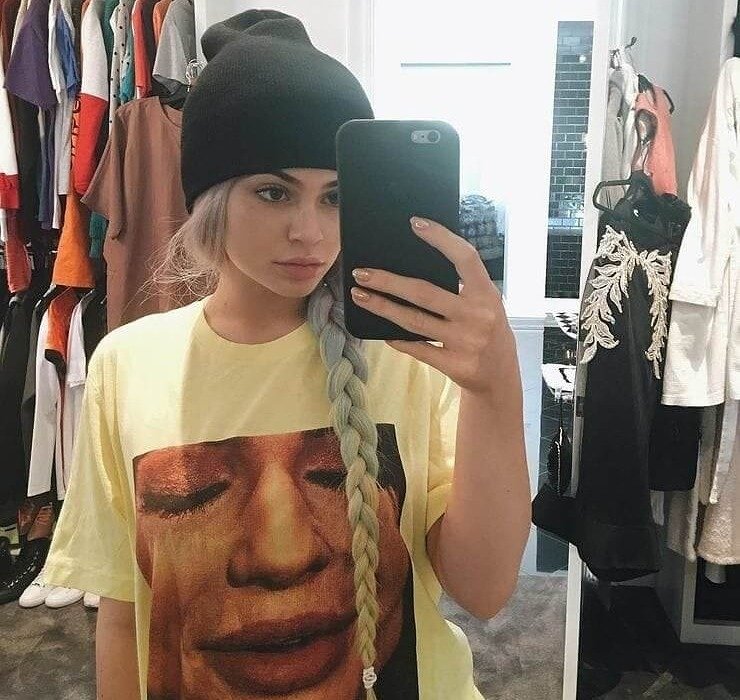 We can see how it might make a funny Instagram post. But from a fashion perspective, this is not Kylie's best. We believe this belongs in the PJ pile, from now on.
Kourtney's Foggy Feet Are the Stuff of Nightmares
The world of shoes is diverse, from a designer's point of view. It must be fun to create heels, sneakers, and boots, season after season. But we found at least one example of a brand that got bored, and Kourtney seems to be the fashion victim. Here, we can see she is walking around in clear pumps. You can see every last pedicured toe. But disturbingly, they're all foggy in there.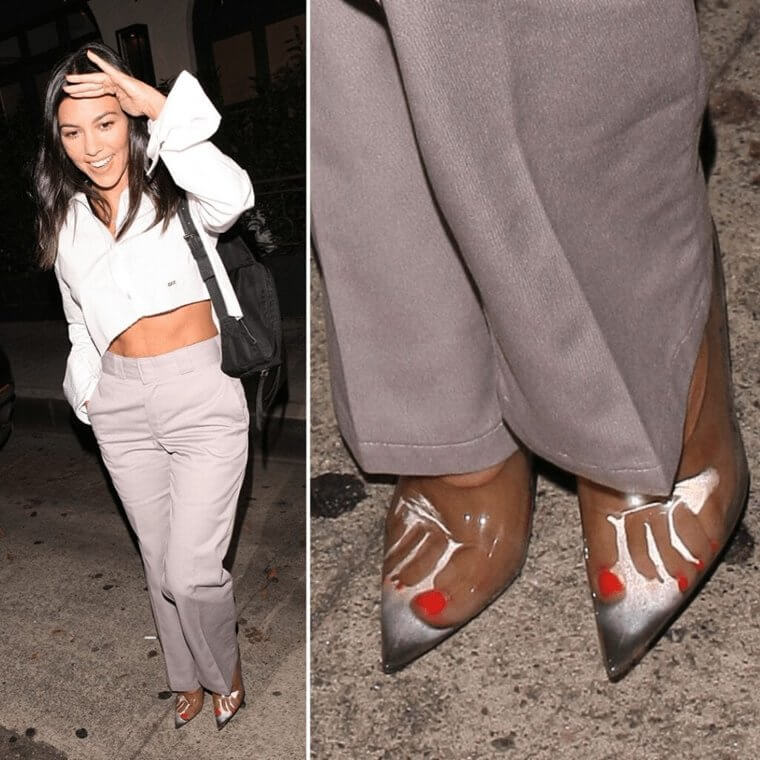 It doesn't seem healthy to walk around in these for long. And we don't even want to think about the smell that's building up in a plastic shoe with no ventilation. It just shouldn't be this steamy!
When You Forget to Change and Don't Care Either Way
We don't know what Kim was trying to be with this idea, but we can't say we are inspired. This looks like an outfit her toddler daughter might wear. In that case, we would call it cute. But here, no way! Looking closely, we see she is wearing an oversized sweater that mentions the holy spirit. She paired that with shiny leggings and house slippers. Did she accidentally wear her PJs outside?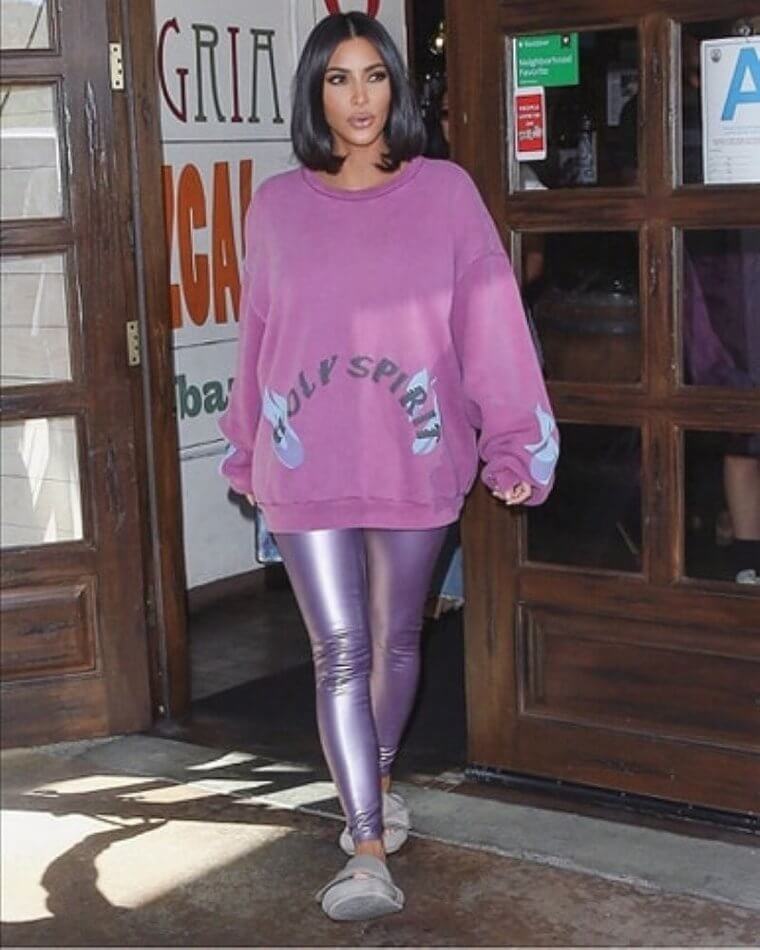 That's a theory. It's the best one we have on the matter. But as we can see, she's left her house. Our advice to busy mom Kim: Next time, take some time for yourself. You are allowed to change!
Kris Harvested Way Too Many Big Cats for This Look
We all know that hunting leopards is illegal all over the world. There just aren't enough of them to satisfy the demand for rugs and coats for the rich. Here, Kris Jenner seems to have slaughtered a few for her coat and dress. How many cats have to suffer for the Kardashians to look fashionable? We think the fashion police need to get involved. And possibly, the regular police!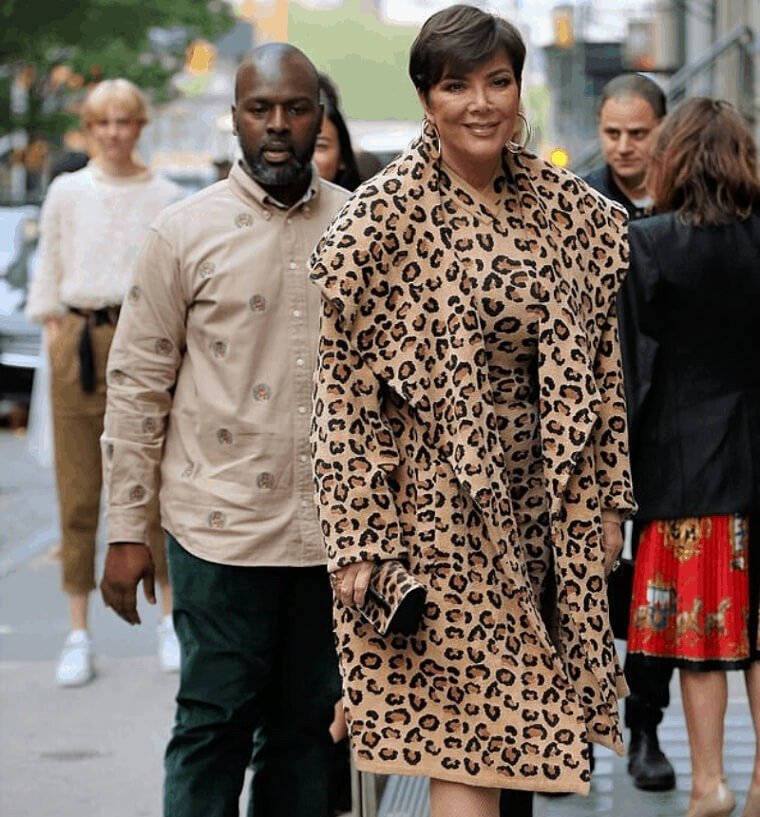 Just kidding, it's totally fake. But we do need to emphasize that the print is far too much, on far too many items in one day. Kris, you're out of your mind!
Kim Assembled a Crazy Collection Here and We Don't Approve
Although she has separated from Kanye, Kim had a pretty experimental fashion partner in her husband. Ye himself is a designer, and he often creates items we would never wear in real life. We like his conceptual project, though. Is this outfit one of them? If you asked that question, you must be as confused as we are. Kim really missed the mark for trendy street here, in our opinion.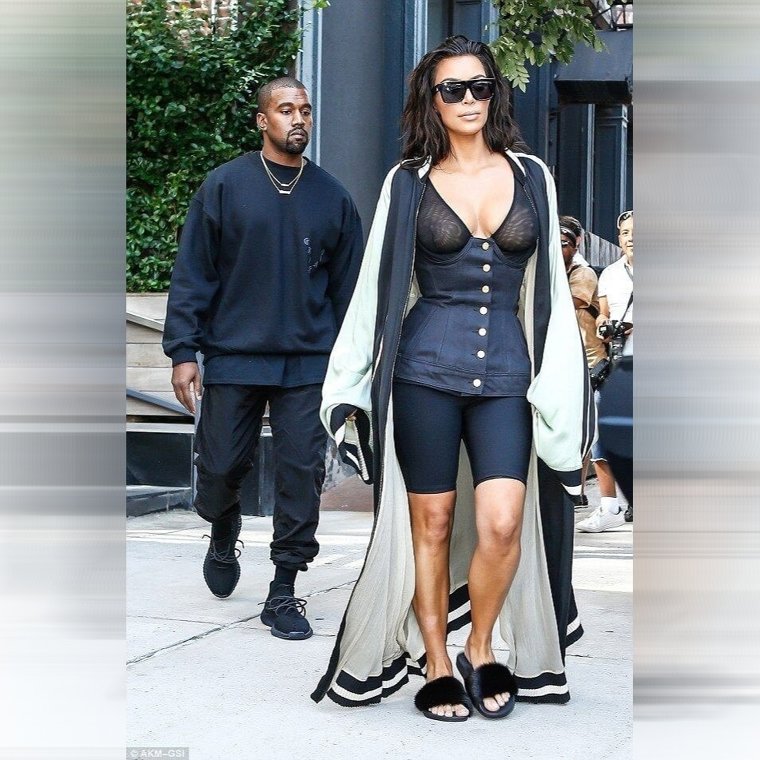 Our observations: We see the long coat dragging on the road. We've got fuzzy sandals that seem like house slippers, and then we see a button-down blouse with biker shorts. All in all, we just don't get it. How could you do this, Kim?
Maybe Kourtney Was Paying Tribute to the Black Swan
Kourtney Kardashian is a bit quieter than some of her sisters. She's fashionable, though, and that often speaks for itself. But at least in this case, we can't say we understand what she was trying to say. Posing next to former beau Scott and mom Kris, she's wearing a feathery black dress that looks like it came straight out of the zoo. Which exotic bird did she have to slaughter for this outfit?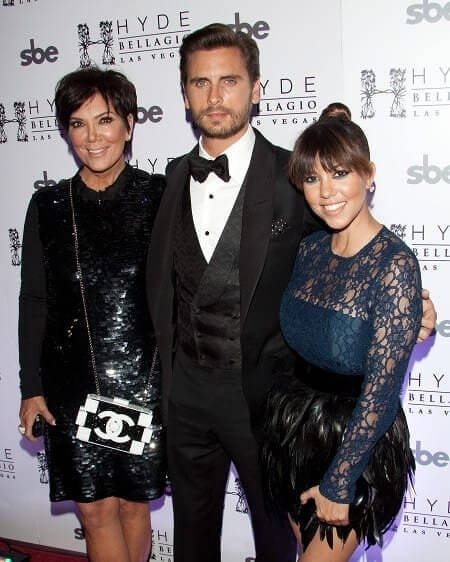 Perhaps it was a penguin or a black swan. We don't know the aviary kingdom well enough to say. But we do know fashion, and we're here to poop all over this piece.
Khloe Should Have Gone Deep Sea Fishing With This Outfit
Variety is the spice of life, as the wise advise. That's true in the closet, too, and we know that cotton, silk, and polyester get boring. Maybe that's why Khloe decided to try fishnet. How often is it utilized in modern design? It seems to be on boats, more than anything. But now that we see it on full display here, we think that might be just where it belongs.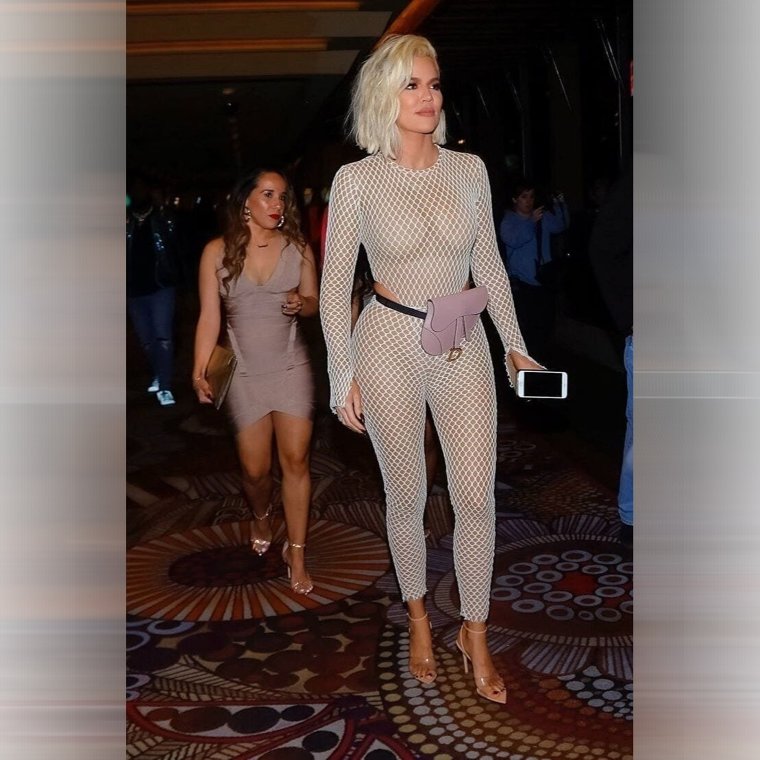 At least she had enough sense to wear a nude jumpsuit underneath. The main feature of netting is its numerous holes. It's great to snag fish. Bit it gets pretty revealing!
It's a Pity Nobody Alerted Kim About These Layers
Layering is a method to combine items strategically. With the right picks, you can create a striking look. Not all of us are masters at it, but we do expect more from Kim Kardashian. We can't figure out exactly why she decided to put a silky, sleek gown over her workout clothes. And Kanye is right by her side, supervising the disaster. Maybe we are just too common to understand real couture?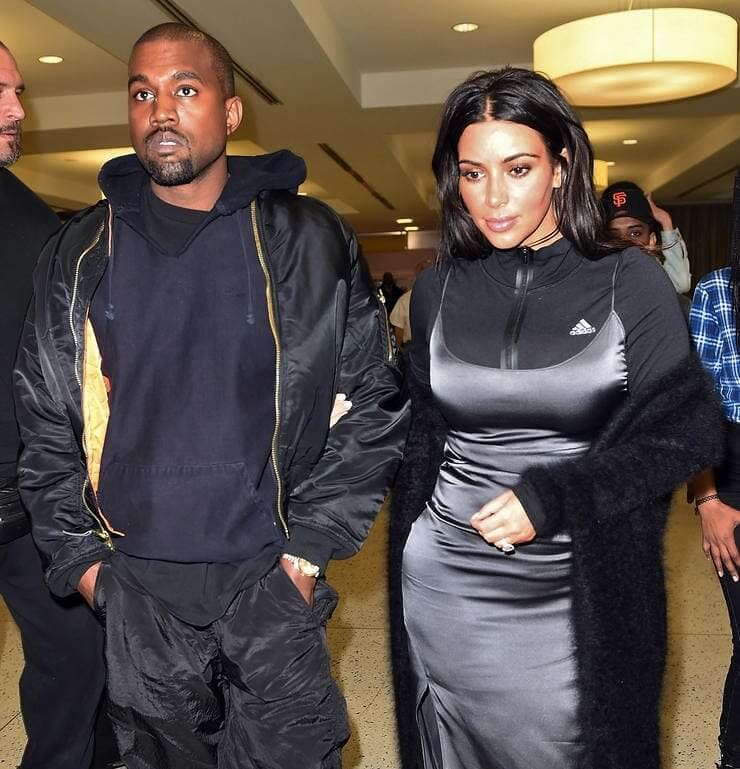 We're not going to give them that much credit, at least not here. We know this couple loved pushing the limits of design. But it's time to step back and admit that passed the max a million miles ago.
Tell Kylie These Double Buns Belong in an Anime Movie
Adults women usually stick with ponytails or buns when their hair isn't down on their shoulders. Pigtails were cute as kids, but they seem to have an expiration date. Is that fair? Maybe not. But the world will be begging to bring those back for all ages when they take one look at Kylie's double bun do here. It reminds us of a cartoon character if we want to be nice. But are we that nice?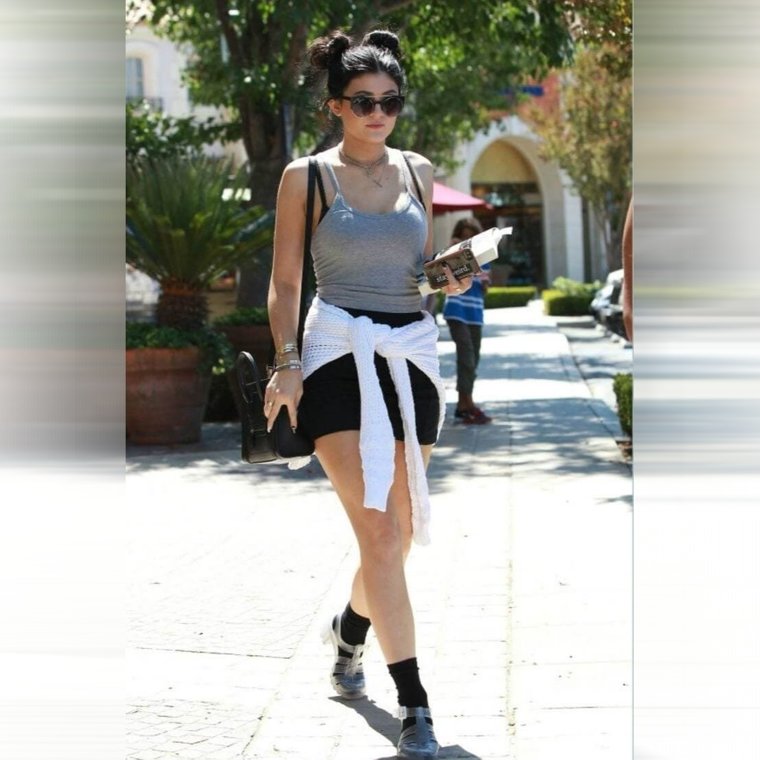 No, we're just honest. This look was a silly one, and we're happy that Kylie doesn't wear it regularly. If she tries it again, we'll be right here to give more unsolicited advice.
Wearing Sunglasses After Dark Isn't the Only Crime Against Fashion Here
Kim wears a lot of hip-hugging dresses and skirts. She also loves to wear loose sweatpants and biker shorts. On occasion, she actually wears real pants. This wasn't her best attempt, sadly. Although we like the fit and cut, there is a glaring problem with the print. The snakeskin look could be deemed ugly all on its own. But that's just the beginning of the hideousness of the outfit. Look closer!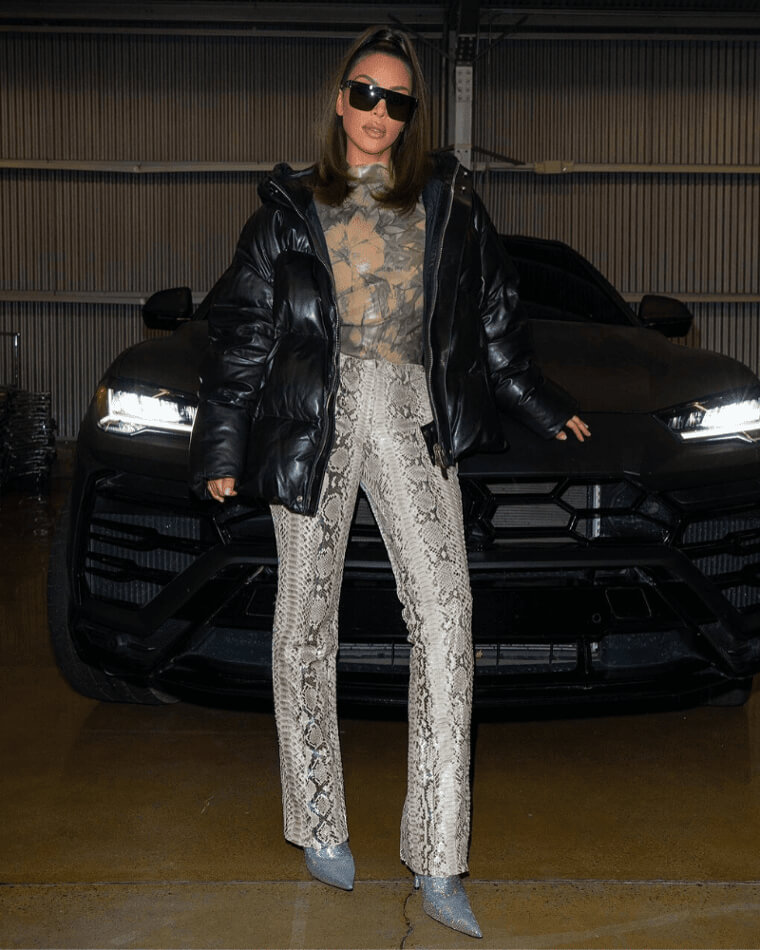 Kim has decided to add a printed top that looks like natural stone. It clashes directly, and she has topped it all off with a puffy jacket and grey boots. At least she was warm?
Kylie the Leopard Lady
We know that Kylie used to struggle to get the attention she deserved in the family. With so many beautiful Kardashians, it's hard to get the cameras to focus on her, and her alone. This outfit may have been an attempt to do that: It's a full-length, hooded onesie with an exotic cat print. Hard to miss in bright green, we'll give her that. But that's all the credit she's going to get today.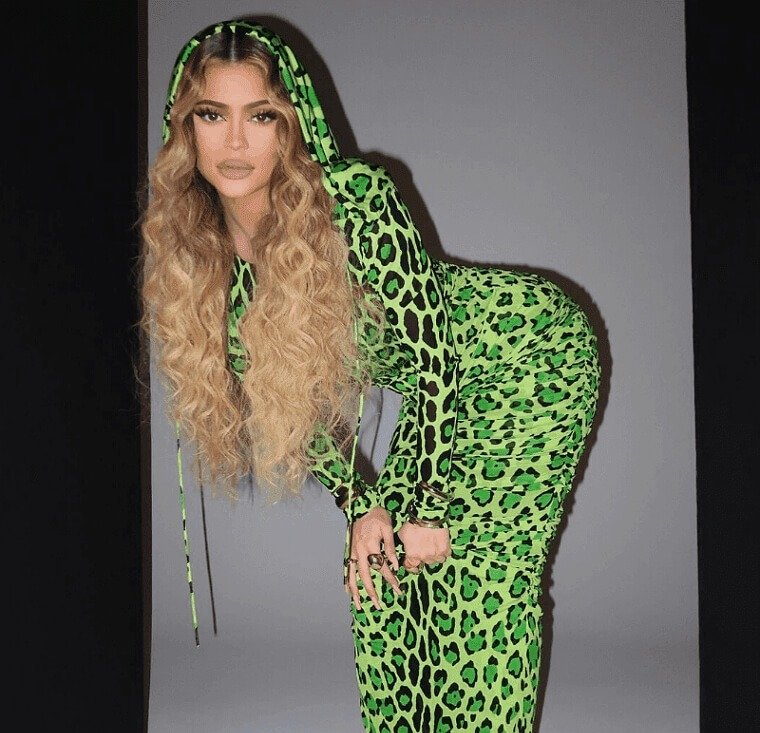 We hate it! We don't know why she posted this on her Instagram. It wasn't Halloween, it was just a crime against fashion. And our eyes!
There Is No Reason to Wear Cycling Shorts Every Day
Kim has worn plenty of uncomfortable items over the years for our amusement. She often looks like she has her dresses painted on, though we know she just squeezed in the best she could. For that, we thank her. But now, she has gotten a little too used to wearing biking shorts on a daily basis. We know she never bikes, leaving little justification to live her life in hideous spandex.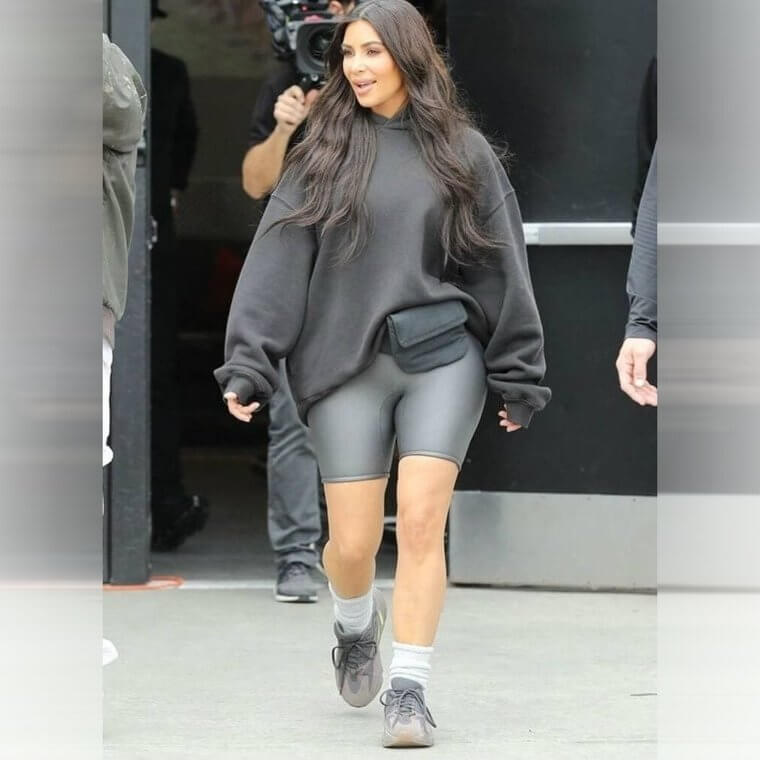 We like full-length leggings, don't get us wrong. Those can be perfectly chic. But this halfway down the leg idea is just awkward outside of race track. Please Kim, no more!
This Necklace Is a Bunch of Nonsense
It's interesting to see just how much fashion has changed in the last 15 years. It doesn't seem so long ago, but when we look at how public figures like Kim Kardashian are dressed in photos, we see that a lot of years have passed in fashion. Here, Kim is wearing a big, chunky pile of necklaces. It looks awful! But at the time, we have no doubt that it was cutting-edge style.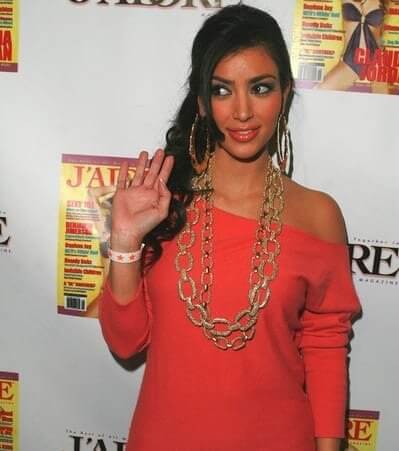 Thankfully, Kim has transitioned to a more minimalistic look for everyday jewelry. We are not sure if this trend will ever come back, But if it does, you know Kim is ready.
Clashes Like This Shouldn't Even Be Legal in America
Kim is sporting super high boots, and we love them. The supple suede looks mighty expensive, and we are sure it's of the highest quality. But somehow, and we don't know why, she's managed to ruin the look. That synthetic jumpsuit looks like it belongs on a spaceship. Nothing matches, and it's a shame. She's topped it off with a fanny pack over her chest. And worst of all, she doesn't even notice!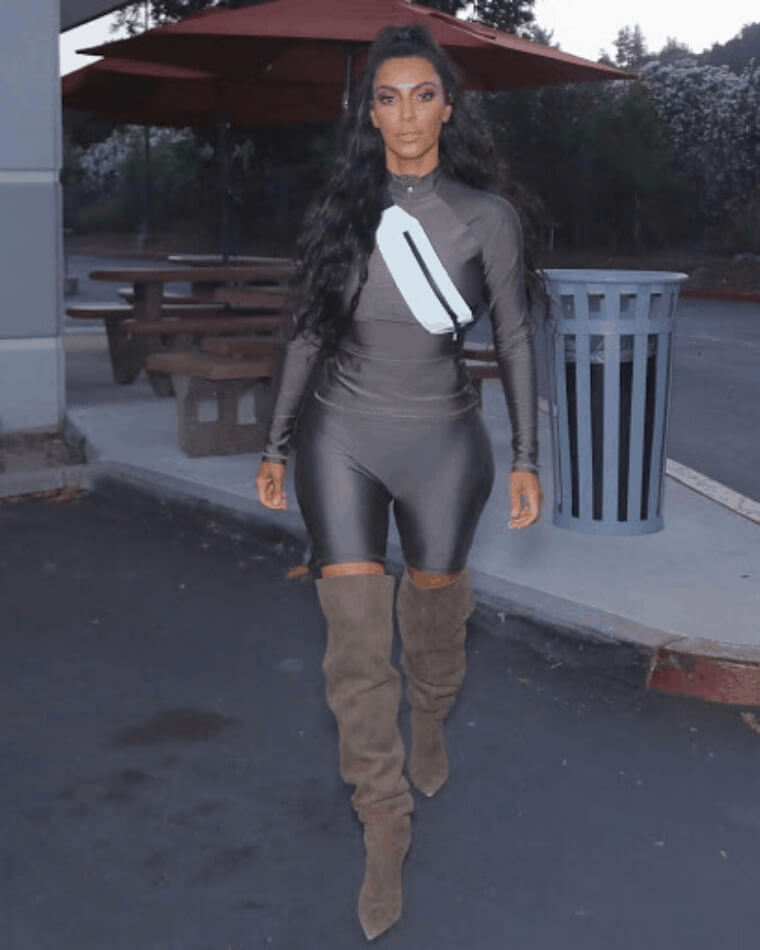 Perhaps Kim was just looking for attention. Getting press for great style is one way to shine. But there's an idea out there that even bad attention is a good thing, in a way. That's our best theory here!
Khloe Shocked Us With Her Apparent Love of Sequins
We are happy to report that Khloe Kardashian survived an overdose. No, there were no illegal substances involved. There were simply too many sequins one day, and most people wouldn't have survived. Now that we know she is okay, it's time for some feedback. This sequined blue jumpsuit is way too much for a city stroll. We know that it got some attention, but we suspect it was itchy.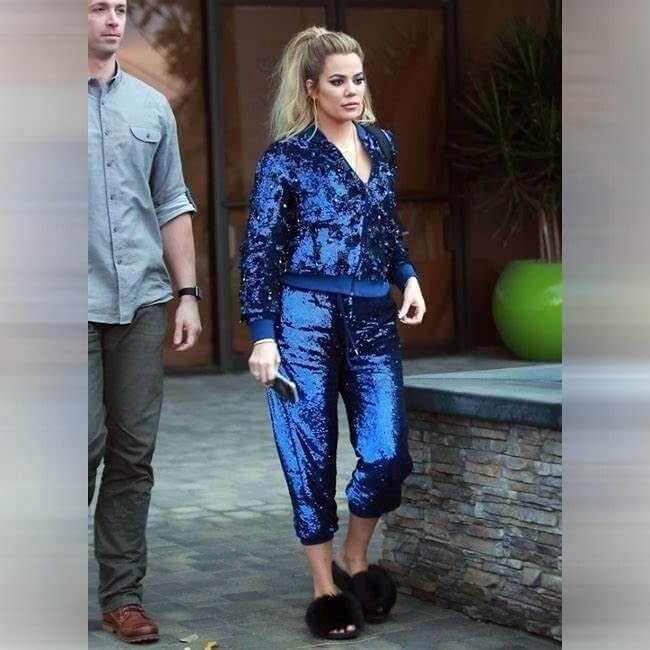 But as we look down, we notice things get worse. What's up with the furry sandal trend, anyway? They're bound to get awfully dirty after just one wear through LA. And they're hardy washable!
We Do Advise Kim to Get a New Tailor
On hot days, it's nice to wear something sleeveless and short, This outfit was Kim's attempt to feel comfortable and chic in the heat. But unfortunately, there's just something wrong with the tailoring. Everything is a bit off, from the collar to the seams. Maybe that was the concept of the design, but it just doesn't work in the end. We especially hate the seams going down her thighs. What a mess!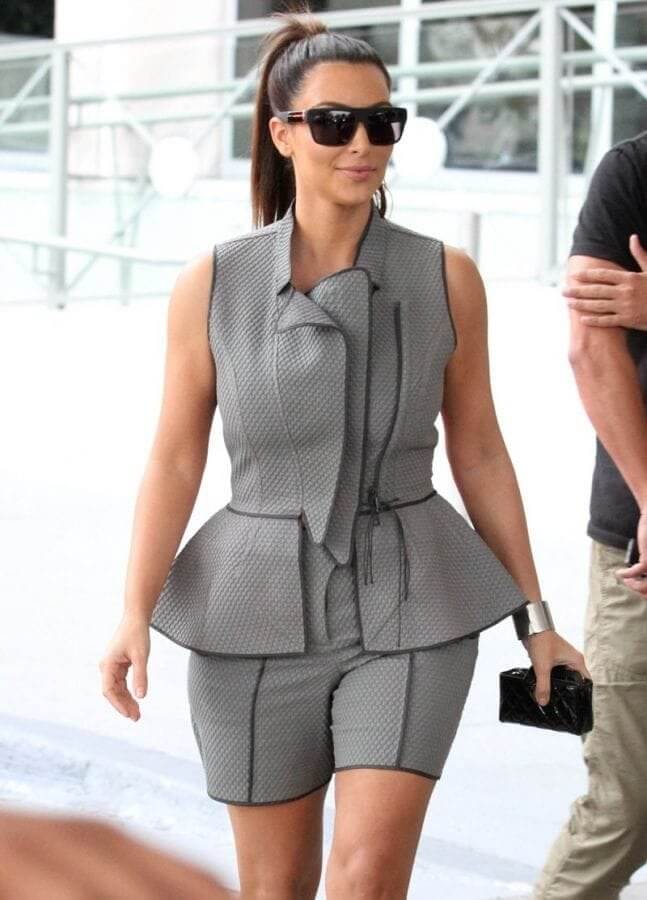 We like her classic dark shades and clutch, and the high ponytail is pretty classy. But the outfit itself stands out the most. Is there some chance this is just inside out?
We Don't Even Know What This Is
Kris Jenner is a mom and a manager, She claims to be a momager! Practically, this means she wakes up at the crack of dawn every single day. Then, she works until she gets her goals. A boss like Kris deserves to let loose and party, at least on occasion, and we were happy to see her attend the Met Gala in 2019. Sadly, we cannot say we approved of her outfit. Look at that thing on her shoulders!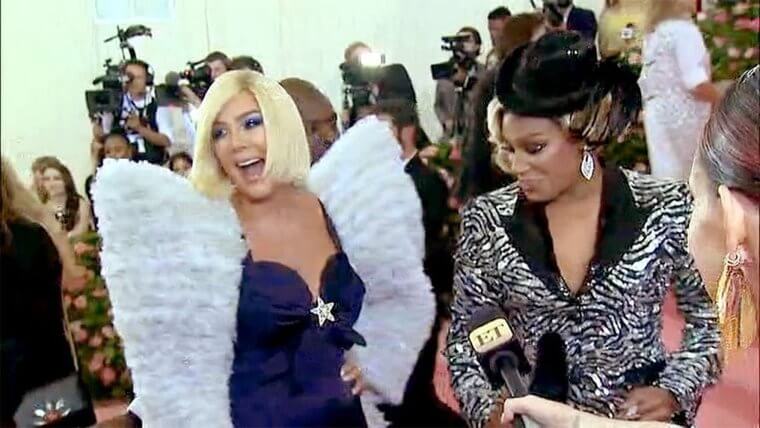 We can forgive her for being a little wild, because of the occasion. The Met Gala is full of absurd designs! But seriously, she's lucky she didn't poke an eye out with those shoulder pads. They're way too intense, for our era.
This Design Seems Very Hairy and Very Scary
Paris Fashion Week is a time when designers from all over the world come to see the best of the best on the runway. Much of what is displayed is not meant to be everyday wear, but rather, a live art show. It's fun for celebs to attend, and get some inspiration, too. Here, we have a flashback of Kim and Kanye arriving several years ago. But even for a couture scene, this outfit is a little unsettling.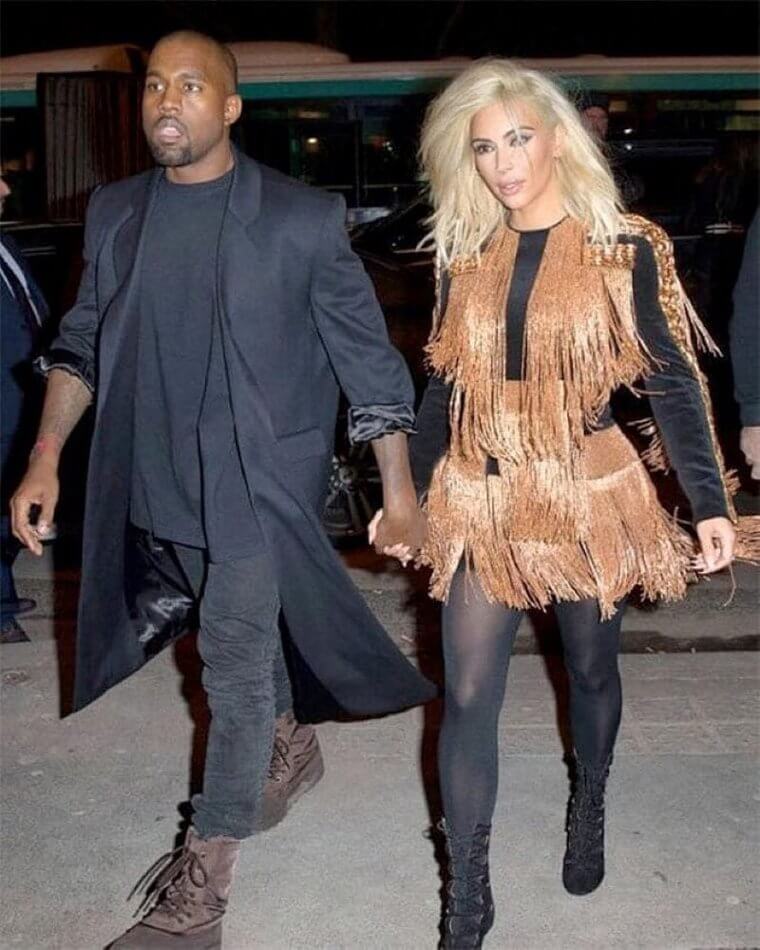 The top looks like a wig, with long brown hair coming out of her body. People must have been frightened!
This Audacious Combo Is Not Fit for the Pink Carpet
Kim Kardashian has been in the public eye for a long time now. Trends have come and gone, but she remains. Sometimes, it's interesting to look back and see what passed for style in another decade. Why did Kim rock this look? The flouncy top and hoop earrings look like something from Walmart. But lord knows, Kim never goes there! More than 10 years ago, this was a fashion-forward choice, believe it or not.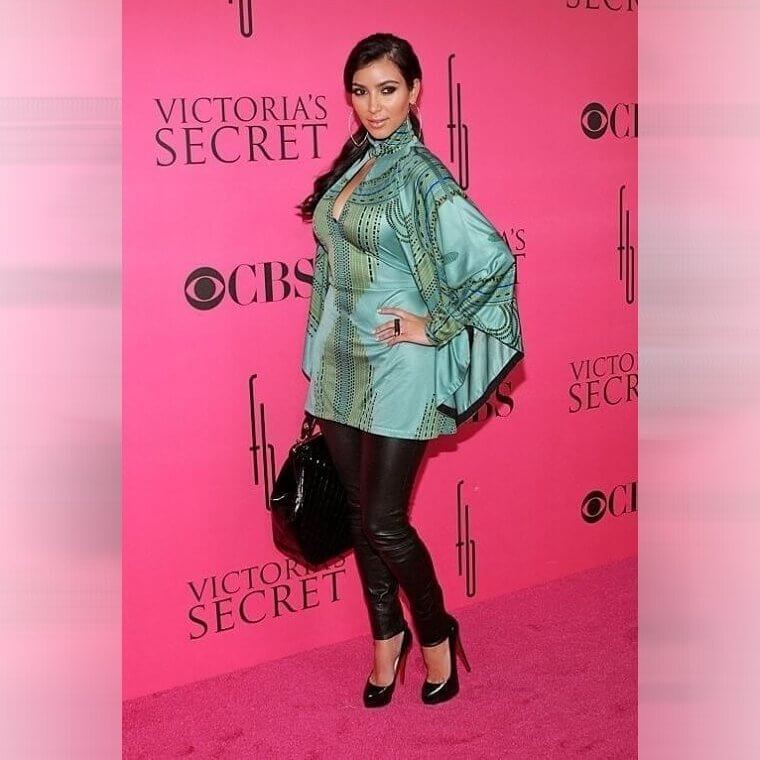 Thankfully Kim has moved on to more modern outfits. Maybe the big box stores are just copying celebs a little too late. If they update their designs, we might become shoppers!
Double Denim Isn't Necessarily Better Than Single Denim
Yes, Kylie Jenner can wear pretty much anything that money can buy. But sometimes, we are confused by her decisions in the closet. The paparazzi snapped her wearing this jumpsuit, made of denim from head to toe. We know that jean jackets are snappy, and jeans are timeless. But there is really no need to increase the jean, beyond that. Why did she wear so much, and how we can tell her to stop?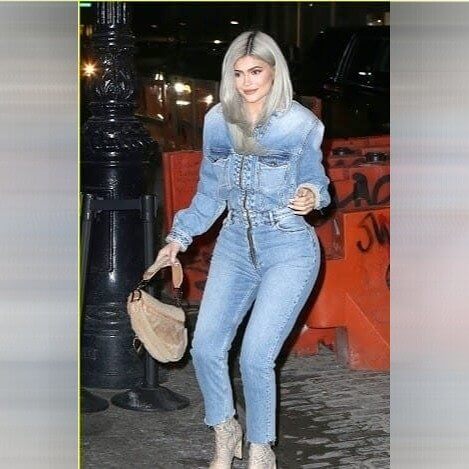 All we can say from a distance is that we hope it had stretch in the blend. If not, this skin-tight number looks mighty uncomfortable. And also, it's really ugly!
There Are Way Too Many Holes in This for Our Taste
Kim is never afraid to test the boundaries of style. We really admire that about her, on a good day. But on a bad day, we see the scary side of her closet. Today is just such a day, with this long dress full of holes. There seem to grommets, as well, which are usually used as a place to clip utility hooks. We don't know why she's rocking them!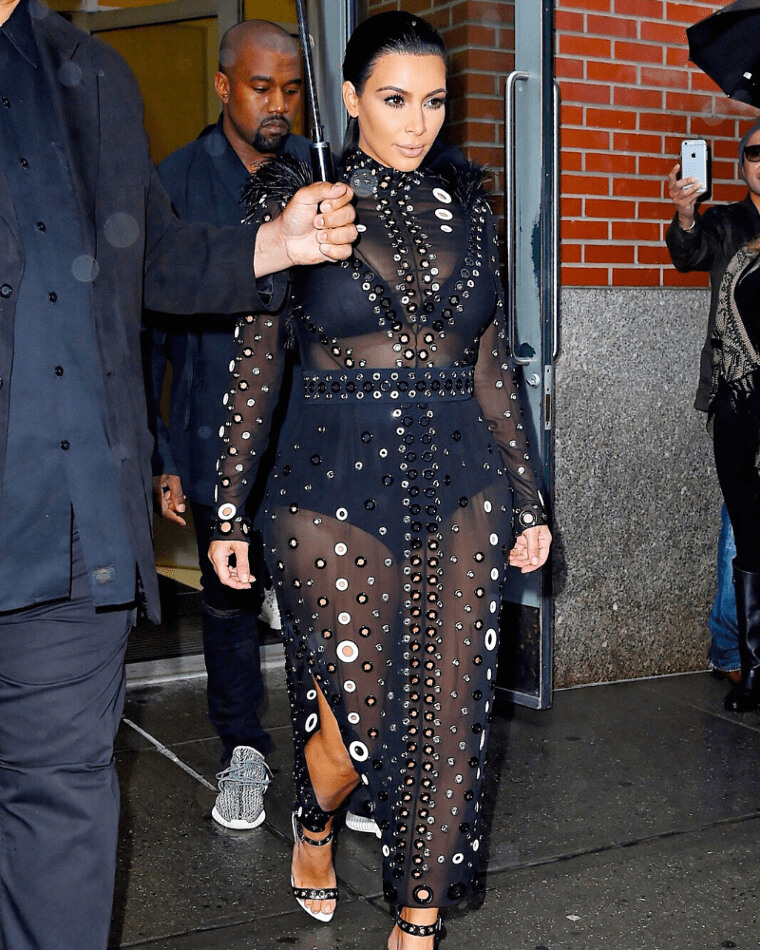 We know that a strong pitch can make you buy things you don't really want. Maybe Kim was misled by a super saleswoman. Who knows!
When Khloe Decided to Blind Everybody
Khloe Kardashian has been through a lot, in terms of body transformation. She used to be labeled as the large sister in the bunch, and she decided to change that. Khloe lost a lot of weight and now wears skintight fashion. But in the in-between phase, she tried flowy garments. Here was one attempt to rock a hot pink jumpsuit. It looks comfy for a summer day, but look where the fabric gathers!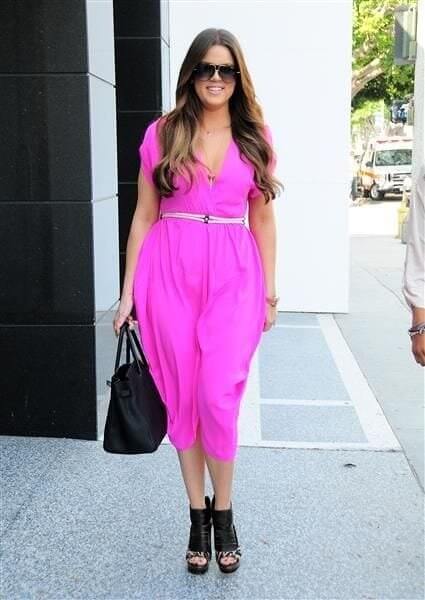 We are sure the material is top quality. But it's a little bottom-heavy. We think it actually adds weight if anything. That's rarely what Hollywood women are trying to achieve!
This Is a Already a Little Weird Without the Gloves
Award shows are the place \to see and be seen. At the Grammy's, Kylie was spotted wearing this pink Balmain jumpsuit. The brand is top shelf, sure. But sometimes, we don't quite understand the fanciest designs out there. The idea is pants connected to some type of shoulder wrap. This wrap becomes gloves. We've never witnessed anything quite like it, and we're not sure if we want to ever again!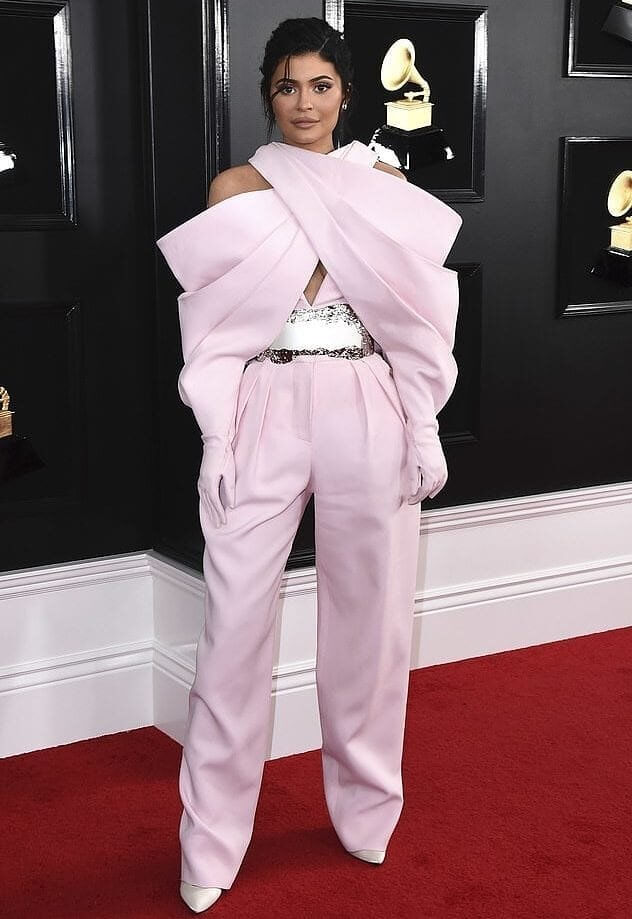 Maybe Kylie enjoyed looking a little eccentric for the night. With so many classic gowns around, it is certainly a way to stand out on the red carpet. Still, yikes!
Kris Clearly Stole a Curtain When No One Was Looking
Prints are a hard thing to get right, if you think about it. The vast majority of patterns out there belong on tablecloths, and that's where they usually stay. But every once in a while, a celeb dares to be different. Kris Jenner decided to be that person in this picture. Is she wearing a curtain, or was this a conscious design? If the latter, we must object. If the former, we have to question her sanity.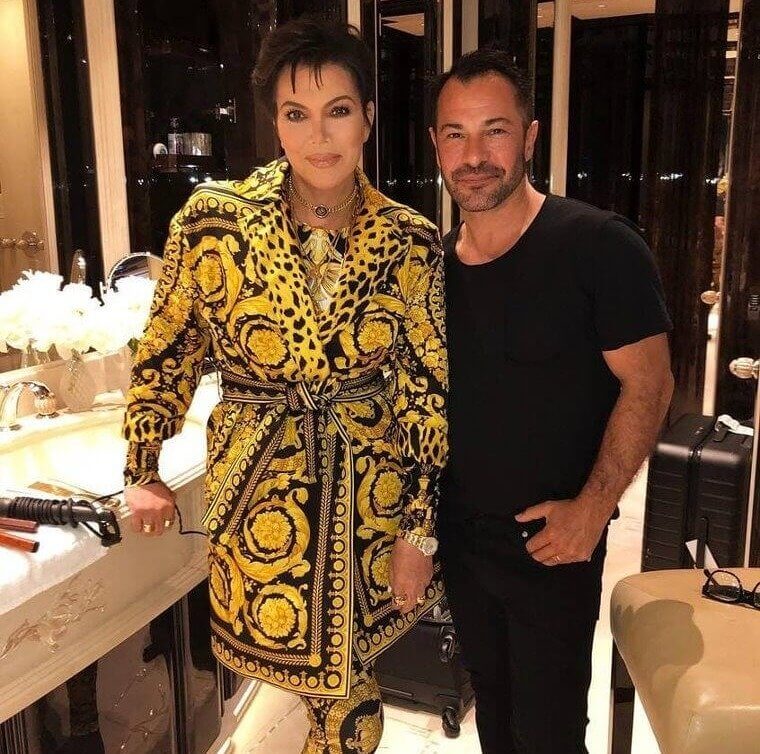 It kind of seems like she grabbed extra cloth from somewhere, and wrapped it at the last minute. Only this momager knows the truth, but we cannot recommend the method.
This Look Just Makes Us Sweaty
Yes, the Kardashian like to stand out in a crowd. They're pretty good at it. We might even say they wouldn't know how to blend in if they tried. But here, the outfits are a bit excessive. It's board daylight, in the middle of the city. They look like superheroes, but we know they are just going to brunch. Off a movie set, this is probably inappropriate. Avocado toast isn't that serious!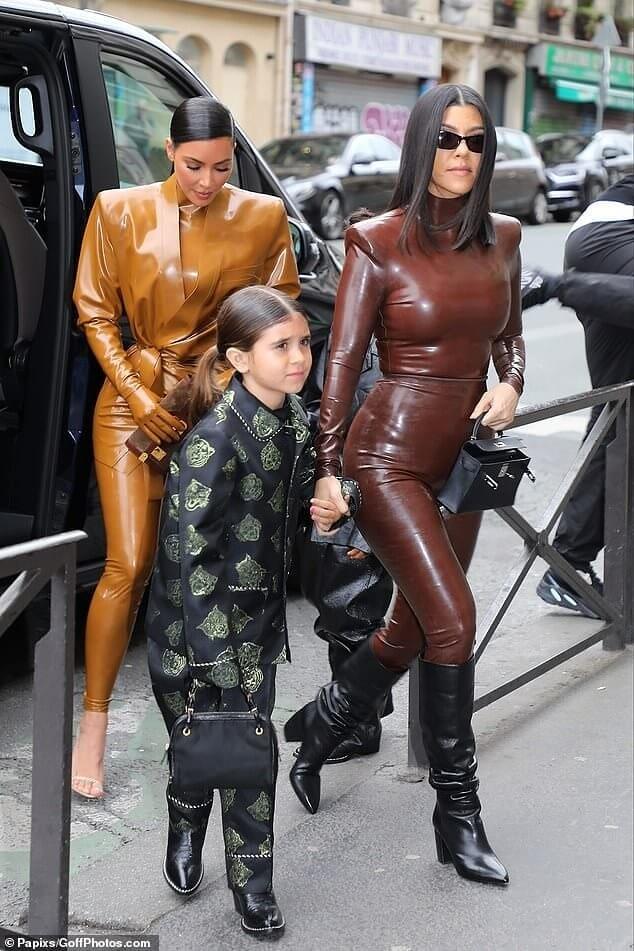 It looks like Kourtney's daughter is being dragged into this situation. Does she want to be embarrassed? We don't know if she has a choice, and that's probably what occurred.
At Least They're Good for When It Rains
Plastic anything is a bold fashion choice. Kim wore these sheer boots, designed by husband Kanye West, while out on the town, and they definitely aren't our favorite. Imagine having your entire leg covered with a shower cap, all the way up to your crotch! Paired with an oversized denim jacket, we can't say she looks comfortable. Fashion-forward, sure. Or should we say backward?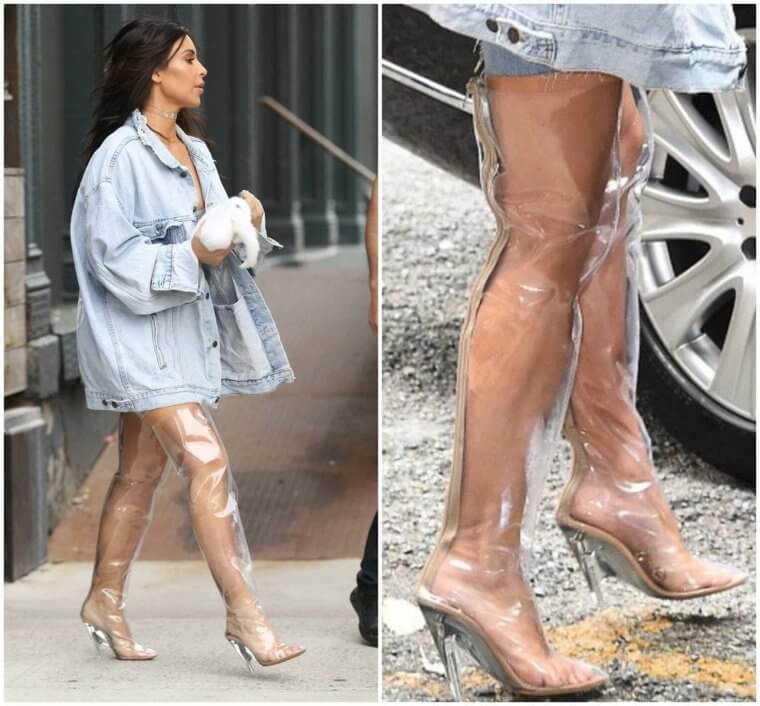 We hope these boots were the first thing that went in the trash when Kim and Kanye called it quits. It must be like a sauna in there!
It's Tablecloth Time With Kourtney Kardashian
We like the vibrant green that Kourtney has tried to incorporate into her outfit, here. She wears so many neutrals and blacks, and it's nice to see a pop of color. She is actually wearing two pieces. The top and bottom are coordinates. But looking closer, the top is a little odd. The sleeves match the pants, but the center of her shirt is a different fabric, and it clashes.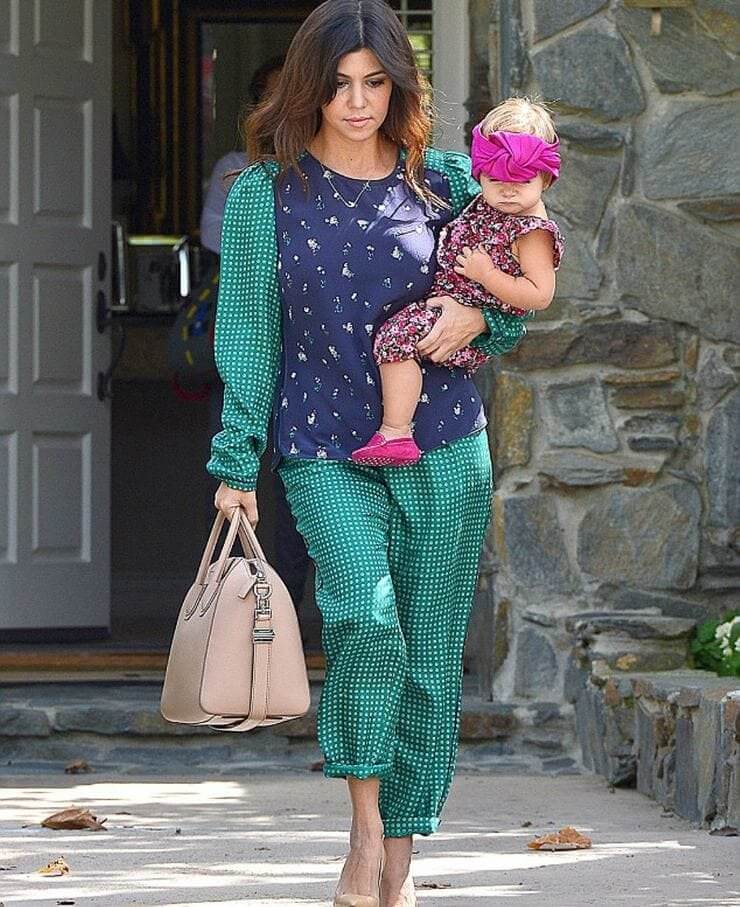 We don't really like the concept if we are honest. The fabrics might be nice separately, but not sewn together like this. Did the designer just run out of green?
We've Never Seen Ripped Jeans This Severe
Kim likes to wear denim, on occasion. She clearly prefers spandex, but it's possible to bored get with that. We just don't know why she chose these jeans, on her day off from stretch. Ripped jeans are a trend that comes and goes, but we've never come across a version that is this shredded. They almost look like they are about to fall apart! We certainly hope that doesn't happen, but it's a risk.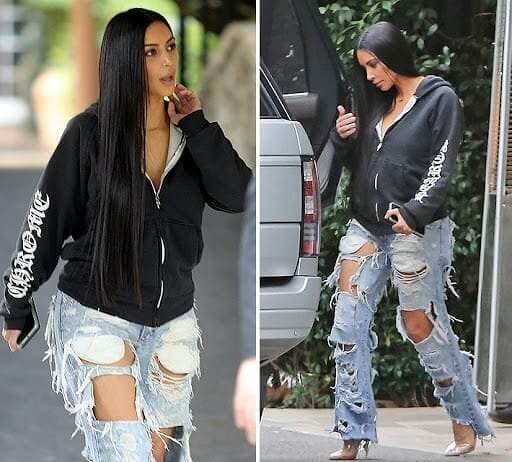 First and foremost, this doesn't look good. But the mystery continues about where she found them. In the gutter, perhaps? It's hard to imagine a boutique could sell these with a straight face!
Kris Jenner Took a Detour to Brown Town
Kris wears a lot of chic black, on the day-to-day. The one time she tried to go with a softer brown, it was a disaster, Take a look, right here: It's a pattern, with red circles dotting her dress. It might have been a cool pick, but then the lights came on. We can see it all, and we don't think that's what was intended. Thankfully, Kris is wearing a slip!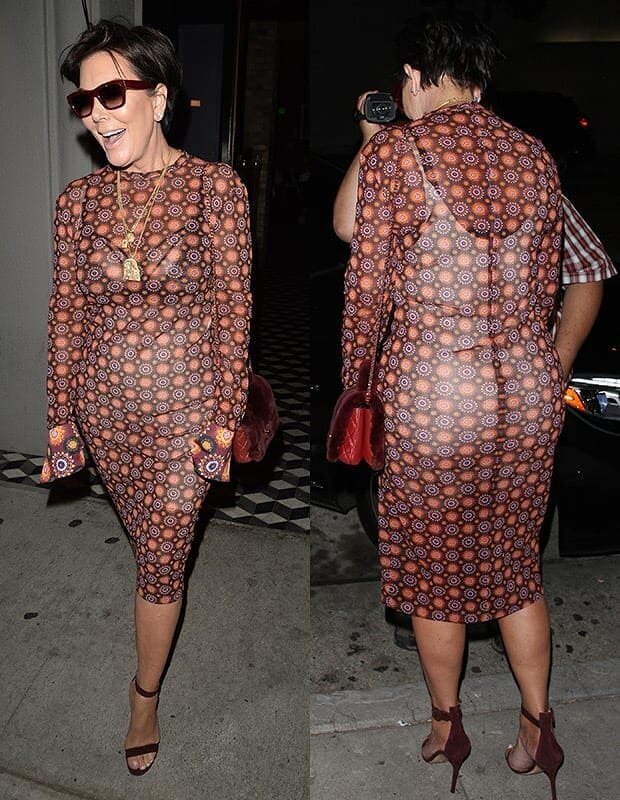 Just imagine the embarrassment of leaving that undergarment out. Many of us might have made that mistake. But Kris is a pro. The mother of all the Kardashians simply cannot be snapped like that!
Kim Wore Some Seriously Puffy Pantaloons Here
We don't mind when people try things outside of the box, but there are hits and misses. Here, we have a clear miss. Kim is wearing pants that have an interesting feature at the top. There are ruffles all the way around her waist. This sort of thing only works at the circus! Is that where she bought these pants? We truly want to know, and we're waiting for answers.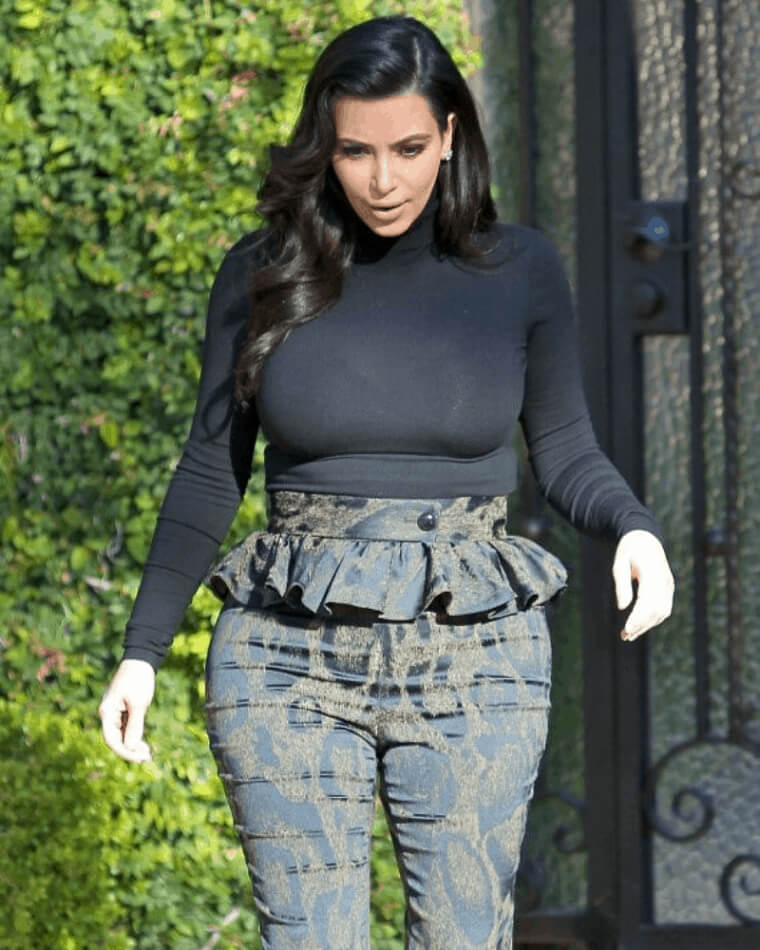 The print is a little odd for daywear, as well. It looks like it was inspired by reptiles! Maybe Kim just wanted to be camouflaged, for a nice day in the sun.
Schoolgirl Style Doesn't Look Right on Adult Women
Believe it or not, Kim Kardashian worked as a stylist for a celeb before she was one herself. Did you kn\ow she sued to dress buddy Paris Hilton, back in the day? All those outfits were Kim's creation. But what was she wearing, all the while? Here, we can see a glimpse of what she wore as a civilian. Is this how she dressed before she was a style icon? Seem so, sadly.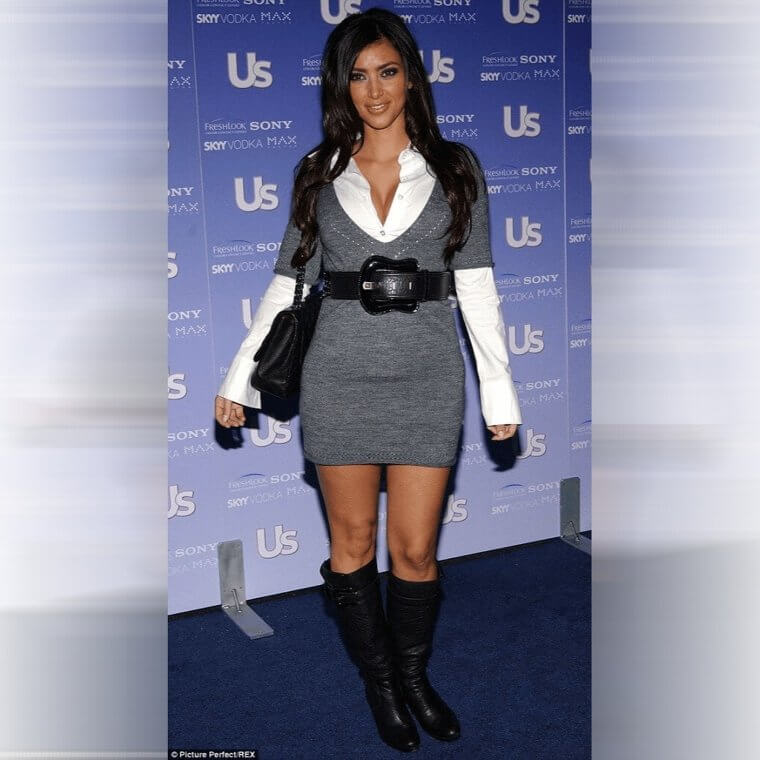 This is part assistant, part secretary. We can't say we like it on the red carpet, and we're happy Kim has evolved. This is way too basic, for the one and only Kim!