There is nothing like the excitement of new parents to be. Finding out you're expecting, buying a crib and car seat, researching baby formula, and decorating the nursery are enormous milestones. But nothing beats the moment when they tell their loved ones the big news. And thanks to the internet, some moms and dads share their happiness with the entire world. Lucky for you, you won't have to wait nine months to get some laughs out of these unique pregnancy announcements because we've gathered up the top ones.
Praise Be
Most people are eager to share the miracle of life with all of their friends and family, and who can blame them? Starting a family is one of the most exciting milestones in life for some people. This couple chose a very interesting theme for their maternity photos. They based the entire thing on The Handmaid's Tale, which, if you know the TV series, is not the most romantic story.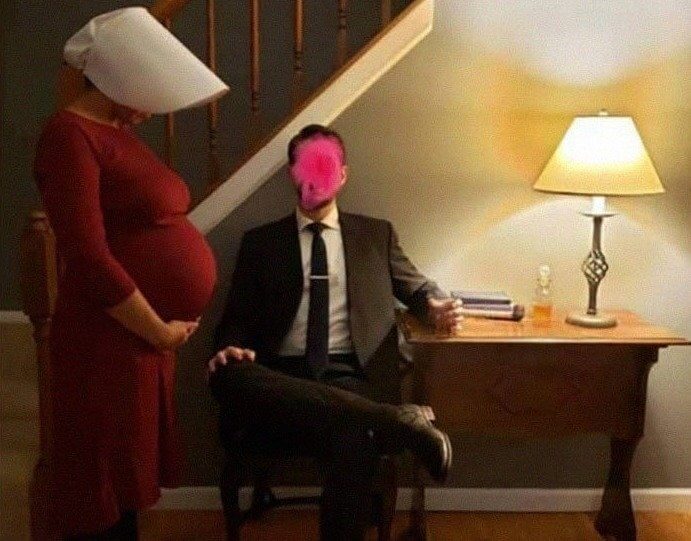 We guess mom and dad are just really huge fans of the show. However, the dad-to-be's ex-girlfriend shared that she felt she'd "dodged a bullet" after seeing this pregnancy announcement. As always, beauty is in the eye of the beholder.
They Hit It Out of the Park
There can be so many meanings to this announcement. Maybe they want to make it clear they went all the way to home base if you know what we mean. Or maybe they're just huge baseball lovers. Whatever the case, painting a baseball onto her pregnant belly was a cute idea. We just hope that his bat didn't get anywhere near that precious baseball! We're sure other baseball lovers will love this concept.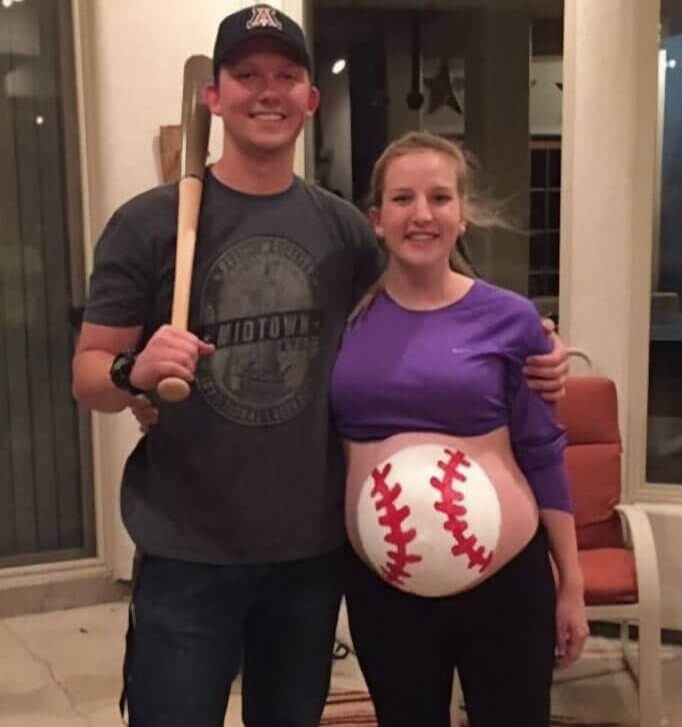 We just hope the parents don't put pressure on their future baby to become a famous baseball player!
A Baby Is Soon to Hatch
You can't deny that this is a pretty creative and funny way to announce that you will have a baby. The amount of effort it must have taken to come up with this and implement the entire idea is also quite impressive. They even went through the effort of dressing up as a dinosaur! Although something tells us that's not mom inside the dinosaur costume. It's probably too hot in there for someone who already has a bun in the oven!

This is adorable, and now, everyone will know that they will soon have a "little monster" hatching.
The Not-So-Secret Recipe
Many children are eager to learn and understand how babies are made; perhaps this couple has found the perfect method for explaining it. Instead of telling the story of the birds and the bees, maybe all parents should take notes from this pregnancy announcement and make it seem that babies are made from a simple recipe. All you need to do is combine all the ingredients, bake it up, and you'll have a little one in no time.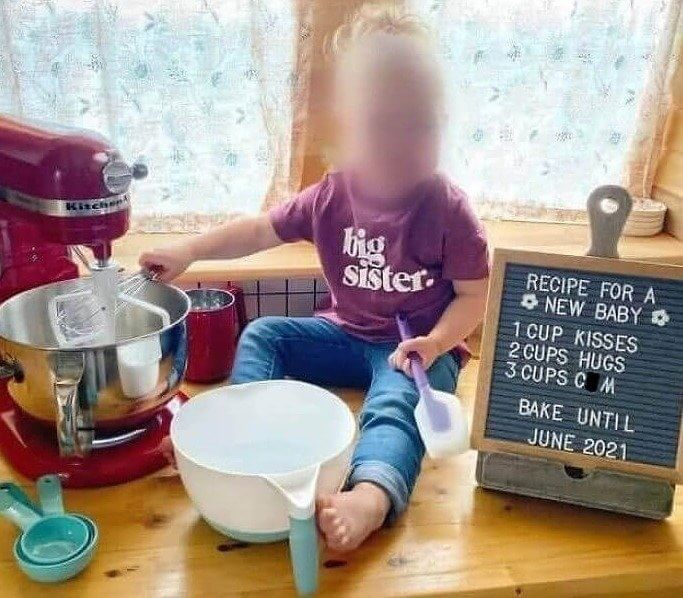 The older sister in this picture probably thinks she is truly contributing to the birth of her new sibling. Imagine how shocked she will be to learn that her sibling needs to "bake" for nine months. 
"I Was Terrified as I Am Allergic to Bees"
There's nothing like telling the world that you are pregnant by taking photos of your baby bump covered in thousands of bees. Oh, and we forgot to mention the mom-to-be is allergic to the insect! "Here are my maternity photos I promised to share," the brave mother shared. "I wasn't stung once. The queen is tethered to my belly inside of a cage. We just dumped the bees on me and they naturally began to beard. I was terrified as I am allergic (welts that last for weeks – don't worry, this was approved by my doc), but it was worth it. This is roughly 10k bees."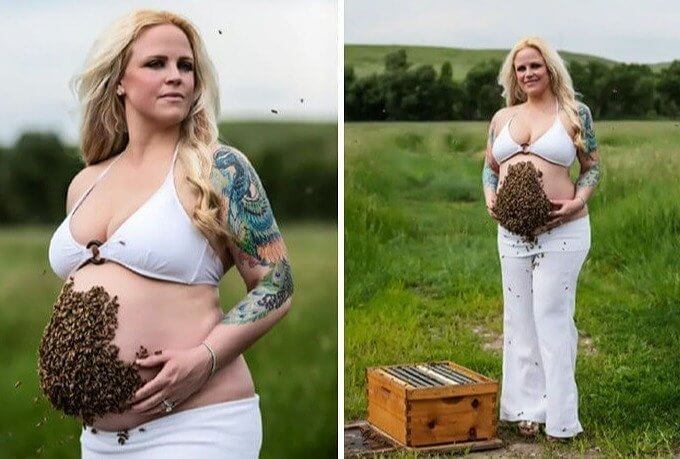 The most pressing question here is how she got her doctor's approval for this risky act.
Everyone Knows Where the Baby Was Made
Wow! It's safe to say we didn't see this one coming. The couple's positioning in this picture is on the not-safe-for-work side, and we can't help but wonder if they sent this to all of their loved ones or just some close friends. The cherry on top of it all is the onesie they chose. It features a barcode and says where the baby was made (we'll let you see the location for yourself).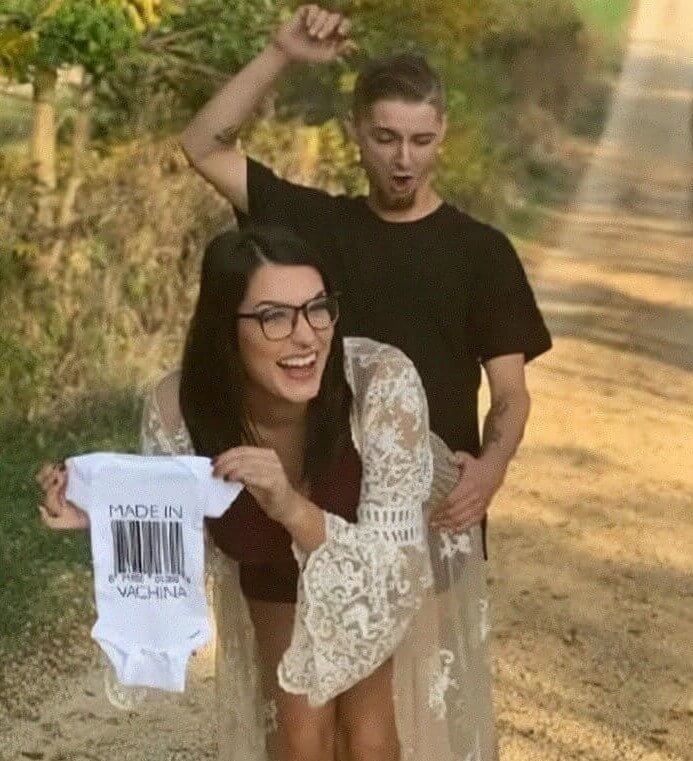 Something tells us they got that onesie custom-made. We've certainly never seen anything like it before.
Farm Humor Is a Breed of Its Own
There are so many different and clever ideas that this countryside couple could have come up with to announce their pregnancy to the world. They took things to a whole new level and showed their passion for farm life with what they ended up picking. The mom-to-be set herself up inside a cow-breeding machine, and the dad-to-be stood next to her with gloves on and a punny sign announcing, "Bred."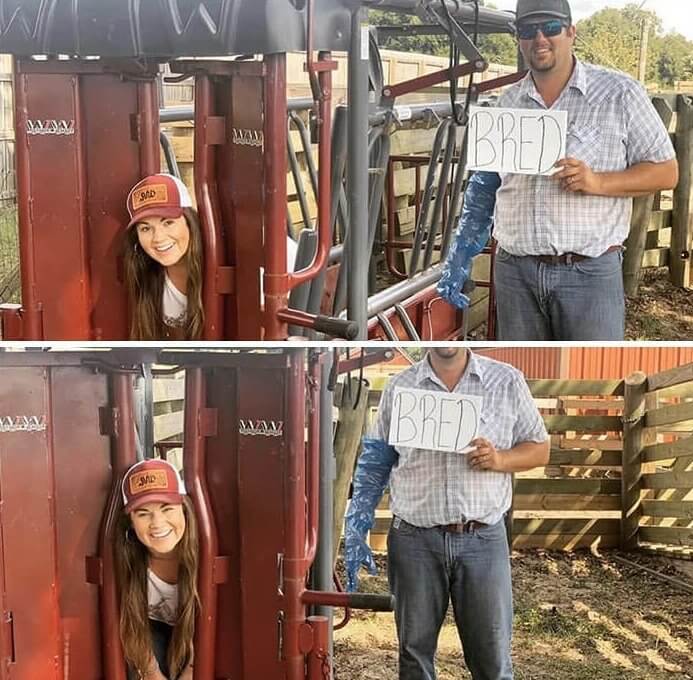 "Mess with the bull; you get the horn!" the couple wrote along with the photo. "Herd will begin April 2020!"
A Little Too Much Information
Next, we have another couple who turned their birth announcement into a baking recipe. "Recipe for baby: 1 cup mommy, 3 pumps daddy, mix with love, bake until July," they wrote. Although everyone is probably very excited for these new parents, maybe they should have kept the details of their baby-making to themselves. Or, at least keep the "pumps" part private. But hey, to each their own!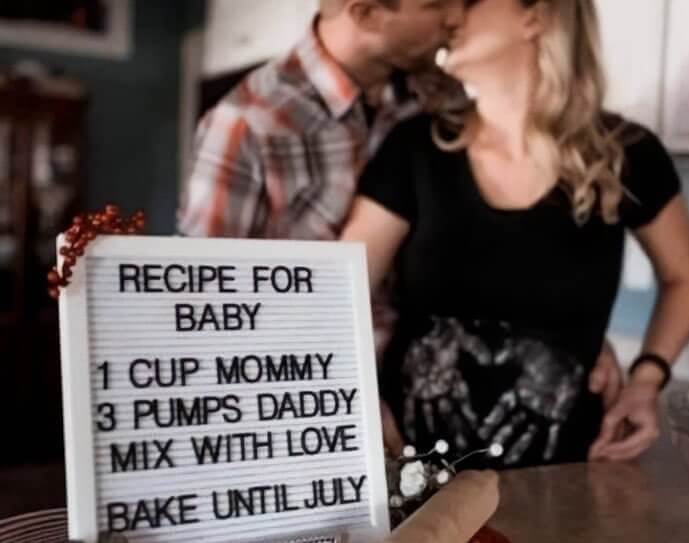 We guess baby announcements disguised as recipes are a bigger trend than we realized.
Are They Sure They Want More Kids?
Some people dream of having a big family while others are satisfied with just a few kids or none at all. These parents seemed eager to continue building their family: they already have three kids, and it looks like two more are on the way. However, judging solely by their pregnancy announcement, it looks like some family members are not too excited about the large number of children in the family.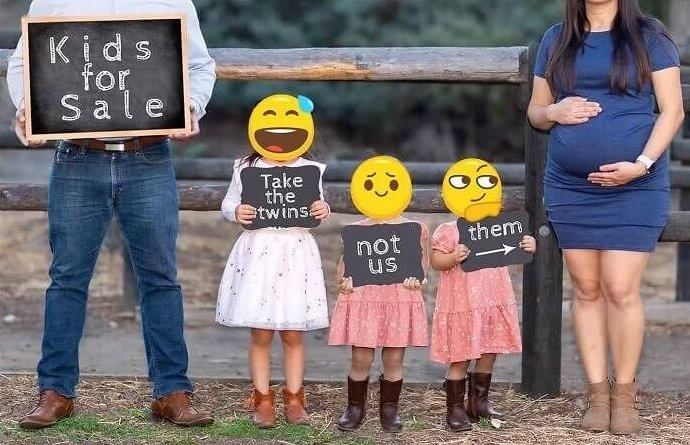 Their announcement tells the world that they are about to have two more children but leads with the fact that they want to give some of them away.
Proof That Daddy Isn't Trucking All of the Time
Undeniably, this is one of the most creative ways to announce a pregnancy and take maternity photos. The father is a truck driver, and they decided to make the announcement a spin-off of that concept. "I'm proof daddy isn't trucking all the time," the announcement reads. They also included a picture of dad next to his truck and wrote, "Daddy delivered his load!" Then, they collaged both of these pictures with one of the mom and her baby bump that says, "Load received!"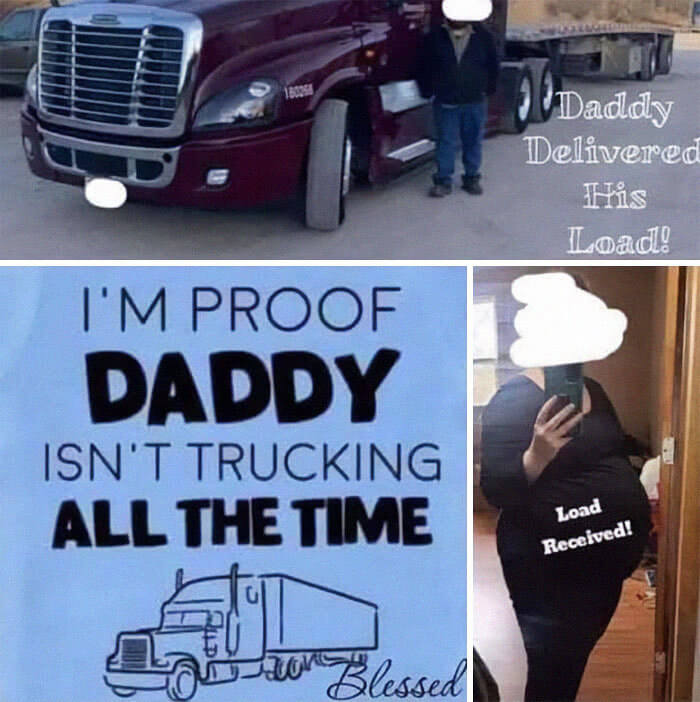 You can see that this was supposed to be a sweet and clever way of showing the world that they were expecting a baby. 
That Must've Been One Expensive Gender Reveal
Birth announcements aren't the only thing parents are getting creative with nowadays. Plenty of parents also like to reveal their baby's assumed gender in creative ways. Some choose to fill a box with balloons that represent "boy" or "girl," and others get a custom-made cake where the color inside reveals the gender. This growing family opted for something completely different: they got a helicopter to release blue smoke into the environment.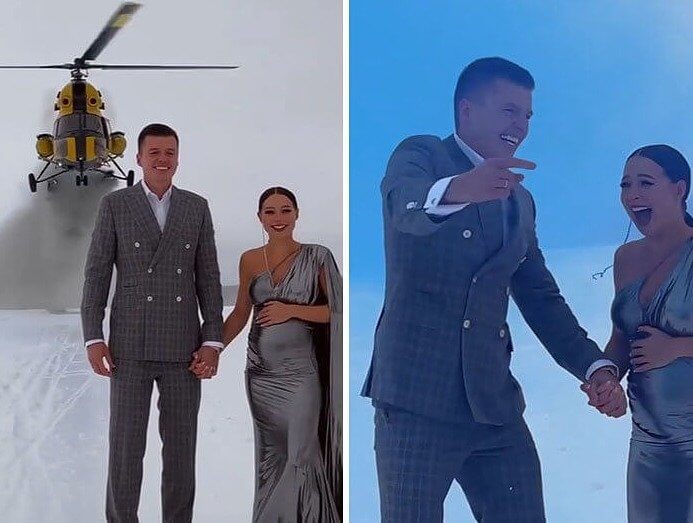 We wonder what inspired them to choose this specific format. Maybe one of them is a helicopter pilot?
They Asked to Photoshop It Into the Birth Announcement
In case it wasn't already clear enough, this baby was not planned by the parents and came as a bit of a surprise (to say the least). They were so surprised by the failure of their IUD that they decided to include it in their pregnancy announcement. "Could someone put this IUD in this birth announcement in the circled area, please?" they asked a parenting group. Some might think this is a bit much, but it certainly raises a few chuckles.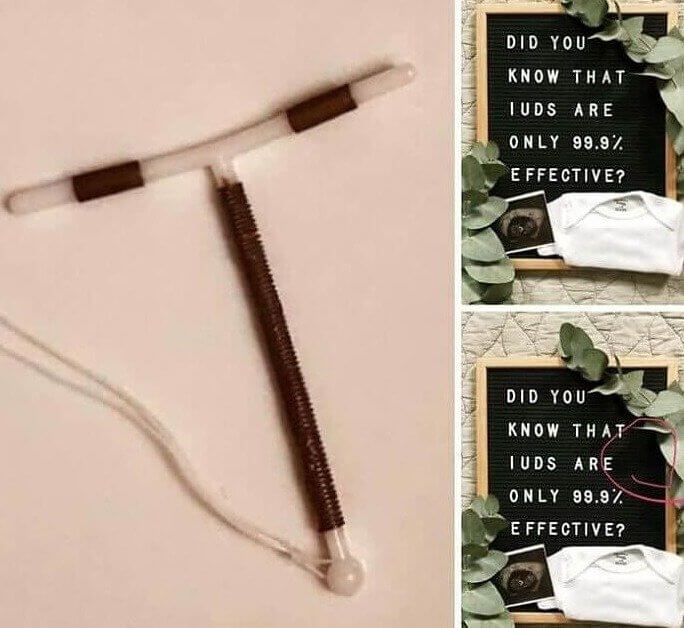 We love that the couple found humor in their unexpected pregnancy, and including the IUD was undoubtedly an unexpected twist to the announcement.
This Gave Us an Unwelcome Visual
This family decided to make a pandemic-related joke in their birth announcement. Apparently, they are not fans of wearing a mask and laughed at the idea of using facial protection when they don't even use other types of protection. We won't lie – reading this gave us an unwelcome visual. But to each their own; maybe this is the kind of sense of humor all of their loved ones enjoy.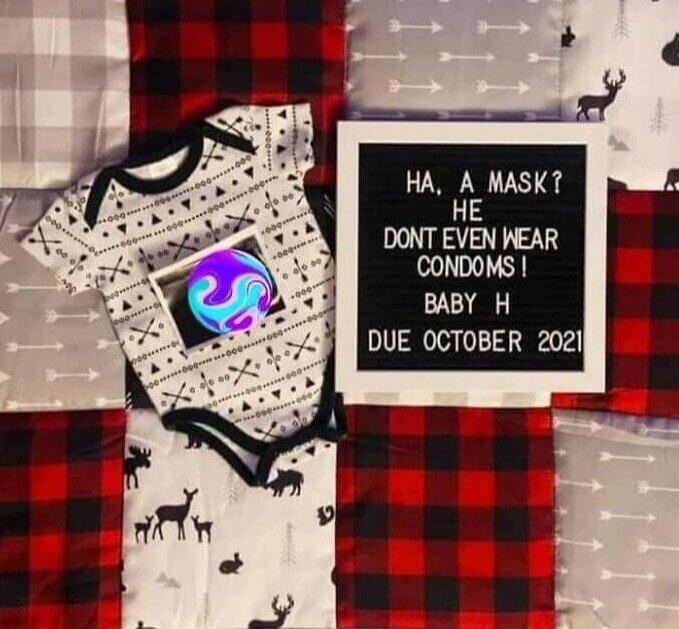 This baby will most definitely be subject to countless jokes throughout its life. Based solely on this pregnancy announcement, no one should expect anything less.
Safe to Assume They Think It's a Boy
This next photo shared by expecting parents looks like this is a combination of a pregnancy announcement and a gender reveal all in one. The family was definitely trying a unique and creative approach with their reveal. They photographed a sign that read," Adding another wiener to the pack," and surrounded it by a bunch of hotdogs from the grocery store. So we're guessing they have a lot of boys already and are about to welcome another.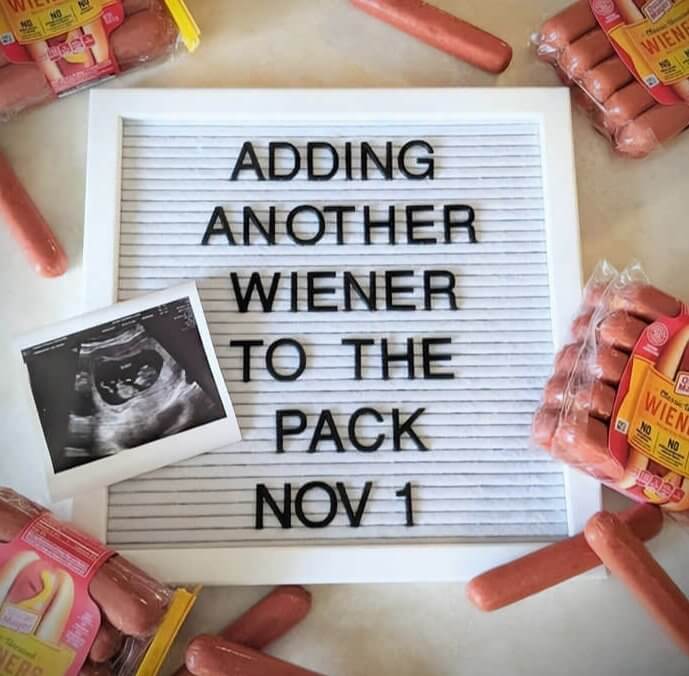 We just hope those hot dogs were eaten and didn't all go to waste.
The Laundry Pun We Never Knew We Needed
Can you imagine finding out that you are going to have a baby and the first thing that comes to mind when you consider sharing the news is a dirty pun about washing machines and loads? Because this couple certainly can imagine that! They photographed themselves in their home's laundry room. The mom-to-be sat next to the machines holding a sign that said, "I also took one too many loads." Alright, then!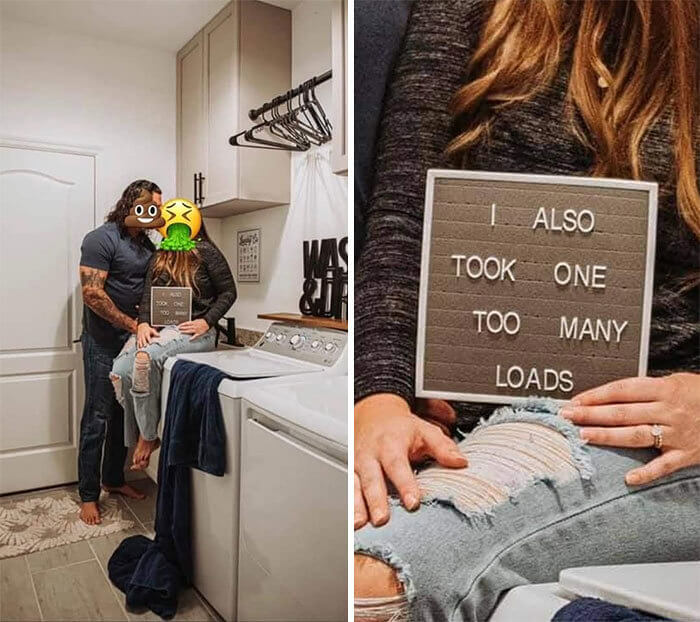 It seems like they're big fans of laundry and puns.
We Wonder if They Were Allowed to Enter the Disney Parks
Although most people can really appreciate a nice, creative Disney t-shirt, this couple might've taken things too far. Disney is supposed to be a family-friendly place, and it's safe to say these t-shirts are not family-friendly. Thankfully, most children won't understand the meaning behind these shirts. Plus, even if they did, they'll probably be too distracted by everything Disney has to offer to stop and read this couple's shirt.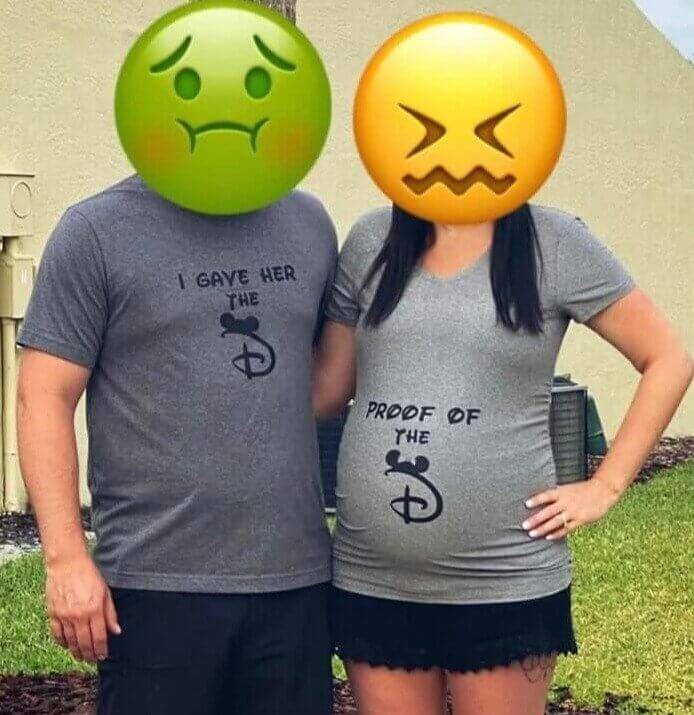 Maybe they just wanted to make sure the entire crowd at Disney knew that this man was the father of this child. They didn't want there to be any doubt at all about that, so they created these shirts. 
Meet Dad, Dad, and Uterus
Have you ever wondered what it would feel like to be a surrogate mother? Well, here is a sneak peek into the world of surrogacy and how some people view themselves and others in the situation. This couple decided to go with surrogacy to bring their baby into the world and decided to do a pregnancy shoot with the surrogate mother involved. Everyone held a sign and her sign simply said "uterus."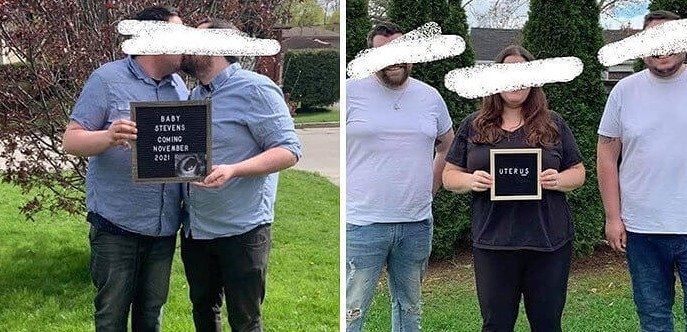 Some people may think this is funny, and perhaps this is just her take on her contribution to the situation.
So We're Guessing He's a Tow Truck Driver
We've seen a farm pun, a truck driver pun, and now we have a towing pun. This dad works as a tow truck driver, and so the family decided to announce their new addition with a sign that said, "I guess the only thing he's good at pulling out is vehicles!" Well, it's definitely punny! They added to the pun of it all by posing with the poster in front of the towing truck.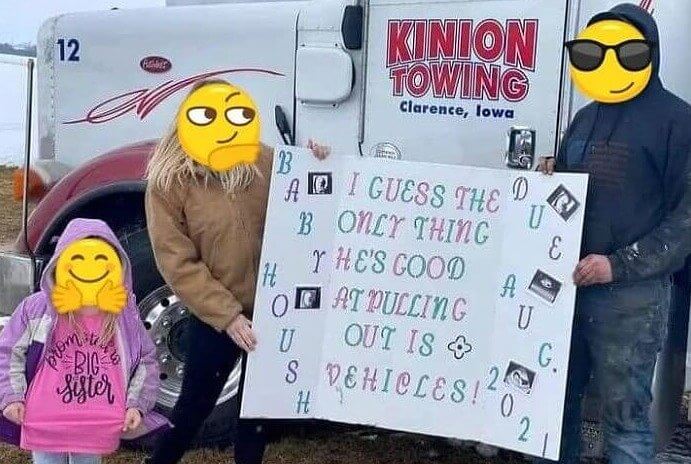 It's clear they spent lots of time and effort making this sign, designing it with multiple colors, and adding in pretty details.
Time to Move Out
Although eviction notices are no joke when they happen in real life, this was a cute take on announcing that their toddler would be moving out of the crib to make room for a new baby. We can't help but wonder how they got the kid to cry like this. Maybe the child is already an amazing actor, or maybe they waited for him to have a toddler tantrum and pulled out all of the props just in time.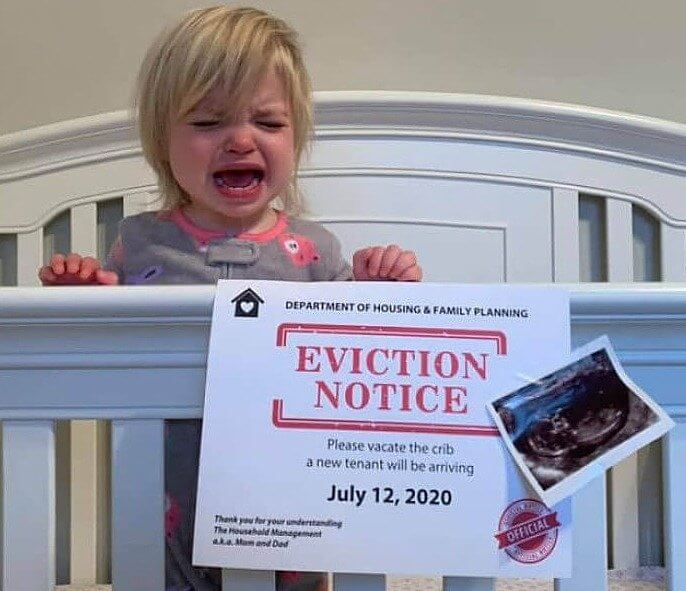 This kid will probably get an even bigger and better bed to enjoy. They may be crying now, but that will soon change!
They Also Got Cuffed up
In another birth announcement, another couple hwo used the dad's profession as inspiration. The dad is wearing his cop uniform, and they wrote, "Instead of getting locked up, we got knocked up." And we'd say they also got cuffed up – but not by handcuffs; we mean the "cuffed up" that is slang for being in a relationship. You see, we can make clever puns related to people's professions, too!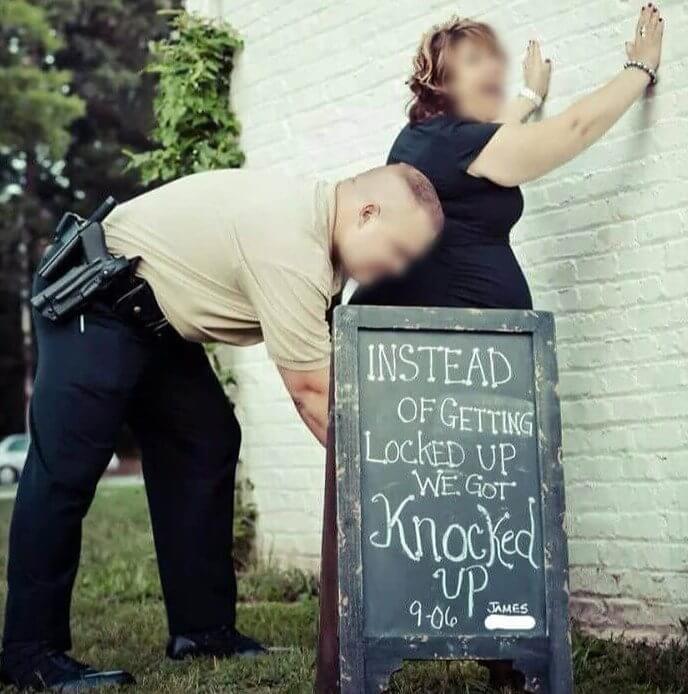 The whole pun is enhanced by the way the parents are posing with one another.
They'll Still Be Needing Plenty of Those Clorox Wipes Now
It looks like some of these pregnancy announcements could work very well as ads for protection as well. "We stocked up on the wrong protection," this couple wrote on a sign. Around the announcement, they placed a mask, some toilet paper, and Clorox wipes. This is clearly a quarantine-related joke. But the good news is that, once the baby arrives, they'll need plenty of cleaning supplies! So they're one step ahead.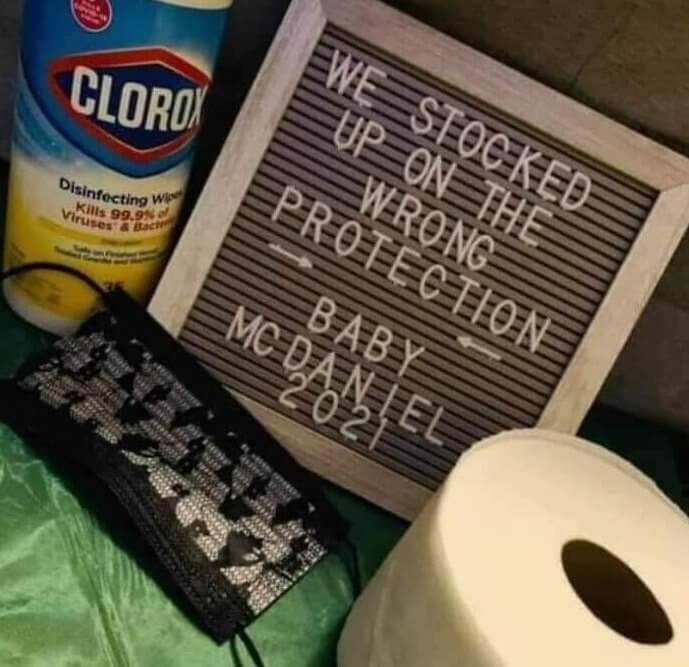 We just hope they're excited about the news and not upset that they got the wrong type of protection!
We Could've Gone Without the Warning Sign
Everyone knows kids can be challenging, and it looks like these expecting parents wanted to make that a part of their birth announcement. "Gremlins 2 – the second batch coming August 2021," they wrote on a sign positioned behind their toddler. They also splashed some water on their child (which he or she doesn't look too happy about) to match the unexpected warning sign stuck on the wall.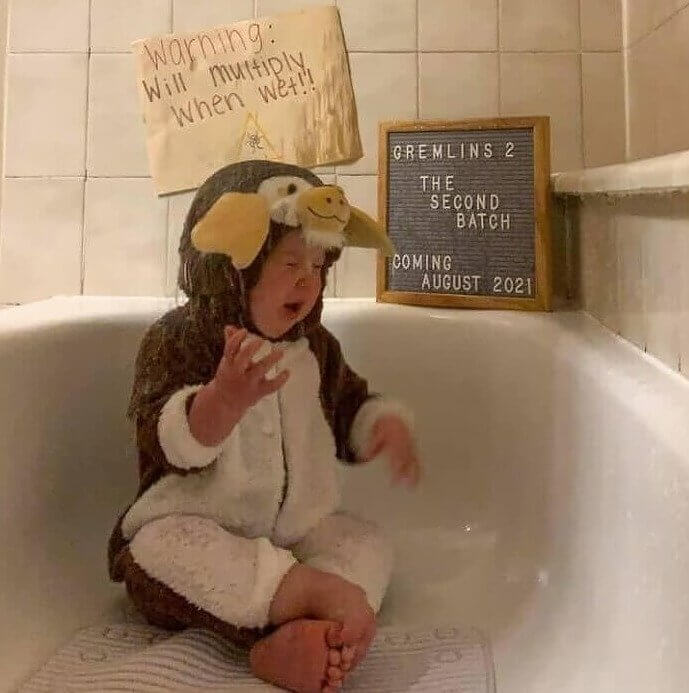 "Warning: Will multiple when wet!!" the sign says. This one left us pretty speechless.
Her Eggo Is Prego
If you can use your pregnancy announcement as a way to make a few people laugh, then why not do it? This couple, who already has at least one kid, thought it would be funny to incorporate some food puns into their latest pregnancy update. They grabbed a jar of their favorite pasta sauce, made their favorite dish, and added in a few words as they ate their dinner and took a family photo.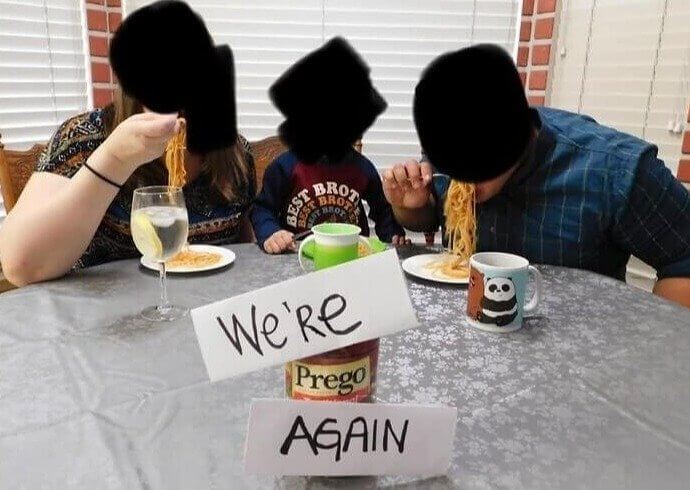 They blocked off the words on the rest of the sauce jar and left enough space to write out "We're Prego Again." It is a cute and funny way to share the news with everyone!
They'll Be Needing a New Car
Everyone is familiar with the signs on the back of cars that say "baby on board," urging surrounding drivers to be careful with their maneuvers. This seems like it is almost the exact opposite. Rather than asking others to be cautious, they put the car seat in the back of the trunk. Talk about reckless! But we're sure this was just for the announcement, and they will be using a different car once the baby actually arrives.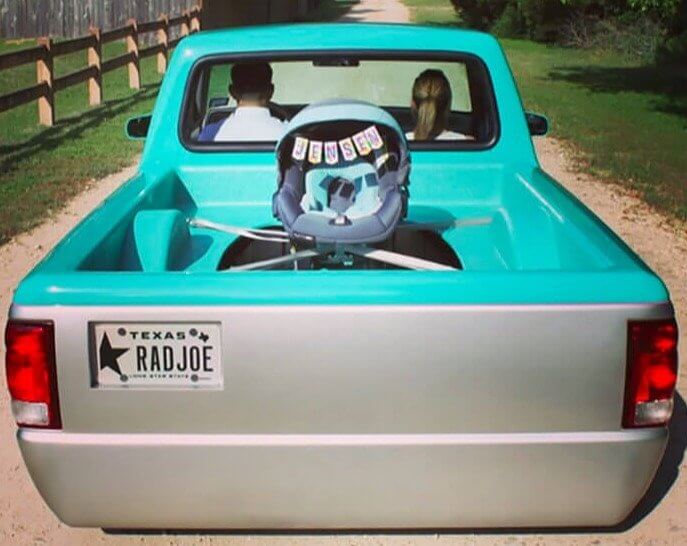 Now that we give it a second glance, we're not even sure this is an actual vehicle. Where are the wheels?
If She's Belle, Is Dad the Beast?
There are so many aspects of this photo and pregnancy announcement that it is hard to focus on just one of them. Maybe the most attention-calling part is the height sign behind the expecting mother. It appears she's a whopping six foot eight inches tall! That's going to be one tall baby. Although according to the little sign, she's having pups, not babies. That must be because she's Belle, and dad is the Beast (from Beauty and the Beast).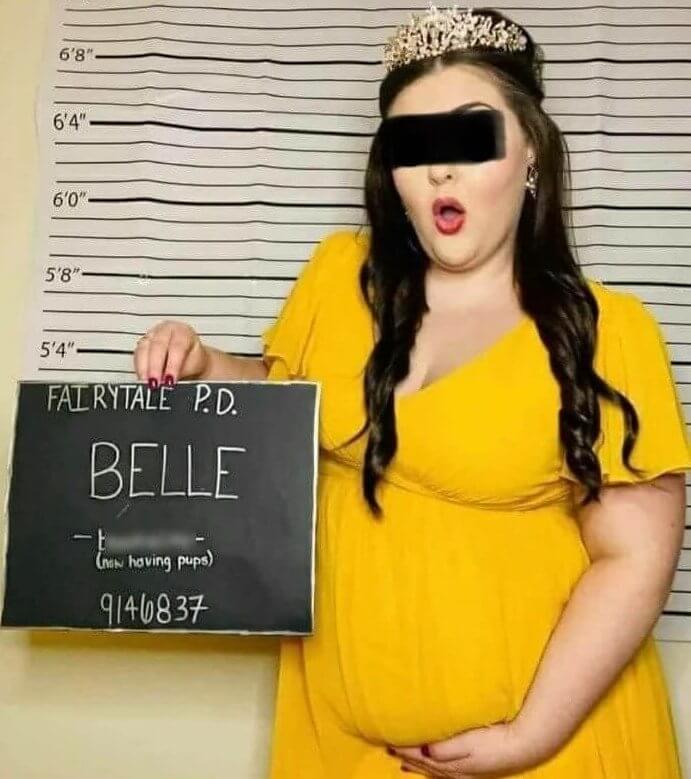 At least we hope that's why she's calling her babies pups. The Beast wasn't a dog, but we'll overlook the discrepancies.
We're Dying to Know How They Pulled This One off
This pregnancy announcement is a unique and sweet way to tell the world. This mother decided to combine her daughter's ultrasound photo with the northern lights as this is such an important part of her life. And she will even be naming her child Aurora. "I decided to name my baby girl after my favorite solar show, Aurora Borealis. I am naming her Aurora and have been chasing after the lights long before I was pregnant and will continue to bring her along on our hunts for the lights," mom explained.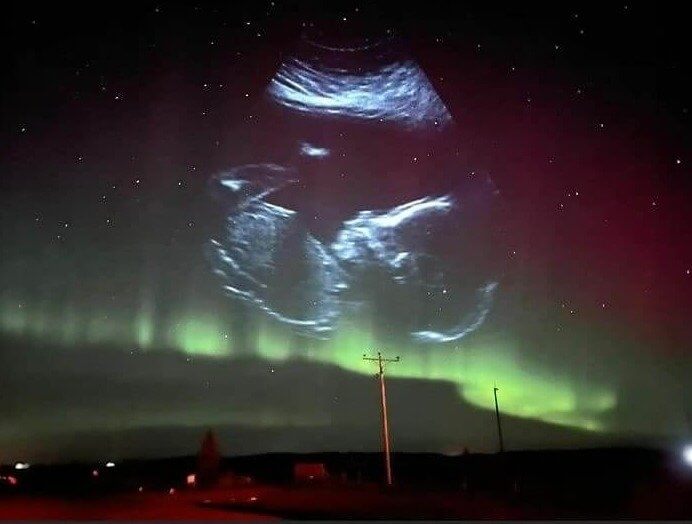 Now we just need to know how they pulled this off – a holograph or photoshop?
Nothing Wrong With a Corona Belly, Though
Although many would have thought that the Coronavirus would have ended up lowering the world's population (as is typical of pandemics), it may have had the exact opposite effect. As people were stuck inside their houses and quarantined with nowhere to go and nothing to do, they turned to alternative means of entertainment. As seen in this pregnancy announcement, that form of entertainment resulted in what has been dubbed by some as "corona babies."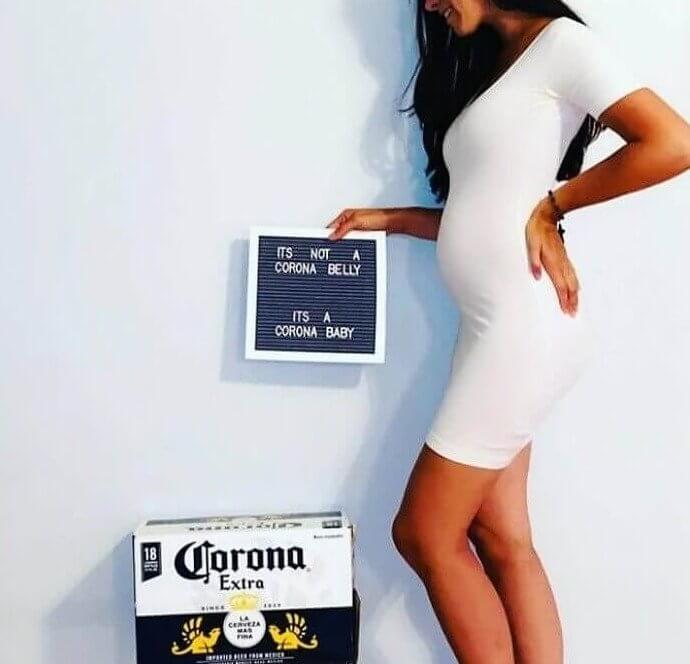 We just hope that pack of Corona beers will only be enjoyed by the nonpregnant members of the family.
We Wonder How Many Babies Were Born Because the NFL Took a Break
This is perhaps one of the most confusing announcements yet. What is the correlation between not having hockey and now being pregnant? Oh, wait a second – we think we figured it out. When the pandemic first started and we were all forced into quarantine, hockey athletes were in quarantine, too. This couple must be fans of watching hockey, so when the players had to take a break, the parents-to-be had time on their hands for other activities.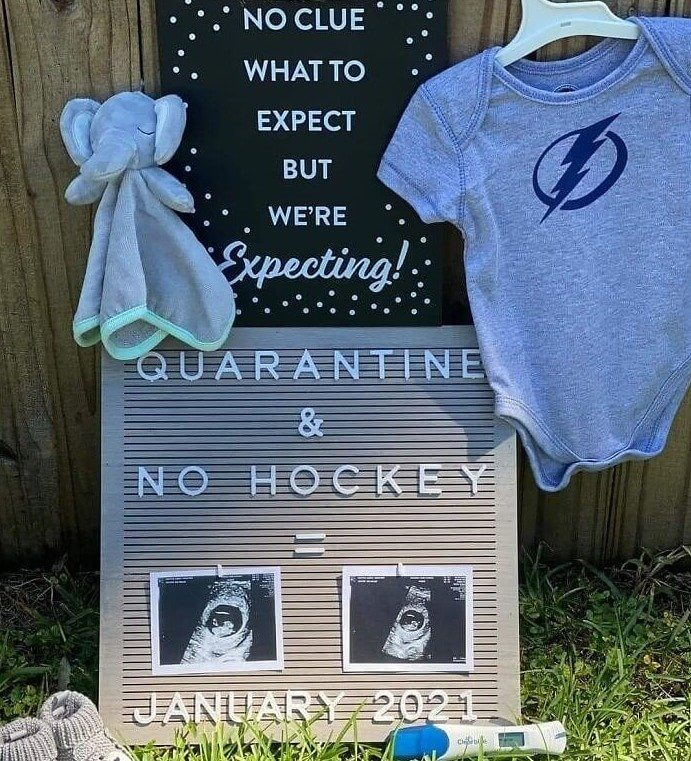 It is also unclear if they are expecting twins or if they just decided to include two ultrasound photos in their announcement. There is only one set of booties, so maybe it is just two photos. 
We're Just Impressed They Own so Many Lawnmowers
This pregnancy announcement is both cute and funny, despite the fact that it doesn't feature any humans in the photo. These parents are most likely both landscapers, gardeners, or simply people who love to spend a lot of time taking care of their yards. To tell the world that they are adding another member to the family, they bought a little lawn mower for their child to eventually use.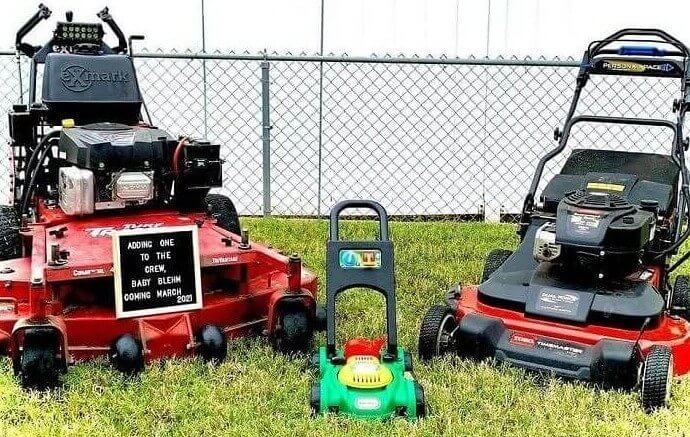 We also love that the "mom" and "dad" lawnmowers are both large but still manage to look different. Do they just have those sitting in their garage?
Gender: No Weenie
Although it may not be the most elegant gender reveal, it's pretty harmless and humorous. Everyone has heard of the countless horror stories of gender reveals gone entirely wrong, and there was no way for anything like that to happen here. The couple posed adoringly, staring at each other lovingly while the mom held a case with a hotdog-less bun. The dad held a sign that says: No weenie."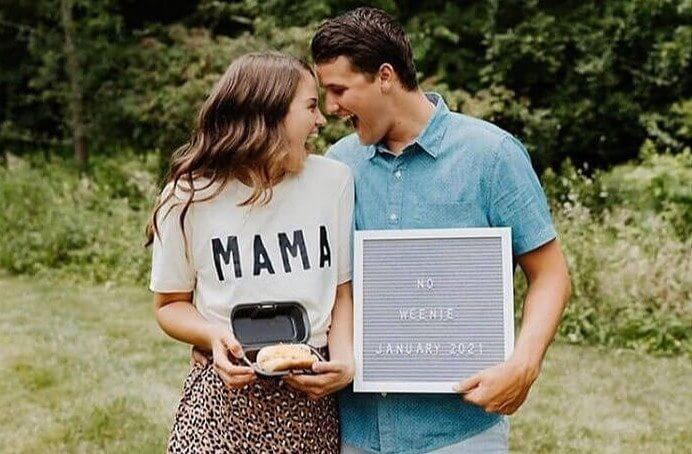 They look very excited for their new baby as they hold the empty hot dog bun for their "weenie-less child."
The Farmer and the Crop
Based on the innocent and sweet outfit that this woman is wearing, it appears that this was meant to be a cute way to announce their upcoming child. However, they still managed to lean a bit into the inappropriate side (in a sneaky and clever way). "Daddy planted the seed… Now mommy is growing me!" reads the cardboard sign held by the overall-sporting mother-to-be. We're guessing they love gardening!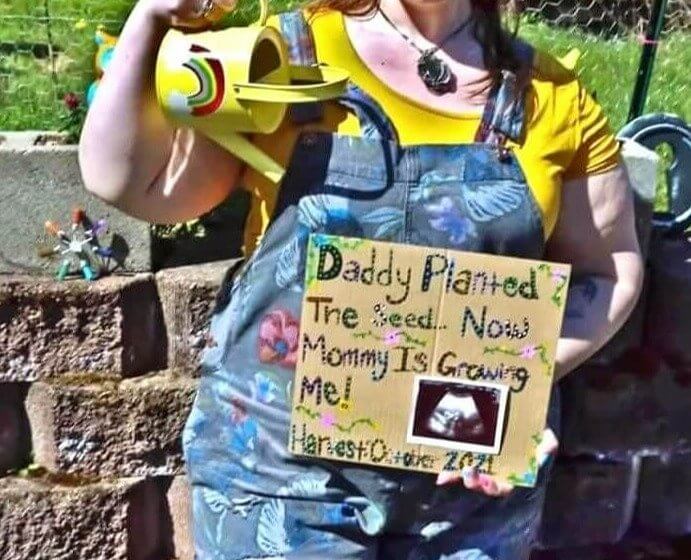 They really went all out with the overalls and the watering can. The overalls even have flowers and birds all over them like a garden. Maybe they will even name their child after a plant. 
Oh Dear, What Is Happening On The Farm
If the first picture with this theme did not shock you, prepare to be truly surprised when you realize that there is more than one couple that thought of this cow-breeding farm pun for their announcement. It's pretty likely that everyone already knows that these two are farmers, so they used their professions and passions to announce there would be a new addition to the family in not too long.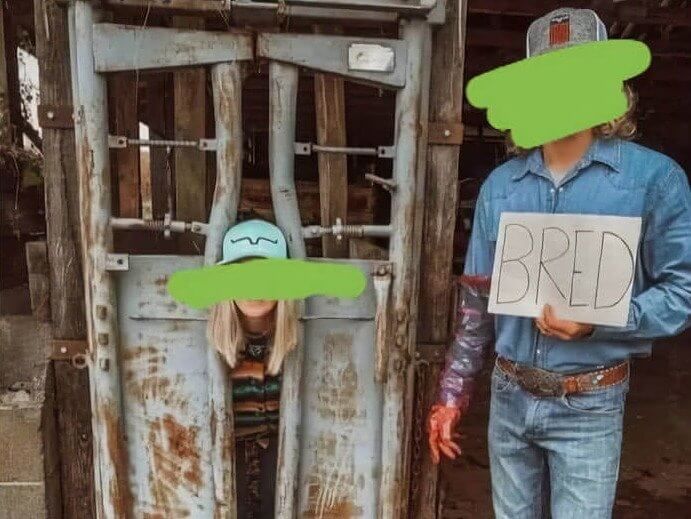 Who would have thought that so many people want to make farming puns in their birth reveal?
BaByQ
Just in case you were in the mood for a BBQ, these parents have you covered. Although you probably never would consider combining the themes of burgers on the grill and buns in the oven with a new baby, there are always some oddly creative people in the world to think the unthinkable. So hopefully, you will enjoy the BaByQ, and they will have some yummy burgers and buns there.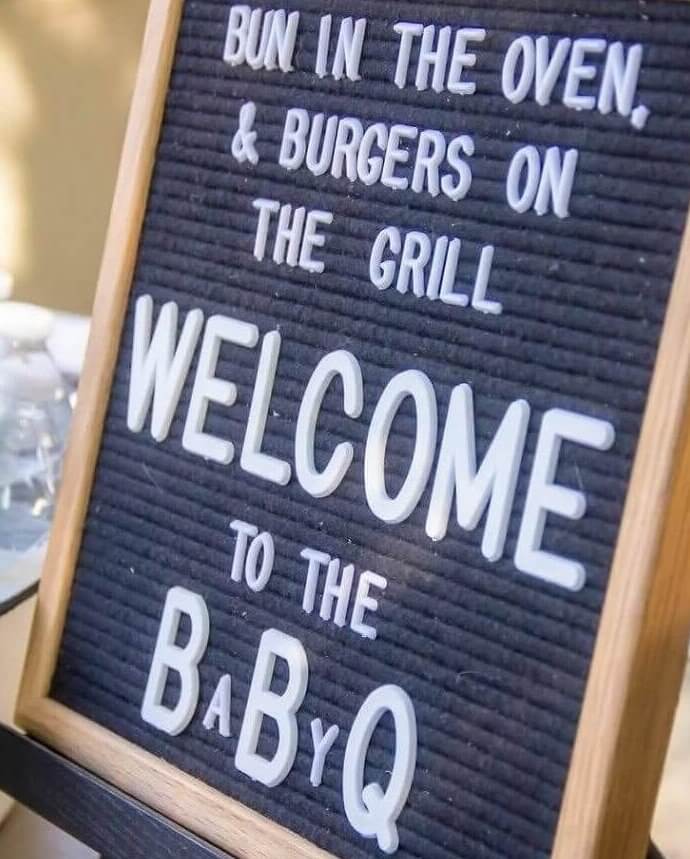 Is this just a random sign that they made to announce the pregnancy to everyone, or was it actually a BBQ party event? Hopefully, it was the latter.
Blessed Be the Fruit
You might have thought that the first couple on this list was very strange for choosing The Handmaid's Tale as the theme for their pregnancy announcements, but maybe you shouldn't have been so surprised. This is a common idea, and the photo below proves it. This mom also dressed up as a character from the hit series and posed next to a sign that said, "Blessed be the fruit," which is one of the most well-known sayings from the show.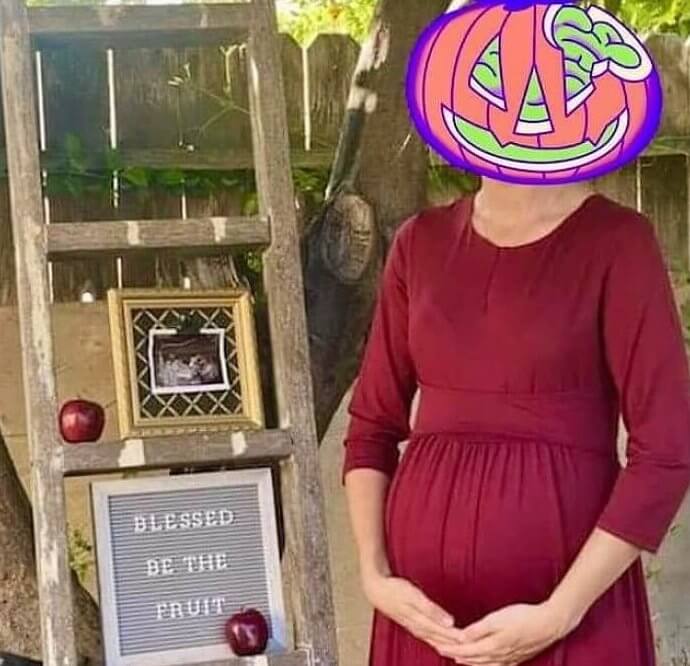 Given the show's premise, we have mixed feelings about this theme. But hey, whatever floats their boat!
Mom Likes Dad in Uniform
And here we have another family whose dad works as a cop, and they decided to incorporate that into their birth announcement. "Daddy's backup is on the way," they wrote. The onesie with the interesting phrase may be the thing that stands out the most. Can you imagine putting this on your child and writing, "I'm proof that Mommy can't resist Daddy in uniform?" That'll definitely get some entertained looks on the street.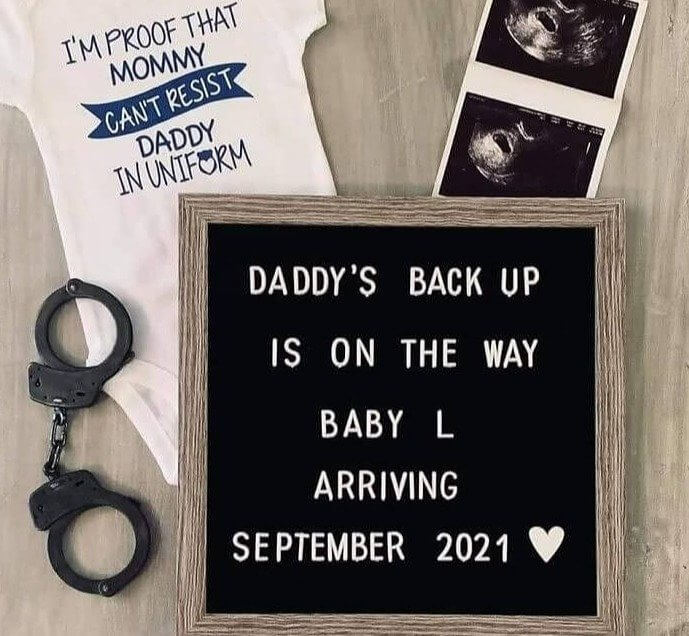 That onesie, along with the handcuffs, seems like this couple shared a bit more about their personal life than their loved ones imagined.
These Parents Were Hard at Work During Quarantine
It's no secret that the birth rate increased significantly due to the recent pandemic. People spent a lot of time inside their houses, bored and without much to do with themselves. There were many people who chose to get busy, in one way or another, and lots of people started to create babies. This couple was busier than most and had two babies, thanks to the different lockdowns.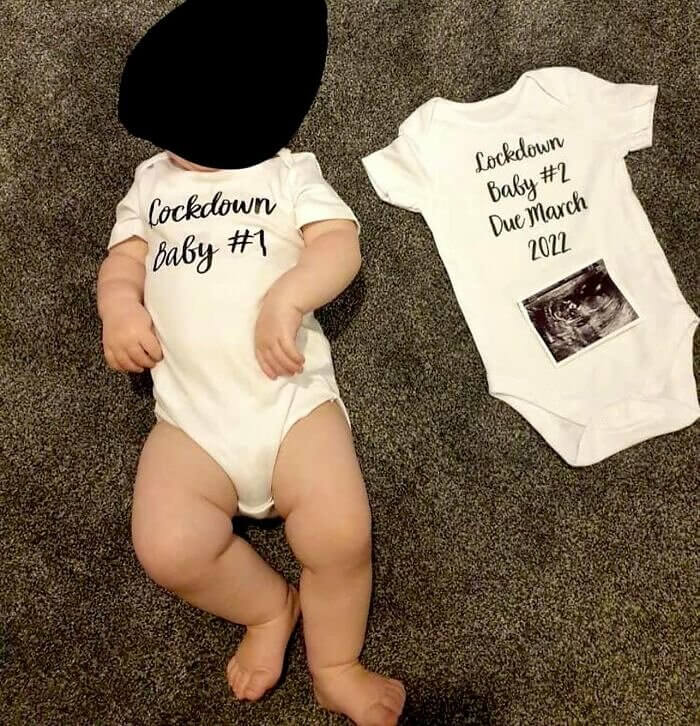 Can you imagine how many babies they would have if there were more lockdowns? Is that their rule, one baby for each lockdown?
Throwback to When Toilet Paper Was Out of Stock
So this may look like an ordinary, cute pregnancy announcement until you realize that the heart shape that they created was made out of toilet paper rolls. Although at first, it simply makes no sense and seems like a weird choice of prop, you can then see that their entire theme is quarantine (hence the toilet paper roll addition). The funniest part is that they had to save quite a few rolls of toilet paper to create this.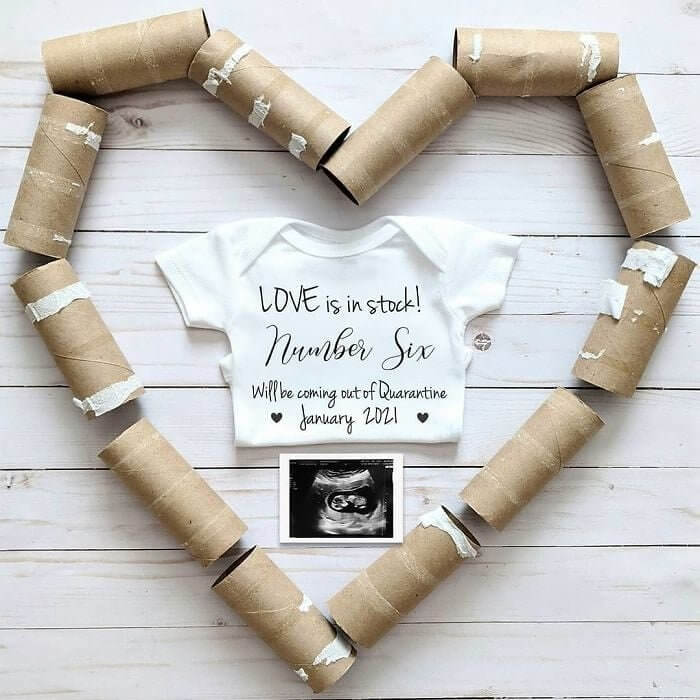 Considering this is their sixth child, they must have been pretty bored with the regular announcements and wanted to do something different this time. 
Literally and Figuratively Spilling the Beans
It looks like the time finally came for this couple to share the big news with the world. They wanted to spill the beans to everyone and let them know that they were pregnant with twins. Although most people think of a different type of bean when they hear this phrase, coffee beans are unarguably the cuter option, especially when it comes to a pregnancy announcement. After all, who doesn't love coffee?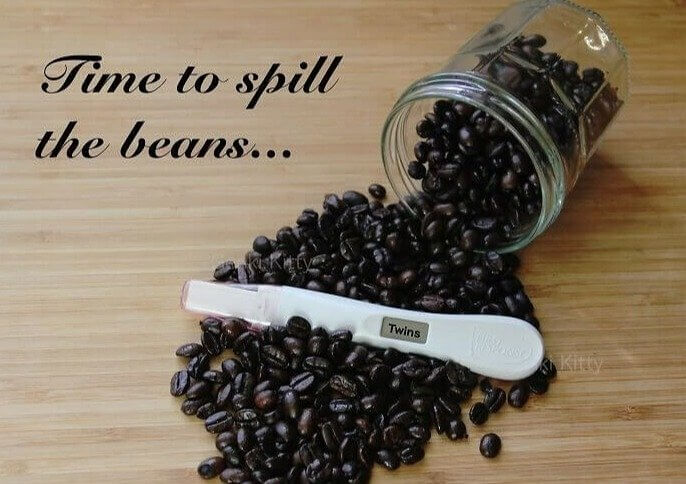 Once they have twins, they will need to save all of that precious coffee to help them stay awake after all the sleepless nights.
We Had to Read This One Twice
Almost all parents dream about their kids growing up to be a little mini version of themselves, and this police officer is no exception. They are very excited for their new child to join the police force, just like its father. Although it may be a little too early for such hopes and dreams (maybe the child will want an entirely different life), they are probably hoping for a cute father and son situation.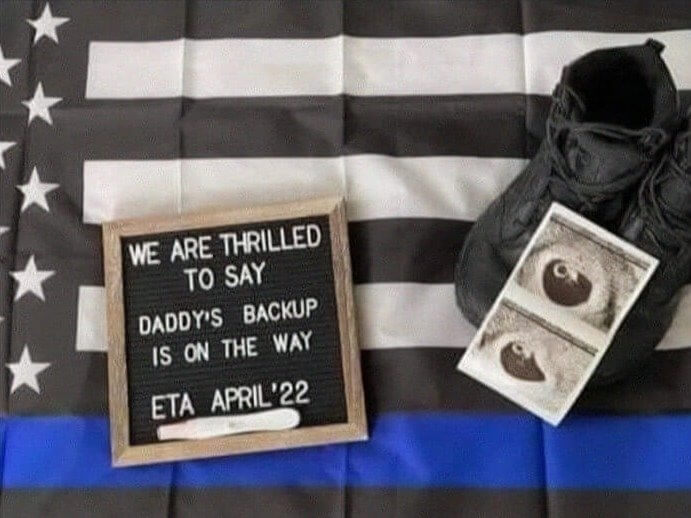 Although "daddy's backup is on the way," it looks like they still have some time to wait before he officially arrives. Hopefully, this child is ok and excited to be joining the police force at a young age. 
Apparently, Timbits Are Hybrids of Long Johns and Donuts
Now this one will most likely not make any sense at all unless you can understand the context of the random donuts lying on the sled (most people, however, are donut ignorant). The caption read, "Long John + Regular Donut = Timbit." To translate that, they are saying that the Long John donut (a long stick-like donut) combined with a Regular Donut (with a hole in the center) combined to create a Timbit (donut hole).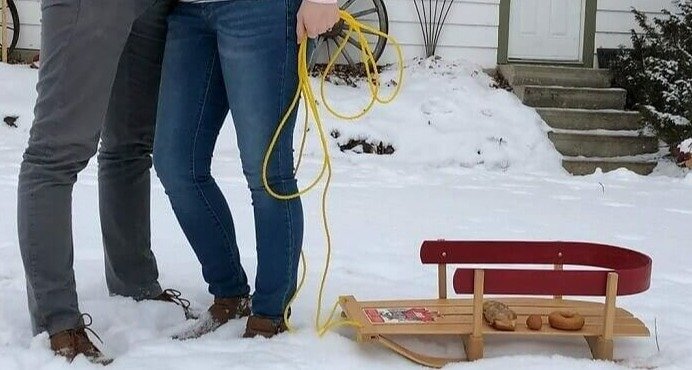 We just have one burning question: why are the donuts on a sled outside in the snow?