What is the one thing that actors do the best? Pretending to be someone that they're not, of course. Some actors are really good at it while others – not so much. Keep on reading to find out about those actors who portrayed historical figures and not only played the role, but they became the role and captivated everyone with their enchanting performances. Grab your popcorn and let's get started.
Eddie Redmayne And Felicity Jones As Stephen Hawking With His Wife Jane Wilde In The Theory Of Everything (2014)
If you haven't watched the movie 'The Theory of Everything', you should definitely watch it. The two actors, Eddie Redmayne and Felicity Jones, were spot on with everything that ranges from their acting to their resemblance to Stephen Hawking and his first wife Jane Wilde.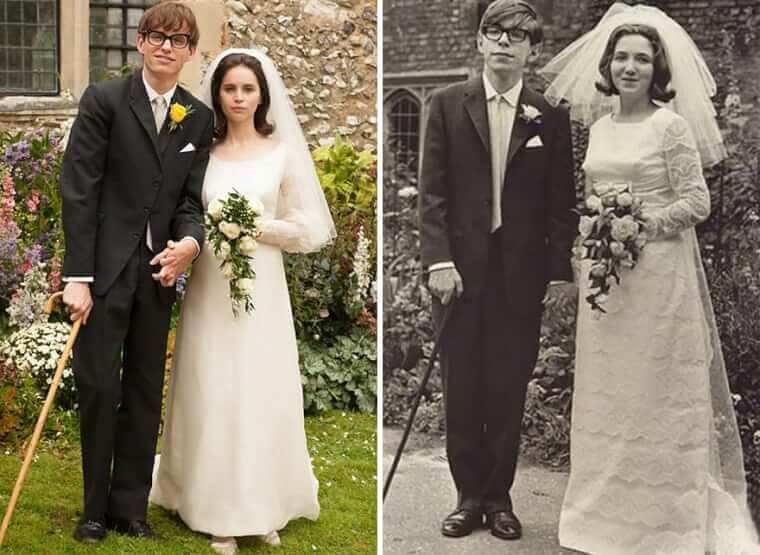 Eddie Redmayne won the Academy Award for Best Actor. Facility Jones was also applauded for her acting and she won nominations for the Golden Globe, SAG, BAFTA and Academy Award for Best Actress.
Jamie Foxx As Ray Charles In Ray (2004)
If you make the first picture full black & white, it'll be super difficult to say who the real one is. Jamie Foxx is a remarkably talented actor who has earned many awards in his career. But his portrayal of Ray Charles in the 2004 biographical film Ray was nothing short of special.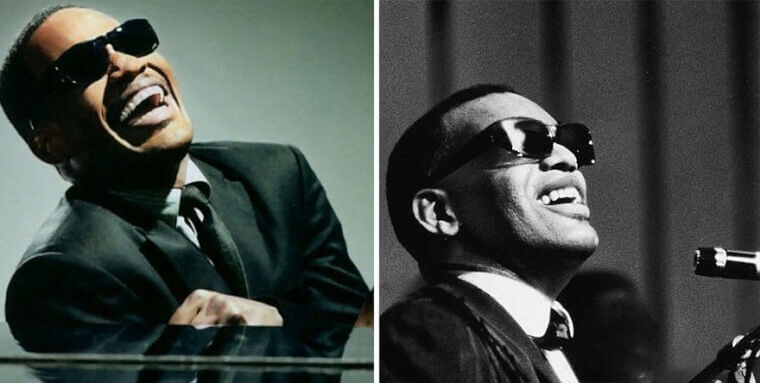 Such was powerful acting of Foxx that he won an Academy Award for Best Actor for his performance as well as the Golden Globe, BAFTA, Screen Actors Guild, and Critics' Choice awards. He became the only actor to win the Golden Globe in the Musical or Comedy (rather than the Drama) category and second actor to win all five major lead actor awards for the same performance.
Ben Kingsley As Mohandas Karamchand Gandhi In Gandhi (1982)
There was no obvious choice than Ben Kingsley for 1982's epic historical drama film 'Gandhi.' The winner of an Oscar, a Grammy, a BAFTA, two Golden Globes, and a Screen Actors Guild Award did absolute justice to the role and delivered a performance that moved everyone.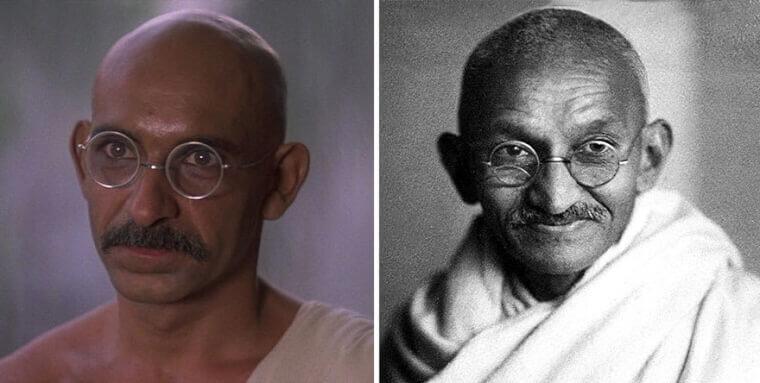 As expected, the film was a critical and commercial success. The film was nominated for Academy Awards in eleven categories, winning eight, and that includes Best Actor for Ben Kingsley.
Robert Downey Jr. As Charlie Chaplin In Chaplin (1992)
It can be said that the 1992 British-American biographical comedy-drama film titled 'Chaplin' convinced people to take Downey more seriously. He prepared extensively for the role and won BAFTA award for best actor.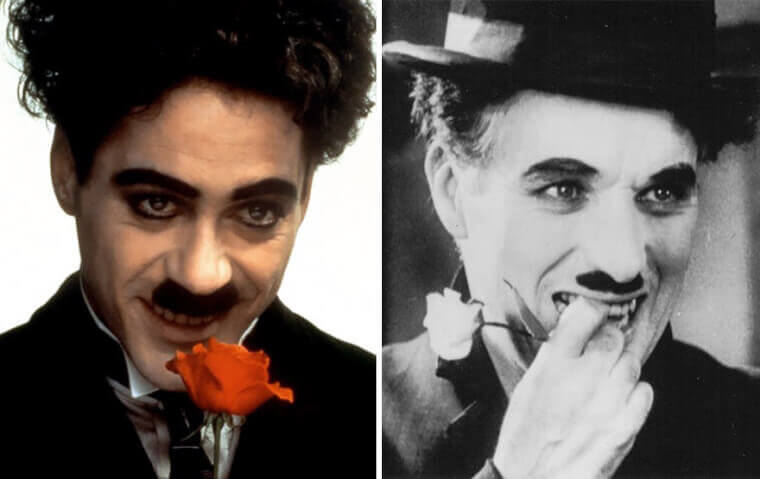 It is worth mentioning here that this role helped him earn some much-needed recognition. It is because Downey became a part of the youngest cast of Saturday Night Live in 1985 and most of the crew was dropped/replaced a year later. Rolling Stone magazine named Downey the worst SNL cast member in its entire run, stating that the "Downey Fail sums up everything that makes SNL great."
Val Kilmer As Jim Morrison In The Doors (1991)
Many people who have watched the movie 'The Doors' are convinced that it is really difficult to tell the difference between Val Kilmer and Jim Morrison.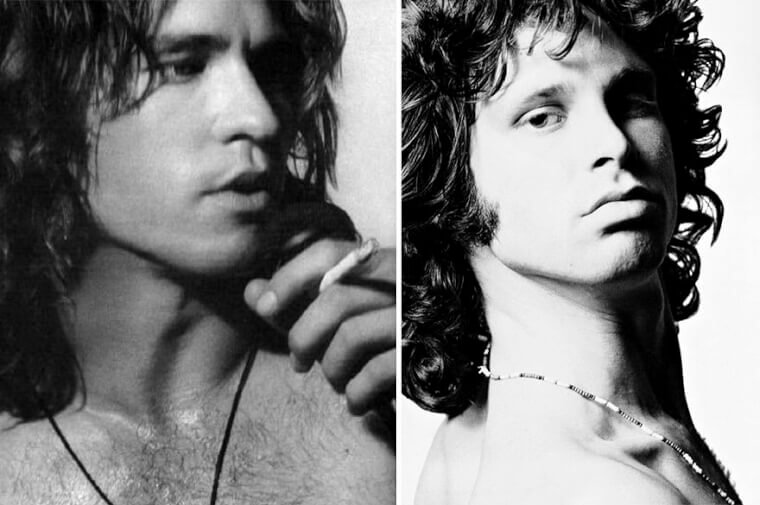 The Doors received mixed reviews from the critics, but Rolling Stone gave the film four out of four stars. The movie was not well received by Morrison's bandmates, close friends, and family, due to its depiction of Morrison, but Kilmer's acting was amazing.
Meryl Streep As Margaret Thatcher In The Iron Lady (2011)
When Meryl Steep plays a character, you are guaranteed to witness a truly exceptional performance. Often described as the "best actress of her generation," Streep portrayed Margaret Thatcher, the first-ever female and longest-serving Prime Minister of the United Kingdom of the 20th century.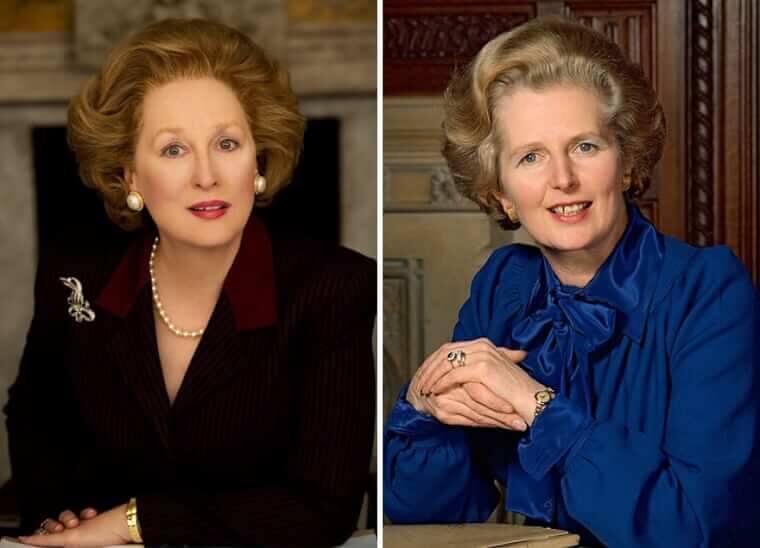 Streep called her casting "a daunting and exciting challenge" and attended a session of the House of Commons to see British MPs in action in preparation for her role as Thatcher. Her performance helped her win third Oscar and also her third Golden Globe Award for Best Actress – Motion Picture Drama award.
Cate Blanchett As Bob Dylan In I'm Not There (2007)
I'm Not There is a 2007 unconventional biopic that is inspired by the life and music of American singer-songwriter Bob Dylan. Amazingly, six actors played the lead role in depicting different facets of Dylan's public personas and one of them was Cate Blanchett. The others were Christian Bale, Marcus Carl Franklin, Richard Gere, Heath Ledger, and Ben Whishaw.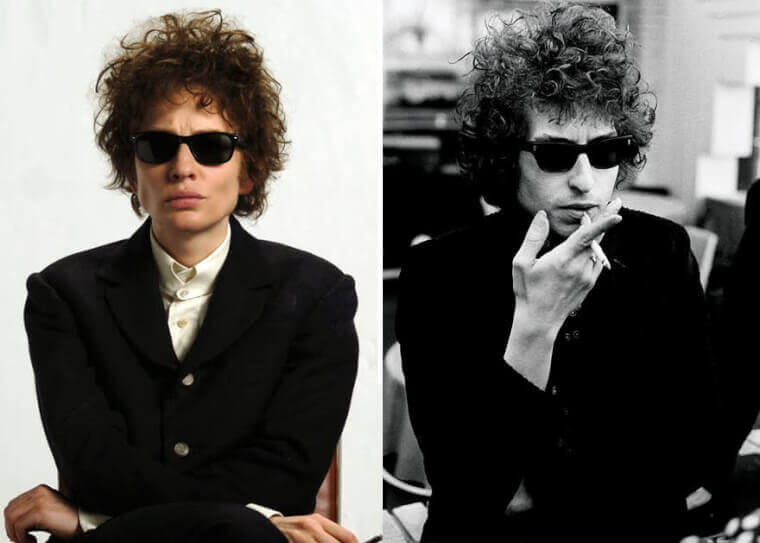 Blanchett was praised for her spectacular performance and it helped her receive Volpi Cup for Best Actress from the Venice Film Festival, the Golden Globe Award for Best Supporting Actress, along with a nomination for an Academy Award for Best Supporting Actress.
Daniel Day‑Lewis As Abraham Lincoln In Lincoln (2012)
Although Sir Daniel Michael Blake Day-Lewis has retired from the film industry, he will forever be hailed as one of the best actors. Many consider him as the greatest and most widely respected actors of his generation, and one of the greatest actors of all time.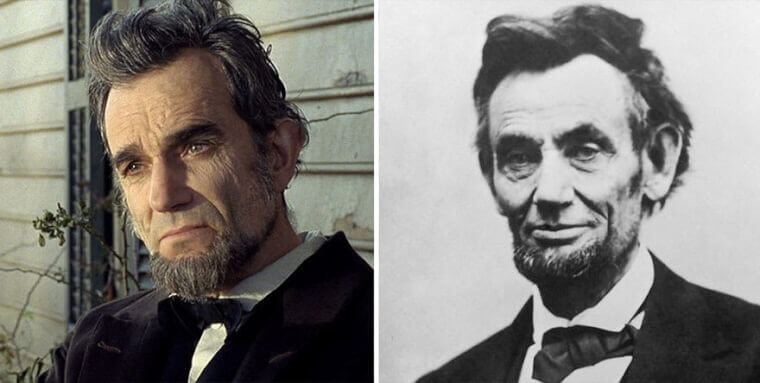 So when he portrayed Abraham Lincoln in the movie 'Lincoln', it was no surprise that his role received immense acclaim from everyone. After all, he spent a year in preparation for the role, read over 100 books on Lincoln and worked many hours with the make-up artist to achieve a physical likeness to Lincoln. He received a BAFTA Britannia Award for his performance.
Charlize Theron As Aileen Wuornos In Monster (2003)
Many people won't believe that beautiful Charlize Theron portrayed Aileen Wuornos in the biographical crime drama film about serial killer Aileen Wuornos, a former prostitute who was executed in Florida in 2002 for killing six men.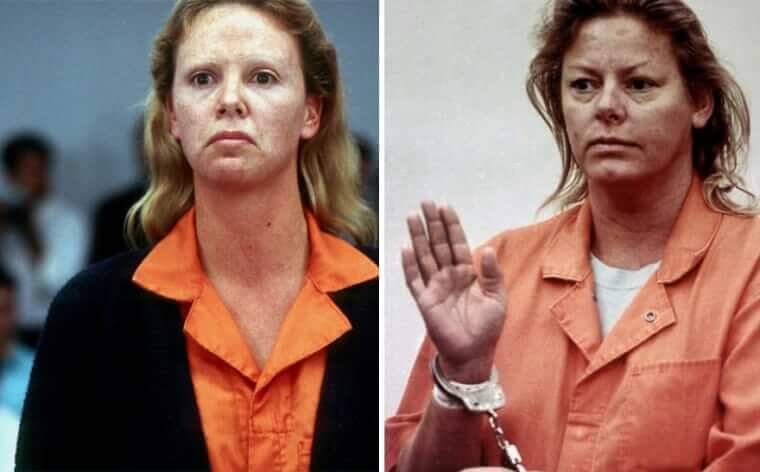 As he delivered a powerful performance, it wasn't a big surprise for everyone as the actress won Academy Award for Best Actress, Golden Globe Award for Best Actress and the Screen Actors Guild Awards for Outstanding Lead Actress.
Jennifer Lopez As Selena Quintanilla-Pérez In Selena (1997)
Jennifer Lopez played her breakout role as Selena in the 1997 American biographical musical drama film. It showed the life and career of Tejano music star Selena Quintanilla-Pérez, a recording artist well known in the Latino communities in the United States and Mexico. She was only 23-years-old when she was murdered by Yolanda Saldívar, the president of her fan club.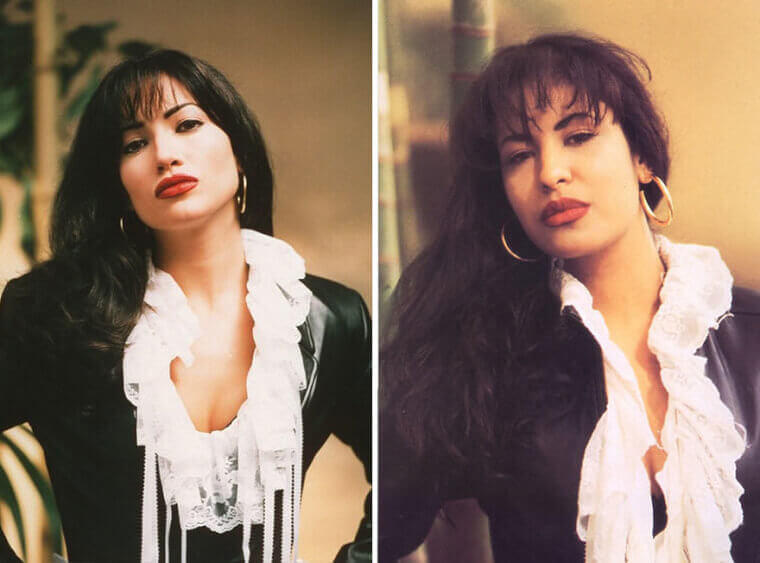 The film received positive reviews from critics and audiences. Lopez was nominated for Golden Globe Awards while she won ALMA Award for Outstanding Actresses in a Feature Film and Imagen Award for Best Actress.
Hellen Mirren As HM Queen Elizabeth II In The Queen (2007)
It won't be wrong to say that Hellen Mirren is an absolute class act and she was born for this brilliant role. In the 2006 British biographical drama film that depicts the death of Diana, Helen Mirren portrayed Queen Elizabeth II.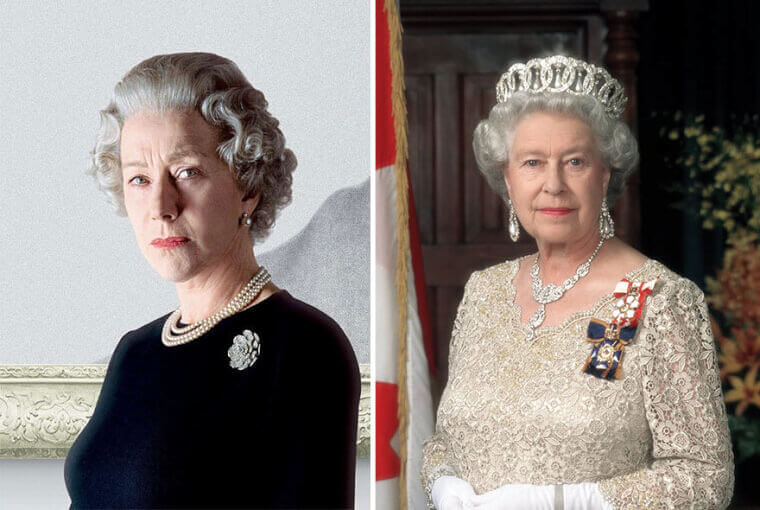 The role helped Mirren earn numerous awards and even the Queen herself praised Mirren's performance. She invited Mirren to dinner at Buckingham Palace, but the actress couldn't attend it due to some filming commitments.
Salma Hayek As Frida Kahlo In Frida (2002)
In the 2002 American biopic drama film Frida, Salma Hayed made a lot of people her fan with her surreal acting skills. Her acting helped her get Academy Award nomination.
The film itself received positive reviews from critics and even won two Academy Awards for Best Makeup and Best Original Score among six nominations.
Bruno Ganz As Adolf Hitler In Downfall (2004)
Bruno Ganz passed away on 16 February this year and the actor will be remembered for his memorable roles in movies such as The American Friend (1977), Jonathan Harker in Nosferatu the Vampyre (1979) and Damiel the Angel in Wings of Desire (1987).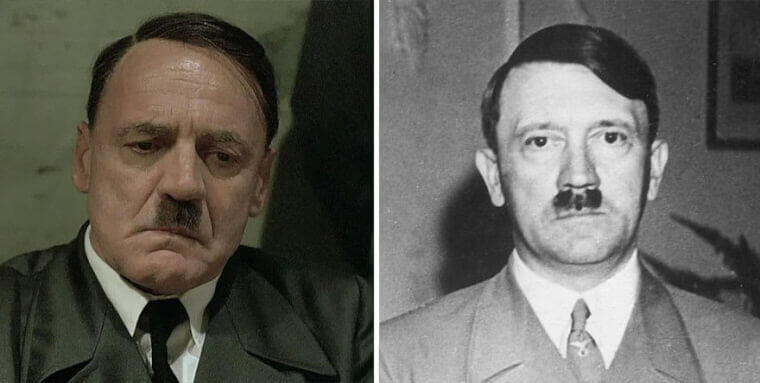 He received international acclaim for his portrayal of Adolf Hitler in the Oscar-nominated film Downfall. One of the critics from The Guardian described his performance as "the most convincing screen Hitler yet: an old, bent, sick dictator with the shaking hands of someone with Parkinson's, alternating between rage and despair in his last days in the bunker."
Nicole Kidman As Grace Kelly In Grace Of Monaco (2014)
In the movie Grace of Monaco, Nicole Kidman portrayed Grace Kelly. The children of Kelly described the film as "needlessly glamorized and historically inaccurate."
The Daily Mail praised the acting of Kidman, saying, "Kidman… rises regally to the occasion. She makes a wholly believable Grace, doubtless because she brings genuine wattage to her role as a genuine star."
Ashton Kutcher As Steve Jobs In Jobs (2013)
Although Ashton Kutcher's portrayal of Steve Jobs in the 2013 American biographical drama film was highly praised, the movie did not do well at the box office. It received mixed reviews from critics and viewers.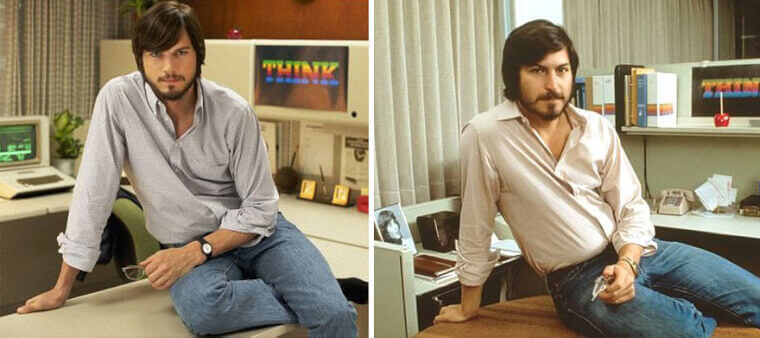 Peter Travers of Rolling Stone said that "Kutcher nails the genius and narcissism. It's a quietly dazzling performance" but also notes that "Jobs is a one-man show that needed to go for broke and doesn't. My guess is that Jobs would give it a swat."
Gary Oldman As Ludwig Van Beethoven In Immortal Beloved (1994)
Gary Oldman is known for versatility and expressive acting style. He is arguably one of the greatest actors of his generation. He has won an Academy Award, three BAFTA Awards, two Critics' Choice Awards, a Golden Globe Award and a Screen Actors Guild Award.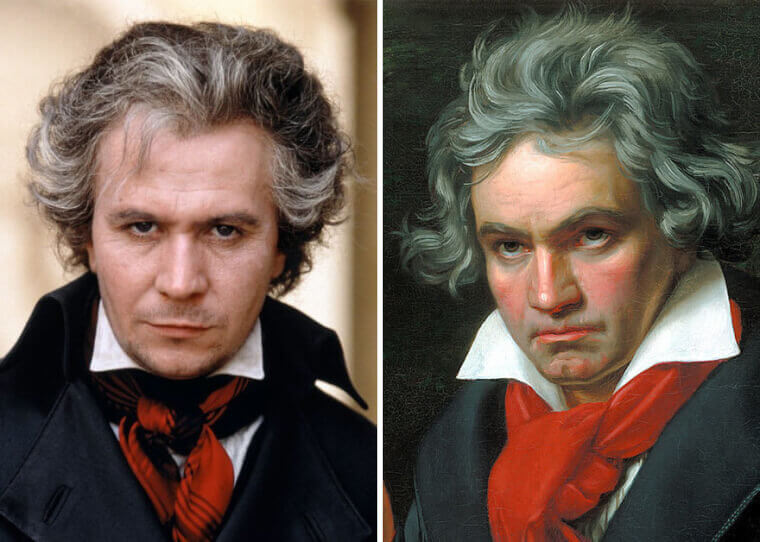 His performance in the movie 'Immortal Beloved' can be summed up with this comment from a critic: "Oldman's performance is unimpeachable. He dives deep into the role with powerful passion and makes the audience feel the pain of the genius as he loses his hearing and fails to shape his nephew into a similarly talented musician."
Kirk Douglas As Vincent Van Gogh In Lust For Life (1956)
Kirk Douglas is one of the last surviving stars of the film industry's Golden Age. He turned 102 years old in 2018 and it's been over 60 years since he portrayed Vincent van Gogh in the movie 'Lust for Life.'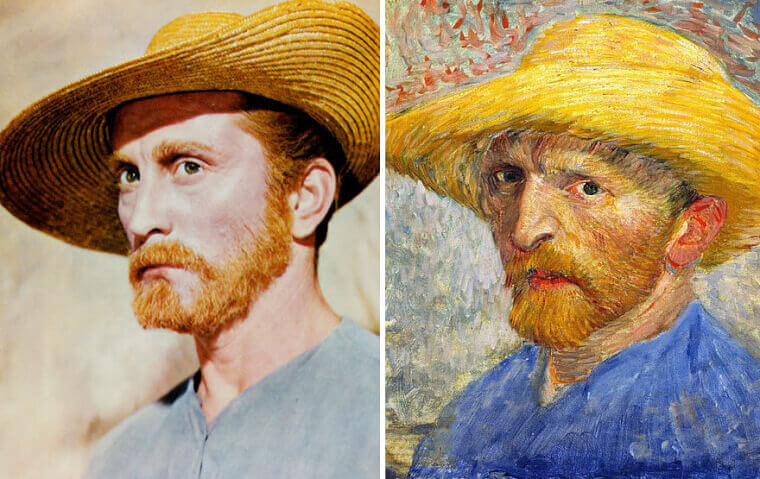 The film received mostly positive reviews and Douglas won the Golden Globe Award for Best Actor – Motion Picture Drama for his performance.
Marion Cotillard As Édith Piaf In La Vie En Rose (2007)
Marion Cotillard played her role as Édith Piaf in the movie La Vie en Rose (means Life in pink), which is La Môme in French.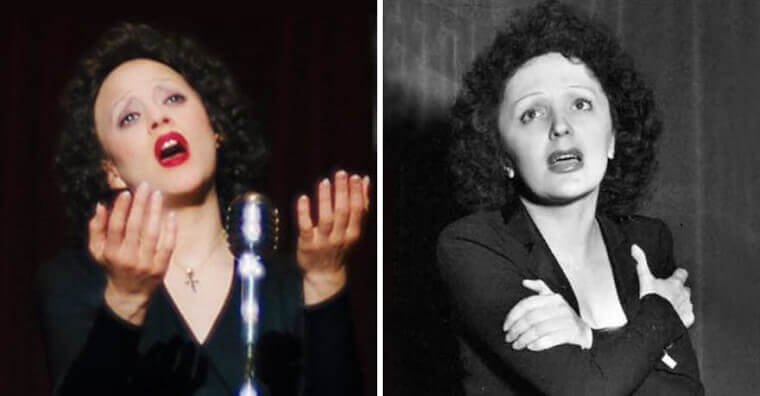 Cotillard's performance was so breathtaking that it helped her earn the following awards: Academy Award for Best Actress, the BAFTA Award for Best Actress in a Leading Role, the César Award for Best Actress in a Leading Role, and the Golden Globe Award for Best Actress – Motion Picture Musical or Comedy.
Anthony Hopkins As Alfred Hitchcock In Hitchcock (2012)
If you are a fan of Hollywood movies, then it is almost impossible to not like Sir Philip Anthony Hopkins. He is famous for movies such as The Silence of the Lambs, The Remains of the Day, Legends of the Fall, and many others.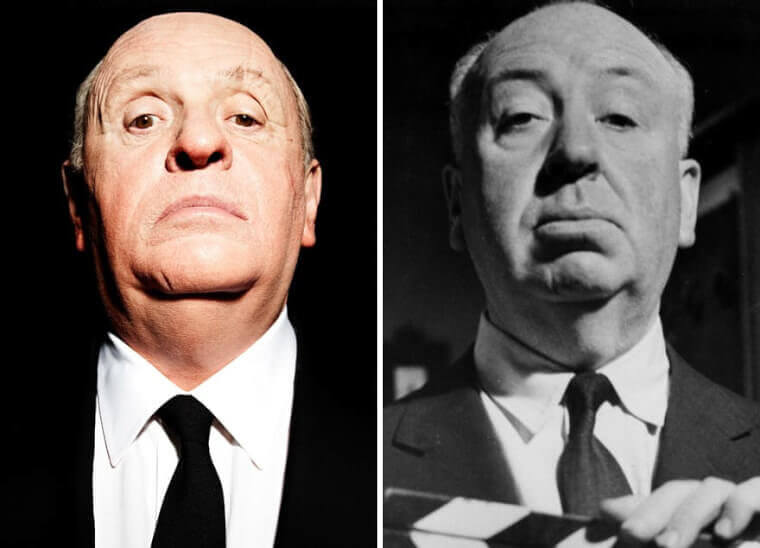 When Hopkins decided to work in the movie 'Hitchcock', he portrayed one of the most influential filmmakers in the history of cinema, Sir Alfred Joseph Hitchcock. Although the movie wasn't a huge success, Hopkins's performance was highly recognized.
Leonardo DiCaprio As Hugh Glass In The Revenant (2015)
Well, The Revenant was the first movie which helped Leonardo DiCaprio earn his first Academy Award ever.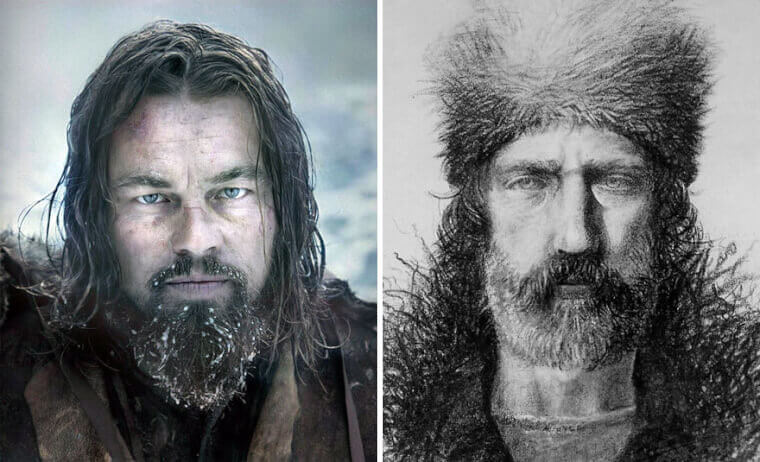 DiCaprio surely had to wait a lot for his first Oscar but it was definitely worth the wait.
Adrien Brody As Salvador Dali In Midnight In Paris (2011)
Adrien Brody starred in the 2011 fantasy comedy film 'Midnight in Paris' along with many others stars such as Owen Wilson, Rachel McAdams, Kathy Bates, Carla Bruni, Marion Cotillard, and Michael Sheen.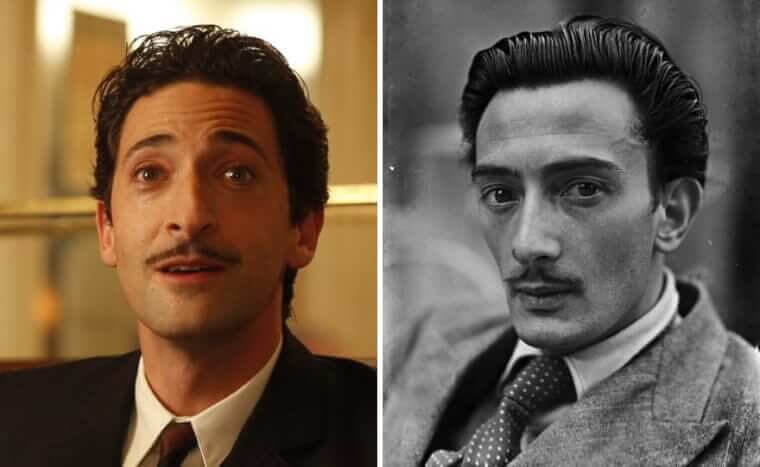 The film won both the Oscar for Best Original Screenplay and the Golden Globe Award for Best Screenplay. We must admit that Brody was sensational as Salvador Dali.
André 3000 As Jimi Hendrix In Jimi: All Is By My Side (2013)
Jimi: All Is by My Side is a drama film based on one of the most influential guitarists in history and one of the most celebrated musicians of the 20th century, James Marshall "Jimi" Hendrix.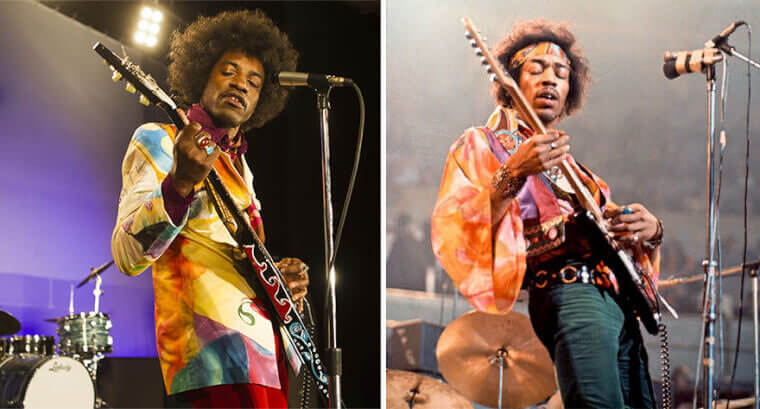 André 3000's performance as Jimi Hendrix was met with critical acclaims and earned him a nomination for the Independent Spirit Award for Best Male Lead.
Denzel Washington As Malcolm X In Malcolm X (1992)
When director Spike Lee decided to create an epic biographical drama film about the African-American activist Malcolm X, there was no better option than Denzel Washington.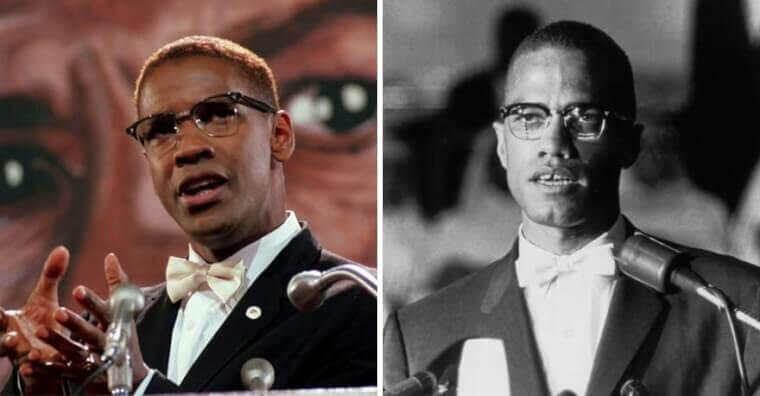 The actor proved why he was an automatic choice for the role. He won the New York Film Critics Circle Award for Best Actor and was nominated for an Academy Award for Best Actor.
Gary Oldman And Chloe Webb As Sid Vicious And His Girlfriend Nancy Spungen In Sid And Nancy (1986)
The 1986 British biopic portrayed the life of famous bassist of the seminal punk rock band the Sex Pistols, Sid Vicious (played by Gary Oldman), and his relationship with girlfriend Nancy Spungen ( played by Chloe Webb).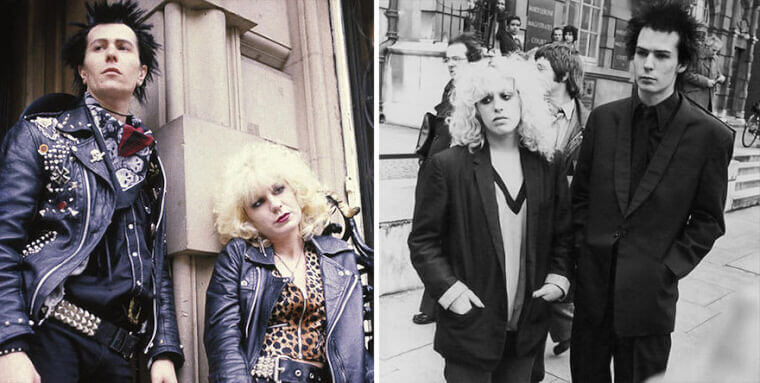 Although the movie wasn't able to recoup its production budget, the storyline and acting of both Oldman and Webb made the movie attain cult classic status.
Hannah Taylor-Gordon As Anne Frank In Anne Frank: The Whole Story (2001)
People who watched 'Anne Frank: The Whole Story' became an instant fan of Hannah Taylor-Gordon. The two-part-mini-series received critical acclaim from both viewers and critics.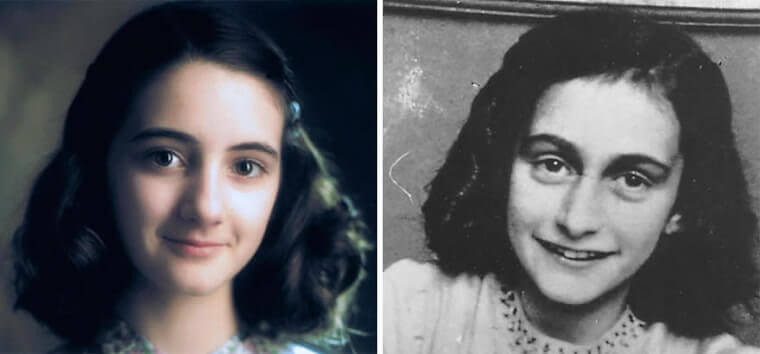 Unsurprisingly, Hannah Taylor-Gordon received both Golden Globe and Emmy Award nominations for her performance as Anne Frank.
Stephen Fry As Oscar Wilde In Wilde (1997)
In the 1997 British biographical film directed by Brian Gilbert, Stephen Fry's performance was highly appreciated.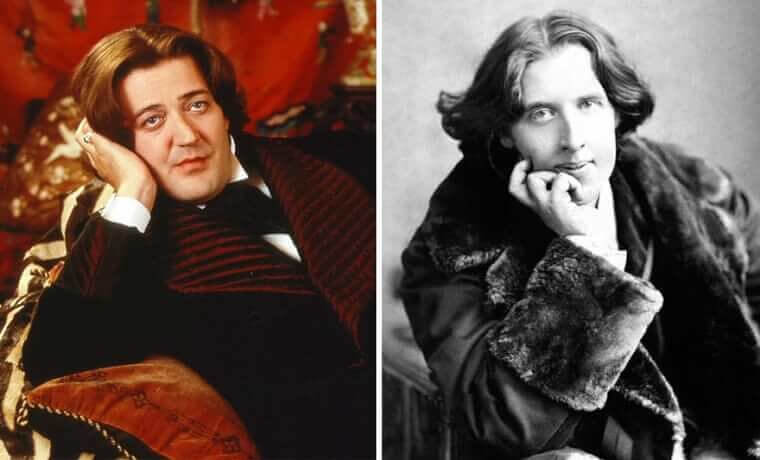 Janet Maslin from the New York Times wrote in her review that: "Playing the large dandyish writer with obvious gusto, Stephen Fry looks uncannily like Wilde and presents an edgy mixture of superciliousness and vulnerability."
Morgan Freeman As Nelson Mandela In Invictus (2009)
When a movie is directed by Clint Eastwood and starred by Morgan Freeman and Matt Damon, it is destined to become a hit.
Morgan Freeman, as always, was exceptional and earned Academy Award nomination for Best Actor and Damon got nominated for Best Supporting Actor.
Anthony Hopkins As Pablo Picasso In Surviving Picasso (1996)
It looks like Anthony Hopkins was born to play the famous Spanish painter Pablo Ruiz Picasso. He sure was prepared for it.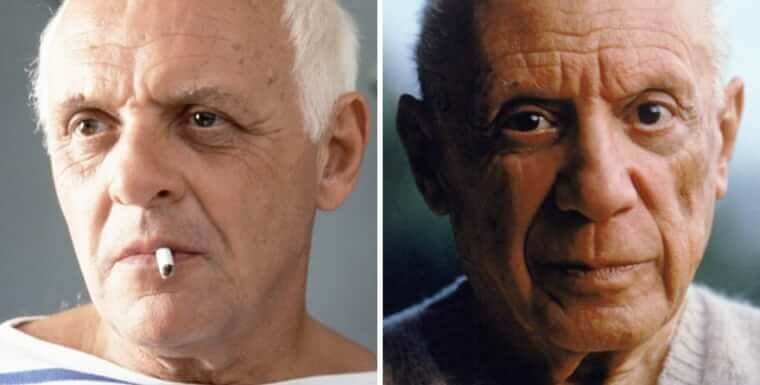 The movie received mixed reviews and the most exciting thing was Hopkins's acting and makeover (though he didn't require much).
Michelle Williams As Marilyn Monroe In My Week With Marilyn (2011)
Michelle Williams seemed like a perfect actress to play the role of Marilyn Monroe, one of the most popular sex symbols of the 1950s and early 1960s.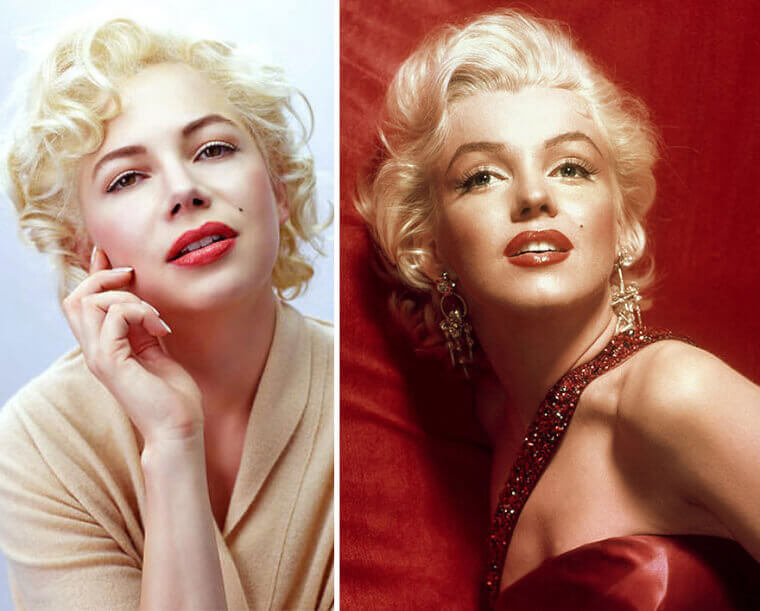 Well, the actress was unbelievable at the display of her acting skills and was awarded the Golden Globe for Best Actress in a Motion Picture – Comedy or Musical. She also earned Best Actress nominations from the Academy Awards and British Academy Film Awards.
James Franco As James Dean In James Dean (2001)
If you find anyone who thinks that James Franco is a mediocre performer, show that person the movie 'James Dean.'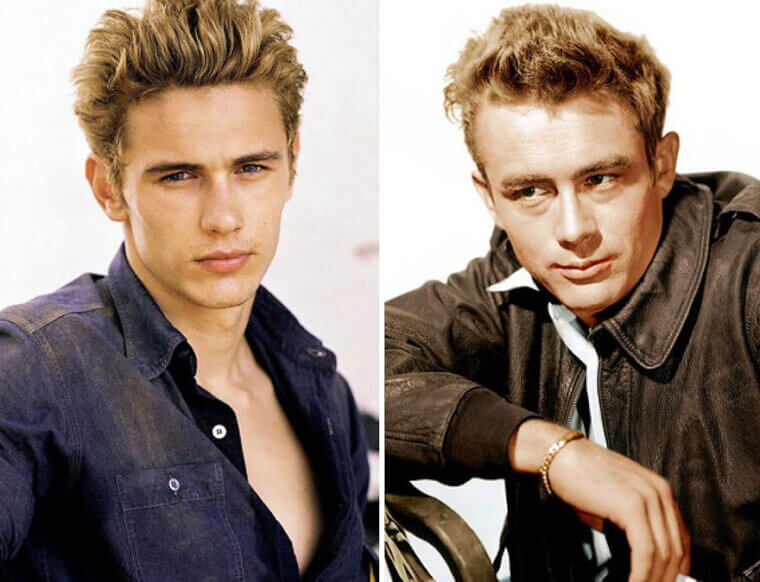 The actor researched a lot for his role to closely portray Dean and received widespread acclaim for his brilliant performance.
Geoffrey Rush As Peter Sellers In The Life And Death Of Peter Sellers (2004)
For the young generation who do not know who Geoffery Rush is, well, he is the famous Hector Barbossa from Pirates of the Caribbean film series.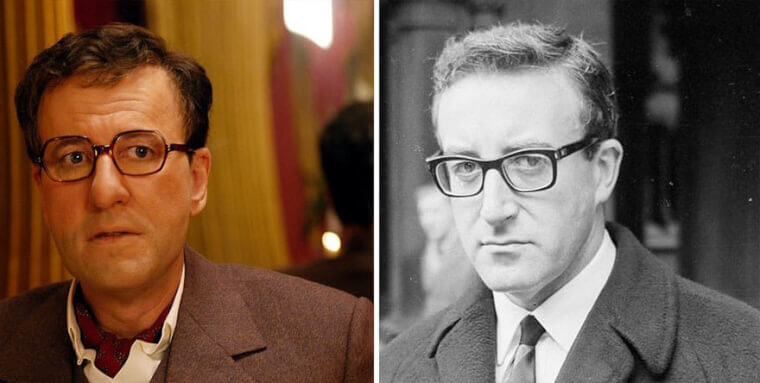 Did you know that he is amongst 24 people who have won the Triple Crown of Acting: an Academy Award, a Primetime Emmy Award, and a Tony Award? His acting in the television film "The Life And Death Of Peter Sellers" helped him win the Golden Globe Award and the Primetime Emmy Award.
Hilary Swank As Amelia Earhart In Amelia (2009)
Hilary Swank is known as a hardworking actress who has won numerous awards, including two Academy Awards and two Golden Globe Awards.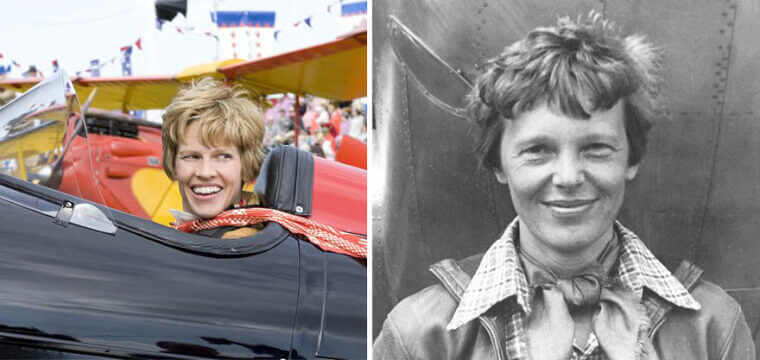 It is unfortunate that the movie Amelia received predominantly negative reviews. Nevertheless, we think that Hilary Swank delivered a really good performance in it.
Sean Penn As Harvey Milk In Milk (2008)
When it was decided to make a film based on the life of gay rights activist and politician Harvey Milk, it wasn't a surprise that Sean Penn starred as Milk.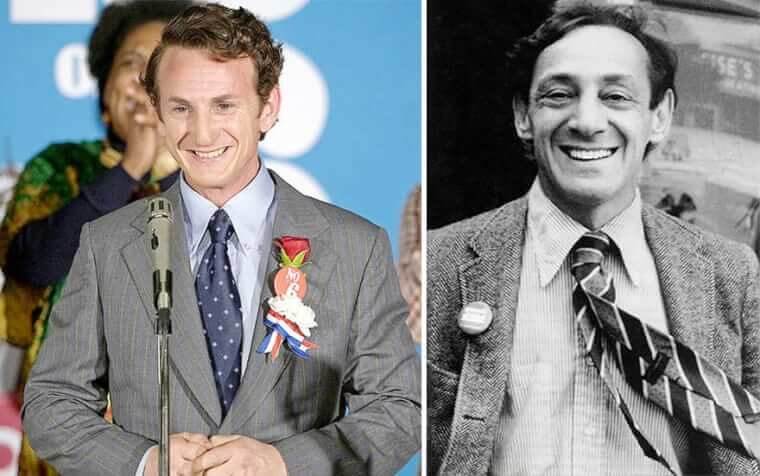 The film received universal acclaim and Penn was praised for his amazing acting. As the film received 8 Oscar nominations, Penn went on to receive the Best Actor award, his second Oscar.
Audrey Tautou As Coco Chanel In Coco Before Chanel (2009)
Audrey Tautou is a really talented actress. She has received many awards in her career, most notably for Venus Beauty Institute (1999) and Amélie (2011).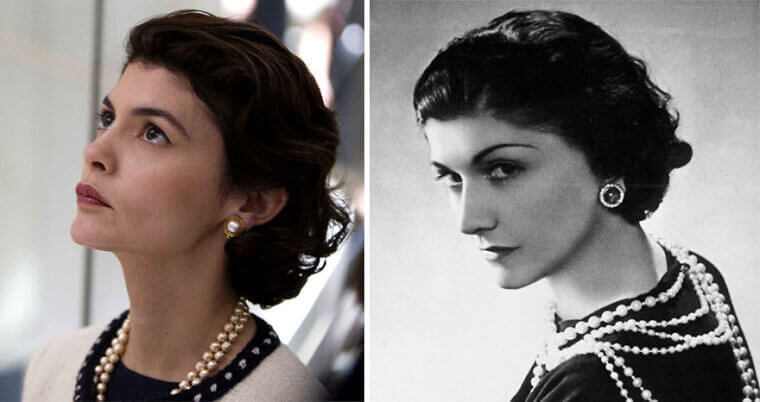 Her role in the movie 'Coco Before Chanel' was highly praised and she got nominated for best actress at the César Award.
Daniel Brühl As Niki Lauda In Rush (2013)
If you haven't watched the movie 'Rush' then waste no time in watching it. And you can thank us later for this recommendation.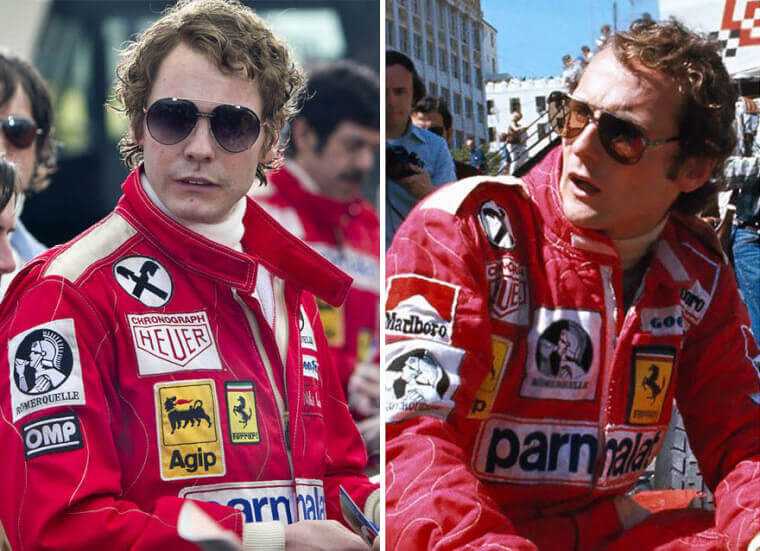 Daniel Brühl as Niki Lauda was just superb and Chris Hemsworth as James Hunt was not bad either.
Meryl Streep As Julia Child In Julie And Julia (2009)
The American comedy-drama film received positive reviews and Meryl Streep (as always) was praised for her amusing performance.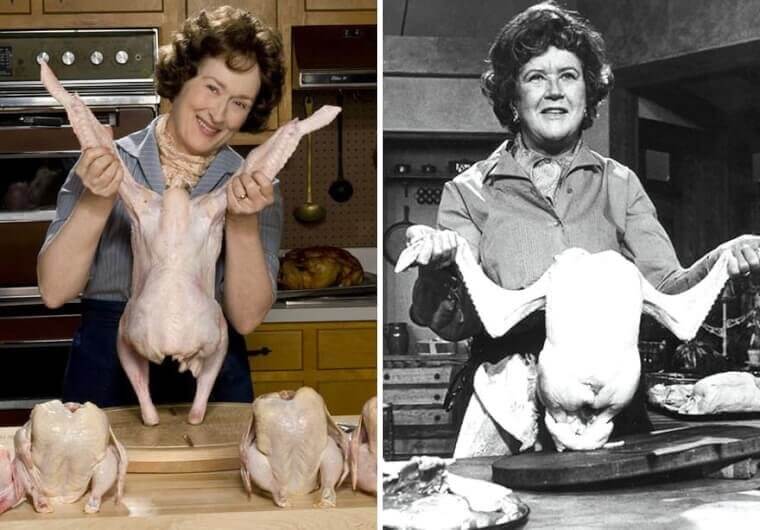 Streep was able to perfectly pull off the look of Chef Julia Child in the early years of her culinary career. Go watch this movie.
Michael Douglas As Liberace In Behind The Candelabra (2013)
The film 'Behind The Candelabra' dramatizes the last ten years in the life of pianist Liberace. Although it didn't make much impact on the box office, it was a huge success critically.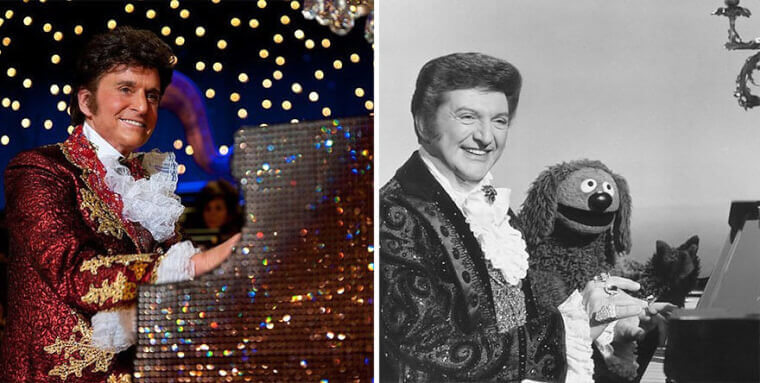 Michael Douglas as Liberace was just exceptional and received immense critical acclaim from both viewers and critics.
Halle Berry As Dorothy Dandridge In Introducing Dorothy Dandridge (2000)
Halle Berry as Dorothy Dandridge was just spectacular. The movie marketed with the tagline: "Right woman. Right place. Wrong time."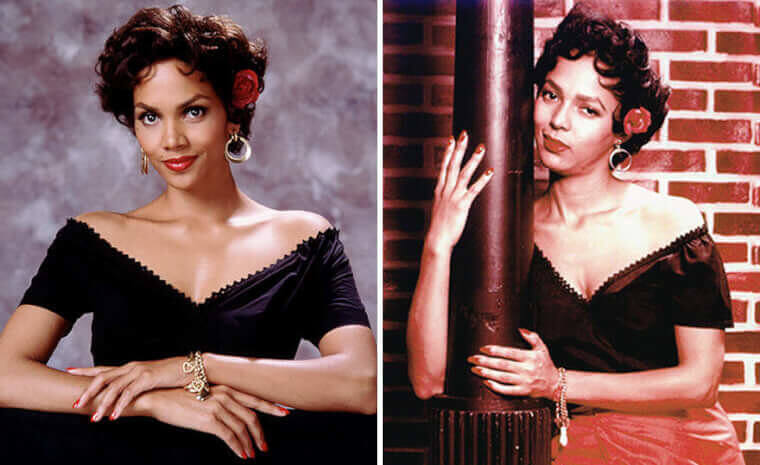 Halle Berry was highly praised for her performance and won several awards, including Golden Globe Award, Emmy Award, and Black Reel Award.
Albert Finney As Winston Churchill In The Gathering Storm (2002)
Did you know that Brian Cox was also able to put his heart and soul into the 2017 film 'Churchill'?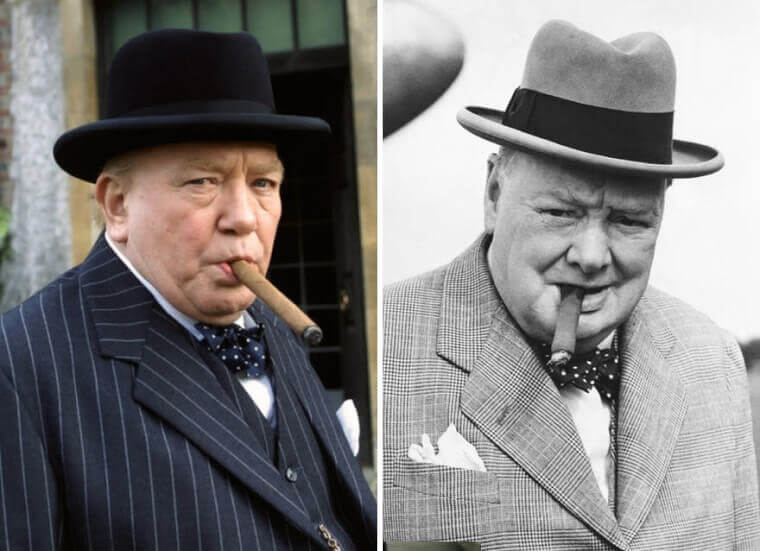 However, it would be wrong to not give credit to Albert Finney for his amazing portrayal of Winston Churchill in the movie 'The Gathering Storm.'
Johnny Depp As James 'Whitey' Bulger In Black Mass (2015)
Although Johnny Depp is the "master of disguise" when it comes to his amazing roles, he did not undergo a lot of transformation for this role.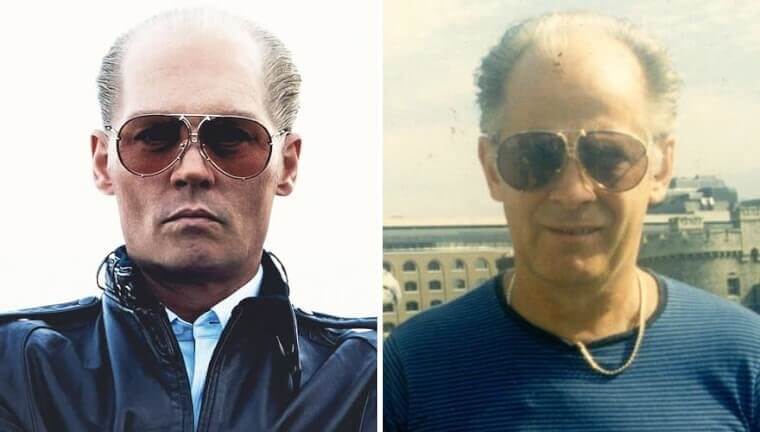 The movie received good reviews and did well at the box office. It was considered one of Johnny Depp's most compelling performances in years.
Jim Carrey As Andy Kaufman In Man On The Moon (1999)
Man on The Moon was the movie which helped increase the fan following of Jim Carrey.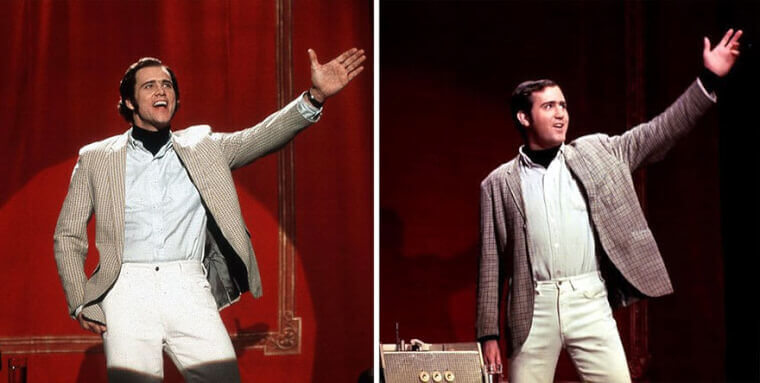 The movie did not do well at the box office, but Jim Carrey received critical acclaim for his performance and won a Golden Globe award. It was his second Golden Globe award in a row after he received the first one for his splendid performance in 'The Truman Show'.
Benicio Del Toro As Ernesto "Che" Guevara In Che (2008)
It won't be wrong to say that Benicio Del Toro was destined to play this role and he did full justice to it with his powerful acting.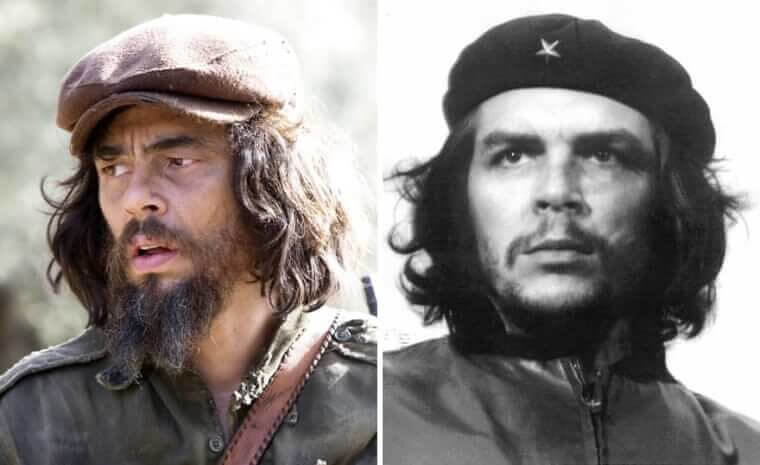 Although the critics gave mixed reviews to the movie, there was high praise for the actor.
Reese Witherspoon And Joaquin Phoenix As June Carter Cash And Johnny Cash In Walk The Line (2005)
Directed by James Mangold, 'Walk the Line' is based on two autobiographies authored by singer-songwriter Johnny Cash.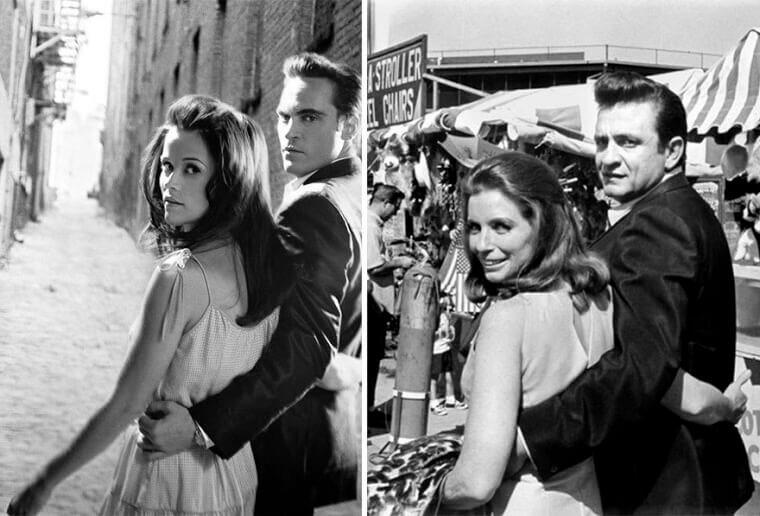 Joaquin Phoenix played the role as Cash, Reese Witherspoon as Carter. Both actors won 78th Academy Awards nominations and Witherspoon won the award of Best Actress.
Liam Neeson As Oskar Schindler In Schindler's List (1993)
If ever a list is made of "movies you must watch at least once in your lifetime," it would be incomplete without Schindler's List.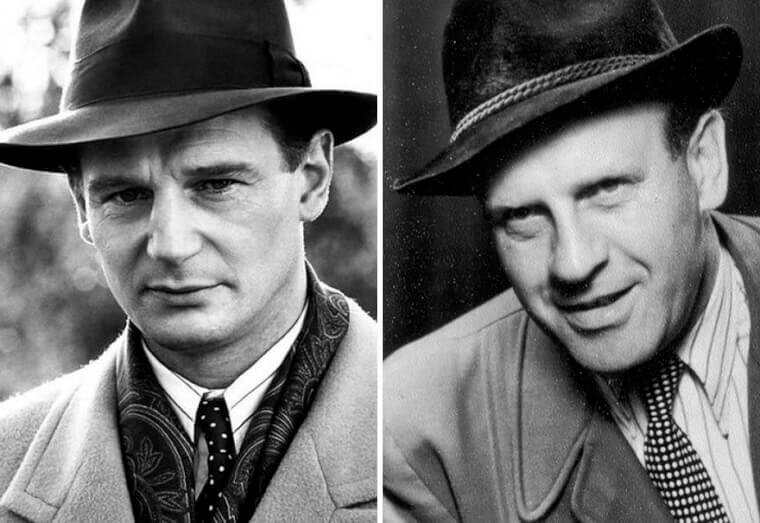 As we know that many actors were superb in this movie, Liam Neeson also gave a performance of his career. Needless to say, you have to watch this movie to know why it is often regarded as the greatest film ever made.
Emile Hirsch As Christopher McCandless In Into The Wild (2007)
Whether you are a travel enthusiast or not, this movie is something that can touch your heart and make you want to travel the world.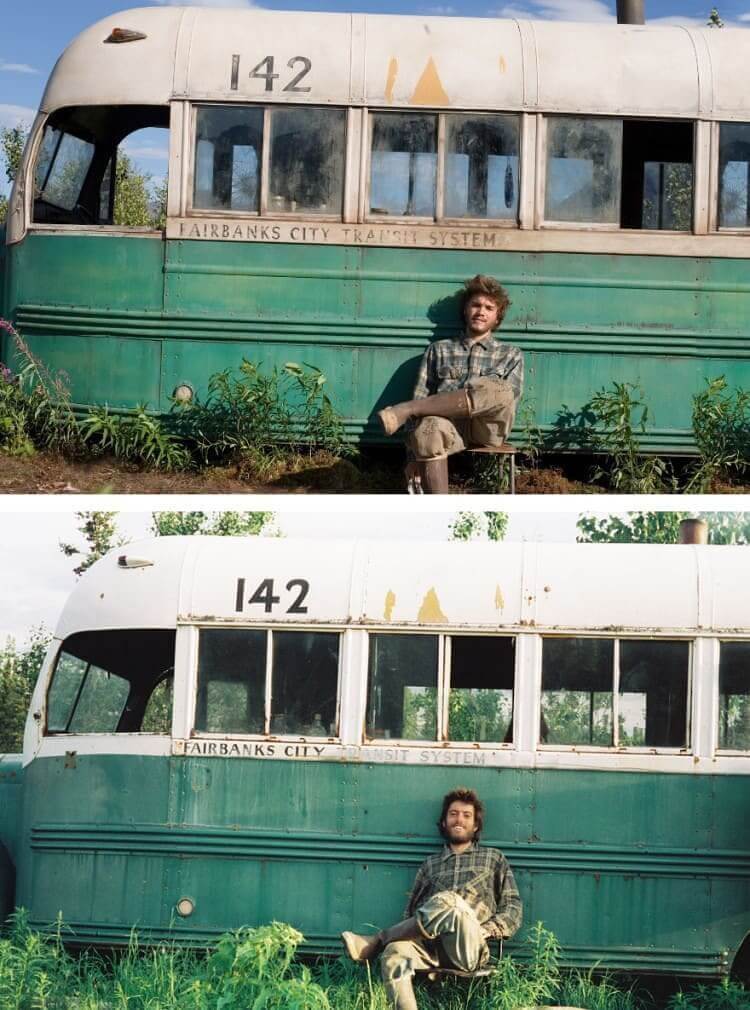 Emile Hirsch delivered a performance of his career with this role. The accurate word used for his performance would be "spellbinding."
James Franco As Aron Ralston In 127 hours (2010)
This second entry of James Franco in our list shows how much this actor has improved over the years.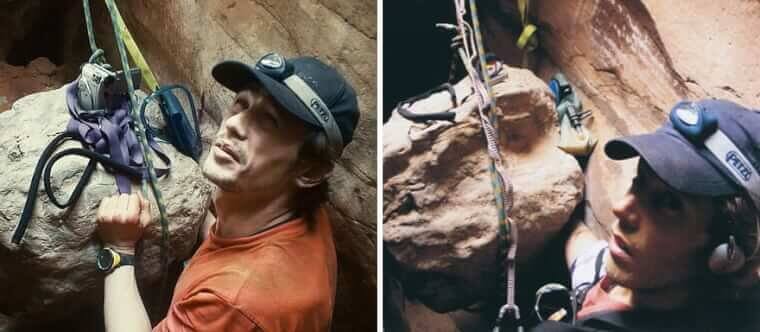 He perfectly portrayed Aron Ralston and showed how the actual survivor found a way to escape after he got trapped by a boulder in an isolated slot canyon in Bluejohn Canyon, southeastern Utah.
Robert De Niro As Jake LaMotta In Raging Bull (1980)
Robert De Niro starred in the Movie 'Raging Bull' as Jake LaMotta, the late Italian American middleweight boxer.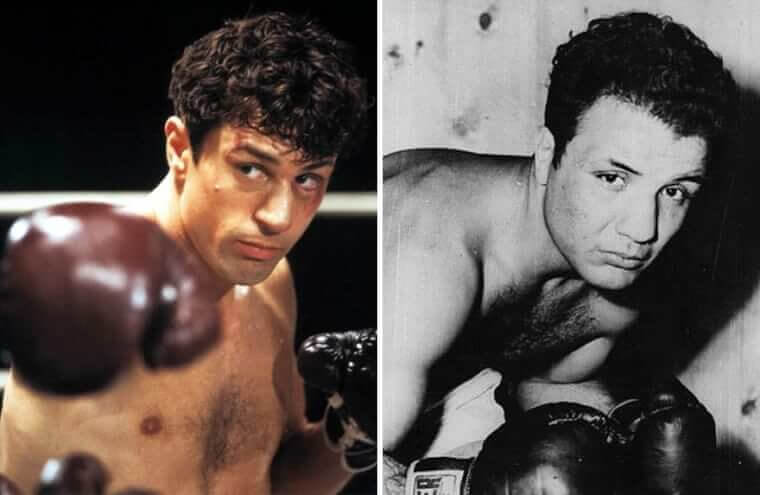 The movie did not do well at the start, but now it is considered one of the greatest films ever made. De Niro won an Oscar for Best Actor for his role.
Philip Seymour Hoffman As Truman Capote In Capote (2005)
The late Philip Seymour Hoffman was an actor known for his distinctive roles and acting style. In this film, the amazing actor did full justice to his role as Truman Capote.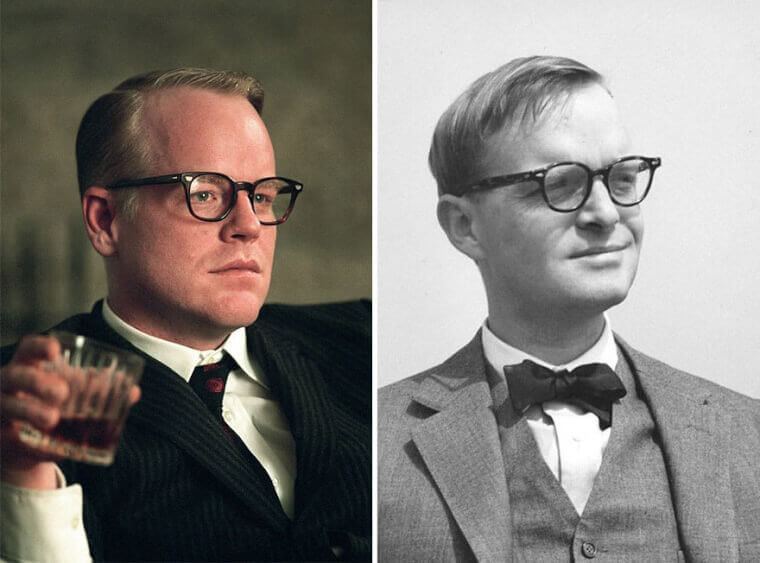 For the portrayal of the title character, Hoffman won the Academy Award for Best Actor. He was without a doubt the finest actor of his generation.
Naomi Watts As Princess Diana In Diana (2013)
Naomi Watts has played many memorable roles in her career and this one is definitely the one that she did flawlessly.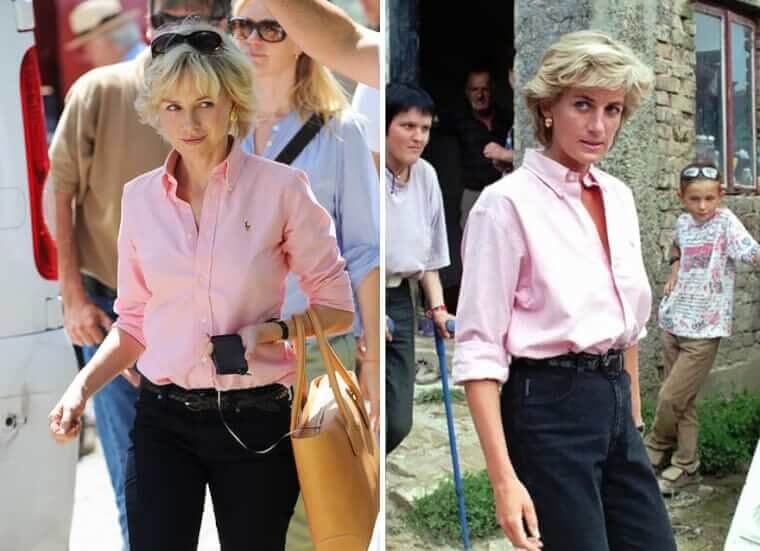 The movie received negative reviews from both British and American critics and the only shining light was the acting of Naomi Watts.
Peter O'Toole As T.E. Lawrence In Lawrence Of Arabia (1962)
Peter O'Toole starred in the title role of epic historical drama film based on the life of T. E. Lawrence. And the rest is history.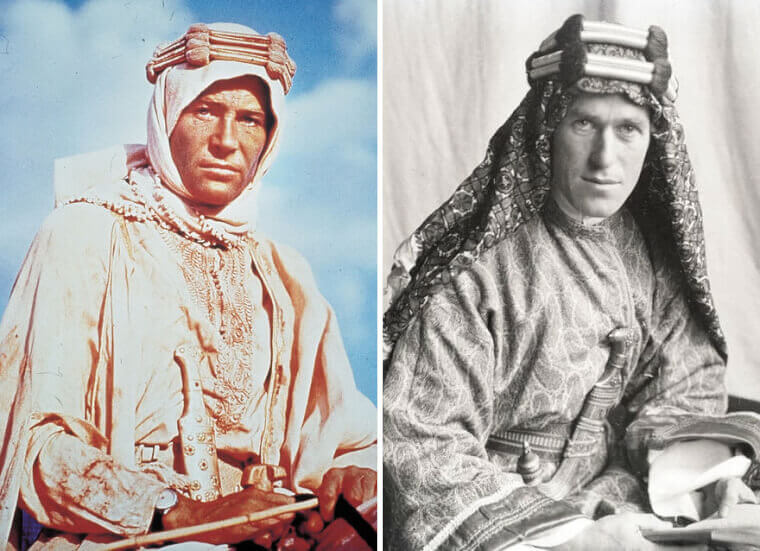 It is because the movie was nominated for ten Oscars at the 35th Academy Awards in 1963; it won seven in total. O'Toole received his first nomination for the Academy Award for Best Actor.
Jeff Daniels As Joshua Chamberlain In Gettysburg (1993)
Gettysburg is a movie based on the Battle of Gettysburg in the American Civil War.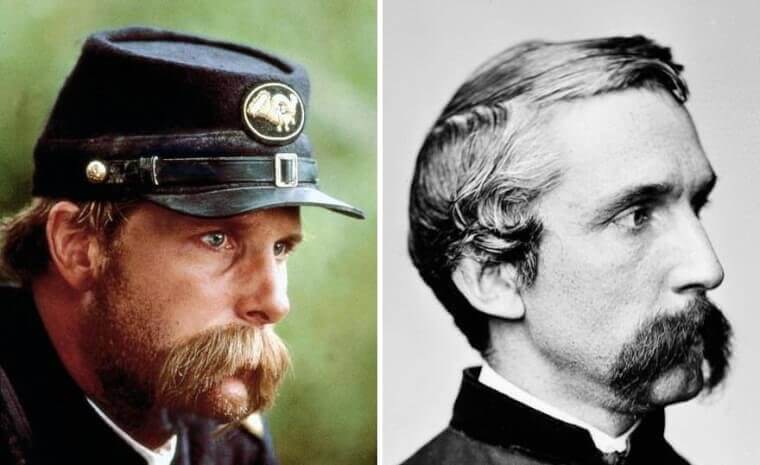 Jeff Daniels starred in the film as Joshua Chamberlain, an American college professor from the State of Maine who volunteered during the American Civil War to join the Union Army.
Colin Firth As King George Vi In The King's Speech (2010)
Colin Firth is a receiver of an Academy Award, a Golden Globe Award, two BAFTA Awards, and three Screen Actors Guild Awards. So, when he signed up for 'The King Speech,' everyone knew he was going to deliver his best performance.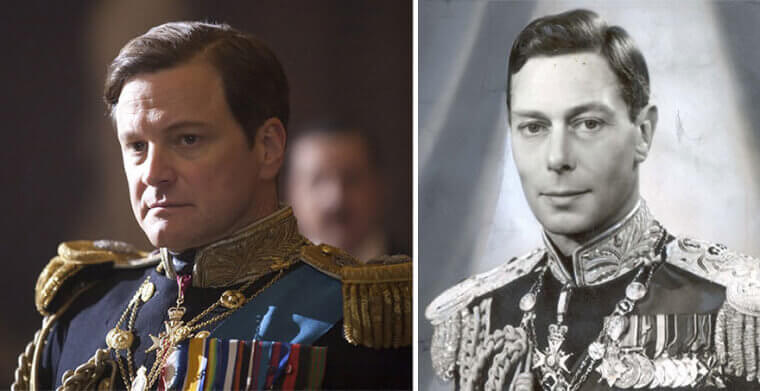 The movie became a critical and commercial success and many praised the spectacular performance of Colin Firth.
Ralph Fiennes As Charles Dickens In The Invisible Woman (2013)
Ralph Fiennes directed and acted as Charles Dickens in the 2013 British biographical drama film.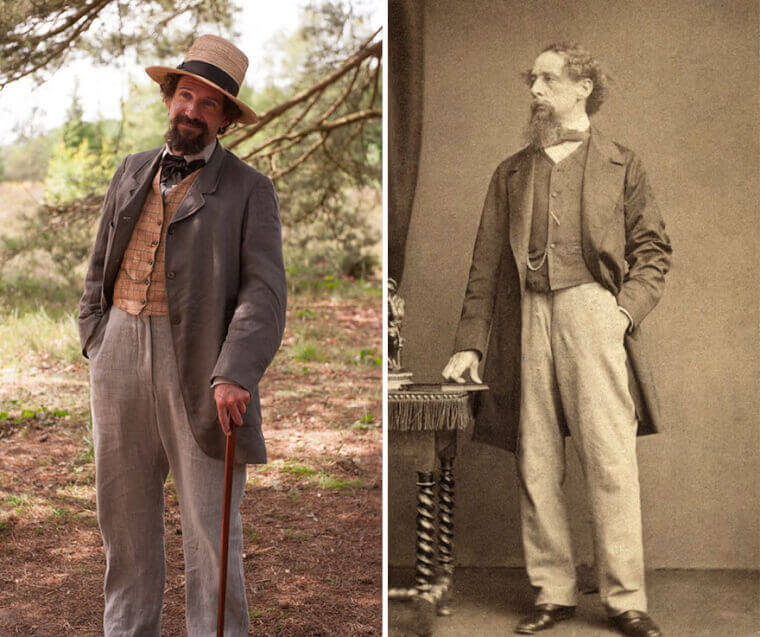 Critic Godfrey Cheshire called it "a formidable achievement for Fiennes as both actor and director."
Jason Scott Lee As Bruce Lee In Dragon: The Bruce Lee Story (1993)
The sad demise of Bruce Lee in 1973 left fans from all over the world heartbroken.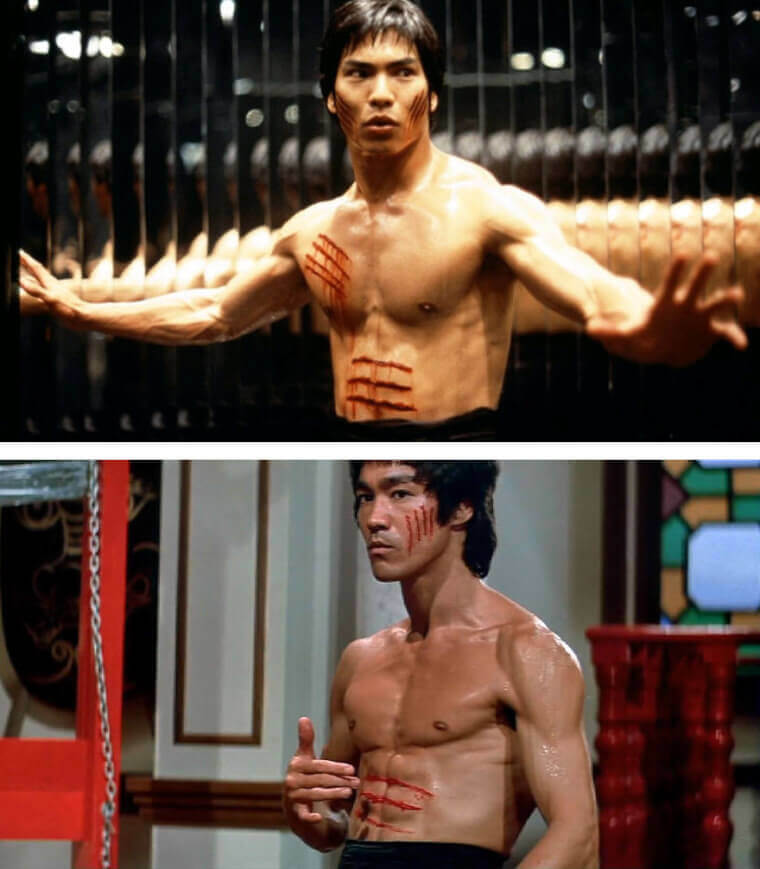 Jason Scott starred in the Film 'Dragon: The Bruce Lee Story' and the film was dedicated to Bruce Lee's son Brandon Lee who died five weeks earlier while performing in his last film, The Crow.
Eddie Redmayne As Lili Elbe In The Danish Girl (2015)
The Danish Girl is based on the 2000 novel of the same name by David Ebershoff. Eddie Redmayne was chosen to play the role of Elbe, one of the first known recipients of sex reassignment surgery. She worked alongside actors such as Alicia Vikander, Sebastian Koch, Ben Whishaw, Amber Heard, and Matthias Schoenaerts.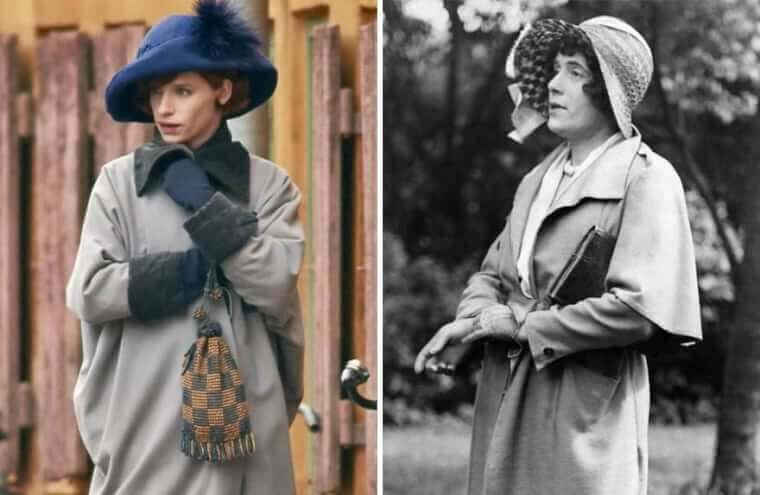 Although there was criticism on the movie for the inaccurate portrayal of historical events, the actors, especially Redmayne and Vikander, received a lot of praise. Redmayne was nominated for the Academy Award for Best Actor and Vikander won the Academy Award for Best Supporting Actress.
Ed Harris As Jackson Pollack In Pollack (2000)
Ed Harris is an acclaimed actor who is known for delivering some remarkable performances in movies such as Apollo 13, The Truman Show, The Abyss, The Rock, and Snowpiercer.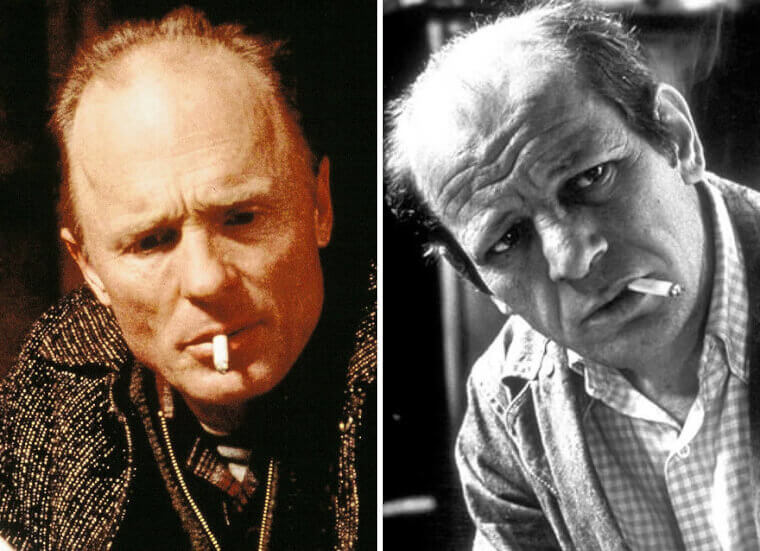 His role in the movie 'Pollack' as Jackson Pollack helped him earn Academy Award nomination for best actor.
Jesse Eisenberg As Mark Zuckerberg In The Social Network (2010)
If you haven't watched 'The Social Network', then stop using Facebook and start watching it. You have to watch it because it is definitely worth your time.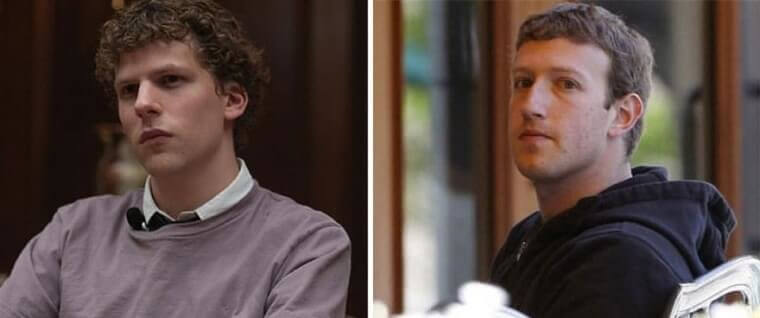 Jesse Eisenberg was superb in the portrayal of Mark Zukerberg and did full justice to the role.
Leonardo Dicaprio As Tycoon Howard Hughes In The Aviator (2004)
All fans of Hollywood movies can be on the same page on one thing that Leonardo DiCaprio always delivers a strong performance.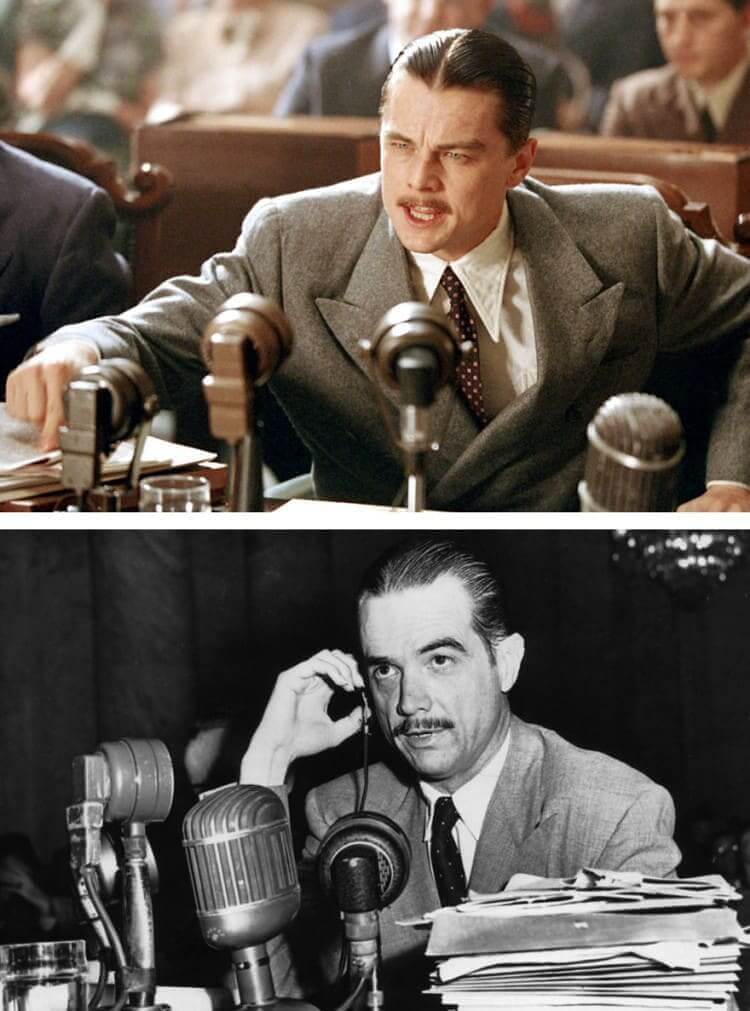 Like his many other movies, he remarkably portrayed the Tycoon Howard Hughes and got nominated for the Academy Award for the best actor.
Will Smith As American Boxer Muhammad In Ali (2001)
Will Smith received two times nominations for the Academy Award for Best Actor in his career: the first time was for his performances as boxer Muhammad Ali in movie 'Ali' and the second time as a stockbroker Chris Gardner in 'The Pursuit of Happyness.'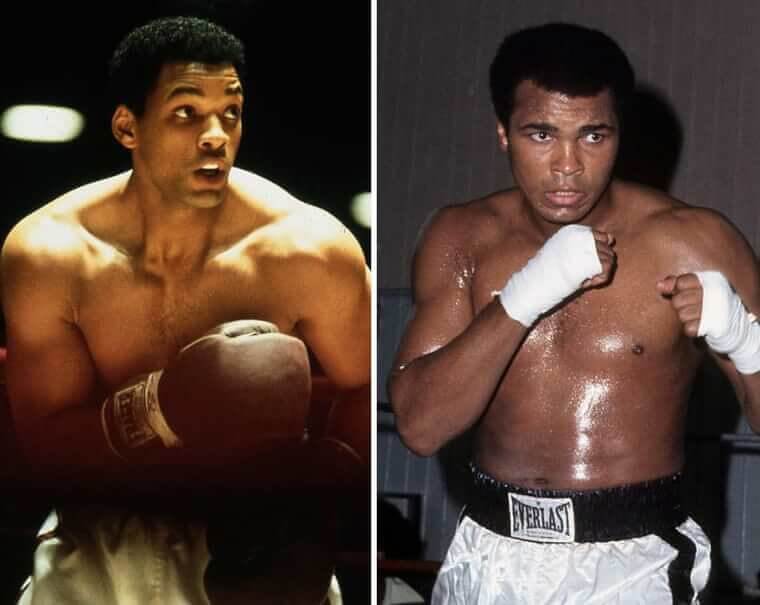 Smith did full justice to his role but it is unfortunate that the movie did not do well at the box office.
Johnny Depp As Hunter S. Thompson In Fear And Loathing In Las Vegas (1998)
Johnny Depp again makes our list with another worth-watching film. Empire magazine voted this film the 469th greatest film in their "500 Greatest Movies of All Time" list.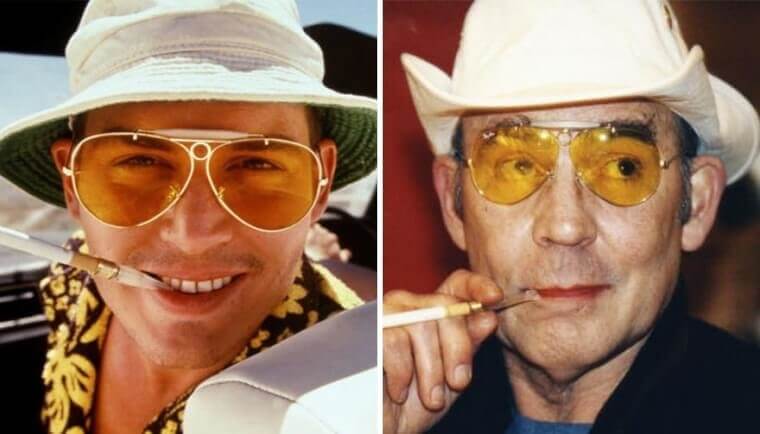 The movie received mixed reviews upon its release, but since then it has become a cult classic among fans.
Madonna As Eva Peron, The Second Wife Of Argentine President Juan Perón, In Evita (1996)
This 1996 American musical drama film depicts the life of Eva Perón; detailing her beginnings, rise to fame, political career and death at the age of 33.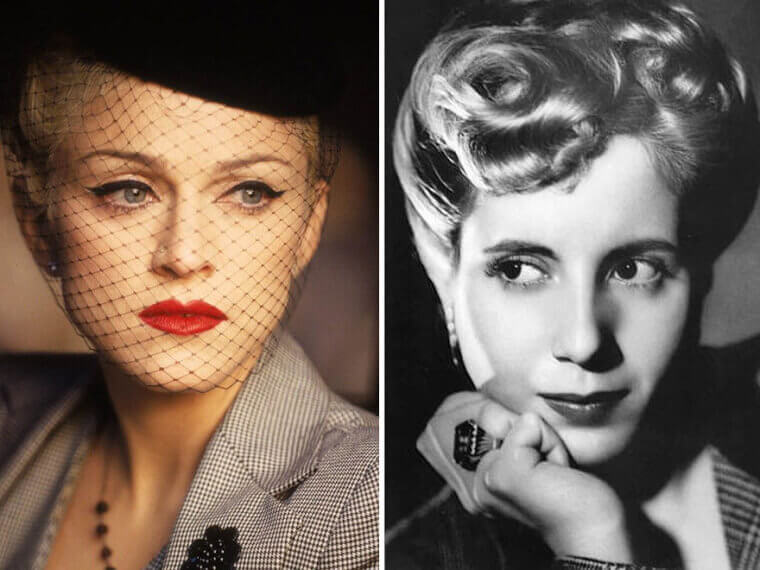 Although the film received mixed reviews from critics and viewers, everyone praised the performance of Madonna. She even went on to receive a nomination for Academy Award for Best Actress – Comedy or Musical.
Chadwick Boseman As James Brown In Get On Up (2014)
Directed by Tate Taylor, Get on Up depicts the life of singer James Brown (often referred to as "Godfather of Soul".)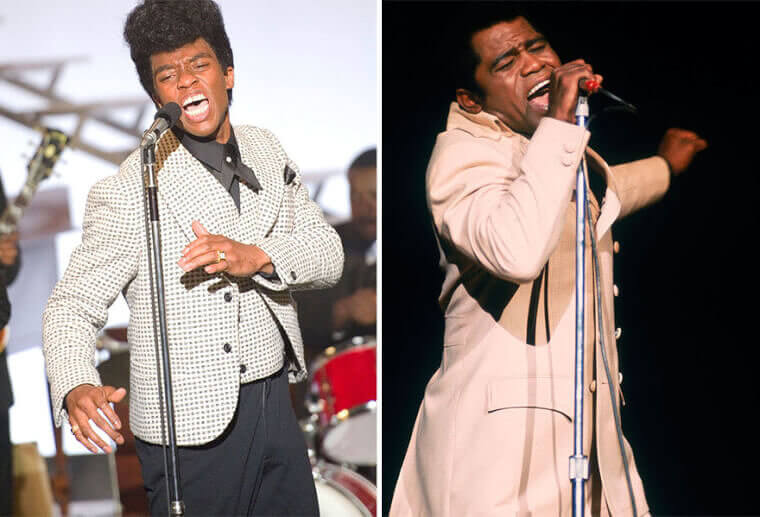 Upon the release of the film, it was met with positive reviews and critics highly praised Chadwick Boseman's performance. One critic on Rotten Tomatoes wrote, "With an unforgettable Chadwick Boseman in the starring role, Get on Up offers the Godfather of Soul a fittingly dynamic homage."
Angelina Jolie As Mariane Pearl In A Mighty Heart (2007)
The 2007 drama film is an adaptation of Mariane Pearl's memoir, A Mighty Heart. Angelina Jolie starred as Mariane Pearl, a French journalist whose husband was kidnapped and murdered by terrorists in Pakistan.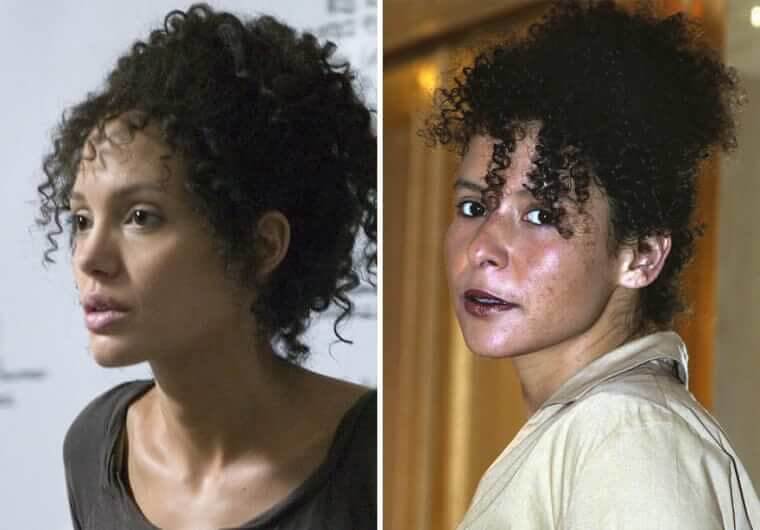 The film received positive reviews from both the viewers and critics. Newsweek described Jolie's performance as "a movie without melodrama or movie-star lighting…allowing Jolie to deliver the most delicate, powerful and human-scale performance of her career."
Bryan Cranston As Dalton Trumbo In Trumbo (2015)
The Breaking Bad actor starred in the film Trumbo that is based on the biography Dalton Trumbo by Bruce Alexander Cook.
The movie received positive reviews and critics praised the sublime performance of Cranston. He was nominated for several awards, including the Academy Award for Best Actor. Lou Lumenick of the New York Post wrote on Cranston's performance, "It's a cracking good story, and Cranston does a great job portraying a man who made great sacrifices for his principles."
Jason Segel As David Foster Wallace In The End Of The Tour (2015)
The 'How I Met Your Mother' star made a lot of people his fan with a performance that was different from his previous roles. It is the first film depiction of David Foster Wallace, whom Los Angeles Times called "one of the most influential and innovative writers of the last 20 years".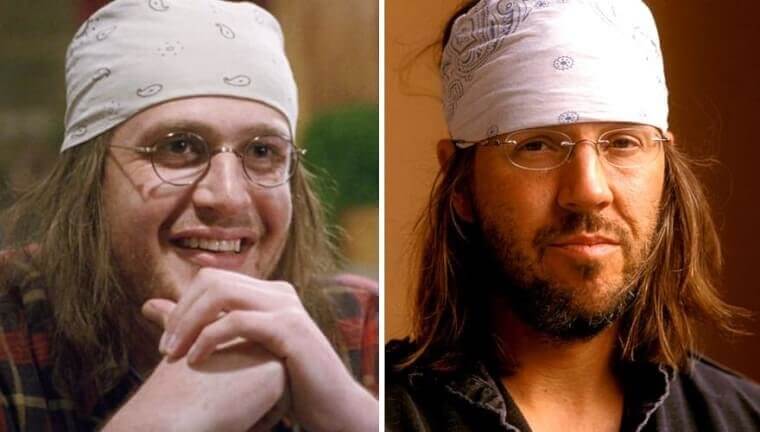 The movie was well-received by critics and viewers. Chris Nashawaty from Entertainment Weekly wrote it was "thoughtful and deeply affecting. . .The real revelation (an overused word, but it truly applies here) is Jason Segel… It's a profoundly moving story."
Toby Jones As Alfred Hitchcock In The Girl (2012)
The English actor Toby Jones starred in the 2012 British television film titled 'The Girl.' The title of the movie was inspired by Hitchcock's alleged nickname for Tippi Hedren.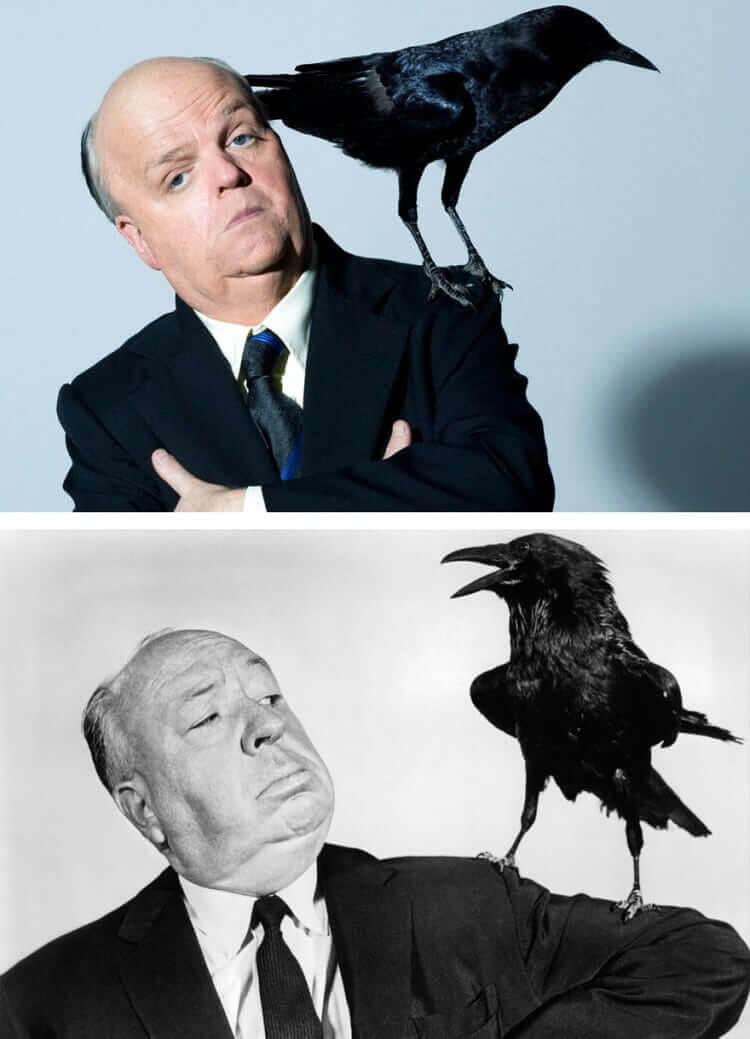 The film was criticized by many people who knew Hitchcock because the film somehow depicted him as a sexual predator. Although the film received negative reviews from critics, many praised the performance of Jones.