This article was originally published on WackoJaco
As cosplaying has become quite popular around the world, it has given an opportunity to many female cosplayers to achieve new heights of fame. If you are into cosplays, what you are about to witness is pure mind-blowing stuff. We have compiled a list of 50 female cosplay artists that can blow your mind with their skills. Don't forget to check Harley Quinn cosplay. So, let's start it.
1. Superwoman
Enij Night is a cosplay and costume artist from Budapest who has over 901k followers on Instagram. When Enij uploaded a photo of Superwoman cosplay on Instagram, she impressed everyone with her attention to detail.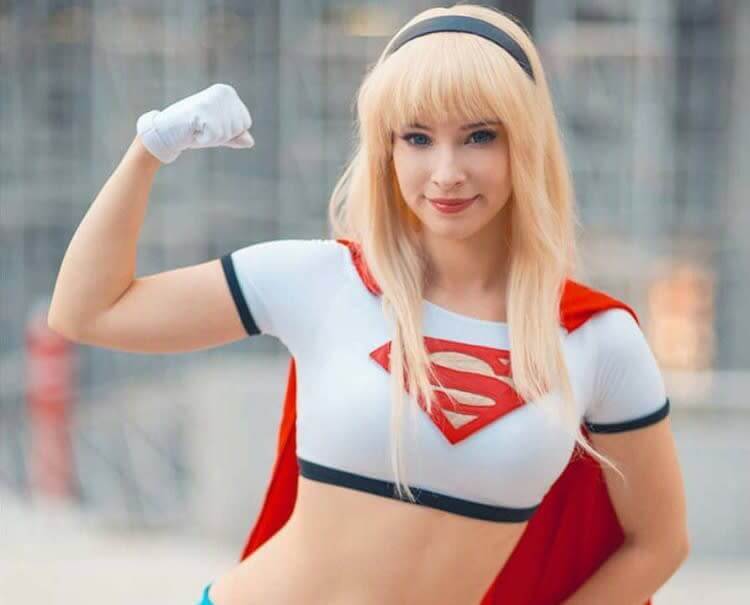 All she needs is to shoot lasers out of eyes and she'll be our Superwoman for real. By the way, she is regarded as one of the best cosplay artists. So, you'll be seeing more of her impressive work on our list.
2. Green Lantern
Jessica Cruz looks terrific in this Green Lantern cosplay outfit. And just look at the eyes, mind-blowing. This fantastic outfit is all because of Surfingthevoid, a self-proclaimed film nerd and comic book lover.
The talented Cruz is 23 and a film nerd and lover of comics. She does her own makeup and believe it or not, made the Green Lantern outfit entirely by hand.
3. Tinker Bell
If you ever wanted to see Tinker Bell in real life, here you have it. Twerkin Gherkin is a 23-year-old talented cosplay artist from Brisbane, Australia.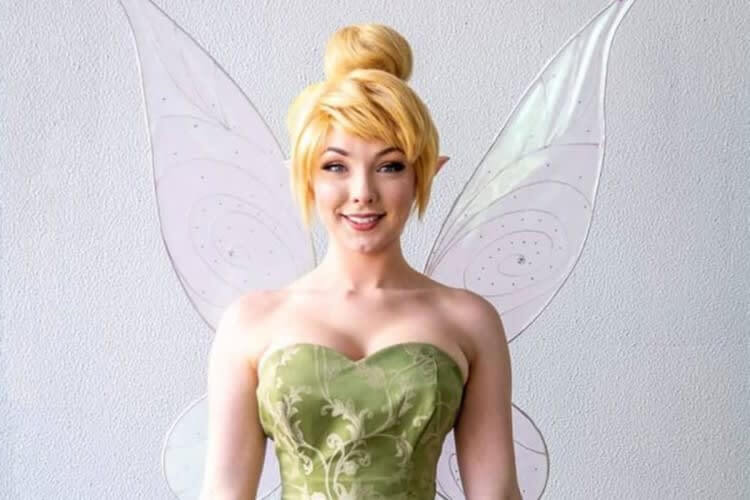 She sells her incredible cosplay outfits and also has a Ko-fi account to fund her new projects. As of now, she is working on the stunning Black Widow costume from Avenger's End Game. We're quite sure she will blow us out of the water this time as well.
4. Rogue
Cosplay artist Liz Katz is known for her incredible work and she completely nailed it with Rogue. But this for her is just another costume out of many. With over 1k posts and 1.2 million followers on her Instagram account, one can easily tell how amazing she is at what she does.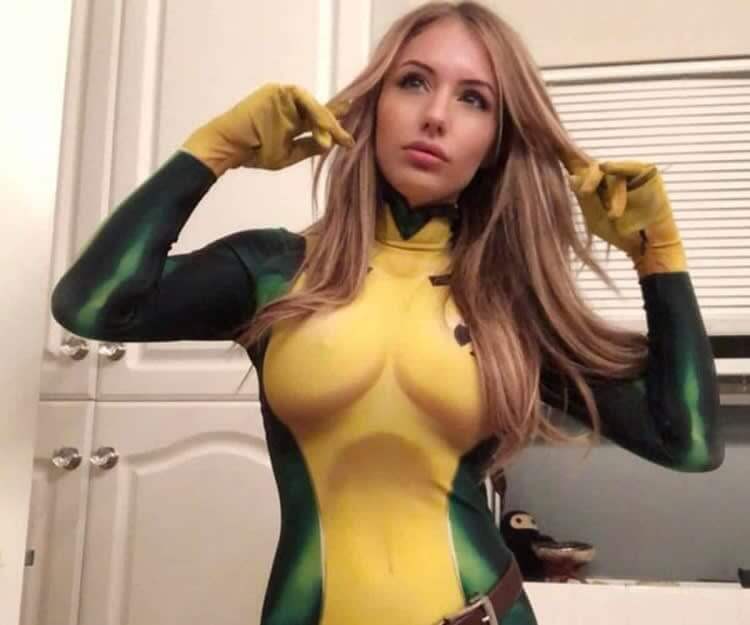 In her profile description, she proudly wrote, "Feisty lil Cosplay Model, Retoucher, Gamer, Inferior Actress Half Elf, Professional Eccentric & Muse." No wonder why she has gone Rogue.
5. Mystique
At San Diego Comic Con 2018, this was an award-winning costume. So, you can get an idea about how talented this cosplayer is and if you still want to see more of her work, you can check her Instagram account @magnetomystique.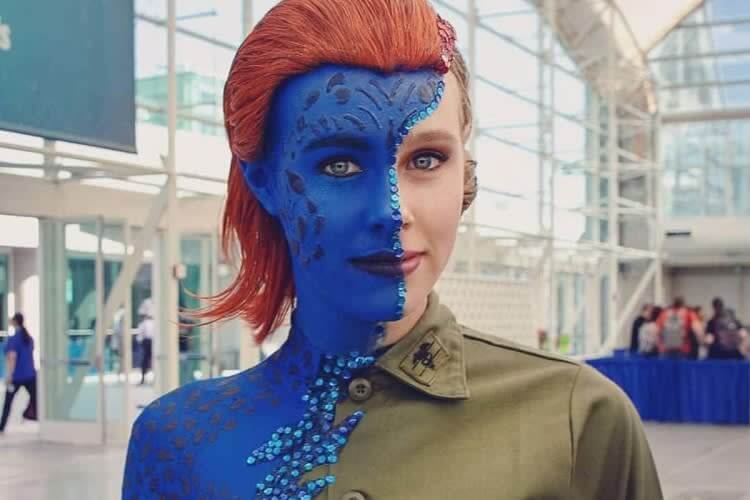 By the way, this mid-transformation Mystique is sporting a lycra bodysuit (the one Jennifer Lawrence wears in the X-Men movies).
6. Kida
Doesn't Atlantic Princess/Queen Kida look amazing here? We find this cosplay highly impressive because it is one of those outfits that don't require much in the way of costuming work. But it has to look perfect and the person who achieved perfection is Polish cosplayer "Merrysynth."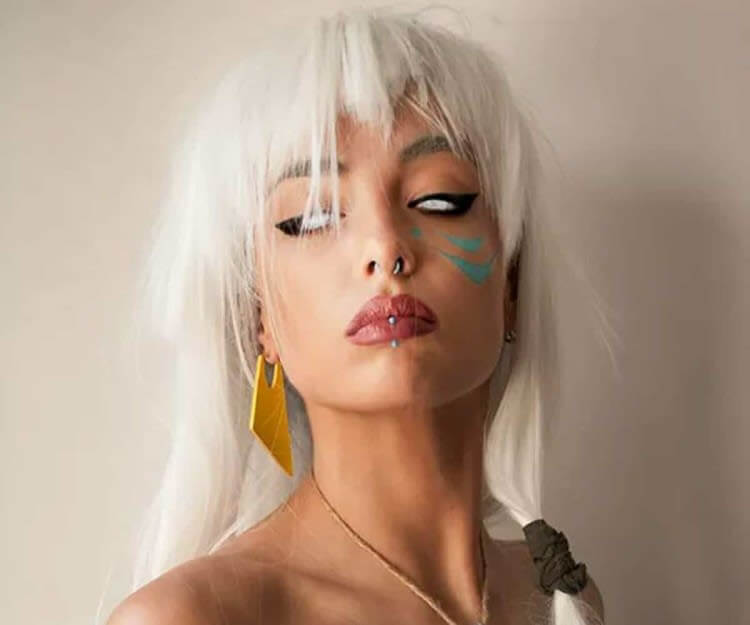 If you check Merrysynth's Instagram account, you can find how incredible she is when it comes to makeup skills. She also loves changing contacts and which is one of the Hallmarks of her costumes. And she has dark hair in real life. That shows how much effort she puts into each cosplay outfit.
7. Princess Bean
Veronika has baffled us many times and here, she pulled off Princess Bean with extreme perfection. And yes, she looks super incredible as Daenerys as well.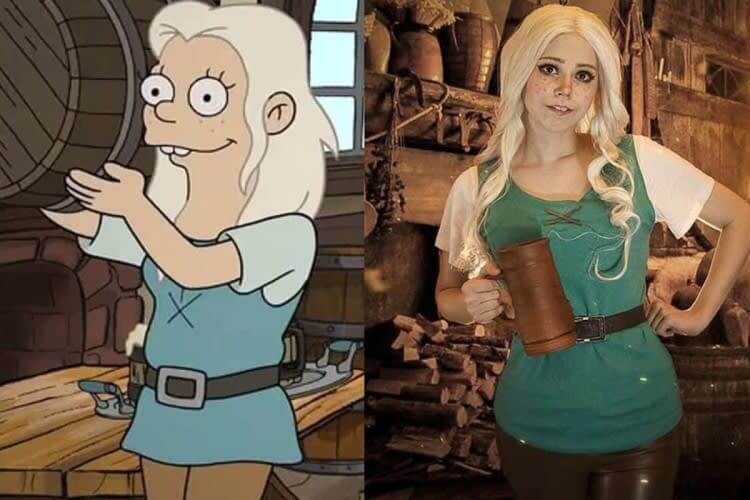 The 23-year-old is from Russia and focuses a lot on cinematic cosplay. One thing is for sure that she takes her craft quite seriously. Her attention to the details of the character's costume and personality is apparent in this photo.
8. She-Hulk
Photographer Jeff Zoet is quite skillful and this photo shows how good he is at his work. In this photo, Ginger Kutschbach is just a lean, mean She-Hulk. For this costume, all she needed was a coat of green paint, distressed jeans and a white t-shirt.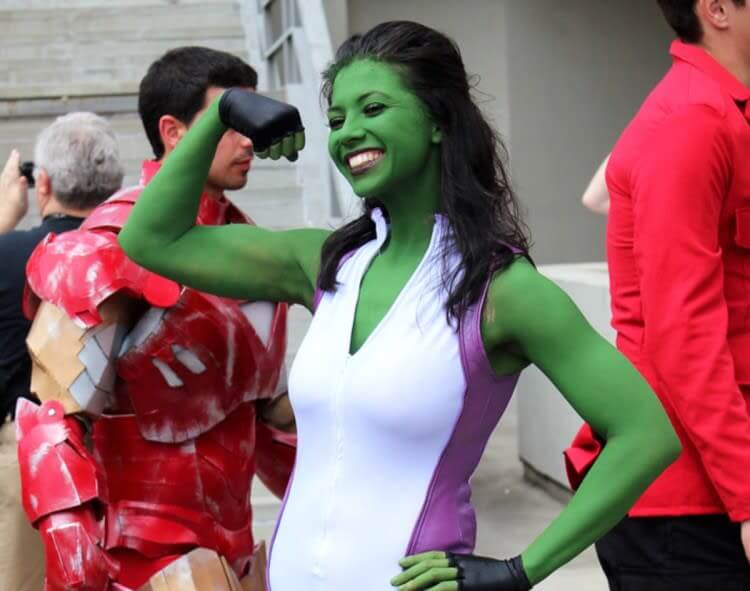 She may not look bulky, but she works out like a beast. In addition to cosplay outfits, her Instagram account is full of her pumping iron and working hard in the gym.
9. Aquawoman
Jason Momoa was splendid as Aquaman, but how about Janey Lad as Aquawoman. It seems like she is determined to set new standards for herself with every new cosplay creation. Her previous ones include Miss Marvel, Supergirl, and Harley Quinn.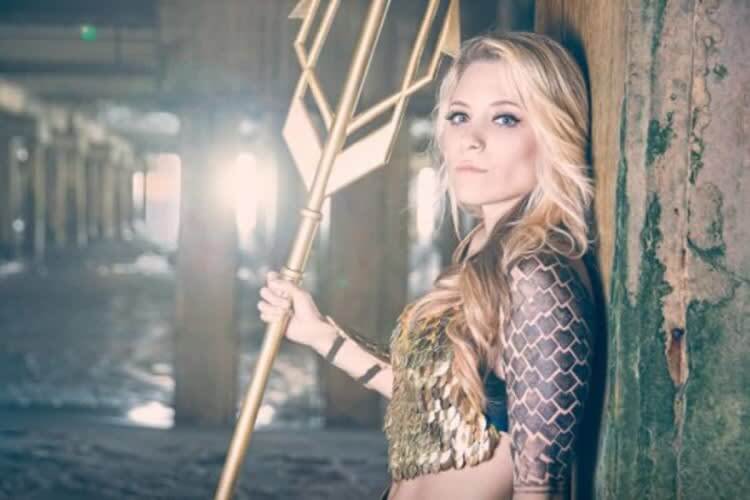 Her Instagram account @LaneyFeni has over 64k followers and you can find a lot of amazing photos there.
10. Elsa
Just wow! This Elsa cosplay is stunningly beautiful. But then again, this is what you can easily expect from cosplayer Hannah Eva. In her career so far, she has astounded everyone with works such as Ariel, Cinderella and other Disney princesses.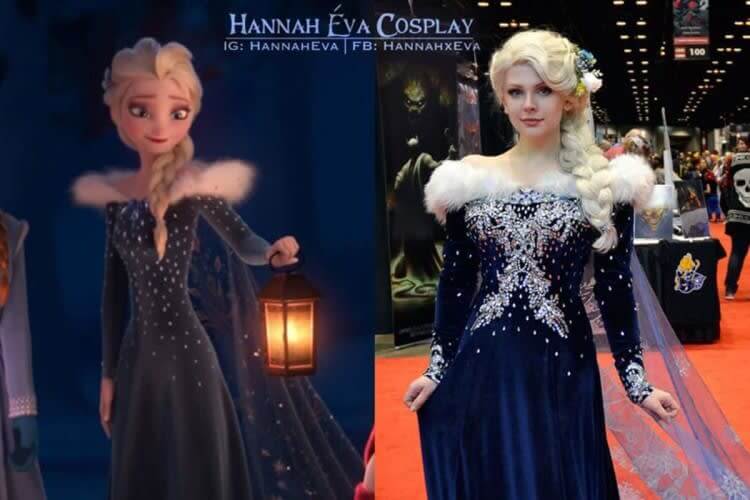 Her Instagram account has over 31k loyal followers. This sort of attention isn't something that Hannah is used to since, according to her, she considers herself to be a shy introvert.
11. Valkyrie
@maweezy is a Filipino cosplayer and dancer with over 1600 posts and 30k followers. So when she decided to go for the Valkyrie, everyone was stunned by her looks. She has also impressed everyone by dressing as Harley Quinn, Bumblee, and Buzz Lightyear.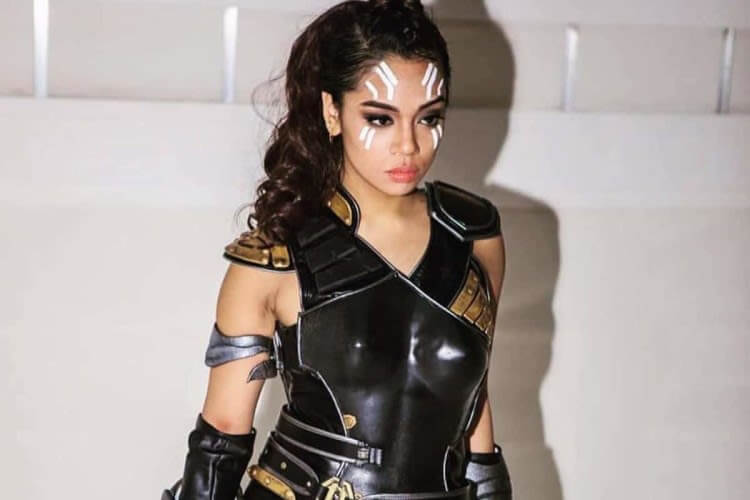 During D.C.'s Awesome Con in 2019, she was also a part of a panel discussion on the topic of "Being a Professional Cosplayer." The panel included other notable names such as Lua Stardust, Maki Roll, and Mikal Mosley.
12. Harley Quinn and Poison Ivy
We all have to admit that both Ryoko-Demon and Rei-Doll look spot-on here. These cosplayers are from Russia and have been best friends since 2002.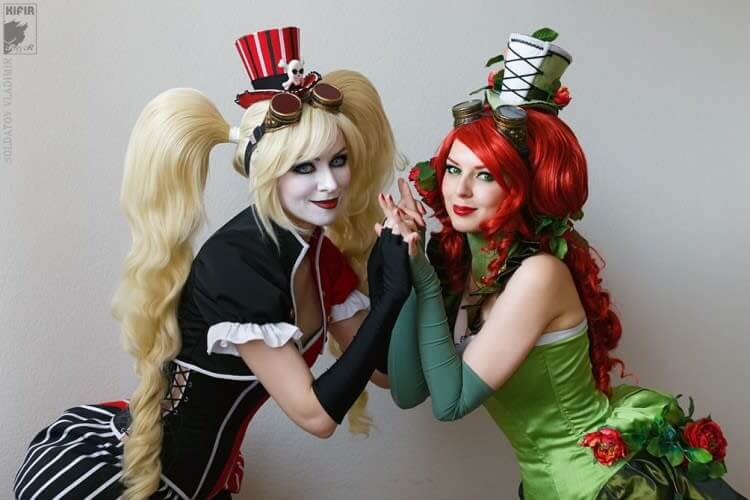 They formed the R&R Art Group to showcase their talent and passion to the world. You should take a look into their social media accounts for more mind-blowing content.
13. Hellgirl
This gender-bend by cosplayer Tanuki Tinka Asai is incredible. If you look at every little detail, you will notice that she has nailed it. From red paint to cloven hoofs and leather accessories, everything is perfect.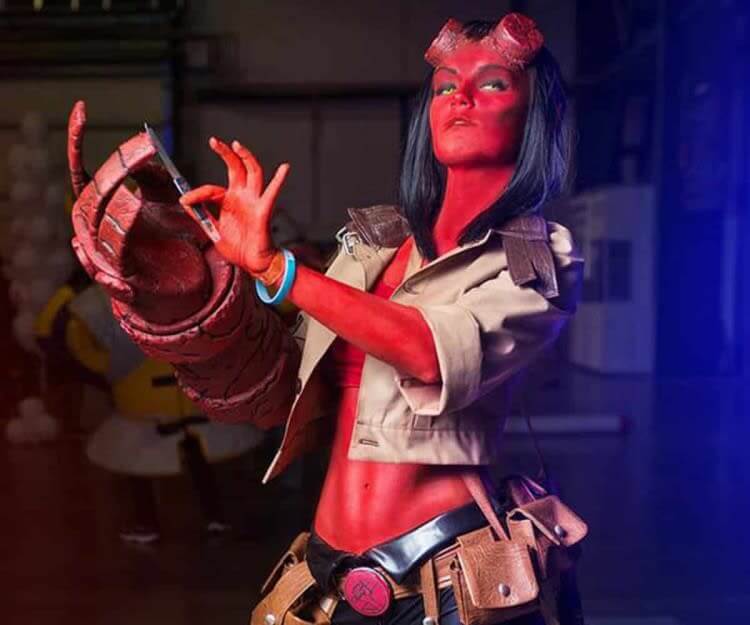 It makes sense because she says Hellboy is the comic book character she likes the most. We recommend you to watch her "Winter Ginger" picture series as well.
14. Lara Croft
Even if you're not a fan of Tomb Raider video games and movies or not, you have to take a moment to appreciate how effortlessly @enjinight pulled off this cosplay costume.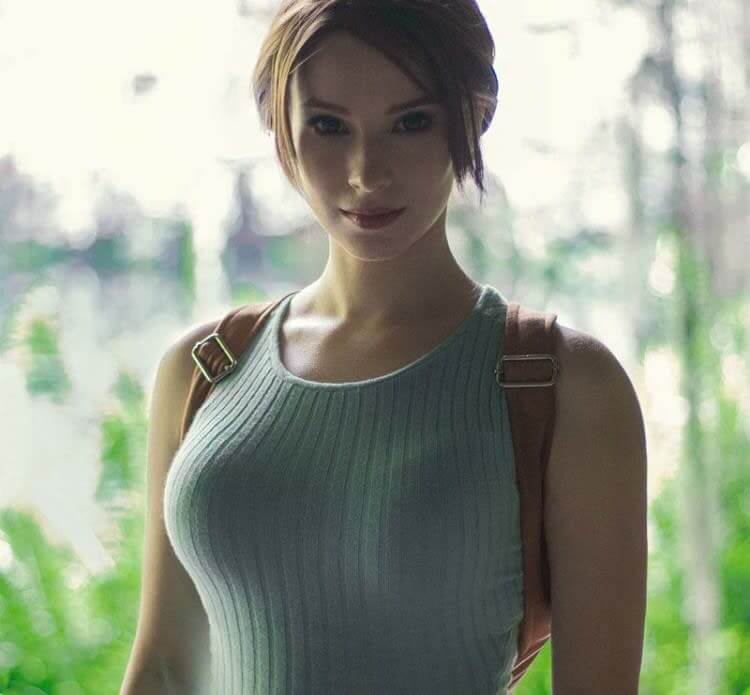 If you don't know who Lara Croft is, well, think of her as a female version of Indiana Jones.
15. Captain Marvel
This talented cosplayer picked the perfect costume. A Dallas, Texas native, she could easily become Brie Larson's double in the future Captain Marvel movies.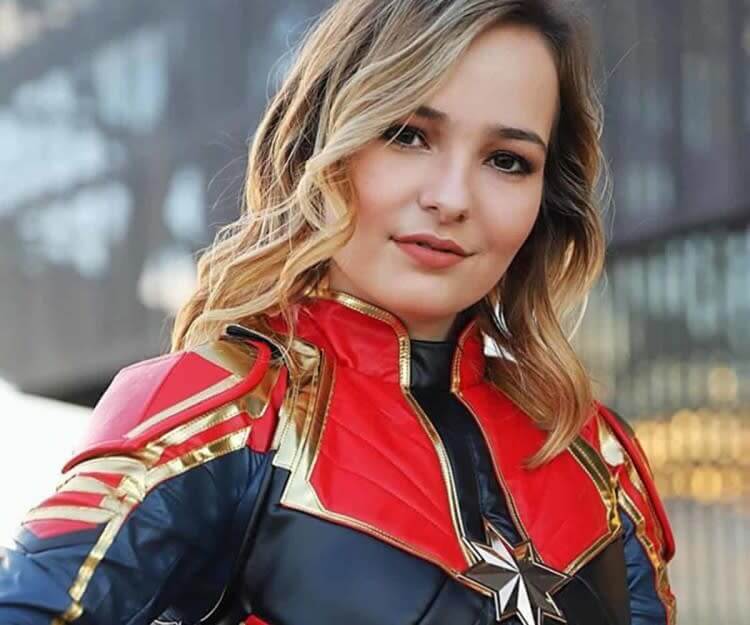 Better known as OMgCosplay, this talented cosplayer is on Instagram under the same name as well. Do check out her Amazing Spiderman cosplay as it will leave you stunned.
16. Daenerys Targaryen
Christina Fink (also known as Christina Fink) is a famous Russian cosplayer. Her Instagram account @kalinkafox has over 168k followers. It won't be wrong to say that her cosplay skills are second to none. Take this one as an example. Her cosplay costume of the queen became a big hit.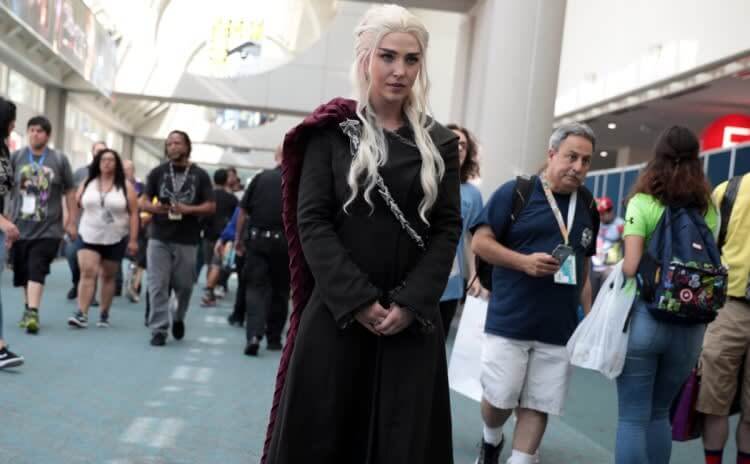 To become in love with her work, make sure to see her epic Wonder Woman and Harley Quinn cosplay costumes as well.
17. Domino
What makes the 23-year-old Unique Sora so popular is that she can turn herself into nearly any character; including Deadpool's newest sidekick Domino from Deadpool 2. She's so freaking good that sometimes fans need a double-look to tell the difference.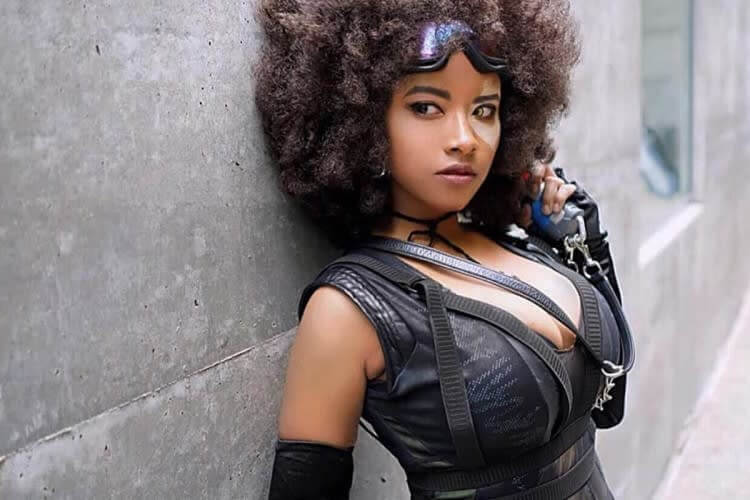 Her Instagram account @uniquesora has over 337k followers. Follow the account to see her cosplay costumes of Esmeralda, Nani from Lilo and Stich and many others.
18. The Wasp
You find someone in a cosplay costume and can't help but admire their beauty and the effort that they had put into their costume. This is exactly the case with this gorgeous lady.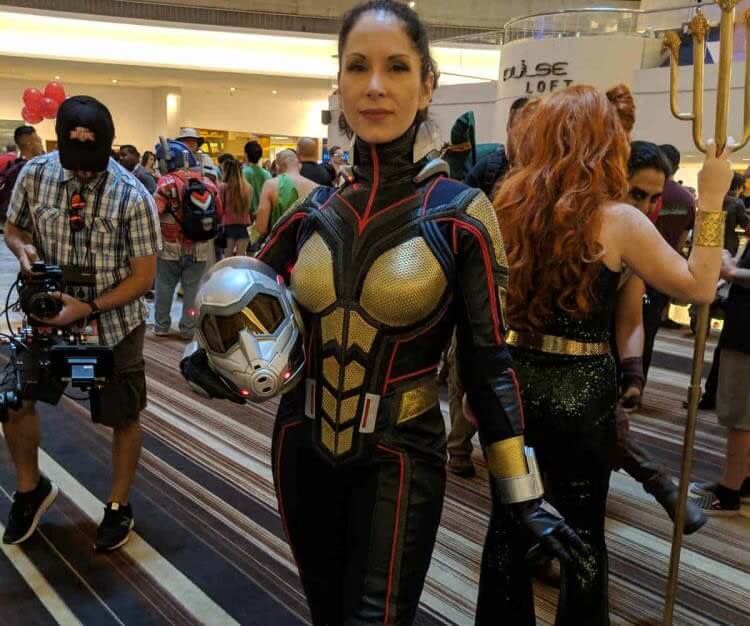 This cosplayer not only had the creativity into creating The Wasp cosplay costume, but she also had the grace and confidence to wear it. 10/10 is a must here.
19. Storm
This cosplayer is actually an amazing model for Coser Cosplay. It is a company established in 2005 which manufactures and sells costumes that range from anime/videogames/comics to Halloween costumes that people love.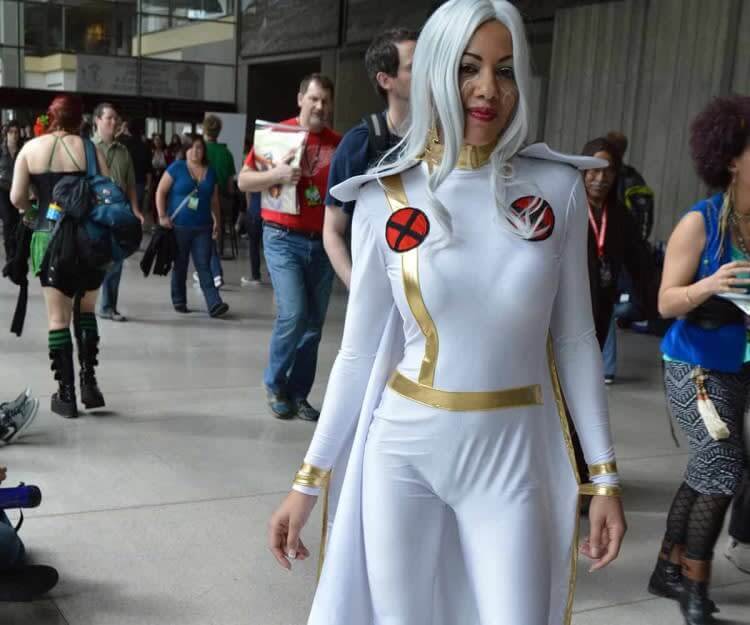 We liked the costume and the way the model carried it. You can give Coser Cosplay a shot if you need custom-sized costumes.
20. Wonder Woman
Many cosplayers have tried to pull off the Wonder Woman outfit, but it is quite rare to see someone doing it so well that we actually thought it was a scene from the film. This is @RocioCosplayer, an avid fashion designer, video gamer, and a huge cosplay enthusiast.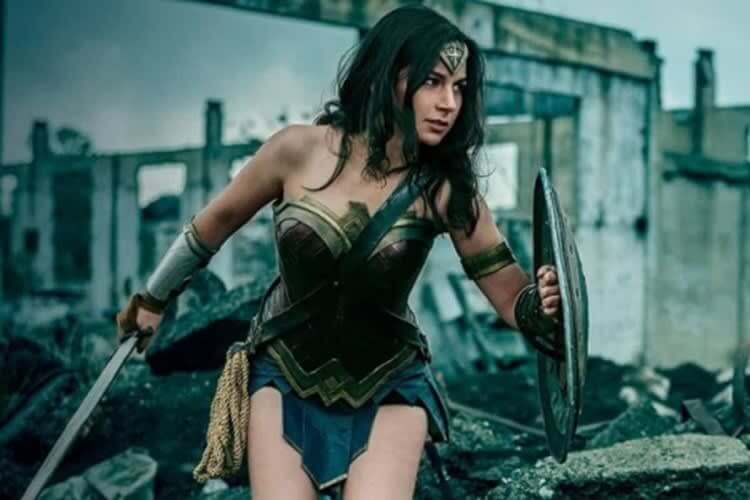 She has also amazed fans with some of our favorite video game characters and as Batwoman. And yes, she did a Freddy Kruger as well. This girl just keeps on impressing us.
21. Dr. Strange
Do you love Dr. Strange's character? If not, then perhaps this might persuade you to change your mind. Rachel Meikle is a talented cosplay artist. We urge you to watch her work, especially of Aurora and Cinderella.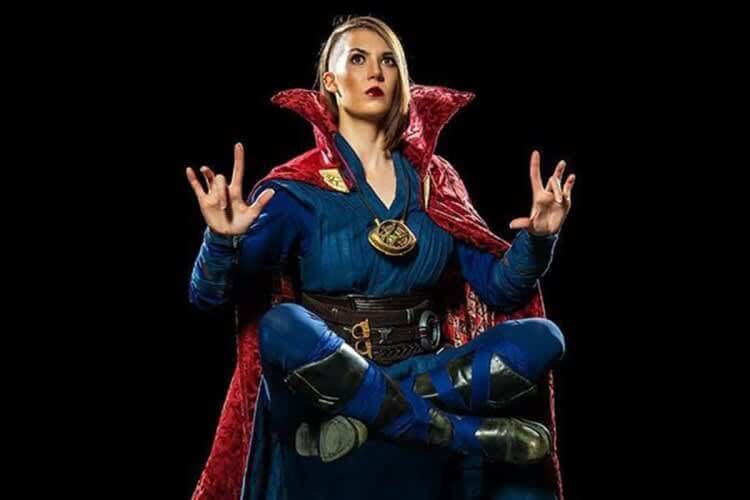 She's on Facebook and Deskgram as @rachelmeiklecosplay. The unique part about her work is that she hand-makes most of her outfits. She is no stranger to creativity and hard work.
22. Hades
If you were among those lucky people who attended LBM15 (Leipziger Buchmesse Manga Comic Convention), then you must have seen this fantastic costume. German Cosplayer Jacqueline purchased this costume from online cosplay dealer Coserz.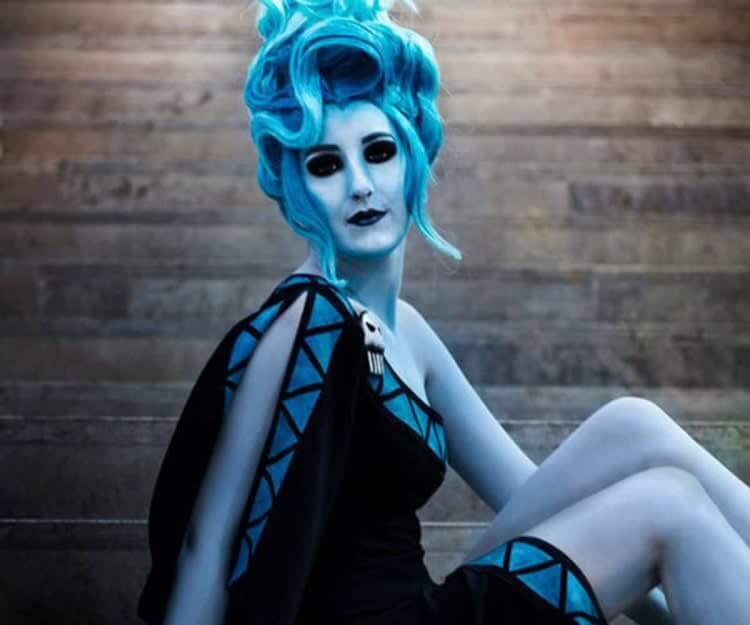 she looks amazing in the costume, and even did her own makeup and even made the wig herself. You can check her work on Deviant Art or find tutorial videos on her YouTube channel.
23. Mantis
This LA native have two accounts (@lianne507 and @lianne.cosplay) and a YouTube channel where you can find finished cosplay projects and some of the most epic transformations.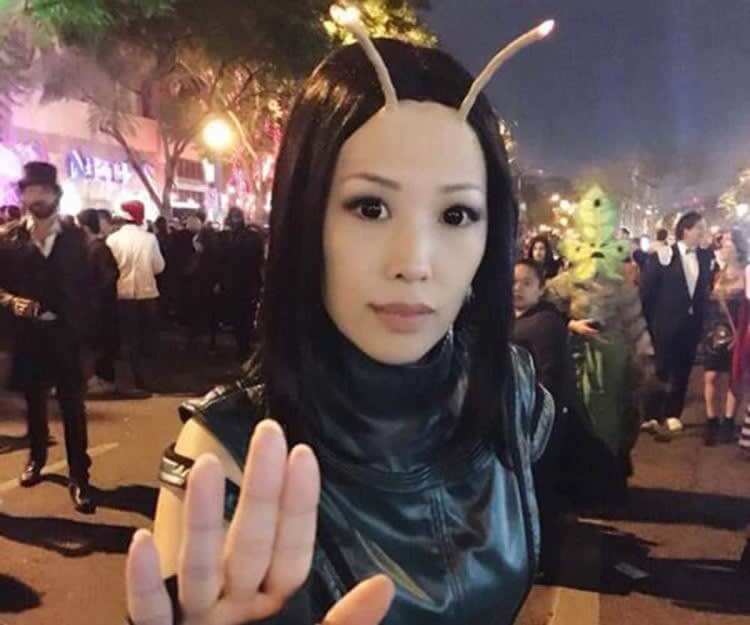 Here, doesn't she look stunning as Mantis? You'll be amazed at some of the other Guardians' characters that she pulls off.
24. Batgirl
If you haven't watched American superhero television series Batwoman, then you should give it a shot. But here is something that amazed us all. Lola V went for a Batgirl and perfectly nailed it. We really loved it how she went with the same yellow kicks as the cartoon batgirl.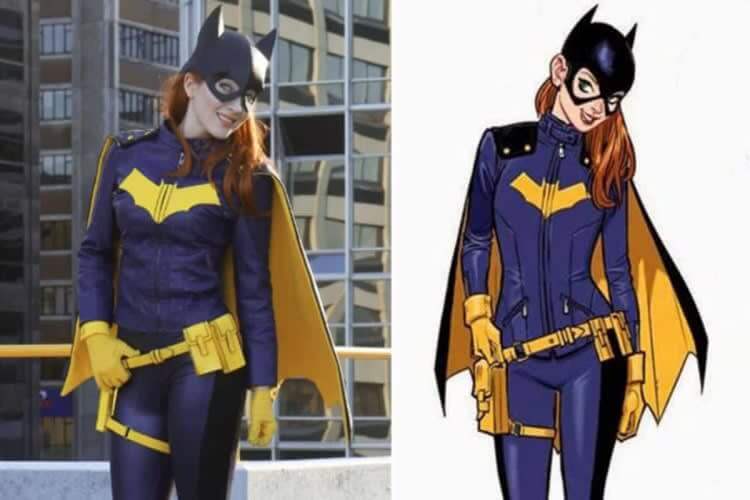 She's definitely showing the world that New Zealand is not behind in stunning cosplays as well. And do check her Instagram account, @lola_v_cosplay.
25. Raven
UK cosplayer Oh My Sophii can blow anyone's mind with her craft. She fell in love with cosplay thanks to her friend Cissa who took her to a convention in 2009. Her focus is mostly on comics, video games, and anime characters.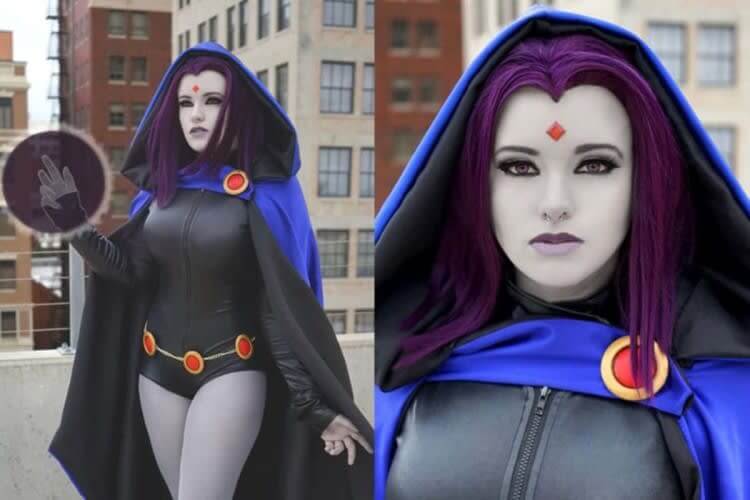 By the way, her husband is usually her photographer. You can follow her on Instagram, @OhMySophii.
26. Kitana
Fans of Mortal Kombat will love this cosplay costume. The first thing that comes to your mind after looking at this picture is, "Finish Him!"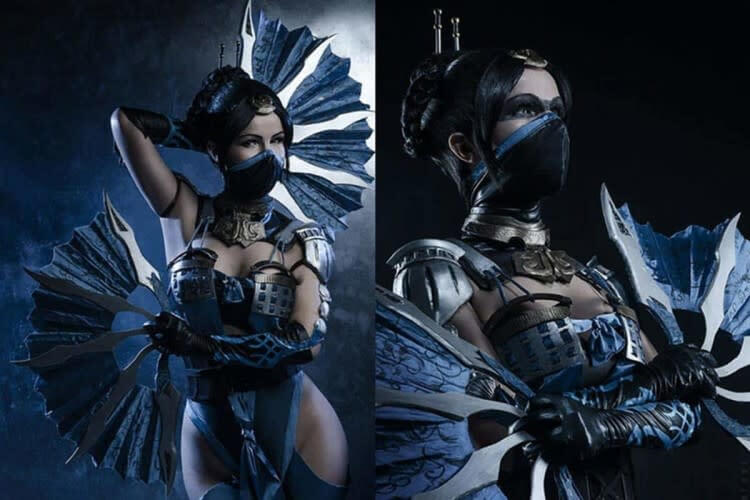 This person is not the real-life Kitana (sorry to break your heart) as she is a costume model for an Etsy store. But hey, fans don't mind as long as the costume looks cool, right?
27. Pennywise
Polyvore made this epic Pennywise costume and anyone can get it for just $60. However, you'd have to come up with perfect makeup and pigtails.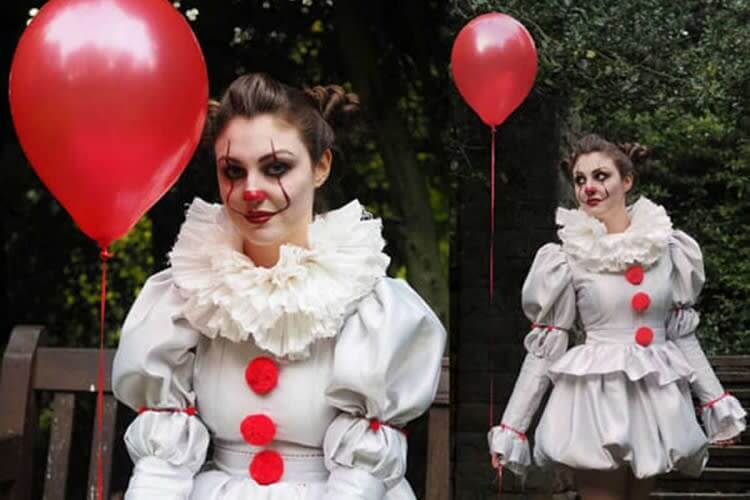 And how can we forget a red balloon? Without it, you can't completely pull off Pennywise's look.
28. Pepper Potts
This talented cosplayer is Katharina Kastian and she's from Germany. She is known for making original designs and outfits like this Pepper Potts/Iron Man costume. It seems like she's all ready to be cast in the next Avengers movie.
If you are wondering how she made it, then here's what you need to know. The suit is built entirely from high-density foam and then custom painted. You can check her Etsy store if you want this costume.
29. Samus
This gorgeous cosplayer is Amanda and she is from Seattle, Washington. Although we don't know how exactly she pulled this stunner, we have absolutely no complaints here.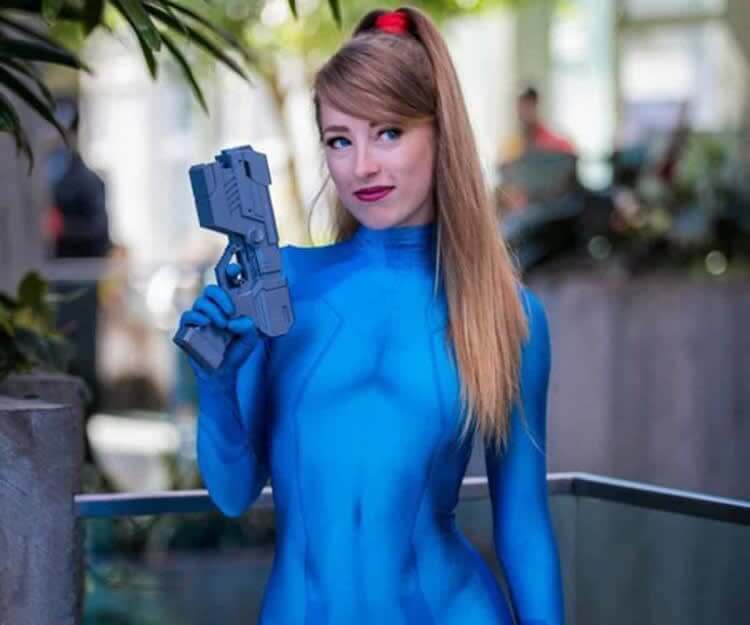 She's originally from Canada and is a multi-talented woman. She is a self-professed raver, dancer, traveler, gamer, and a dreamer.
30. The Bride
All Kill Bill fans should be excited about seeing this. After all, it is quite difficult to pull off this bad-ass look. This is the Bride costume from the movie which you can get for about $150.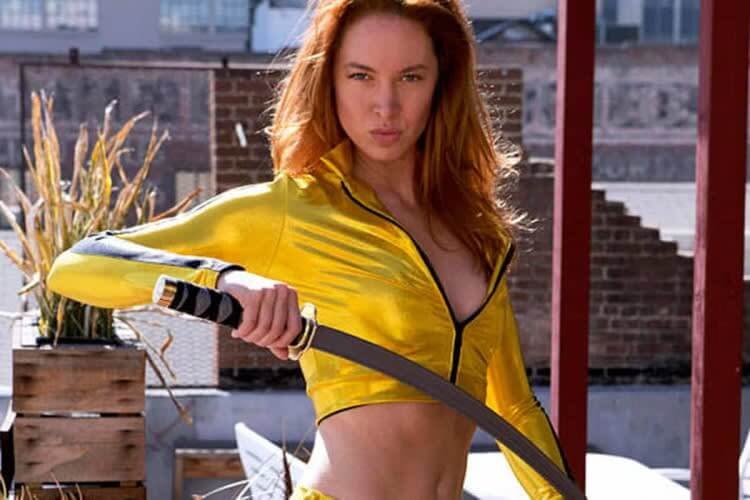 But the sword is not included in it. One thing we know for sure that no one should mess with this model. Simply mind your own business and stay out of her way.
31. Snow White
Although Snow White costume is not difficult to pull off, you still need everything to be spot on. And that is exactly what this beautiful lady achieved.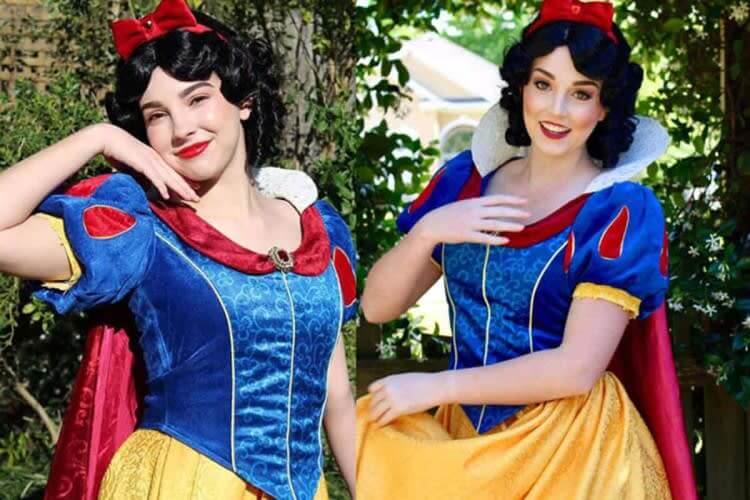 She's already good looking and she bought the costume from an Etsy store. We love it, what about you?
32. Deadpool
Stephanie Roozu such a talented cosplayer that anything she wears perfectly fits her. She has become a prolific cosplayer because of her talent and sheer dedication.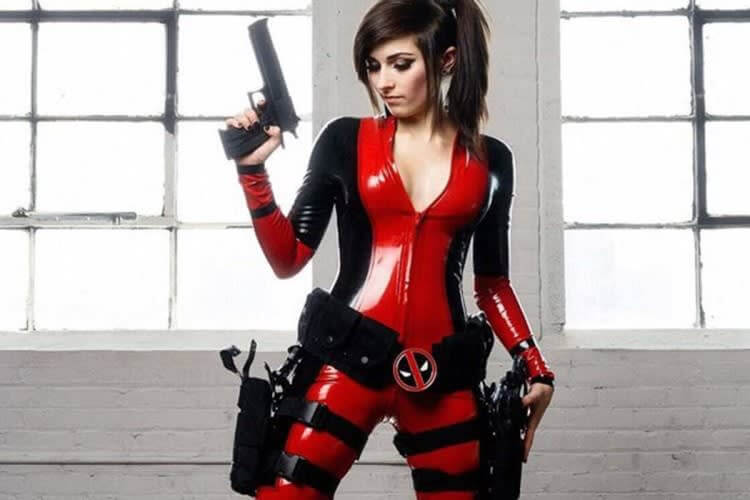 You can check her portfolio on her website as well as 30 sponsor relationships. Her Deadpool costume was part of a photoshoot by Stephanie Roozu. You can check her work on Instagram, @sutefaniiroozu!
33. Captain America
This gender-bent Captain America just shows you how stunning someone can look with the right costume.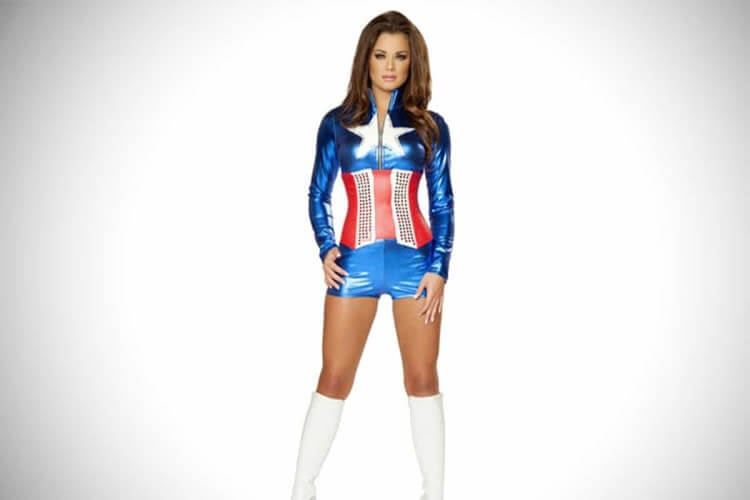 This is a bodysuit style outfit and the short and white boots completed her look. What are your thoughts on this one? We are going to give it 10 out of 10 marks without any hesitation whatsoever.
34. Sailor Jupitor
This spectacular cosplay is the creation of gillykins (her deviant art handle as well). Do check out her handle to be amazed as you will find incredible cosplay images of her outfits.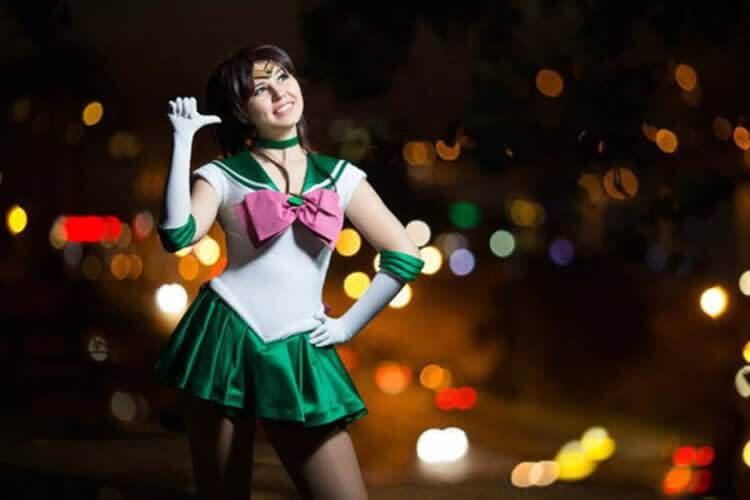 What makes her IG account different from others is that she posts about everything from her personal life to her cosplays as well.
35. Punisher
Hannah Ray is more than just an average cosplay enthusiast. And people, don't let her puppy dog eyes fool you.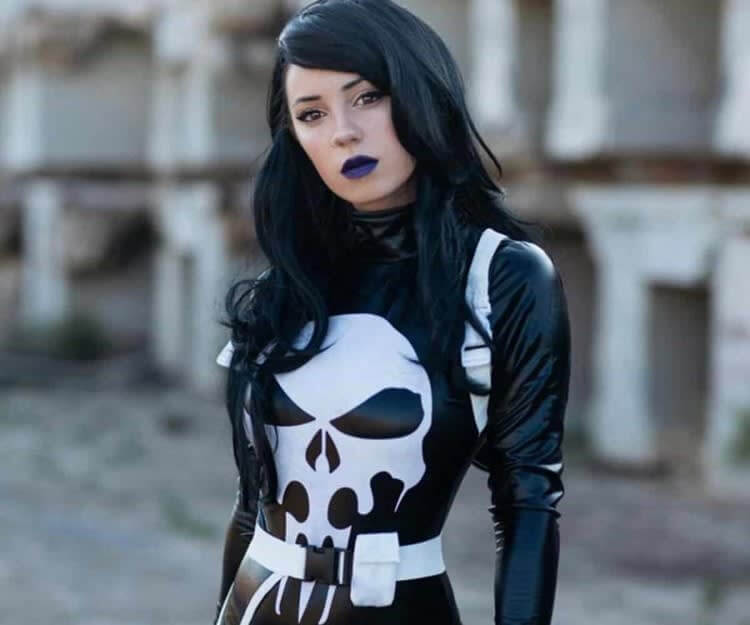 She is a genius when it comes to cosplays and marketing. She is making good money out of selling signed prints of her. You can find her on twitter and Instagram under @HannahRayNinja.
36. Elektra
Although it is an Elektra cosplay, it does have some resemblance with Ann Tamaki from the video game Persona 5.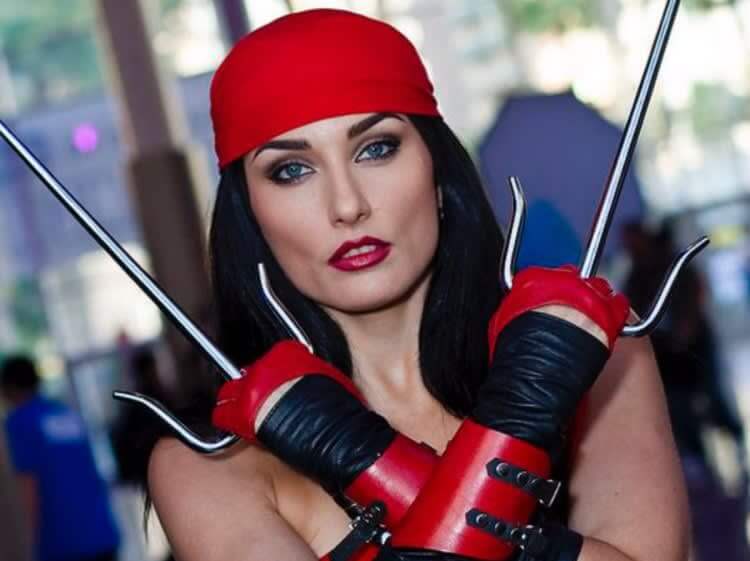 Nevertheless, it is quite impressive work done by the cosplayer. By the way, you can find more about her under the name "shiroganesama".
37. Spiderwoman
This phenomenal cosplayer is Lakette. She's from Spain and has her own YouTube channel where she shows the world her cosplay skills and also gives tips to beginners.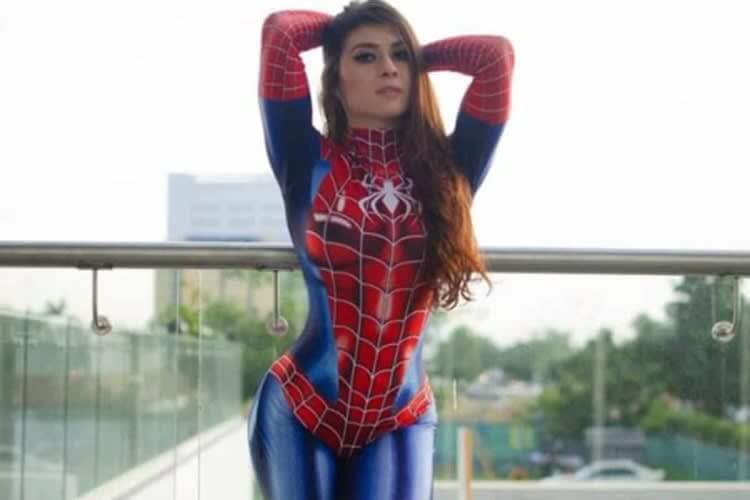 You can check her Instagram account @barraza_lakette. When she's not wowing us with her costumes she spends her time working as an architect.
38. Ant-Man
If you ever thought there would be no gender-bent Ant-Man, it is time to change that thought. And here's an interesting fact for you. Most ants are female, except for soldier ants.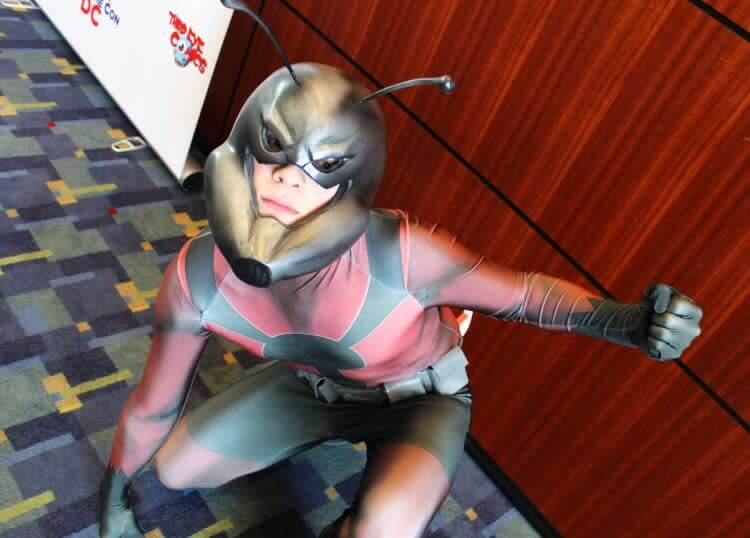 So, maybe this cosplayer Eternal Rose wanted to make a statement with this costume. Her helmet was a Christmas gift, the black is stretch vinyl and the red is a stretch knit fabric.
39. Supergirl
The Aquawoman cosplayer Laney Jade strikes again with Supergirl cosplay costume. She lives in Washington D.C. and keeps on impressing us with her amazing costumes.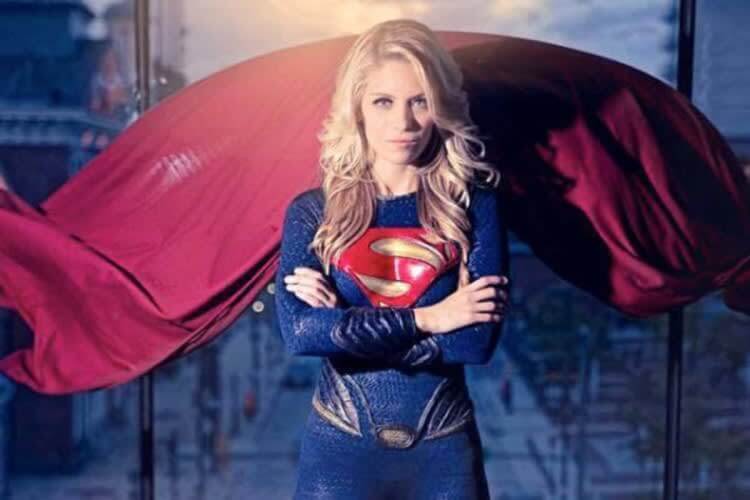 When one of her fans asked her about why she became a cosplayer, she said on her Facebook page: "I suppose I like to dress up." We just hope that she keeps on doing this brilliant work.
40. Black Panther
This is an incredible gender-bent Black Panther cosplay. Amazingly, it also glows in the dark. @cutiepiesensie (IG) made this cosplay and shocked everyone with her stunning looks and an infectious smile.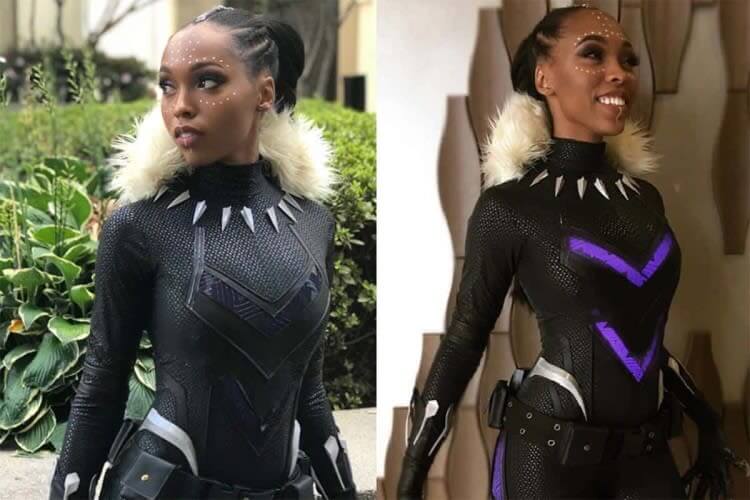 Follow her on Instagram and if you just fell in love with her, then you should know that she's already married.
41. Gamora and Nebula
Mind-blowing! This Gamora and Nebula cosplay looks out of this world. We promise that this isn't the actual Gamora and Nebula from the movies but are cosplayers Sara Moni and Amber Skies, who created and wore these outfits.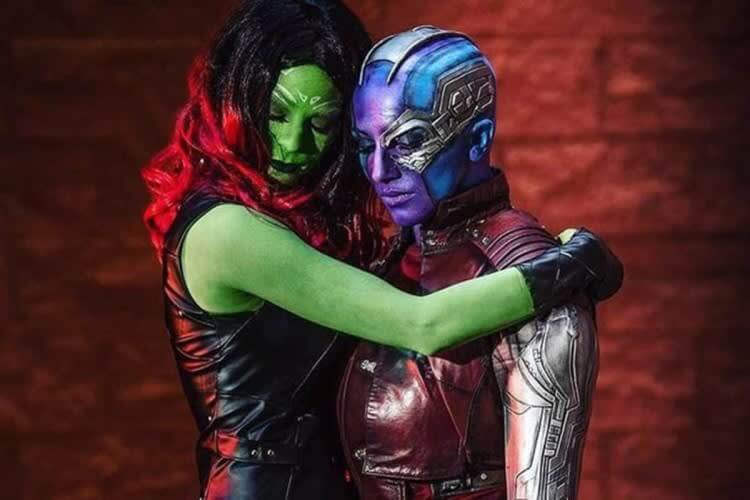 You can find Sara on IG @saramonicosplay and Twitter @KrayolaKid. If you want to see Amber's work, you can find her on Facebook (amberskiescosplay) and Twitter @theamberskies.
42. Kim Possible
Lola V featured on our list earlier and here she is pulling off stunning Kim Possible cosplay and we have no words to describe how much she has impressed us. After all, she has done everything right from the incredible stomach to her smile.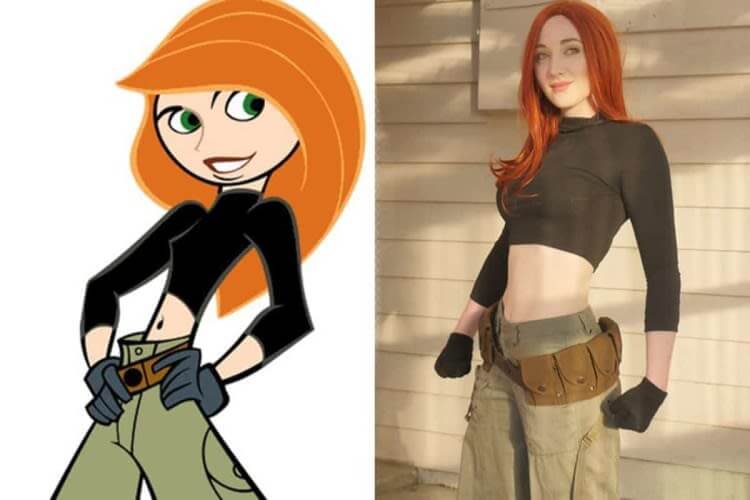 Although the outfit seems simple, there are actually quite a few minor details that most people wouldn't notice, but that hasn't been lost on Lola V.
43. Cyclops
Camila Menezes is showing us why we love cosplays so much. This outfit is made at home and looks spectacular.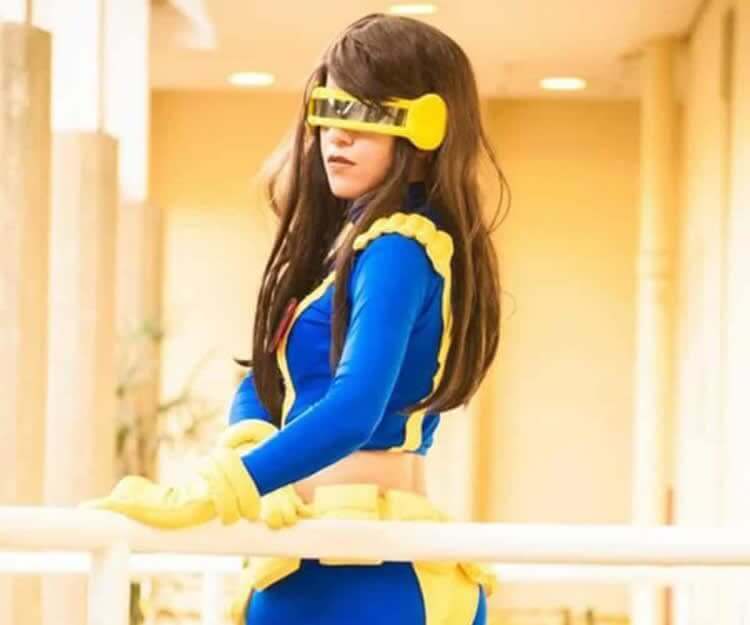 She is more of an old school cosplayer as she always tries to honor the original characteristics of the craft. Check out more of her work on Instagram @camenezesx.
44. Sakura
This is too good because female cosplayer DidsRainfall perfected everything down to the stare. She is one of those cosplayers that take the utmost pride in their craft.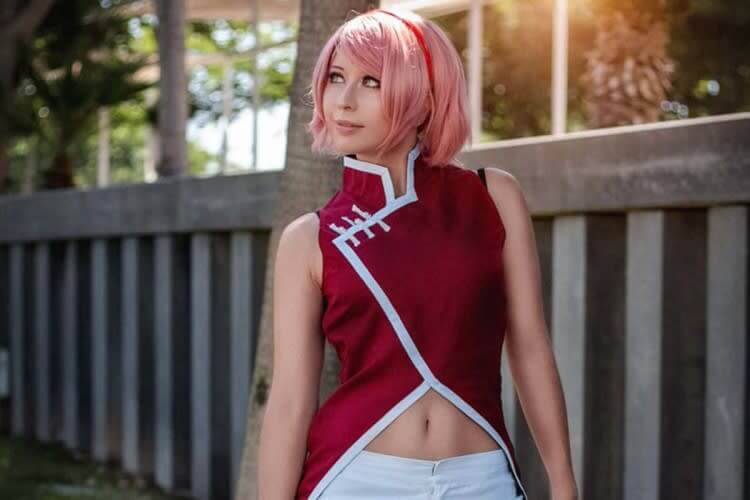 She made the top all by herself and went with a pink wig and white pants to pull off a great look. This cosplayer from Spain is, without any doubt, one of the best cosplayers around.
45. Lana Kane
Unique Sora features on our list again as Lana Kane and you have to admit that she has impressed us more than once before.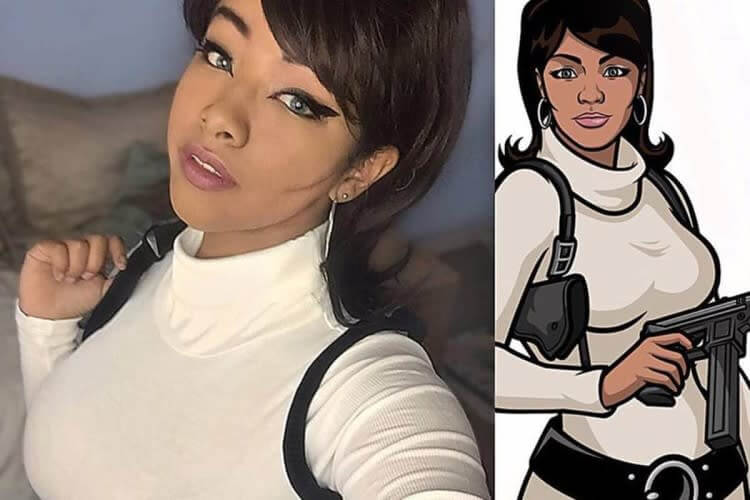 She is one of those cosplayers that work super hard to achieve perfection and we can see that in this cosplay costume in which she did everything right.
46. Jessica Rabbit
Wow! Just Wow! You have to understand that pulling off Jessica Rabbit requires everything to match from sequin laden to gorgeous long red hair.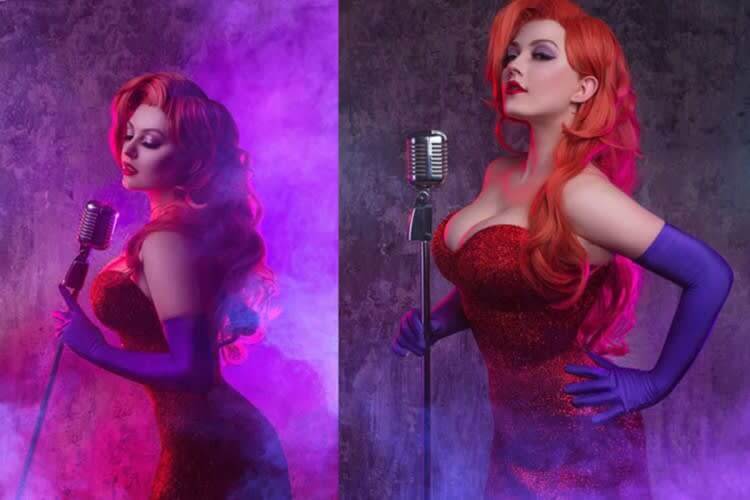 This cosplayer did everything perfectly and we have to pinch ourselves to believe that she exists in real life. This is simply one of the best female cosplay costumes.
47. Pink Ranger
Angela Domanico is a gorgeous female cosplayer, also known as LadyDoombats (@angeldomanico_ on Instagram).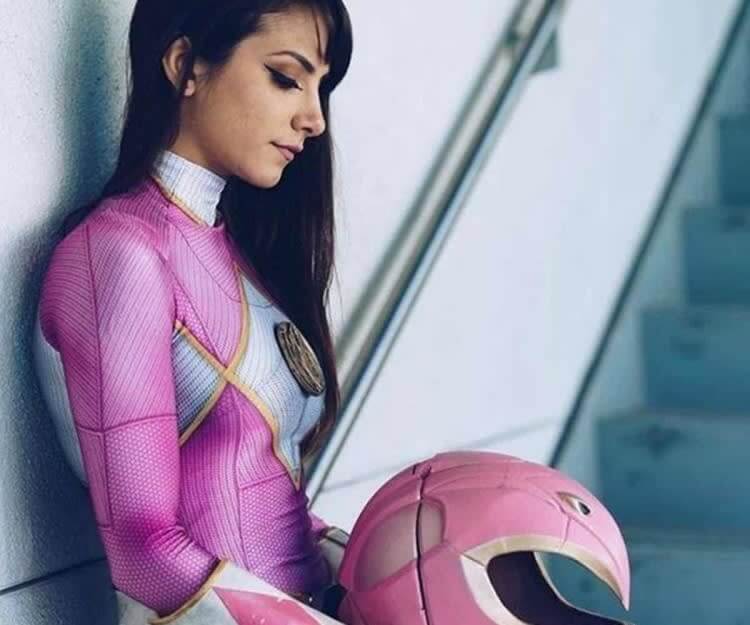 She is the Pink Power Ranger here and we all can see how much time and effort must be needed for this costume. Supergeek Designs made this suit and sewing was done by Zentai Zone. Do follow this cosplayer for more incredible cosplay outfits.
48. Black Cat
CutiePieSensei is one of the most popular female cosplay artists around and she sure does know how to say Meow.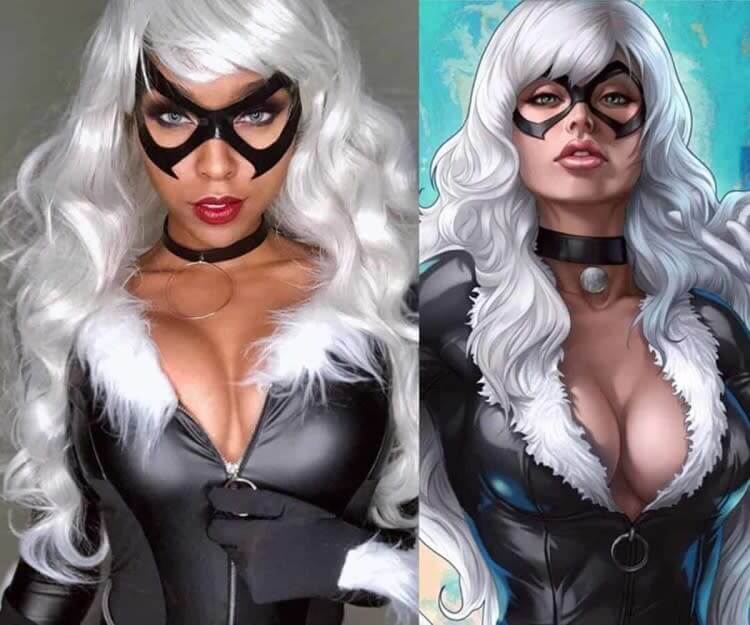 Everything about this cosplay outfit is spot on and we can't find anything to complain about. All we can do is look at her outfit and take some time to just admire her work.
49. Wolverine
It really doesn't matter if Wolverine is missing a claw when someone has put so much effort into creating an impressive cosplay costume like this one. The cosplayer is Rebecca from Maryland. She is on Instagram and you can find her by searching @becksters_lab.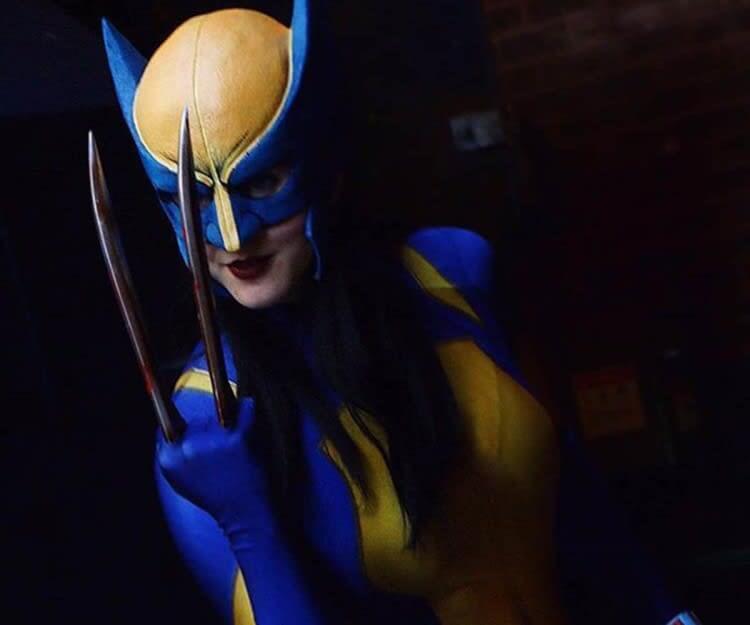 We can assure you that her account is filled with impressive characters like Batgirl and Captain Marvel. For her work, she is a fan favorite at Comic Cons.
50. Harley Quinn
We conclude our list of 50 amazing female cosplays with this masterpiece. Russian cosplayer widely known as Karishma Cosplay did this vintage Harley Quinn and everyone just couldn't believe what they saw. Many thought that it was the real Harley Quinn.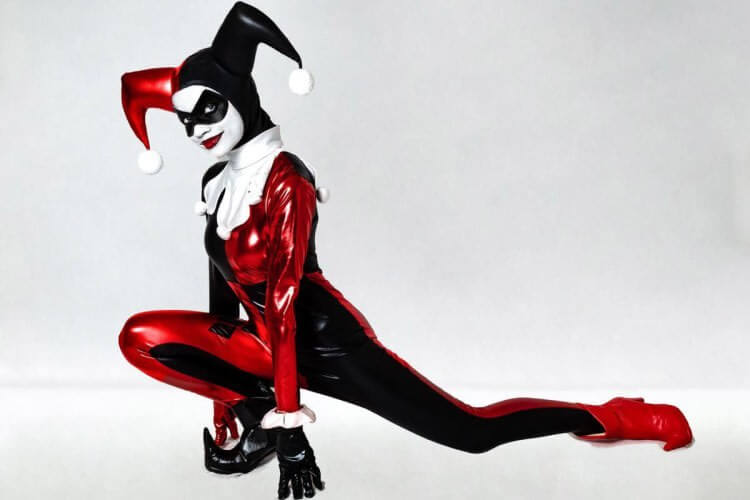 You can check her page model for @gamegirlscentral why fans are crazy about her. Follow her on IG by searching @karishma_cosplay_magic and we can say with absolute confidence that you won't be disappointed by her work.