Have you ever stumbled across something on the internet and thought, "Where has this product been my whole life?" Whether you're shopping around for things that will make your day-to-day life easier or trying to reduce the clutter in your home, there are tons of useful products on the internet that you probably never knew were there to solve those daily problems that you've been frustrated about. From all the annoying tasks like trying to find a spare plug to knowing where you're keys are at all times – these unbelievable products are brilliant, useful, and, best of all, super cheap! See if there's anything here that would be perfect for you, and feel free to thank us later as you discover these simple, yet perfect inventions.
A Portable Device To Make Bug Bites Stop Itching Right Away
In the summer, nothing is worse than mosquito bites. They itch like crazy, and they make your body light up with all the red bumps on your legs. The thing that makes bug bites itch so much is the irritants left under the skin after they bite you.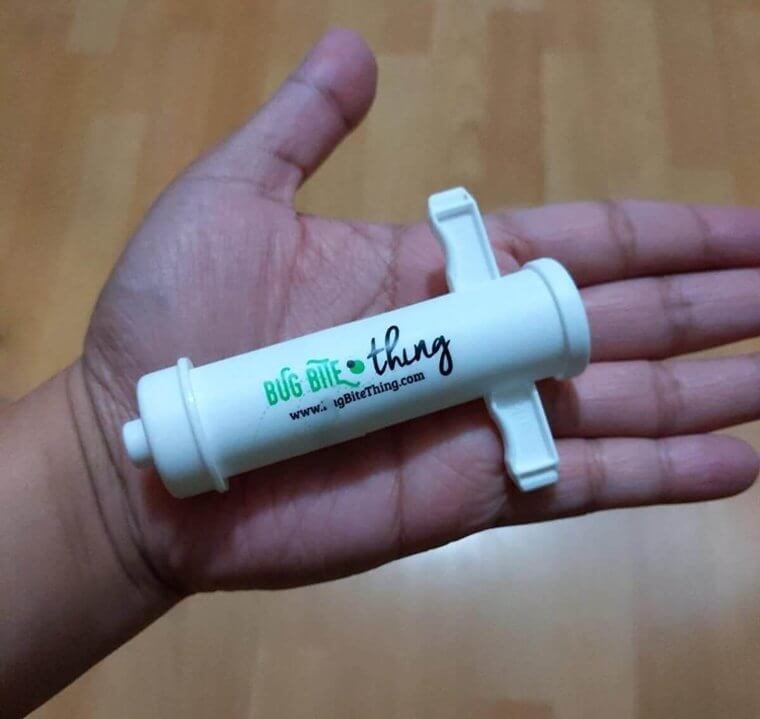 This pocket-sized suction removes the irritants that cause swelling and itching and helps the bug bite go away faster. It works for all kinds of bites and stings like mosquitoes, bees, wasps, biting flies, and more. It can also suck out splinters too. 
Smart Plugs Make Your Life Easier
These smart plugs are something we literally never thought we would need. The small cubes plug into any outlet, and you can use them to set your lights and appliances on specific schedules. Everything is controlled from one convenient app that connects to the plugs.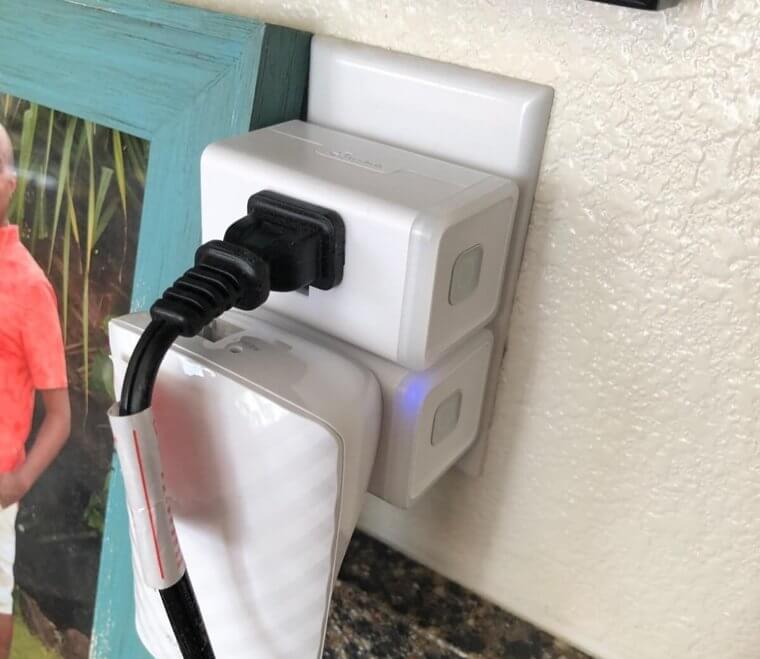 If you have a Google Assistant or Alexa, you can also control the plugs that way. This would save us so much money on our electric bill because nothing would be on or charging when it doesn't need to be. 
A UV Sanitizer For Your Phone
This past year, we have become more and more concerned with germs and keeping our hands and devices sanitized. While wiping your phone with an alcohol wipe is an option, it is not great for the environment. That's why we couldn't resist this UV sanitizer.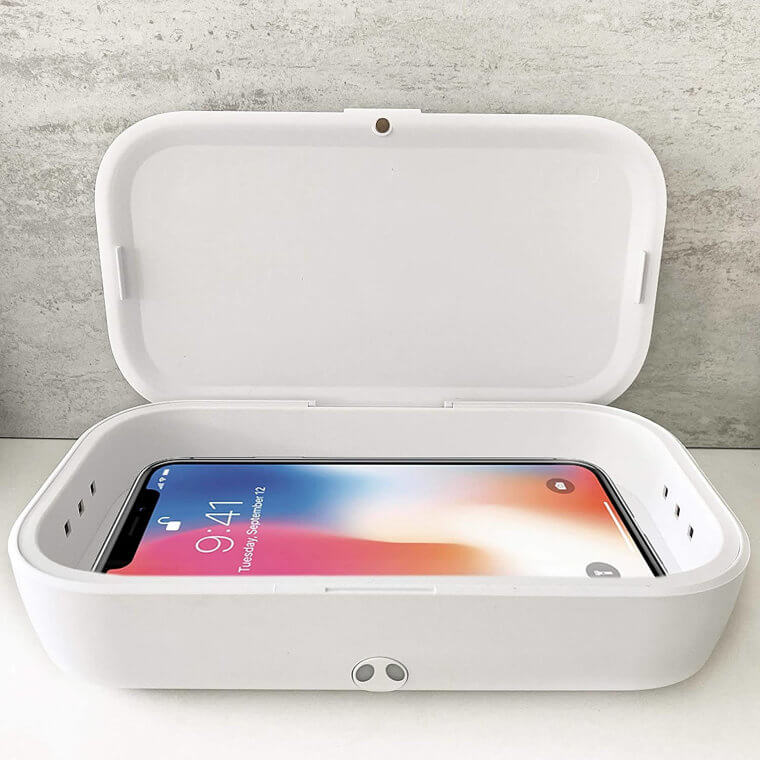 It kills 99.9 percent of germs with UV light, so you won't have to worry about all the gross microbes collecting on your phone. It can also charge your phone while it sanitizes. You can also use it for all small things like your keys, headphones, and sunglasses, so everything is sanitized. 
An Inflatable Travel Pillow That Is Actually Comfortable
While flying is exciting because it usually means that you are going on vacation, it isn't always the most comfortable mode of transportation. However, neck pillows definitely make the flight much easier, but it is hard to find one that folds up and also keeps your neck comfortable.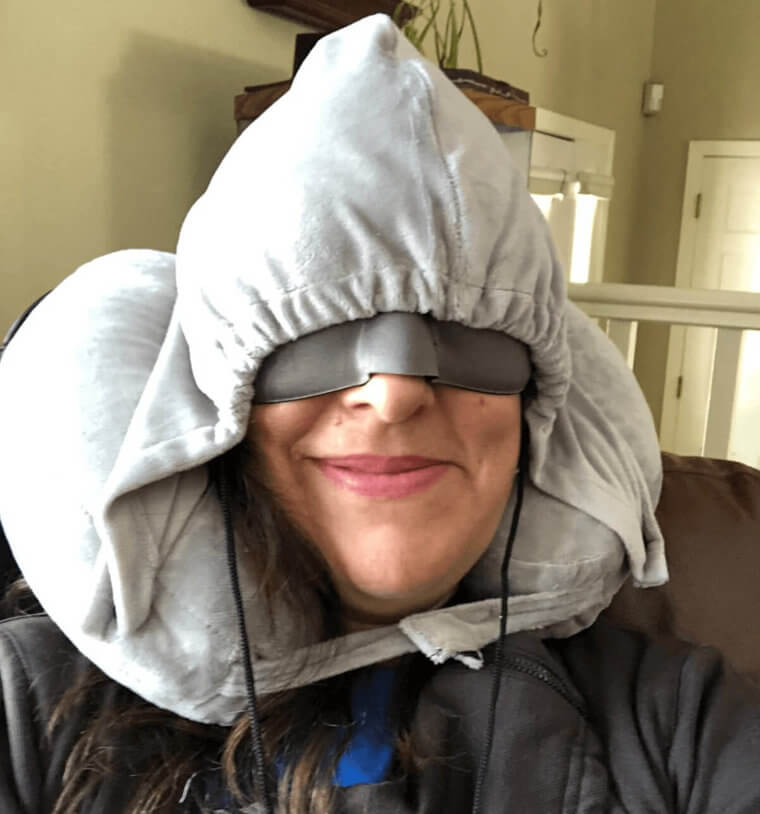 This inflatable quality travel pillow supports your head and neck without drooping. It is perfect because it can deflate and fold up without taking up too much space in your bag. It even has a pocket for your phone and a hood to keep your head warm on the cold plane. 
Never Lose Your Household Items Again
If you are anything like us, you are constantly losing things around your house; from hairbrushes to TV remotes. It's especially frustrating when you are running late and can't seem to find the one thing you need.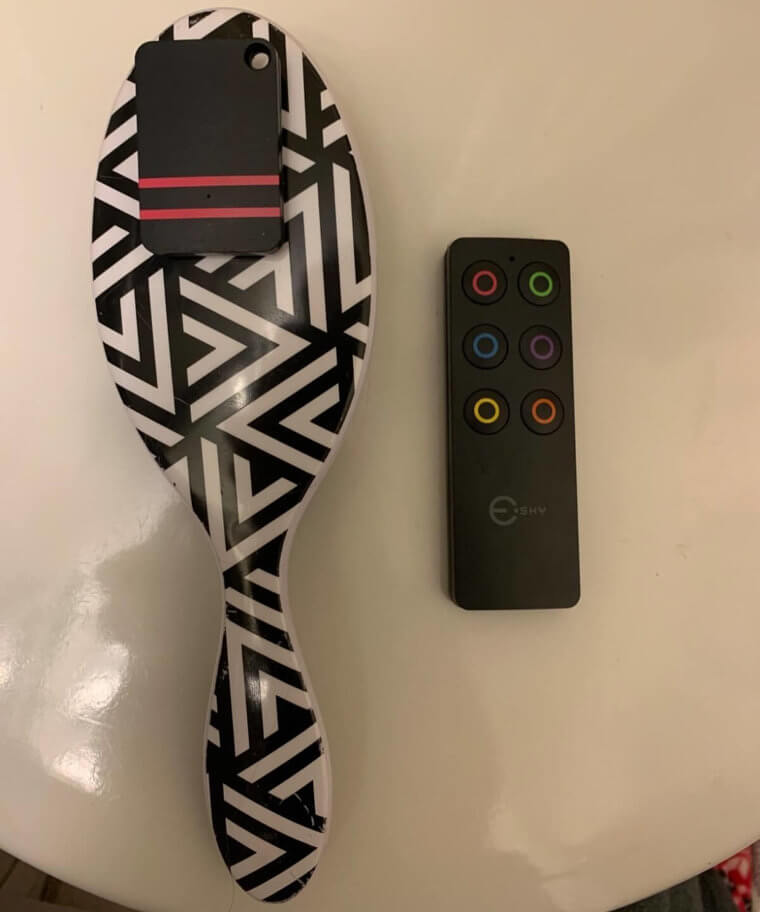 This item locator is the best thing we have found for our absent-minded selves. The color-coded remote comes with six receivers that have corresponding colors to each button. You just have to stick the receiver on, and when you push the button, it makes a loud sound so you won't misplace your things again. 
An Egg-Separator For Mess-Free Food Prep
If you love to cook and bake you probably know how messy it can be to separate eggs. There is nothing worse than having a runny mess of egg yolks and whites, but this little tool has saved us so much time in the kitchen.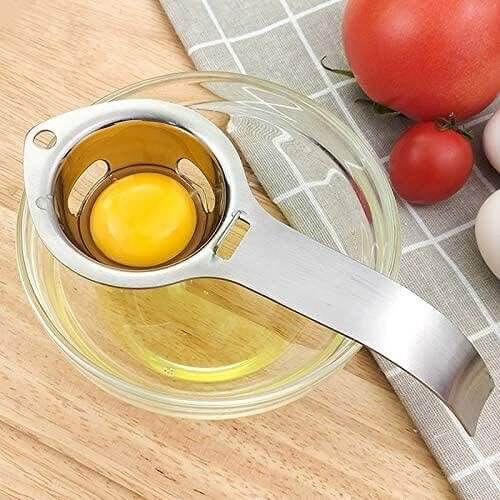 Instead of fussing over breakfast and trying to get every last bit of egg white to finally fall off, get yourself one of these egg separators. It saves so much time because all you have to do is crack the egg over the separator, and it does the rest of the work for you. 
The Best Pet Hair Catcher
If you have pets at home, you probably struggle to clean up all the hair they shed. While it might not bother you so much, it does start to build up over time, and many vacuums don't collect all the hair. We just found the ultimate solution to get rid of the pet hair, thanks to TikTok.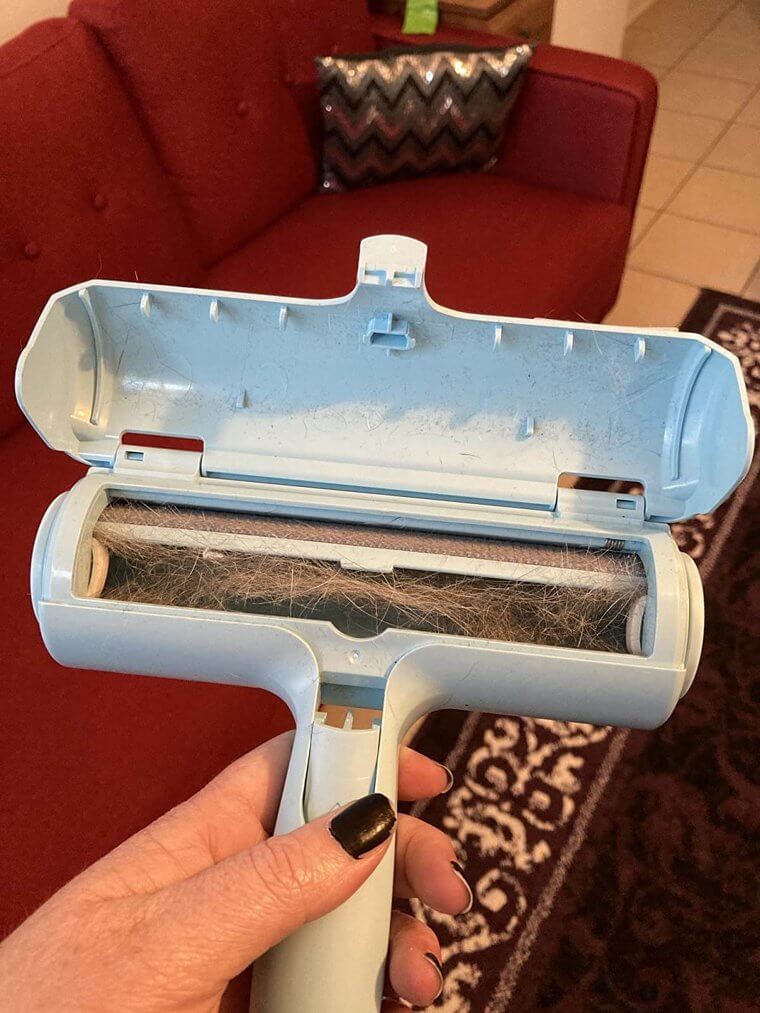 The roller collects all the hair inside the chamber, and it's straightforward to use. Plus, you can wash it out after every use, so you know the pet hair isn't sticking around. It doesn't even need batteries, which makes it even more amazing. 
Mess-Free Gel To Clean Every Crevice
Two of the most annoying things to clean are the air vents in your car and any keyboards. The super small spaces are so hard to get into with any wipe or cleaning device, and dirt build-up is not good for any device.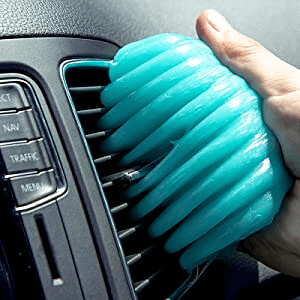 This slime-like gel is the best thing we have found for cleaning everything that has small cracks and crevices. The gel can also be used multiple times because you can wash the dirt out of it. Be prepared to obsessively clean your devices because it is so addictive. 
A Notebook You Never Have To Throw Away
One of the most wasteful things about school is the notebooks. We remember getting new notebooks each school year, and sometimes having to buy multiple because we ran out of space. While we can't move everything online, there is a way to be more eco-conscious.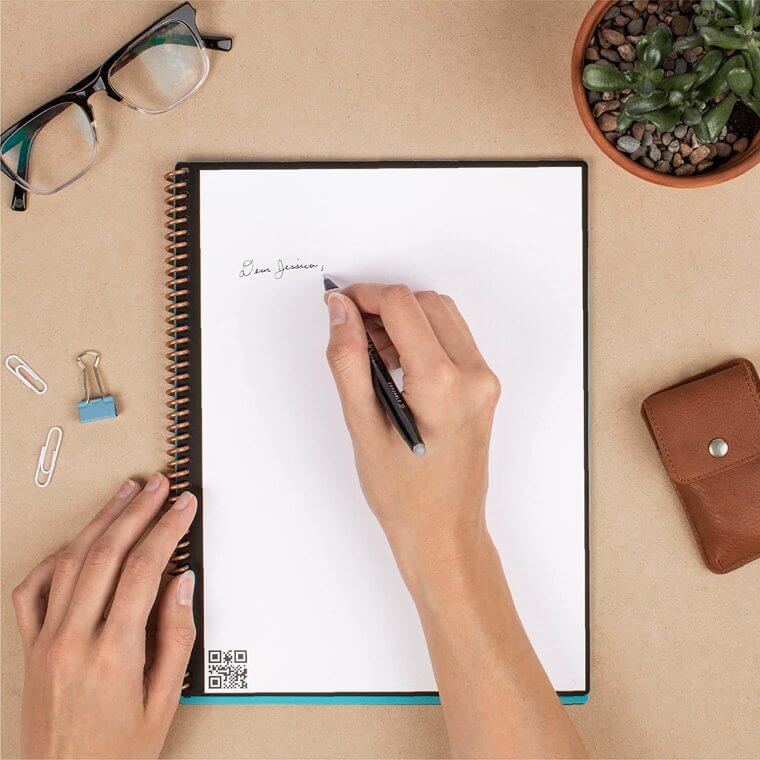 This notebook has 80-pages that can be re-used by simply microwaving it. But you don't have to lose all your notes every time you need a new piece of paper. You can send your notes to Google Drive, Dropbox, Slack, and any other cloud service. It is a notebook you will never have to throw away. 
A Jar Opener That You Can Mount To Your Cabinet
Have you ever struggled to open a jar? It is almost embarrassing because it makes you feel like you need to hit the gym to boost your upper body strength. However, there is one kitchen device that will open any jar effortlessly.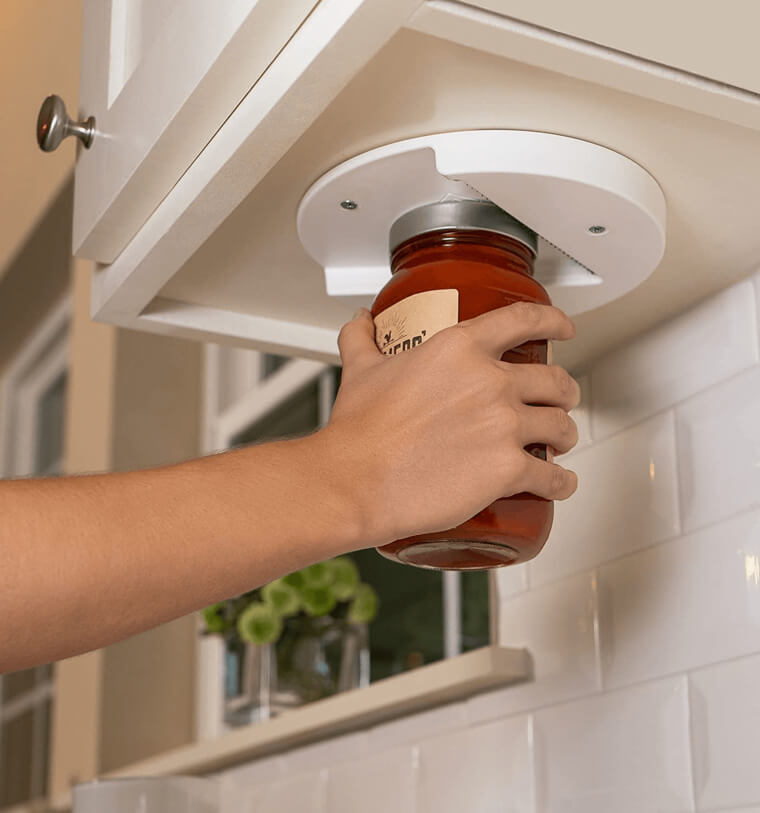 This jar opener adheres to any cabinet, and it can open any jar or bottle (even the child-proof kind). It is can be installed in seconds, and you will never struggle to get into that temperamental jar of pickles again. 
Motion Sensor Lights For Any Room
Have you ever gotten up in the middle of the night and have to slowly feel your way down the hallway because it is too dark to see, and you don't want to turn all the lights on? We have all been there, but there is a better solution.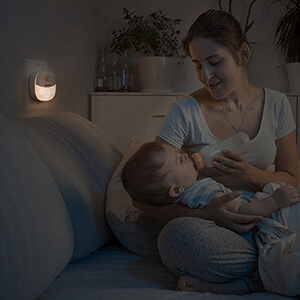 These small motion sensor lights can light up the hall or whatever room you need them, and they won't run up your electric bill. They turn off after 60 seconds of no movement, and you can even adjust the brightness. 
This Gadget Saves So Much Time Cutting Garlic
Garlic is one of the best additions to any dish, but it is probably the most annoying thing to chop. Not only does it make your hands smell, but the cloves are so small it is almost impossible to get them finely minced unless you are a professional chef.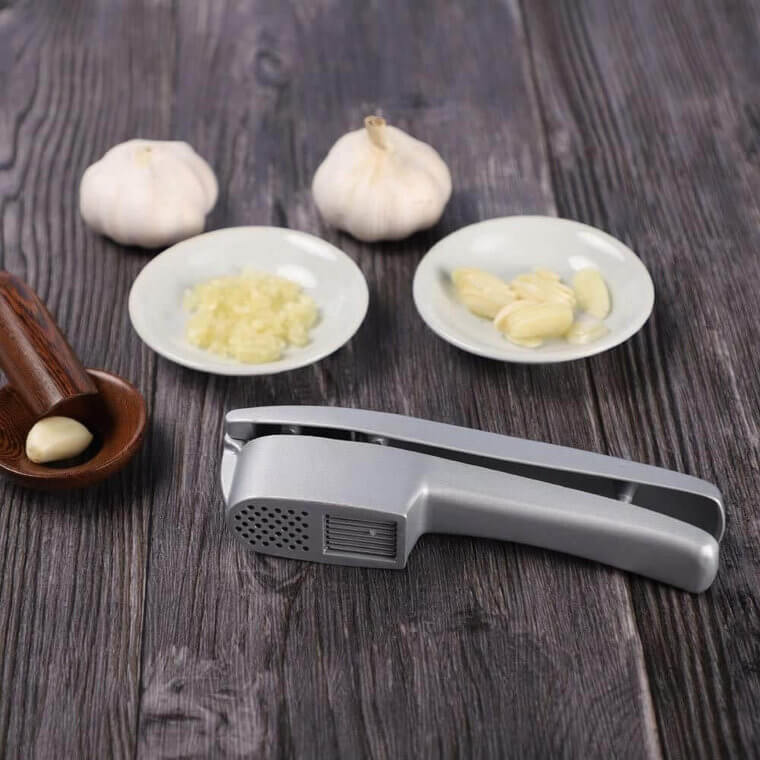 If you love garlic as much as we do, you need one of these multi-tasking garlic mincers and chopper. You just put the garlic clove in and squeeze. It will seriously save you so much time, and your hands won't smell for the rest of the week. 
A Grill Light That Helps You Cook At Any Hour
Is there ever a bad time to barbecue… besides in the middle of a snow or rainstorm? While it really depends on your grilling tools, there is one way to make grilling at night easier when you aren't in a well-lit area.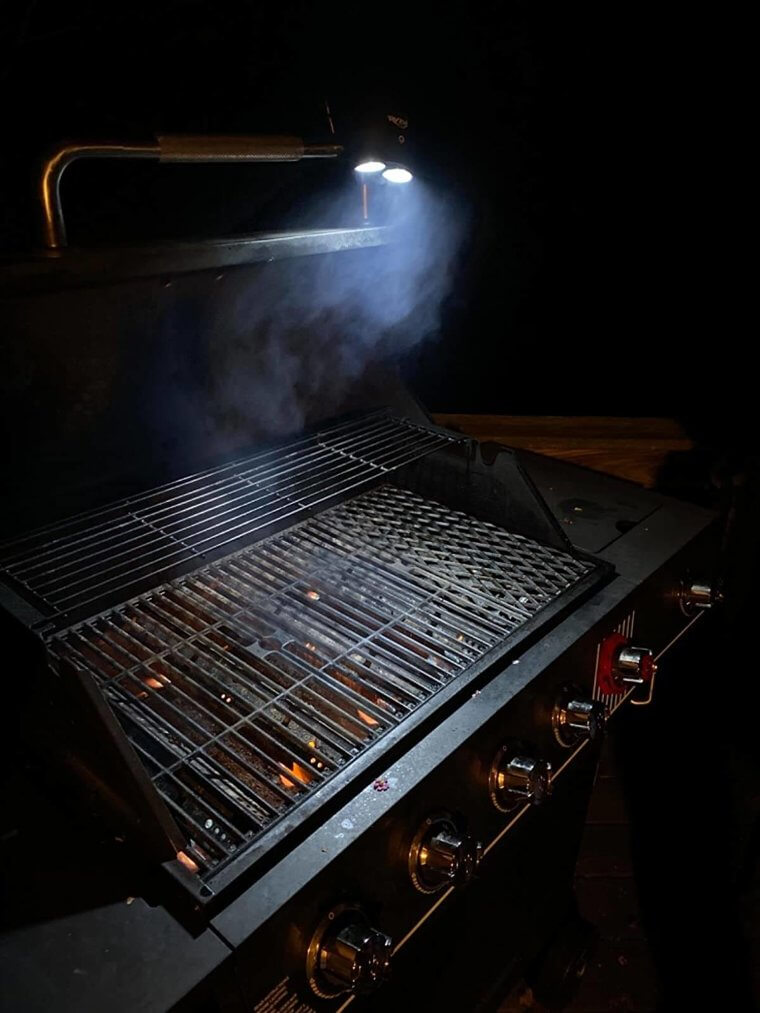 This grill light clips onto the hood and rotates 360-degrees. It is like a spotlight for your grill, and it makes a world of difference. It's also waterproof, and the brightness is adjustable. If you want to grill at night, go ahead with this fantastic tool. 
An 18-In-1 Multitool That Fits In Your Wallet
When you're out and about, you probably aren't carrying around a toolbox with you. However, sometimes you might get into situations where you might need a bottle opener, screwdriver, or phone stand. There is actually a TSA-approved 18-in-1 tool that fits right in your wallet.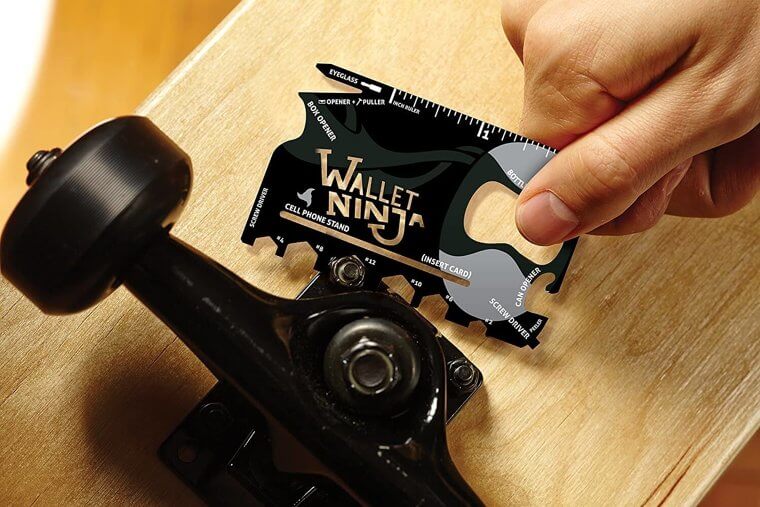 The Wallet Ninja has everything from an eyeglass screwdriver to a fruit peeler. Any time you need a tool, you can just whip this out of your wallet, and you never have to worry about needing anything else. It can even be a party trick when you grab it to open beers for people. 
A Travel Razor Case That Keeps Your Razor Dry
You might have never thought about this, but when you travel with your razor, it feels weird about throwing it in a bag without a cover or leaving it in a hotel shower on the dirty ledge. Wouldn't it be so much easier if there was a sleek and waterproof case to keep it in?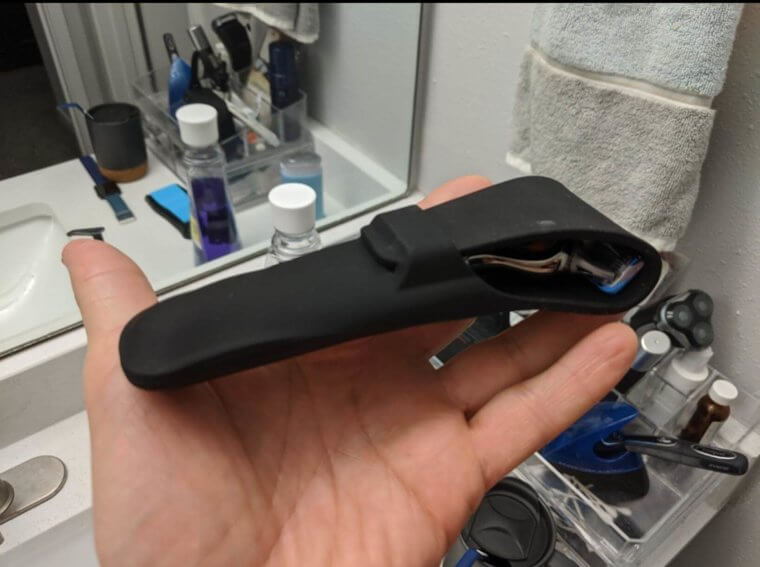 Keeping your razor dry is important, and this carrying case has holes to drain the excess water. It is also lightweight and flexible so that it can fit in any bag easily. 
A Phone Mount That Fits In The Cup Holder
Most people today have some kind of car mount for their phones because it is the best place to safely keep your phone while driving. However, it is hard to find one that works in your car because they aren't universal. But we found one that is perfect for pretty much any vehicle.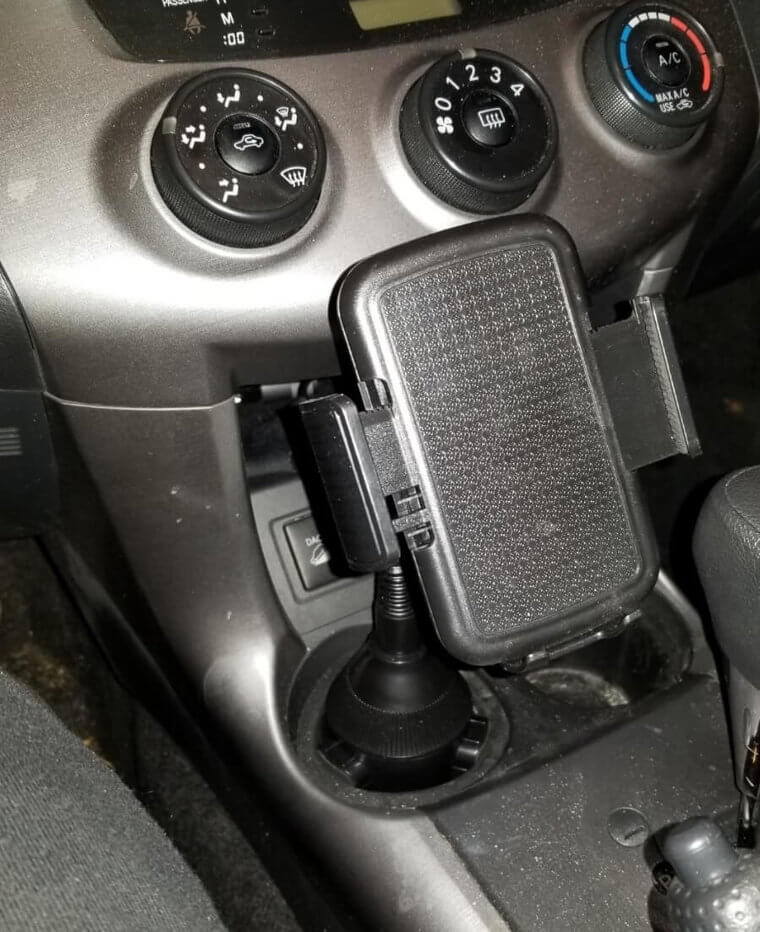 This phone mount fits right into your cup holder, and it's adjustable. It is so much better than the regular car mount because it stays in place and doesn't tip over under the weight of your phone. It also keeps your windshield clear from obstructions. 
A Grill Cleaner That Fits Into Your Pocket
If you love grilling, this is a product you need in your life. Cleaning a grill is a tedious task, and many grill cleaners are not the most portable devices. This BBQ grill cleaner fits in your pocket and can attach to your key chain.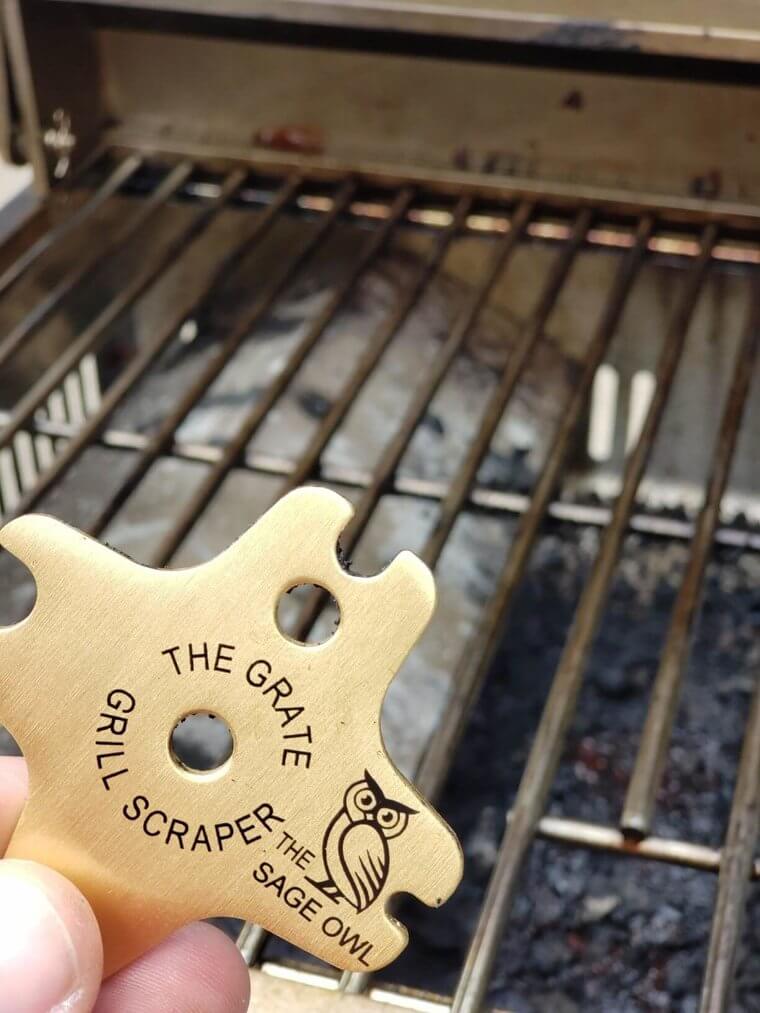 Don't be deceived by the size because these four grooves effectively scrape barbecue grills free of grease and burnt food. Unlike a brush, it doesn't' have bristles that will wear down over time and have to be replaced. It will last forever. 
A Bowl That Separates The Milk And Cereal
Cereal is one of the most basic and easy breakfast foods that takes only a few seconds to prepare. Although it is a staple, everyone differs on how they like their cereal, with extra milk, dry, or soggy. For those who can never get the right ratio between milk and cereal, this bowl is for you.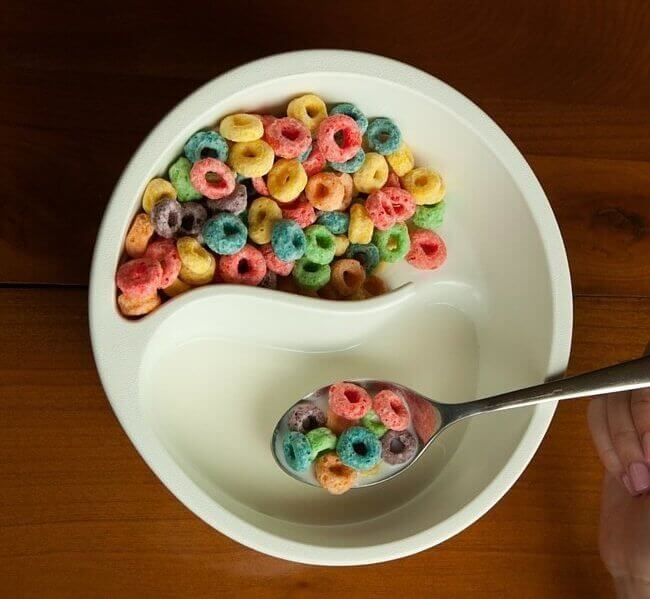 While it may seem weird to separate the milk and cereal, it makes the perfect bite. You just dunk your spoon in the milk part with the cereal, and you have the perfect ratio. Plus, your cereal will never get soggy after sitting in the milk for too long. 
Flashlight Gloves For Working In Dark Places
We all know that one person who is always working in dark spaces or has trouble getting good lighting while they are fixing things. Whether you're night fishing or trying to do a few handy jobs in a dark corner, these gloves will change your game.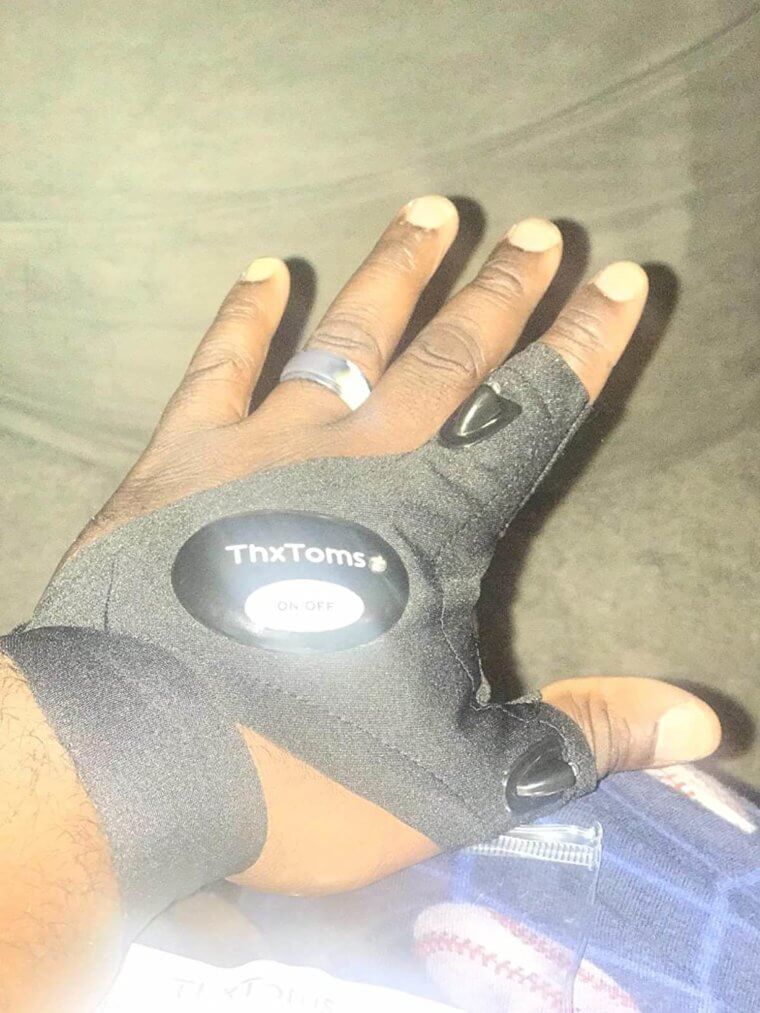 These little gloves have LED lights to illuminate your work or workstation. They are adjustable with a velcro strap and are also lightweight. They also leave your fingers free for comfortable movement so your work is not affected. 
The Multitasking Power Strip That Doesn't Take Up Room
When you have limited outlets and multiple devices it can be frustrating to use traditional power strips that take up space or can't fit all your plugs. Well, someone was smart enough to take a typical power strip and put it in a cube shape to charge multiple devices without taking up space.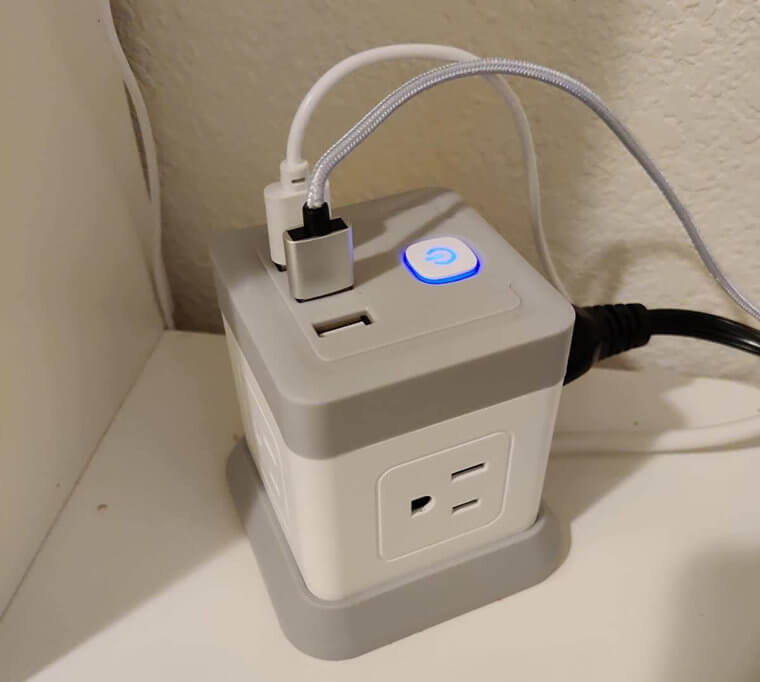 This one has three USB ports and four outlets with a long extension cord. We are surprised we didn't think of this first because you won't block other outlets, and you can stick it to any surface to make plugs more accessible.
A Beard Brush For Every Kind Of Beard
While we don't have a beard ourselves, we know people with beards, and they look like a lot of work to maintain. If you have a beard and want to keep it looking tidy without trying too hard, you should probably look into getting one of these boar bristle beard brushes.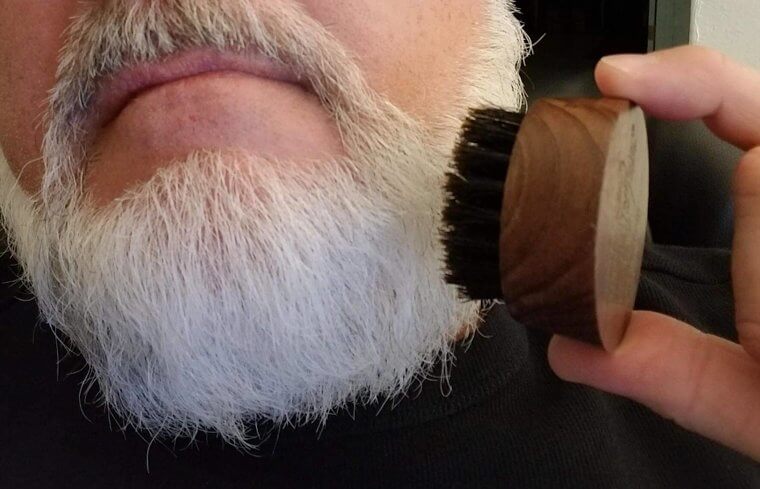 The small brush is convenient for travel and won't take up much space in your drawer. You can also use it with a balm to keep your beard smooth and hydrated. People will probably be admiring how well-groomed your beard is after using one of these. 
Make Laundry Day Easier
Laundry day is one of the worst days of the week because we are part of the group that is folding challenged. No matter how slowly we fold our shirts, they never seem to look like the ones in the store, and we finally figured out why.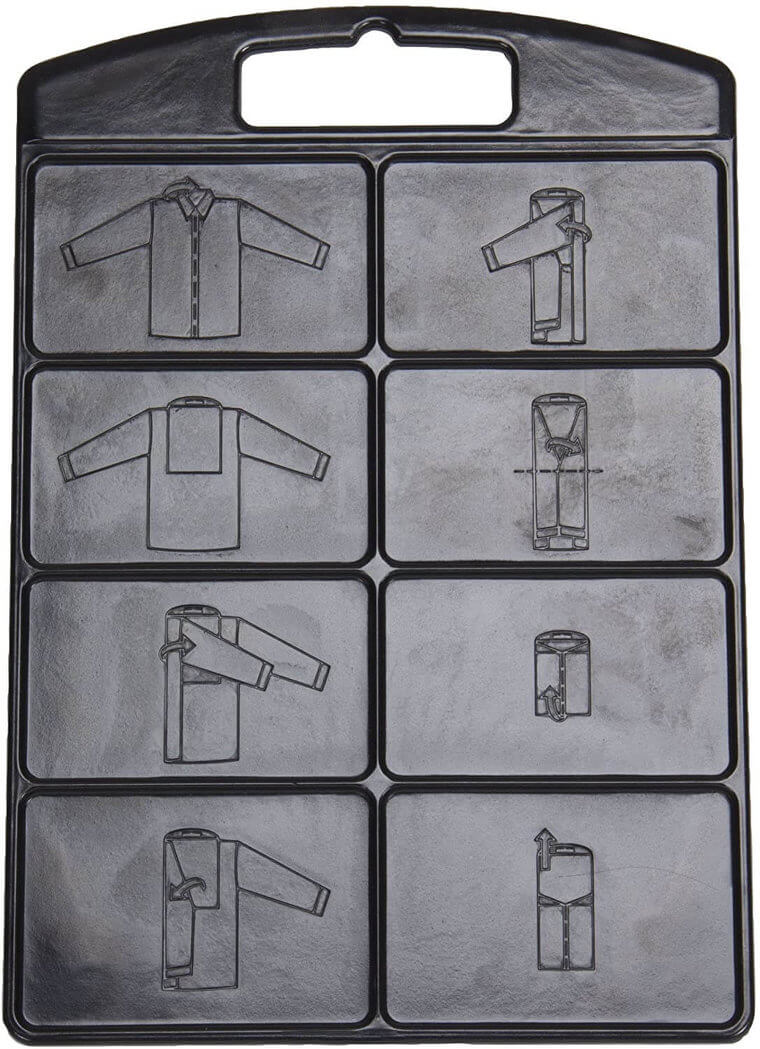 This t-shirt folding board helps you fold any shirt perfectly, like the ones piled high in any clothing store. It's foolproof and small enough to store away when you aren't using it. Now your closet will be organized and have room for more clothes. 
An Ice Tray That Makes Giant Ice Balls
Have you ever made a drink and thought, "These small ice cubes take up too much space in my glass?" Surprisingly, you don't need ten ice cubes to keep your drink cold, and you can get the same temperature control from one giant ice cube.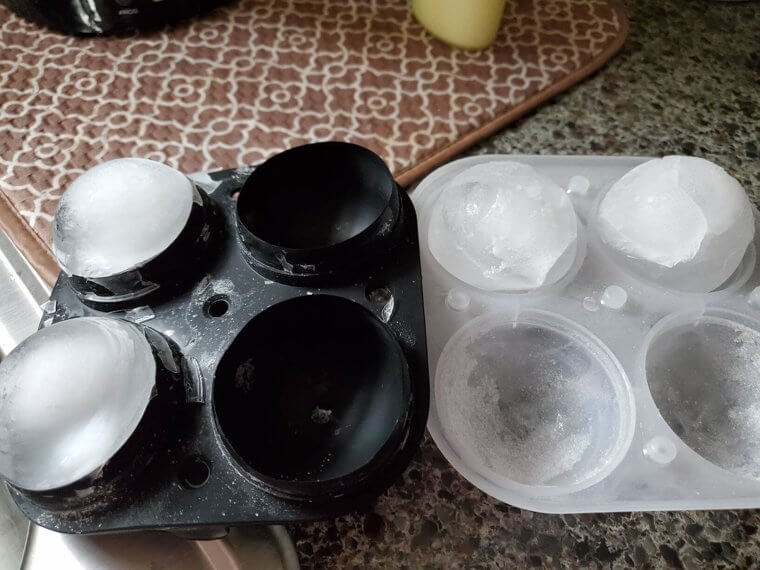 This really cool ice tray makes four spherical ice cubes that are perfect for any drink, alcoholic or not. They also seem like they would be fun to add to a glass because it is so much more exciting than an average ice cube. 
A Pour Over Coffee Maker That Is So Simple To Use
Regular coffee makers are so boring and old-fashioned. They are also bad for the environment because they use up paper filters that end up in the garbage every morning. Plus, this looks much sleeker than a clunky coffee maker.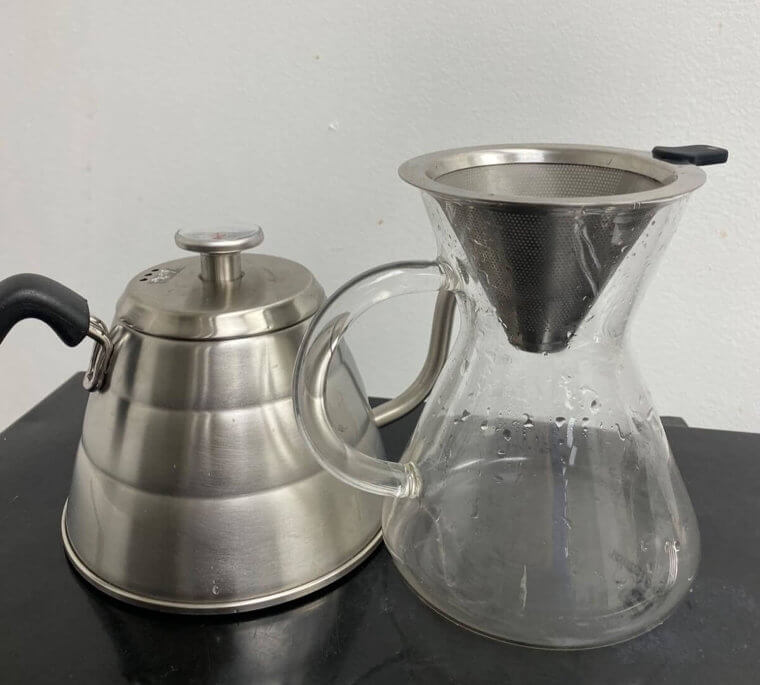 The pour-over coffee maker is simple, with its quality stainless steel mesh filter. It eliminates the use of wasteful paper filters and comes in clear or black to fit your aesthetic. It also comes in different sizes in case you need more coffee. 
This Keeps Your Razors Out Of The Way
Have you ever realized how quickly your razor gets rusty when it is just sitting on a shelf or the shower ledge? They also tend to get knocked on the floor, and it is not the most sanitary solution. However, this little razor holder will change your life.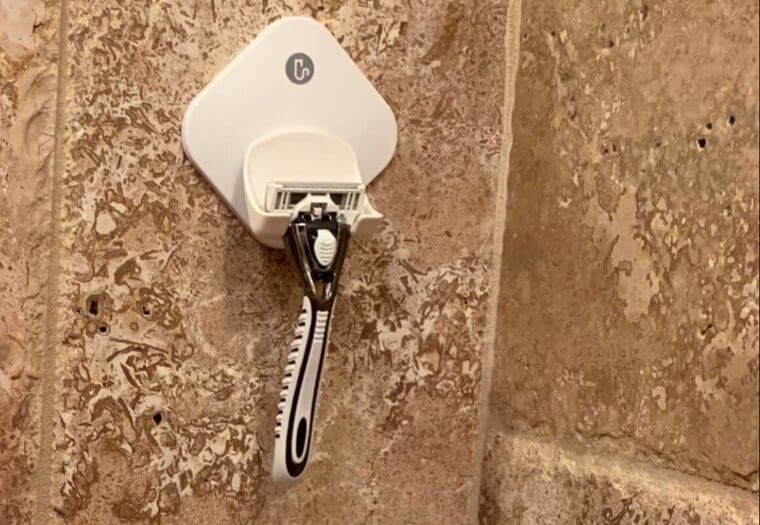 This razor holder mounts right to the shower wall and keeps your razor fresher for longer. It can be moved around and adjusted multiple times without losing suction. 
The Universal Socket Tool For Every Job
One thing that is irritating about using a drill is having to change the heads for each type of nail. When you are doing a project with many different nail or bolt sizes, it takes so much time to change the drill head when you want to get things done quickly.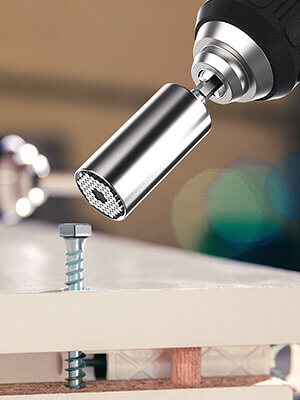 This socket tool gets the job done every time. It can attach to a power drill and fits many different-sized nuts. It is perfect for streamlining DIY projects you have on your to-do list. 
A Lightweight And Water-Resistant Jacket That Won't Break The Bank
One of the most annoying things to shop for is coats. It is hard to find something that will do what you want, keep you warm, and allow you to move. Most of the time, the "perfect" jacket is very expensive and not worth the hefty price tag.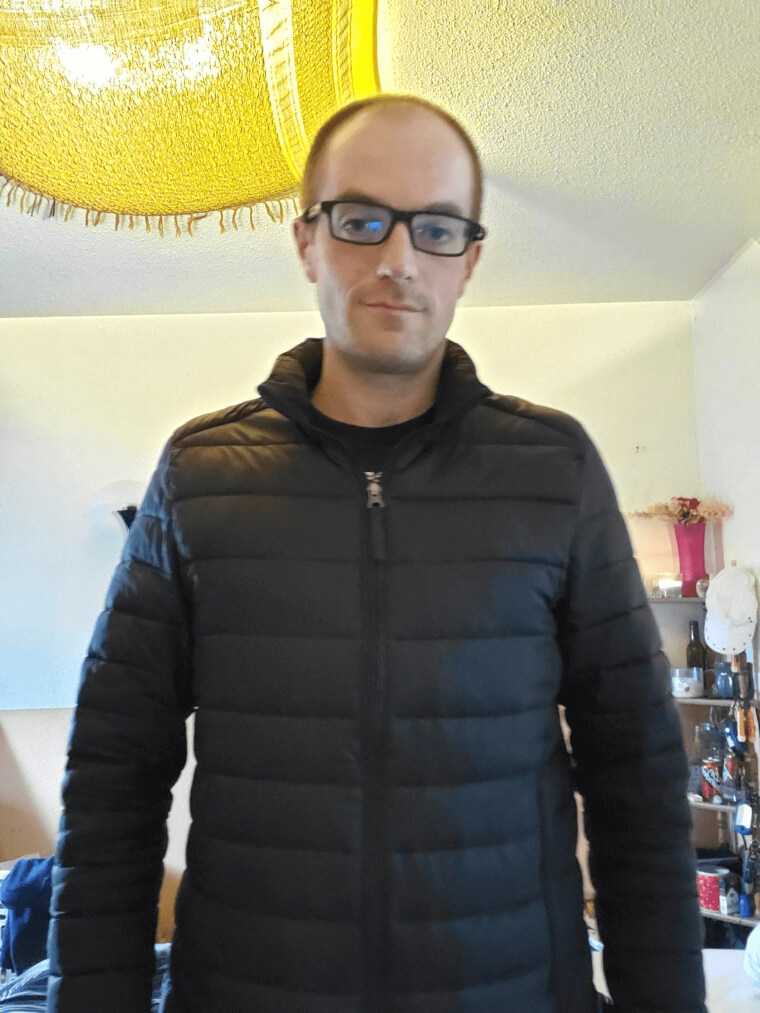 We found this water-resistant, lightweight, packable puffer that is super comfortable and perfect for many types of weather. Not only is it machine washable, but it also comes in 13 colors and prints to fit any style. You can get one to match every outfit probably. 
An Easy To Use Back Scrubber
While it can be challenging to reach your back, most people neglect to wash it because of this issue. While people don't care much about washing their backs, the dead skin build-up can cause acne, which no one wants, especially during the summer.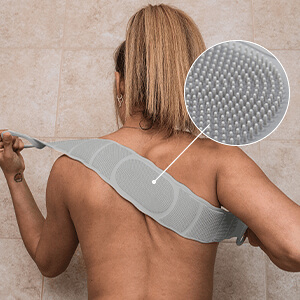 This simple back exfoliator cleans away dry, rough skin with its dual-sided silicone scrubbers. One side has small bristles, while the other side has nubs for massaging. The silicone is also anti-bacterial, so you can just rinse it off and hang it up to dry when you are done using it. 
The Most Practical Battery Organizer With A Tester
One thing we are always losing is batteries. Whenever we buy them, we can never seem to find them when we need them the most. It's like they grow legs and hide because they like to play mind games with us. If you also have this problem, it might be time to get a battery organizer.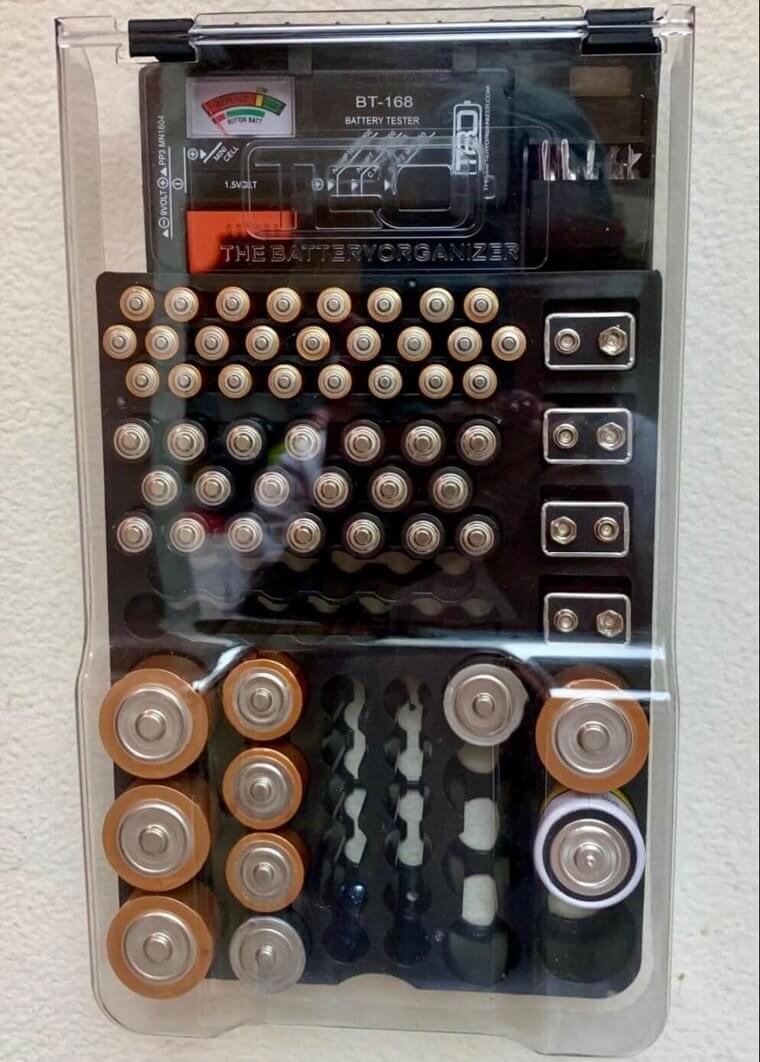 This organizer fits all sizes of batteries and keeps them in one convenient place so you will never have to scour around the house and take batteries from other devices. It can mount to the wall or inside a flat drawer, and it comes with a battery tester so you can figure out which ones work and which don't. 
A Tri-Fold Visor Mirror To Expand Your Car Mirror Space
We are always on the go, which means we have to do our makeup in the car often because we are usually running late. However, most car visor mirrors are so small, and you can't see your whole face. While some people might think they don't need this, we would disagree.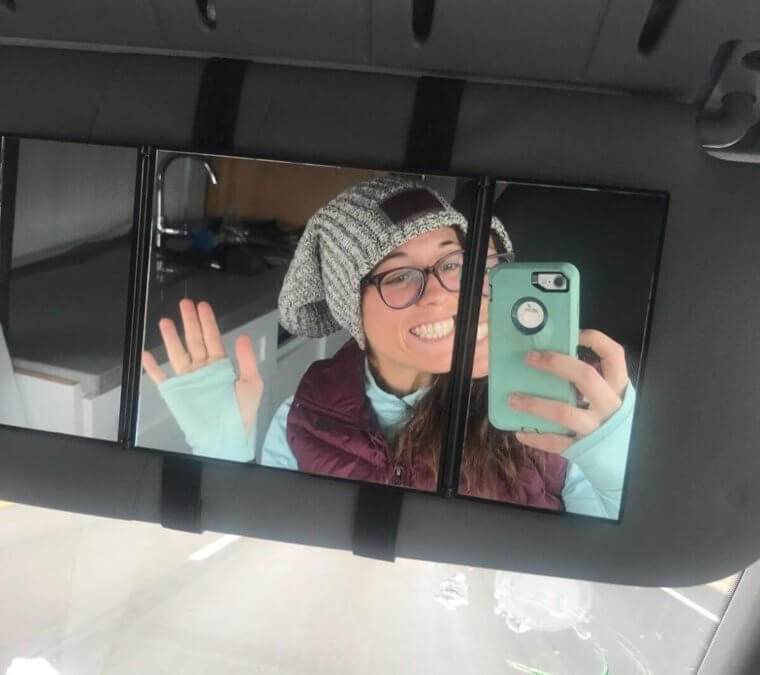 You can turn your car visor into a more functional space with this tri-fold visor mirror. It's designed with velcro so you can remove it and put it back up easily. It folds up, so it won't take up much space in your car also. 
These Little Coils That Save Your Chargers
Have you ever noticed how quickly your cables get ruined because they bend and tear and eventually stop working? At some point, you start to realize how many cables you have had to throw away because they got destroyed.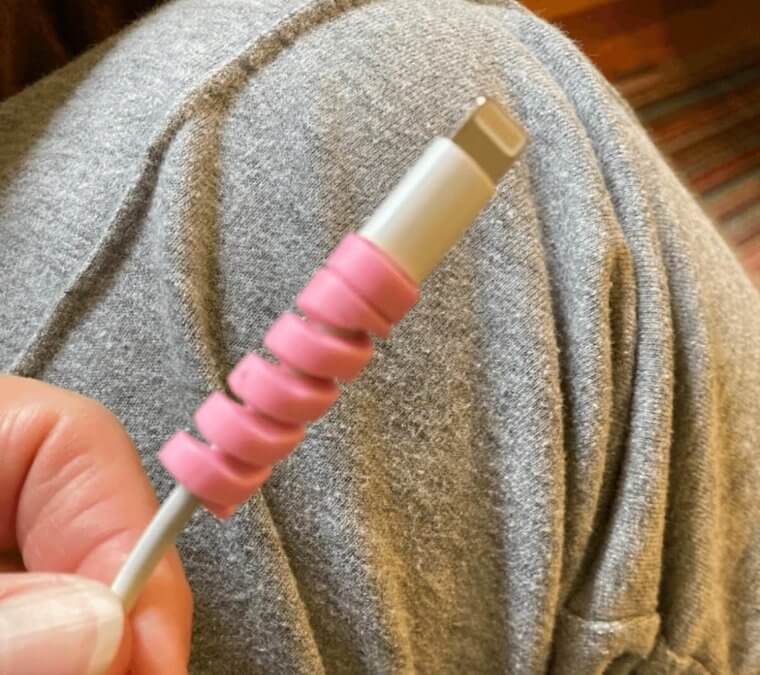 Instead of spending money on new cables, you should get one of these cable protectors to make them last longer. They wrap around the cable to protect them and prevent damage while keeping them clean and knot-free. 
This Stand Frees Up Desk Space
Working from home has become even more common over the past year. We had to scramble to create a decent workspace in our homes, but it took a while to get a setup that actually worked. While some of us are back in our offices, others are still at home, and they could probably use this.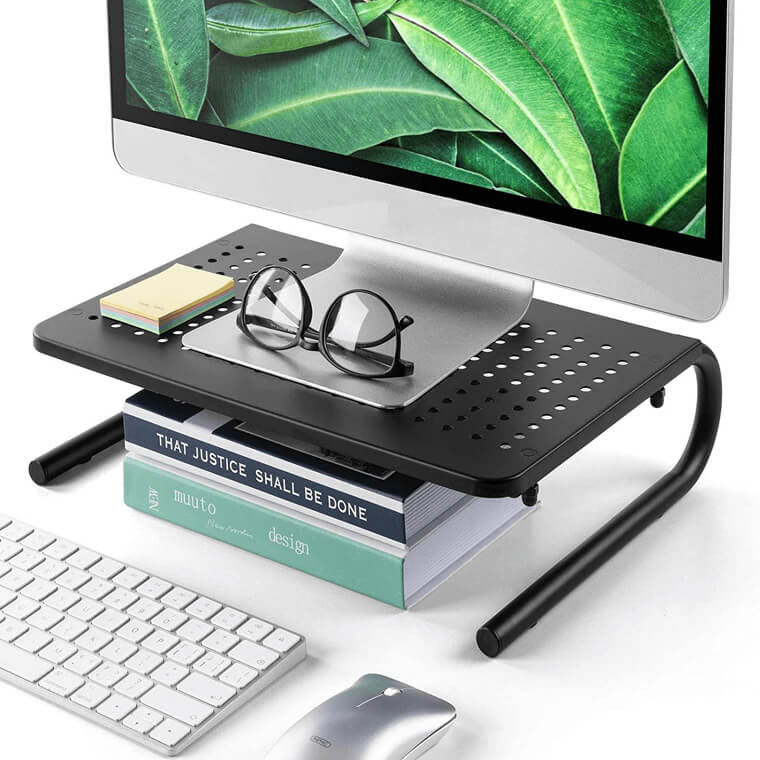 This monitor stand clears up space on your desk while still allowing you to have a place for your monitor or laptop. It can be adjusted so that your monitor is still at a comfortable height while giving you room to put books and other items below it. 
Keep Your Ties Organized And Visible
If you are someone who gets a tie for every gifting occasion, or you just have an extensive collection, then you probably struggle to keep them organized. Most people keep them on one hanger that looks like a cluttered mess in the closet.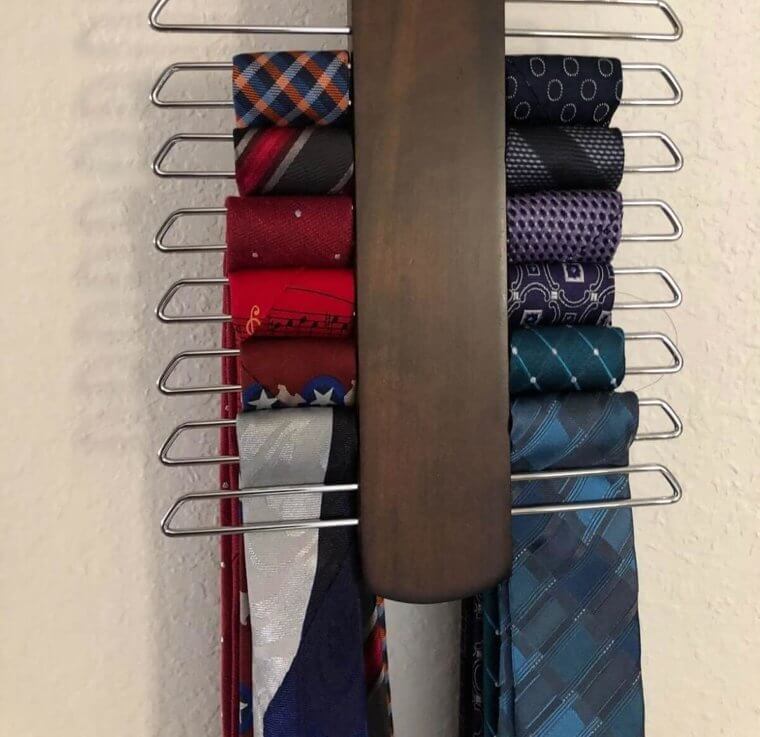 This tie and belt organizer has a slot for each tie and keeps all of them wrinkle-free and clean. Now you won't have to sort through 30 ties before finding the one you are looking for. It also fits right onto your clothing rod and rotates, so you don't have to take it off the rod. 
A Remote Control Holder That Clears Up Counter Space
What is the one thing you lose around the house the most? For us, it is our remotes, and we are always searching high, low, and between the couch cushions for those things. It can make you want to bang your head against the wall. 
This wall mount would probably save us a lot of time and headaches because we would never misplace our remotes. The minimalist design is suitable for any home decor aesthetic, and it can also be used to charge a phone. 
Multi-Tasking Silicone Gloves To Make Your Life So Much Easier
It's safe to say we can all agree that washing the dishes is one of the worst chores. Scrubbing dishes not only ruins your hands, but it's kind of gross. These scrubbing gloves make doing the dishes a lot easier and somewhat more bearable.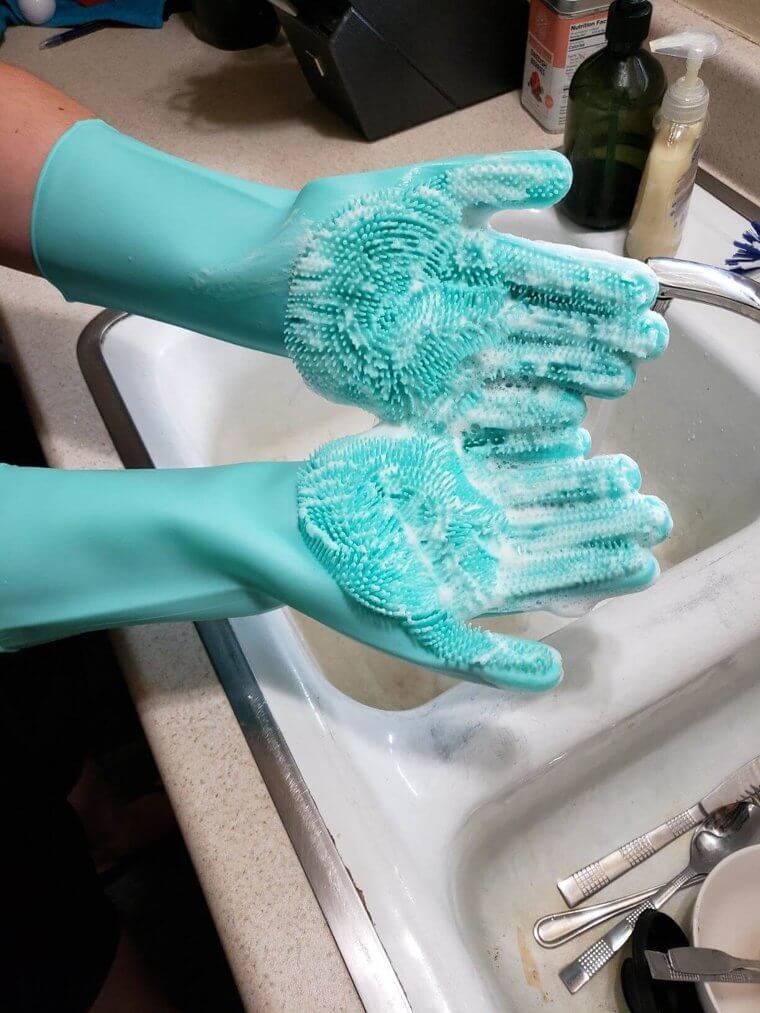 You can use them to scrub pots and pans, wash your car, and clean the family pet. They are heat resistant up to 160 degrees Fahrenheit, and you will always find a use for them. Some people have even used them to brush their cats. 
Running Shorts With Protective Hidden Pockets
Running shorts that are breathable and comfortable are hard to come by unless you want to shell out a ton of money at high-end athletic stores. These ones are the perfect shorts for all kinds of sports and athletic training.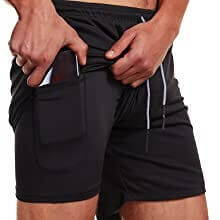 They have a built-in layer of compression shorts with two front zippered pockets for your phone, keys, and cards. The shorts have a drawstring waistband and come in 13 colors to pick from. Plus, they are actually affordable compared to other options. 
An Accurate Meat Thermometer
The secret to meat-based cooking is getting the food to the perfect temperature. This digital meat thermometer provides an accurate and instant temperature every time. It will make it pretty hard to mess up your next attempt at a steak dinner.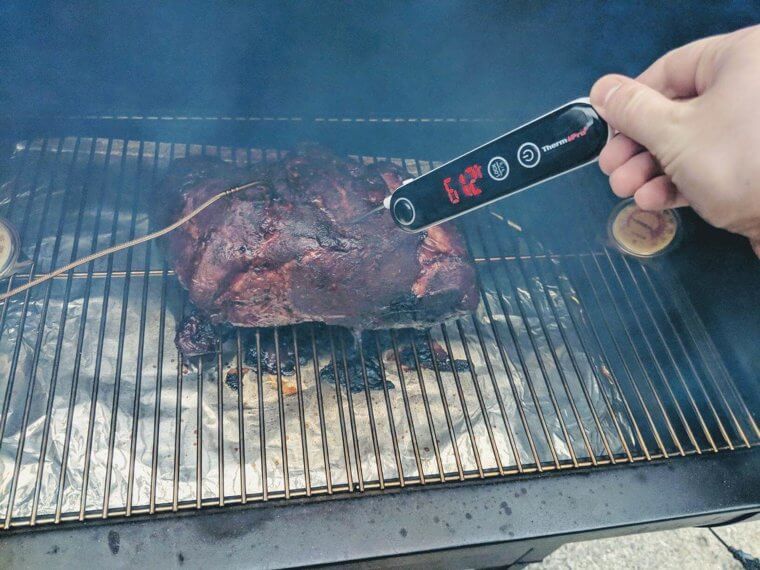 In just a few seconds, you can know the temperature of your food, and it has a 90-second shut-off. You can hang it or use the magnets to stick it to your fridge or any other metal surface like a grill. 
A Water Bottle That Will Make You Drink More Water
If you are like us, you probably also forget to drink water sometimes. Yes, we know hydration is essential, but life happens, and we forget to do things. While it is one of the easiest things to do, we could use some reminders to stay hydrated.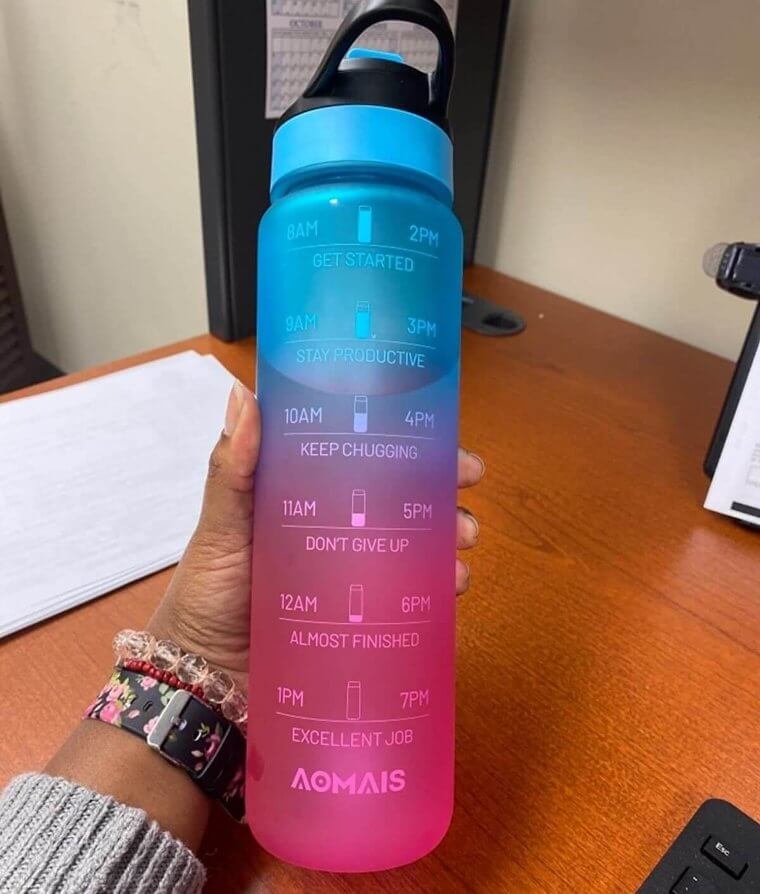 While a regular water bottle is a simple solution to this problem, there is a way to improve that. This colorful water bottle has little motivational markers to remind you to drink up each hour. It has a silicone straw and a wide enough mouth to add ice cubes. It also comes in other colors if this is not your style. 
Never Lose Your Sunglasses In The Car Again
The car is the one place where you constantly remove and put your sunglasses back on by stashing them in the glove compartment or cupholder. This can cause scratches and damages to sunglasses you actually pay a lot of money for, so why not find a better solution?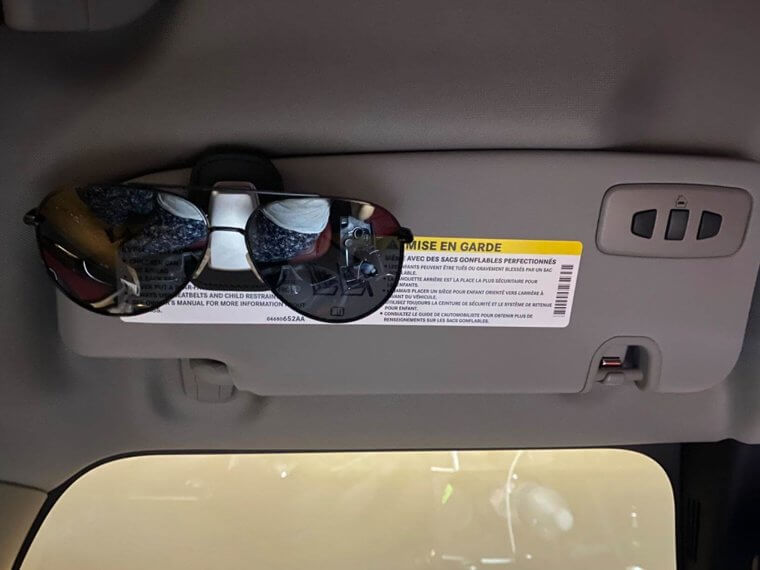 This small sunglass holder provides the perfect place to store your glasses, and it fits perfectly over car visors. It protects your glasses from being scratch or damaged and keeps them conveniently out of the way. 
An Apron To Make Shaving Cleanup Easier
If you live with someone, or are someone who shaves, you know how messy the sink gets with all the small particles of hair. Some people are good about cleaning it up, while others like to leave a mess, and this apron can save us all an argument over the dirty bathroom sink.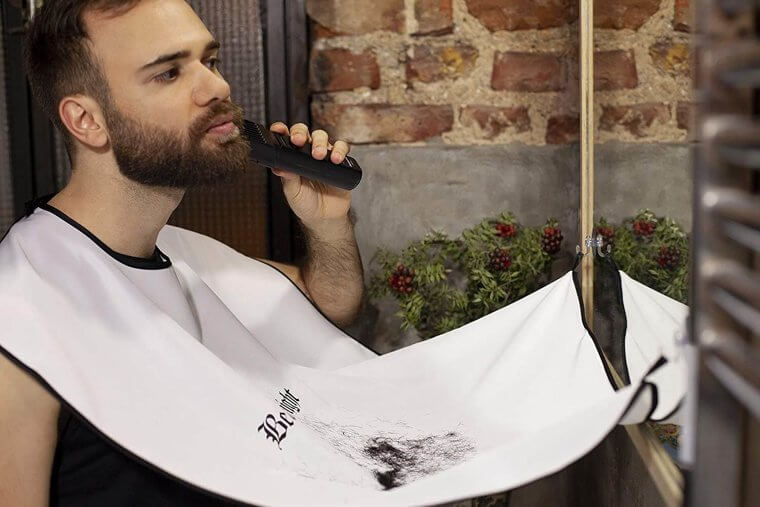 The beard apron suctions to the mirror and catches all the tiny hairs as you shave. It is waterproof and comfortable, and it will keep your sink area mess-free. It also folds up into a travel bag so you won't make a mess anywhere you go.