Whatever happened to all the fairytale romances about true love and happily ever after? Nowadays it seems like the only stories we hear about love and marriage have to do with skyrocketing divorce rates and how difficult and draining the whole arrangement is. It's no wonder that millennials are getting married later and later in life when they're getting blasted with such negative stories. The truth is, for every relationship that doesn't make it there is another one that tells the story of two people who felt they were destined to be together. Maybe you think that's cliche, or maybe you don't. But after you're done reading these incredibly moving stories about couples who made relationships last for as long as half a century you won't be so quick to dismiss true love anymore.
1. Her Family Abandoned Her Because She Chose Love Over Hate
Back in 1948, Mary's father told her, "If you marry that man, you will never set foot in this house again." She soon realized her father wasn't the only one against the marriage, and living in Birmingham, Alabama, was challenging at the time because no one would speak to the couple.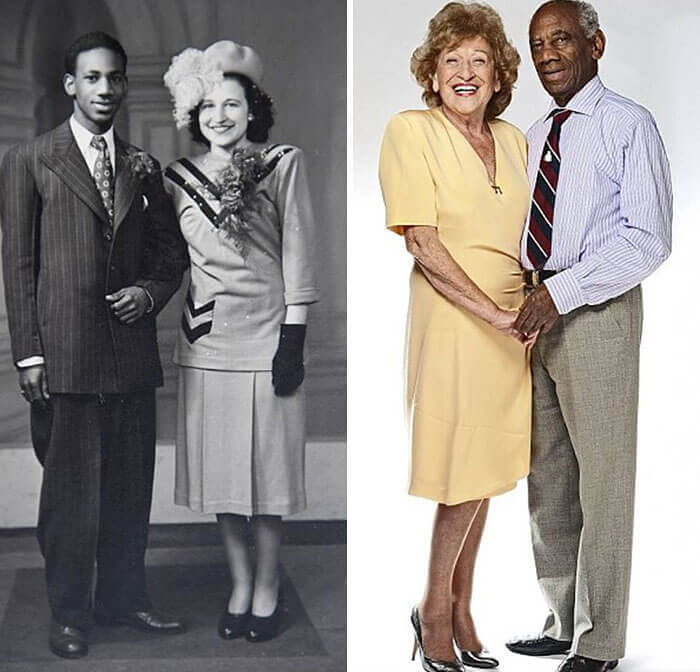 Life slowly became easier for Mary and Jake. She got a teaching job while Jake worked at a factory and then at the post office. Mary remembers that when she made friends, she would have to tell them her husband was black, and some would never speak to her again. This year they are celebrating over 70 years of love with zero regrets. 
2. After 72 Years, These Women Were Finally Able To Get Married
Vivian Boyack and Alice Dubes met in their hometown in Iowa while growing up. In 1947 they moved in together but they usually had to keep their relationship a secret. Dubes and Boyack spent 72 years traveling around the US and the world before they could finally get married.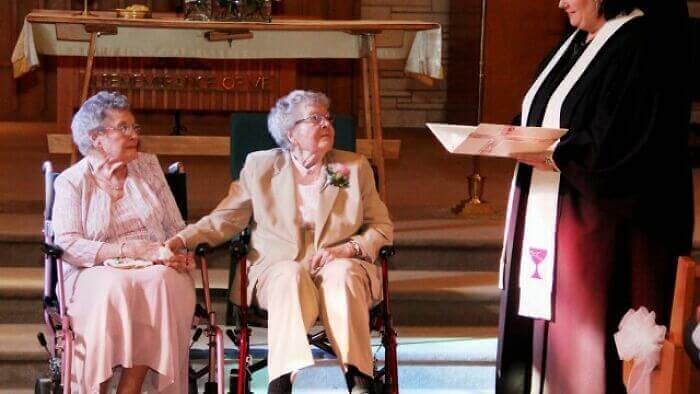 The women said it takes a lot of work to keep a relationship alive for 72 years, but it comes with a lot of love. Iowa allowed gay marriage starting in 2009, and the women tied the knot in 2014. Their story is rare and special, and this is what true love is all about. 
3. She Has Dementia And He Cares For Her Even When She Doesn't Remember His Name
This couple has been married for over 35 years, and his wife is in the final stages of young-onset early dementia. Her husband takes care of her full time even though there are some days when she doesn't even remember his name.  
Although it is extremely difficult to watch the person you love forget who they are and their life, she knows she is safe with him. When they vowed to be together in sickness and in health, they really meant it. True love always perseveres even in hard times. 
4. He Spent 2 Years Planting Flowers To Help His Blind Wife Get Out Of Her Depression
After starting to go blind, his wife fell into depression. It was extremely difficult for her to deal with losing her sight, and her husband wanted to find a way to cheer her up. He knew how much she loved flowers, and it was something she could still enjoy even though she couldn't see them.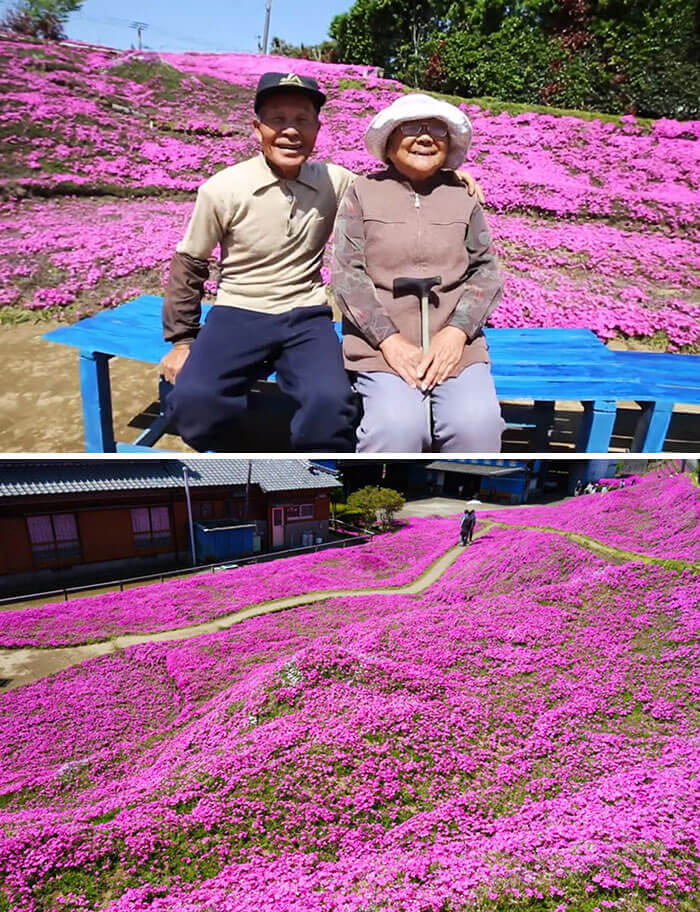 Her husband spent two years planting hundreds of flowers so his wife could smell them and feel better. Now she is always smiling when they walk through the garden, and it showed how much her husband really loved her. 
5. Everyday They Play Mario Kart As Part Of Their Daily Routine
One day in 2001, this couple decided to play Mario Kart to see who would make the afternoon tea. It turned into a daily tradition, and they have been playing every day for the past 20 years to see who would have to make the tea.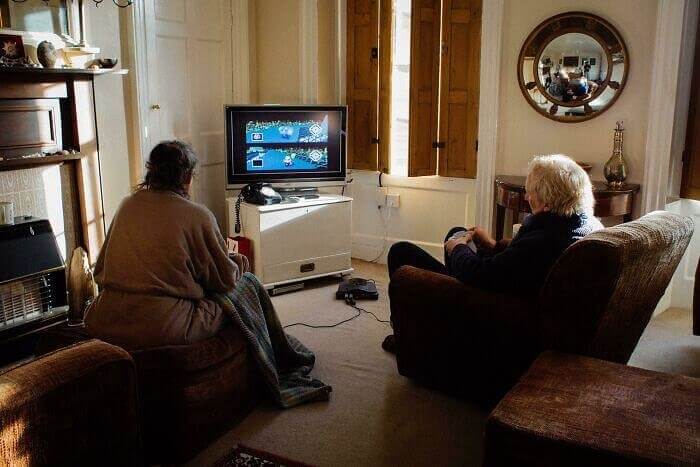 This is what we call relationship goals because they are so perfect for each other. There is nothing more adorable than having a bit of loving competition to keep the relationship exciting. Kudos to these two for being so adorable. 
6. This Couple And Their Fake Cockroach Are What True Love Is All About
This couple has a pretty special game that they play with each other. They got a plastic cockroach about 20 years ago and nicknamed it Freddie. They have been hiding him in various places throughout the years to scare each other, and the tradition is still going strong.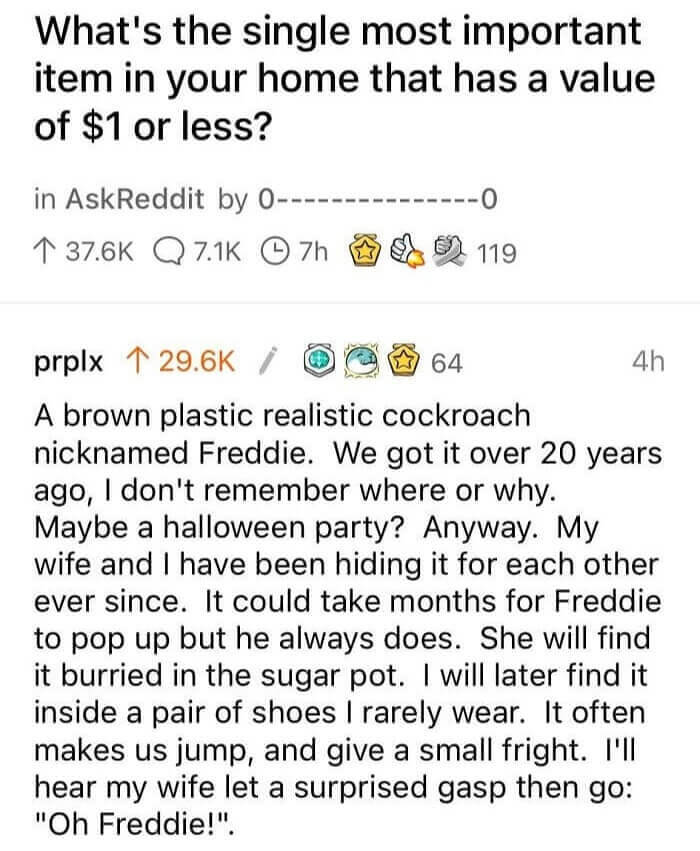 Although it is like playing a prank on their partner, it is this long-running joke they have between them that still makes them laugh. Freddie isn't just about the joke; it symbolizes their strong relationship and the bond they share as partners. 
7. After All These Years, He Is Still Obsessed With His Wife
Have you ever looked at your partner and thought, "Wow, could they be any more perfect? I have to capture this moment." That must have been what was going through this man's head when he decided to take a candid photo of his wife.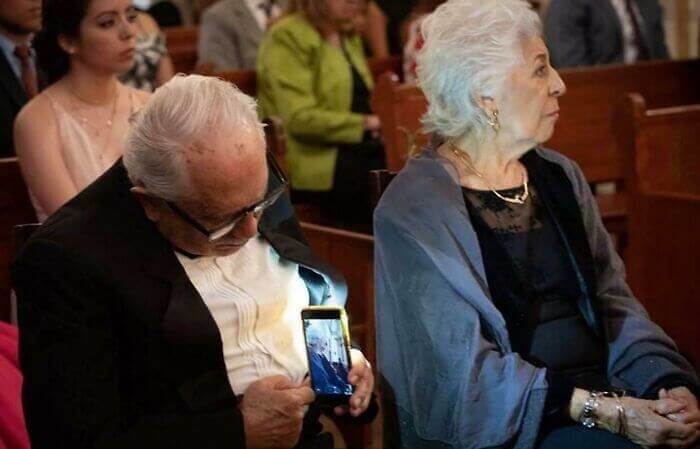 He just wants to remember all these golden moments with the love of his life, and he doesn't care who is watching. We would advise him to turn off the flash next time, but he had a small window of time to capture the photo without her noticing. 
8. This Vietnamese Couple Has Been Married For 70 Years And They Are Still Going Strong
Can you imagine spending your life with the same person for upwards of 70 years? We all hope to find that person that makes us smile every single day and think, "This is the person I am supposed to grow old with." This Vietnamese couple has that long-lasting bond that has been going strong for all these years.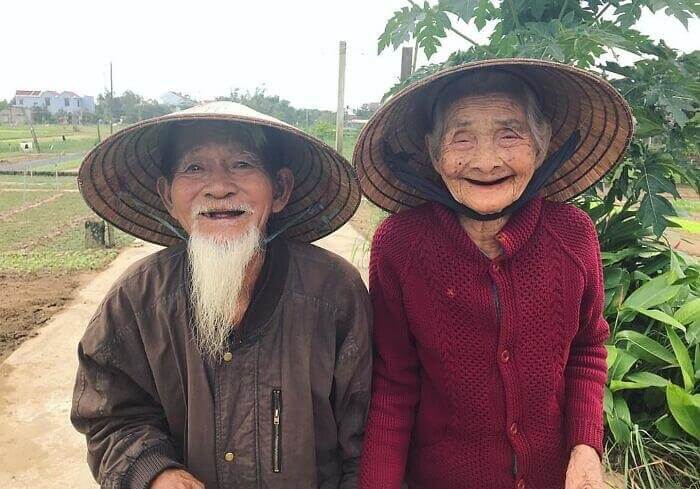 They went through so many challenging times throughout their marriage, but they had each other to hold on to when times were tough. Even after seven decades, they still manage to make each other smile every day. 
9. He Acts As A Surrogate Pinky For His Wife
Your partner is supposed to be the person who supports and loves you unconditionally, and we think this woman found a keeper. She doesn't have a pinky on one of her hands and sometimes she forgets about it until she paints her nails.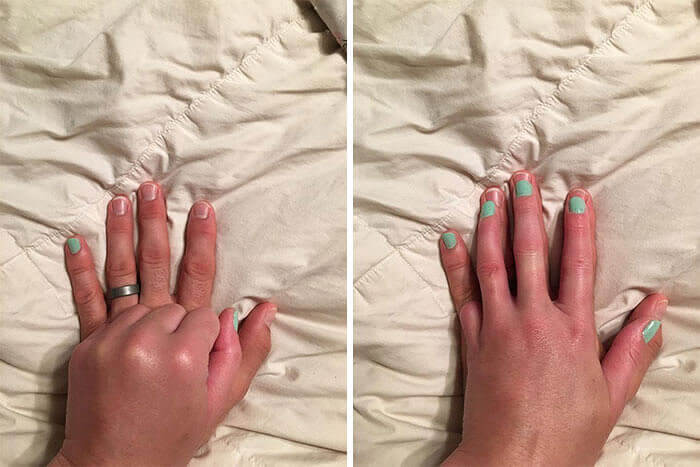 One time she was painting her nails, and she told her partner that she always forgets she doesn't have a pinky on her left hand, and she was bummed out. He replied, "I will be your surrogate pinky," so he painted his pinky nail to match hers. That is the kind of love we all deserve. 
10. This Isn't A Pregnancy Announcement, He Is Just Obsessed With His Wife
At first sight, someone thought this guy posted pregnancy announcement photos, but then he clarified on Twitter that he is just obsessed with his wife. It's so sweet that he just wanted to post photos of his wife to show her how much he appreciates her.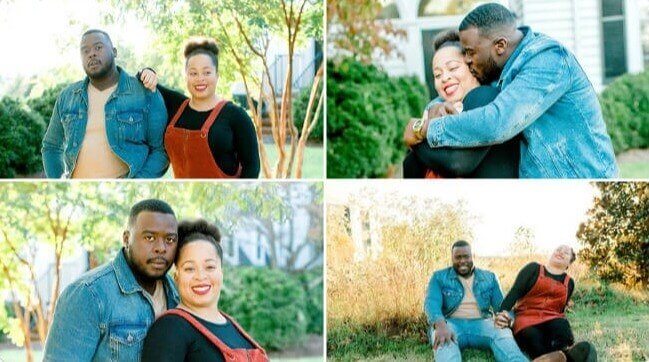 Sometimes you don't need a reason to post pictures of your partner because you can just appreciate them without needing an explanation. They are such an adorable couple, and we can only hope to be loved like that one day. 
11. After Racism Forced Them Apart, They Reconnected And Married
When Howard Foster and Myra Clark broke up more than 45 years ago, he did it because he feared she would never be happy if they stayed together due to the racial climate at the time. However, 43 years later, they ran into each other again.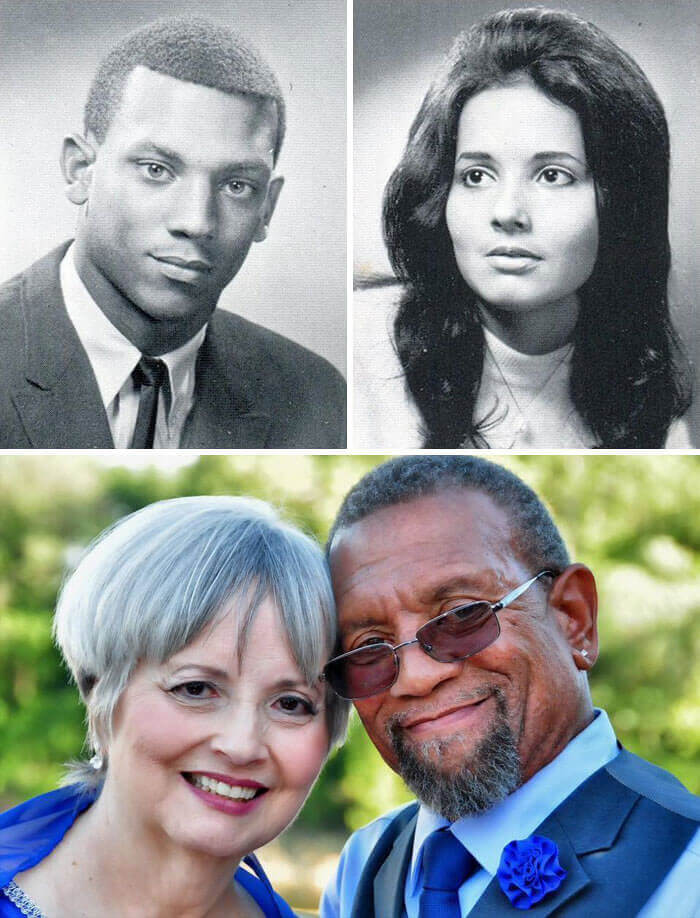 When Clark and Foster saw each other after all those years, he couldn't let her get away again. Now they are married and fall asleep holding hands every night. When it comes to true love, it will always find a way to bring you to the person you are supposed to be with. 
12. Nothing Can Stop Him From Supporting His Wife Through Chemo
This past year has been anything but easy for most of the world. While the pandemic separated many people from their families, it also caused people to be away from their loved ones in the hospital, like this husband and wife.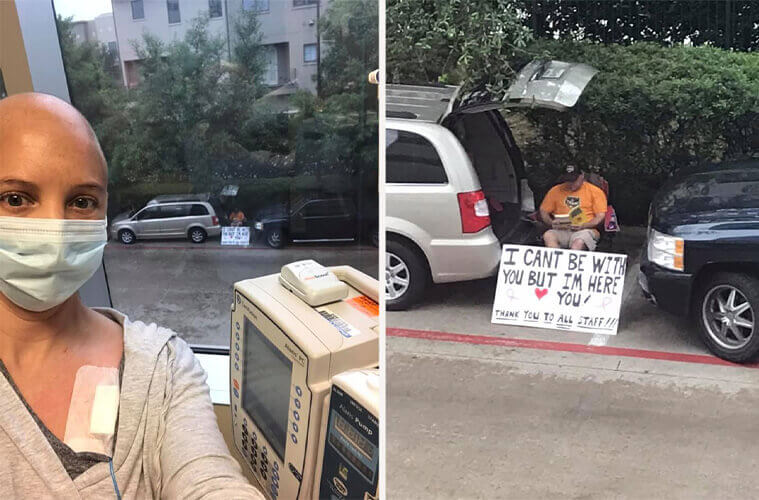 While his wife was in the hospital for her chemo treatments, he couldn't physically be with her, but that wasn't going to stop him from showing his support. He made sure to sit outside her window for every treatment so he could support his wife at a safe distance. 
13. The Still Look At Each Other The Same Way As When They Got Married
Have you ever noticed that some couples lose that special spark they had when they first got married? Relationships take a lot of work, but things can change between partners as the decades fly by, even if they still love each other.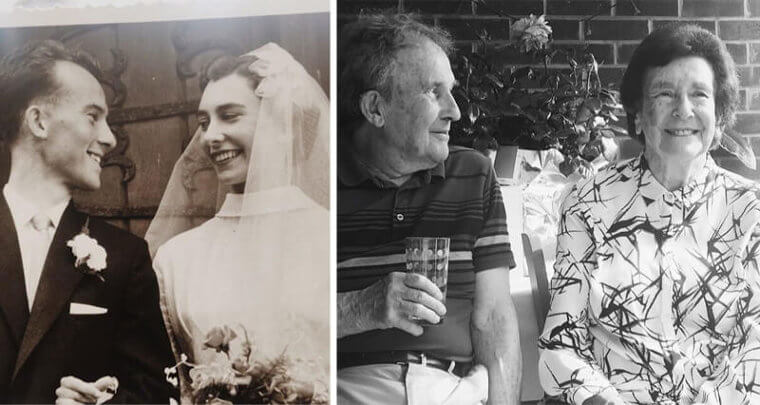 This couple has been together for over 60 years, and they still look at each other the same as they did on their wedding day. Whatever they have done over the years has clearly been working, and we could all use some advice from these two. 
14. They Were Surfing On An Ironing Board In The Rain
We have finally figured out the secret to love; find someone who you want to grow old with who doesn't make you grow up. These two were standing in the pouring rain pretending to surf on their ironing board, and it is the purest form of love we have ever seen.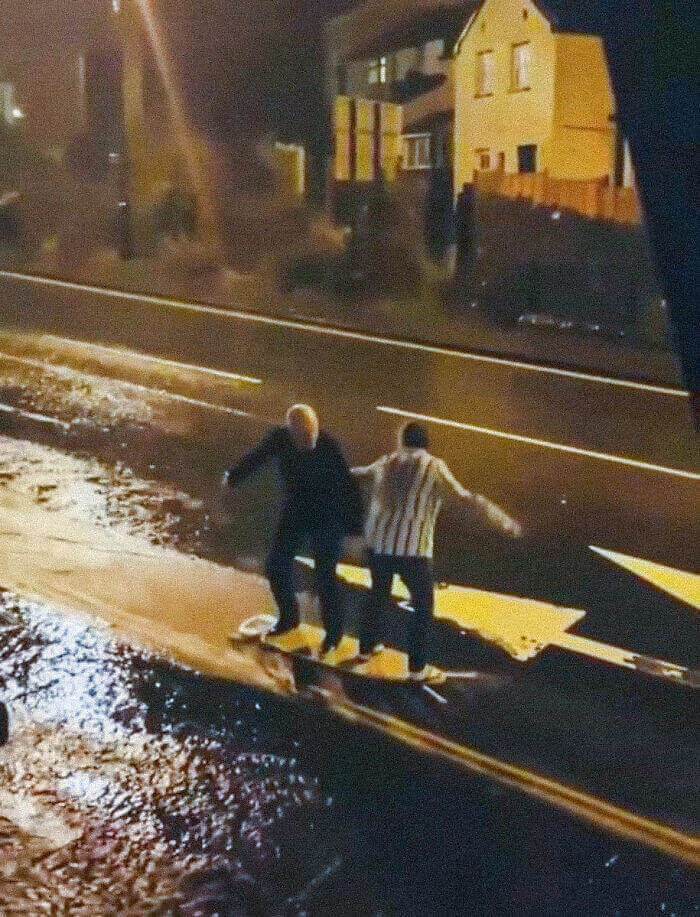 They don't care who is watching or what people think of them because they are having fun with each other. They must have such an interesting and exciting life if this is what they are doing on a random week night.
15. These Dads Found The Perfect Little One To Complete Their Family
These two dads were happy in their relationship, but they felt like there was a missing puzzle piece to their family. They both wanted a child, and when they finally found a surrogate, it was the happiest day of their lives.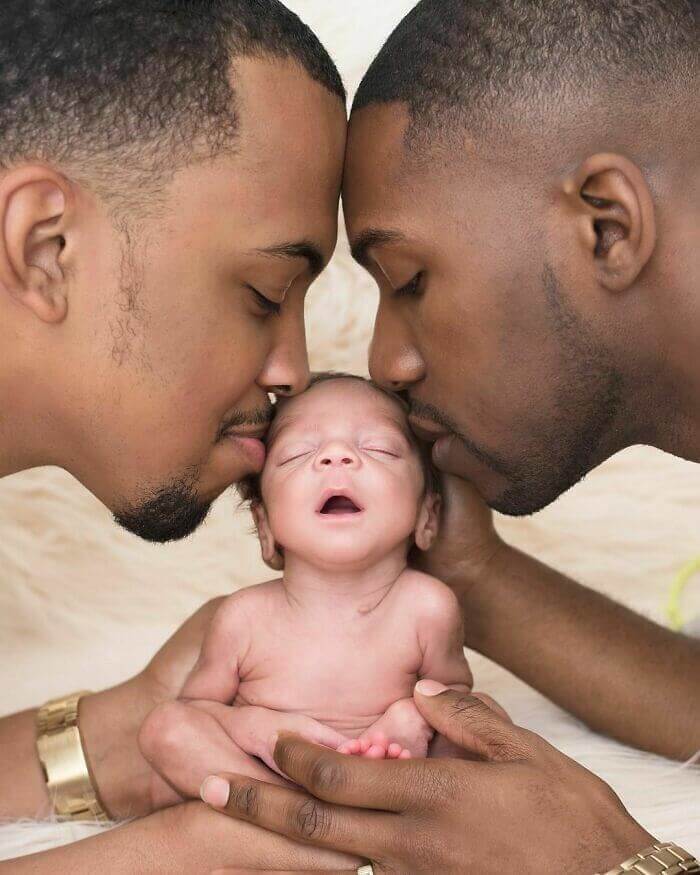 Although they experienced a significant loss when they first started trying, they didn't let that stop them from creating a family. Their children brought them even closer together, and they couldn't imagine a world without each other or their children. 
16. Same Bike, Same Couple, 51 Years Apart
This couple has been together for many years now, and they still ride around on the same bike they did in the late '60s. Although they have aged, they are still adorable, and in love as they were 50 years ago.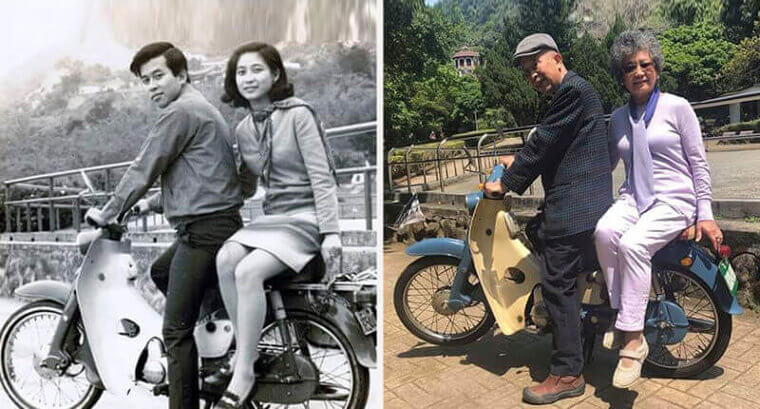 This man takes care of his wife and bike so well, and we are not surprised they have has such a successful relationship. We hope they drive safely and enjoy rides on the motorcycle like when they were in their prime. 
17. He Had No Money And She Left Her Rich Life Behind For Him
In some situations, there are many outside factors that can tear couples apart, like judgemental families, among other things. This couple had to make a tough decision when they decided to get together because they came from two different classes.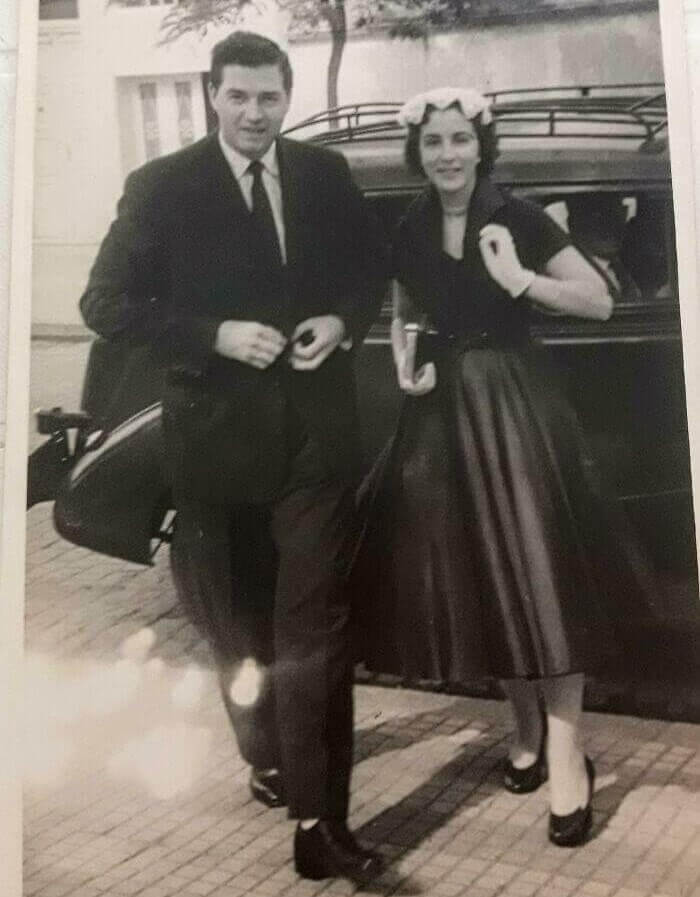 While she was from a wealthy family, he was dirt poor, and her family threatened to cut her off if she married him. She decided she loved him more than any inheritance and married him anyway. They loved each other so much and started a family of their own. 
18. She Held His Hand Until The Very End
While growing old with someone is something we all hope to do, it comes with some challenging things that will inevitably happen. This couple had spent their lives together, and she was holding onto him until his very last moment.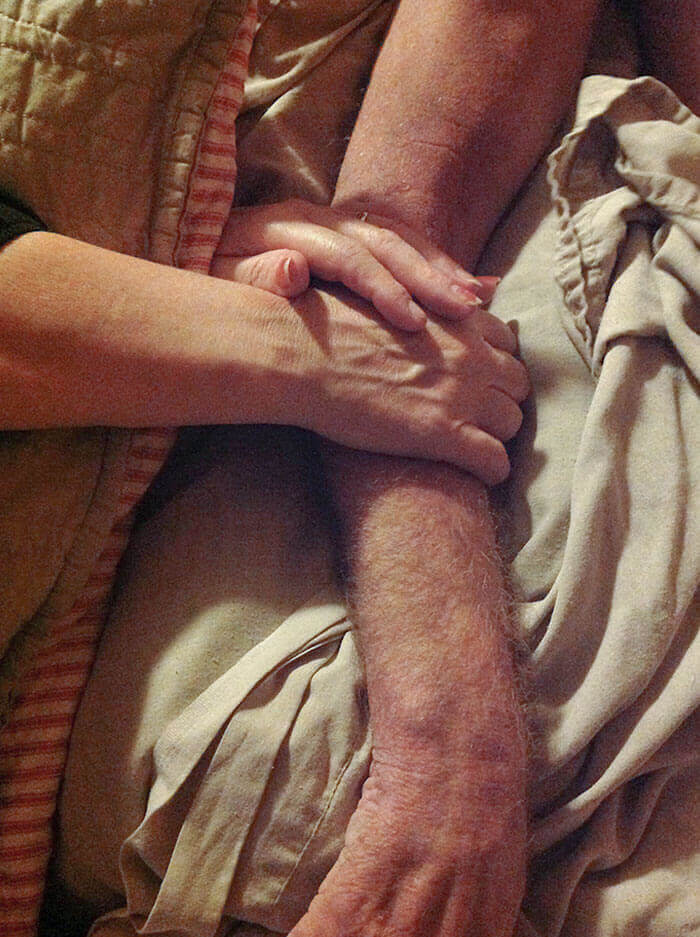 Although it is sad, she has all the memories they made together to hold on to. They built a family together and a life that they wouldn't trade. He might be gone, but that will never change the love they had for one another. 
19. She Was His Reader In Law School And They Fell In Love
While he was in law school, he needed a reader to help him study. The university paired them together, and they became friends. Eventually, it turned into a beautiful romance, and they have now been together for almost 50 years.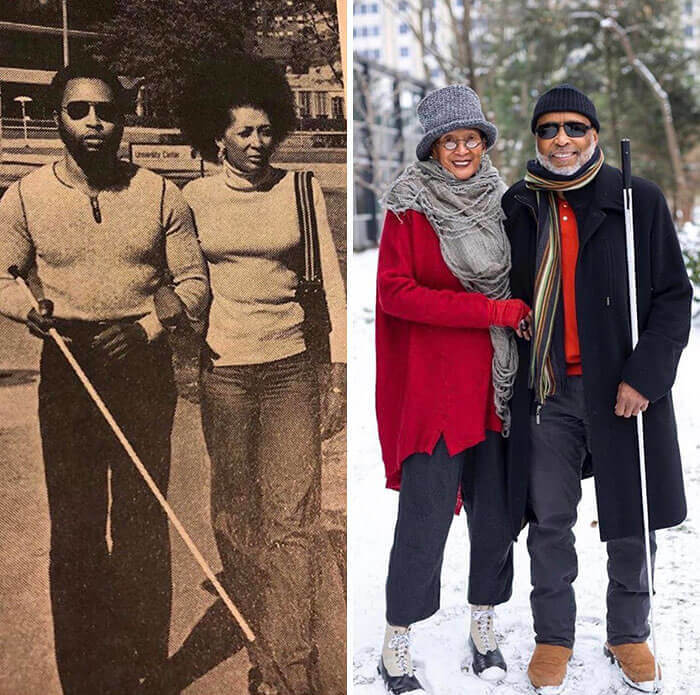 You never know when someone special is going to come into your life and sweep you off your feet. They were paired together by chance, and it turned out to be the perfect match. They also look like one of the most stylish couples we have ever seen. 
20. He Wanted To Be There As Soon As She Woke Up And Never Left Her Side
It's always sad to see the person you love suffering, and you have to do whatever you can to comfort them. This couple has been married for over 60 years, and his wife has dementia. She recently had a stroke, and it was scary to see his wife in that condition.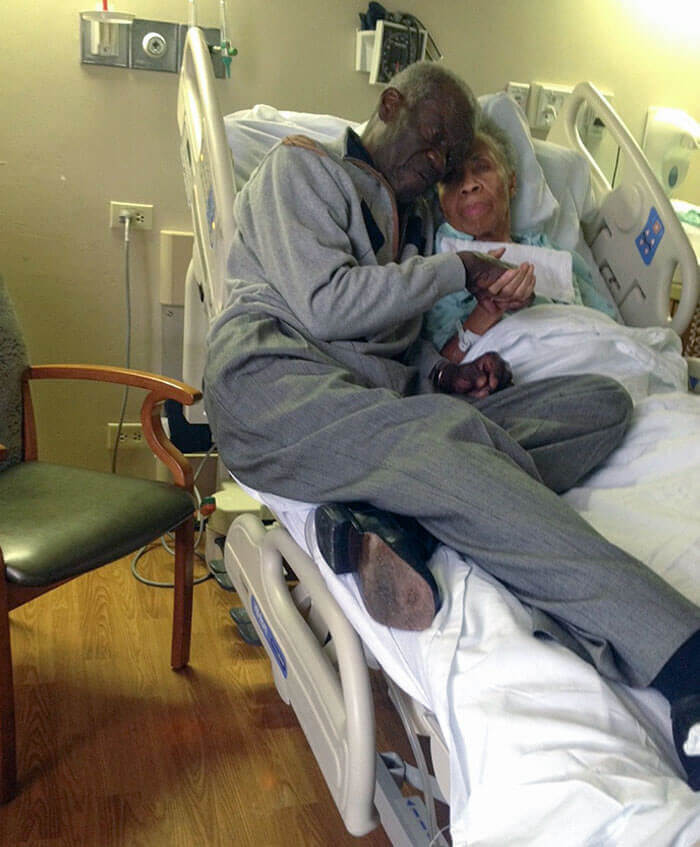 When his wife had a stroke, he wanted to be there the second she woke up, even if she didn't remember him. As soon as he walked into the room, she said, "that's my boyfriend, Willis." He never left her bedside, and if that doesn't make you tear up, we don't know what will. 
21. She Married Her Best Friend
Hannah and Shane Burcaw might have many differences, but one thing they share is their love for each other. People would give them strange looks in public, but they stopped caring because they were best friends.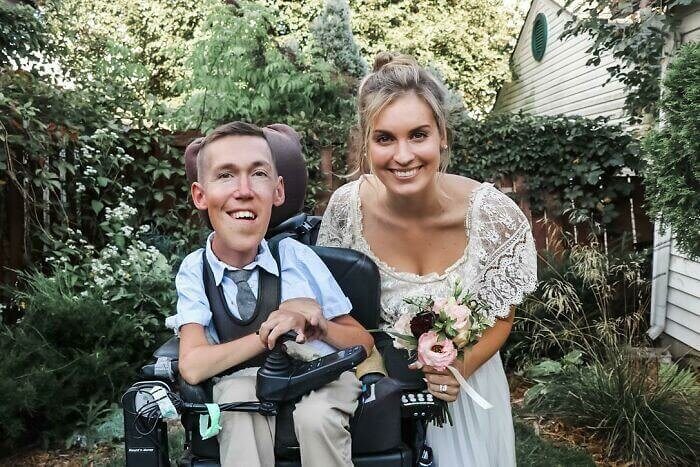 The couple actually met after Hannah came across Shane's documentary. She loved his sense of humor and asked him out. She never saw him as someone who was different because she cared more about his soul than his physical appearance. 
22. If He Doesn't Offer To Push You On A Swing Like This, It's Not True Love
If you are with the right person, you will know immediately because you can pretty much do anything together, and it is fun. This couple made the simplest thing, like sitting on a swing, into a fun activity.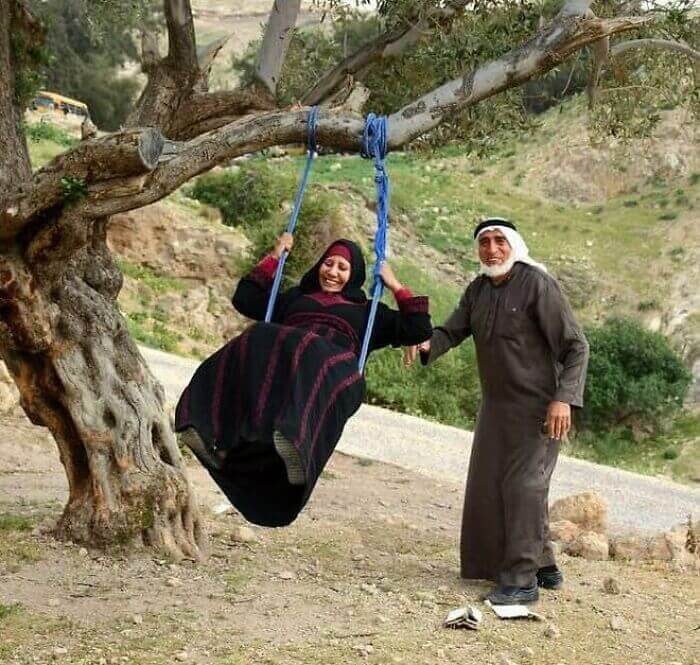 Even though they are grown adults, they still enjoy pushing each other on the swings as if they were children again. If your man doesn't offer to push you like this, is he even the love of your life? 
23. They Coordinate Their Outfits Every Day
Have you ever seen a more stylish and coordinated couple than these two? They have always been into fashion and experimenting with style, so they decided to combine their passions and create daily outfits that bring them together.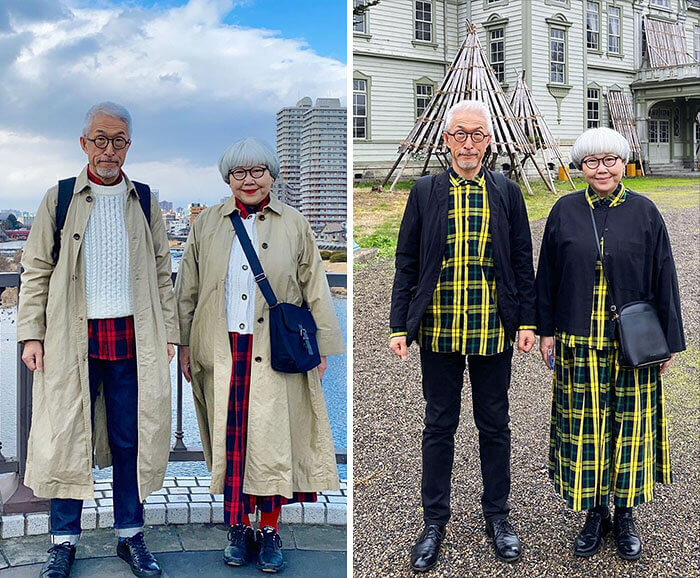 They have an Instagram full of all their incredible outfits, and people love to see what they are going to wear next. We love the complimenting styles and how it's not too matchy-matchy. 
24. Still Punk Just With Less Hair
In the '80s, punk rock was all the rage. This couple, Dog and Tina, were bad to the bone with their punk looks, and they haven't lost that vibrant spirit after all these years. Even though they have less hair and toned down their looks, they are the same people inside.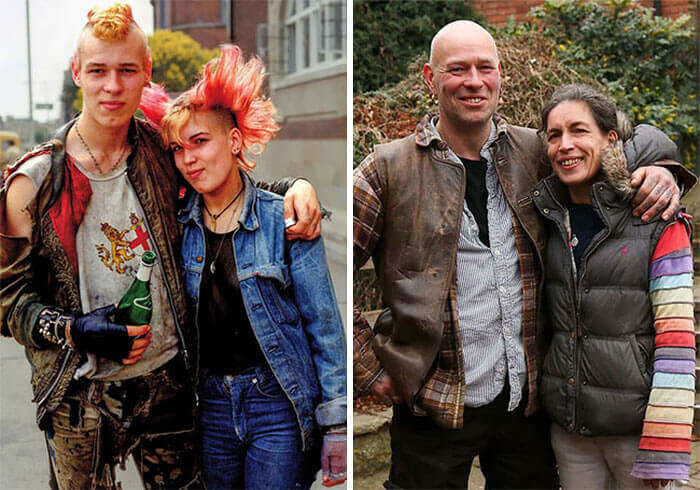 Their wild spirits brought them together, and their true love kept their romance going for all this time. The same street photographer even tracked them down to recreate this photo, and he was happy to see that they were still together. 
25. He Pretended To Go To The Bathroom So He Could Surprise His Wife With Flowers
While waiting in a long line at the grocery store, this person witnessed something so pure. While his wife remained in line, her husband said he had to go to the bathroom, but when he came back a few minutes later, he had a surprise for his wife.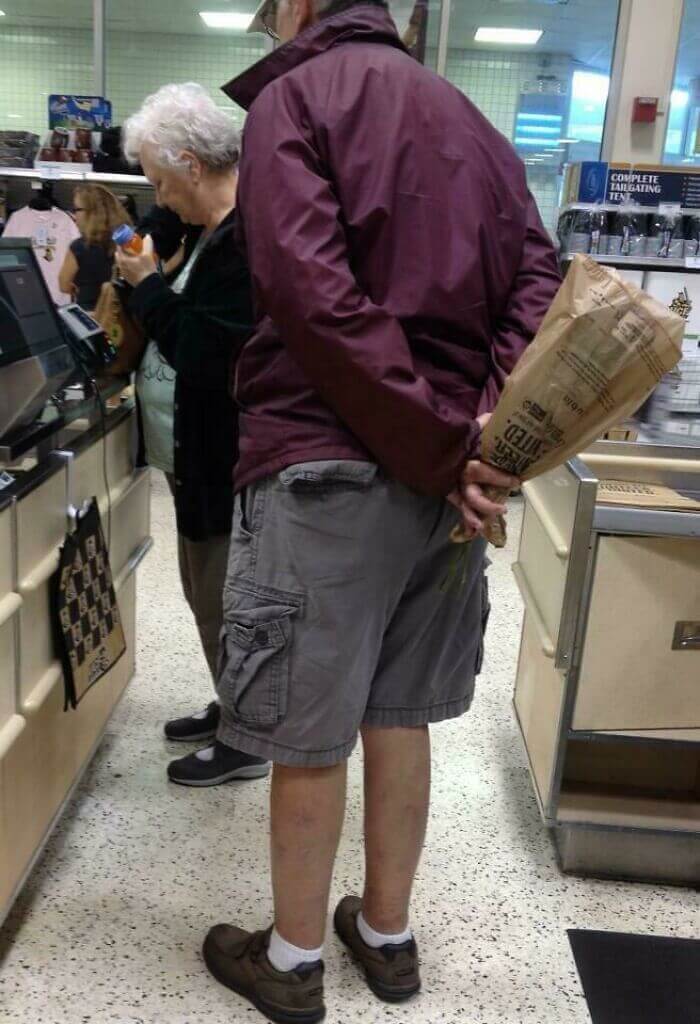 When he returned, the man had secretly bought his wife flowers and hid them behind his back. It doesn't have to be a grand gesture to show someone how much you care for them and appreciate them in your life. 
26. The Couple On The Woodstock Album Cover Are Still Together
When Nick and Bobbi Ercolin traveled to Woodstock in 1969, they had no idea that they were about to become the most famous couple of the hippie generation. They were just a couple of young kids in love, and the tender moment shared between them was captured and used as the festival's album cover.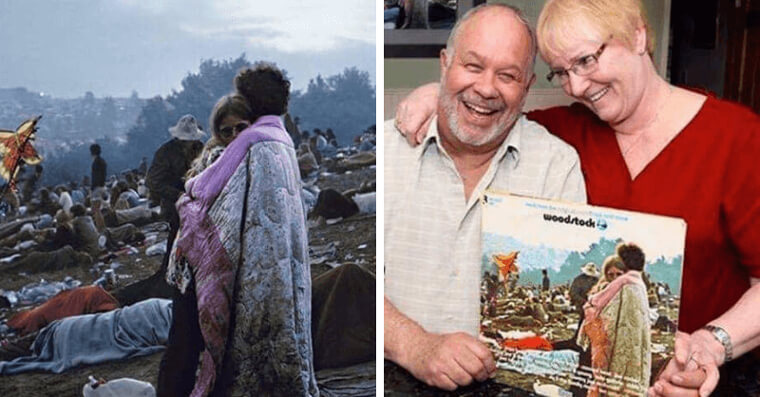 Now it's been over 50 years since the picture was taken, and the couple is still in love. They actually barely remember the moment because it was so early in the morning, and they had just woken up. It's so reassuring to see that their love is just as strong after all these decades. 
27. They Could Help But Crack Up During Their Pictures
Back in Victorian times, most photos were taken with serious faces because smiling was not for simpletons. This couple was posing for their portrait, but they couldn't help bursting out in a fit of giggles.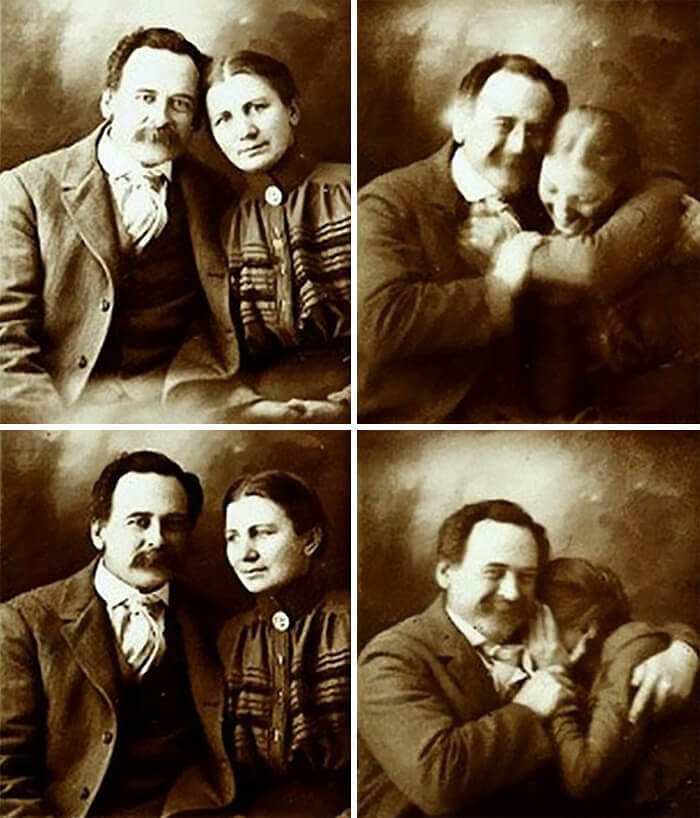 The love is so strong that they can't help but laugh in each other's presence even when nothing happened. These serious portraits make you forget people were humans, which is a reminder that they were just as normal. 
28. When You Marry Your Best Friend, Every Day Is An Adventure
Sometimes when you least expect it, life reminds you that it shouldn't be so serious. When this girl witnessed an older couple shooting straw wrappers at each other in a restaurant, she realized how fun things could be when you are with the right person.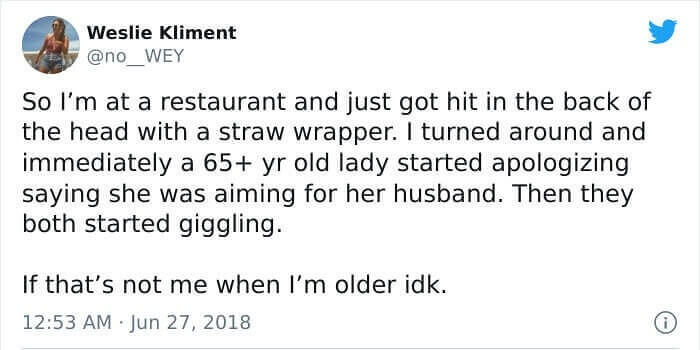 The couple couldn't stop laughing, and that is the kind of love we all deserve for the rest of our lives. Keep life fun because that is what it's really all about. 
29. They Can't Sit Next To Each Other But She Still Keeps Him Company
When this guy got Covid, his fiance couldn't sit with him, but she would leave food at the door and sit in the hallway so that he wouldn't be all alone. On this day, she surprised him with a holiday-themed hot chocolate.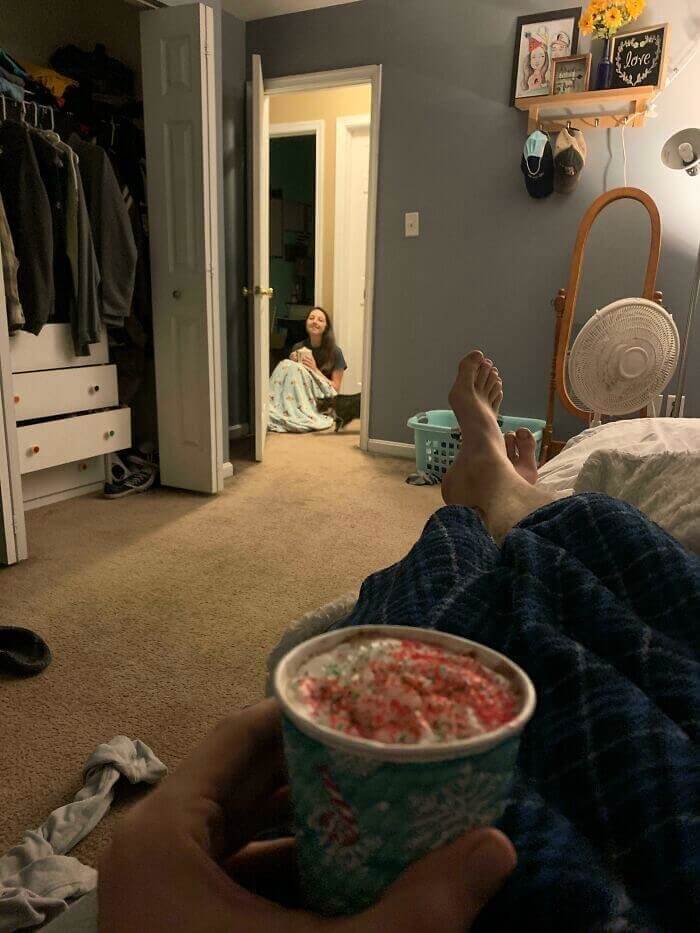 When the person you love is sick, it is hard to watch them experience any kind of illness, and these little gestures remind them that they are loved and taken care of. 
30. He Was The Only One Who Showed Up To The Company Hike And They Fell For Each Other
Seven years ago, this girl was working at a small company, and she invited all of her co-workers on a weekend hike. The only one that came was a guy who she hardly spoke to. Although he was the only one who showed up, they made the most out of it.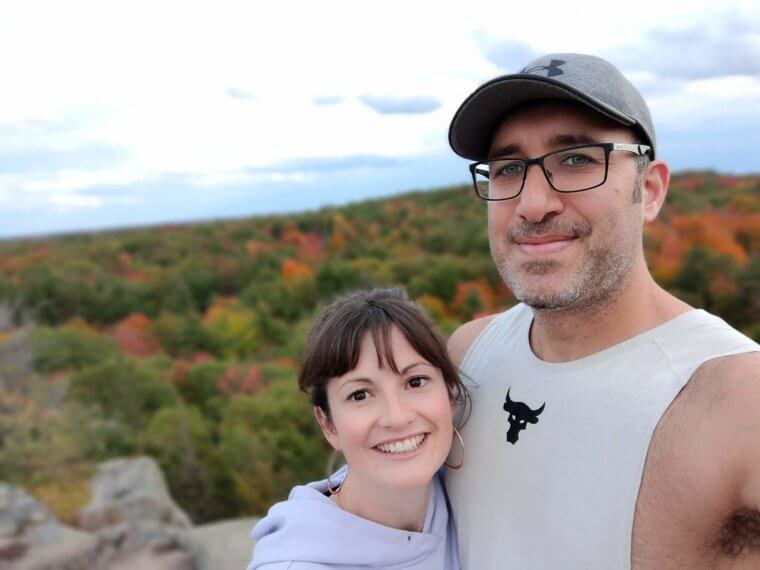 This year they celebrated their sixth wedding anniversary by going on the same hike. If the other coworkers had shown up, they might not have realized how much they like each other. The universe has a funny way of making things happen. 
31. They Met At Woodstock And Have Been Together For 50 Years
This couple met in 1969 at Woodstock and, after 48 hours, they knew they would spend the rest of their lives together. 50 years later, their love is stronger than ever, and they recreated their iconic photo. It actually took them 50 years to find the photo from the day they met.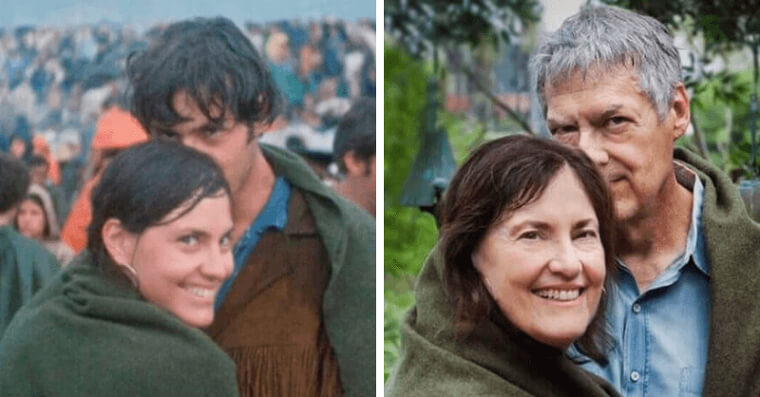 They told their friends and family the fairytale story of how they met when her car broke down on the way to the festival. She and her friends hitchhiked, and the man that would be her husband picked them up on his way to Woodstock. 
32. I Literally Helped Him Find Dee. What'd You Do Today?
This couple is used to losing each other in the store, so they had t-shirts made to help people assist them in case they get separated in public. After so many years of wandering around stores looking for each other, they finally had to come up with a solution.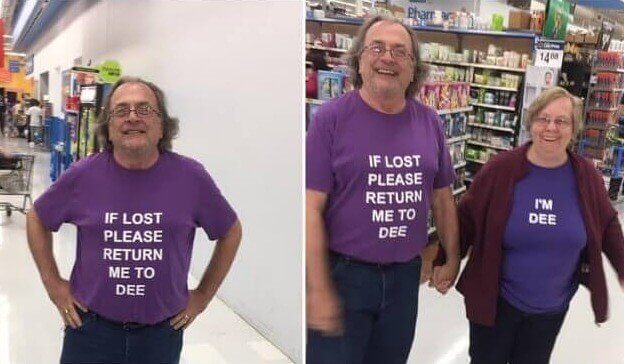 This would be good for people who suffer from dementia or other memory-related diseases. We love how much happier he was when he found his wife, and she looks happy to see that the shirts actually worked. 
33. They Get Weird Because They Don't Care What People Think
While walking down the street, this couple randomly stopped to pretend to be ninjas. They had no idea that this precious moment was caught on camera, but they just seem so playful and cute without even trying.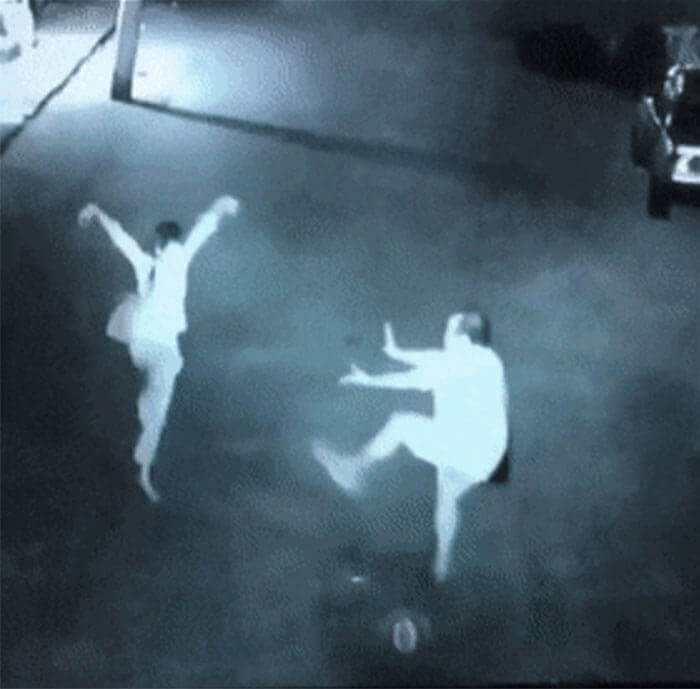 People always dream of having these wholesomely weird relationships, and they are some of the lucky ones. To keep the relationship playful and young is a key to having it last a lifetime. 
34. He Married The Love Of His Life And It Was Worth The Wait
It's weird to think that at the beginning of the 2000s, gay marriage was illegal. Therefore, it is still so heartwarming to see people be able to marry whoever they love. They love each other, and they wanted to make it official, which they can now do.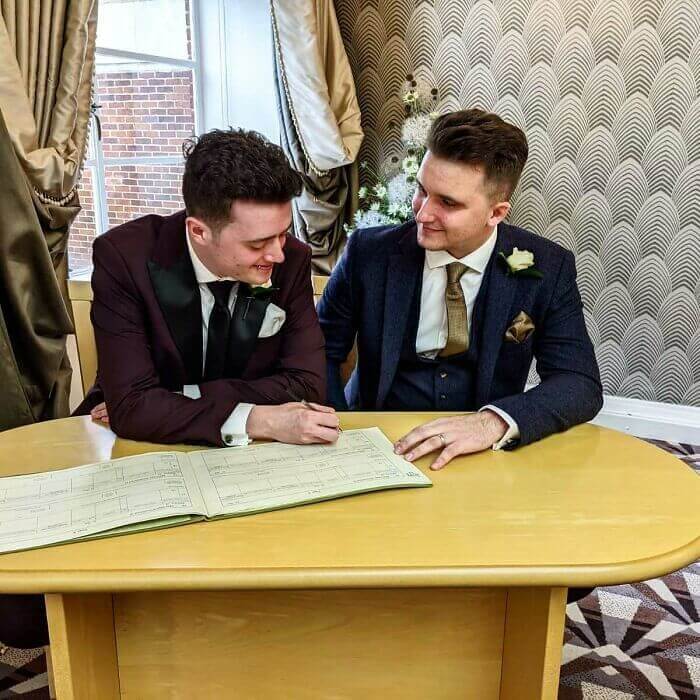 We should all be so lucky to marry the person we can call a best friend. That is something so rare, and these two found that in each other. The way he looks at his partner is something we hope never changes. 
35. He Was Admitted To The Hospital And Didn't Know If He Would Make It Home For Christmas
A week before Christmas, her husband was admitted to the hospital, and she was so worried that they were going to be apart for the holiday for the first time since they got married. Luckily, he came back just in time to celebrate. 
This is them slow dancing to "I'll Be Home For Christmas" on Christmas Day. His wife was so happy to have him home and healthy. They never take a day for granted now that they had such a scare. 
36. They Started Their Weight Loss Journey Together And Kept Each Other On Track
Regardless of their size, this couple fell in love with each other's souls, and after a health scare, they decided to start losing weight together. While it hasn't been an easy journey, they had each other to lean on for support.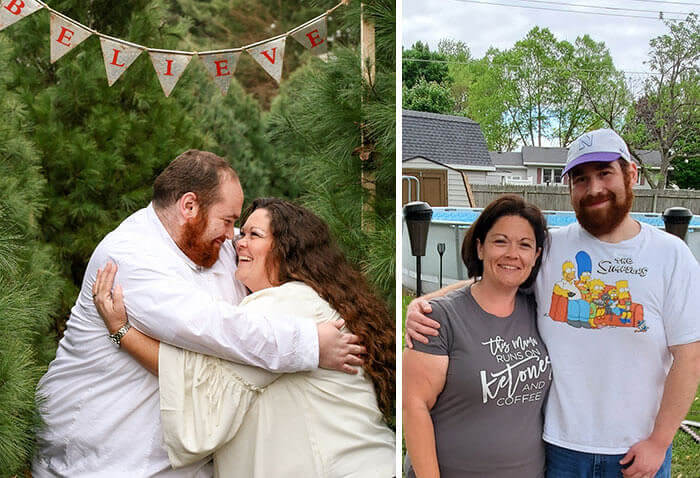 Today they reached huge milestones in their journey. He was excited to share that his wife was under 200 pounds, and he could finally do a pull-up. We love how happy they are in both pictures because it shows they love each other regardless.  
37. When Scaring Your Boyfriend Backfires
Have you ever tried to scare your significant other, and it completely backfires on you? This woman was trying to scare her boyfriend, and instead of successfully doing so, she watched as he hid to scare her too.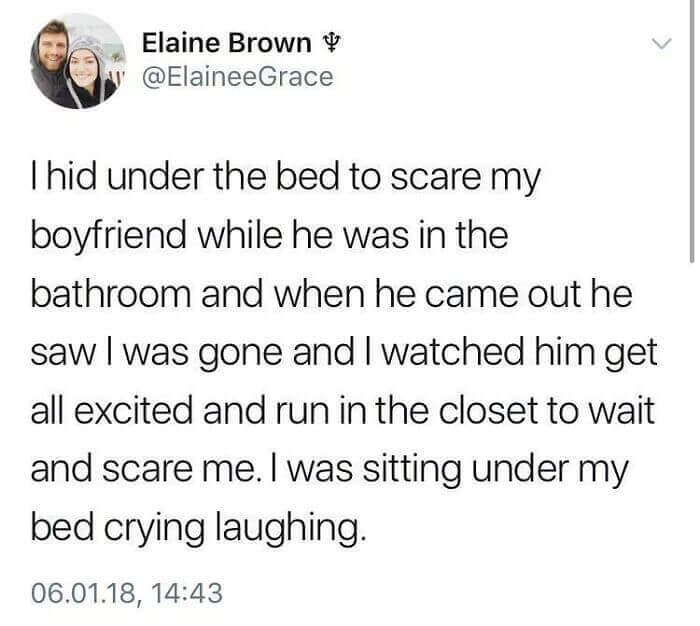 We would love to know who was the first to give up and come out of hiding? Legend has it; they were waiting in their hiding spots the whole day because neither was willing to give up on the prank. 
38. Elderly Man Learns To Do Wife's Makeup Before She Turns Blind
While working at a makeup counter in the mall, this couple came in, and they are at the store often. Jean and Brian were in the store that day for a makeup lesson because Jean is losing her sight. Therefore, her husband wanted to help her.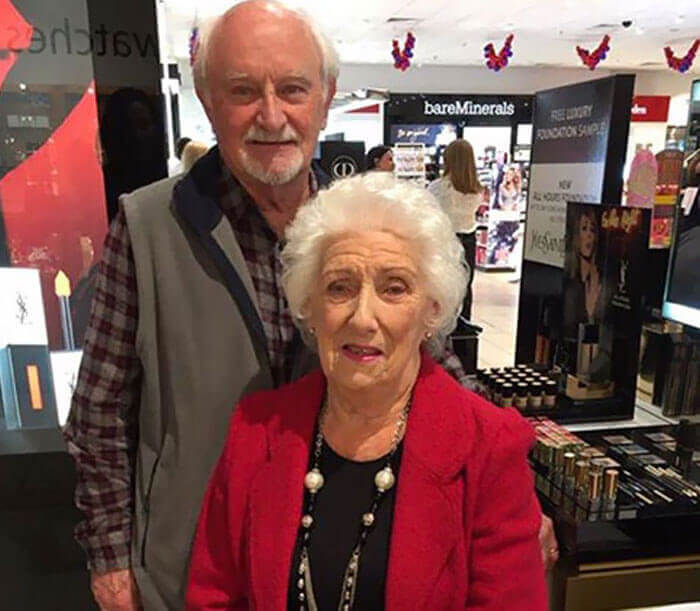 He asked for a lesson so he would know how to do her makeup when she could no longer do it herself. She looks fabulous, and he did a pretty good job on her face. It's endearing that he understood how precious her makeup was that he took the time to learn how to do it. 
39. They Decided To Model Clothing Forgotten At Their Laundry Shop
This adorable couple has been running their laundromat in Taiwan for a while now. Over the years, they have accumulated a lot of clothes that people left behind and never came back for. Instead of getting rid of them, they decided to do something else.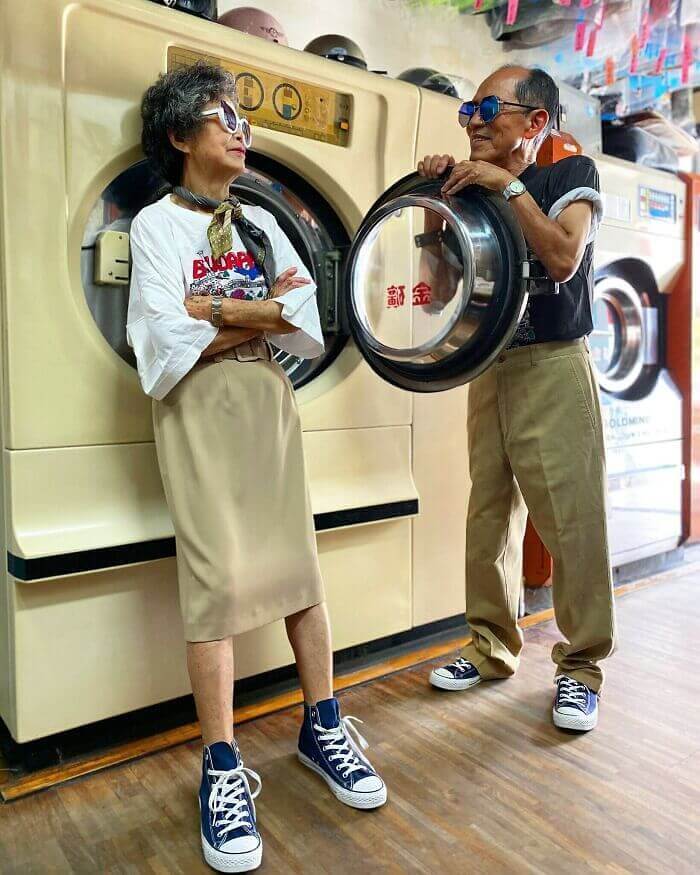 They styled the outfits and posed for a photoshoot. We have to say they are rocking those outfits, and we love how adoring the man is looking at his wife. We wish we were this stylish and cool. 
40. They Got Married Twice
After nine months of marriage, a pole fell on this woman's head. It caused a head injury resulting in memory loss. When she woke up, she had no idea who her husband was, and they were worried she wouldn't be in love with him anymore.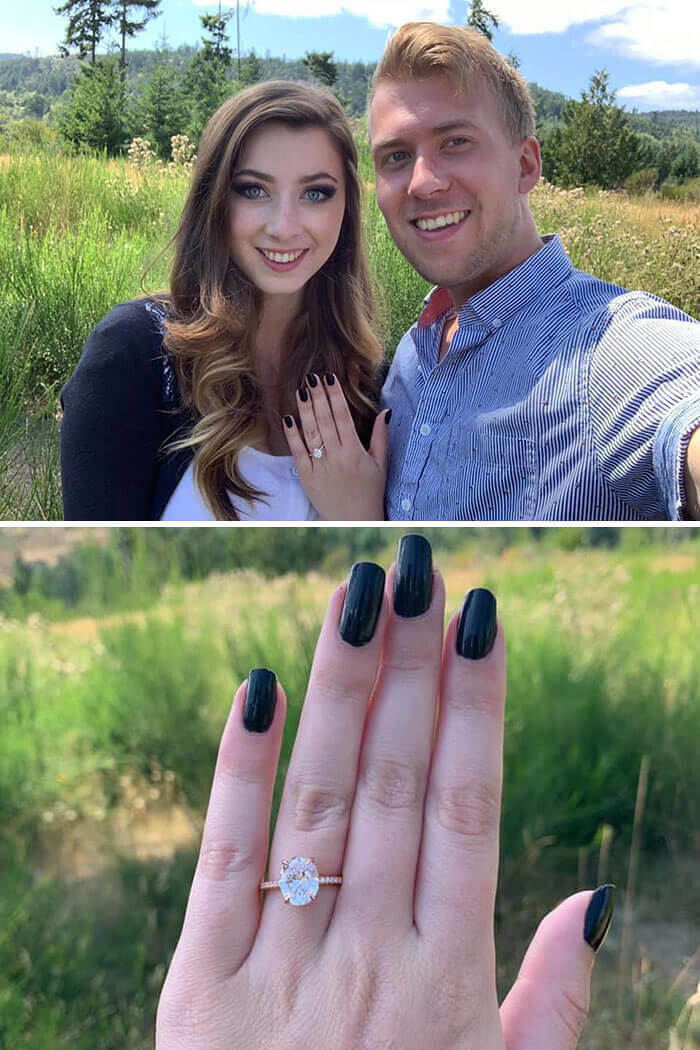 They basically had to fall in love all over again and start over, but it was worth it because two years after the injury, they got married again. He didn't want to give up on his wife, and he was willing to put in the time and love to help her recover. 
41. Before And After Her Husband Said, "I Love You"
In the first photo, this woman and her husband were having a normal conversation, and in the second photo, her husband just said, "I love you." You can see how happy she is to hear those three little words that mean so much to her.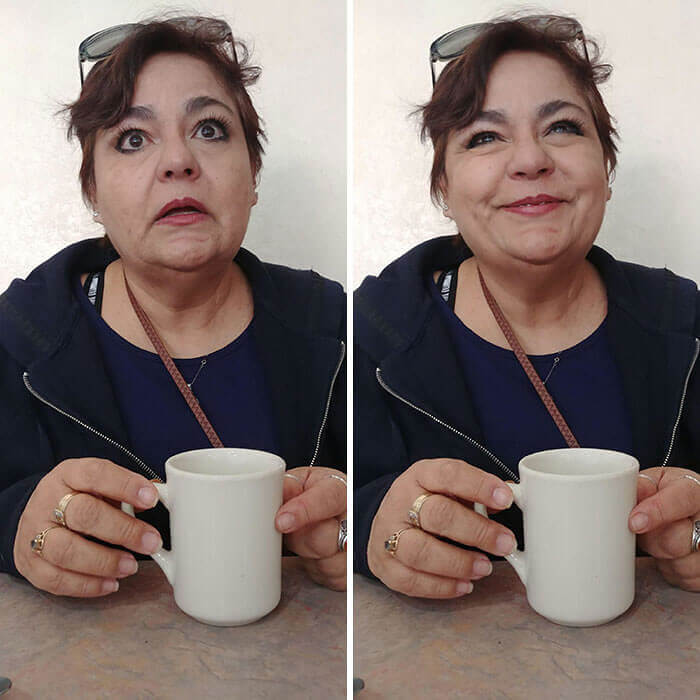 When someone tells you they love you, it makes you feel all warm and fuzzy inside, especially when it comes from someone you love back. That is the kind of love everyone hopes to find. 
42. Making Happy Memories Even In Tough Times
While the past year was filled with a lot of sad news, these two found some light and happiness. He asked his partner to marry him, and they are planning their wedding. It was a perfect time, and it made the year so much better.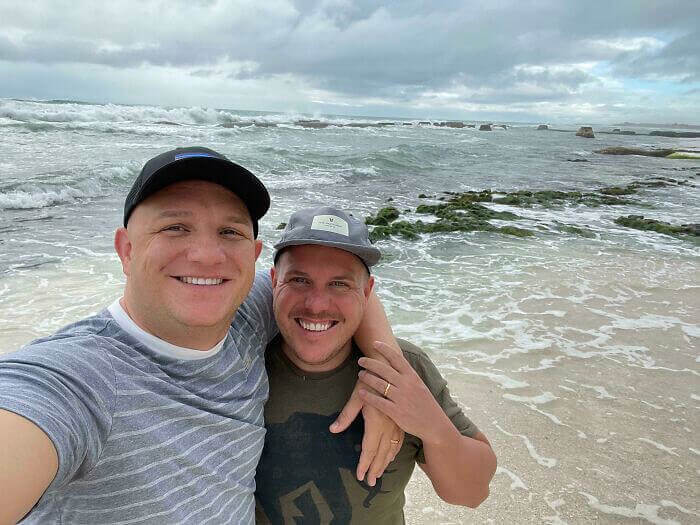 We hope they have a lifetime of happiness because they look like they are beaming from the inside out. He was probably so excited to pop the question and ask his partner to love him forever. 
43. Still Joking Around Even After Years Of Marriage
This is the kind of text these parents exchange as if they are back in high school. Whenever we see our parents doing cute things, it inspires us because it makes us hopeful that we will have that kind of relationship one day.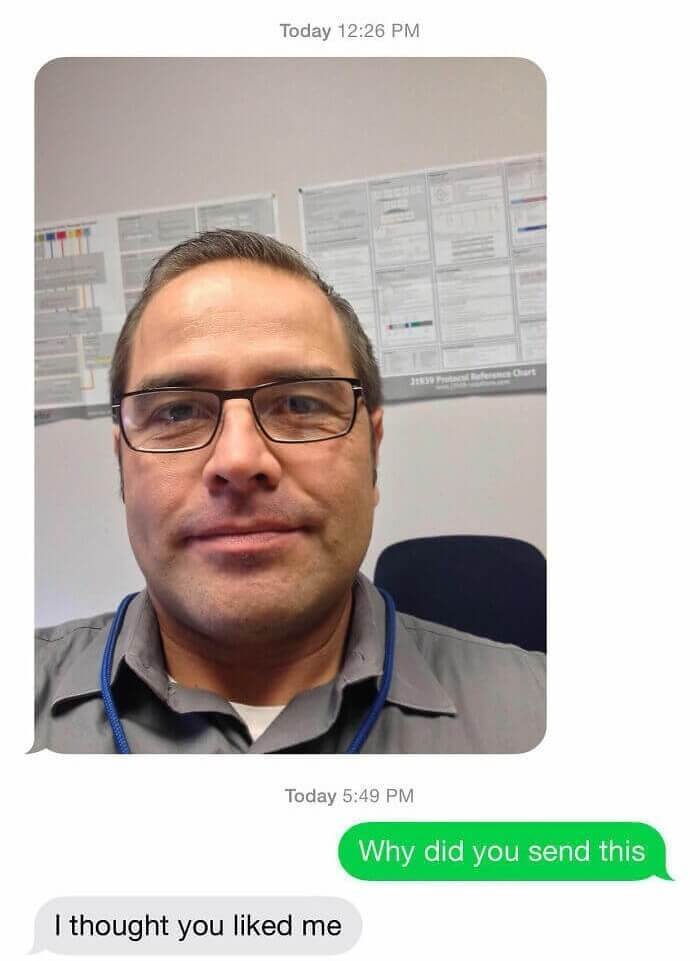 We hope she replied, "I don't like you… I love you." That would be the most wholesome response to this message and make our hearts melt. 
44. He Still Has No Idea That She Is Helping Him
If you have ever dated or are dating someone who plays video games, you know how frustrated they can get when they can't pass a level. This woman said she figured out early on that her husband was going to need help with his games.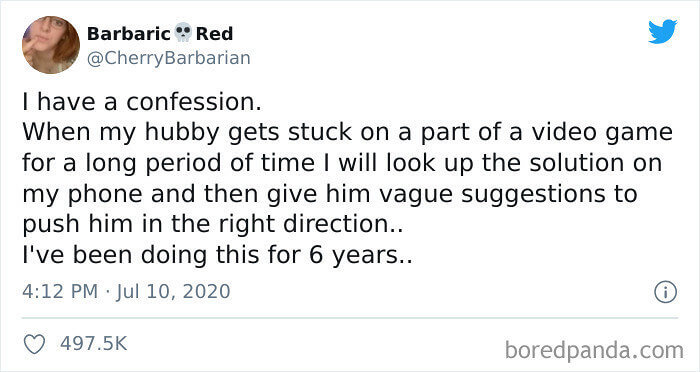 He might not know it, but she has been getting him through video games for the past six years. That's a really long time for him not to realize that she just happens to give helpful suggestions right when he needs them, and they always work. 
45. The Secret To A long Lasting Marriage
When people ask what the secret to a long-lasting relationship is, some people don't have the answer. However, when this couple participated in a relationship photo challenge on Twitter, someone asked them how they made it last for 35 years.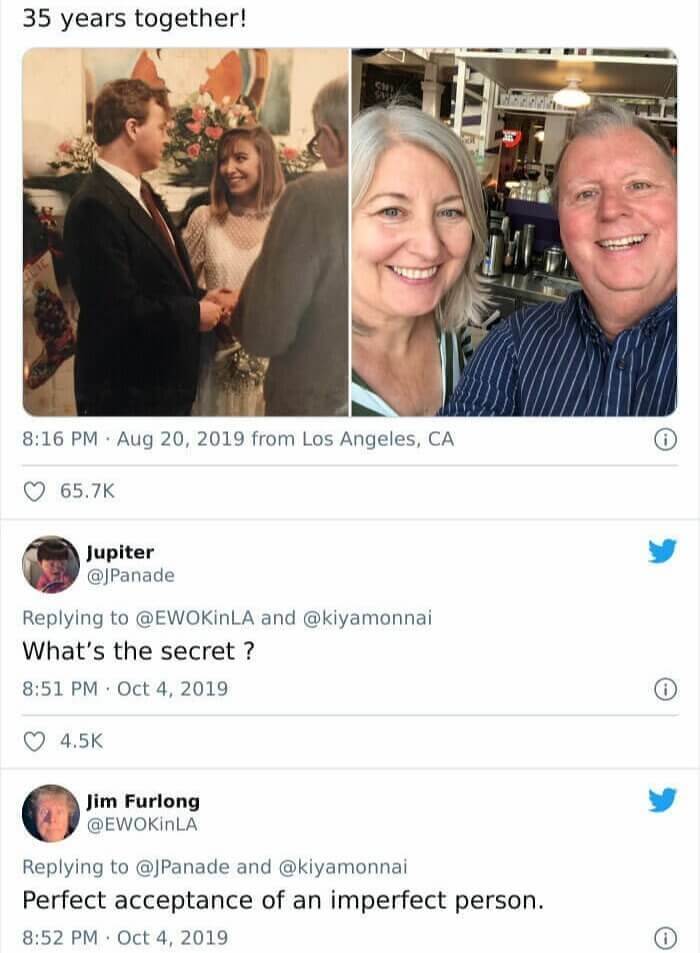 They had the best response we have seen so far. The man said the secret to their long relationship is accepting the other person even if they aren't perfect because that's what makes their partner so special.