Most of the time, celebrities look fantastic because they have access to stylists and the best designers in the world. However, this clearly isn't a foolproof system because there are times when celebrities have donned hideous outfits that also happen to cost a fortune. We guess money can't buy style, and these celebrity fashion fails are proof of that. From Kim Kardashian to Paris Hilton, these outfits will make you question why they paid so much money for such hideous garments. Scroll down and see if your favorite celebrity ended up on our list after making some questionable fashion choices.
1. Katie Price's Pink Horse Outfit Turned Heads For The Wrong Reasons
If anyone knows how to keep the press talking, it is Katie Price. If they aren't commenting about her relationship dramas, then people are talking about her over-the-top outfits like this one. For the fifth anniversary of the KP Equestrian range, Price showed up in this bizarre pink horse costume.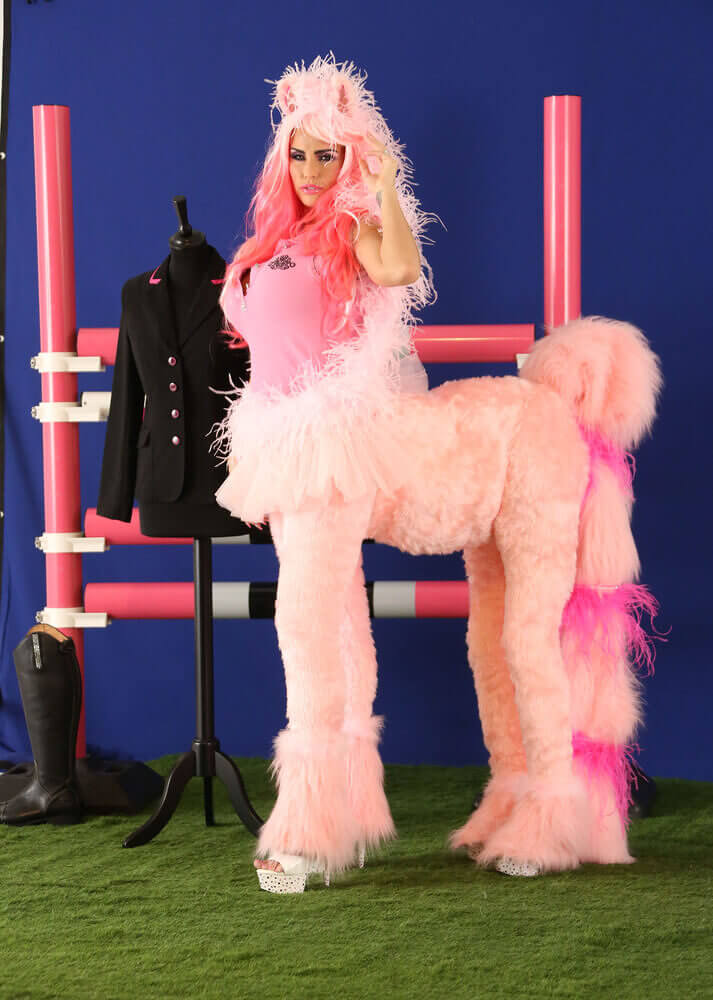 The outfit was custom-made, and we can assume it wasn't cheap. However, we would never spend even one dollar on this strange get-up. While it was for an equestrian event, we can imagine that she probably had classier options in her closet. 
2. Jaden Smith Channeled His Inner Batman… For A Wedding?
Jaden Smith has never been one to stick to mainstream fashion trends, and for Kim Kardashian and Kanye West's wedding, he wasn't going to wear a boring tuxedo. Smith decided to take the white Batman outfit he wore to prom and re-wear it for their Italy wedding.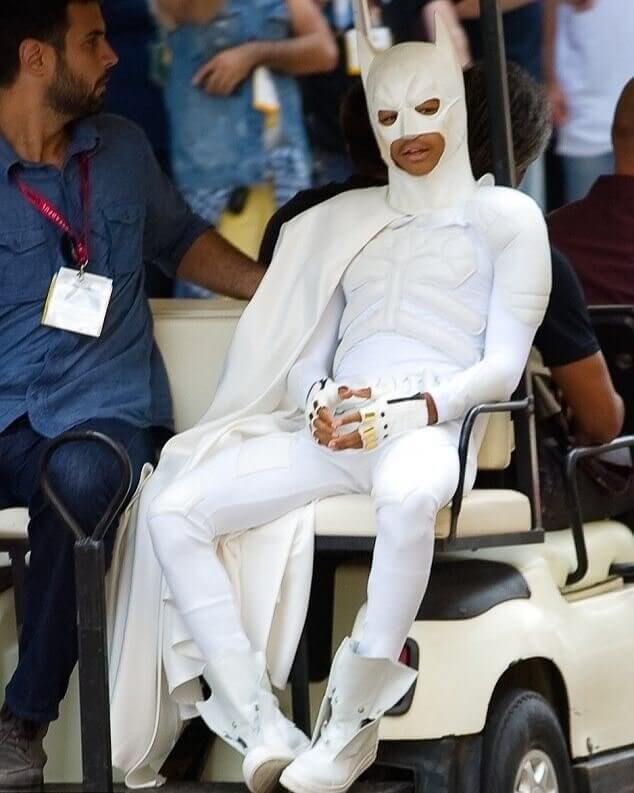 While it is already strange to wear white to someone else's wedding, it is even more bizarre that he chose to dress as a superhero. Smith said he wanted to dress how he felt, but a simple tux could have conveyed heroism as well. 
3. Nicki Minaj's Cheetah Outfit Didn't Inspire Many Trends
The red carpet is the perfect place to show off your glamorous side, and Nicki Minaj decided to take it in a different direction for the 2011 Grammy Awards. Designed by Givenchy, Minah wore this outrageous cheetah print getup. She even completed the outfit with cheetah print hair.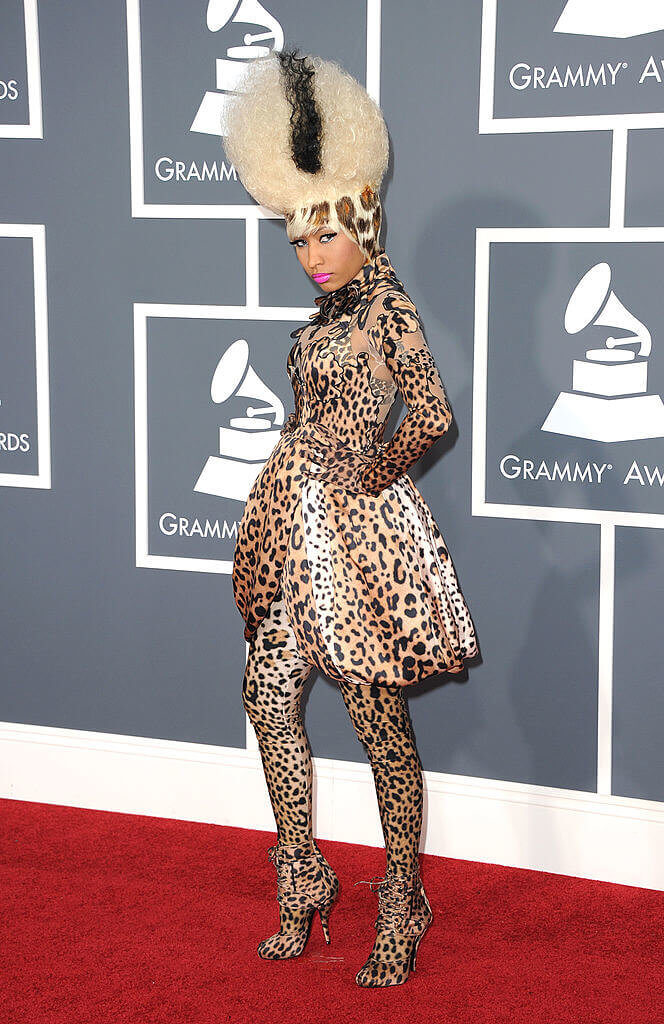 There wasn't an inch of her body that wasn't covered in animal print, and we would have loved this if it wasn't so overwhelming. Coco Chanel once said, "Before you leave the house, look in the mirror and take one thing off." Minaj should have practiced that rule here. 
4. Perez Hilton Must Have Forgot His Pants
During a night of partying during 2009 Fashion Week, blogger Perez Hilton attended a party in an oversized Disney shirt that barely covered his bottom. He paired the shirt with gold high-top sneakers, and it was definitely a statement, but not the right one.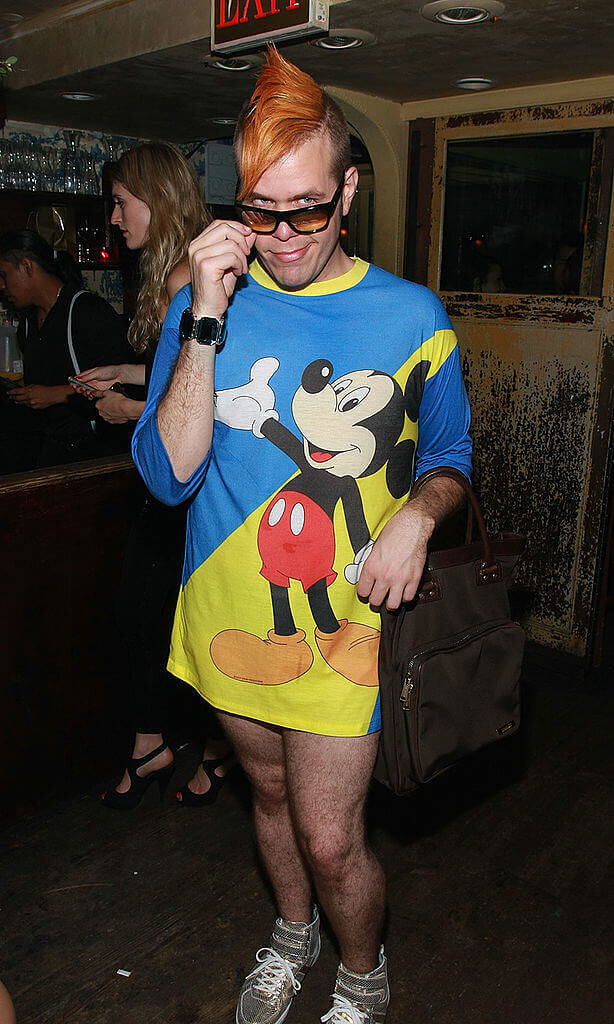 He almost flashed everyone at the party, and we don't know what inspired Hilton's look. This wasn't the first time he left his pants at home, but it was a standout moment. We are glad he left this style in the 2000s. 
5. When It's Raining But You Want People To See Your Outfit
In theory, a clear raincoat is a cute idea if you are wearing a stylish outfit that you want to show off. However, Rose McGowen's version was oddly shaped and ill-fitting. The cone-shaped plastic cape had slots for her arms, but if it rained, those arms would have gotten wet.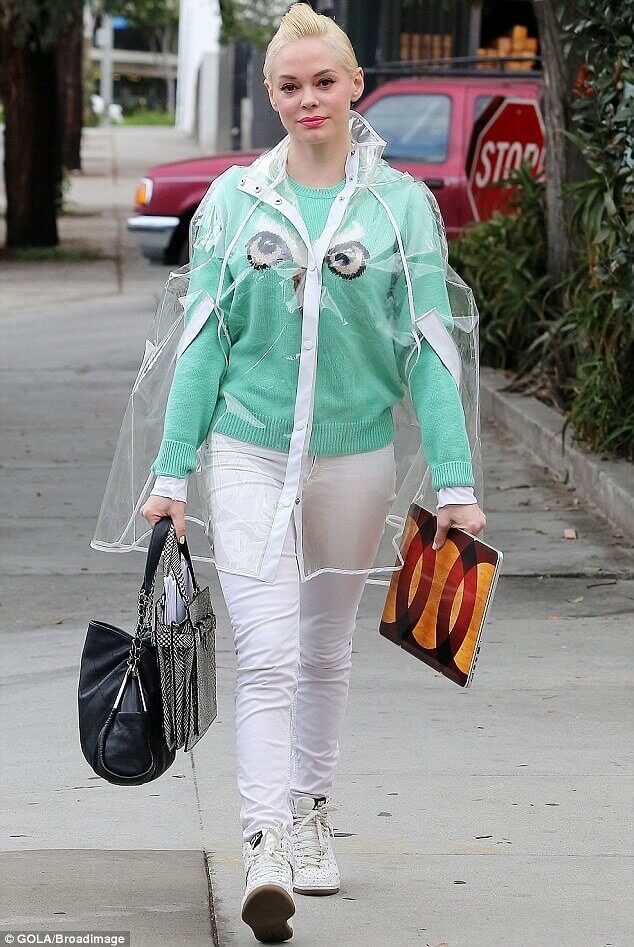 McGowan paired the clear coat with a bright sweater with an owl face on it, and we just wonder where she purchased these pieces from. They probably cost hundreds of dollars because she only wears designer clothing, but were they really worth the price? 
6. Lady Gaga Infamously Wore Her Dinner To The VMAs
Who can forget the time Lady Gaga wore a dress made out of meat to an award show? Designed by Franc Fernandez, the dress was the top fashion statement of 2010, according to Time magazine. Gaga said the dress was about fighting for what you believe in.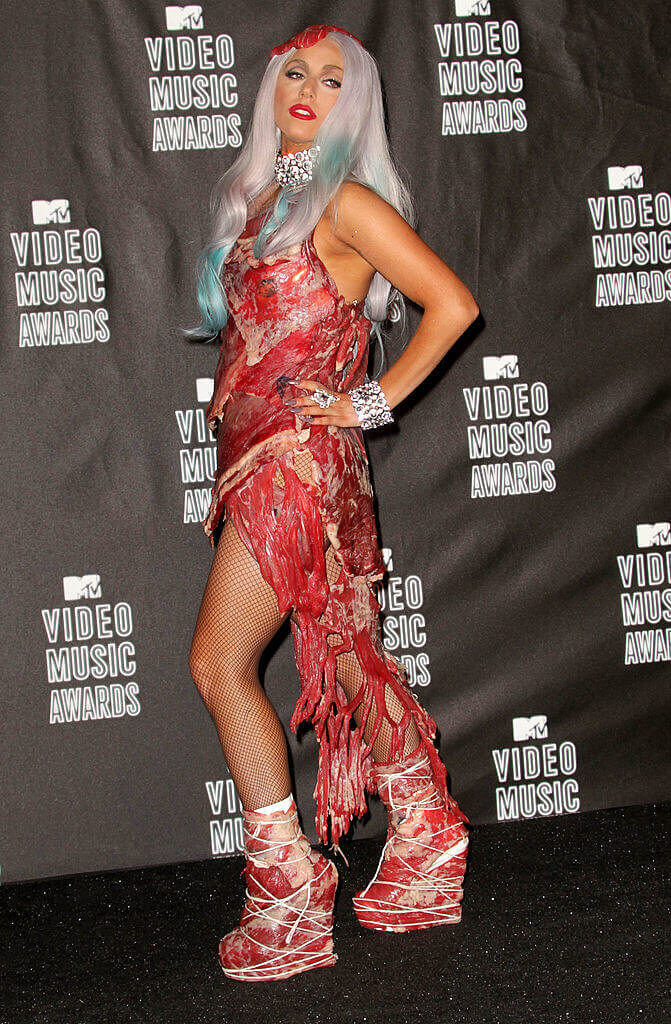 Frederick M. Brown/Getty Images
The dress was actually made of raw beef, and she couldn't have a fitting because it had to be made the week of the awards so it wouldn't spoil. It was truly the most bizarre moment in fashion, but Gaga has proven she isn't one to care about being normal. 
7. Katy Perry Made Us Crave Pizza With This Onesie
Katy Perry is known for her quirky fashion choices, and this one is at the top of the list for her most bizarre outfits. After a concert in 2014, Perry was spotted leaving the stadium in this pepperoni pizza onesie that we hope she wore to get pizza.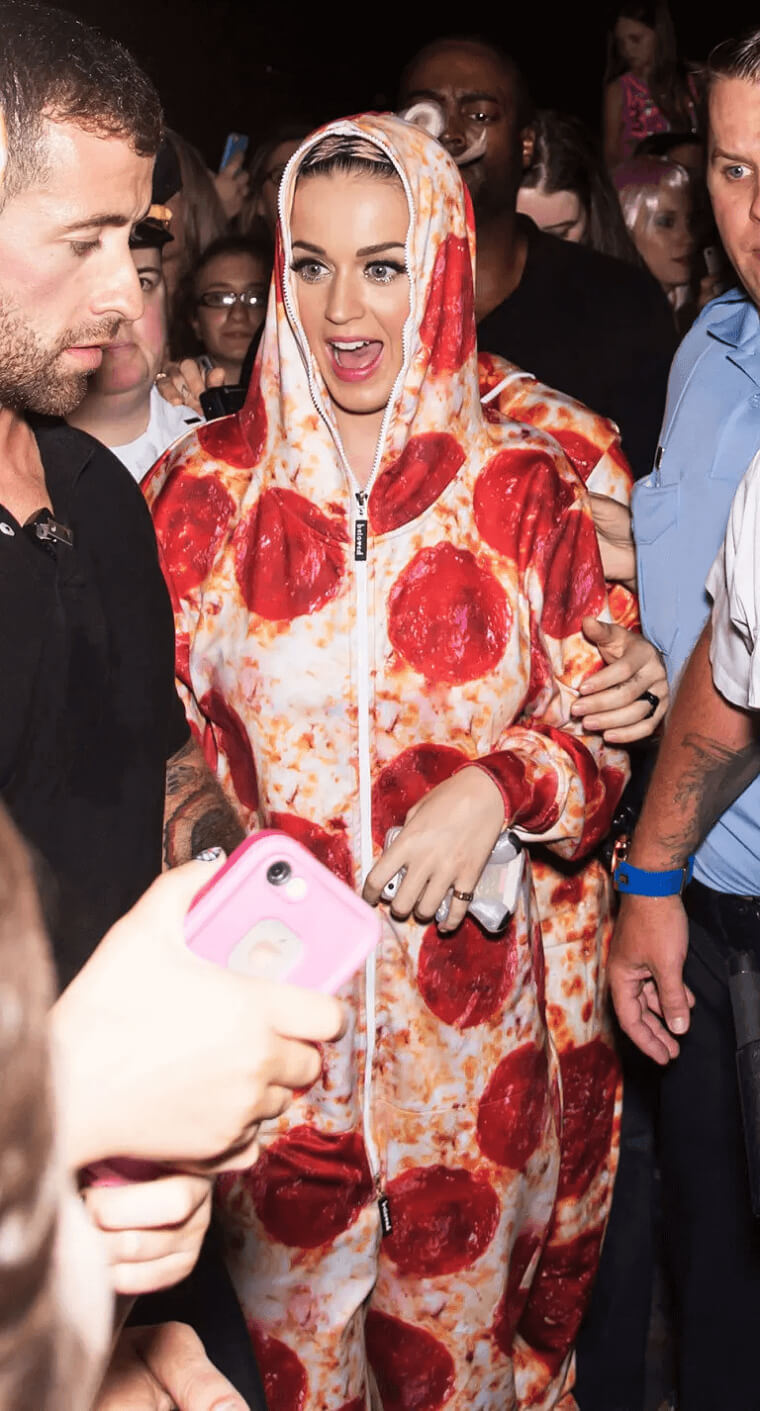 This pepperoni onesie by Beloved cost $100, which might be pocket change to a celebrity, but we wouldn't spend that much on something covered in pepperoni. Maybe it is just us, but a solid color would have been much sleeker. 
8. When You Have A Movie Premiere At 8 And Camping At 9
For the premiere of Fantastic Beasts: The Crimes of Grindelwald, Ezra Miller wore this couture gown by Montclair and Pierpaolo Piccioli that retails for $3,500. It almost looks like he threw on a sleeping bag right before he left for the event.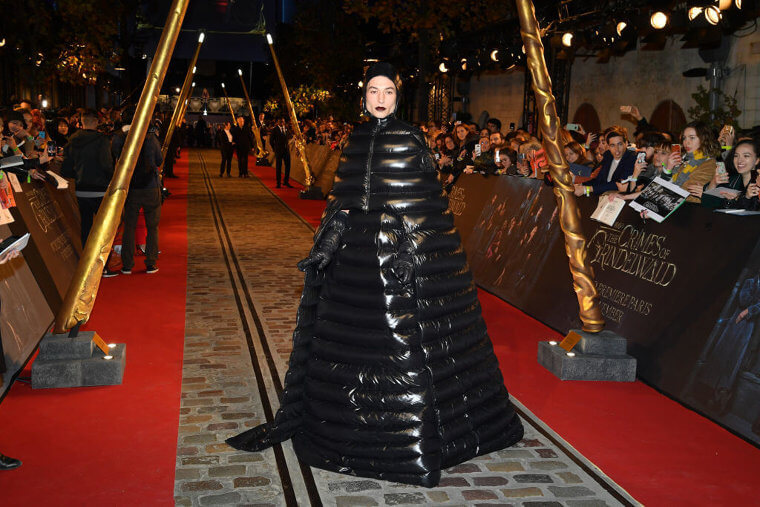 Pascal Le Segretain/Getty Images
He must be sweating profusely in this garment, and we wonder how he managed to sit down. Miller is not afraid to push fashion boundaries, but we wonder if he wanted to look like a big cone. Some people loved it, but we can't see anyone realistically wearing this. 
9. Ciara Is Ready For Any Event In This Outfit
Ciara is one of those celebrities who could probably rock a paper bag if she wanted to, but this Givenchy menswear look was a fail for us, even on her. She looked like a formal astronaut in this ensemble, and we don't know what she was thinking.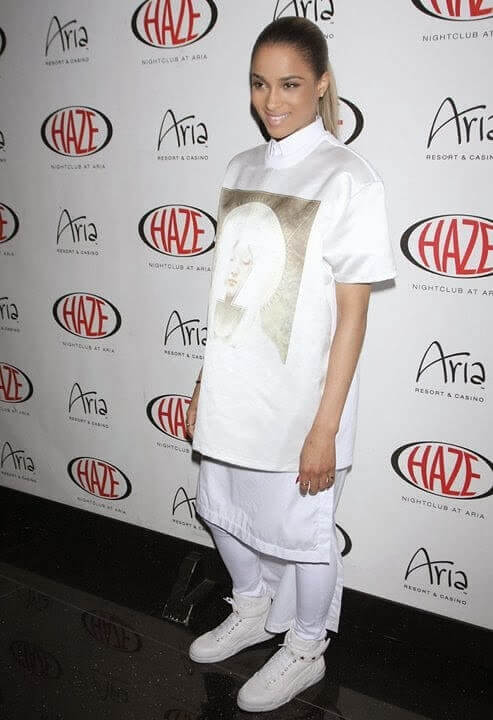 If Ciara ditched the high-low button-up shirt under the t-shirt, this wouldn't have been such a bad look. It just reminds us of the dark period during 2013 when people would wear shirts that went to their calves. 
10. Her Heart And Bank Account Will Go On
At first glance, there is really nothing wrong with this outfit Celine Dion wore to run errands. What could possibly be bad about a graphic sweatshirt and jeans? Well, when we tell you the price, you might want to clutch your wallet because it is shocking.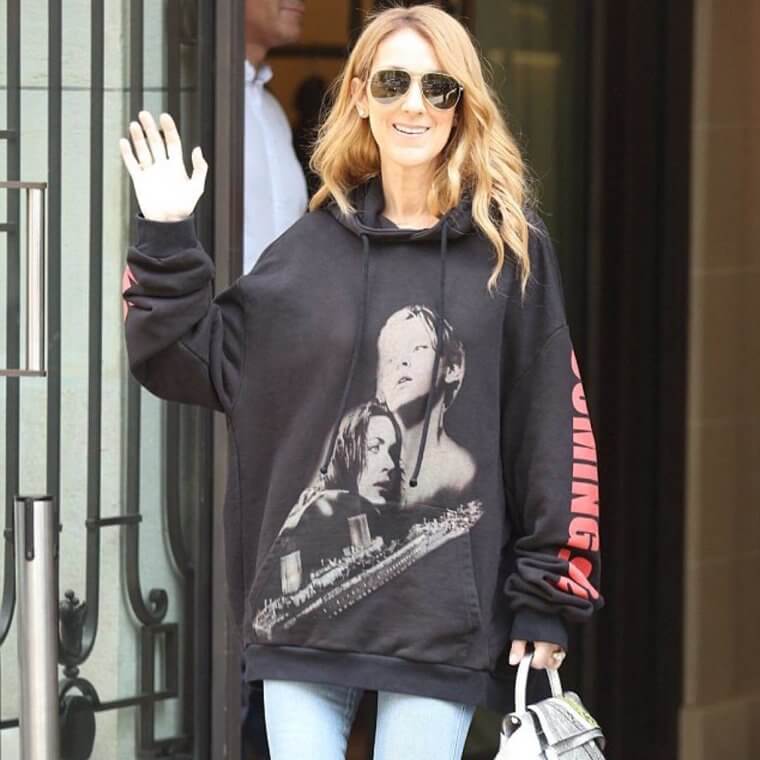 This sweatshirt by Vetements retailed for over $800. It looks like something you could find at Forever 21; however, it cost more than anything we have ever owned. Dion must have felt compelled to purchase it because of her hit song in the iconic film. 
11. Wear It Straight From The Dry Cleaner
We thought we had seen everything between the meat dress and a pepperoni onesie, but this takes the cake for the most bizarre fashion fail that will cost you. Moschino created a plastic dry-cleaning bag dress that retailed for $735, and we wonder who was wild enough to purchase this.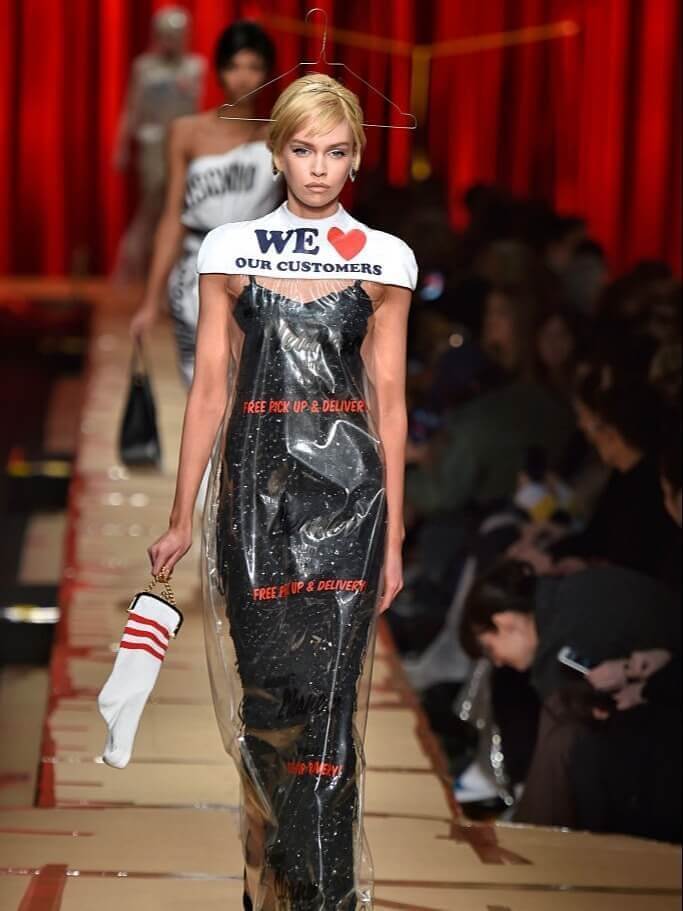 Victor VIRGILE/Gamma-Rapho via Getty Images
We understand the idea of upcycling, but this looks like the model walked right from the dry cleaner and decided to leave the plastic on her dress. Many people recreated this in their own funny way because it was too ridiculous not to make fun of. 
12. Kim Kardashian Or Your Grandma's Couch?
For Kim Kardashian's first Met Gala, she was just a plus one with Kanye West. At the time, she was pregnant with her first child, North, and it was harder for her to find something she felt comfortable with. The Givenchy high neck dress with gloves and a thigh-high slit was an instant meme.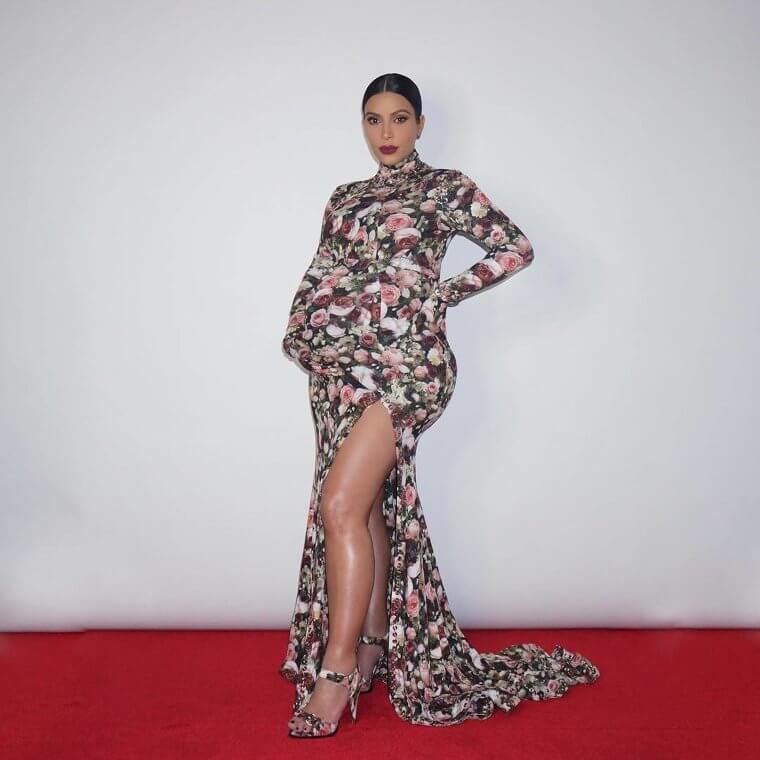 People compared it to an outfit worn by Robin Williams in Mrs. Doubtfire, and the actor even retweeted the meme. Kardashian cried the whole way home because she hated the look and felt self-conscious. She stepped up her looks for each Met Gala after. 
13. Justin Bieber Was Channeling His Inner MC Hammer
When Justin Bieber stepped out of his hotel wearing this ensemble in February 2013, people said it might have been one of his worst outfits ever. With all the money he has made, you would think he could afford better-looking clothes, but apparently not.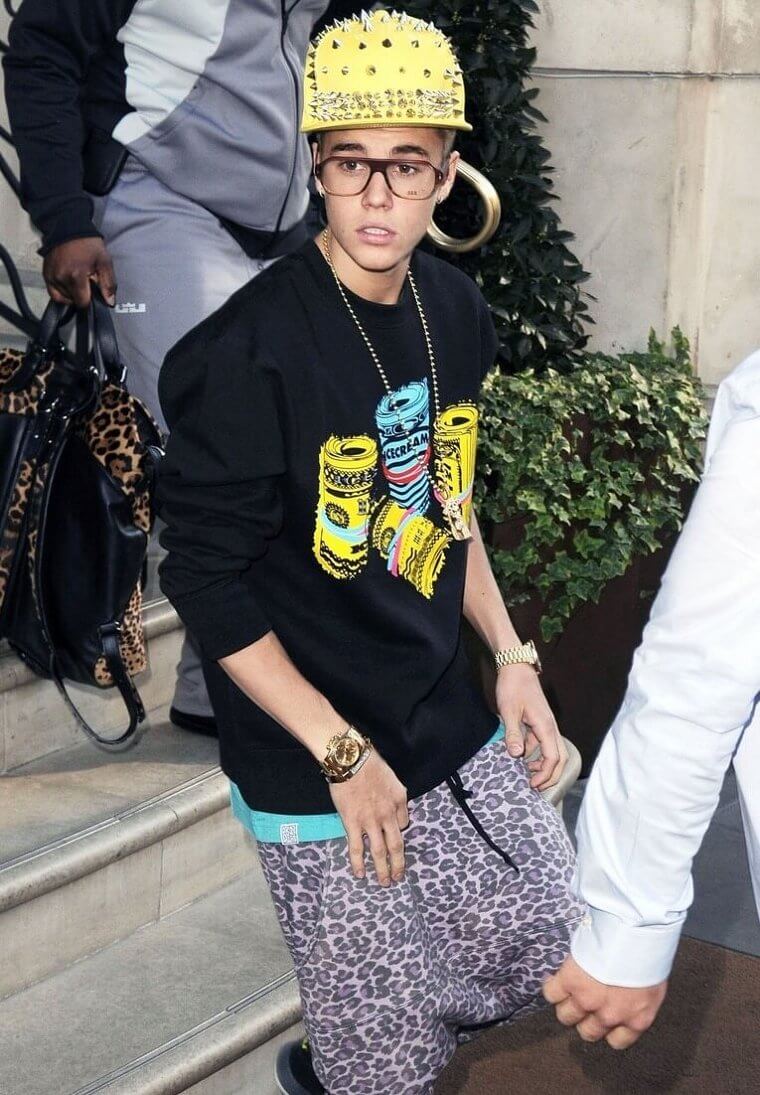 Bieber's $400 sweatshirt was probably the only decent part of his outfit. 2013 was a rough year for Bieber's style because he would often wear these drop-crotch pants that make him look like he had a full diaper, and no one in his entourage apparently had the guts to tell him.
14. Paris Hilton Took Some Notes From The Revenant
Paris Hilton has always been in the spotlight, but she hasn't always made the best-dressed list. As a hotel heiress, you can guarantee she only wore real fur and designer labels, but she should have gotten her money back for this look.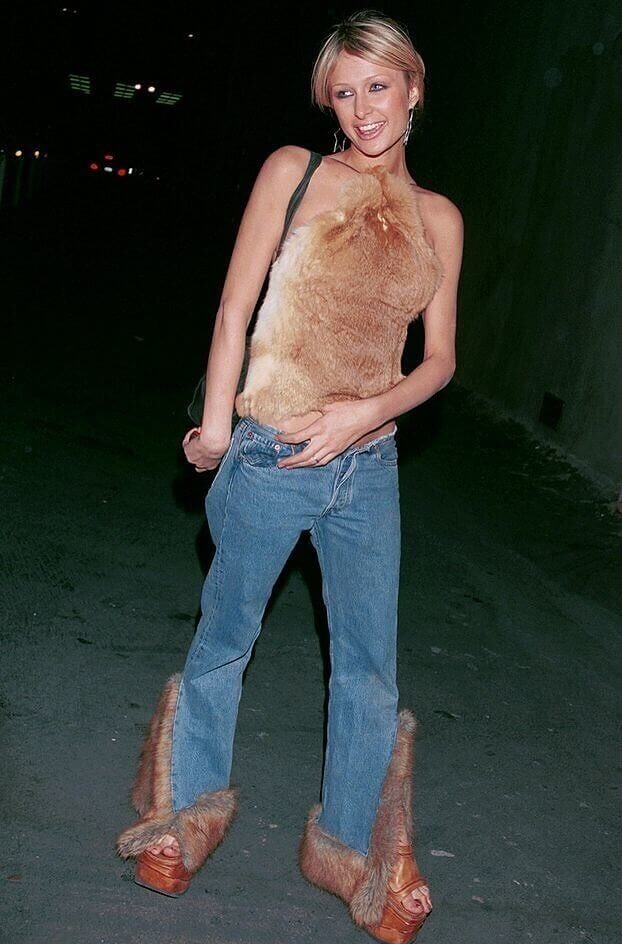 Hilton paired a fur halter top with fur-lined jeans and the chunkiest platforms we have ever seen. It looks like she stole this look from the costume department on the set of The Revenant. It would keep her warm in a trek through the Dakotas, though. 
15. Kesha Must Have Gotten Dressed Blindfolded
We aren't sure what the style inspiration was behind this Kesha outfit, but it looks like she went into her closet with her eyes closed and grabbed whatever she could find. Throughout her career, Kesha's style has been questionable, to say the least, but it was at least iconic.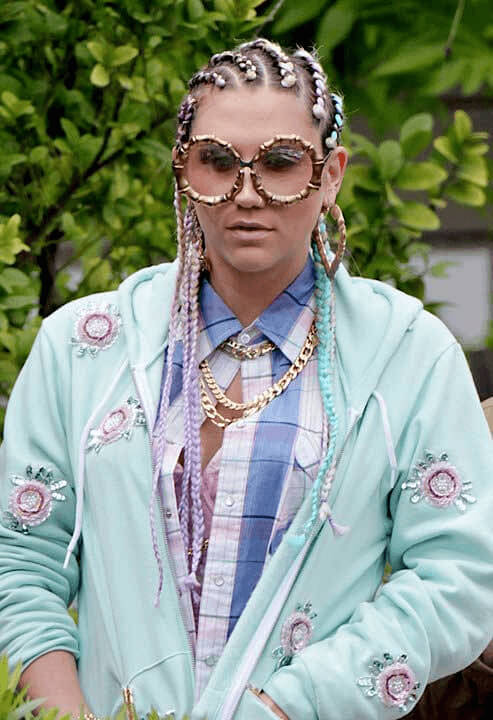 Although her jewelry might be expensive because it is real gold, the gaudiness makes it look like something you could find at Claire's. She paired this with tiny denim shorts and thigh-high white stockings. If someone can erase 2013 from fashion history, that would be great. 
16. Too… Many… Patterns!
Although mixing patterns has been a huge trend in recent years, we don't think Rita Ora got this tricky trend right when she stepped out of the house in this clashing outfit. Her eccentric look featured a polka-dot dress and a tribal print overcoat.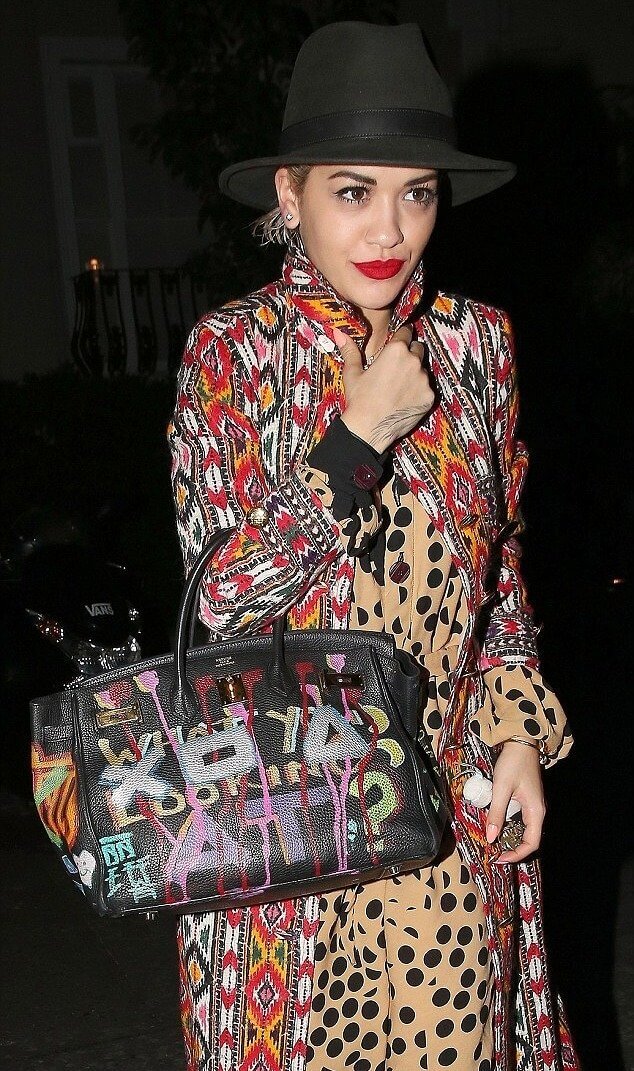 Ora paired the look with a graphic print designer bag, and it was too much for our eyes to handle. It was too much for our eyes to handle, and she probably should have stuck with one pattern and paired it with solids for a less headache-inducing outfit. 
17. How Many Flamingos Were Harmed In The Making Of This Dress?
Although you might think Tulisa Contostavlos is about to skate around an ice rink or twirl around a ballroom floor, she was actually wearing this for an award show. While we are all for the color pink, this feathery number looks like she stole a flamingos feathers.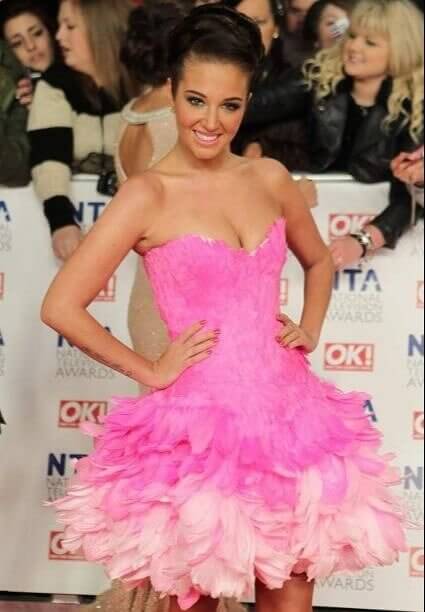 The X Factor judge turned heads in the eye-catching number, but it looked too costumey. It felt like a slight nod to something Carrie Bradshaw would wear or a bridesmaid from My Big Fat Gypsy Wedding. We still can't decide. 
18. Justin Bieber Can't Find Pants That Fit Him
While walking along the beach in Panama, Justin Bieber committed a fashion crime with these baggy leather shorts. After a year of Harem pants, he didn't have enough of the baggy bottoms look and continued the trend into 2014.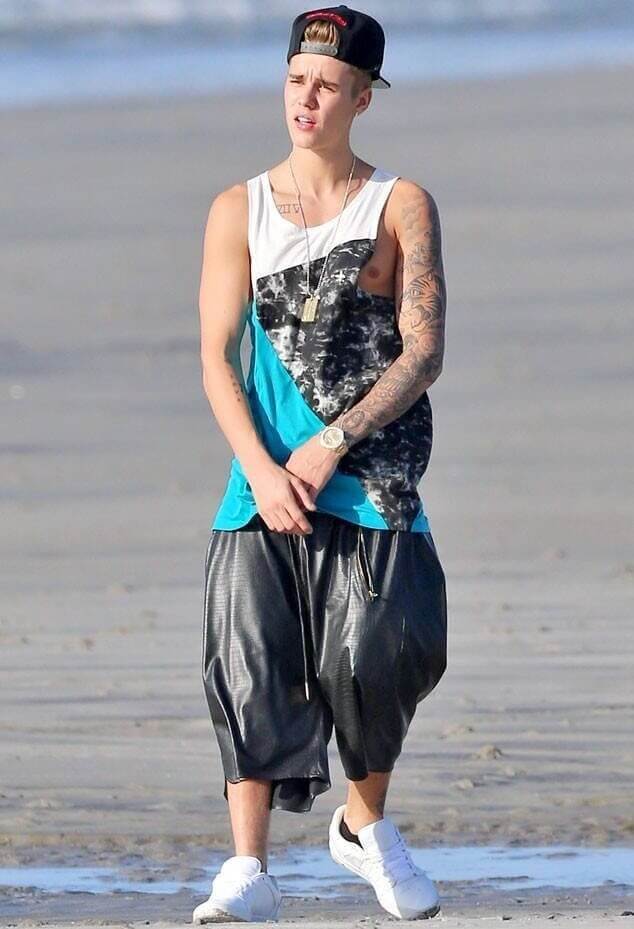 Bieber's shorts were completely unflattering, especially with the wind blowing through them. It looks like he stuck his legs through a plastic garbage bag and left the house. We can't remember why we cried over him during this phase in his career. 
19. Bjork Marches To The Beat Of Her Own Fashion Drum
After Bjork infamously wore the swan dress to the Oscars, people have questioned her eccentric style. The Icelandic singer doesn't care what anyone thinks of her style, and it shows with this baggy brown poncho, patterned leggings, and platform clogs look.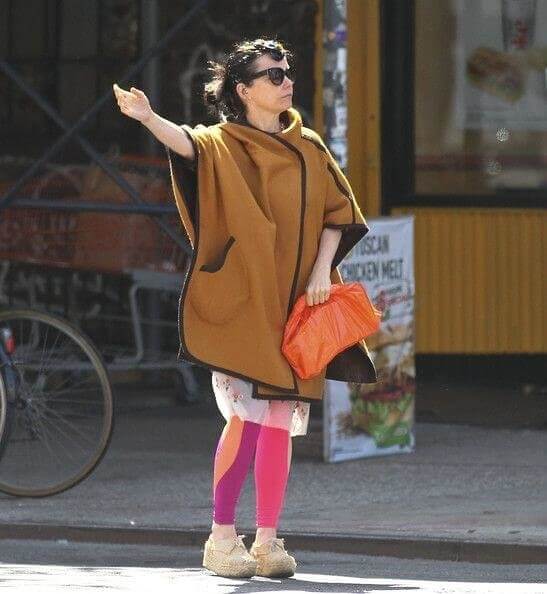 As she was hailing a cab in New York, she looked like she threw on the first things she could find and then grabbed her poncho and ran out the door. Maybe this is high fashion in Iceland, but we certainly don't understand it. 
20. Kim Kardashian's Pregnancy Style Was A Rough Patch For Her
It's safe to say that Kim Kardashian was still figuring out her signature style when she was pregnant with her daughter North. Her first pregnancy was anything but easy, yet she refused to wear comfortable clothes.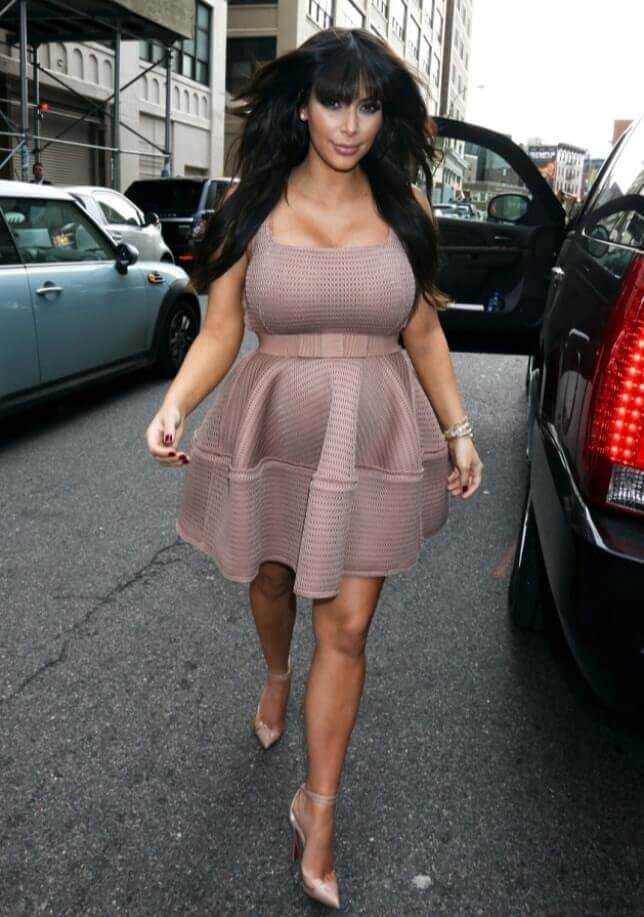 The reality star had another fashion miss in this beige belted dress that she wore for a talk show. It was not flattering, and she even admitted to how uncomfortable she felt seeing the photos of herself in it. 
21. Aren't Stockings Supposed To Go On Your Legs?
Last time we checked, fishnet tights are supposed to go on your legs and not your head unless you are a really bad bank robber. Tyra Banks wore this look for the French Vogue Masquerade Ball, and we think she might be confused about what a mask is.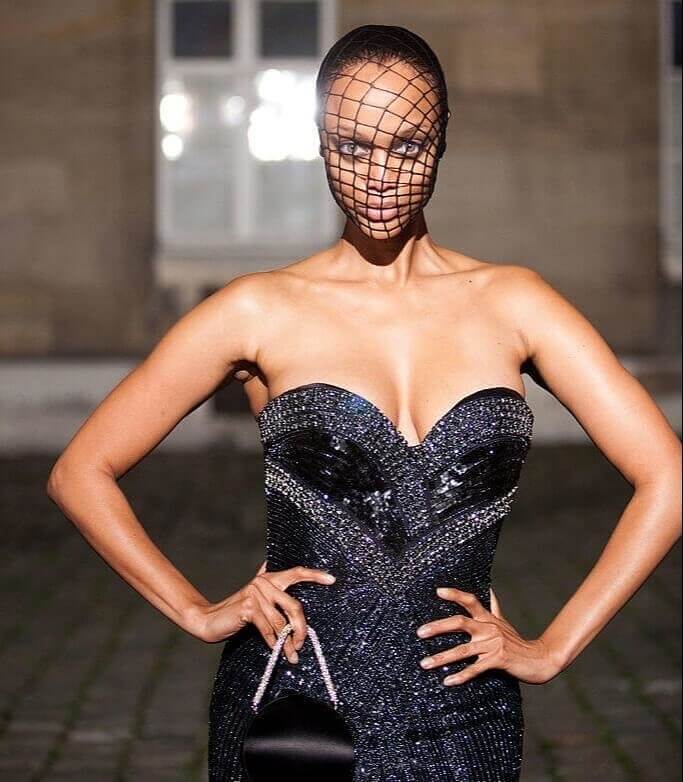 You would think she would find a better mask for such a classy and prestigious event instead of a pair of stockings from the drug store. Banks looked beautiful from the neck down, but we can't imagine why she thought this was acceptable. 
22. Million Dollar Bag Lady
While strolling through North London with her son, Helena Bonham Carter looked slightly more disheveled than usual. She usually has an eccentric style, but this was a whole new level of bad fashion. The actress must have gotten dressed in the dark.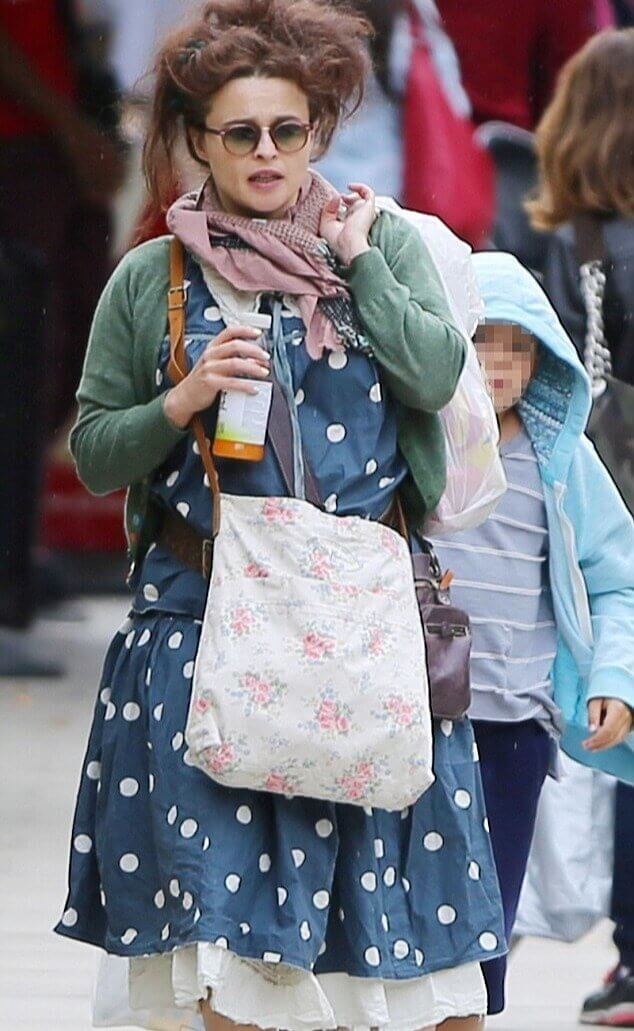 Carter never cares what people think of her looks, and this day was no exception. Even if she weren't famous, people would still stop and stare at this bizarre outfit. Maybe these pieces would have looked good separately, but all together, it is a fail. 
23. With A Quack Quack Here And A Quack Quack There…
Out of all the fashion disasters we have seen, this one is the most iconic. Bjork's fame skyrocketed after she wore this shocking swan dress to the Oscars, and people couldn't stop staring at the quirky Icelandic singer.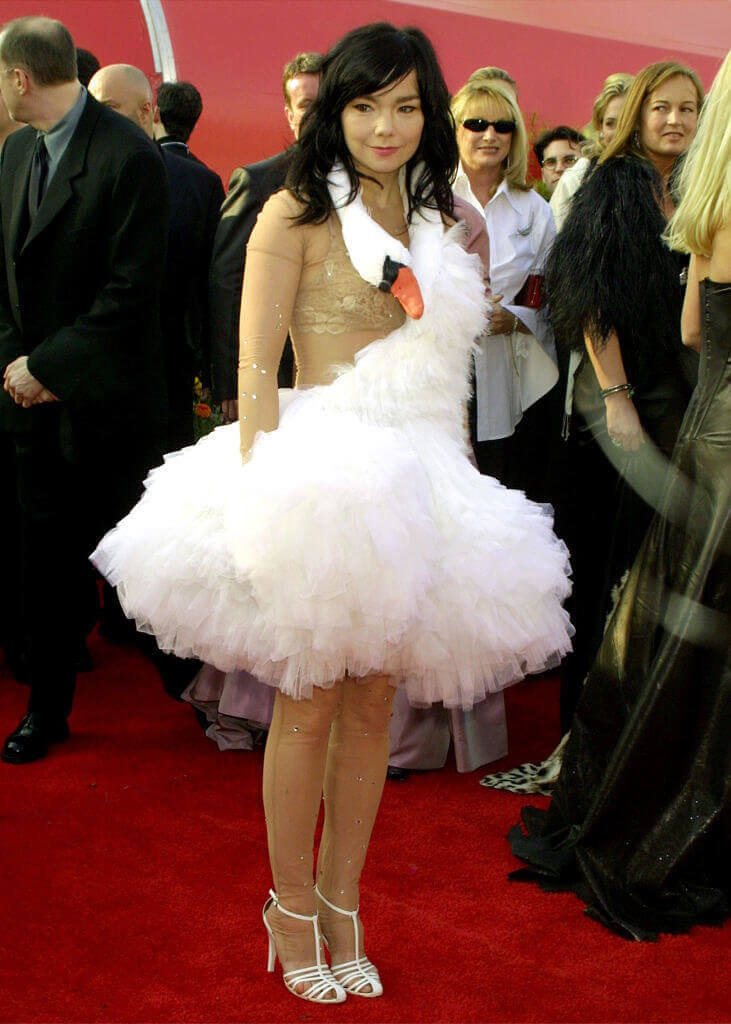 If this dress wasn't already bad enough, the mesh tights looked like saggy skin because they weren't fitted properly. She made a huge statement and landed herself on the worst dressed list of all time. 
24. Katy Perry Should Have Left The LED Lights At Home
For the 2010 Met Gala, Katy Perry lit up the red carpet with her 24,000 LED light bulb dress. While we are all for futuristic fashions, this one did not brighten up our day because you can see the individual bulbs through her dress like the strip lights you see on Tik Tok.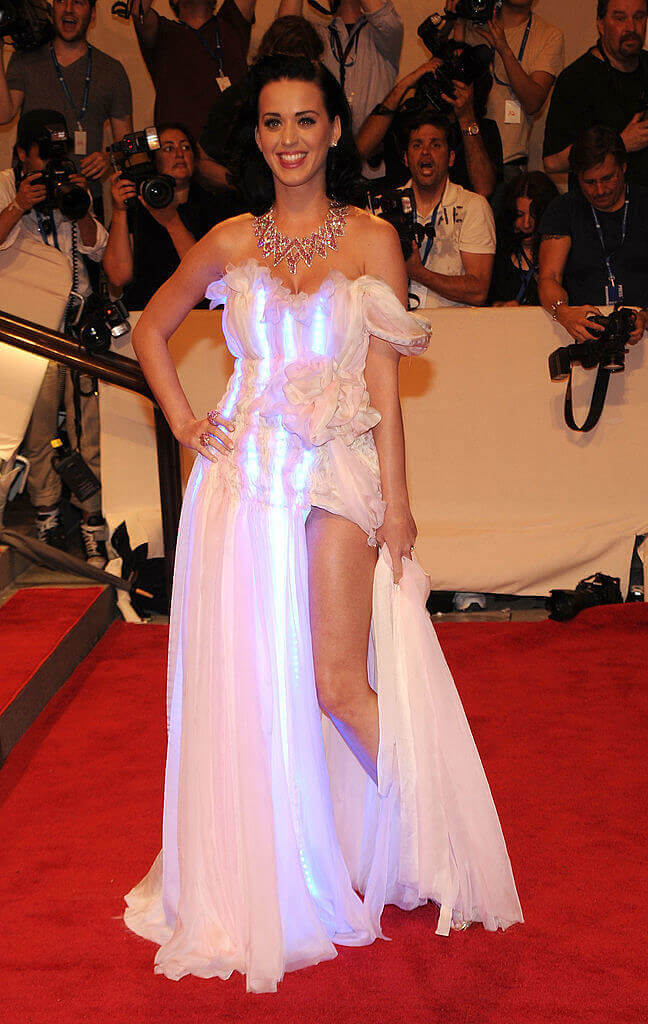 If she hadn't added the lights, the dress would have been stunning, but something about strip lights in a red carpet gown doesn't sit right with us. It's like wearing light-up shoes when you are over the age of 5. 
25. Nicki Minaj Couldn't Decide On An Outfit Theme
While you might think this is an outfit from 2020 because of the mask, this was actually from the 2011 VMAs. Nicki Minaj looks like she was simultaneously trying to channel her inner space robot and club kid while protecting herself from viruses.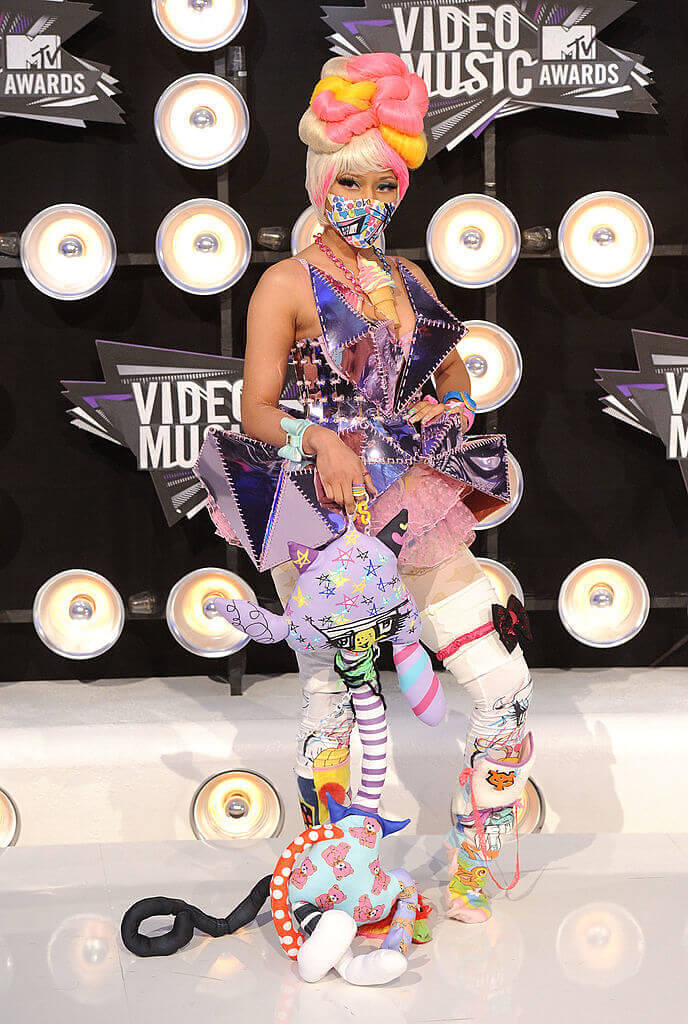 There are so many elements to this outfit that your eyes don't know where to look. While Minaj is not one for sticking to fashion norms, this is really pushing the envelope. If she removed a few elements, it might work. 
26. Celine Dion Tried To Make Backwards Jackets Happen
When we get dressed, we like to put our clothes on the right way for maximum comfort and movement. She looked like she forgot how to put on her clothes and decided this would be a fashion statement.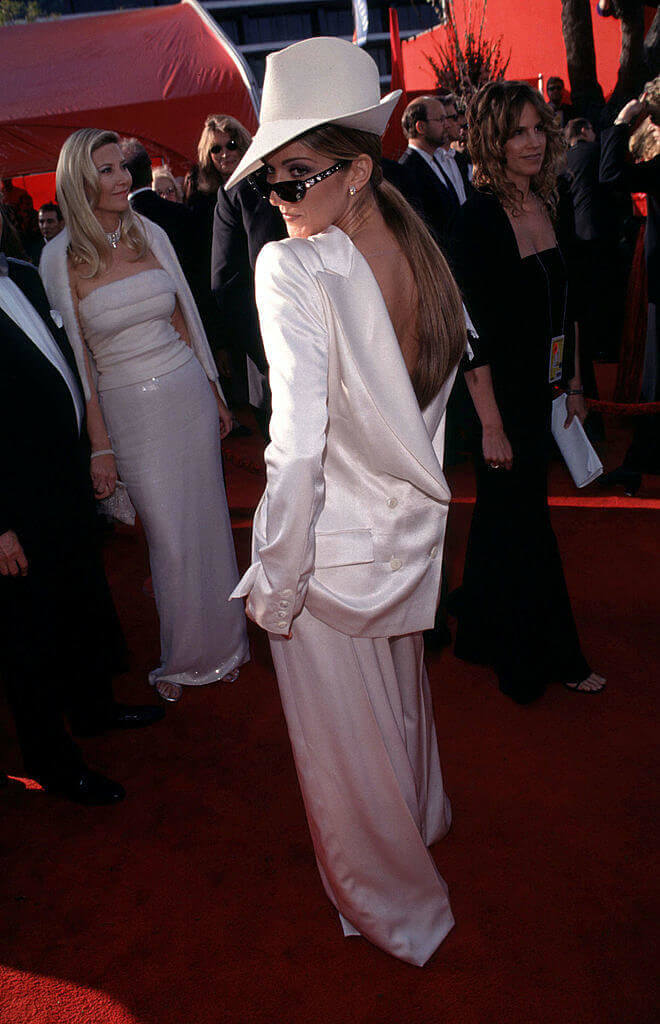 Although some people say it is iconic, others say it was a major fail. It's like she had a stain on the front of her jacket, so she thought turning it around would make people pay attention to something else. 
27. When Gladiators Meet '80s Acid Wash
Kourtney Kardashian is known for her simple yet chic style these days, but in previous years, she had some questionable outfits like this one. While the thigh-high gladiator sandals could have been a statement with a mini dress, the acid wash Bermuda shorts made them look tacky.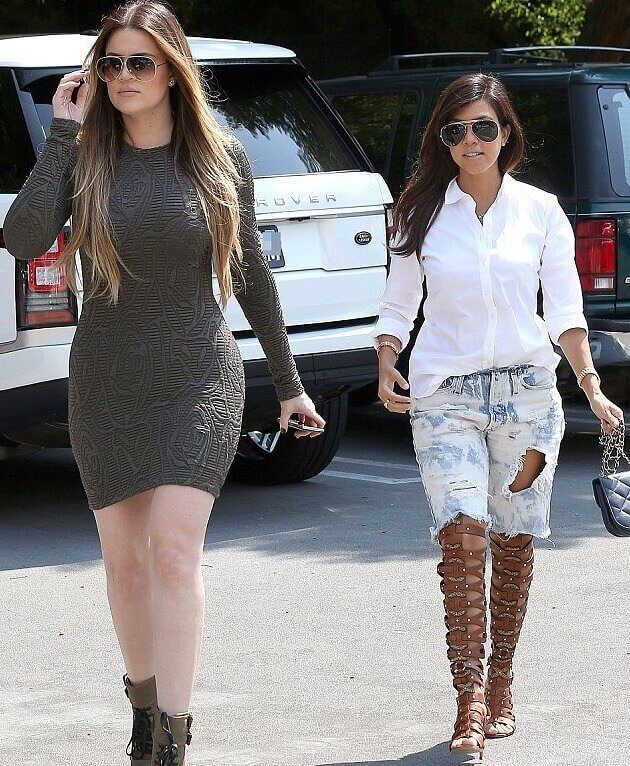 On her already petite frame, the sandals and long shorts make her look even shorter than she already is, especially next to her much taller sister. Maybe she was having an off-day, or she really thought this was a look; whatever the case, it is not working. 
28. What Is She Hiding In That Hat?
Kendall Jenner's hat must be so big because it is full of secrets. While this looks like something Pharrell Williams would wear, we don't love it on Kendall. Her head looks so small compared to the oversized beanie, and we can't figure out how it is holding that shape.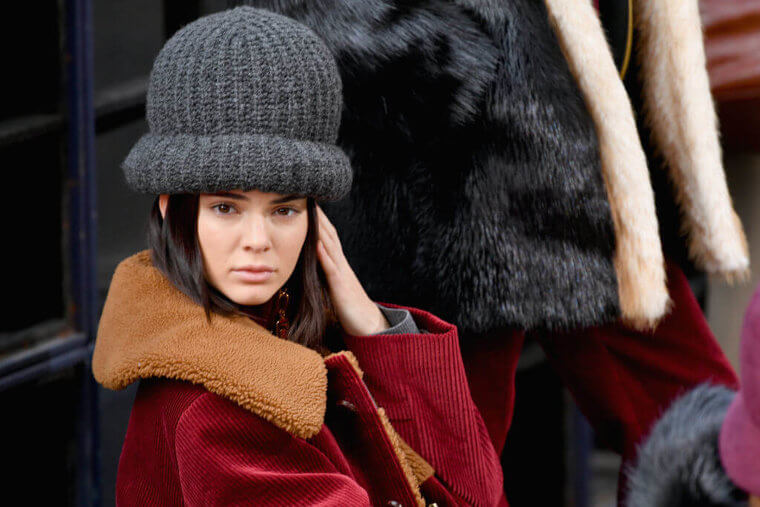 Slaven Vlasic/Getty Images for Marc Jacobs
Can you imagine her taking off the hat and paper falling out because it was stuffed to hold its shape? Even she looks concerned by the size of the hat as if she wants to say, "Do I really have to wear this?" 
29. Kris Jenner Brought The '80s To The Met Gala
For the Met Gala, Kris Jenner decided to try a look that was so different from her everyday style that people almost didn't recognize her. With her orangey spray tan and blond wig, people wondered who was hanging around the Kardashian-Jenner sisters.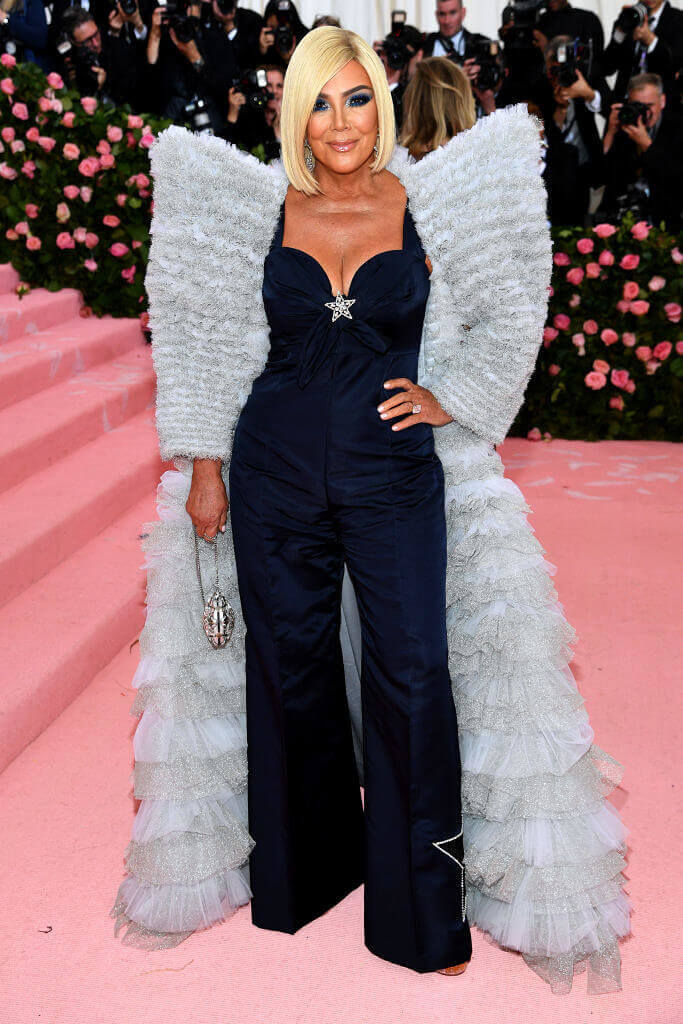 Dimitrios Kambouris/Getty Images for The Met Museum/Vogue
While Jenner's jumpsuit is ultra-chic and flattering, the overcoat makes her look like she is a character from that episode of Spongebob where the marching band performs at the Bubble Bowl. She would fit right into that fantasy. 
30. Lena Dunham Matched The Carpet And The Cleanup Crew
Lena Dunham has had her fair share of fashion hits and misses, and this one falls into the "miss" category. For the 2019 Met Gala, Dunham nailed the camp theme. However, the dress itself was not the most flattering shape or fit for her.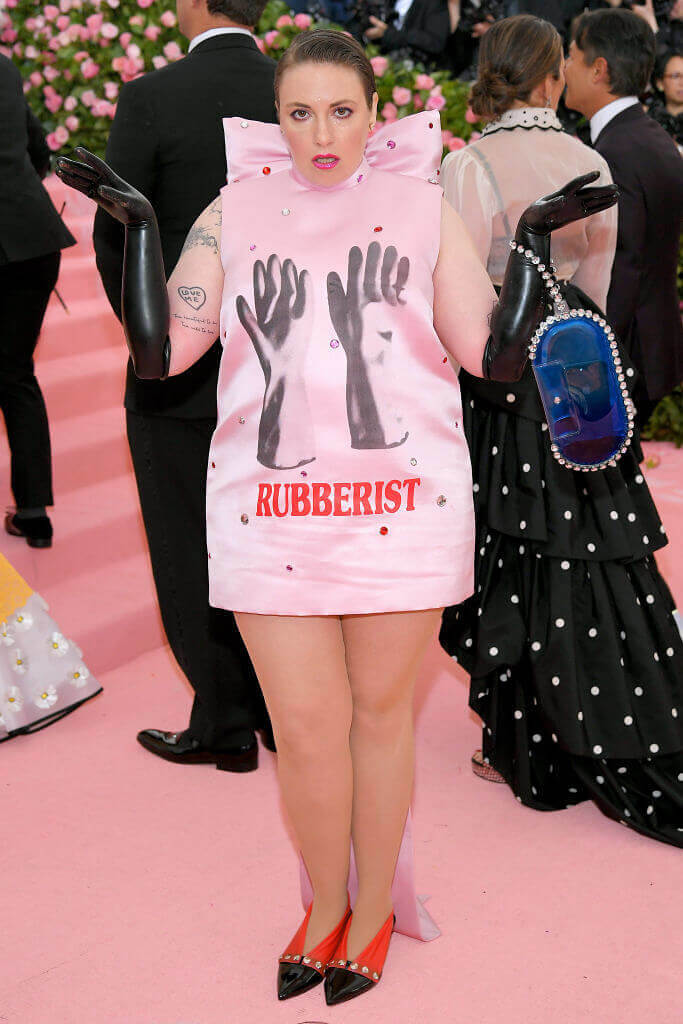 Although most people at the gala didn't understand what "camp" meant, we wish the dress fit her better to make it a more successful looks. We have all had those moments where an outfit would be perfect if only it fit our bodies better. 
31. Robert Pattinson Channeled His Inner David Rose
When we see this red carpet look, all we can think about is David Rose from Schitt's Creek. Robert Pattinson decided to take a risk for the New York Film Festival, and we can't say that it paid off. While shorts look great on him, we don't love them in a formal setting.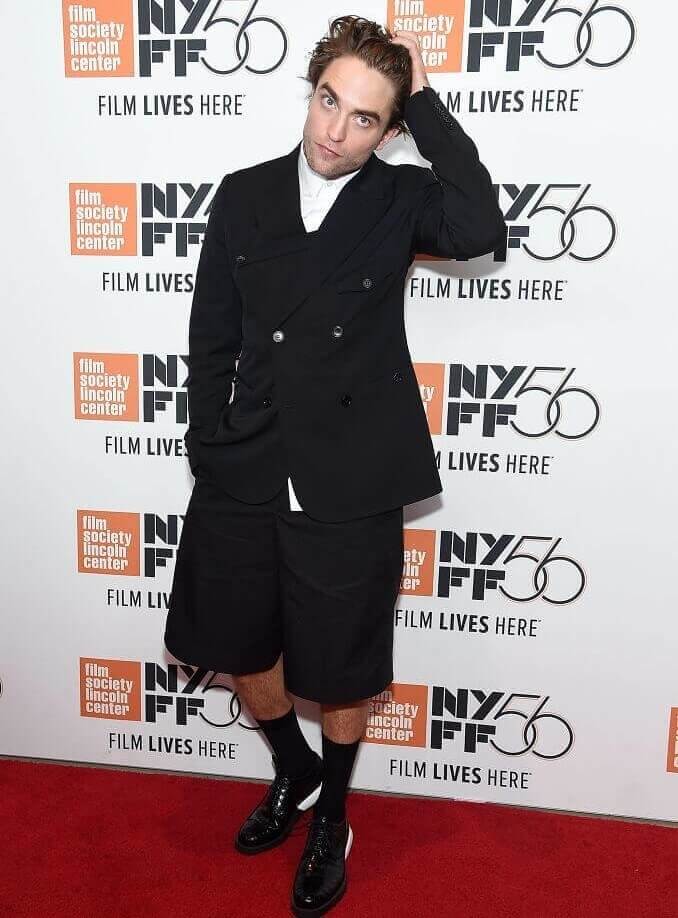 This look reminds us of that person who shows up to a wedding in jeans; it might fit in another setting, but not for a red carpet. On the upside, we got a small glimpse of his toned legs, even though it was only the small section between his socks and shorts. 
32. It's A "Ney" For Us
Zendaya is one of those celebrities who always looks incredibly chic in whatever outfit she wears. She also usually has impeccable taste, but this outfit missed the mark, or should we say it missed the stables.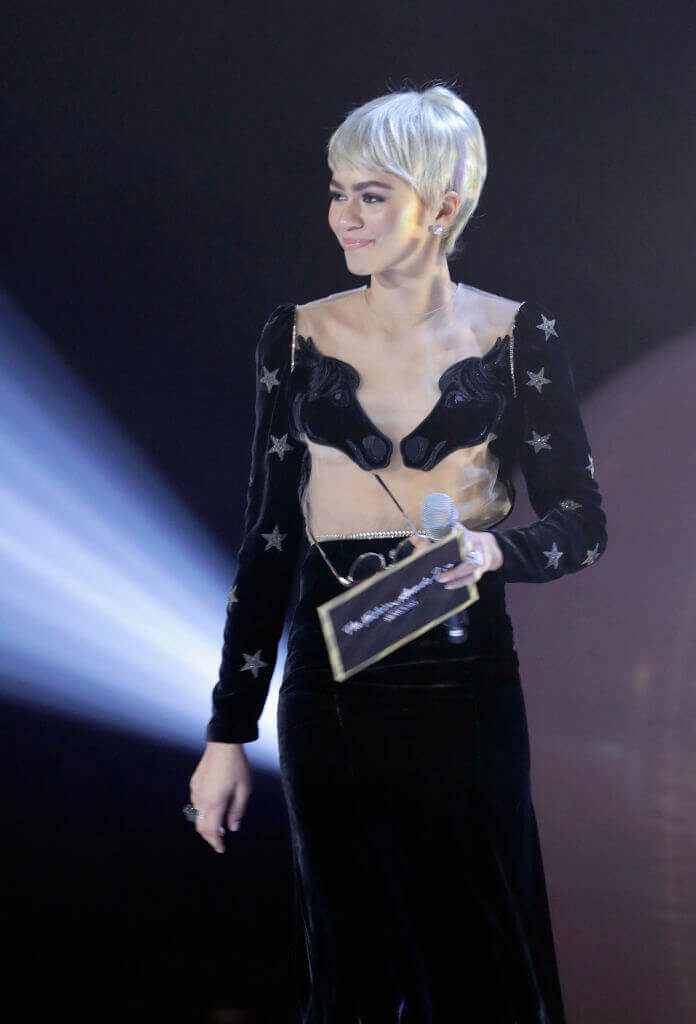 John Phillips/BFC/Getty Images for BFC
Zendaya wanted to show off her inner horse girl with this black stallion dress, but she should have left them at the old town road. Maybe she is the only person who could make the "horse lady" look chic. 
33. Miley, Your Tights Have A Few Runs In Them
Remember the days when Miley Cyrus was transitioning out of her Disney persona and into an adult artist? At first, she was really into this "just rolled out of bed, and grabbed a pair of tights from the garbage" kind of look, yet we all wanted to emulate that.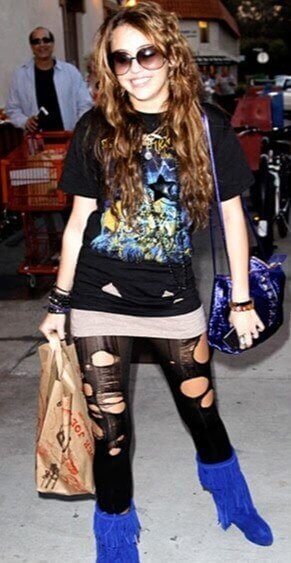 It looks like she got into a fight on her way to the grocery store, and we can't remember why we loved this style. We have all ripped our tights before, but they usually end up in the garbage when that happens because it just looks bizarre. 
34. Bella Hadid Took Ripped Jeans Too Far
Have you ever seen an outfit and thought, "Does that only look good because she is a model, or is it actually fashionable?" We have often asked ourselves this question, and this Bella Hadid look has us asking the same question.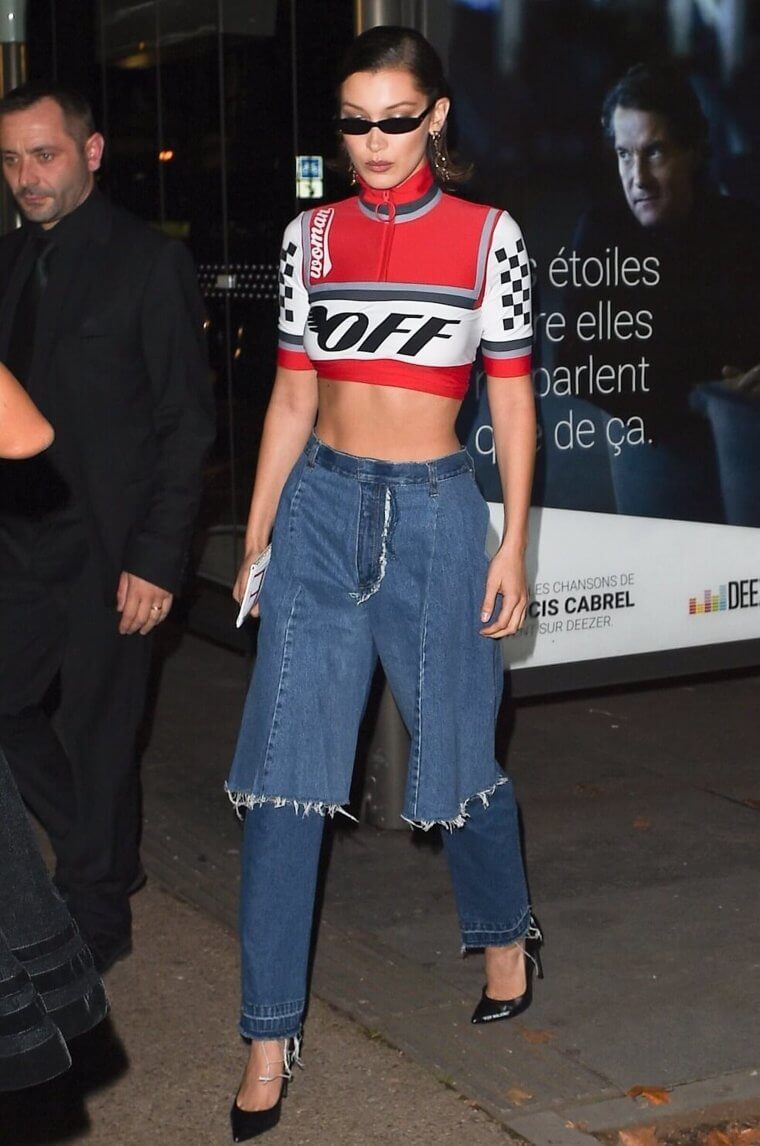 While ripped or distressed jeans are completely on-trend, this exaggerated pair looks like she is wearing skinny jeans under a pair of long shorts. If anyone else wore this, they would be on the worst dressed list, but people call it fashion because she is Bella Hadid.
35. Even The Rich And Famous Buy Knock-Off Uggs
Britney Spears might be the only person in the world who cannot get enough of low-rise pants. Throughout the years, her style has always been a hodgepodge of different aesthetics. Some of her outfits were iconic, while others, like this one, were slightly tragic.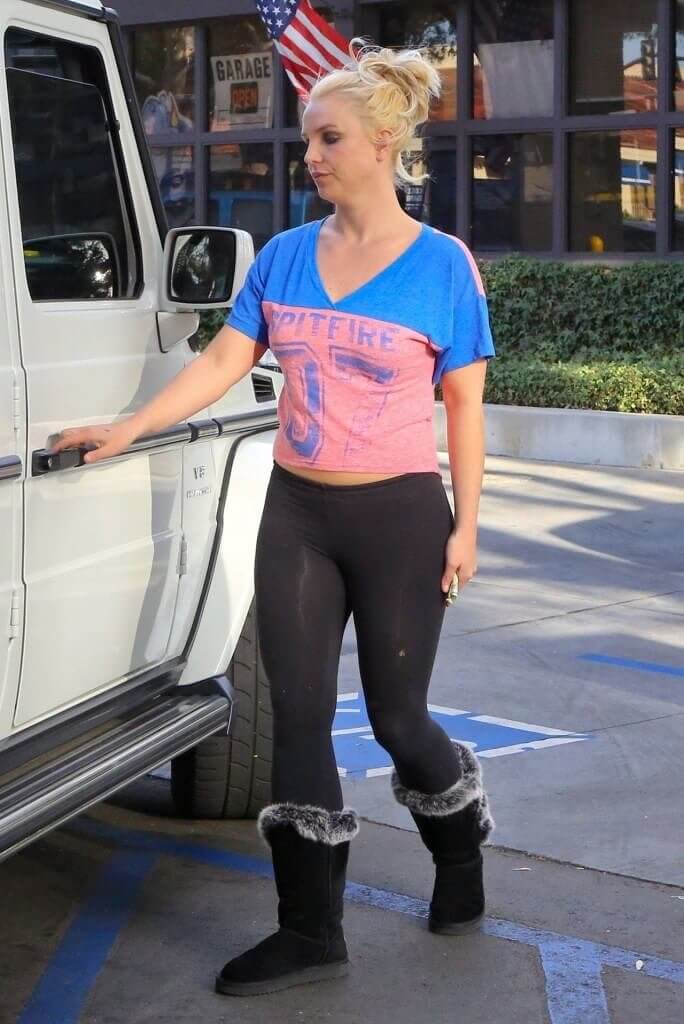 Although this outfit is something most of us would have worn in middle school, we can't get over the fact that she didn't spring for real Uggs with all of her money.
36. Why Iggy Azalea, Why?
The normally edgy starlet stepped out in this bizarre ensemble for a festival in 2014, and it was not well-received, to say the least. The pink satin culottes paired with knee-high lace-up stilettos didn't work on Iggy, and we can't think of anyone else who could pull this look off.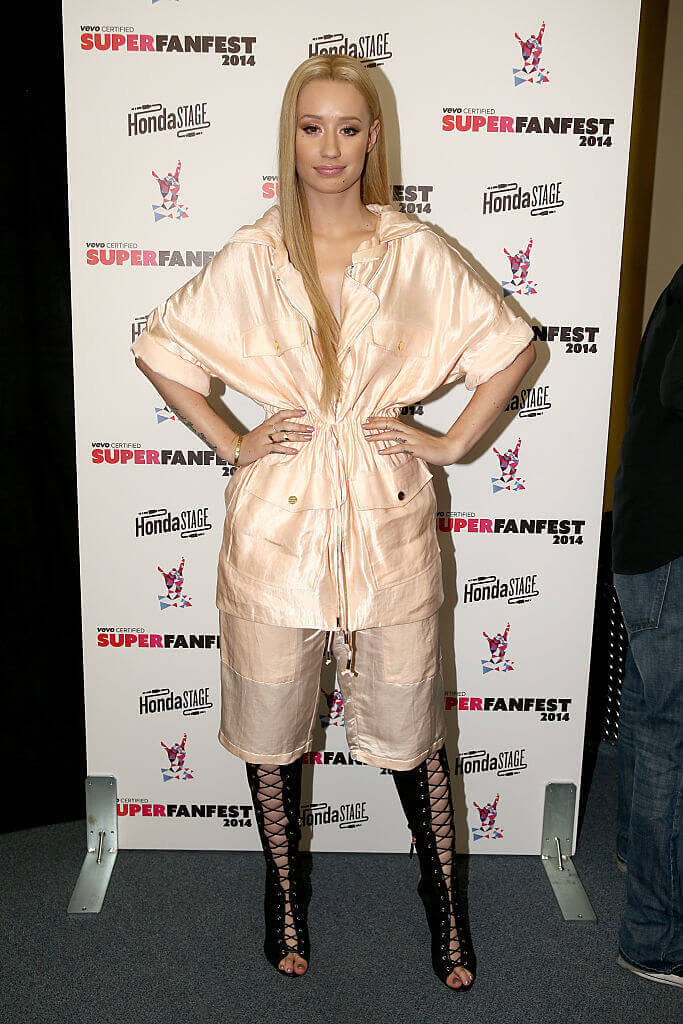 Christopher Polk/Getty Images for Vevo
She looked uncomfortable posing for the cameras, probably because she didn't like her outfit just as much as the fashion police. Even though she likes to experiment with style, she should have left this look in the lab. 
37. The Red Carpet Shoe Malfunction That Started Toe-Mageddon
While this looks like a pretty basic outfit, you might want to direct your attention to her feet. While the dress length and shape are awkward, those are small problems compared to her strange toe issues. Surprisingly, Julianne Moore didn't even realize her toes were hanging out of the shoe.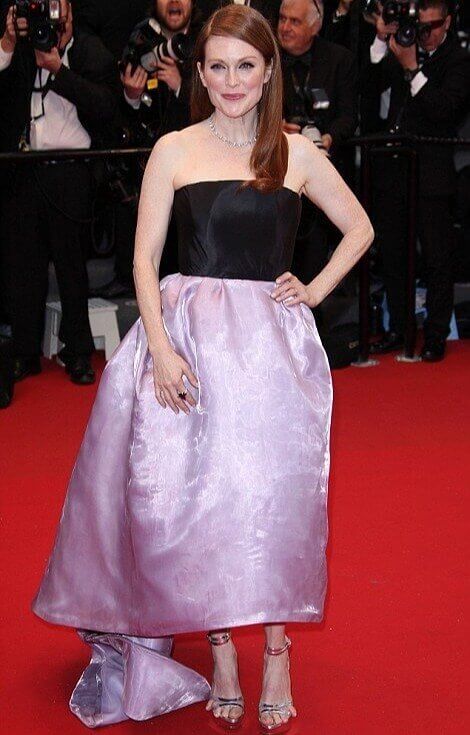 Moore knew there was a possibility her toes could fall out of the shoe, but she didn't think it would really happen to her. Sadly, no one could pay attention to anything else besides her disastrous shoe problem, which distracted people from her strange dress. 
38. Kim Was Feeling Herself In This Outfit, But We Weren't
While this only proves how far Kim Kardashian has come with her style journey, it is also a frightening reminder of the days of tunics and leggings. Kim put her own spin on this early 2000's look with big hoops and an even bigger purse.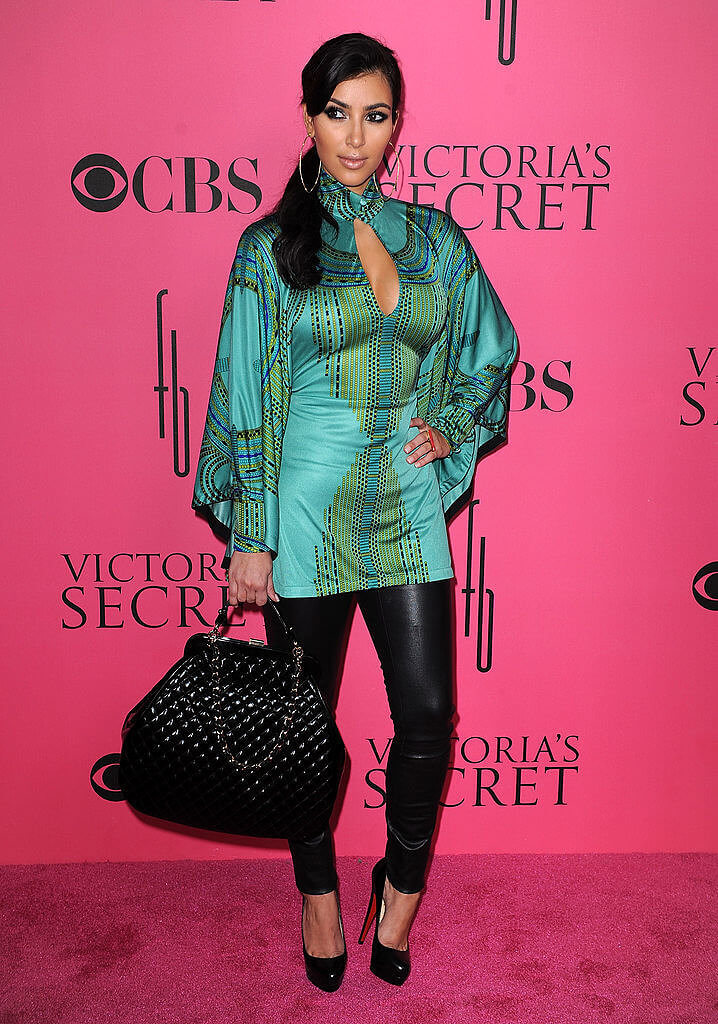 While this kimono-type top might have been all the rage in its day, it is totally cringe-worthy now. We wouldn't even be surprised if this somehow makes its way back into the rotation again. Fashion is cruel that way. 
39. Jennifer Connelly Put One Of Every Item On Her Body
Each of these items works well on its own. A sweater with a pair of jeans? Cute. A skirt with a tank top? Great. The leather pants with a t-shirt? Stylish. However, when you put all of those things together, it's like she got dressed in the dark.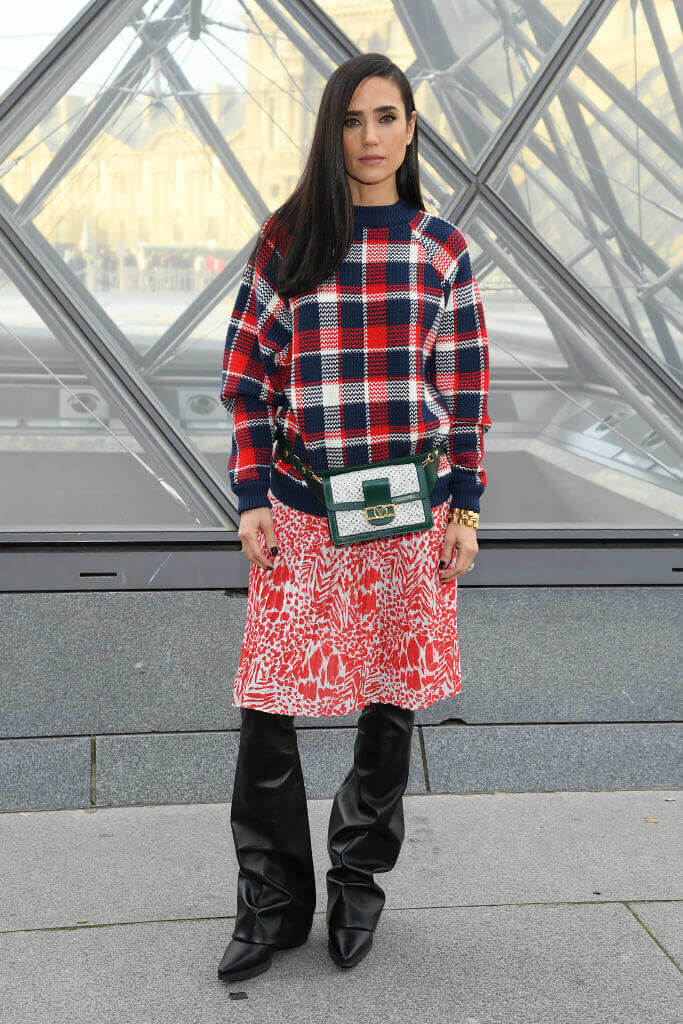 Pascal Le Segretain/Getty Images
After seeing her outfit, Connelly thought it was missing some color apparently, and added a green fanny pack to bring the whole look together. At least her hair looks good. Maybe she should consult a mirror before running out of the house. 
40. When You Want To Wear Jeans But Also Want A Breeze On Your Thighs
Isabela Moner might have found the most ridiculous piece of denim we have ever seen. We can't imagine how frustrating it was to maneuver herself into these bottoms, and we don't even know what to call them.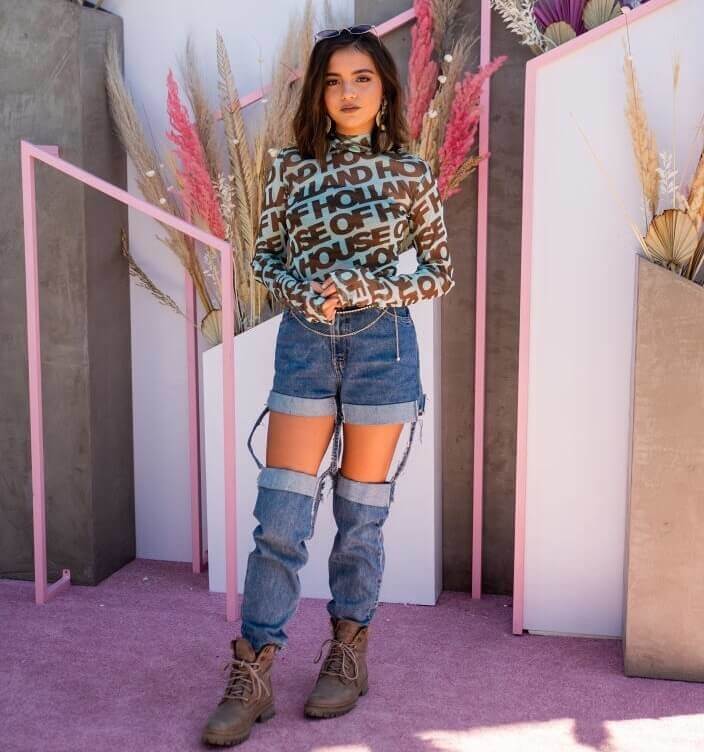 Do these come in one piece, or did Moner attach the lower portion after the fact? Whatever the case, we beg her never to wear these again because they are all kinds of wrong. What was wrong with normal jeans that are one piece?