This article was originally published on tv-bee and has been republished here with permission.

Since the invention of the first camera, back in 1826, photography has changed the way we document life and pass on memories from one generation to another. Over the last two centuries, photography has evolved from a tool to document moments into a form of art of its own. In this article, we will go on a journey to see the amazing skills and creativity of many talented photographers. We promise that after seeing these photos and the "behind the scenes" you will never view photographs that you stumble upon on Social Media the same way. 
1. The dancing couple?
All of us have that one friend who always posts on Instagram making our feed look cooler with creative outdoor photos from their life, making us look like couch potatoes. Here is an example of a classical "had a wonderful day in the park with the boyfriend" picture.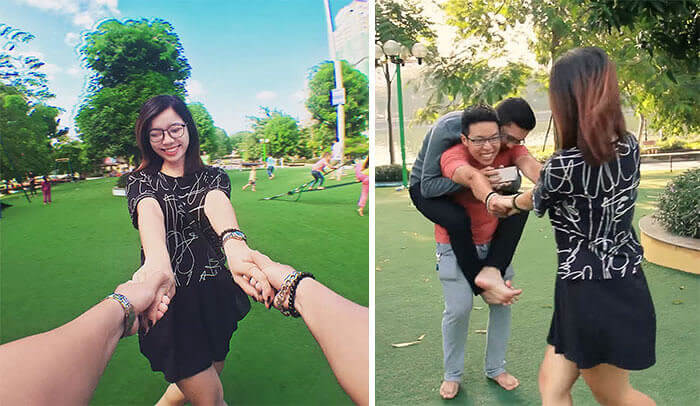 At first glance, it looks like the picture is taken by the boyfriend and there is nothing more to it. But wait….who is holding the camera?! The poor boyfriend had to go barefoot to hold his balance. 
2. An Audi Sport car?
The talented photographer, Felix Hernandez Rodriguez, is doing magic with his masterful photography! You would be wrong for thinking that you need to drive an expansive Audi Sports cart all the way to the Accona Desert for a commercial photoshoot.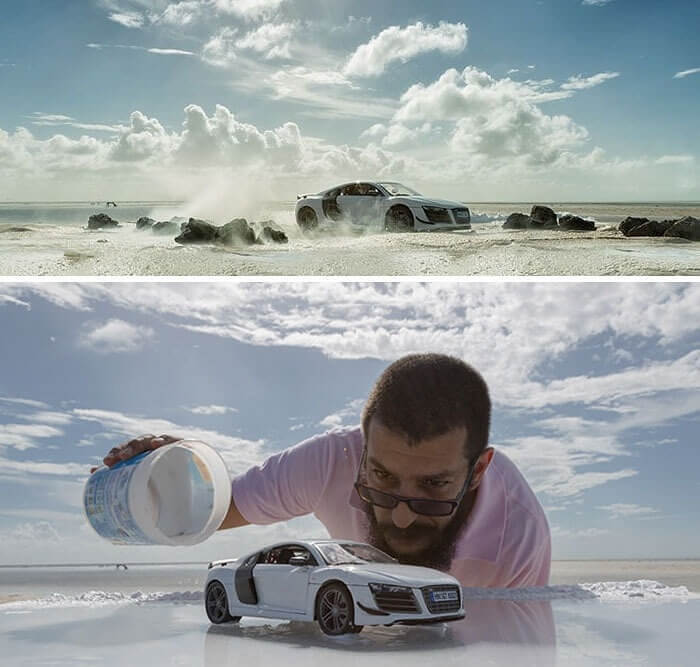 Instagram/hernandez_dreamphography
In fact, you don't even need to drive. You just need a toy car, some stones, a white glossy surface covered with some powder, and amazing photo skills to bring this scene to life.
3. Nineteen-fifties small town America?
While we are on the subject of toy cars, let's take a look at some of the fantastic work done by Michael Paul Smith. At first glance, you might think that this is a well-retouched picture from the nineteen-fifties of a small American town.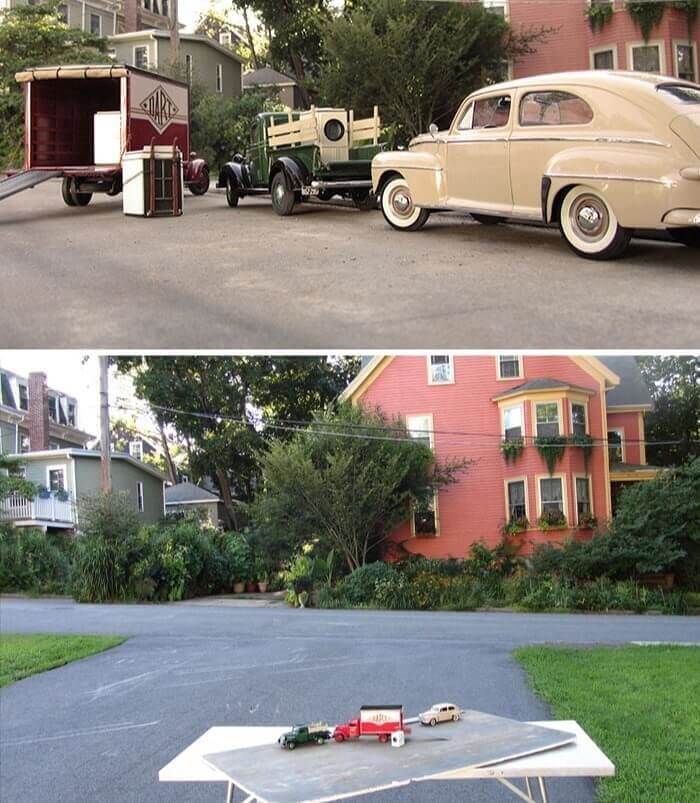 You appreciate the picture, even more, when you realize that this great photographer not only uses toy cars but applies clever photography tricks to make parts of the real world blend in with the tiny set props.
4. A straight out of the pan perfect food shot?
When you look at photographs of food in commercials they are usually displaying steamy, juicy, fresh-looking food. But is it really? Think about it, you would have to pull off a perfect shot of the food right away after taking it out of the pan!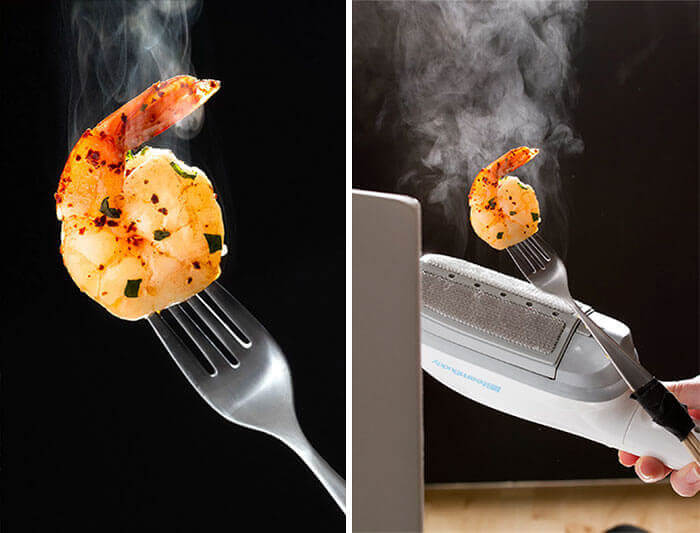 I this picture we see that you don't necessarily need that one perfect shot. With this clever hand steamer technique, you can take multiple shots and choose the best one later.
5. The sun just fell perfect on this one?
When we look at this amazing picture we might think "the sun just fell perfect on this one"! But it actually did not, it's just lighting. Not that it takes anything away from this picture.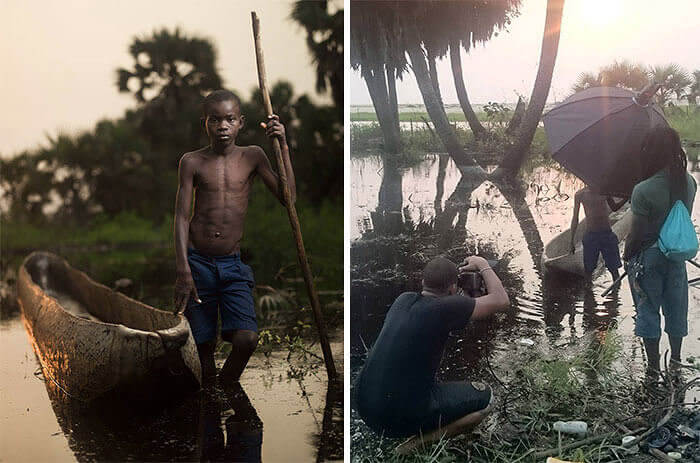 As a matter of fact, it only adds more value to the picture. This picture is a perfect example of what type of craftsmanship strobe light photography is. We salute the photographer and think that this picture is neer perfect!
6. That beach life?
We don't think that this guy is a great photographer here…. But hey! Appreciate the effort and the creativity. After all, he is even rocking some cool swim shorts there!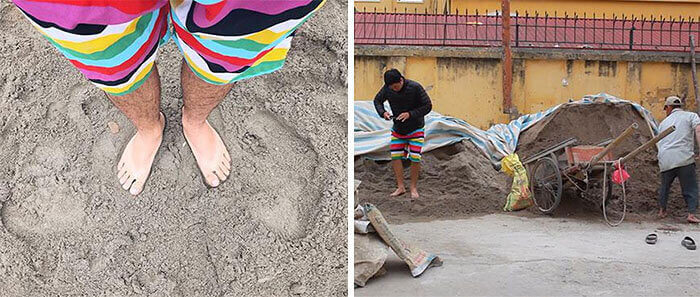 We bet that the caption of this picture on Instagram was something along the lines of "That beach life". This picture is also a great reminder that not everything you see on social media is true as it might seem.
7. The girl is in the ocean?
This picture is another great example of how to blend in one surrounding with another. The boat is in the ocean in the distance and the girl is in a pool with the ocean behind her. Looking at the picture you would never guess that!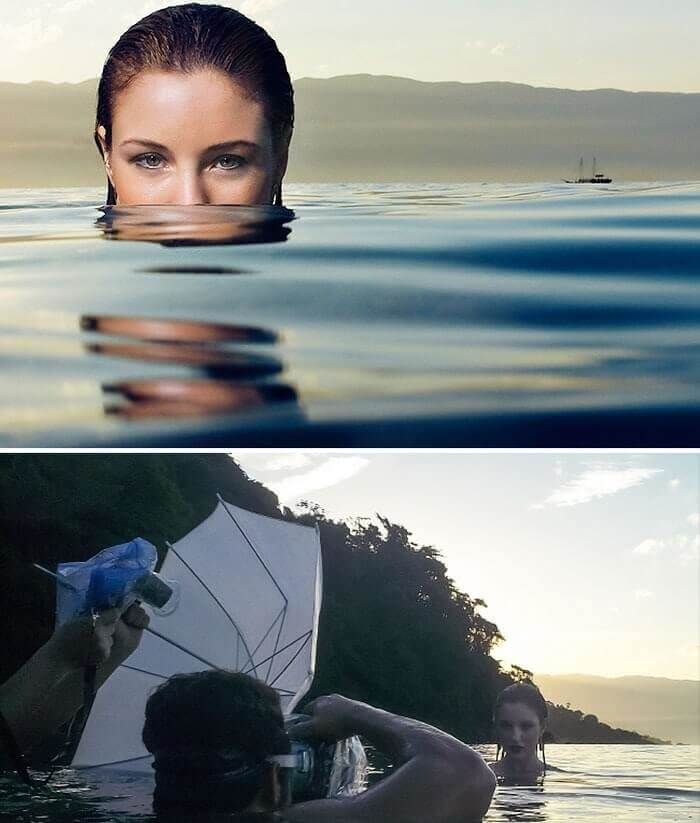 Another lesson we can take away from "behind the scene" is that you don't need a high-quality waterproof camera housing to take great shots in the water. A simple clear plastic bag with some strong rubber bands might just do the trick.
8. All of this was drawn in photoshop?
All of this was drawn in photoshop….nope. This skilled photographer knew what he was doing! He recreated photography scenes from Start Wars movies with miniature figures that he brought to life in his own home studio.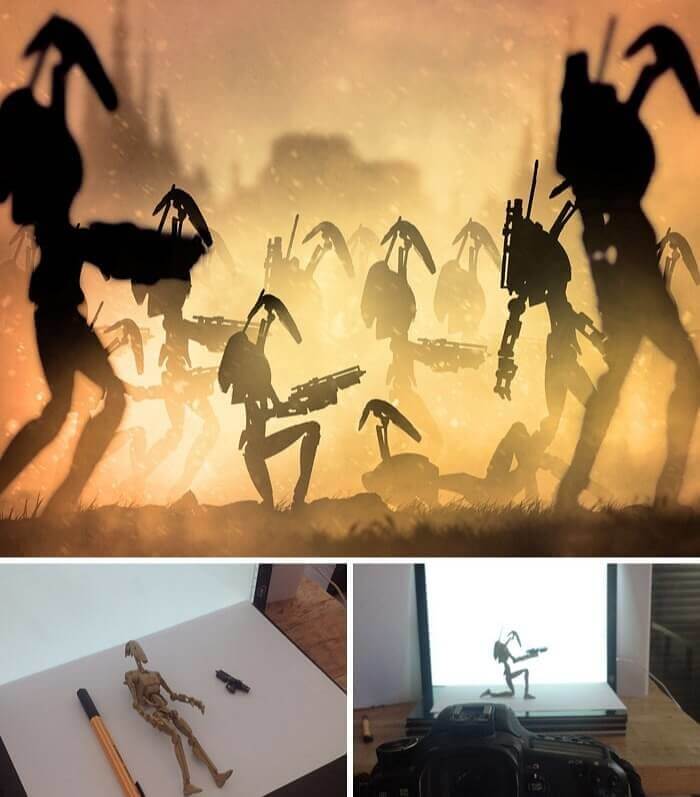 The clever positioning of the figures against a background light and some Photoshop retouch is this result. Next time you see some graphic art, remember, photography might just be the underlying support to all of it.
9. Fancy magazine photoshoot?
This guy is posing in some fancy magazine photoshoot clothing collection… well just like with the examples already mentioned, don't be fooled by what you see. He is not even sitting down!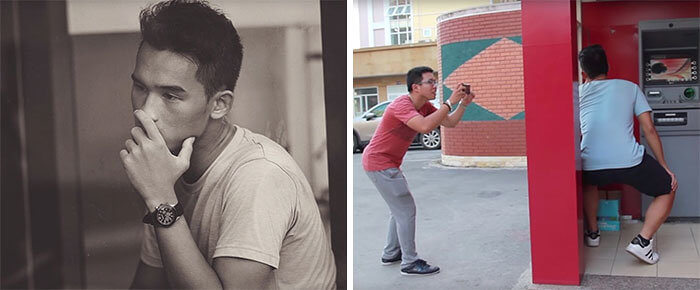 An Instagram black and white filter, a concrete ATM booth, no chair, and just a make-believe sophisticated look into the distance can give you a great shot! We forgot to mention, a watch, you'll need a watch to make it look even fancier.
10. Smoke machine?
This is a pretty shot of a girl with a beautiful look in her eyes. You might think that a smoke machine was used or a light shutter device to give it that haze feeling.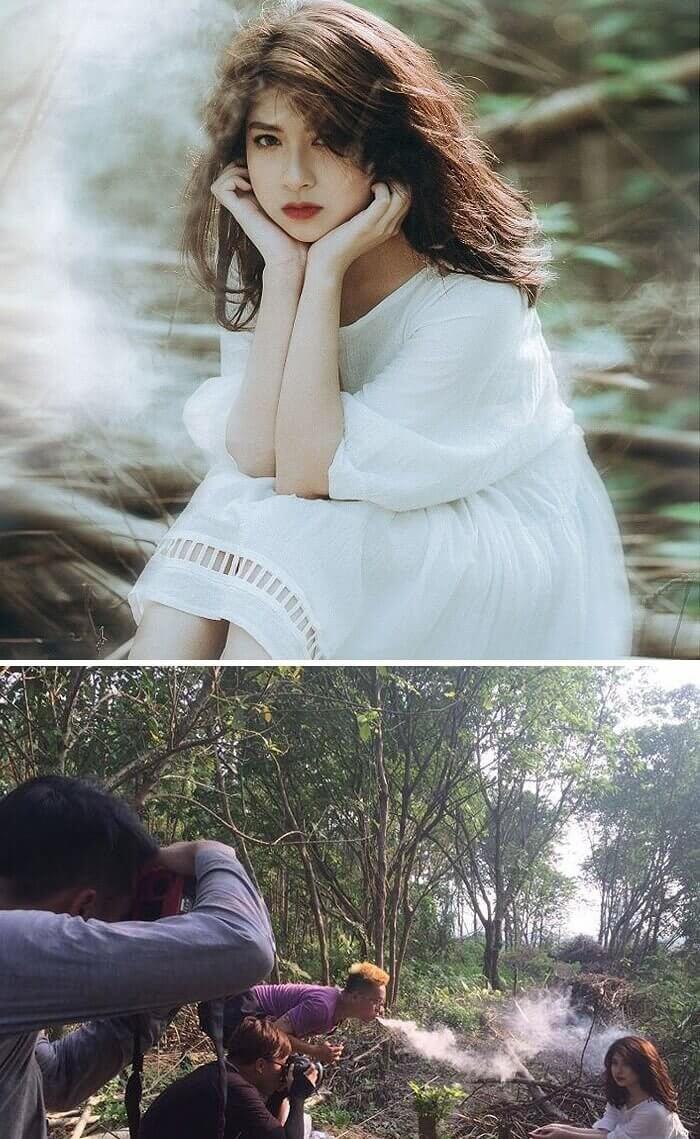 But actually it's just a friend exhaling some sort of smoke and blowing it with what looks to be a portable electric fan. We do want to point out that the location of the photoshoot is one beautiful forest!
11. No photo trickery just creativity.
There is not a whole lot of photo trickery with this example. However, there is sure a lot of creativity that the photographer has shown in this photoshoot. The typical thing to do would be to take a few pictures of a couple holding hands and looking into the distance on the beach.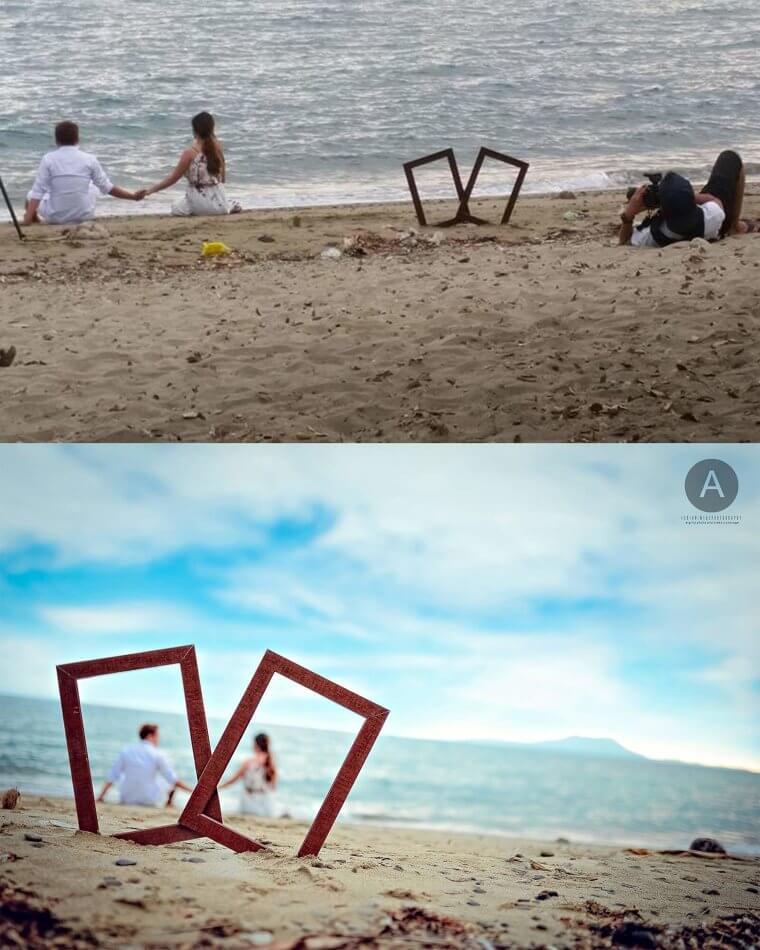 Facebook/AdrianIntacPhotography
Instead of doing just that, the creative photographer put two simple wooden frames and set the focus on them rather than the couple. This way your attention is really drawn to the couple even though they are blurred in the picture. Talk about creativity.
12. Chilly winter night?
It's a chilly winter night outside. Well it's not outside and it's not even winter, we mean look at the guy. He is not even wearing pants! Just a coat and a winter hat.
Nevertheless, the portrait shot came out so great that it can easily have fooled us into thinking that this is in the middle of a snowy night. We love how the girl is casually having a phone conversation with her hands busy operating the snow machine.
13. Paris, the city of love…
Paris, the city of love and romance. Who would not want a beautiful photoshoot in the middle of the Gardens of the Trocadero with the Eiffel tower in the background?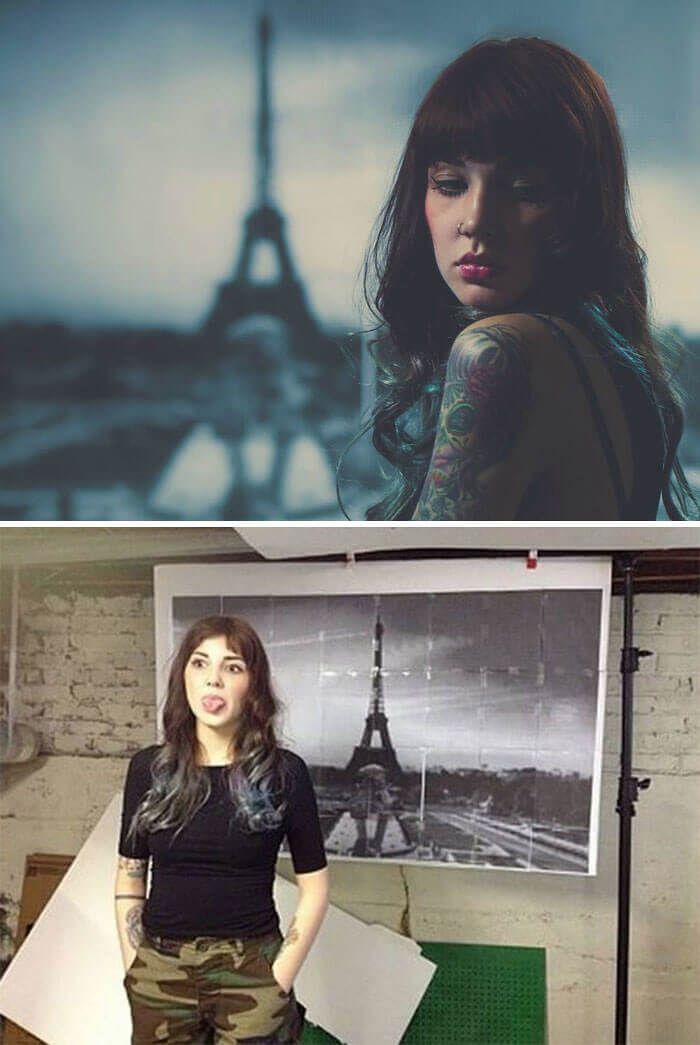 Well if you can't travel to make that photoshoot because of all the restrictions 2020 has brought us, don't worry! All you really need is a talented photographer and a poster. But all jokes aside, this is truly a masterful work by the photographer that had us fooled.
14. Swiss Alps?
The Alpine region of Switzerland is always a great idea for a photo session. But just like a trip to Paris would be a hassle the Swiss alps would be the same. But don't worry you can still get that perfect shot.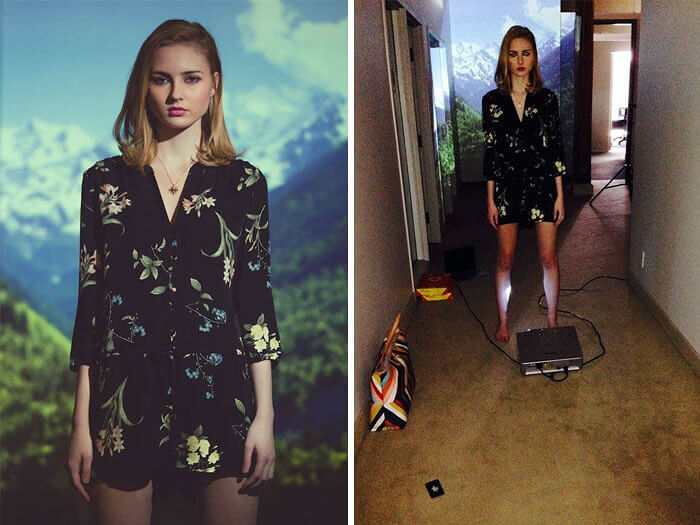 All you need is just a simple projector, a tripod, a camera and you can take this great picture at home whenever you feel like it.  The best part is that your wardrobe is just a step away for you to take the shots in multiple outfits.
15. Jumping horse?
Here is another example of the length the photographers are willing to go to get that one perfect shot. First, they dug a hole in the ground, then they covered it with thick glass strong enough to hold a horse and made a sealing from fabric backdrops.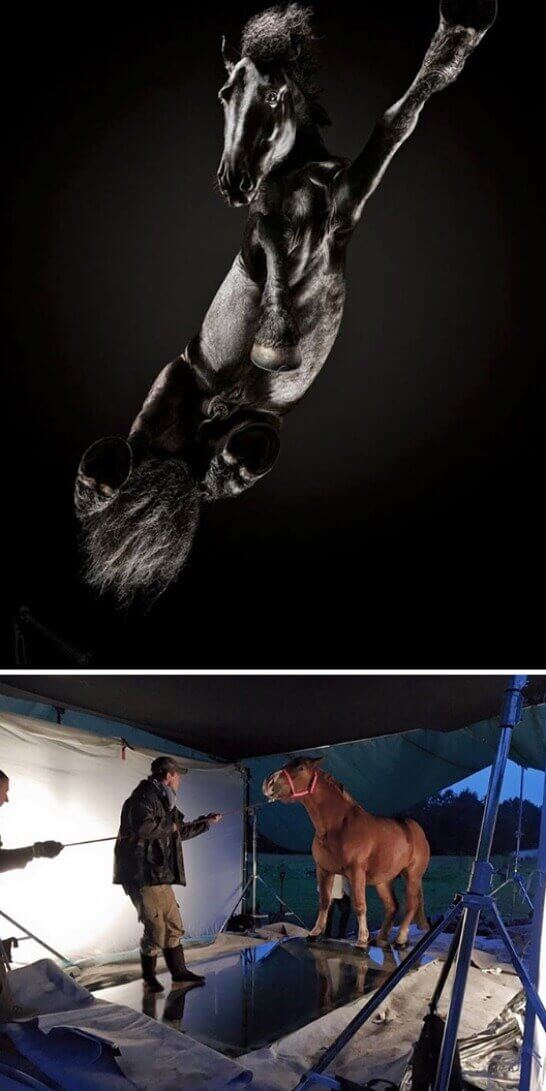 The result speaks for itself. One can easily think that this was taken while the horse is in mid-air looking down into a camera lens giving it the "blue steel look". But the reality is way further from that, it looks like the horse doesn't even trust that glass let alone jump over it.
16. Mount Fuji?
The next few shots are from the amazing photographer Vatsal Kataria. He loves to experiment with miniature photography and deliver these masterpieces. This shot here looks like it was taken on a Urui River with Mount Fuji in the background.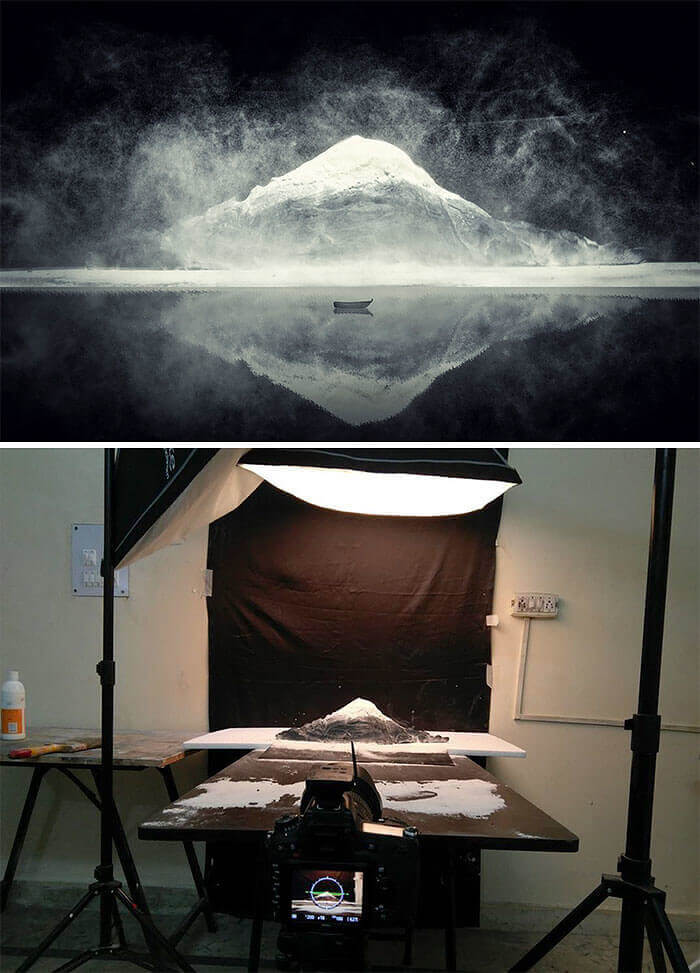 But it's there is no river and there is no mountain. This is all pure art and imagination of one man. This picture looks so real even the tiny boat has a reflection!
17. Do You Hear the Noise Those Tires Make?
You can almost hear the noise those tires make with the friction against the wet asphalt and the Audi engine roaring under the car hood that is cutting through the raindrops.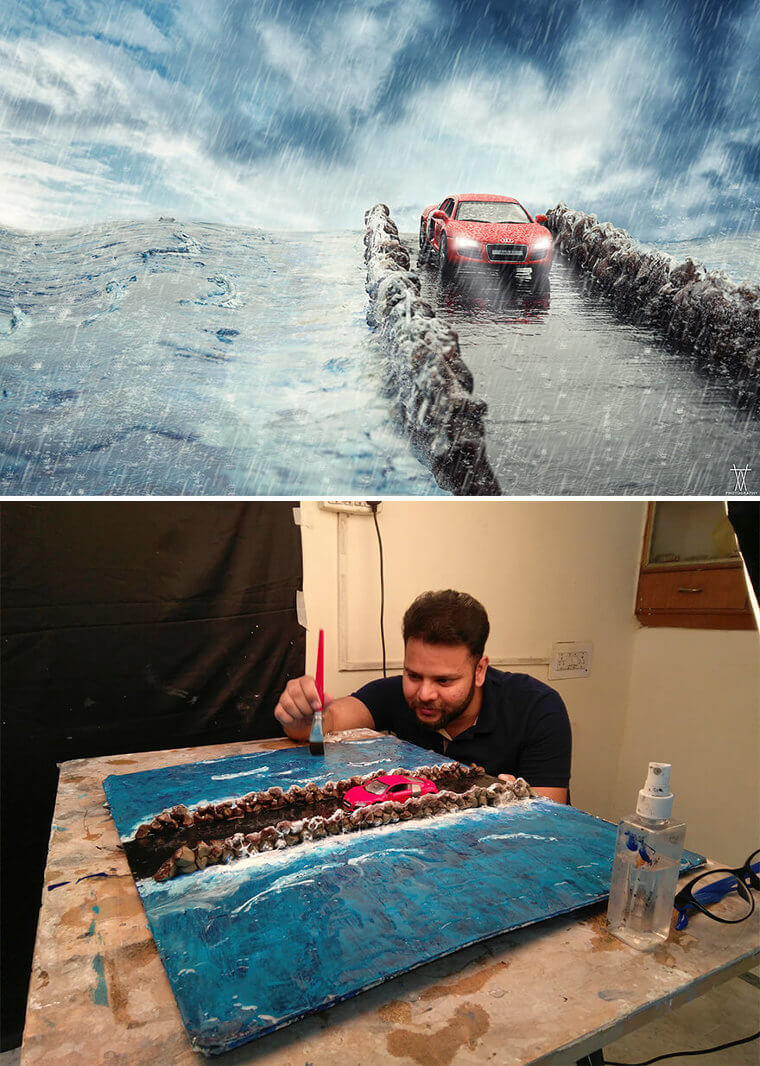 But then when you glance at the "the making off" picture, you can only hear the brush stroke painting water that looks so real in the first picture. We assume the rain on the picture is from that spray bottle on the right.
18. The Batcave?
Do you remember that cave that Batman would drive his Batmobile out of? This is what this picture reminds us of. It's just crazy to think that all of this is actually some grey plasticine and crushed pebbles.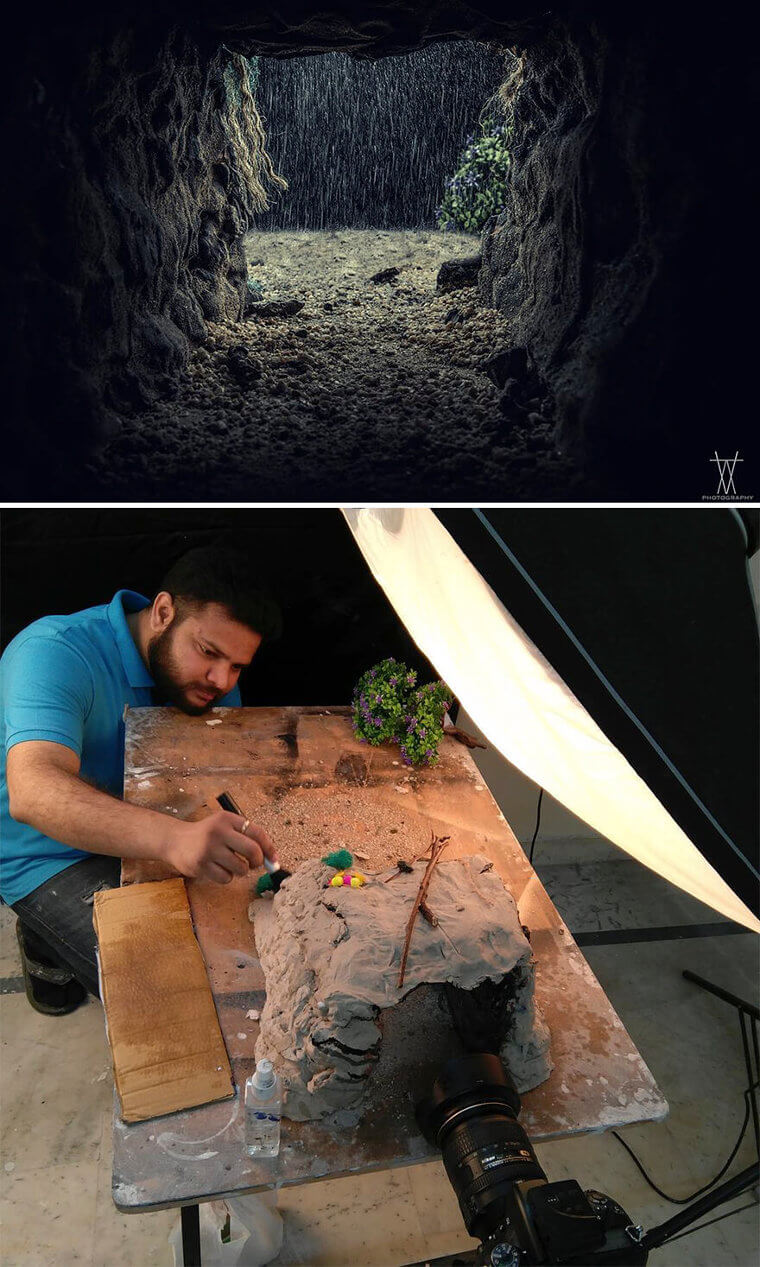 Hey, look at the left bottom corner of the picture! It's that spray bottle again making the rain! Even still got the blue water paint on it. The plastic bush is cleverly placed in the distance from the cave giving it an even more realistic look in the picture.
19. The Batcycle?
Remember the Batcave with the Batmobile? Well, the Batcycle is in there too! And the same spray bottle again that makes the rain on the picture and the bike itself.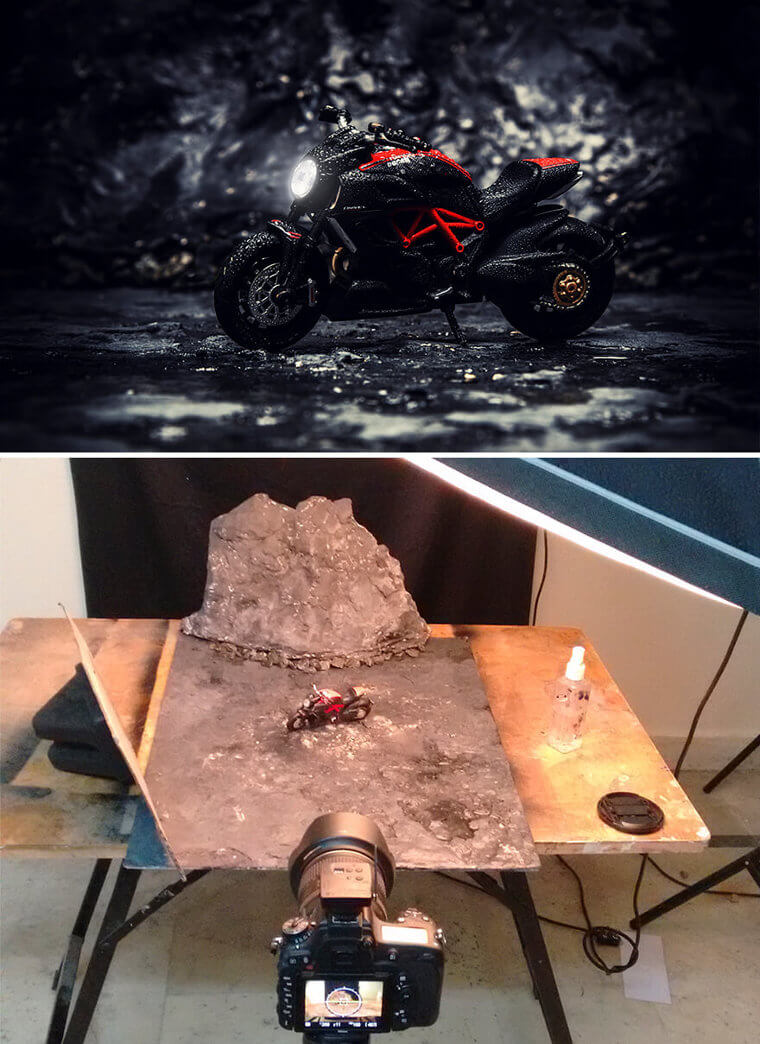 The level of detail on this picture is really great, the gas tank even has the "Ducati" on it. If you pay attention to the background rock, it actually looks like the photographer reused the same materials used to make the grey plasticine cave.
20. The Audi reached its destination.
That racing Audi that was making all of those noises on the wet asphalt reached its destination. And it looks like the destination was the top of that Mount Fuji from before.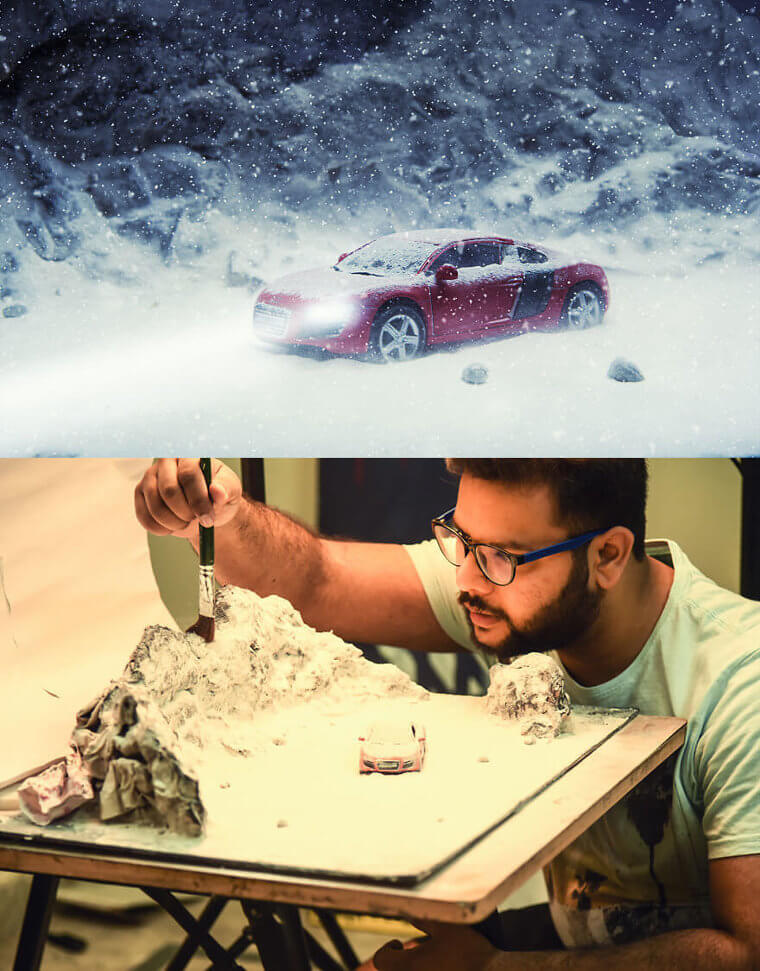 We kid and joke around about these pictures but make no mistake, we think the photographer is a true genius. Not only that he has an exceptional talent for photography he also has it for making those miniature sets.
21. Just imagine….
Just imagine, you are sitting inside this cabin. The rocking chair is next to the fire stove and the plaid style wrap is covering you from shoulders down. You are holding a cup of hot chocolate and as you sip you feel the marshmallows floating.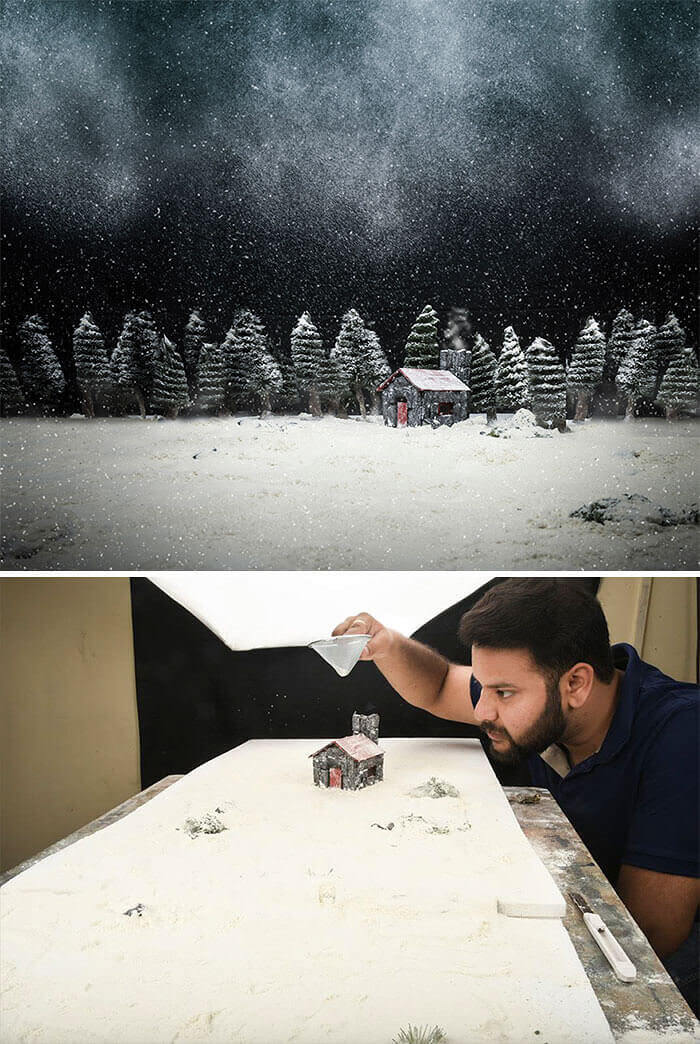 Well, this cabin is tiny and the snow is sugar powder! But this photo is nothing short of amazing. The photographer has yet again delivered a masterpiece that looks just like real life.
22. National Geographic?
Is this a scene from National Geographic? Perhaps Animal Planet? Nah, probably Discovery channel? Or is it a Netflix nature special? Nope, it's just a plastic whale toy in a water tank.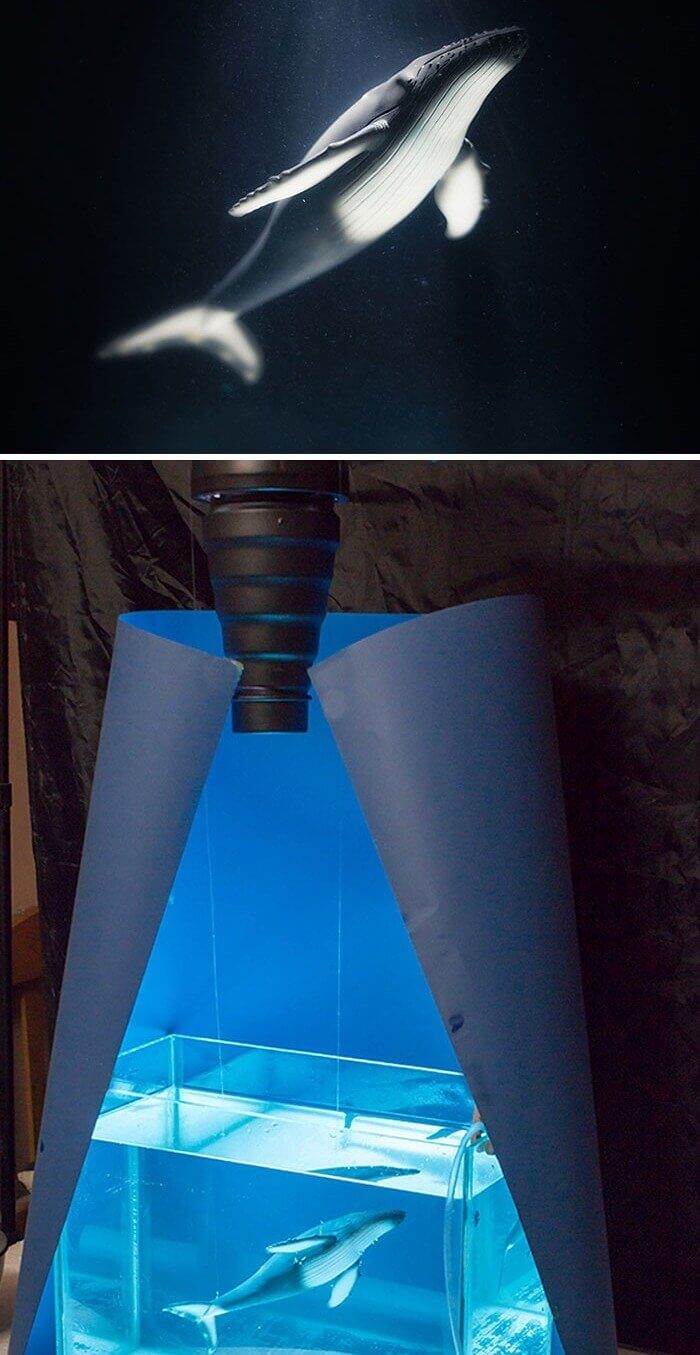 This photographer really cleverly made this picture have that deep cold water effect. Just by wrapping the navy blue paper around the water tank and placing a spot lite above the toy made the trick!
23. It's only a paper lantern.
To hang a moon in the sky all you really need is some sick Photoshop skills and a trip to Ikea to buy a few Chinese paper lanterns. This photographer demonstrated both creativity and those sick Photoshop editing skills all in one picture!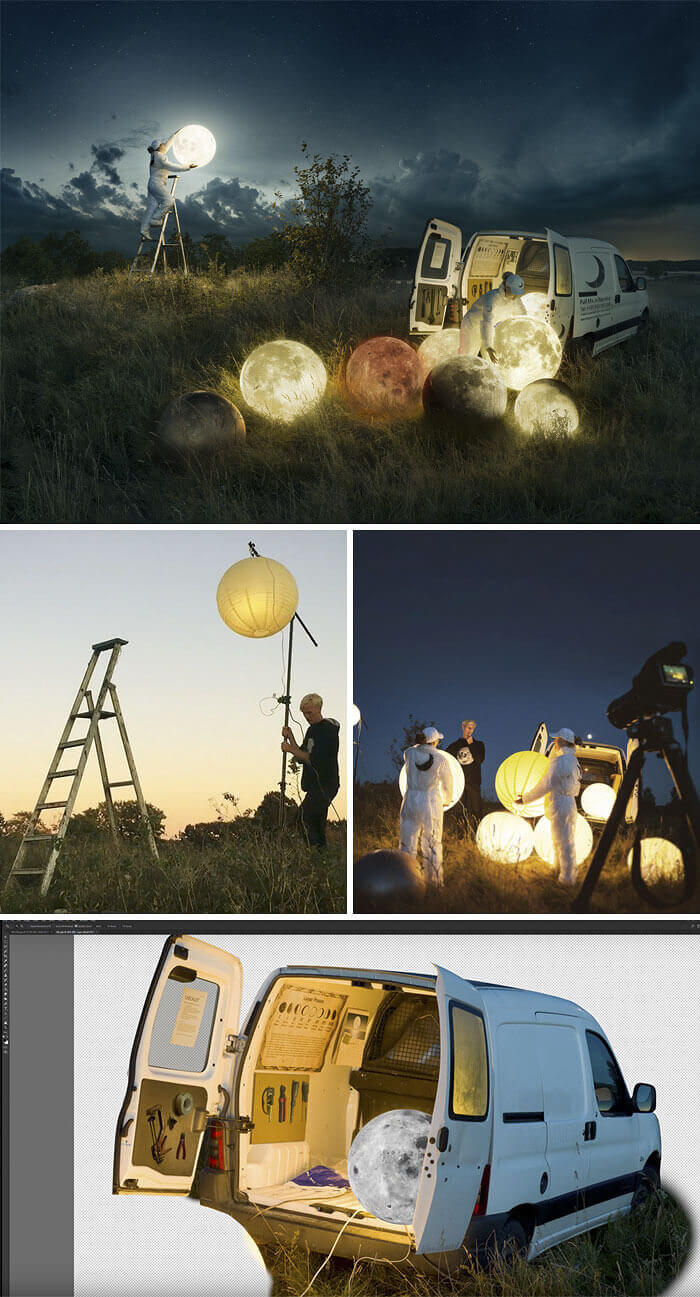 We love how creative the photographer got with the clothing and the van as well. Both the van and the clothing are all white and have a logo of a waxing crescent moon.
24. There is another person in the water?
When you look at this picture you would never think that besides the couple and the photographer there is another person in the water involved in making it. But who is going to make that perfect wave line that divides the girl and the boy?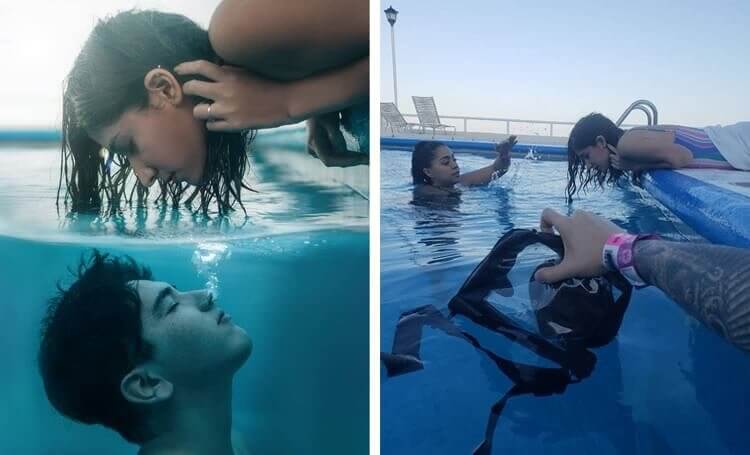 The photographer even still has his paper strap on from the club he visited last night. We also wonder how many times the kid had to rise above the water for some air before they landed the great picture…
25. Tense emotions.
This one is truly a well-done photo with a lot going on there. The model really knows how to bring that tense emotions, you can even see that her eye is watering up.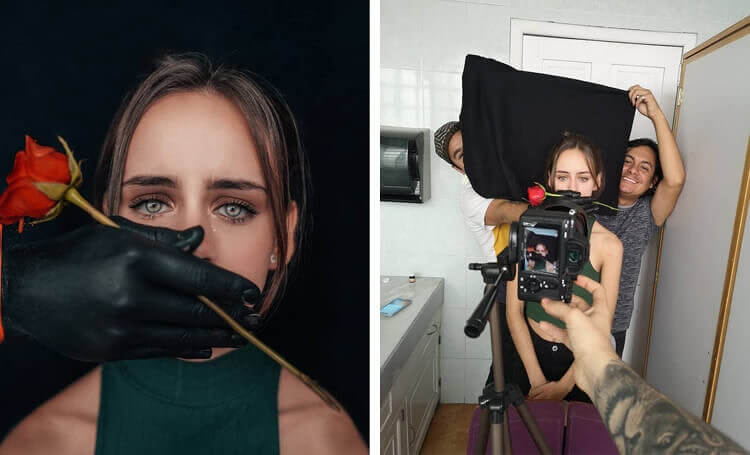 Now at the first glance, you might think that the hand holding the rose is wearing a black rubber glove. But look again, it's painted! But of course, the best part is the background, it's just a simple black cloth. This once again shows us that you don't need a fancy studio to make killer pictures.
26. Avatar character?
Remember the special effect the characters from James Cameron's Avatar had? This is exactly what this picture reminds us of. By you don't need to have any special knowledge of how to make those effects in this case.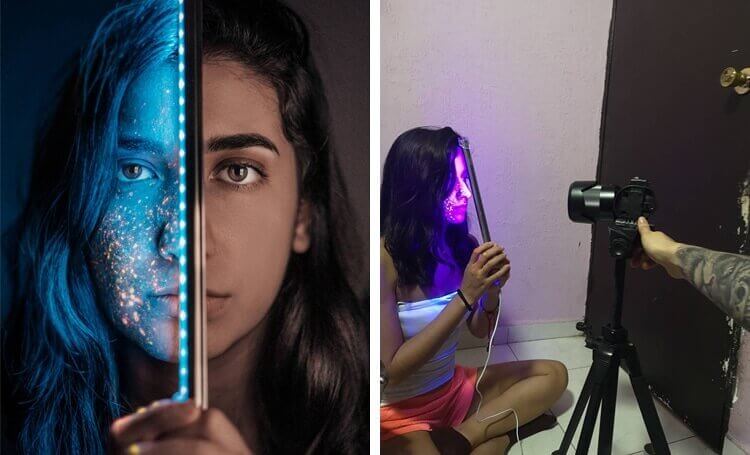 You just need a purple red blue white hybrid LED lamp. We were gonna say you also need a black backdrop on the right side but it's actually a black door with a golden knob.
27. The Aladdin lamp!
What a shot! The tricky part here is to make sure you put the fire out on the paper right after the shot or else you will burn your lens.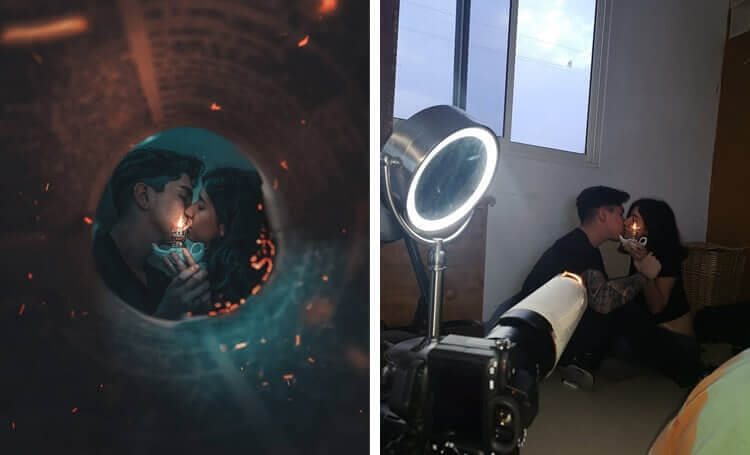 The Aladdin-looking lamp adds so much to the picture that you wonder if the photographer was going for the Arabian Nights look on purpose? The text inside would never be visible if it was not for that makeup lamp positioned right above the paper roll.
28. The clouds?
Ever wondered what it would be like to lay in the clouds? Just by looking at the picture, we would think that this was done with some heavy smoke machine in a studio.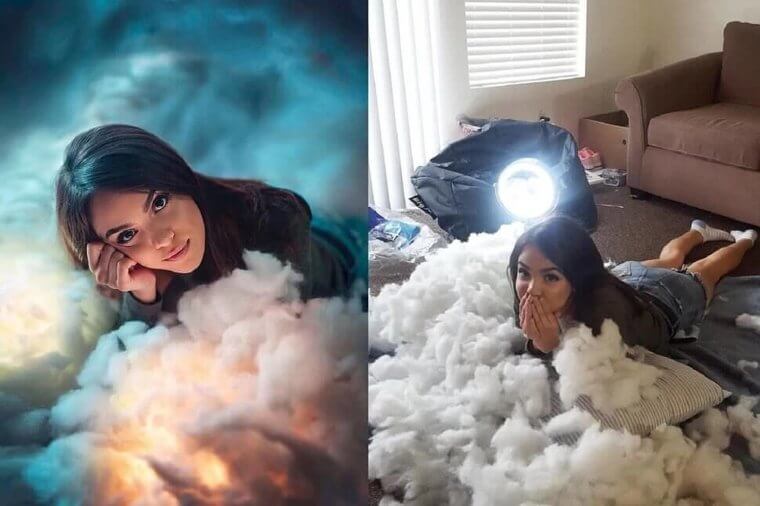 But there is no smoke machine or a studio, just pure creativity of the photographer. Tear up a pillow, place the lighting correctly and you have a great picture! We bet it was a sucker cleaning up all that polyester fluff.
29. Door to Narnia?
Remember that door to Narnia? Imagine dragging a door that size all the way to the beach just for one shot. Well if you are as clever and talented as this photographer you can bring the door in your pocket.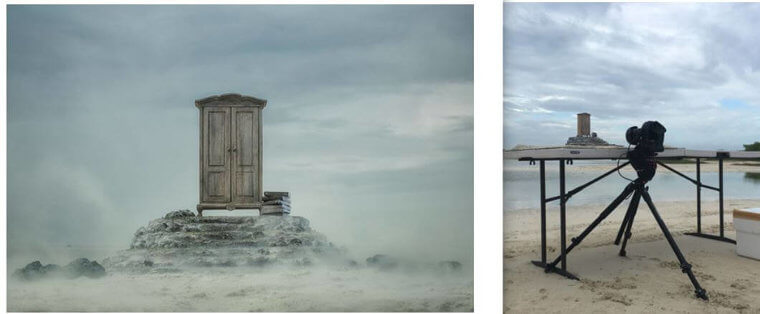 Instagram/hernandez_dreamphography
You almost get a feel of that breezy cold moist sea air just by looking at this picture. But it's just baby powder that the photographer sprinkled all over the portable table.
30. The color gallery.
This photographer perfectly demonstrated what type of magic a portrait-style lens can do. You don't even need lighting equipment to take a picture like this, the sample stand already has one built-in.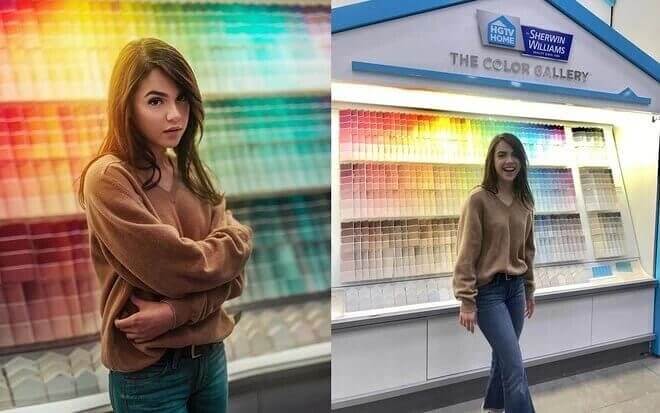 Next time you want to take a cool picture with rainbow colors in the background just drive down to your local Home Depot and go to the paint section. The color gallery is what you want to look for. 
31. The window shutters section.
While you are down at your local Home Depot walk down the main aisle to the window shutters section. There you can take a great picture as if you are looking outside to check the weather.
We bet there is a ton of great spots in the home improvement store that can produce cool photos like this on. Who knew you can use such a place as a studio!
32. The LED lamp.
Remember that purple red blue white hybrid LED lamp that produced that Avatar character effect? Well, it's here again. Only this time it's the girls' hands that are being illuminated.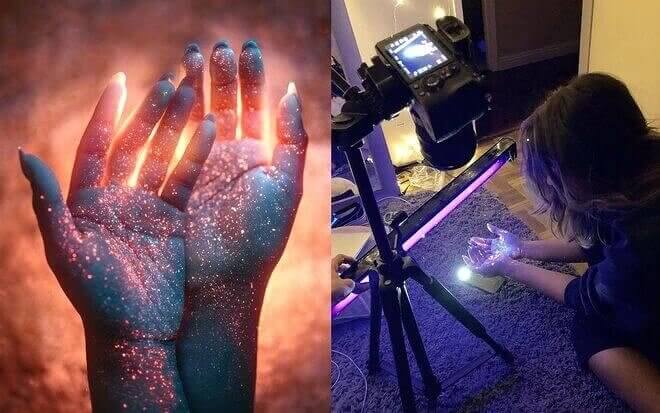 Just like with all of the pictures listed this one was created with creativity when it was made. If you look closely, on the floor of the behind the scene picture there is a phone. The yellow light effect is just a flashlight from the phone! 
33. A candid moment.
This picture, one might think, was taken by a sensor on a camera that was placed in the wild with no cameraman behind and some doggy treats at the edge of the lens.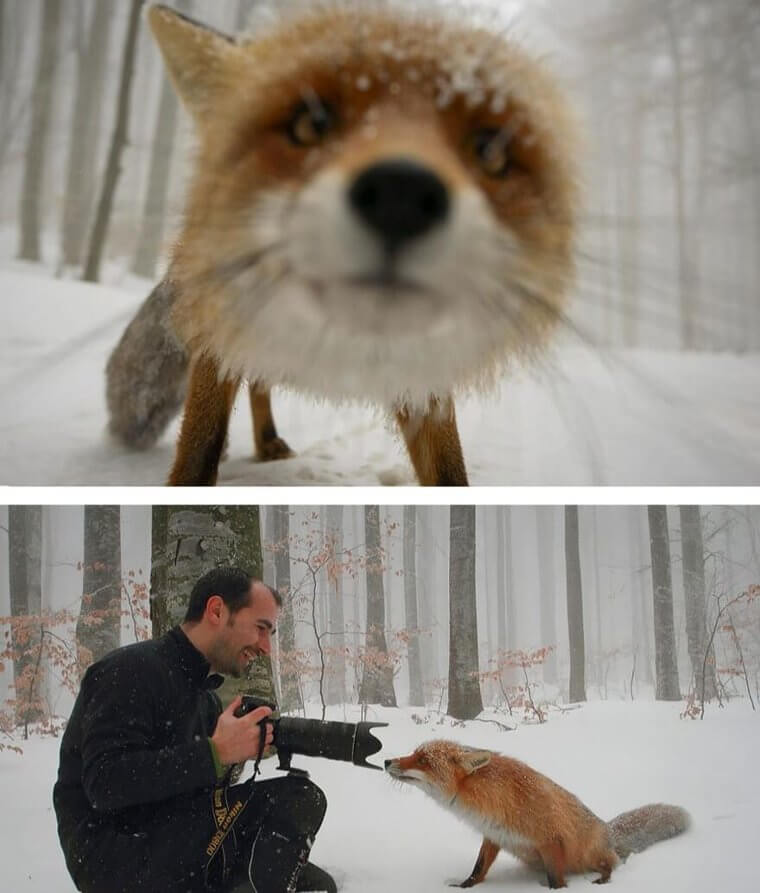 This whole photo is one candid moment! The photographer has such a genuine smile with a look of amusement from the fox. Speaking of amusement look, look at the way the fox is smelling and staring at the lens! 
34. Mount Doom.
Mount Doom, you know that one from The Lord of the Rings has actually never looked scarier than this picture right here. And look at that lava! It's as if all of those stones are slowly flowing down the lava current.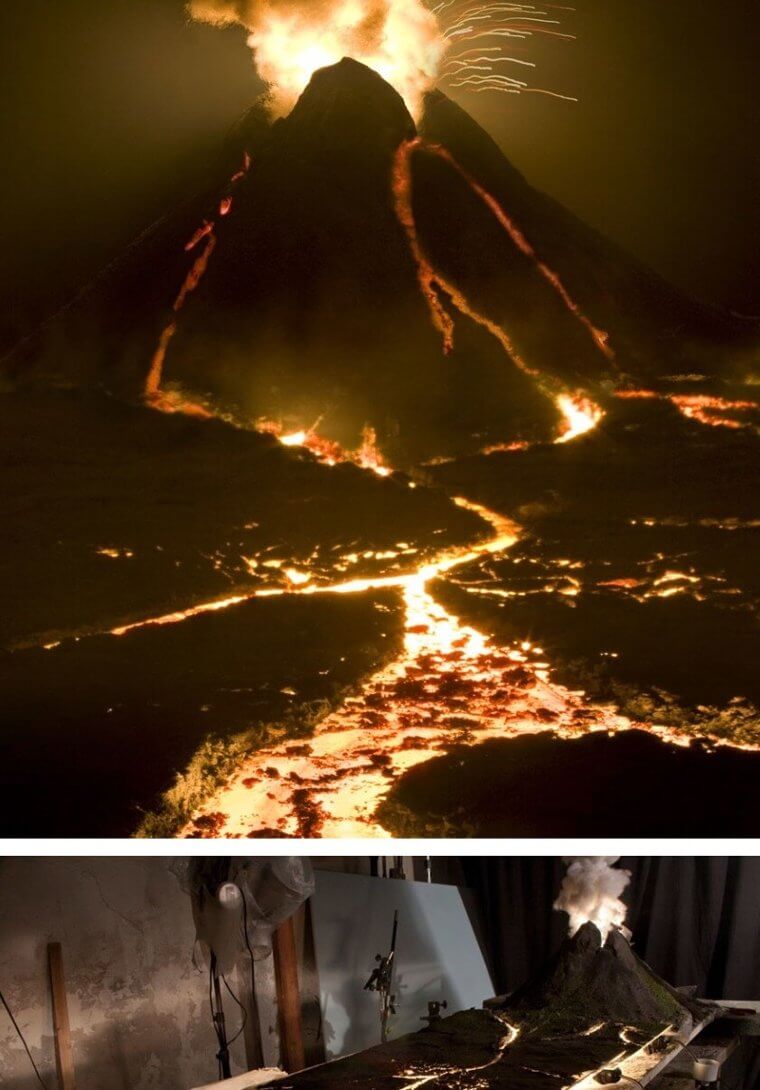 But there is no lava current or Mount Doom for that matter. We are not sure what is more impressive here, the picture or the way the set was made.
35. Angle perspective.
If you are a fan of Game of Thrones you would know right away this is where Cersei's walk of shame scene was shot. In real life, this is located Dubrovnik, Croatia.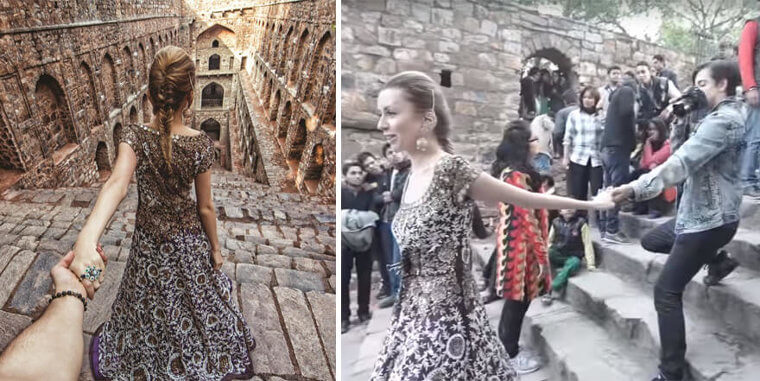 When you look at this picture you would think this was taken in the early morning when there still no tourists around. But who could have guessed that there is a crowd of people right next to the couple? This is what angle perspective is all about.
36. Result is elegance.
If you look up the word luxury in a dictionary it will say "a state of great comfort or elegance". Well, there is no comfort or elegance here. Puddles of rainwater and seems cold outside.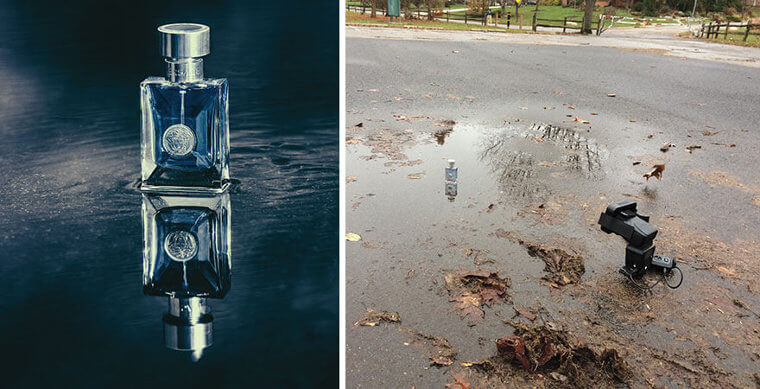 But the end result is elegance. Just look at that perfectly positioned Versace perfume bottle making those ripples in the water! And that Medusa logo staring right at you with the reflection in the water. This is one classy picture if you ask us.
37. Food photography at its finest.
Food photography at its finest is what comes to mind looking at this example. Just one normal size wooden plank will have you thinking that this backed apple dessert is on a large wooden table.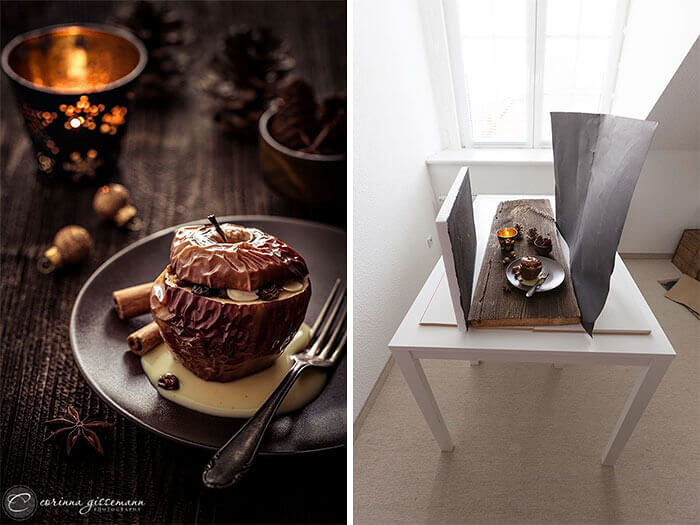 The candle glass and the pines add so much coziness. You can almost smell the dry anise flower and the cinnamon in this picture. And the condensed milk on the edge of the fork… Just pure yummy looking picture!
38. Give the photographer a bonus!
This wedding photographer here deserves a bonus! And not just for almost laying in that puddle but for the amazing picture he made! The barn fence, the rain puddle with the mud, you would never think that this is a good place to take a picture.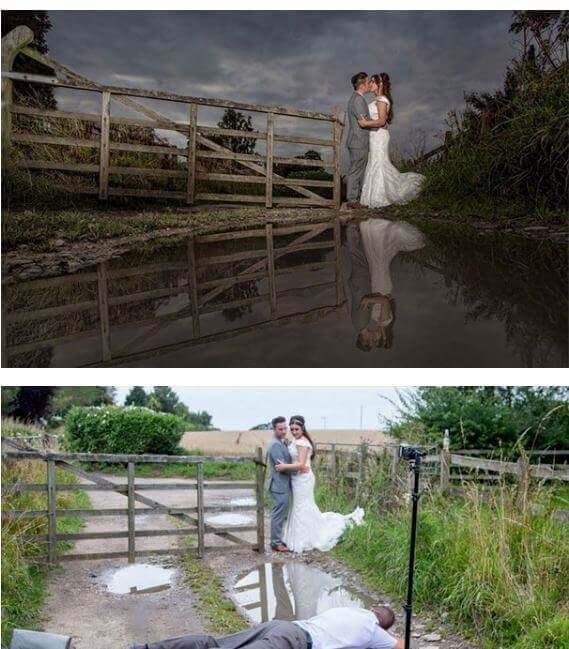 But this photographer made just that. The angle he chose to take the picture from is just perfect. It cut out half of the surroundings that made the setup look horrible and produced this beauty.
39. Craving some Skittles?
There is just no way that this cool picture is not somehow digitally drawn right? Well, not even a bit. This smart photographer created this optical illusion with the use of just some water drops on a clear glass sheet.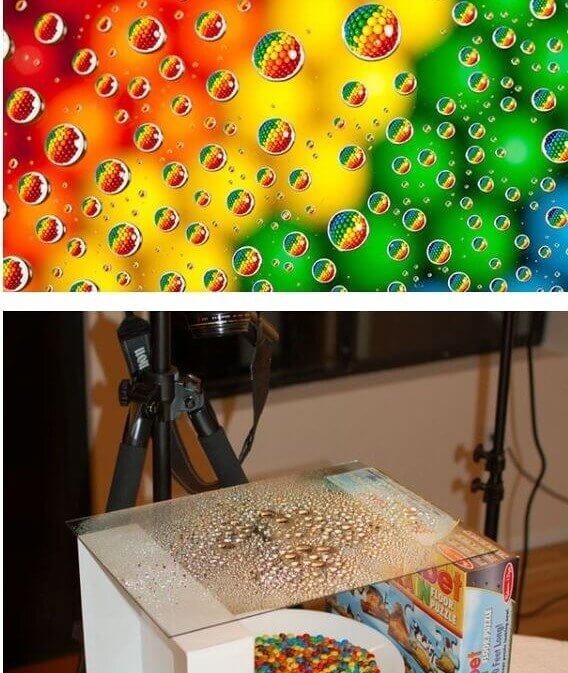 The water drops even appear to be the same shape as the colorful candy itself. If you love Skittles, you should be craving them right about now just by looking at this picture.
40. Twister
This picture reminds us of the poster from that epic 90's disaster adventure movie Twister. It just looks so realistic as if it's somewhere in the Great Plains of central United States.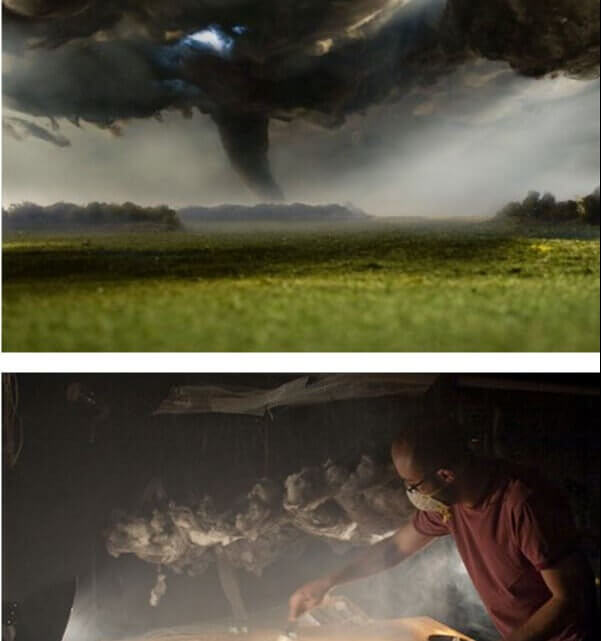 Just look at all of that colored cotton suspended from the top. Hanging up all of that must of been one tidiest task. But the result is really beautiful. We salute the photographer for the patience and creativity it took to make this set.